Few animals are as striking as the zebra in a purely visual sense. Giant pandas, penguins, and skunks may share the same bold color combination, but the zebra's contrasting stripes make it an animal that stands out from the crowd. In honor of these docile savanna-dwellers, here are 12 crochet zebra patterns!
Will you stick with black and white? Or will you go crazy? Use your favorite colors: the world could do with more pink and yellow zebras!

1. Zebra Amigurumi Crochet Pattern by Craft Passion
Meet ZeeZee, the zebra. ZeeZee isn't just cute to look at and interesting to make, he is also quite a character.
ZeeZee is a 14" long Zebra Amigurumi, not only that he will make a perfect couch and table-top decoration for the family room, but kids will also definitely love to hug and cuddle him.
Get the Pattern here

2. Zippy Free Zebra Crochet Pattern by Red Heart
Not your everyday, ordinary zebra! Use playful colors to crochet this fantasy creature that loves going on safari.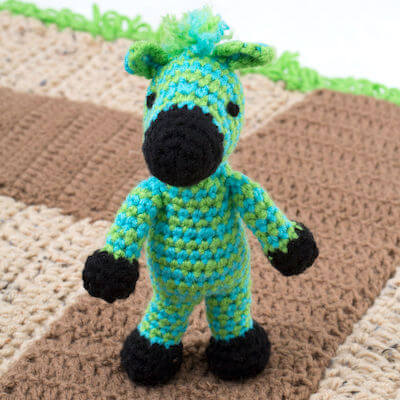 Get the Pattern here

3. Zebra Amigurumi Doll Crochet Pattern by Hub Pages
This zebra crochet pattern is free! And it is also super-cute! With his big snout and striped pajamas he's ready for some serious snuggle time.
His long thin arms and legs are suitable for little hands to grab hold, so you may consider making him as a baby shower gift.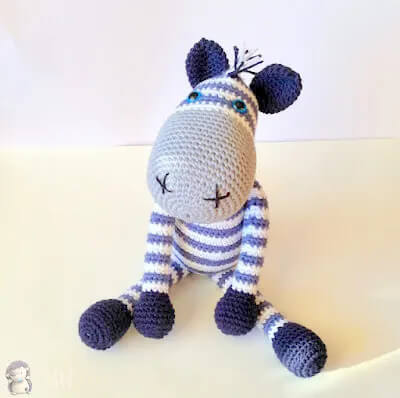 Get the Pattern here

4. Crochet Zebra Pattern by One And Two Company
This Rainbow Zebra Amigurumi is the perfect friend for your child, sweet and charming, you can customize it as you like.
It's also a fantastic gift for a nursery or even do it for you. Sure you will have fun making it!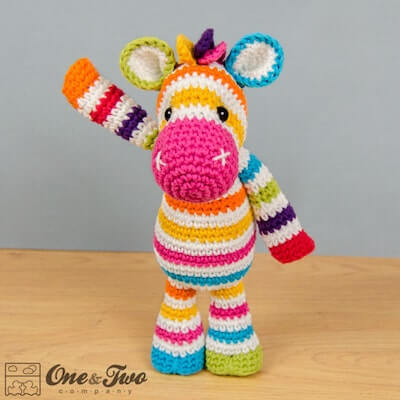 Get the Pattern by One And Two Company here

5. Zebra Crochet Pattern by Cozy Puppet
This crochet zebra pattern will help you create a restless striped handsome Zebra. He is the soul of any company! The toy is soft, safe, frameless, suitable for children.

The crochet zebra pattern provides a description of a cotter pin mount of the head, but it is not necessary. All pieces can be simply sewn on.
Although the ability to turn the head gives the toy additional charm. Perfect for decorating a child's room, a baby mobile (just sew on a loop).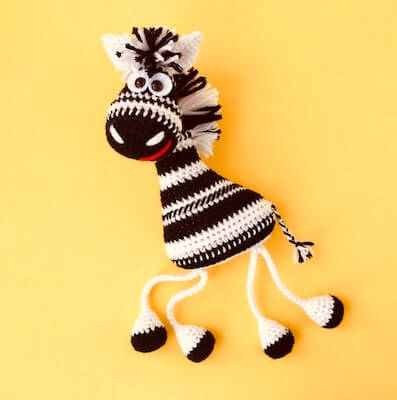 Get the Pattern by Cozy Puppet here

6. Crochet Zebra Wreath Pattern by Repeat Crafter Me
The best part about this free zebra crochet pattern is that just by changing the colors (and in some cases slightly tweaking the pattern) you can create a whole zoo of animals!
You could easily convert this into a giraffe, tiger, lion, cow, horse, unicorn, cheetah, puppy dog, and more!

You can leave as is, or you can add a name banner or initials. It's the perfect (and cutest) sign for your little ones room.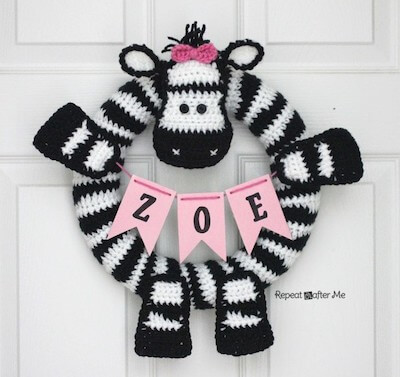 Get the Pattern here

7. Zane, The Zebra Free Amigurumi Pattern by Jess Huff
He may not be black and white, but one thing is clear: with his purple stripes and mohawk on fleek, Zane the Zebra is the coolest cousin in the equestrian family!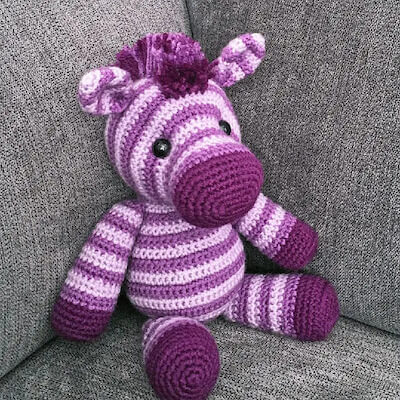 Get the Pattern here

8. Wall Trophy Zebra Crochet Pattern by Sculpting With Yarn
If you've got little zoologists on your hands, then you need to make a crochet project they'll adore. This Zebra Wall Trophy isa the perfect wall decor for your animal enthusiasts.
Soft, cushy, elegant, and cute, this zebra crochet pattern will look stunning mounted on any wall.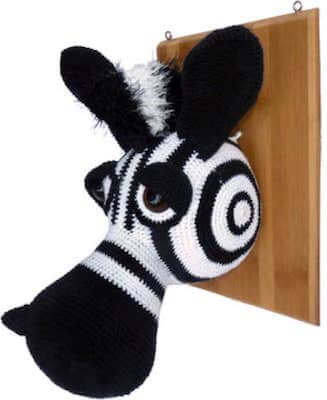 Get the Pattern by Sculpting With Yarn here

9. Crochet Zebra Curtain Tie Back Pattern by Thoresby Cottage
This Zebra Curtain Tie Back would make such an amazing addition to an animal-themed nursery. Alternatively, this could be used as a stuffed toy.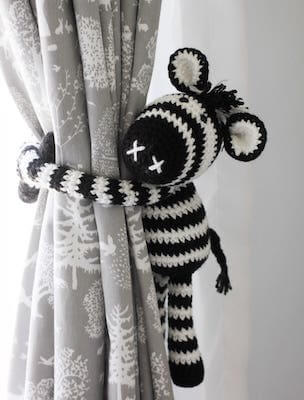 Get the Pattern by Thoresby Cottage here

10. Zelda, The Zebra Crochet Pattern by Elisa's Crochet
Zelda, the zebra with her trendy cowl is made using DK weight yarn and requires a 2.75 mm hook plus a size H Tunisian hook.
Zelda is the perfect height – 7 1/2′ x 4″ for your little one to snuggle with while sleeping and hours of playing time while they are awake!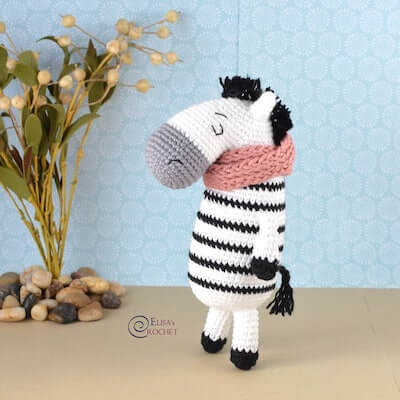 Get the Pattern by Elisa's Crochet here

11. Ziggy Zebra Free Crochet Pattern by Chai Coffee Crochet
You will love the spiky mane and the adorable bow tie in this free crochet pattern of Ziggy, the zebra. He has a quirky rainbow counterpart and we think they both look great together!
This free zebra crochet pattern works up fast, is a good beginner amigurumi pattern, and oh so cute!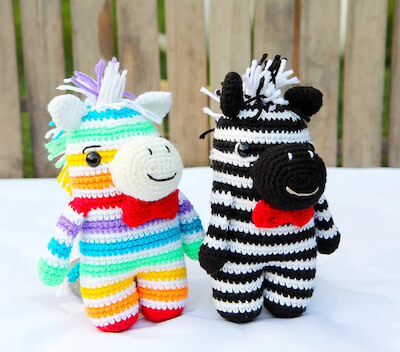 Get the Pattern here

12. Crochet Hooded Zebra Blanket Pattern by MJ's Off The Hook Designs
Wrap yourself in this cozy Hooded Zebra Blanket. Perfect for cuddling, play, and display. This pattern comes in toddler, child, and adult.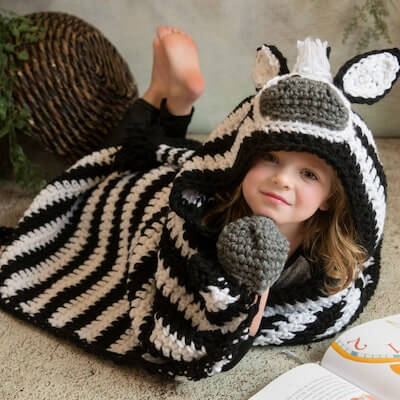 Get the Pattern by MJ's Off The Hook Designs here
YOU'LL HAVE QUITE THE ADVENTURE MAKING THESE ADORABLE CROCHET ZEBRA PATTERNS!
When you make your own version of these zebras, please do share your finished works on our Facebook Page. We'd love to see what you came up with!

If these crochet zebra patterns have triggered your love for wildlife, do check out our crochet patterns based on other zoo and wild animals like Wolf, Tiger, Rhino, Lions, Elephants, Giraffe, Snakes, Hedgehogs, Monkeys, Hippos, Raccoon, Chameleon, Peacock and Bear Patterns. Make one of each animal and enjoy a real homemade family zoo in your own home!

So, if you're an animal lover and enjoy making different kinds of animals with your own hands, then these cute crochet zebra patterns are something you will adore! Get crocheting!