Looking for a way to totally change the meaning of cute once and for all? We've got just the thing – one look at these amazing crochet bear hat patterns and you'll see exactly what we mean!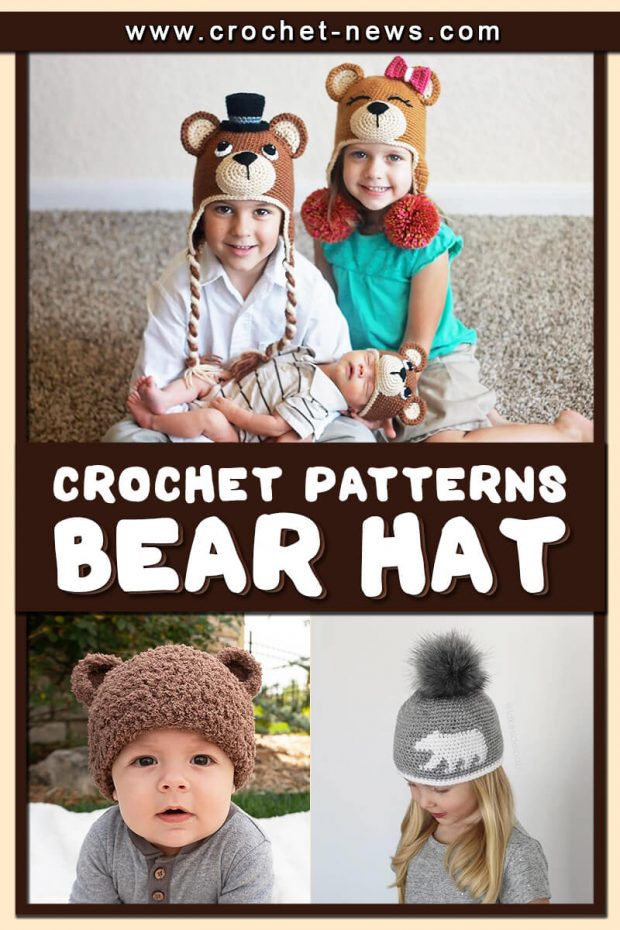 Adorable Baby Bear Hat Crochet Patterns
No matter if you're an avid bear lover or you just appreciate the playful nature of animal-inspired designs, you're bound to enjoy this selection of crochet bear hats that's suitable for both children and adults alike. They're packed with a winning combination: cozy and cute. What's not to love?

1. Crochet Bear Hat Pattern by Red Heart
Capture memorable moments of your little cub in this "un-bear-ably" precious, crochet bear hat. Only 1 ball of Somersault color finishes the cute version shown, but imagine all sorts of delightful shades to stitch up a custom version of this playful topper.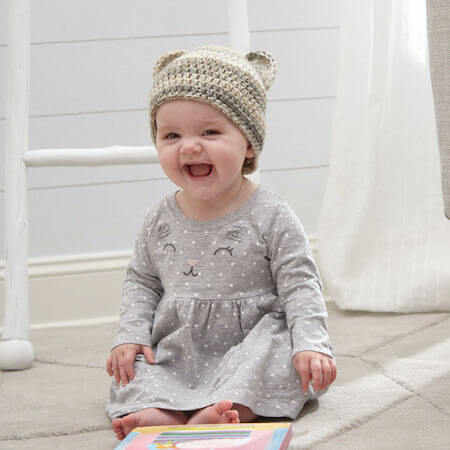 Get the Pattern here

2. Crochet Bear Silhouette Hat Pattern by Lakeside Loops
You and your family will be so very warm in this Crochet Bear Silhouette Hat. Polar bear, black bear, brown bear – make them all with this easy to follow crochet pattern.

Written for intermediate crocheters and with 6 sizes to choose from, you can crochet one for Mama Bear, Papa Bear, and all their cubs!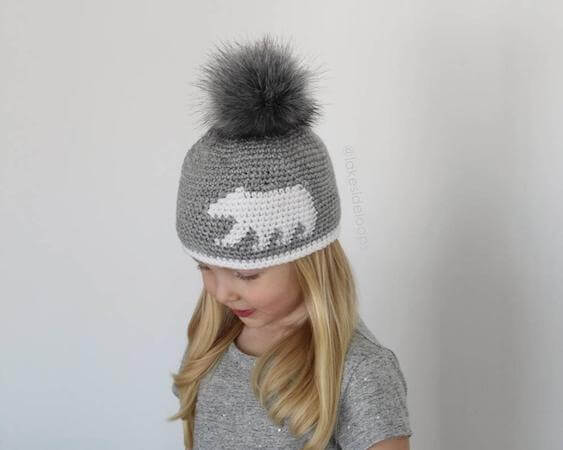 Get the Pattern by Lakeside Loops here

3. Crochet Teddy Bear Hat Pattern by Bri Abby HMA
This crochet teddy bear hat pattern provides many options! You can make a mama, papa, or baby bear hat. Top off your crochet bear hat with a bow or top hat. Make them with or without ear flaps & then choose between twists or pom poms!

With these detailed instructions, even those with little crochet experience can find success in creating their own masterpieces!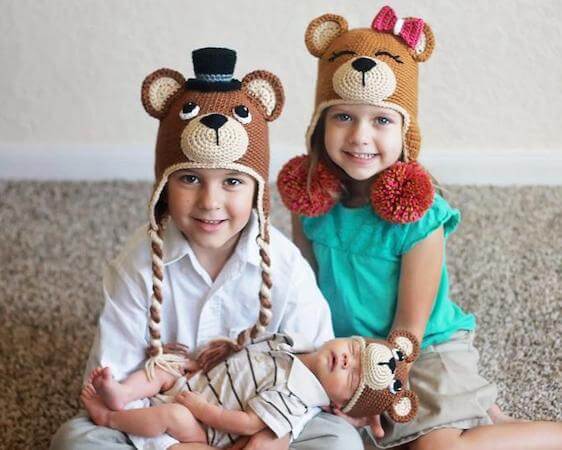 Get the Pattern by Bri Abby HMA here

4. Grizzly Mountain Crochet Baby Bear Hat Pattern by Kirsten Holloway Designs
Crochet bear hats are so cute don't you think ? This free crochet bear hat combines texture and color for a classic look your whole family will love! Inspired by the winter woodlands, this hat is just as warm as it is stylish (those bear ears=true love).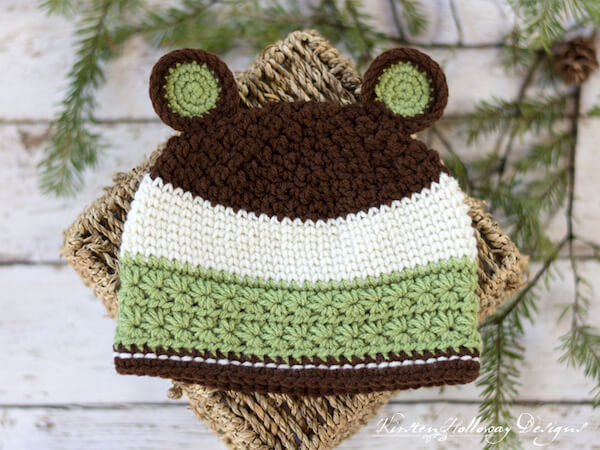 Get the Pattern here

5. Crochet Bear Pom Hat Pattern by All About Ami
Crochet this adorable ribbed Bear Pom Baby Beanie Crochet Pattern that uses yarn pom poms as the bear ears! It's a simple ribbed pattern topped with a pom pom for an extra cute touch. baby beanie crochet pattern.
This adorable free crochet bear hat is quick to make and perfect for beginners. A great solution for last minute baby shower gifts!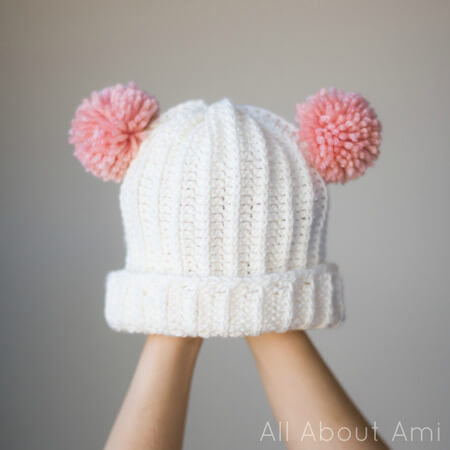 Get the Pattern here

6. Bear Hugs Baby Beanie Crochet Pattern by Kirsten Holloway Designs
Every baby needs at least one bear beanie in their hat collection, don't you think? This highly textured hat is thick and warm– definitely a must for cold weather. This baby bear hat crochet pattern uses the Basket Stitch on the top. This means working a lot of post stitches.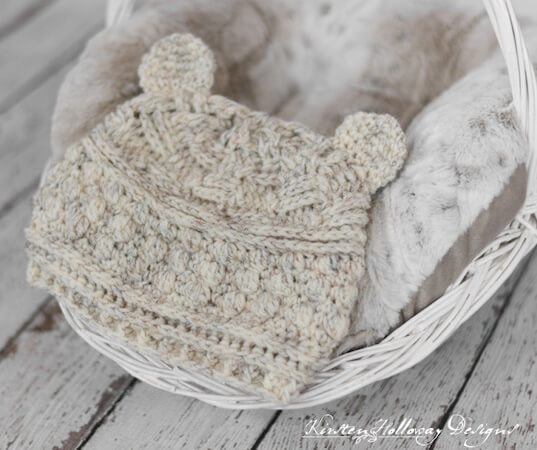 Get the Pattern here

7. Crochet Bear Pet Hat Pattern by X Moon Bloom
Dress your dog up and keep those ears warm by crocheting this super cute crochet hat with bear ears. Who doesn't enjoy to dress up their dog? Now you can with this fun dog hat pattern.
Get the Pattern by X Moon Bloom here

8. Free Crochet Bear Hat Pattern by Heart Hook Home
Now that the weather is turning colder, it's time to start thinking about those little ears – bear ears, that is! This adorable free crochet bear hat pattern for the Bear-ly Scary Beanie comes in all sizes! The ears are optional, of course, but they sure are adorable! Note that the ears take approximately 10 additional yards (for both) should you choose to add them.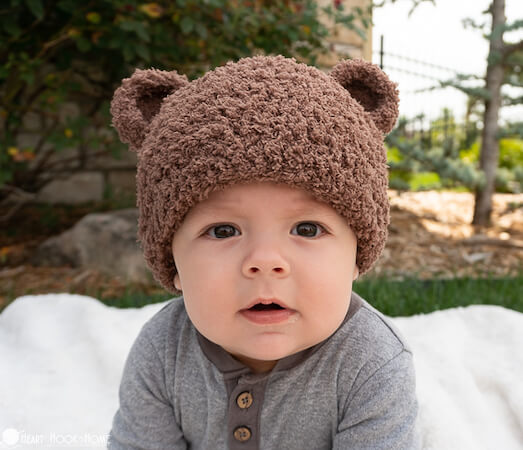 Get the Pattern here

9. Sleep Tight Baby Bear Hat Crochet Pattern by Sweet Potato 3 Patterns
This crochet bear hat features a beautiful combination of stitches that are full of texture only to be accentuated with an adorable teddy bear. The body of the hat works up fast and are very soft and warm.
Add a pom if you like to add a cute whimsy touch to your finished hat. The baby bear hat crochet pattern comes in multiple sizes ranging from newborn, 3-6 months, 6-12 months, 12-24 months up to child (about 12 years old).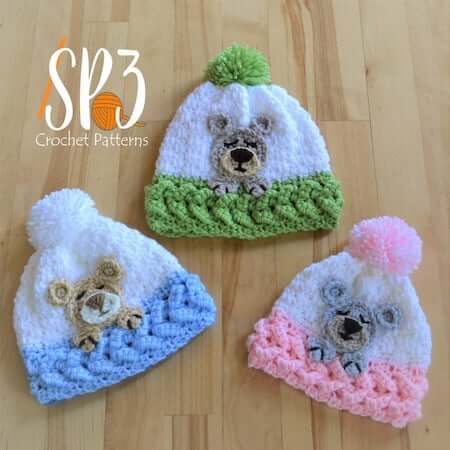 Get the Pattern by Sweet Potato 3 Patterns here

10. Plaid Crochet Woodland Bear Hat Pattern by Whistle And Ivy
This Crochet Woodland Bear Hat features a cute plaid and gingham color scheme! They are worked from the bottom up and forming the ears is simply done by closing the top flat and cinching the ears a bit. The pattern includes sizing for the whole family.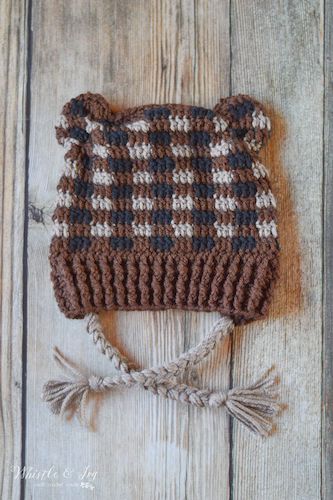 Get the Pattern here
This collection of crochet bear hat patterns is just what you need to chase away the winter blues!
We can't wait to see your creativity and all the different colors you folks come up with. When you complete one of these baby bear hat crochet patterns, please post it on our Facebook Page. We love seeing your work!

Check out more fun crochet hat patterns we have on our site:
How could you possibly resist casting on one of these crochet bear hat patterns for everyone you know? Make one today and you'll probably find yourself making all ten!