If you're children and even you have gotten swept up by the Unicorn fever, this list of 15 Crochet Unicorn Hat Patterns is certainly what you are looking for.

A lot of us are enthralled with unicorns. What isn't there to love with magical horned horses with their flowing manes?

So it's time to bring some sparkle into your life and let your imagination run wild as we delve into the magical patterns below. There's sure to be something here to suit every kind of unicorn lover!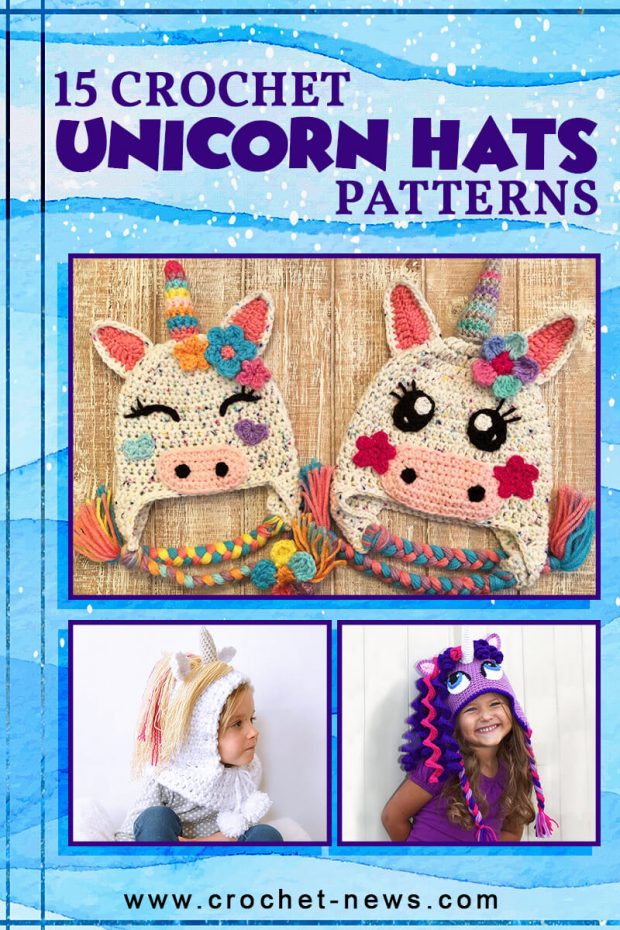 1. Unicorn Crochet Hats Pattern by Fur Babies CB
This Unicorn Crochet Hats Pattern includes only instructions to create your own Spring Fever Unicorn crochet hats with applique options for 2 different unicorns – the Stargazing Unicorn and the Petal Splash Unicorn.

The pattern also includes instructions to various floral, star, and heart-shaped adornments to pretty up your unicorn.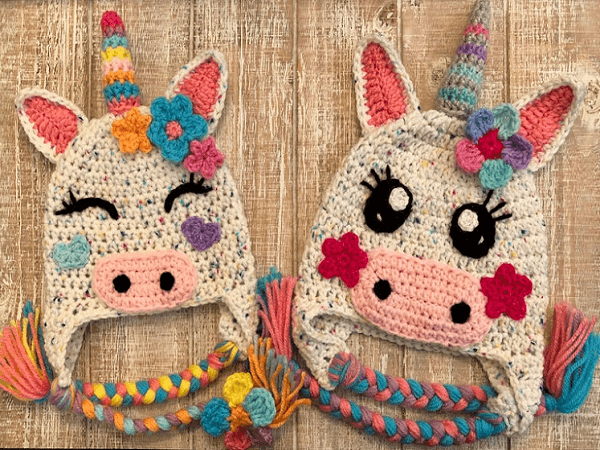 Get the Pattern by Fur Babies CB here

2. The Sterling Unicorn Hat Crochet Pattern by The Philosopher's Wife
This Sterling Unicorn Hat is a simple mash-up of the yarn colorways, thus the name. It doesn't have Unicorn features – horns and colorful manes, but it sparkles like a real Unicorn!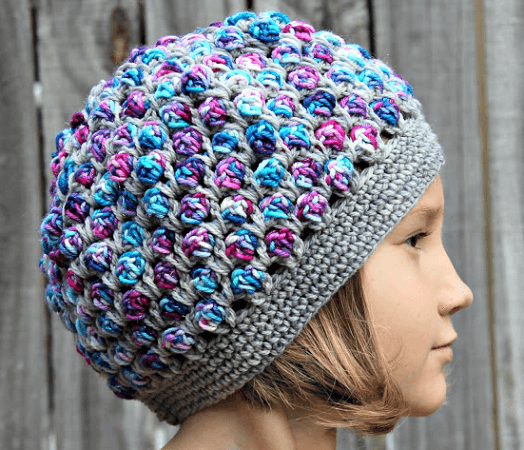 Get the Pattern here

3. Crochet Unicorn Hat Pattern by Bri Abby HMA
Crochet the most amazing unicorn hat you'll ever see with this unique pattern! You'll love how beautiful & girly it is. The perfect costume or winter hat!

The pattern includes instructions for 9 sizes: 12-18 months, 18-24 months, 2-3 years, 4-6 years, 7-10 years, 11-15 years, 16-small adult, medium adult & large adult.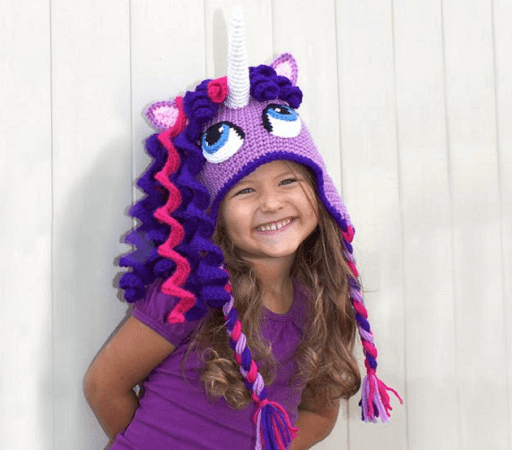 Get the Pattern by Bri Abby HMA here

4. Unicorn Cupcake Beanie Crochet Pattern by Krazy Kabbage
This elegant unicorn cupcake beanie will make an amazing gift for any unicorn lover.

The pattern is easy to follow with clear instructions and is fun and quick to work up.

Start out by making the basic hat in any size you like (size 2-4 years shown), then make the unicorn pieces, sew them on, and finish it off with some eyes.
Get the Pattern here

5. Crochet Unicorn Hood Pattern by Crochet Verse
This Crochet Unicorn Hood is so versatile and meets the needs of a hat, hood, and cowl all in one. It's made with Stylecraft Special DK from and is made using simple stitches in creative ways.

In addition, it features pom-poms that are heart-shaped with a tutorial to do so!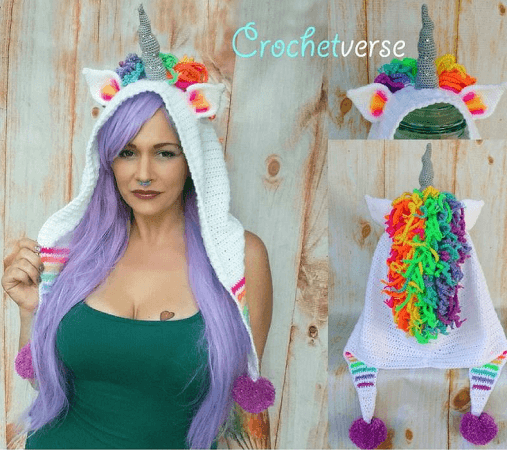 Get the Pattern by Crochet Verse here

6. Stardust The Unicorn Hat Crochet Pattern by Ira Rott Patterns
Learn how to make a cute unicorn hat with this Stardust, The Unicorn Hat Crochet Pattern. This can be made in a size that will work for any age and you are free to choose your colors!

Using basic crochet stitches – single crochet, double crochet, working in rows & in the round, increasing, and decreasing you will have no problem whipping this up!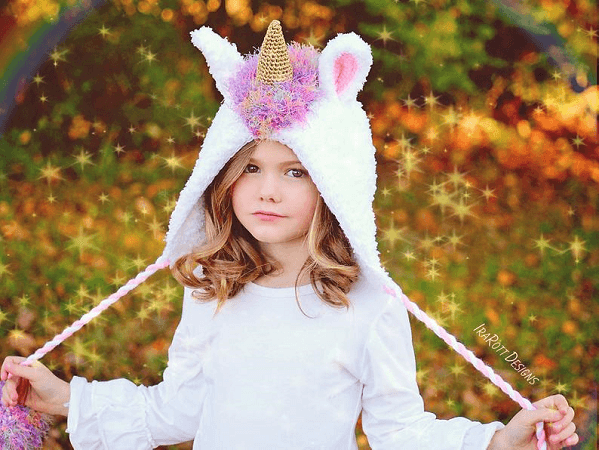 Get the Pattern by Ira Rott Patterns here

7. Unicorn Holiday Hat Crochet Pattern by The Hollowed Tree
Turn your ordinary Santa hat by making it into a Unicorn hat that is perfect for the holidays. Make the main body of the hat in one color and or use multiple colors for a happier look!
The hat is made with worsted weight yarn so you can whip one for everybody in no time!
Get the Pattern by The Hollowed Tree here

8. Crochet Unicorn Hat With Flowers Pattern by 5 Little Monsters
This crochet unicorn hat has a horn surrounded by colorful flowers rather than the traditional mane.

The pattern is for child-size only – making it a really quick and inexpensive costume for Halloween or any time of the year. A unicorn hat that absolutely perfect for that little girl in your life!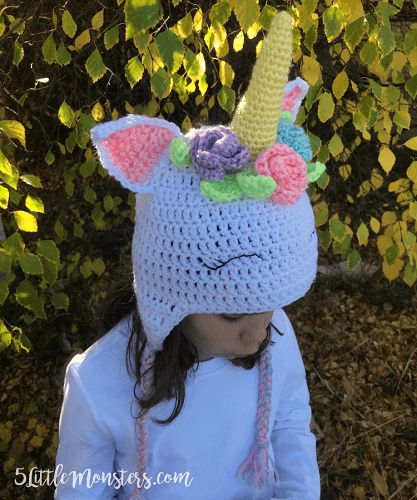 Get the Pattern here

9. Unicorn Hat Crochet Pattern by Nella's Cottage
Is your girl(or you!) into Unicorns? This would make the perfect gift whether for Christmas, Birthday or just because! You wouldn't only love it but you'd look so cute in it as well!

The pattern is written for size: One size fits most large children to small adults. Tips on how to make this hat smaller or larger to fit other sizes are also included in the pattern.
Get the Pattern by Nella's Cottage here

10. Crochet Unicorn Hat Pattern by Repeat Crafter Me
Do you have a little girl that loves unicorns? If so, she is sure to love this crochet unicorn hat with a rainbow mane! Perfect for dress-up, Halloween, and a fun colorful hat for dark, gray winter days.
The pattern makes a hat for a small baby up to adult sizes. It is sure to brighten anyone's day!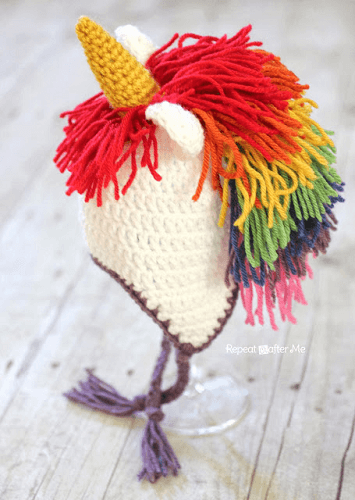 Get the Pattern here

11. Crochet Unicorn Cat Hat Pattern by Pawsome Crochet
This beginner-friendly crochet project would make an excellent costume or photo prop for your smaller four-legged friends. This unicorn hat works up very quickly and fits most adult cats and extra small dog breeds.
Everyone loves unicorns and how cute will your furry friend look in this creation?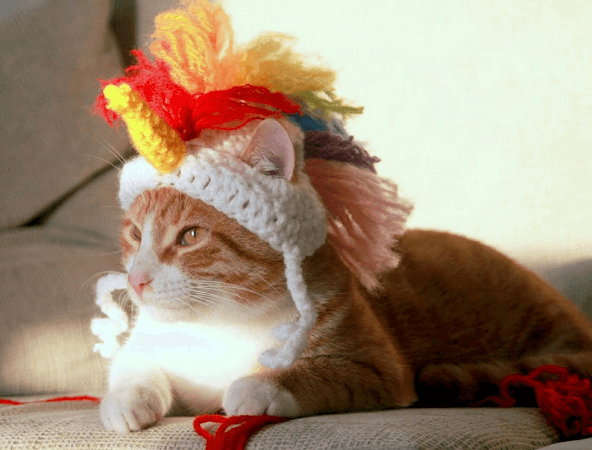 Get the Pattern by Pawsome Crochet here

12. Magical Unicorn Crochet Hood Pattern by Mama In A Stitch
If the little girl in your life loves horses or unicorns, this hat is for her!

This magical unicorn crochet hood has a size that fits approximately 2T-4T and measures 8.5″ front to the back of the hood, and 12.5 " from top of the hood to bottom of the cowl.

This unicorn hood features a horn, flowing "hair-like" mane, and a drawstring which helps secure the hood while it's warm and it's nice because you can adjust it to fit various little faces.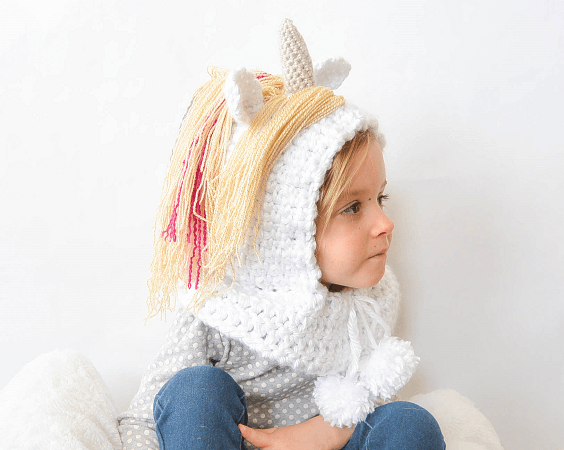 Get the Pattern here

13. Slouchy Unicorn Hat Crochet Pattern by Add Some Stitches
This Slouchy Unicorn Hat is great for cooler weather. The hat is a long beanie or slouchy style and has two unicorn ears at the top, along with a tan-colored unicorn horn.

The pattern includes instructions to make the hat in 3 sizes (child, adult, large adult) and how to change the size of the finished hat beyond those sizes.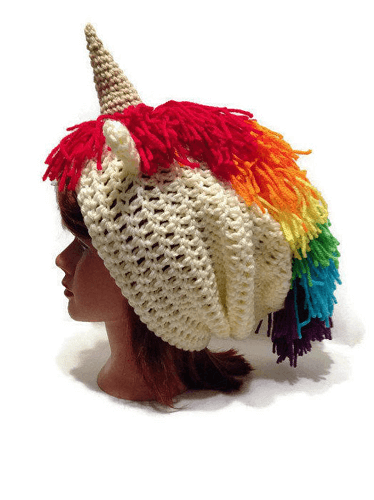 Get the Pattern by Add Some Stitches here

14. Crochet Unicorn Ponytail Hat Pattern by MJs Off The Hook Designs
This Crochet Unicorn Ponytail Hat is a bulky & quick design worked holding together 2 strands of worsted weight yarn and an 8mm crochet hook.
This unicorn ponytail hat is worked around an elastic band and then attached beautiful chains around the ponytail opening to add some fun color. It still works great with hair down making it perfectly versatile!
Get the Pattern by MJs Off The Hook Designs here

15. Unicorn Beanie Crochet Pattern by But First Crochet
What little girl or baby would not look adorable in a unicorn hat? Little girls love unicorns and would be ecstatic to stroll around sporting their comfy, warm, and stylish beanie made just for them!

The pattern works up quickly, adaptable to any size with simple measuring, and includes directions for newborn through teen/small adult.
Get the Pattern by But First Crochet here
There you have it – 15 Crochet Unicorn Patterns that you're sure to love! Which ones will you be creating?
We can't wait to see your creativity and all the different colors you folks come up with. When you complete one, please post it on our Facebook Page. We love seeing your work!

For more mythical creatures like these, you may also want to check the patterns we've gathered for Phoenix, Dragons, Dinosaurs, and more for the magical Unicorns!