Glamming up a bare wrist is super easy. From statement cuffs to stacking bangles to friendship bracelets, adorn your wrists with trendy bracelets. Making your own bracelets can be just as simple, and we're smitten with the creative ways these crochet bracelet patterns can turn into gorgeous works of arm art.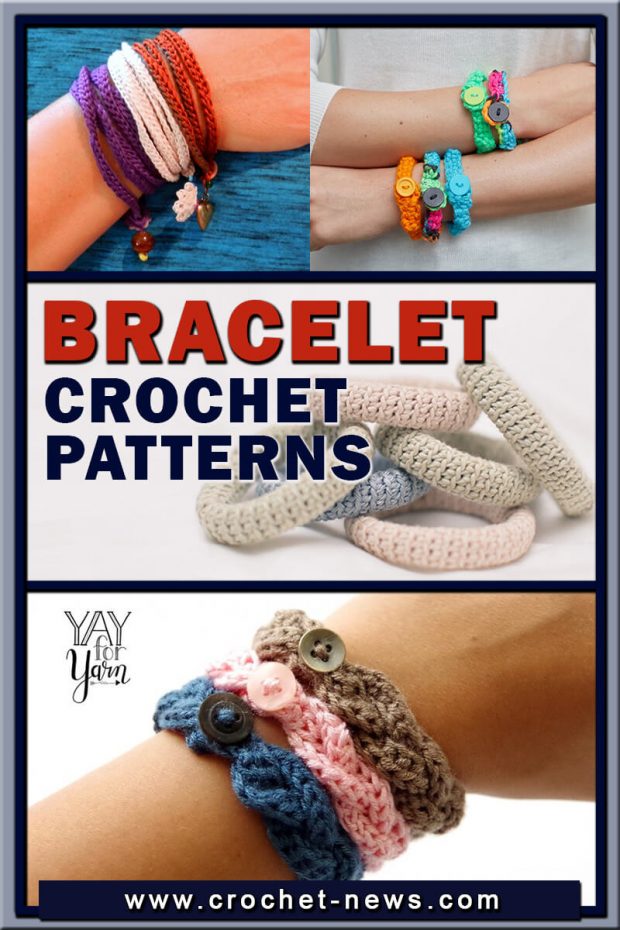 At the same time, you don't want to spend a fortune on your pieces, either. You want something that you can enjoy, that is entirely you, and that doesn't make you choose between the piece and groceries. You want something that is going to make a statement – and you want to be the one in charge of the statement that it makes.

How are you going to find the jewelry that is perfect for you, but doesn't break the bank? Check these 25 crochet bracelet patterns you can make yourself!

1. Beginner Crochet Bracelets Pattern by Red Heart
It's time to try this entertaining project that's great for introducing the kids to crochet! Make cool crochet bracelets in any colors you choose. This project won't lose the interest of imaginative minds. Give them to friends, teachers, add them to loot bags and so much more. It's a fun pattern and a creative new skill for kids!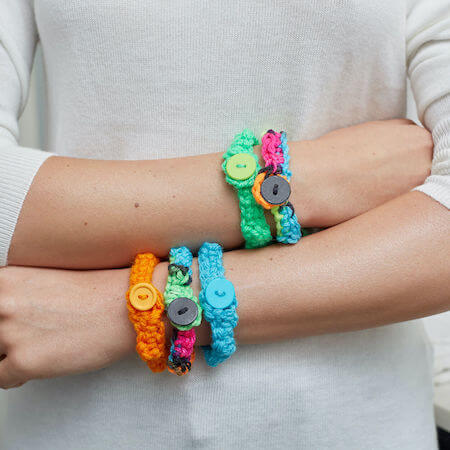 Get the Pattern here

2. Skull Bracelet Crochet Pattern by The Bittiest Baubles
Get yourself or someone you love a Crochet Skull Bracelet. Great for a Halloween accessory or just wearing year-round.

The length of your cuff is determined by how many skulls you make. Instructions are included for making an adult small at 7" / 18 cm and an adult medium-large at 8.5" / 21.5 cm.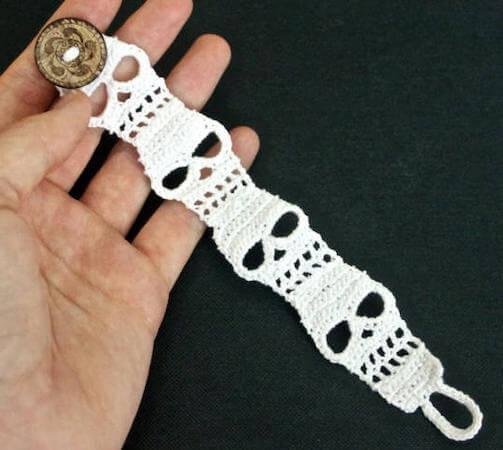 Get the Pattern by The Bittiest Baubles here

3. Charm Crochet Bead Bracelet Pattern by Yay Crochet Patterns
Charm your friends with this fun and flirty crochet charm bracelet! This Charm Bracelet is trimmed with lots of assorted charms and a fun button closure, making this a wear-with-everything accessory. The bracelet measures approximately 21 inches long (not including loop closure on end).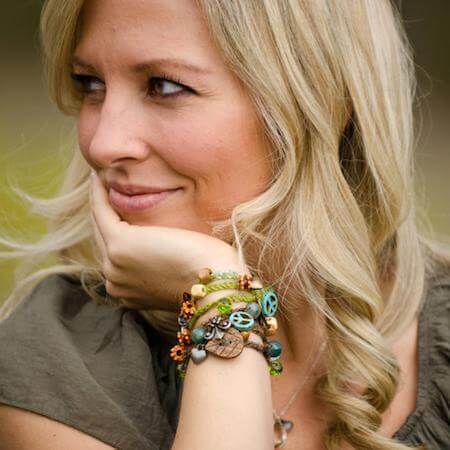 Get the Pattern by Yay Crochet Patterns here

4. Free Crochet Bracelet Pattern by Sweet Softies
The Adjustable Crochet Bracelet is a quick and easy pattern that can be worked up with yarn scraps! The pattern features a lace look with an adjustable clasp, making it possible to make these bracelets with yarn only, rather than having to purchase additional metal clasps and closure.

They can be made in any and all sizes to fit babies, toddlers, kids/children, teens, and adults. Depending on the type of yarn (or even embroidery thread) that you use, you can use this pattern to crochet dainty and feminine lacy bracelets as a fashion accessory for girls and women, or unisex bracelets that are larger and bulkier.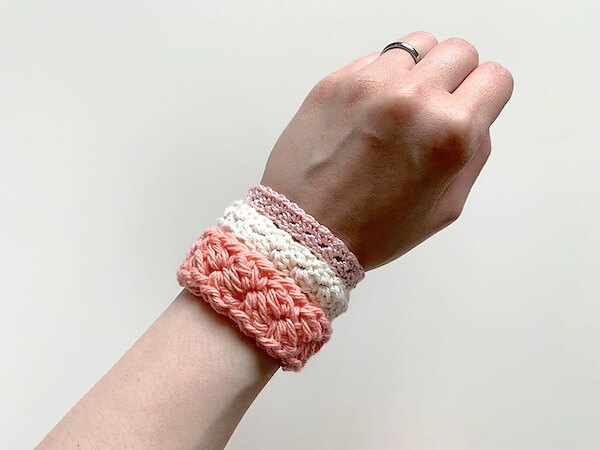 Get the Pattern here

5. Boho Bracelets Crochet Pattern by Crochet Spot Patterns
Inspired by the cords and beads of Bohemian style bracelets, this set is crocheted with tan thread and bright beads of various sizes. These friendship bracelets look great worn by themselves or stacked together.

The set includes 3 different bracelet patterns: a bracelet that is crocheted with large beads, a bracelet that is crocheted with small beads, and a bracelet that is crocheted with alternating bead sizes.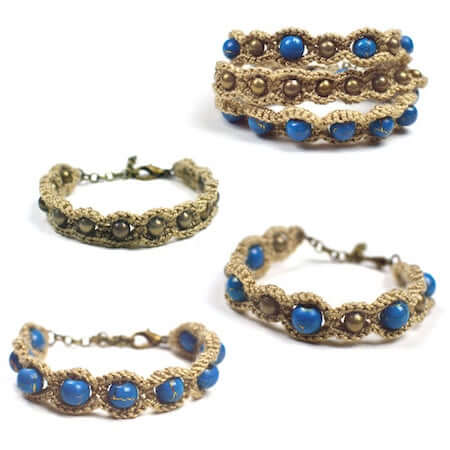 Get the Pattern by Crochet Spot Patterns here

6. Free Crochet Friendship Bracelet Pattern by Gathered
Show your friends a bit of love with these quick and easy Free Crochet Friendship Bracelet Pattern! You can embellish them with beads and buttons to make them extra special, or you could even use some special stitch markers on them to give them that extra bit of bling!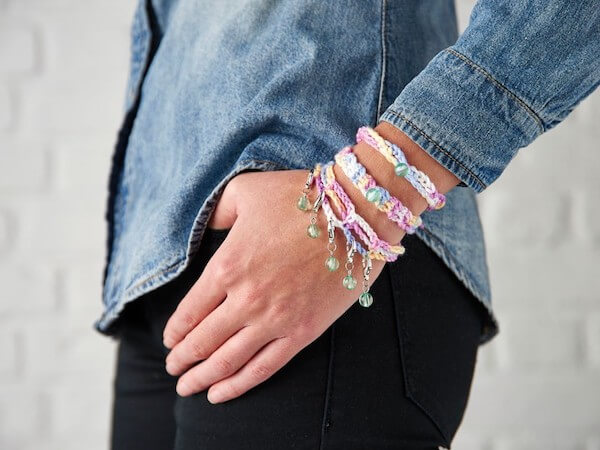 Get the Pattern here

7. Crochet Rustic Wrap Bracelet Pattern by Highland Hickory Designs
This Rustic Wrap Bracelet is an easy crochet project that works up quickly. You can customize the bracelet to be any size you need and use any beads you want (as long as they have center holes large enough to fit a large eye needle through).

The bracelet is long, which enables you to wrap it around your wrist three times. The closure is a larger bead that fits easily through a chained space.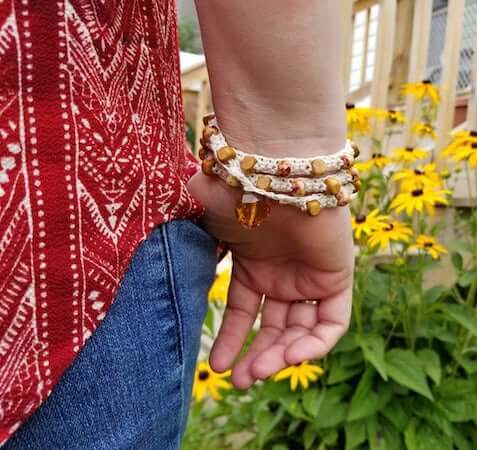 Get the Pattern by Highland Hickory Designs here

8. Mandala Crochet Bracelet Pattern by Lilla Bjorn Crochet
This bracelet can be adjusted for kids and adults! It can become a great last minute gift and a nice idea for kids party. It is a quick and colorful project and it is also an excellent chance to learn the basics of overlay crochet. The bracelet consists of a round mandala and a crocheted strap with a button.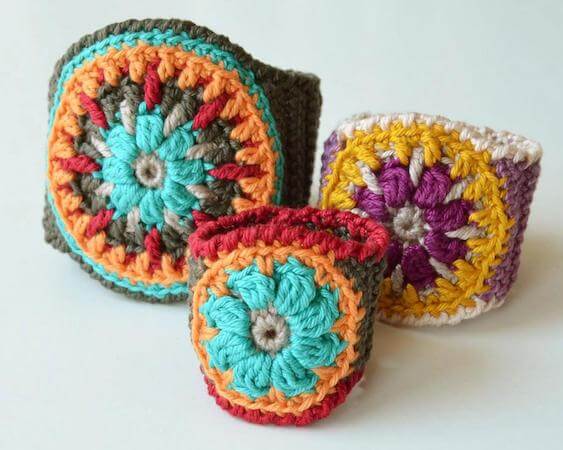 Get the Pattern by Lilla Bjorn Crochet here

9. Crochet Bracelet Pattern by Wilmade
Make your own crochet bracelet using this free crochet pattern. It's a very easy and beginner-friendly project which works up very fast. You can finish a crochet bracelet in less than an hour. Perfect to make for yourself or friends and family. Finally a great project to use yarn scraps for!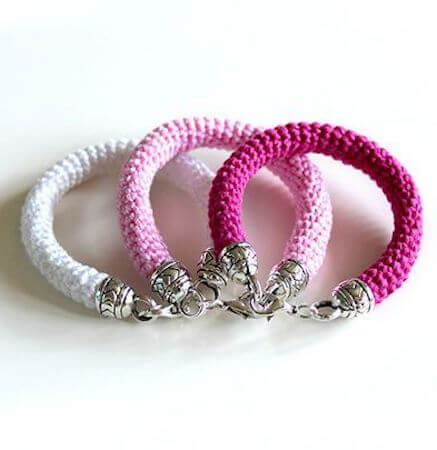 Get the Pattern here

10. Crochet Flower Bracelet Pattern by Thoresby Cottage
Summer is on the way! So why not make this dainty and whimsical Boho Flower Crochet Bracelet. The pattern can easily be adjusted to fit any size and even converted into an adorable headband!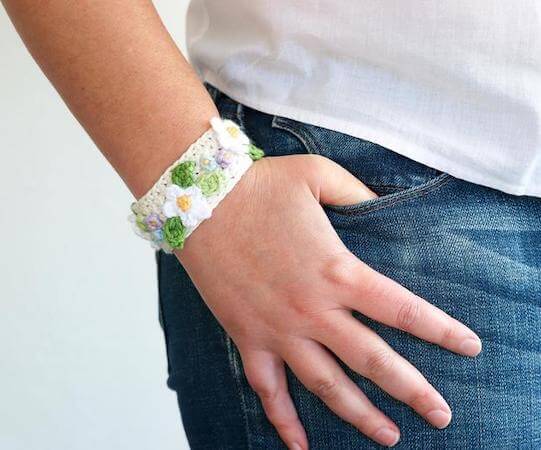 Get the Pattern by Thoresby Cottage here

11. Crochet Cord Bracelet Pattern by All About Ami
These Crochet Cord Bracelets are very dainty, and an adjustable closure is added so that you can easily tighten them around my wrist without having to tie knots or ask someone for help!

These bracelets are quick to work up and have such a minimalist and chic look! Choose your favorite color or make a bunch to match with your different outfits!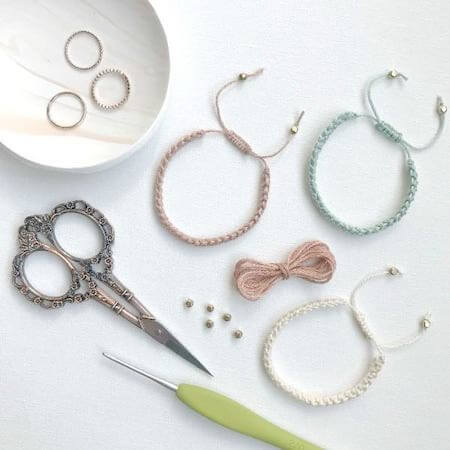 Get the Pattern here

12. Crochet Wrap Bracelet Pattern by Glow Creek Patterns
This pattern offers 2 designs: 1 single strand bracelet and a wrap bracelet that wraps around a wrist five times.
With three simple crochet stitches (chain stitch, bead chain stitch and slip stitch) this tutorial will show you how to make a lovely single strand bracelet and the bohemian style wrap bracelet too. The wrap bracelets can also be worn as single or double strand necklaces! 
Get the Pattern by Glow Creek Patterns here

13. Crochet Shell Bracelet Pattern by My Merry Messy Life
Here's a pretty little shell bracelet that's so quick to work you could make one to match every outfit in an hour. The color and adorning possibilities are endless, but here's one option above with a fancy button and tiny flower. The buttons really make it more fancy.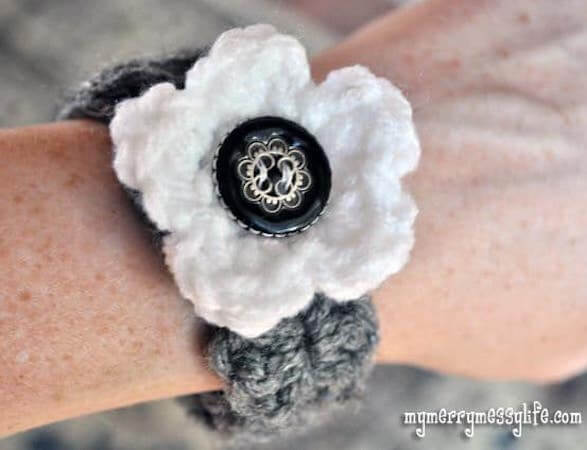 Get the Pattern here

14. Mix + Match Bracelets Crochet Pattern by Patterns Company
Mix + Match as many colors as you'd like with 5 different styles and instructions for beaded word bracelets to choose from. You'll be making these on repeat as they work up very quickly and not want to give any of them away.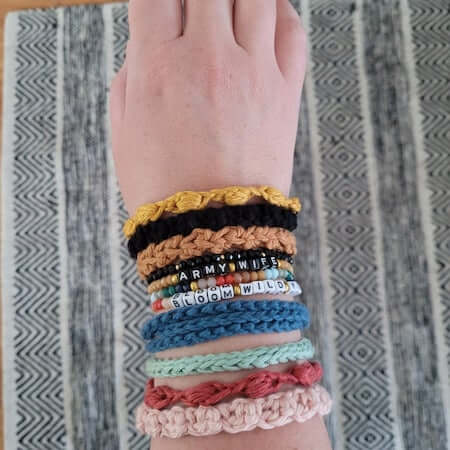 Get the Pattern by Patterns Company here

15. Charmed Wrap Bracelet Crochet Pattern by Deanna Young
A long crochet chain can be wrapped around and around to make an easy beginner's crochet bracelet. This one is made with thick crochet thread or embroidery floss. Add charms or buttons for more interesting jewelry and a touch of boho flavor.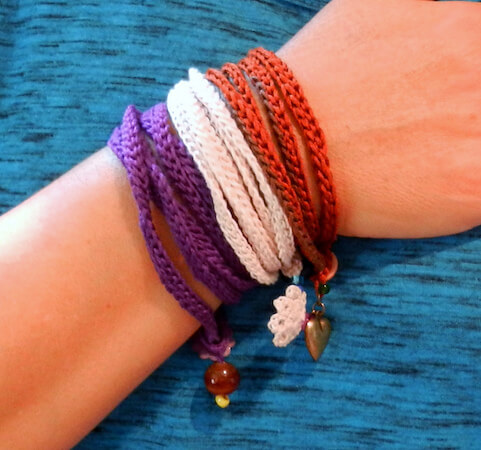 Get the Pattern here

16. Bangle Crochet Pattern by Handmade By Smine
This is a simple classic crochet bangle which you can make for yourself or as a quick last-minute gift. Use bright colors to make a statement or coordinating neutrals which will go with anything.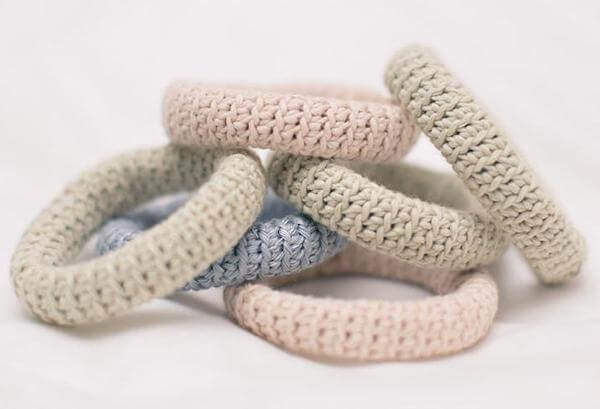 Get the Pattern by Handmade By Smine here

17. Beaded Wrap Crochet Bracelets Pattern by Darice
These Beaded Wrap Crochet Bracelets are the perfect project for a beginner crocheter, you can even make one to match your favorite back to school outfit. These are so simple to make and easily customizable.
Change up the seed bead and thread colors for completely different looks! Perfect for a quick afternoon project for yourself or make several as gifts.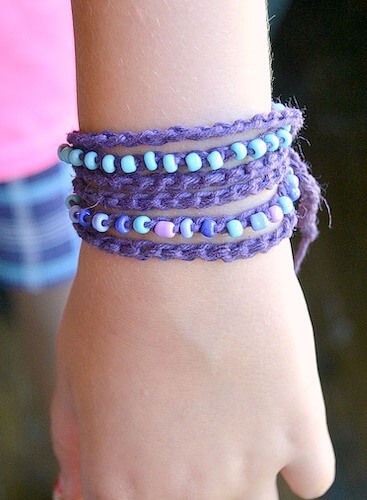 Get the Pattern here

18. Felted Bracelets Crochet Pattern by Knot Sew Cute
These bracelets are soft and warm and the best part is that they don't make loud clunky noises everytime that you hit them on something. They look great on their own or you can dress them up with a bit of lace detail.

They also make a great wristlet for your keys. These bracelets work up fast and they are the perfect crochet project for you to use up those scraps of wool for felting.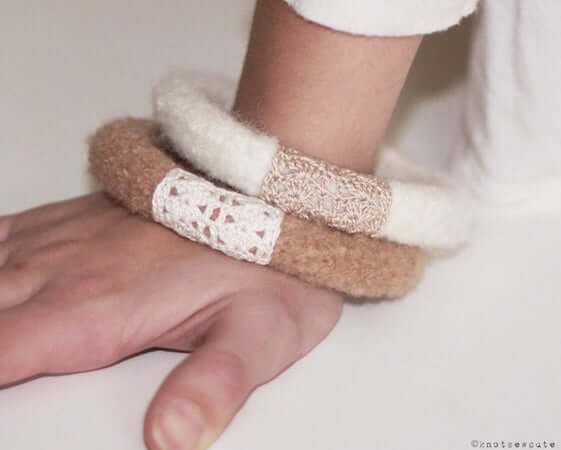 Get the Pattern by Knot Sew Cute here

19. One-Row Double Crochet Bracelet Pattern by Red Heart
It may seem a bit slow when working with this cord-type yarn, but you only have to crochet one row to complete this great free bracelet pattern. Make them in every color or make them for friends!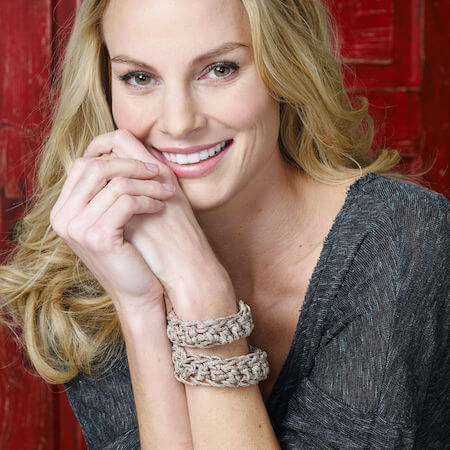 Get the Pattern here

20. Crochet Slap Bracelet Buddies Pattern by Whistle And Ivy
These fun Crochet Slap Bracelet Buddies can go on your wrist or ride along with you on your bike! Kids will find endless ways to take their slap bracelet buddies with them everywhere they go. Each slap bracelet has a fun crochet animal on top: Unicorn, Panda, Cat, Elephant, and Koala.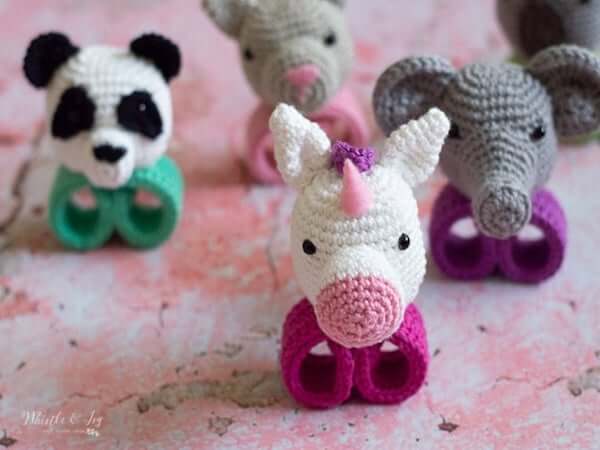 Get the Pattern by Whistle And Ivy here

21. Bobble Bracelets Crochet Pattern by My Giant Strawberry
This is an adaptable crochet pattern that you can use to make a variety of bracelets. Use fine crochet thread or pearl cotton for delicate bracelets. Use yarns in any weight to create chunky bangles or cozy cuffs.

This is a great project for using up leftover yarn and it's perfect for splurging on a luxury fiber because very little yardage is required.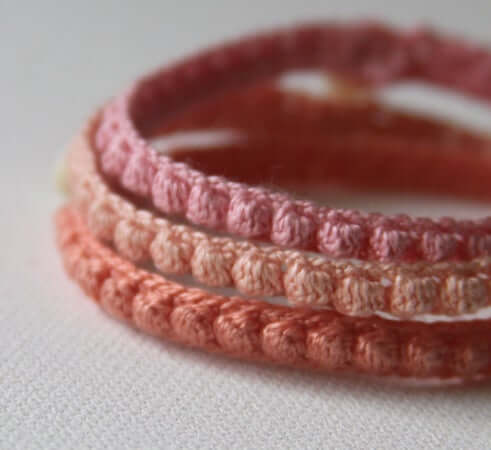 Get the Pattern by My Giant Strawberry here

22. Rollercoaster Bracelet Crochet Pattern by Jude Butterworth
This stunning bracelet is deceptively simple. It does not require any stiffening as the shape is built into the design. You don't need to do anything special to get the shape; it's all done in the stitch choice. What a dramatic statement piece that's not very hard to crochet!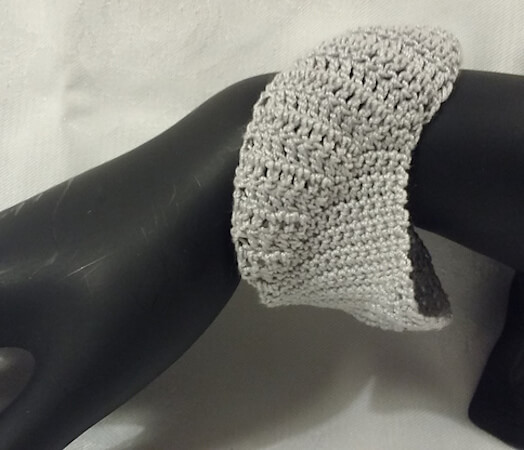 Get the Pattern here

23. Crochet Beaded Bracelet Pattern by Velvet Heart Patterns
This bracelet can be made any length you like. The tutorial gives instructions on how to determine the number of beads needed for whichever length you desire.
The bracelet is designed with loops at either end – you just thread any ribbon for a bracelet that will fit most wrists. There is a second closure option using rings and a clasp is given in the tutorial as well.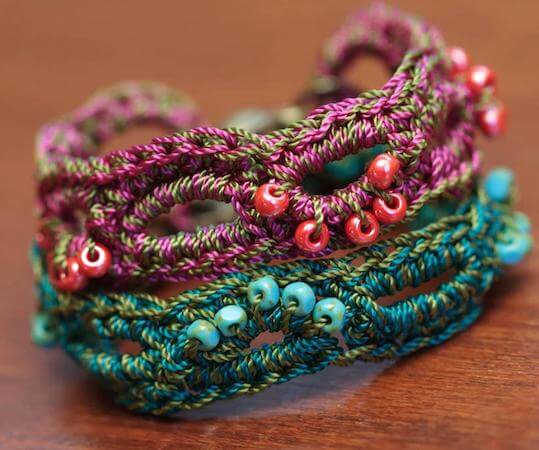 Get the Pattern by Velvet Heart Patterns here

24. Sea Glass Bracelet Crochet Pattern by Joyce Geisler
This bracelet is made up of square, triangle and hexagon shapes joined with chain stitches. There is a shank button in the center of the hexagon and also one to close the bracelet with a chain loop so it looks good from any direction. The bracelet is 9" long and 2" wide. The hexagon is 2" , the square and triangle are 1 1/2".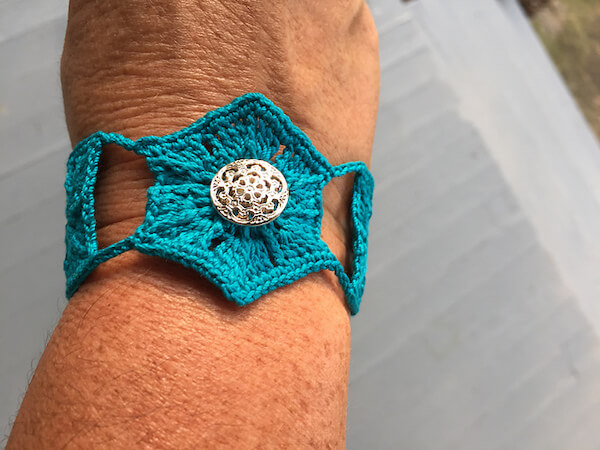 Get the Pattern here

25. Braided Crochet Bracelet Pattern by Yay For Yarn
These cute little crochet bracelets are the perfect summer accessories, and are quick and easy to make! These bracelets can be worn one at a time, stacked together, or combined with other bracelets for a different look.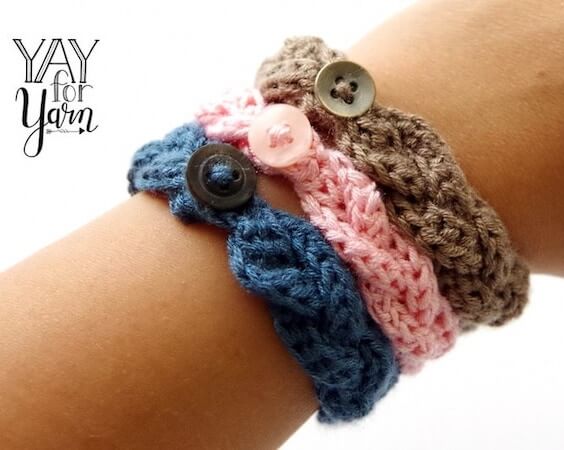 Get the Pattern here
Crochet Bracelet Frequently Asked Questions
Can you crochet a bracelet?
Absolutely! Bracelets might be one of the best beginner crochet projects around. You only need to know a few simple stitches and have a few minutes to make a truly unique piece of jewelry. If you're really new to crochet, start with an easy friendship bracelet that you work using just chain stitches.
What are the basic materials to crochet bracelets?
Once you have a pattern, it's time to figure out what materials you'll need. You'll need a few supplies no matter what:
Yarn (check your pattern for recommendations on weight)
Crochet hook (again, check the pattern for specific sizes)
Scissors
A tapestry needle (to weave in the ends)
Pins (can help secure multiple pieces together while you work)
You might also want:
Beads (these can be crocheted into the pice or sewn on the end)
Clasps (you'll only need these if you're making an open-ended bracelet, like a chain link design)
What kind of yarn do you use to crochet a bracelet?
Sport yarn is ideal for making jewelry. It is more durable than lace or super fine weight yarn, and gains an incredibly beautiful texture, especially if intricate patterns are involved. Crochet jewelry made with sport yarn is delicate and luxurious in appearance.
How to customize your crochet crochet bracelet?
There are numerous ways to personalize these fun patterns. They can be made with a variety of yarn colors, weights, hook sizes, and embellishments (beads, buttons, tassels, appliqués, charms).
How to add beads on a crocheted bracelets?
Don't feel bad if you finish a bracelet and think it would have looked better with beads. You could always add beads later by sewing them on. Sewing beads on also allows you to choose exactly where you want your beads to be placed. Just make sure your beads are securely sewn on; you don't want them to fall off!
What's the easiest bracelet to crochet?
The simplest crochet bracelet to make is a chain stitch bracelet. The appearance of the bracelet will vary depending on the size of the hook and the type of yarn used.
All you need to do is grab some yarn, a hook, and a chain. You could chain just long enough to tie around your wrist, or long enough to wrap around your wrist several times to make a crocheted cuff.
When your chain is the desired length, slip stitch to the beginning of the chain, fasten off, tie a knot with the ends, and either weave or trim them. It's entirely up to you.
SET TRENDS AND TURN HEADS IN THE PIECES THAT YOU CREATE WITH THESE CROCHET BRACELET PATTERNS!
We would be so glad if you share your finished works with us on our Facebook Page. Once you start making fabulous crochet bracelets, you'll be hooked!

What girl doesn't like to get new jewelry? Whether it be crochet earrings or necklace, there really is no need to have an occasion to splurge. After all, you don't need an occasion to dote on yourself, so go ahead – have some fun!
You can also make friendship bracelets to give to your family or loved ones to show how much they mean to you.

Now it's time to pick out your favorite crochet bracelet patterns, grab your hook and some yarn and get crocheting!