What's Inside: The best Toothless Crochet Patterns to make for that How To Train Your Dragon hardcore fans in your life! Now that the franchise is over, fans can get all sorts of crocheted items to preserve it forever.
I think it was inevitable that after taking my kids to watch the film "How To Train Your Dragon 2", they should ask me if one day they could have a dragon. While they can't have a real one obviously, they might be able to have this lot instead! They'll appreciate just about anything on this list.
While Hiccup might be the main character in the film, it's Toothless that has most people interested. Toothless is the icon of the franchise, which is what makes this list of Toothless-inspired crochet patterns such amazing projects.
12 Toothless Crochet Patterns

1. Toothless Crochet Pattern by Imagined Yarn
Ready to fly? Take off with your very own Toothless furry friend! With black fur and green eyes, this playful, loyal and intelligent dragon is ready to become your new BFF!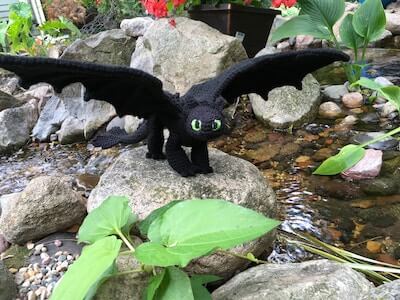 Get the Pattern by Imagined Yarn here

2. Crochet Dragon Pattern by Krawka
Little dragon riders will love this night and light fury dragons measuring 16.9 inches long. Whether they imagine soaring through the skies or embracing on an exciting adventure, kids are sure to be delighted by these plushies!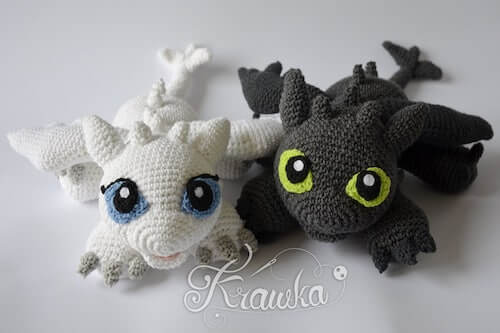 Get the Pattern by Krawka here

3. Toothless The Dragon Cup Cozy Crochet Pattern by Enchanted Ladybug
This Toothless, the Dragon Cup Cozy will add some fun to any cup of coffee. It will protect your hands from hot or cold coffee drinks and would make a great addition to your cup cozy collection!
Get the Pattern here

4. Toothless Crochet Hat Pattern by Evermicha Crochet
This adorable Toothless dragon hat is the perfect accessory for any "How to train your Dragon" lover. It's a great little hat for a Photography prop , halloween or for everyday use.

The pattern has instructions for 5 different sizes; 12-24 months through Large adult. If you have a baby, a kid or a geeky friend you want to surprise, this is the ideal gift to make!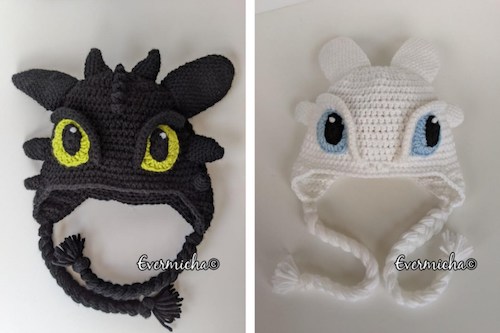 Get the Pattern by Evermicha Crochet here

5. Crochet Furies Dragon Pattern by Medaami Patterns
These 10cm tall cute little furies dragon can sit and watch from anywhere in your home. Keeping you company anywhere. You will have to keep an eye on your fish, though.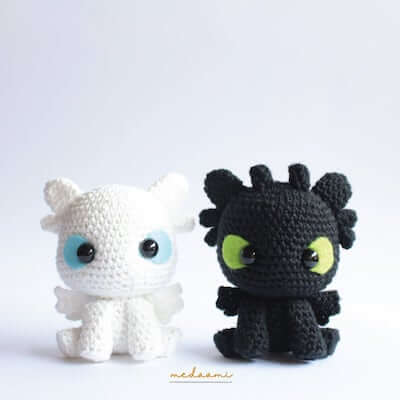 Get the Pattern by Medaami Patterns here

6. Toothless Amigurumi Crochet Pattern by Sarselgurumi
The unholy offspring of lightning and death itself— now in small form! What will you train him to do?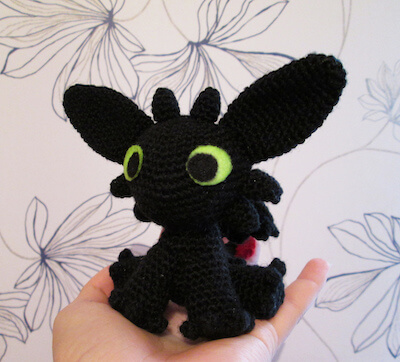 Get the Pattern here

7. Toothless Crochet Phone Case Pattern by Medaami Patterns
This Toothless Phone Case is cute, practical, and functional. Protect your favorite accessory with an option that represents your unique personality and style.

Make one for each smartphones you have and show the world how much you love How to Train Your Dragon film franchise through your devices.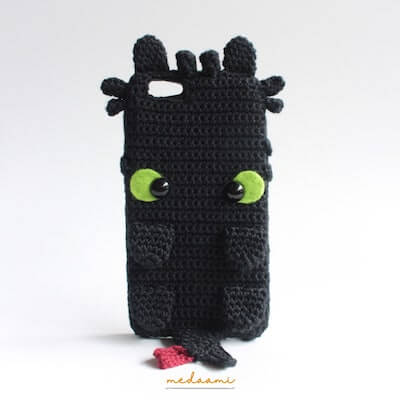 Get the Pattern by Medaami Patterns here

8. Toothless Crochet Friendly Dragon Blanket Pattern by Dana Dee Crochet
Turn yourself into the cutest dragon you've ever laid eyes on by keeping by keeping you warm with this bulky, Friendly Dragon Blanket. It's meant to wrap over your feet and calves. It is as fun as it is useful!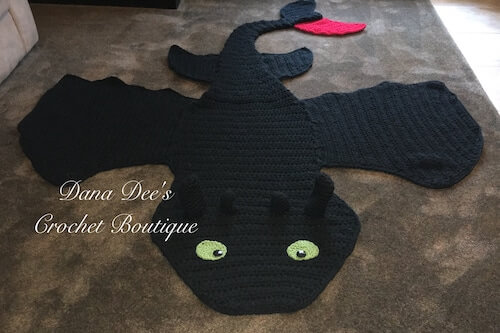 Get the Pattern by Dana Dee Crochet here

9. Light Fury Crochet Pattern by Imagined Yarn
For the longest time, we thought that Toothless was the only Night Fury in How to Train Your Dragon. In the Hidden World, that was no longer the case. The Vikings came across a white Night Fury, dubbed a Light Fury. This female dragon became a romantic interest for Toothless and a big part of the movie.

That's why this Light Fury Crochet Pattern is sure to make any fan happy. It features the Light Fury standing up inquisitively ready to fly off your hook!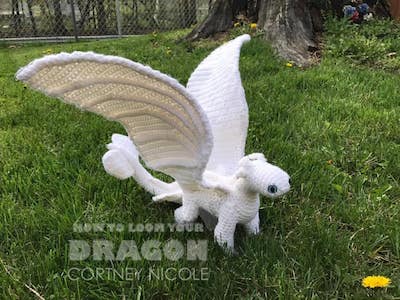 Get the Pattern by Imagined Yarn here

10. Toothless Crochet Black Dragon Pattern by Happygurumii
While Toothless might be a fierce dragon, capable of taking on massive Alphas and dangerous foes, he is also a sweet and lovable creature at his core. Have a look at this cute little dragon and you'll know what I mean!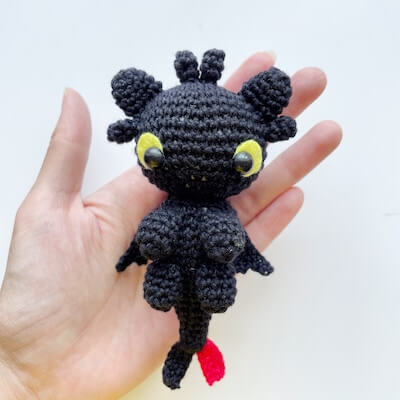 Get the Pattern by Happygurumii here

11. Toothless Toilet Paper Cover Crochet Pattern by Ohchives
A Toothless Toilet Paper Cover is just the thing every HTTYD lovers need to add to their bathroom decor. Start early and make many, since this geeky item is an unexpected gift that makes them all smile.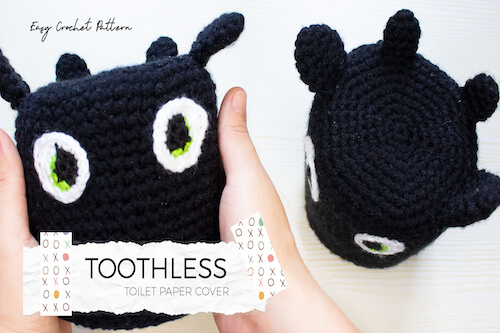 Get the Pattern here

12. Toothless Fingerless Gloves Crochet Pattern by Becca de Kroon
These fingerless gloves are comfortable, sporting a longer wrist that allows these gloves to easily be tucked up under jacket sleeves, for added warmth, while still keeping those fingers free. They're a great choice if you're looking for HTTYD accessory that can be worn daily.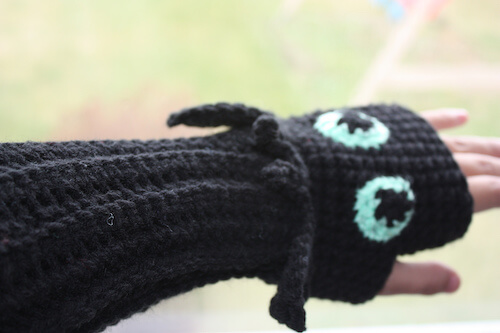 Get the Pattern here
FOR ALL THOSE ASPIRING DRAGON TRAINERS OUT THERE, YOU CAN GET ALL THE PRACTICE YOU NEED WITH THESE TOOTHLESS CROCHET PATTERNS!
From timeless stories to modern day stars, take a look at some of my favorite amigurumi patterns of children's crochet characters to make, as well! From popular book characters to your children's favorite cartoon characters, movie franchises and more.
 Are you planning on making these crochet patterns? Please share your photos with us on our Facebook Page! We love to see how the projects we share inspire you.
I hope you'll have fun whipping up these Toothless crochet patterns I've shared with you today. Happy crocheting, friends!