While a lot of people are too young to remember Snoopy, those of us who do will love these Crochet Snoopy patterns that bring him back into all our lives.
How amazing is it that we as crocheters can bring our favorite characters from cartoons, video games, and movies to life with our yarn and hooks? Yay for the art of amigurumi!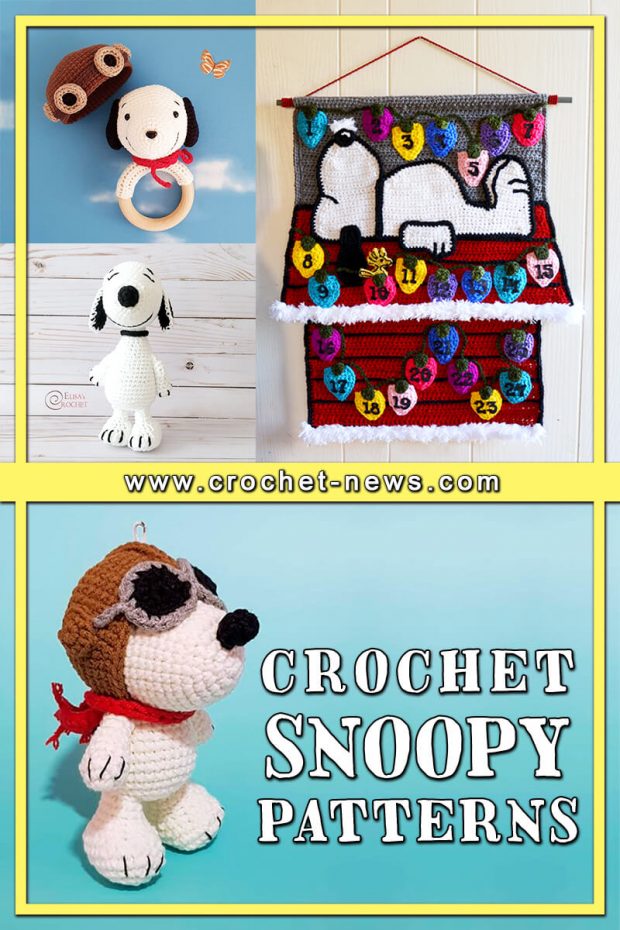 If you are a Peanuts fan, you will enjoy being able to create so many beloved characters: Snoopy, Woodstock, Charlie Brown, and the rest of the gang.
Let's get hooking with these Snoopy inspired projects that are perfect for all Snoopy and Peanuts lovers.

1. Crochet Snoopy Dog Amigurumi Pattern by Lovely Craft
This Crochet Snoopy Dog Amigurumi is quite realistic and almost small enough to fit in your palm. It's the perfect size to use as a keychain. Isn't he so cute with his aviator glasses and red scarf?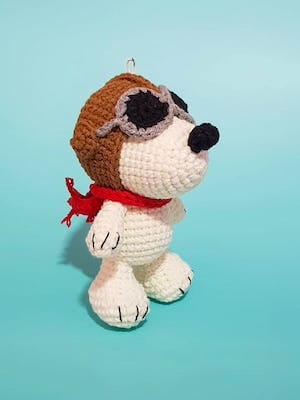 Get the Pattern here

2. Crochet Snoopy Happy Dance Hat Pattern by Repeat Crafter Me
Snoopy's happy dance (you know, the one where he moves his feet and points his nose in the air!) makes a super cute and easy crochet hat!
This is a beginner friendly pattern and up so if you are new to making crochet character hats or crochet in general, give this one a try!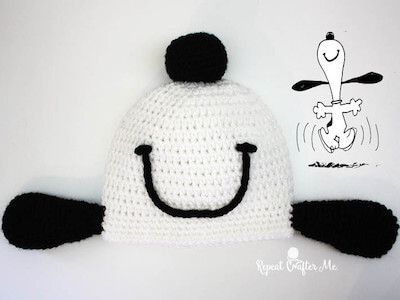 Get the Pattern here

3. Crochet Snoopy And Woodstock Amigurumi Pattern by Amigurinos
BFFs and better halfs won't be able to resist this cuddly, adorable duo. Friends until the end, this pair is ideal for kids of all ages.
Make Snoopy and Woodstock Amigurumi, an inseparable duo, for the one you can't live without!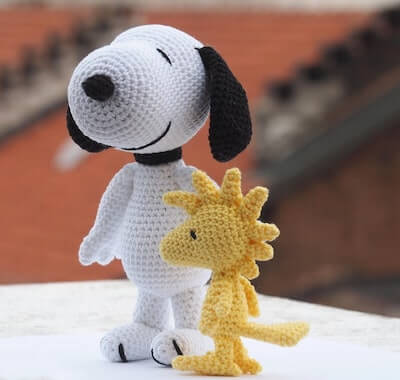 Get the Pattern by Amigurinos here

4. Snoopy Amigurumi Pattern by Chonticha Design
Big Snoopy is waiting for you to crochet! The finished size of this amigurumi is approximately 27 inches on standing position and 22 inches on sitting position. Delight someone with this larger version of our favorite Peanut friend!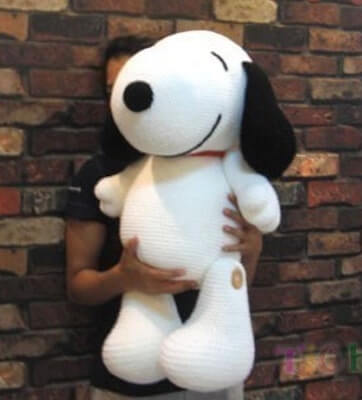 Get the Pattern by Chonticha Design here

5. Snoopy Lovey Crochet Pattern by Cnicolae
Here's a soft and cozy security blanket you can make to be the perfect comforting companion for your little one. The lovey is 18″ x 17″ when finished which is perfectly sized for little hands. It makes a great baby shower gift or welcome home baby gift.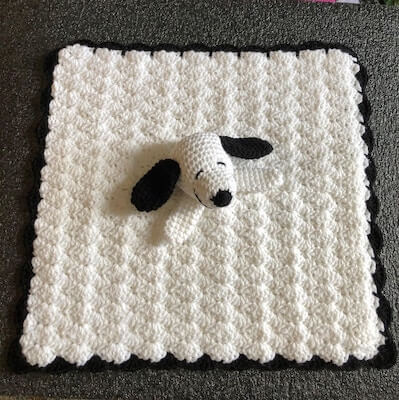 Get the Pattern by Cnicolae here

6. Crochet Charlie Brown And Snoopy Ornaments Pattern by Repeat Crafter Me
Charlie Brown and Snoopy are Christmas classics! Two cute patterns that take very little yarn and are a great additional to your tree or gift giving.
Get the Pattern here

7. Crochet Snoopy Amigurumi Pattern by Amigu World
Crochet the most popular Peanuts chraracter with his jet-black ears and iconic red collar. He makes not only a wonderful playtime, story and bedtime companion for little ones but a heart-felt gift for Snoopy fans all ages.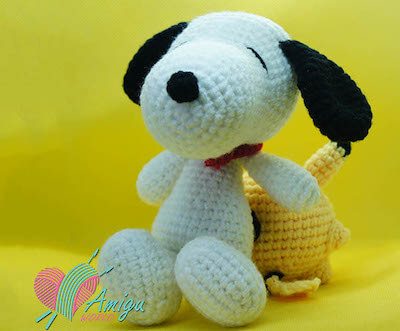 Get the Pattern here

8. Snoopy Blanket Crochet Pattern by C2C Pattern Shop
Who doesn't love Snoopy? This c2c crochet blanket featuring our favorite Snoopy, the dog will keep you and those you love warm while also warming your heart.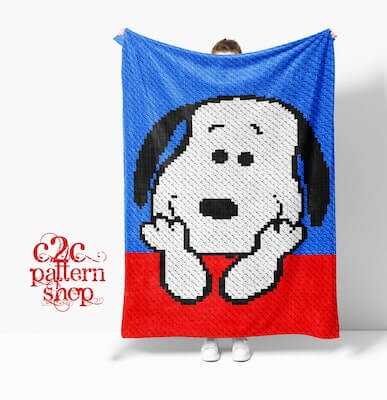 Get the Pattern by C2C Pattern Shop here

9. Crochet Snoopy Pattern by Chonticha Design
Everyone's favorite Peanuts character, Snoopy, is even more lovable in his Santa hat! This plush pooch is fun for all ages and makes a great gift for anyone on your Christmas list.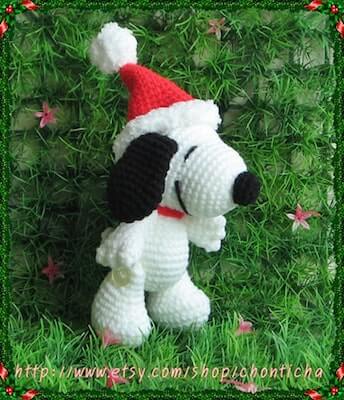 Get the Pattern by Chonticha Design here

10. Snoopy Free Crochet Pattern by Elisa's Crochet
Our favorite canine, Snoopy, comes to life in this soft cozy plush. He stands at 9.5" (25 cm) tall and is made with worsted medium cotton yarn and polyester fiberfill. He will surely delight your little one and will be a favorite pal for years to come.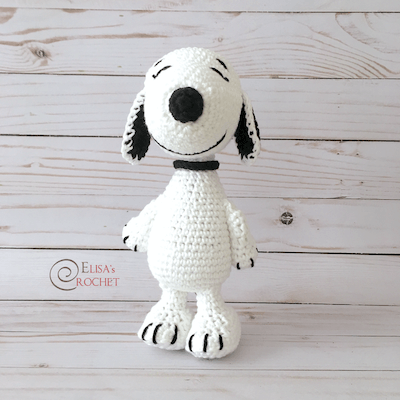 Get the Pattern here

11. Free Crochet Snoopy Advent Calendar Pattern by Crochetverse
Countdown to christmas with Snoopy & Woodstock! Give this advent calendar to your family on the first day of December to help build excitement for the upcoming holiday.
You'll really enjoy making new family memories together using this countdown calendar.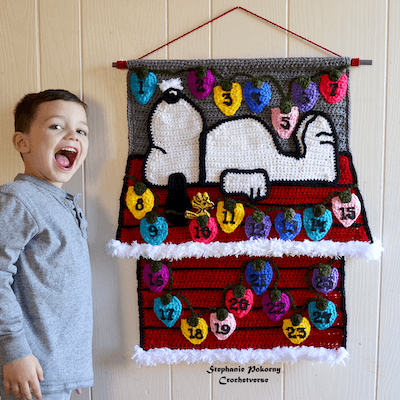 Get the Pattern here

12. Woodstock Amigurumi Pattern by Erin Scull's Toy Store
Woodstock is such a cute little bird with so much personality. He is definitely a must-make if you're a Peanuts fan! Snoopy's avian sidekick grows a little bigger with 11″ height when finished. He's still as adorable, is he not?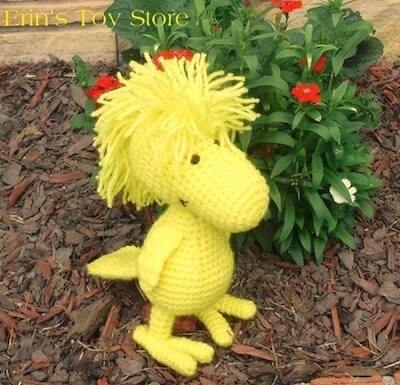 Get the Pattern by Erin Scull's Toy Store here

13. Charlie Brown Crochet Pattern by Sculpting With Yarn
Doesn't he look great? All those times you felt bad for poor ol' Chuck; now you can just give him a hug and make him feel better.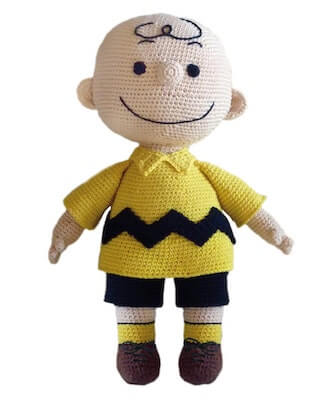 Get the Pattern by Sculpting With Yarn here

14. Pilot Snoopy Amigurumi Crochet Pattern by Stitch & Story
Despite having a lot of different pieces, this Pilot Snoopy Amigurumi is easier than it looks. Ideal for beginners looking for the next step in their crochet journey, or ambitious beginners, this kit will lead you through a few basic crochet techniques.
Make in parts, before sewing together, and use embroidery for the finishing details.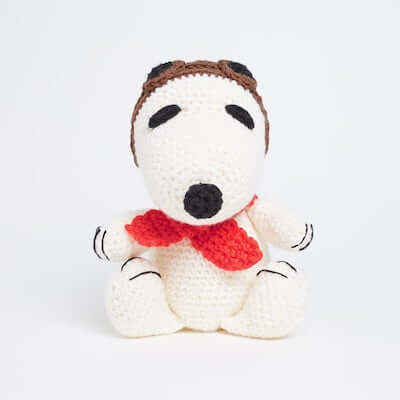 15. Baby Rattle Snoopy Crochet Pattern by Veronica General Store
Soft and cuddly, this 5.5. inches Snoopy Plush baby rattle is a big treat! This will be a perfect nap time buddy or play time friend.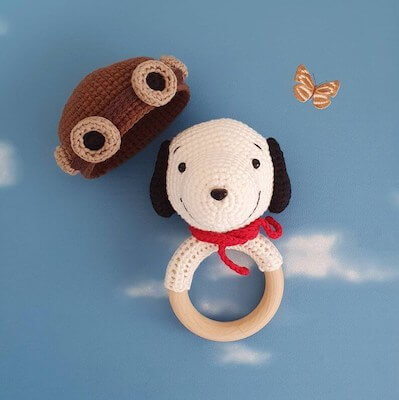 Get the Pattern by Veronica General Store here
MAKE THESE CROCHET SNOOPY PATTERNS THAT ARE SURE TO BRING JOY AND A BIT OF NOSTALGIA TO WHOEVER RECEIVES THEM.
Dog person or not, the imaginative and loyal Snoopy will always have a special space in everyone's heart. Show your love by sharing your finished pieces with us on our Facebook Page. 

Love crocheting adorable TV and movie characters? Check out these: Elmo Crochet Patterns, Winnie The Pooh Crochet Patterns, Hello Kitty Crochet Patterns, Crochet Frozen Patterns, Baby Yoda Crochet Patterns, and Beauty And The Beast Crochet Patterns you will surely want to make!

You will surely have a blast whipping up your favorite crochet Snoopy patterns today!