It's time to supersize your amigurumi with these large crochet animal patterns! These jumbo companions are fun for myriad reasons. Tiny crochet animals are cute, but the larger animals in this list are just the right size for hugs and cuddles.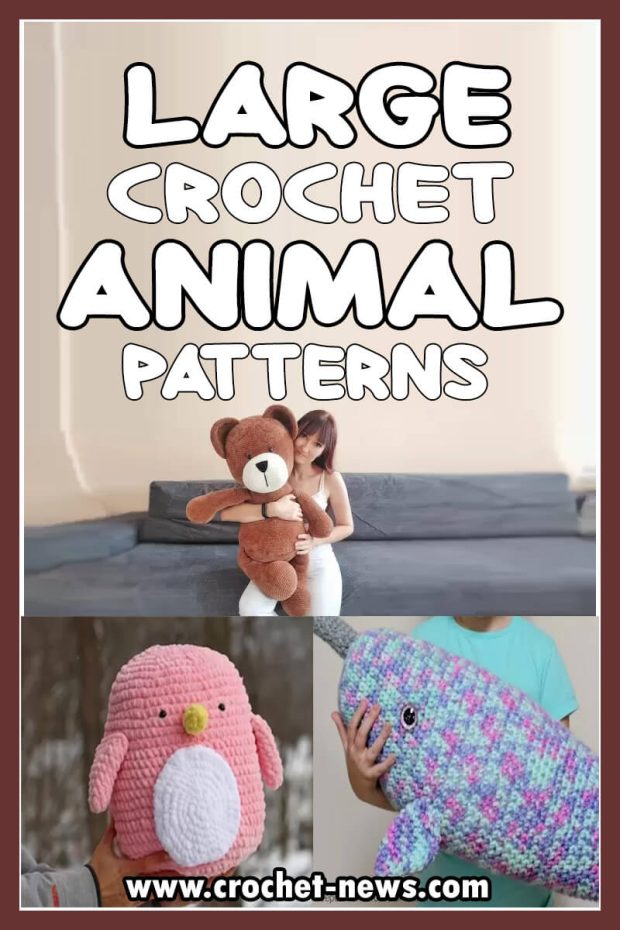 Finished pieces range in size from approximately 10 inches to a whopping 8 feet tall!
Sometimes, especially when it comes to gifts, a regular-sized crocheted animal just doesn't cut it. You will want something cute and cozy that'll make more of a splash; something that's impossible to ignore. You want a large crochet animal!
Fair warning: Make sure you have room in your home for these giants before you decide to make one!
21 Large Crochet Animal Patterns

1. Kiefer, The Forest Dragon Large Crochet Animal Pattern by Overton Fancies
Meet Kiefer, the life-sized baby dragon you can crochet! He is most certainly a labor of love, using 22 skeins of green yarn and 4 skeins of secondary colors. There is so much detail in this pattern to make this baby dragon look realistic.
Just look at those muscle bulges, and the eyeballs! This life-sized dragon is just perfect for your little knights to battle with. He is 8ft 6inches long from the tip of his nose to the tip of his tail.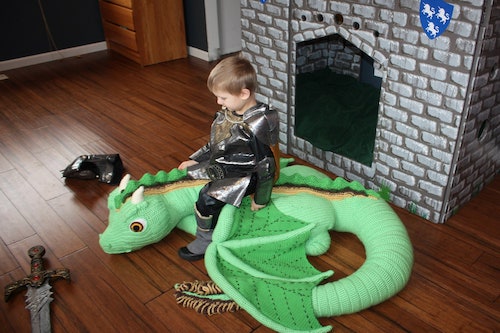 Get the Pattern by Overton Fancies here

2. Giant Octopus Crochet Pattern by Octopus Army Crochet
If you think that two arms are great for cuddling, just wait until you experience a snuggle buddy with eight! Big, soft, and plushie, this Giant Octopus is crocheted in one piece so no need to sew on all those legs!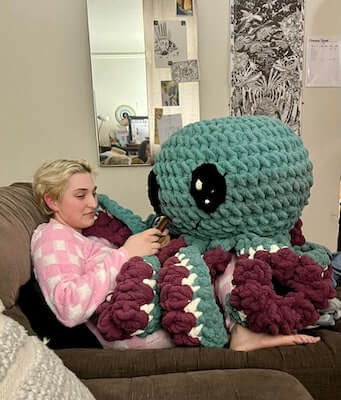 Get the Pattern by Octopus Army Crochet here

3. Large Whale Toy Crochet Animal Pattern by Wooly Knit
This crochet pattern is a great place to start because the finished product is a large, 45cm long stuffed whale toy. While this project requires a little more time than a traditional amigurumi project, it is well worth the effort and would make an excellent gift for children.

If you're planning a family staycation this summer, this handmade crochet children's toy would make an excellent travel companion that also doubles as a pillow for those long car rides.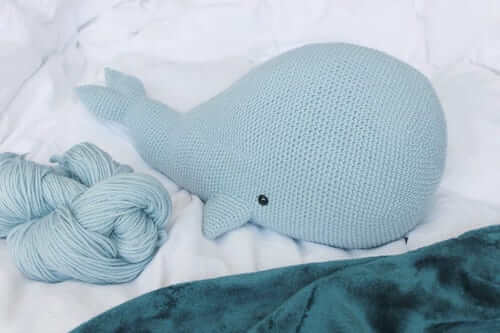 Get the Pattern here
4. Giant Panda Amigurumi Crochet Pattern by Curious Papaya
Meet Ginger, the Giant Panda! Measuring 14 in. x 13 in. [35.56 cm x 33.02 cm], she is the amigurumi creation of your dreams!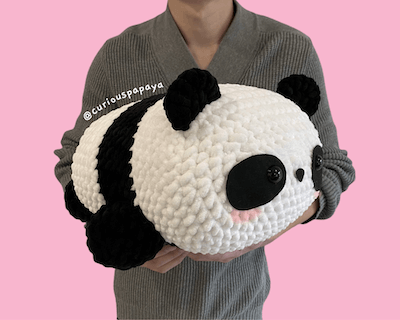 Get the Pattern here

5. Gravity, The Triceratops Large Amigurumi Pattern by Projectarian
With mighty horns, Gravity, the Triceratops will surely be an eye-catching, thoughtful gift to give. This plush toy measure out to be 30 cm long, making it the perfect size to cuddle up with and double as an adventure buddy.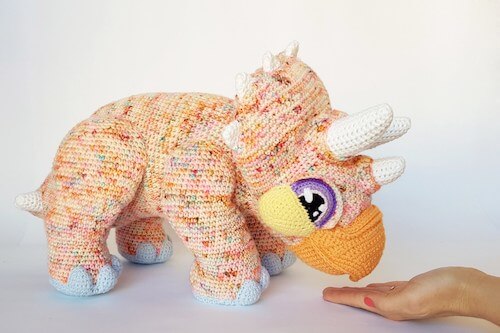 Get the Pattern by Projectarian here

6. Bubbles, The Unicorn Large Amigurumi Pattern by Storyland Amis
Meet Bubbles, the Unicorn! If you want a large, super cuddly, takes-up-serious-room-on-the-bed stuffie, this Extreme Amigurumi Pattern is worth the try! You can make your very own cuddly unicorn in an array of beautiful colors!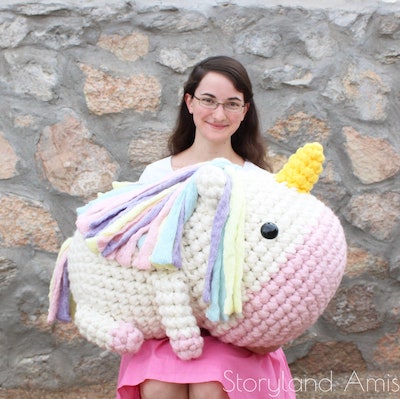 Get the Pattern by Storyland Amis here

7. Giant Crochet Jellyfish Pattern by Repeat Crafter Me
This massive jellyfish works up in just a few hours! It measures about 23 inches long and 9 inches wide. Super cute, super soft, super large, and super quick to crochet! This is an excellent gift for people of all ages!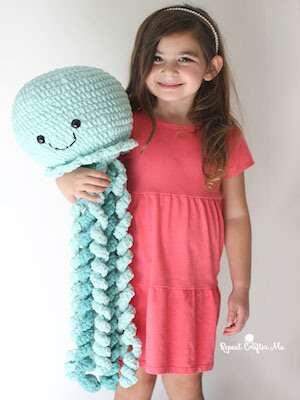 Get the Pattern here

8. Leo, The Giant Spider Crochet Pattern by Evelyn And Peter
Prepare to make the cutest fuzzy spider pal ever! Leo, the Spider is a quick and easy Halloween creation! His body is made of one large piece of fur yarn. The legs are made separately and attached to the spider body. There's no sewing required, which is always a plus!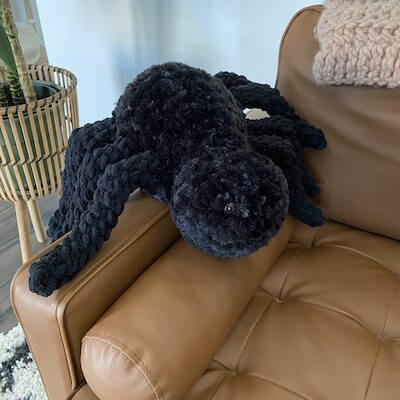 Get the Pattern here

9. Giant Snail Amigurumi Crochet Pattern by Crafty Intentions
With your very own Giant Snail Amigurumi, you can brighten both skies and smiles! This extra large slime puppy is approximately 10″ tall by 15″ long, and is partially filled at the base with glass gems to add weight and ensure he stands tall at all times.

Your choice of body color shows off fancy frills and is perfectly complimented with the shell and antennas. Though he has no face or limbs to show his love, this cuddly figure is sure to bring joy to your home and draw compliments from everyone who lays eyes on him!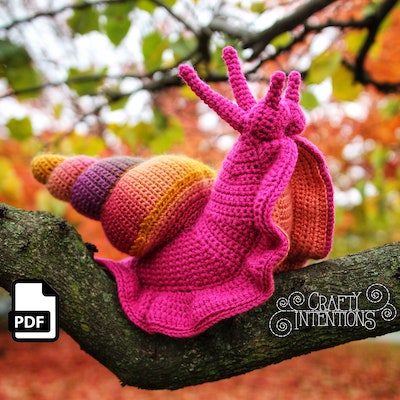 Get the Pattern by Crafty Intentions here

10. Jumbo, The Giant Bee Crochet Pattern by Curious Papaya
This fun, fluffy insect really is jumbo! When finished, Jumbo the Bee measures approximately 13" x 10". Jumbo is the perfect, squishy friend!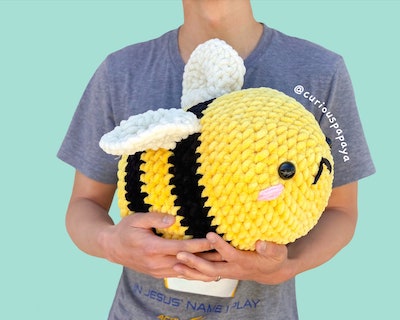 Get the Pattern by Curious Papaya here

11. Sunny, The Big Easter Bunny Crochet Pattern by Ira Rott Patterns
You will enjoy cuddles with a big bunny like Sunny! This pattern includes instructions for Easter eggs as well, so you can use up all your colorful yarn scraps.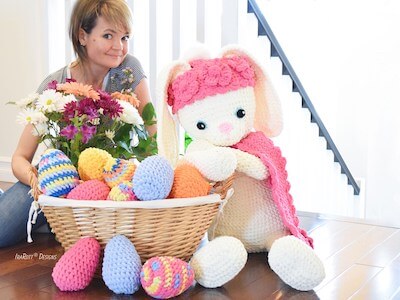 Get the Pattern by Ira Rott Patterns here

12. Jumbo Penguin Amigurumi Crochet Pattern by Little World of Whimsy
If you want the ultimate squishable companion, this giant penguin is for you! She's the perfect size for hugging and you can make the main color anything you want! I love the idea of a pink penguin because it's so fantastical and cute, but I can also see her in pastel blue, purple, or yellow!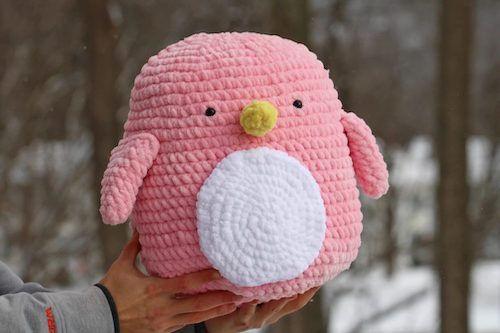 Get the Pattern here

13. Free Giant Narwhal Amigurumi Crochet Pattern by Keep Calm And Crochet On UK
Looking for the perfect cuddle companion? This giant narwhal is ready for some big cuddles! With this special buddy on hand, you are sure to have a whale of a time!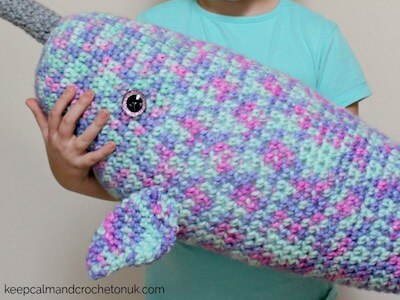 Get the Pattern here

14. Giant Owl Crochet Pattern by Storyland Amis
There's something about owls. Is it their baby-wide eyes? Their mysterious nighttime habits? I'm not sure, but owl somehow manage to be simultaneously enigmatic and totally lovable. This one is heavy on the lovable!

This Giant Owl is one heck of a hugger! At 22 inches tall, he's just right for little arms to squeeze and for young imaginations to love. Although, you're never too old for an unconditionally amiable friend!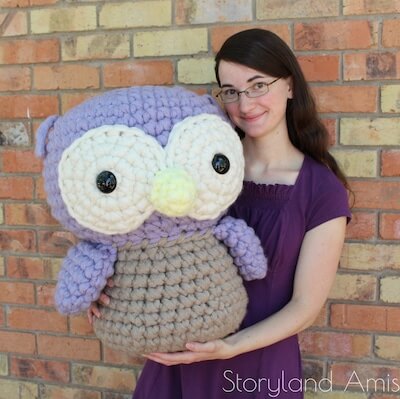 Get the Pattern by Storyland Amis here

15. Crochet Big Bear Pattern by Toys By Elif
Giant teddy bears are the perfect gift if you want to leave a "big" impression! Due to their sheer size, charming facial expressions, and soft huggable comfort, they are guaranteed to delight the recipient. Perfect decor for a child's room, they are a great place to lounge, cuddle, and nap.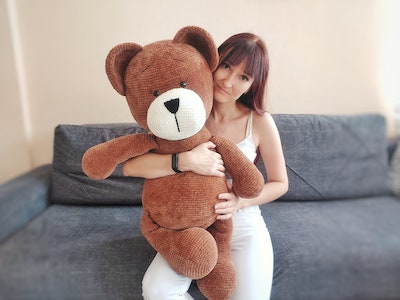 Get the Pattern by Toys By Elif here

16. Lunar, The Lemur Life Sized Crochet Pattern by Projectarian
Lunar is a fully articulated, life-sized amigurumi lemur with realistic proportions and features. She has intricate crochet shaping on her face, including nostrils, an open mouth, and a tongue, all of which are crocheted in one piece with the head.

Made with the suggested materials, she will stand 75 cm tall, excluding her tail. She's about the size of a human toddler, and yes, she can fit into human clothes, too!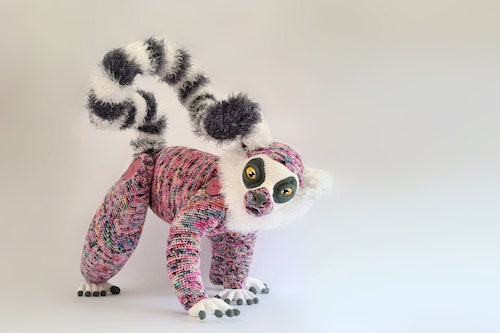 Get the Pattern by Projectarian here

17. Sylvia, The Giant Snake Crochet Pattern by Wool Couture
Meet Sylvia, the Giant Snake. She is super long, super chunky and quick to make. You can wrap her around and around with her floppy body. Sylvia would also make a great draught excluder behind your door.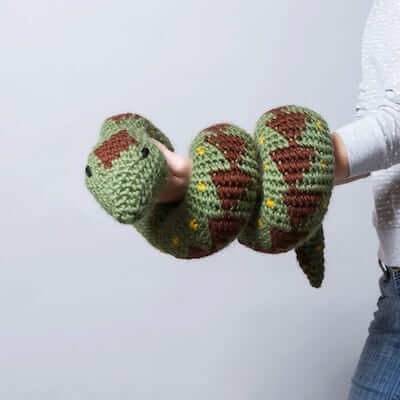 Get the Pattern here

18. Large Elephant Crochet Animal Pattern by Toys By Elif
This thick-skinned and peaceful giant with a very string sense for family can now be a member of your family as a plush toy! Change the color, if your imagination prefers different personalities for these beautiful creatures.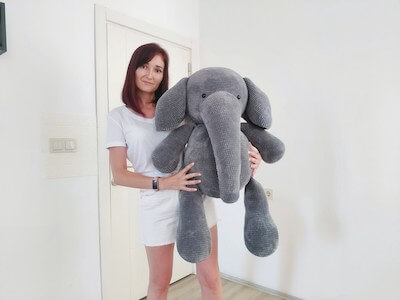 Get the Pattern by Toys By Elif here

19. Sidney, The Giant Squid Crochet Pattern by Hook Stitch Sew
Dive deep down into the ocean with Sidney, the Giant Squid. This realistic large crochet animal has lifelike features, such as 8 arms, 2 extra-long tentacles, and large eyes; it will have you wanting to go on endless adventures with it.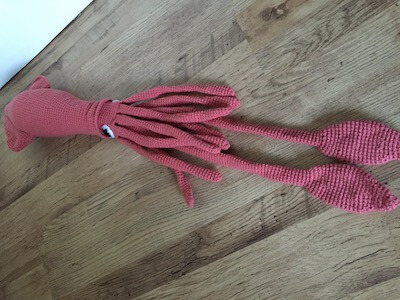 Get the Pattern here

20. Rusty, The Large Giraffe Crochet Animal Pattern by Ira Rott Patterns
Rusty, the majestic large giraffe transforms a child's nursery or bedroom into an African savanna. He is sure to bring a smile to everyone's face. Standing at 44″ (11.75 cm) tall, Rusty is likely to tower over all the other toys in the home and make a 'big' statement!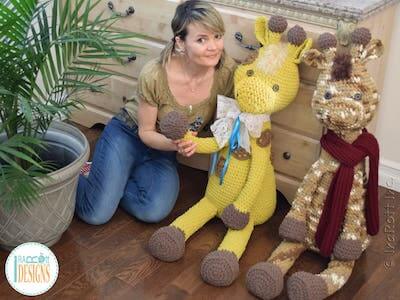 Get the Pattern by Ira Rott Patterns here

21. Large Sloth Crochet Animal Pattern by Repeat Crafter Me
This large animal has so much personality! I love his little round head and cute smile! And his super long legs and arms makes him so huggable and perfect for cuddling. From top to bottom he is 27 inches long!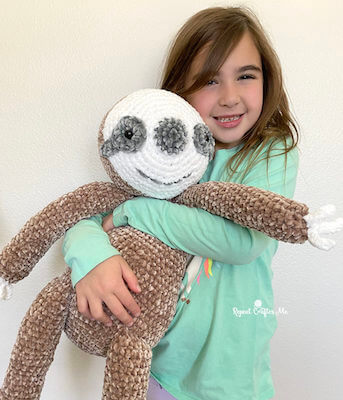 Get the Pattern here
Large Crochet Animal Patterns Frequently Asked Questions
Is it harder to crochet a large amigurumi animal than the regular-sized ones?
It's easy to crochet a giant amigurumi by using a thicker yarn and a larger hook! The result is a super-large animal, with the same amount of crochet work!
How do you make a giant amigurumi?
To make an amigurumi design larger, you can use heavier yarn and/or multiple strands of yarn, together with a larger hook.
What's the best stuffing for amigurumi animals?
The best stuffing for amigurumi in general is polypill, otherwise called polyester fiberfill, a synthetic fiber ideal for stuffing. Eco-friendly alternatives include yarn scraps and fabric scraps. Stuffing is essential to helping your large amigurumi animals maintain a firm, well-defined shape.
Can you use bulky yarn for a large amigurumi animal?
In general, bulky yarn can be used in any amigurumi pattern without making significant changes. However, for super bulky or jumbo yarns, look for patterns that are written specifically for those sizes, such as the Jumbo Penguin Amigurumi listed above.
What's the best crochet hook size for a large amigurumi animal?
The same rules apply with giant amigurumi as small ones: you want a nice fabric without holes showing through. It may feel funny using a giant hook, so just make sure you're getting an even tension, and find the size that works!
I like to start with a hook one size smaller than what the yarn band recommends, and then go up or down from there if needed.
IF YOU WANT TO MAKE YOUR ROOM A TALKING POINT IN THE NEIGHBORHOOD, OR MAKE YOUR KIDS DAY, GET A HOLD OF THESE LARGE CROCHET ANIMAL PATTERNS THAT ARE INCREDIBLY CUDDLY.
Nothing is cuter than a knitted animal, right? The tiny legs, the cheeky smiles, the oh-so cuddly softness, we just can't get enough of them! If you're looking for more popular animal patterns(big or small) to crochet, check these out!
Share your animal makes with us on our Facebook Page! We love seeing your work!
We sure did fall head over heels when we came across these large crochet animal patterns and there is something for everyone!