Make a splash with these crochet dolphin patterns! Crochet up your very own oceanic creature or why not craft a whole pod? We know there are a whole lot of fans of dolphins out there, so for those who are lovers of these great creatures, keep reading!
Why not just become a dolphin lover by crocheting dolphin-themed projects that will make a great gift for yourself, family, friends, or fellow dolphin lovers too!
You can now unleash your love for them without causing them harm. Take a look at this list for dolphin lovers just like you.

1. Daphne, The Dolphin Crochet Pattern by CCs Whimsical Crochet
Daphne is the cutest little dolphin! She fits perfectly in the "no fuss fish tanks" or would make an awesome keychain. Once you make her she will be so easy to take care of. No food or water needed!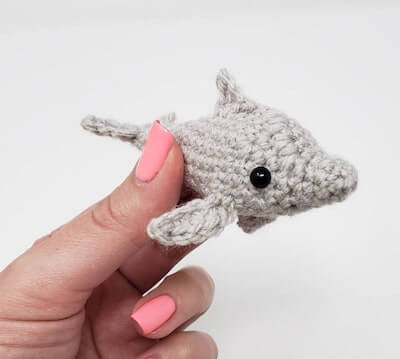 Get the Pattern by CCs Whimsical Crochet here

2. Crochet Jumping Dolphins Blanket Pattern by Bright Crochet Crafts
Make this fun dolphin blanket to get you in the mood for summer. This would make a lovely addition to any nature themed room. The finished pattern creates a blanket measuring approximately 100cm x 70cm. this would work well as a chair/ lap blanket, a cot blanket, gift for a new baby or maybe for use when travelling.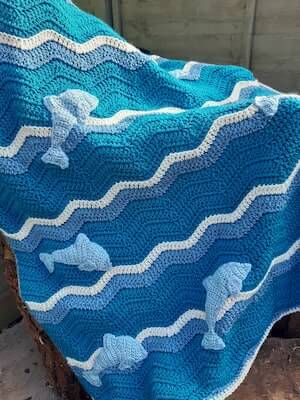 Get the Pattern by Bright Crochet Crafts here

3. Crochet Dolphin Set Pattern by Maggie's Crochet
Bring the sea to your home with the Dolphin Afghan, Pillow and Toy crochet pattern set. This three-piece kids crochet set includes instructions for the dolphin image crochet afghan, dolphin-shaped toy and coordinating pillow.
The ocean comes alive with blue crochet background that is perfect for a little boy' room and girl that enjoys dolphins.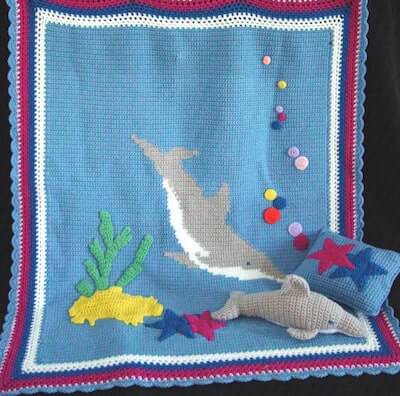 Get the Pattern by Maggie's Crochet here

4. Darcey, The Dolphin Amigurumi Pattern by Irene Strange
Darcey the darling dolphin spends her days exploring the ocean, leaping out of the water for a friendly hello! The dolphin made in DK weight cotton yarn and 3.5mm hook will measure around 38cm/15in long.
Get the Pattern by Irene Strange here

5. Crochet Bottlenose Dolphin Pattern by Delicious Crochet
This sweet and gentle sea-creature comes right from the ocean to your home! With its smiling expression and bright eyes, this friendly dolphin will leap right into your heart! This sea mammal is 13 inches long from the end of its bottlenose to the tip of its flipper.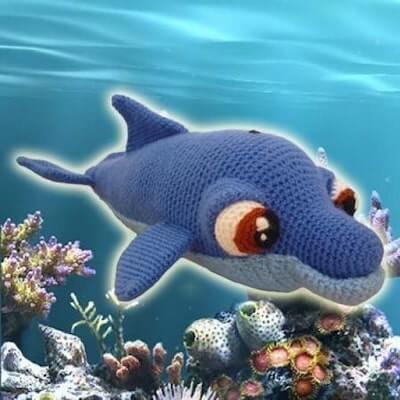 Get the Pattern by Delicious Crochet here

6. Crochet Dolphin Table Runner Pattern by Handmade By Raine
This Dolphin Table Runner is a fun decor item to add the vibes of the beautiful ocean life to your home. It is made in filet crochet technique and it's easy. You can add as many dolphins on your table runner as you like. And the white waves of the ocean are also easy to crochet for the edge of Dolphin Table Runner.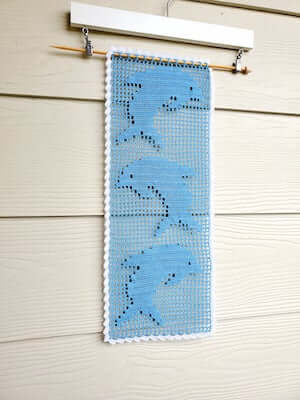 Get the Pattern here

7. African Flower Crochet Dolphin Pattern by Flower Safari
African flowers are very commonly used to make toys and stuffd animals, and this dolphin pattern is perhaps the best of the bunch. It may not b the easiest of patterns, but what better to make with African flowers than this dolphin? Have fun with different colors for different looks!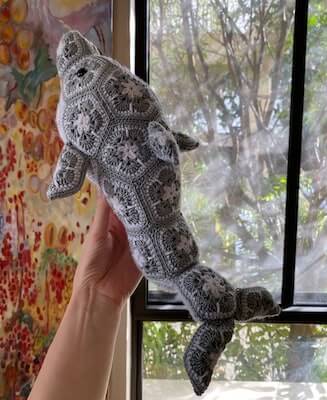 Get the Pattern by Flower Safari here

8. Crochet Dolphin Amigurumi Pattern by Pixie Marie Creates
This dolphin pattern is a fun and easy amigurumi to make. The pattern includes instructions on how to crochet your very own dolphin amigurumi as well as different sizes of flowers for the flower crown, and three different sized rings for play time.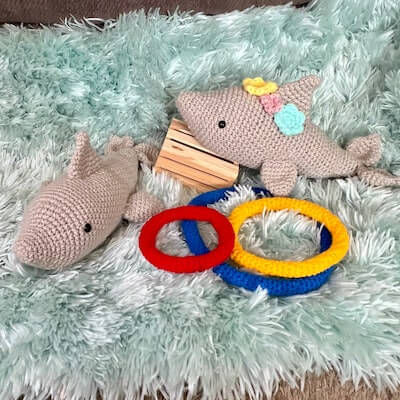 Get the Pattern by Pixie Marie Creates here

9. Crochet Dolphin Pencil Case Pattern by KT And The Squid
If your children love the ocean, this Crochet Dolphin Pencil Case Pattern is a perfect gift for when they go back to school. It uses aqua and dark gray yarn to immerse you in the sea.

The adorable underwater design wraps around from front to back. You can sew a zipper into this DIY pencil case to keep all of your pens safely inside. This easy crochet project would also make a cute handbag for a summer trip to the beach!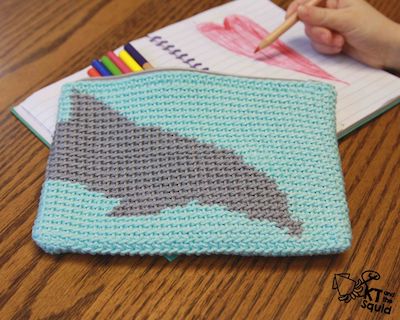 Get the Pattern here

10. Dixie, The Dolphin Crochet Pattern by Whimsical Yarn Designs
Take a trip into the deep with this super cute amigurumi dolphin crochet pattern! With Dixie's distinctive stripy body and freely flapping fins, this amigurumi dolphin crochet pattern is an extremely lovable marine make.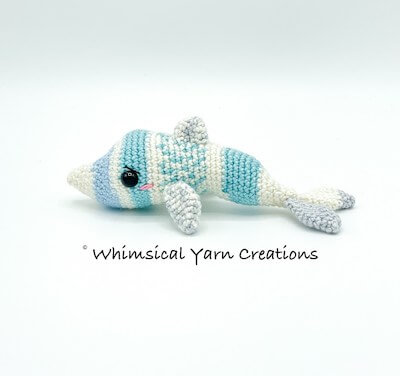 Get the Pattern by Whimsical Yarn Designs here

11. Crochet Dolphin Applique Pattern by Kerri's Crochet
This crochet dolphin applique may be small but it has a huge personality. This quick and easy project will have you making dolphins galore. Use cute little dolphin to make an applique for a nautical baby blanket or hat.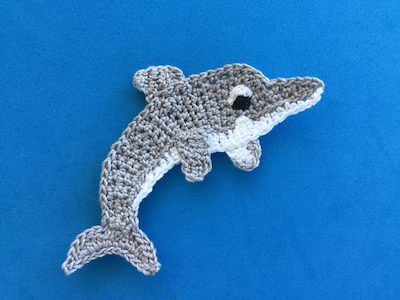 Get the Pattern here

12. Crochet Dolphin Blanket Pattern by MJs Off The Hook Designs
Perfect to snuggle up with on the couch for all the dolphin lovers out there! This Crochet Dolphin Blanket Pattern includes newborn to adult sizes so everyone in your family can enjoy one. The blanket is designed to cocoon around the legs and feet to keep you tucked in and warm.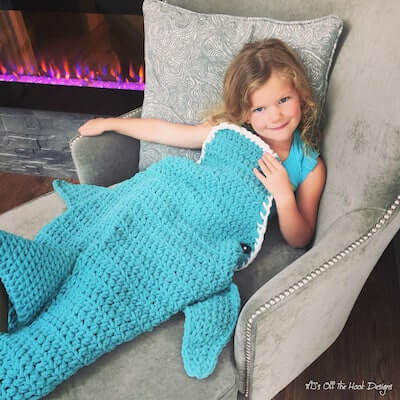 Get the Pattern by MJs Off The Hook Designs here

13. Crochet Dolphin Scrubby Pattern by Critteriffic Crochet
Here's an adorable bath time friend or small stuffed animal depending on which included base pattern you decide to use! These hand size amigurumi are the perfect size to sit atop your favorite lovey size blanket! Such a cute and versatile pattern!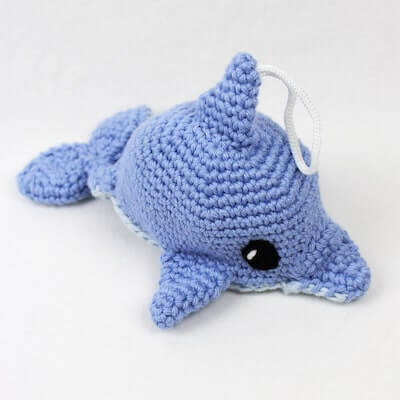 Get the Pattern by Critteriffic Crochet here

14. Free Crochet Dolphin Pattern by Cuddly Stitches Craft
Try this Free Crochet Dolphin Pattern to make an adorable Amigurumi dolphin that will make a perfect gift for any child who likes soft cuddles. There's plenty of scope for adapting this to your child's favorite colors!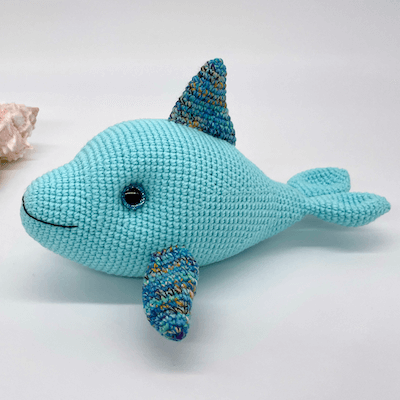 Get the Pattern here

15. Crochet Playful Dolphin Pattern by Crochet World
Careful attention to design details makes this little dolphin so very lifelike! His colorful little ball gives him a fun, playful look. Children and adults alike will fall in love with this little dude!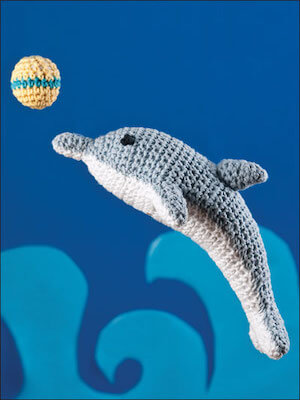 Get the Pattern here
HAVE FUN AND USE THESE CROCHET DOLPHINS AS A BREAK FROM MORE SERIOUS CROCHET PROJECTS.
We love seeing your finished projects! If you enjoyed making these crochet dolphin patterns, we'd love to see yours on Facebook. Stop over to our Facebook Page and share a photo!
If you fancy hooking up a whole menagerie of amigurumi animals, you'll find loads of amazing patterns at Crochet News for all kinds of animals who love and live in or near the water including squids, whales, sharks, seals, narwhals, turtles, and more! The sea's the limit!
Go ahead and whip up these crochet dolphin patterns to go along with your other critters!