Our free pattern will guide you through each step of creating a lovely crochet crown.
With our pattern you will be able to design a beautiful crown to adorn the head of each lovely little girl in your family.
Keep reading to discover the steps to creating your own crochet crown.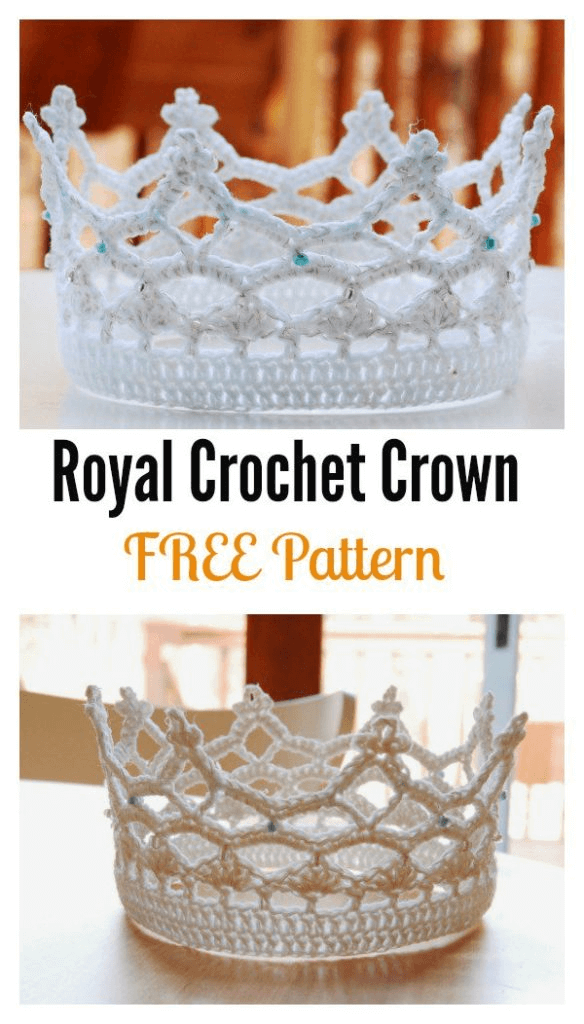 Princess Crochet Crown Pattern
I love to crochet. And if you're reading this, I bet you do too. One of the main reasons I keep coming back to crochet is to make one unique and personal gifts for my family and friends.
Jewelry, doll clothes, afghans, are just a few of the many wonderful items I've been able to create for my loved ones over the years.
Recently, I was looking for something to make for my little girls. They love to play dress-up and they love to watch movies with princesses. Their favorite movie at the moment is Beauty And The Beast, they absolutely adore Belle.
I remember how much I loved the same things when I was a little girl, so it comes as no surprise that they spend hours doing the same thing now.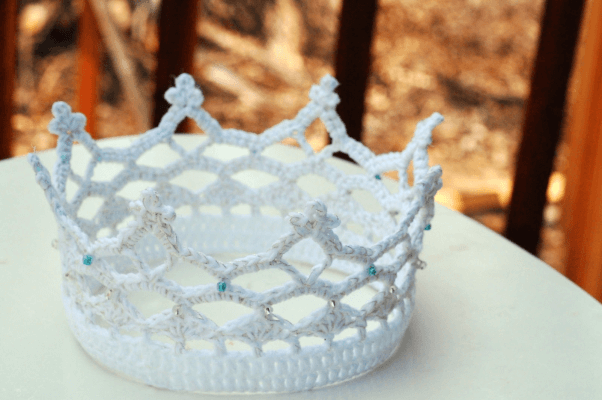 Crochet Crowns For Royalty
I've made some of their play dresses and jewelry, but I began thinking that all they had were little cheap, plastic crowns.
I decided my girls will only be this young for a short time and I wanted them to have crowns they will remember.
I knew with some ingenuity I could create lovely little crowns for them to play in for a few more years until they grow a little too much to play dress up.
After making a couple of crowns for my girls, I decided to make some more for their friends to play with, as well as some for my nieces.
Then my aunt asked me to make one for my cousin to wear for her wedding. My cousin looked like true royalty gliding down the aisle to meet her betrothed with a long veil trailing behind. Just lovely, I assure you.
I love this pattern because of how creative I could be. I used different colors of yarn for each crown, so each little girl could be a unique and one-of-a-kind princess. To truly make it unique I added different sparkle with beads and thread.

Princess Crochet Crown Materials:
Difficulty
This pattern is fairly easy. You only need to know some basic crochet stitches:
Chain stitch
Slip stitch
Single crochet
Double crochet
Treble crochet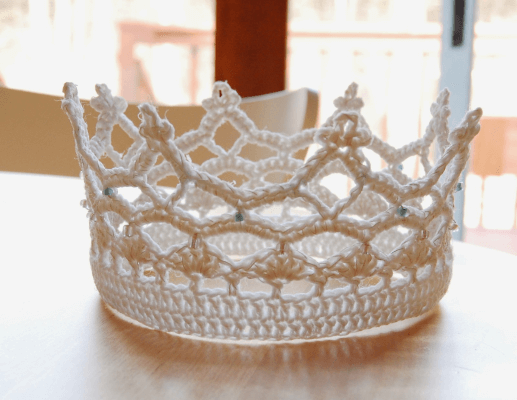 Time
The crochet crown works up quite quickly, so you can adorn your princesses within an afternoon.
Size
The finished size is about 46 cm or 18 inches in circumference.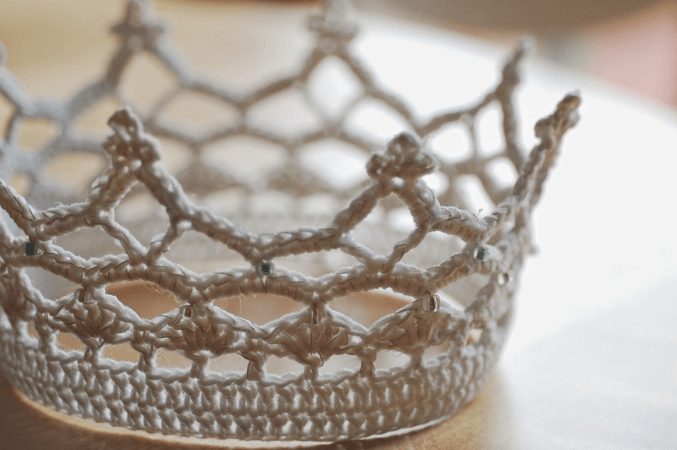 Tips
You can change the size of the crown by changing the yarn and hook size, or you will have to do a little math to increase the stitches.
Add sparkle and bling with beads, pearls, metallic threads, sparkle yarns, and anything else you can dream up!
You could make a smaller version to adorn a doll, a tea cozy, even make ornaments!
I know I very much enjoyed making up these crochet princess crowns for my girls and several others. Their favorites are pink and purple with sparkly beads. I hope your princesses love the crochet crown as much as mine do.
Get The Free Crochet Crown Pattern Here
More Crochet Hat Patterns Here