Orchards are beautiful flowers with an exotic appearance. Over 20,000 species of orchards can be found throughout the world. Thanks to their exotic looks, they are associated with love, sexuality, fertility, beauty, and excitement.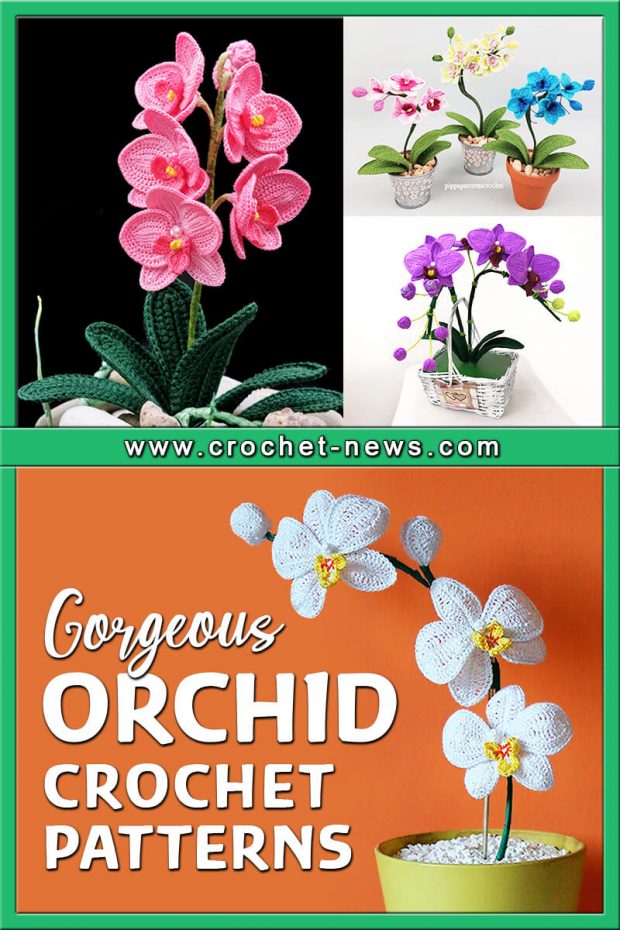 If you are looking for a way to brighten up your home or add an exotic feel, check out our list of 10 crochet orchard patterns.
1. Crochet Orchid Pattern by HappyPattyCrochet
Create this elegant and luxurious crochet orchid arrangement, to decorate your home. The pattern is of the ever-popular Moth (Phalaenopsis) Orchard. It is perfect for any occasion and makes a great handmade gift for a housewarming.
The crochet pattern includes diagrams, instructions in American Standard Terms, and step-by-step guides with photos. Included are instructions for 2 sizes of blossoms, 3 sizes of buds, and 2 sizes of leaves.
Orchid Crochet Flower Materials
Use cotton yarn 1 mm
Hook 0,7 – 1 mm
Floral tape brown and green
Wire 0.4 mm for flower leave and 2mm for branch
If you are a beginner, I have some bad news for you, this orchid pattern is for advanced crocheters only. Otherwise, it will definitely take you a couple of failed attempts before you begin to scratch the surface. Practice makes perfect, however, and the results will be worth it; a beautiful orchid that will last decades.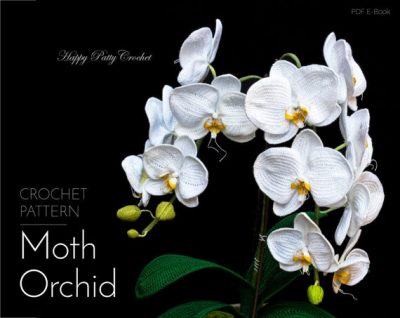 Find the Pattern by HappyPattyCrochet HERE
2. Orchid Paphiopedilum Pattern Crochet Flower by Tanita777
Use this crochet orchard pattern to make a classy and beautiful flower. The pattern creates a Paphiopedilum Orchid. It is one of the most elegant flowers in the orchid family. It is also called the Lady Slipper or Venus slipper. You can use this pattern to make appliques, home decorations, and jewellery.
The intermediate level pattern contains 12 pages with diagrams and descriptions. There is also a photo tutorial with many photos and step-by-step instructions for making the flower.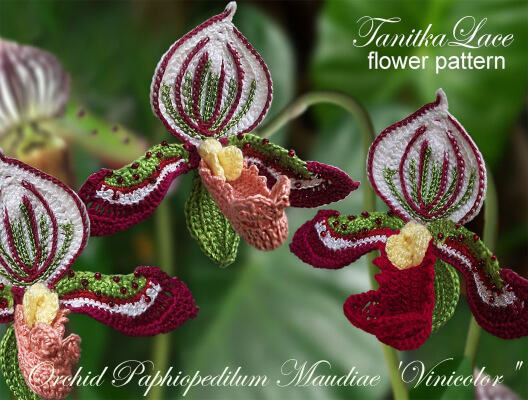 Find the Pattern by Tanita777 HERE
3. Orchidea All'Uncinetto Crochet Orchid Flower Free Pattern from Mary J Handmade
Here is a free video and written tutorial for making a crochet orchard. The pattern is quite easy to follow. You can use these orchard flowers to make a bouquet, brooch, centrepiece, or jewellery.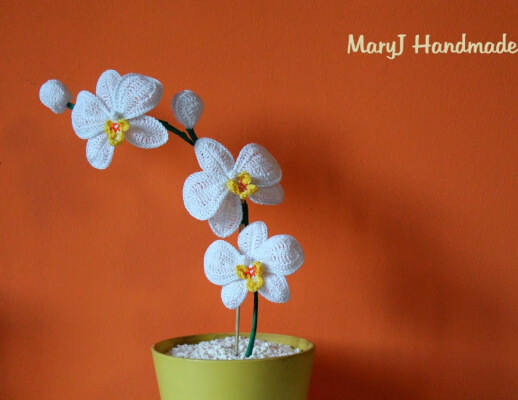 Find the Tutorial from Mary J Handmade HERE
4. Moth Orchid Crochet Pattern by NatogorFinlayson
This crochet orchard pattern would make a wonderful Mother's Day gift. The pattern creates the delightful Moth Orchard.
To make this crochet flower, you will need a 1.5 mm crochet hook and DK/Light worsted yarn. It is an intermediate level knitting pattern that is 28 pages long. There are clear step-by-step instructions to help ensure you get great results.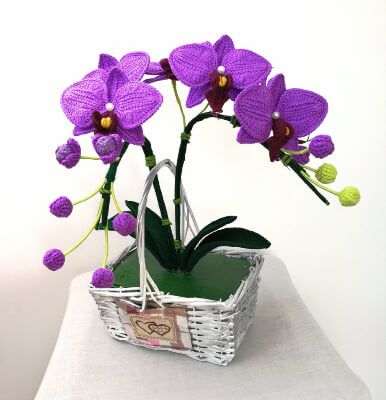 Find the Pattern by NatogorFinlayson HERE
5. Miniature Phal Orchid Crochet Pattern for Small Moth Orchids by HappyPattyCrochet
Use this crochet orchard pattern to make an adorably elegant miniature Phal Orchid. These would be ideal for decorations, and they make incredible gifts.
This crochet flower pattern includes pattern diagrams, instructions in the English language (in American standard terms), and detailed step-by-step photo guides. The finished size of the flower using the recommended material is 1.4 inches (3.5 cm) wide.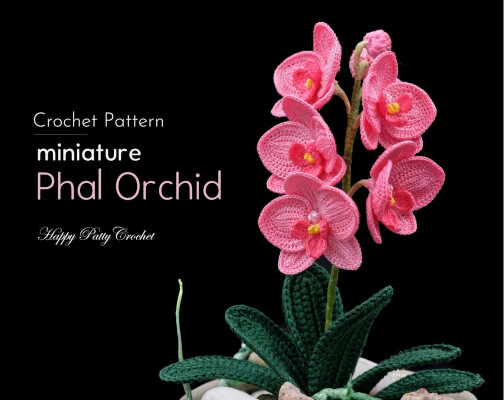 Find the Pattern by HappyPattyCrochet HERE
6. Crochet Mini Moth Orchid Pattern by PippaPatternsCrochet
Make a stunning Mini Moth Orchard with this crochet pattern. The instructions include easy to follow step-by-step instructions and a detailed photo guide with over 100 high resolution images.
The instructions explain each step on how to crochet, assemble and paint (optional) every part of the Moth Orchid.
The Pattern includes 1 size of flowers, 2 sizes of buds, and 1 size of leaves, and optional painting instructions. Assembled, the flower will measure approximately 10 inches (25 cm) tall. The flower heads are approximately 2 inches (4.5 cm).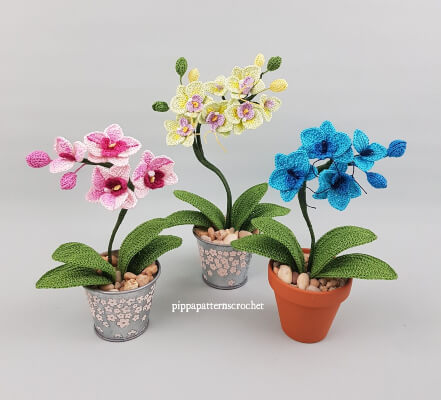 Find the Pattern by PippaPatternsCrochet HERE
7. Phal Orchid Flower Pattern by HappyPattyCrochet
Crochet your own orchard flower arrangements and impress your friends with this Moth Orchard pattern. You can use the flowers to make stunning bouquets, an attractive brooch, hair accessories, or centrepieces.
The downloadable PDF e-book includes patterns for Moth Orchid blossoms in 2 sizes, 3 sizes of orchid buds, and 2 sizes of leaves. There is a step-by-step photo guide along with crochet diagrams and written instructions.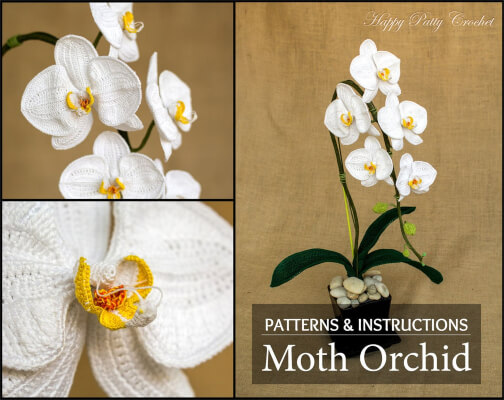 Find the Pattern by HappyPattyCrochet HERE
8. Cattleya Orchid Crochet Flower Free Pattern from Lin Wibisono
Here is a crochet orchid flower free pattern. It is an intermediate level pattern that requires knowledge of chain, slip stitch, single crochet. 2 single crochet increase, and 2 single crochet decrease.
The finished flower will measure approximately 13 inches (33.02 cm) high. The flower heads are about 6.5 inches (16.51 cm) in circumference.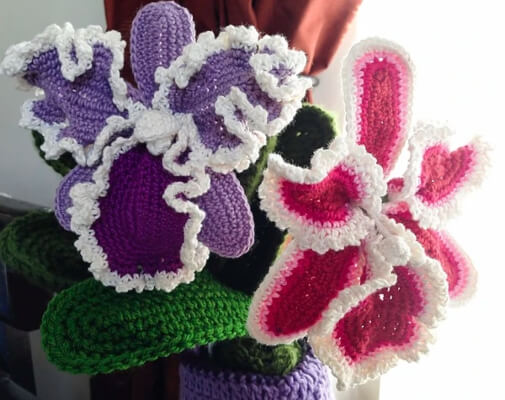 Find the Pattern from Lin Wibisono HERE
9. Crochet Cattleya Orchid Pattern by FCFCrochetFlowers
This crochet orchard pattern is based on the Laeliocattleya Mossaie Orchard Hybrid. It is a stunning orchard with big, attractive blooms. With this pattern, you can create your favourite colour combinations from pink, red, purple, orange, yellow, and classic white.
Completed, the orchard stands 14 inches (35.56 cm) tall. You can change the height by adjusting the size of the wire used in the flower pattern. The flower heads will measure approximately 6 ½ inches (16.51 cm) in diameter.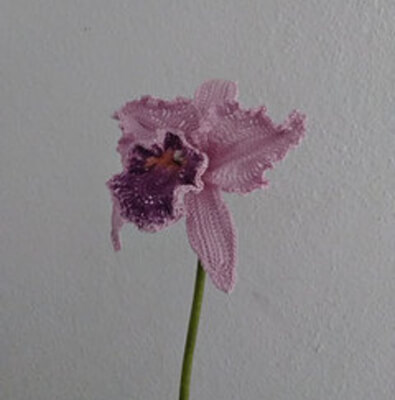 Find the Pattern by FCFCrochetFlowers HERE
10. Orchid Cattleya Crochet Flower Pattern by Tanita777
Work up this crocheted orchid pattern to make jewellery, hair accessories, or appliques. The flowers are dainty and have a lace type look.
The digital tutorial in PDF format includes a variety of photos and 8 schemes and diagrams. There are step-by-step descriptions of the work.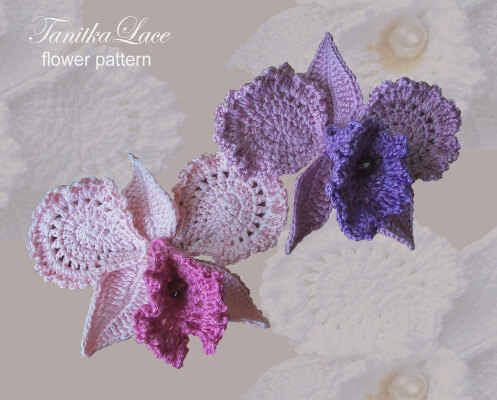 Find the Pattern by Tanita777 HERE
Orchards are a great way to add colour and interest to your home decor. Instead of buying live plants that will wither away, make a crochet orchid pattern that will last for years.
You can use these crochet orchids to create stunning centrepieces or use them for appliques and jewellery. They are beautiful no matter how you choose to use them.
If you are looking for a way to dazzle your guests and create amazing decorations, you will love working on a crochet orchid pattern.
Complete your table setting with your crochet orchid on top of a crochet table runner or any of these quilted table runners.
You can place your crochet orchid flowers anywhere and they will look absolutely stunning.