You can almost guess my amazement when I can across a crochet orchid pattern. I was super excited and I had to try it out for myself. The results are absolutely stunning.
A single stem with three orchid flowers and a few buds hanging from it; the orchid crochet pattern will leave you wanting for more.
You can place your crochet orchid flowers anywhere and they will look absolutely stunning.
Crochet Orchid Flower Pattern
Orchids are my favorite flowers in the world. They are so exotic and intoxicating you can't get over them. I only managed to grow orchids in my garden once and it didn't go too well. I haven't been entirely able to get over that loss.
What do you need to make your own beautiful orchids?
Orchid Crochet Flower Materials
Use cotton yarn 1 mm
Hook 0,7 – 1 mm
Floral tape brown and green
Wire 0.4 mm for flower leave and 2mm for branch
So, as you can see above, all you will need is in your standard crocheting kit except for the floral tape and the wire which can be easily gotten at your local arts and crafts store. As for the pattern instructions themselves, some of you may have a problem with them.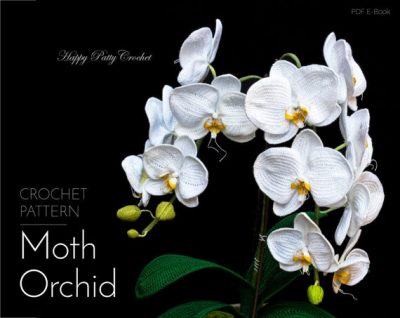 Get The Crochet Orchid Pattern Here
This Crochet Orchid Pattern Is For Advanced Crocheters
There is need of extensive knowledge and skill in crocheting, for you to attempt this crochet orchid pattern. There are plenty of resources on the internet detailing how to execute this particular crochet pattern. To define the crochet orchid pattern as being stunning would be an understatement.
If you are a beginner, I have some bad news for you, this orchid pattern is for advanced crocheters only. Otherwise, it will definitely take you a couple of failed attempts before you begin to scratch the surface. Practice makes perfect, however, and the results will be worth it; a beautiful orchid that will last decades.
Complete your table setting with your crochet orchid on top of a crochet table runner
Make Your Own Crochet Flower Indoor Garden
There is actually a lot of room to play around with the crochet orchid pattern, even whilst considering its technical nature.
For instance, you can change up the color to produce different types of orchids. There are so many species of orchids in the world and they are always stunning.
Try your hand at making a few different types once you have the hang of the pattern and make yourself a bouquet.
You can also enhance your pattern by adding some rind stones for a sparkle or some fake plastic water droplets to give it a morning dew impression. Here you have to let your imagination run free and see all you can create.
Now, I would recommend the crochet orchid pattern as a lovely gift for a friend or a neighbour. However, considering the time and effort required to make it, you are allowed to be selfish. You can make it just for yourself, to prove what you can do with crocheting and as a thank you to yourself.
Often enough we appreciate others but not ourselves so this pattern is meant just for you. You will have so much fun crafting these mesmerizing orchids. Trust me, you will thank me later.
Get The Crochet Orchid Pattern Here