We bet you're all ears for these 46 cute Crochet Bunny Patterns that rabbit lovers are going to go hopping mad for!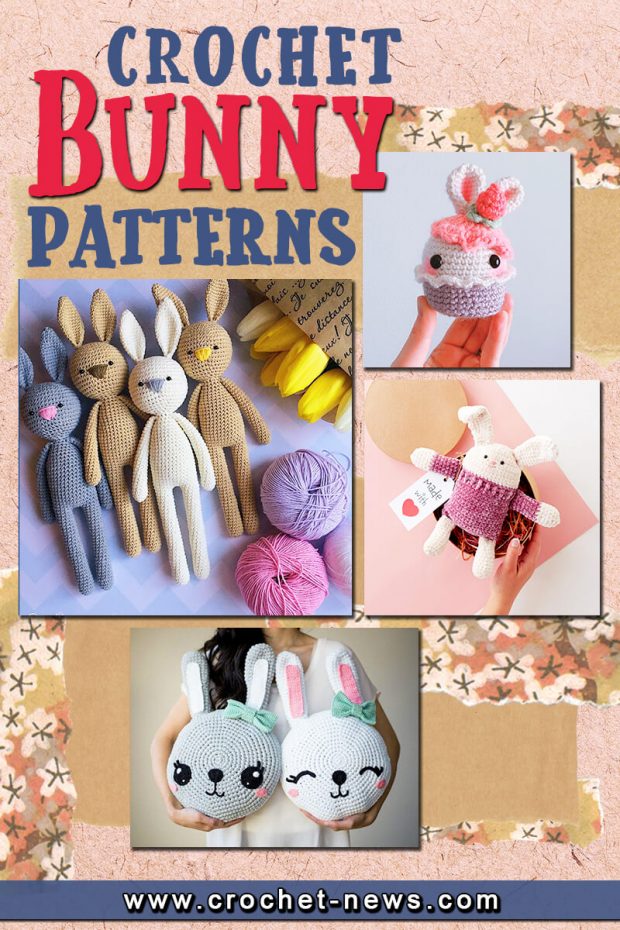 Whether it's Easter or not, bunnies are a much-loved creature that we can celebrate all-year-round. From their fluffy tails to those adorably long ears, what's not to love about this animal?
46 Cute and Adorable Crochet Bunny Patterns

From amigurumi to home decor, from kids' toys to bunnies just for fun – these crochet patterns are sure to help you grow your bunny collection. So hop to it and see which of these bunnies will fit what you're looking for.
1. Dutch Rabbit Crochet Pattern
This crochet bunny is super cute. This dutch rabbit pattern really jumped out at us this week. Usually, amigurumi is super-cute, but not necessarily realistic, so when we saw this amazing rabbit, we felt sure you would want to check it out as well.
You could use any yarn weight for these bunnies as long as you choose a fitting hook, it will only influence the finished size. The example rabbits were made with DK yarn and 3mm hook, they are about 8″ long and 6″ tall to the tip of the ears.
The pattern is 9 pages long with many photographs illustrating the process. It is written in English with US crochet terms.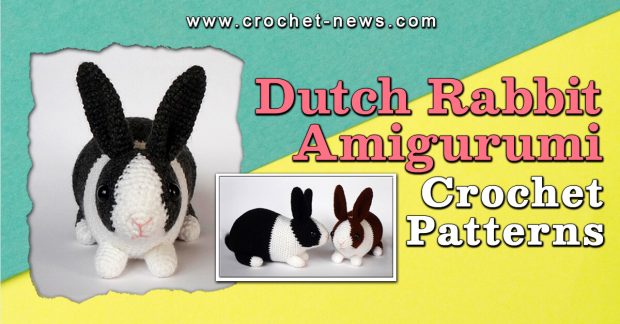 Get the Pattern by Katalin Galusz here
2. Sleepy Bunny Lovey Crochet Pattern by Tilly Some
This Sleepy Bunny Lovey is a great cuddly companion for boys or girls and you can customize this baby lovey to suit the child's liking, room decor, or mom-to-be's favorite color(s) with simple yarn color swaps!

Perfect to crochet for baby shower gifts and gender-neutral, you really can't go wrong with this sweet little bunny!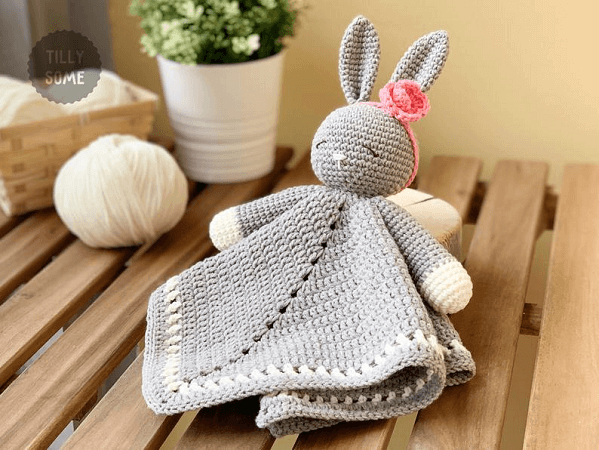 Get the Pattern by Tilly Some here
3. Snuggle Bunny Pillows Crochet Pattern by All About Ami
These sweet Snuggle Bunny Pillows are irresistibly snuggly and the perfect size to cuddle. Their cute expressions will brighten up any room and add a whimsical touch to your decor!

You can choose any combination of colors to match your decor or theme, and the yarn holds up really well without fuzzing up!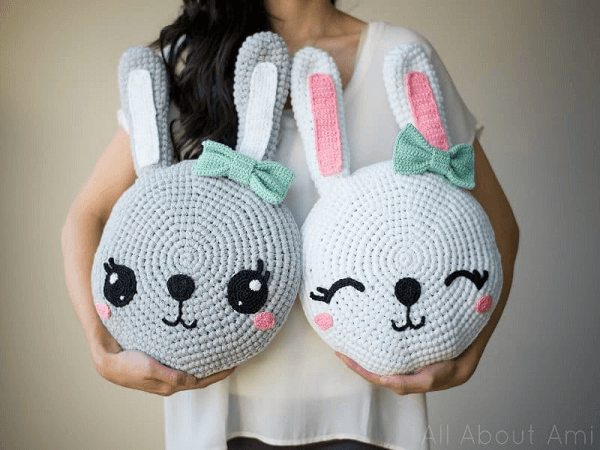 Get the Pattern here
4. Amigurumi Tiny Bunny Crochet Pattern by Blue Rabbit Toys
This Amigurumi Tiny Bunny is so irresistibly cute you can put them inside big eggs or maybe on your Easter basket giveaway.

Add extra fun to your Easter party this year. This Crochet Amigurumi bunny is something both the adults and the kids will truly enjoy. Use the color palette you have chosen for this year and make a few ones in different colors and designs!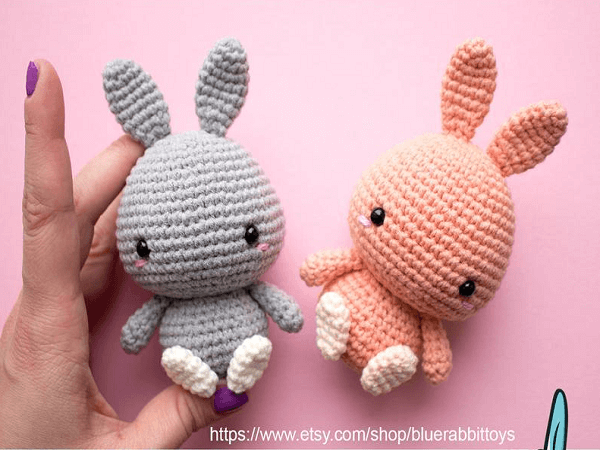 Get the Pattern by Blue Rabbit Toys here
5. Spring Bunnies Crochet Pattern by All About Ami
Nothing says spring like a kawaii amigurumi bunny! Make them floppy-eared or with ears standing straight up, and complete their look with a carrot or flower.

These Spring Bunnies are the perfect addition to a handmade Easter basket or a special gift.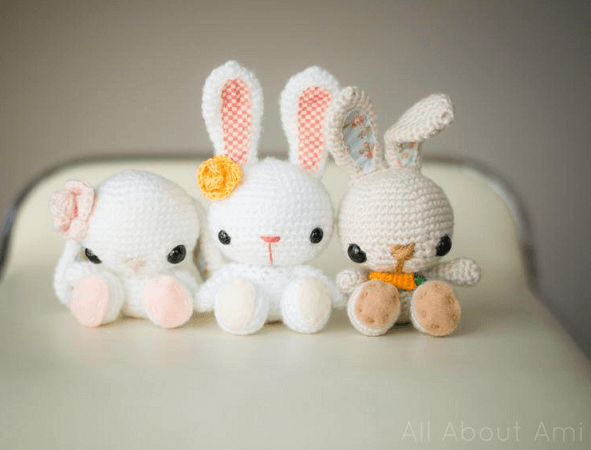 Get the Pattern here
6. Mars, The Bunny Amigurumi Pattern by Projectarian
Mars, the bunny is an almost entirely no-sew amigurumi, where you only have to attach the eyes at the end. This bun comes in 2 sizes (15 and 20 cm) which you can use to make a whole bunny family!

Palm-sized and pose-able, Mars can sit up at attention or lay down with his legs either kicked out or tucked under his body. If you prefer, there is also the option included using a fluffy pompom for his tail.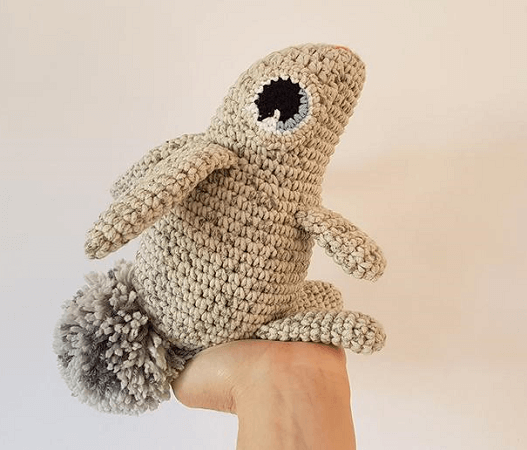 Get the Pattern by Projectarian here
7. Classic Stuffed Floppy Bunny Crochet Pattern by 1 Dog Woof
Whether it's for Easter, a baby shower, or a birthday, there's never a bad time for a soft and huggable floppy ear bunny.

This Classic Stuffed Floppy Bunny Crochet Pattern can be made in a variety of yarns for different sized stuffed animals, from little babies that fit in the palm or your hand, to large furry friends perfect for bedtime snuggling.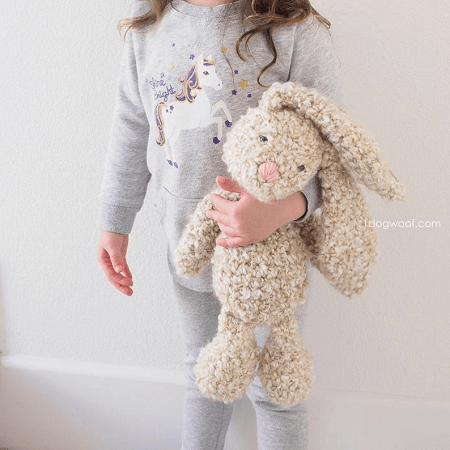 Get the Pattern by 1 Dog Woof here
8. Matilda, The Rabbit Amigurumi Pattern by The Little Hook Crochet
Isn't Matilda the cutest bunny on the list? Bunnies and flowers, what a dainty combination. This bunny would make such a special gift for a precious baby.

If Matilda is made with Cotton/DK/worsted yarn and a 3.0 mm hook (the roses are made with a 2.5 mm hook), she will measure 9.5 inches / 24 cm tall from the top of her head to her feet.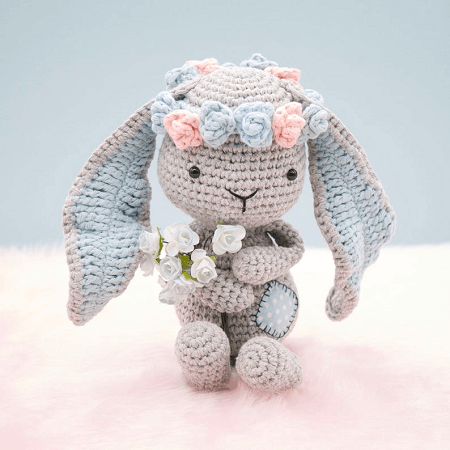 Get the Pattern by The Little Hook Crochet here
9. Velvet Bunny Amigurumi Crochet Pattern by Crochet For You
Here is a cute bunny amigurumi pattern made with velvet yarn. He is so soft and squishy! He is also perfect for gift giving to the bunny lover in your life.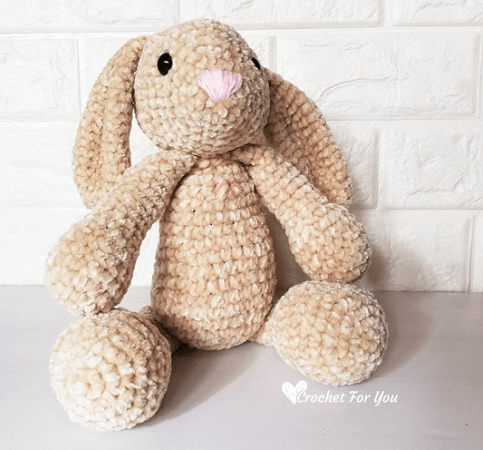 Get the Pattern here
10. Bunny Rabbit Cupcake Free Crochet Pattern by Sweet Softies
This Bunny Rabbit Cupcake is a sweet, little amigurumi dessert that you can admire and pet, but not eat!

This zero-calorie treat isn't meant to be consumed, but rather, serve as a lovely gift or provide you a cute and cheerful company during your day!

You can easily customize your Bunny Rabbit Cupcake using different yarn colors as flavors or frostings, adding sprinkles, attaching beads, or adding other embellishments.
Also see: Crochet Cupcake Patterns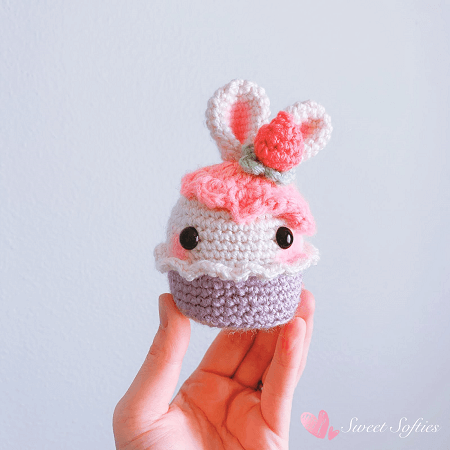 Get the Pattern here
11. Crochet Long Ears Bunny Amigurumi Pattern by Crochet Toys Bunny Co
These Long Ears Bunny Amigurumi are made to be loved and cuddled by your little one and would make an awesome gift for children of all ages.

This simple amigurumi pattern gives a wide field for your creativity and imagination. Use different colors and their combinations and create cute accessories for your little bunny!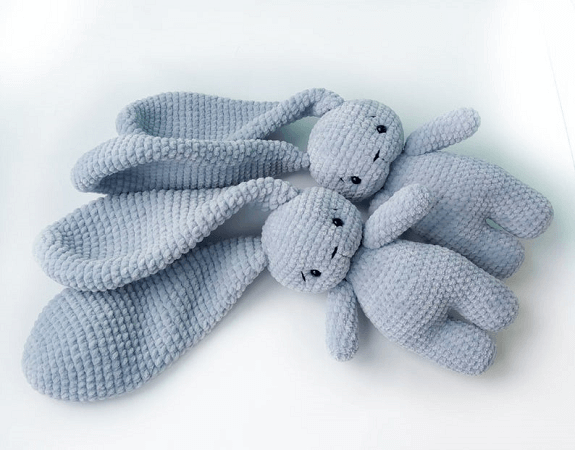 Get the Pattern by Crochet Toys Bunny Co here
12. Amigurumi Voodoo Bunny Pattern by Blue Rabbit Toys
These Amigurumi Voodoo Bunnies are excellent fall decorations – they are both cute and perfectly "scary" for Halloween!

They would make great trick-or-treat gifts for adults and children alike! You can make them in any color combination and there many ways to make the eyes and decorate the bodies to show their personalities!
If you're into Voodoo Dolls, check out these Crochet Voodoo Doll Patterns here.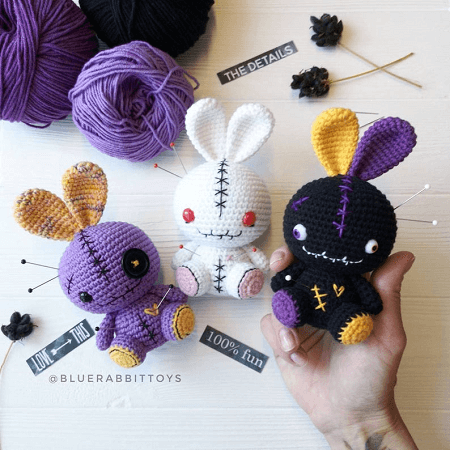 Get the Pattern by Blue Rabbit Toys here
13. Crochet Hooded Bunny Jacket Pattern by Handmade In Doncaster
Crocheted from the top down, this Crochet Hooded Bunny Jacket Pattern creates the jacket in one piece, so the only sewing required is for the buttons and to attach the bear ears.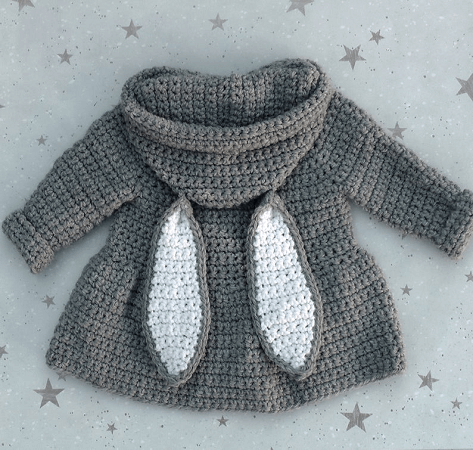 Get the Pattern by Handmade In Doncaster here
14. Free Crochet Bunny Pattern For Beginners by Make And Do Crew
Made from a simple rectangle, you'll be able to finish this extremely easy Free Crochet Bunny Pattern in a couple of hours.

Whether you need a quick baby shower gift, an inexpensive Easter basket surprise or you just want a very beginner-friendly project to use up some stash yarn, this bunny is hop-py to help!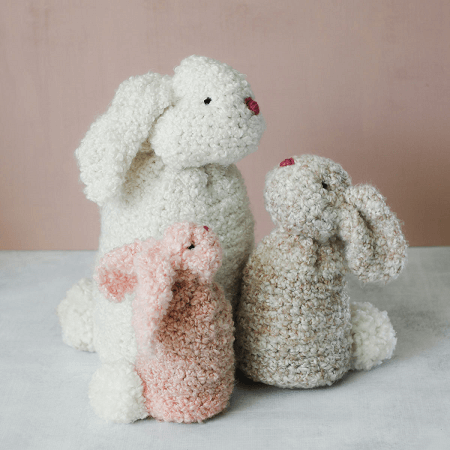 Get the Pattern here
15. Crochet Easter Bunny Garland Free Pattern by Sew Historically
Make a DIY Crochet Easter Bunny Garland to decorate your home for Easter or as an Easter gift for a loved one! Transition into spring with crochet bunnies that love to hang out and share their festive spirit!

Make them in neutral or juicy colors and bring life to a whole herd of lovable bunnies, each with its distinctive color personality.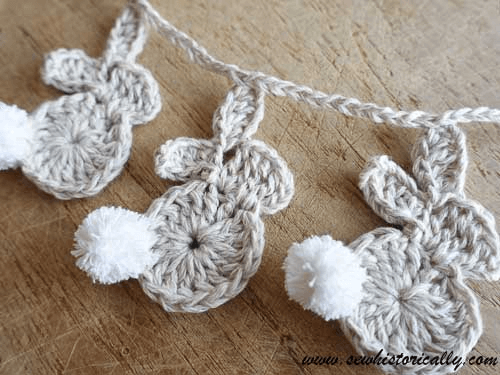 Get the Pattern here
16. Amigurumi Bunny Pattern by Sami Snosami PDF
Two of our favorite techniques are combined in these lovely bunnies: crochet and cross-stitch. The pattern is excellent with detailed instructions and many helpful step-by-step photos.

You will surely enjoy making it, or them, as there are two different embroidery diagrams to choose from!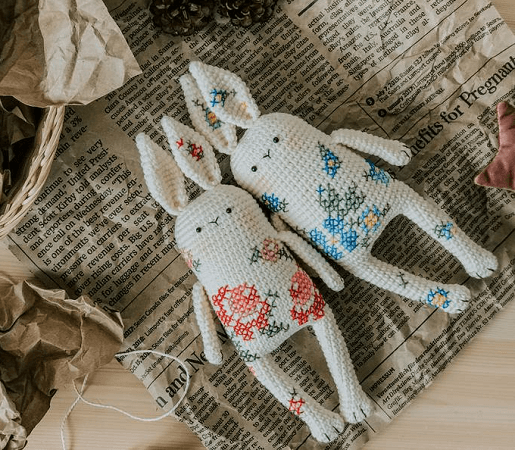 Get the Pattern by Sami Snosami PDF here
17. Crochet Bunny Baby Blanket Pattern by Owl B Hooked
If you love filet crochet, try this fresh springtime project that brings elegant warmth to the nursery or guestroom.

Crochet this Bunny Baby Blanket as shown or select a shade that makes the bunny silhouette adorable to you. he written size allows it to be used as a security or snuggle blanket well into toddlerhood!

Looking for more baby blanket ideas? Check out these 37 Crochet Baby Blanket Patterns.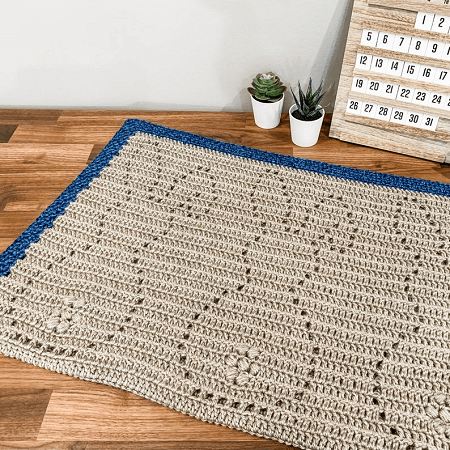 Get the Pattern by Owl B Hooked here
18. Layla Crochet Bunny Free Pattern by Bhooked Crochet
Layla is the perfect project for Easter, baby shower gifts, or just because. Thicker yarn paired with a slightly bigger crochet hook makes this crochet bunny quick to work up so no need to worry if you're short on time!

By completing this pattern you'll practice basic amigurumi shapes and shaping; both important skills to master if you see more cuddly crochet creatures in your future.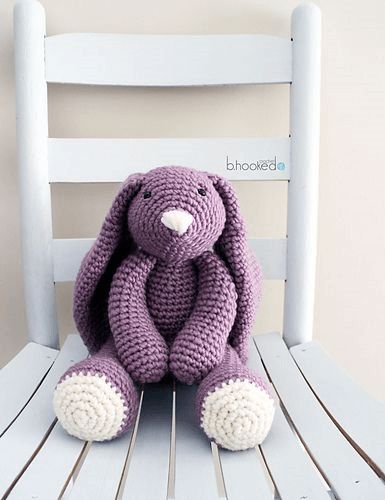 Get the Pattern here
19. Crochet Bunny Wall Hanging Pattern by Demi Deco Shop
Add a pop of spring color to your home with this adorable Crochet Bunny Wall Hanging. It's a perfect project for a baby nursery or Easter!

This wall hanging is crocheted using the intarsia crochet technique and is a great introduction to colorwork.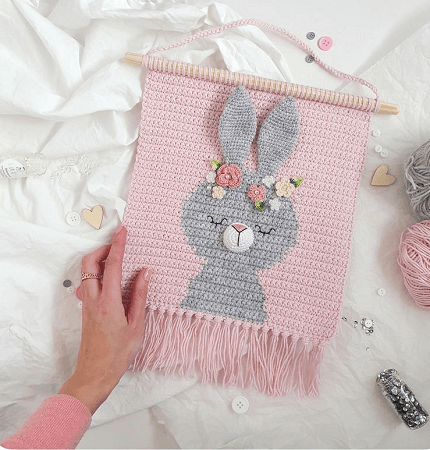 Get the Pattern by Demi Deco Shop here
20. Easy Crochet Bunny Pattern by Flax And Twine
Isn't this the cutest bunny family you ever did see? Imagine these little guys strung up as a garland or on long toothpicks as Easter cupcake decorations – what a cute little cake topper!

Or, add a pin to the back for a lovely little lapel pin. What about these stretching across the yoke of a sweet little girl dress?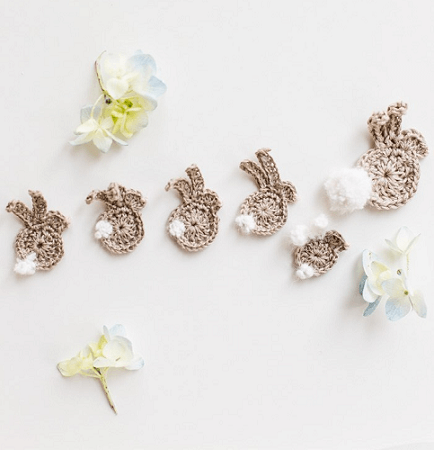 Get the Pattern here
21. Ragdoll Spring Bunny Crochet Pattern by Spin A Yarn Studio
For the love of bunnies, isn't this Ragdoll Spring Bunny adorable? This crochet bunny is perfect for Easter, spring, and those who just love bunnies.

This is a unique amigurumi made in the ragdoll-style; separate pieces worked in flat rows and joined together to give it that charming and distinctive 2-D appearance.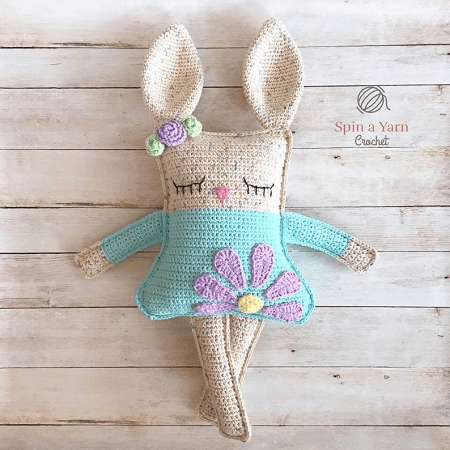 Get the Pattern by Spin A Yarn Studio here
22. Crochet Chocolate Bunny Amigurumi Pattern by Sewrella
This easy level Crochet Chocolate Bunny is a fun, cuddler-style amigurumi that is perfect for Easter tabletop decor or a plushie for kids!

Follow along with the video tutorial to make this cute project with beginner stitches (single crochet, chain stitch, and slip stitch) and simple construction.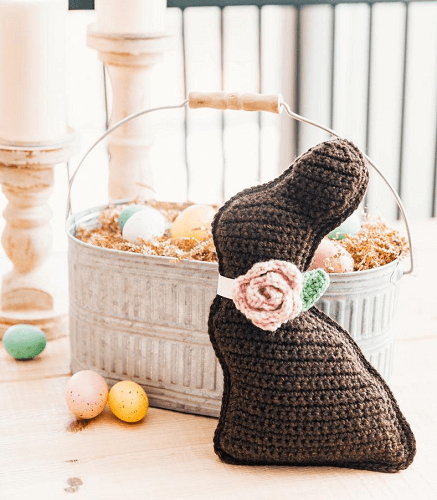 Get the Pattern by Sewrella here
23. Easter Bunny Basket Crochet Pattern by Petals To Picots
A darling little bunny basket to fill with Easter treats! This Easter Bunny Basket Crochet Pattern is quick and simple to work up and features long bunny ears that double as a handle.

Enjoy adding your own embellishments and personalizing your bunny's face. Pair it with some crocheted Easter eggs for a pretty holiday display!

You can find our collection of Crochet Easter Egg Patterns here.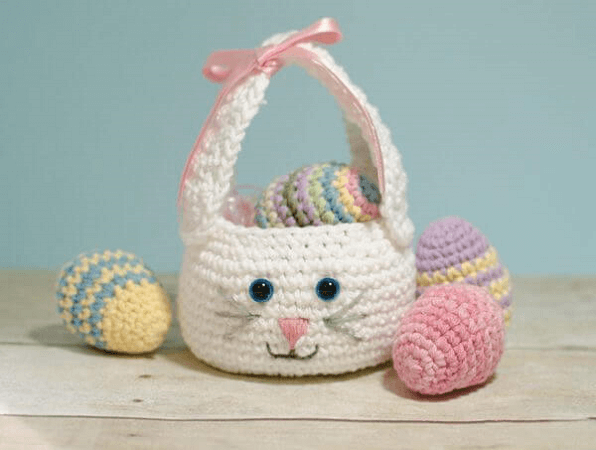 Get the Pattern here
24. Cute Bunny Amigurumi Pattern by Nerdy Knitter Designs
This Cute Bunny Amigurumi is approximately 3 inches tall – so adorably tiny that they can sit in the palm of your hand just like a real baby bunny.

If you are looking for a realistic-looking bunny pattern, then this one is perfect and very easy to follow.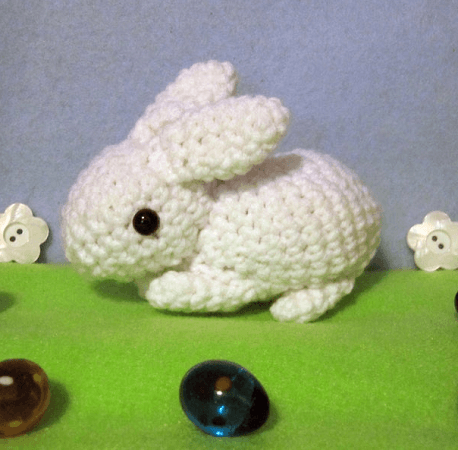 Get the Pattern by Nerdy Knitter Designs here
25. Bunny Applique Crochet Pattern by Repeat Crafter Me
This is the perfect pattern for your Easter and Spring crochet to-do list! This Bunny Applique can be used for so many projects. Stitch it onto hats, Blankets, Easter baskets, and more!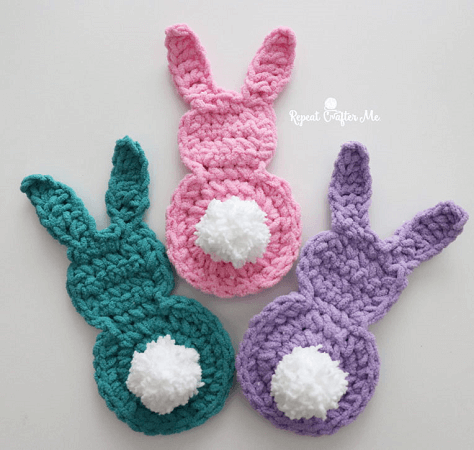 Get the Pattern here
26. Crochet Square Bunny Pattern by Yarnspirations
Featuring huggable, Bernat Baby Velvet, simple shaping creates this adorable bunny buddy for kids of all ages.

Stitching in basic techniques like single crochet, front and back post double crochet stitches, plus simple increases and decreases, this toy keeps you engaged as you work.

A thoughtful gift for anyone who needs a cuddle, you'll thoroughly enjoy this project from start to finish.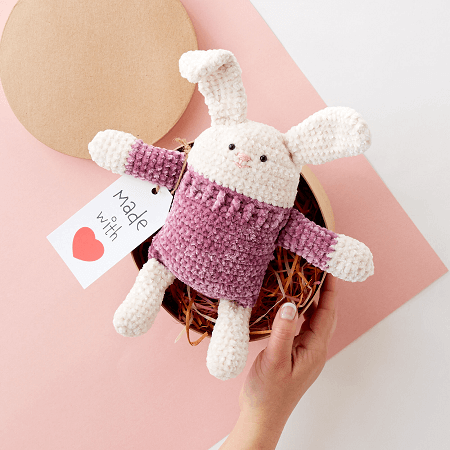 Get the Pattern here
27. Ellie, The Bunny Amigurumi Crochet Pattern by Hello Lady Ellie
Ellie, the bunny amigurumi will be a perfect handmade gift to make for friends or just make it for yourself. It's a quick and easy pattern to crochet.

She's so cute with her pastel-colored dress but you can make her your own by choosing your desired colors.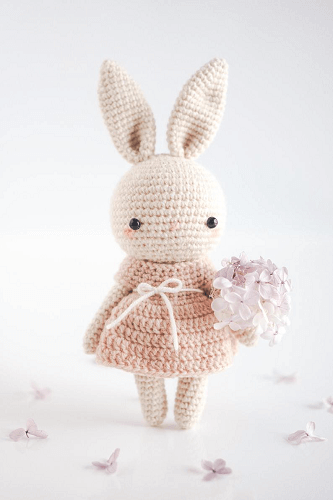 Get the Pattern by Hello Lady Ellie here
28. Round Bunny House Slippers Crochet Pattern by Two Girls Patterns
Looking for some gifts for this Easter? How about this fun and quick Round Bunny House Slippers? This lovely pair will not only keep toes warm and snug but will look cute as well!

You can crochet the slippers with flip-flop soles otherwise the pattern will work great when you are to walk over the interior floors or carpets only!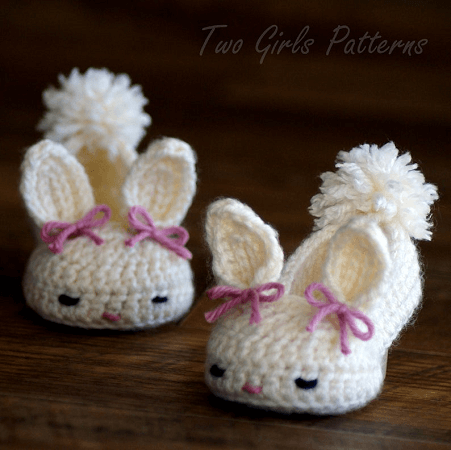 Get the Pattern by Two Girls Patterns here
29. Bunny Rabbit Amigurumi Crochet Pattern by Stringy Ding Ding
Crochet a cute Amigurumi Rabbit that comes with his own carrots that he can hold onto. They would make an excellent toy for a child or even an adult. This friendly little crochet bunny will hop right into anyone's heart!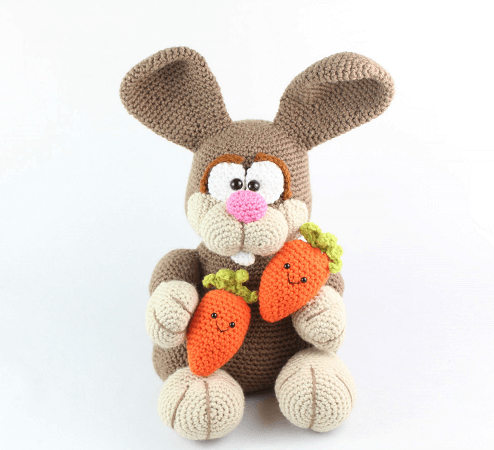 Get the Pattern here
30. Jelly Bean Bunny Crochet Pattern by Jennifer Percival
What's better to tuck inside an Easter basket than a sweet, cheerful bunny? Meet Jelly Bean! She's sure to get lots of smiles on Easter morning. She would also make a perfect addition to a baby nursery or a gift for any bunny lover.

Jelly Bean is made with Scheepjes Stone Washed yarn (sport weight); however, her pattern works up well with many different color combinations or even self-striping yarn.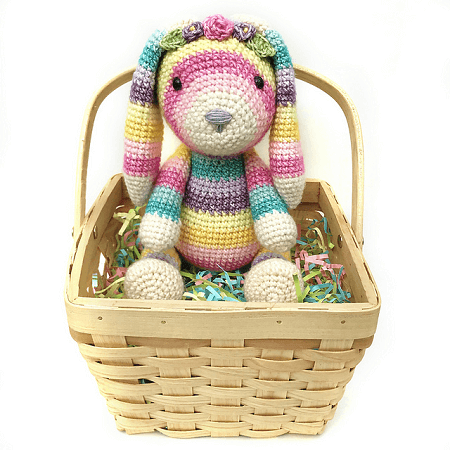 Get the Pattern here
31. Free Crochet Bunny Pattern by Grace And Yarn
Create your own mini amigurumi bunny with this easy to follow pattern. The finished products are about 8 inches tall and work up quite quickly!

The pattern is worked in the round with the legs, body, and head as one piece. You will want to be familiar with working in a magic circle and sewing of parts (ears and arms).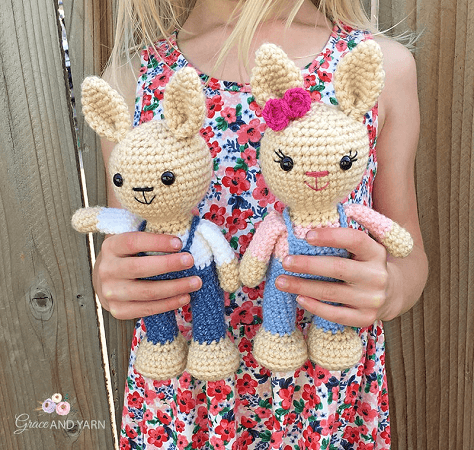 Get the Pattern here
32. Crochet Large Bunny Plush Pattern by Plushi Co
This Crochet Large Bunny Plush stuffed rabbit with long ears, hands, and legs is a perfect toy for babies, toddlers, and older children. It may also be used as a lovely home decoration item, to bring warmness to the interior.

This bunny is incredibly soft and plush – amazing to snuggle up and love on!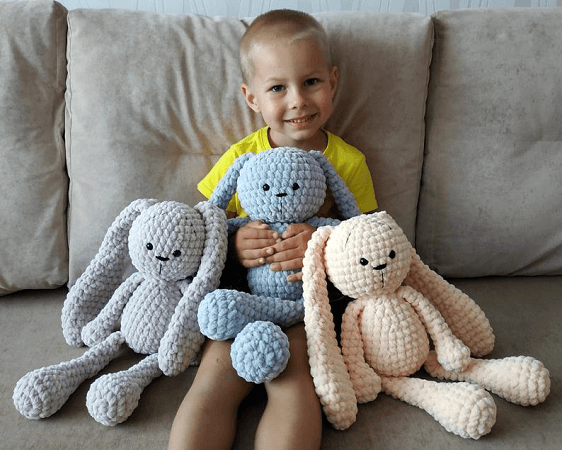 Get the Pattern by Plushi Co here
33. Crochet Bunny Hair Bow Pattern by But First Crochet
Crochet an adorable Bunny Hair Bow for Easter or spring. The pattern is beginner friendly and works up really quick!

It's time to embrace your inner kawaii! Create this bow in an assortment of colors that's right up your girl's alley!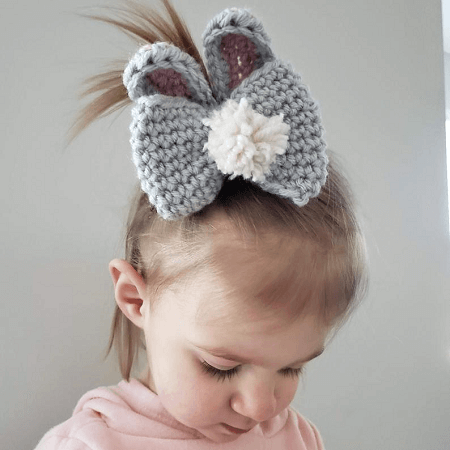 Get the Pattern by But First Crochet here
34. Crochet Bunny Rattle Toy Pattern by Toys By Knit Friends
This Crochet Bunny Rattle Toy is an organic, scrappy looking rattle that's super easy to make and can be made from scraps you have lying around the house.

This is a great baby gift for anyone who doesn't want to make a baby blanket and for anyone who wants to dip their toe into the world of amigurumi. It's very quick to make and you can make it in any colors you like.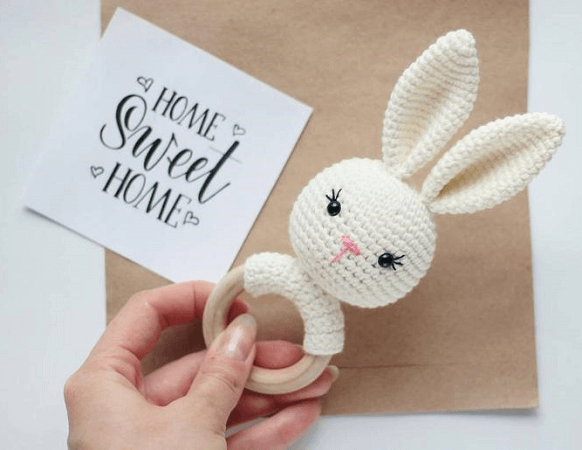 Get the Pattern by Toys By Knit Friends here
35. Crochet Little Bunny Pattern by Anastasia Kirs
This Crochet Little Bunny will be a perfect gift for anyone. It is so little that it will be easy and fast to make. But it can be too cute to give it away, so maybe one for yourself?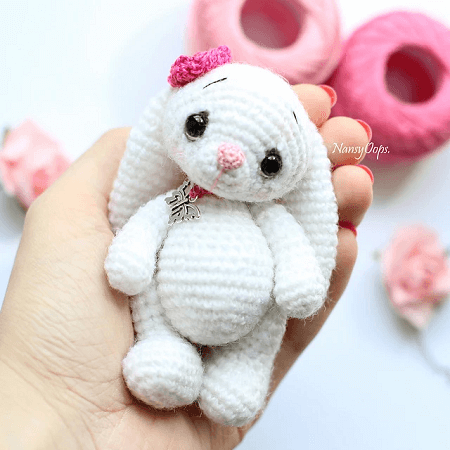 Get the Pattern here
36. Rabbit In A Carrot Sleeping Bag Crochet Pattern by Lau Loves Crochet
This little Rabbit in his Carrot Sleeping Bag definitely has the cute factor dialed up. Add some cord and they'd look adorable as a child's necklace or pop them on a place setting.

If you want to add some extra sweetness, hide a little chocolate egg in the sleeping bag too!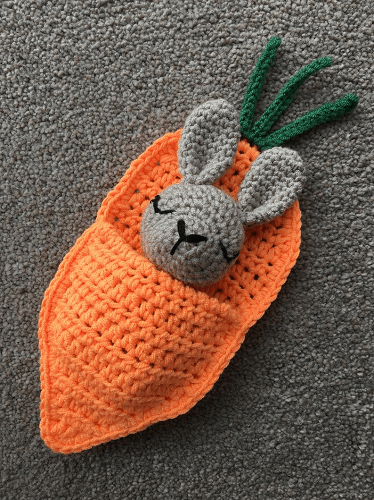 Get the Pattern by Lau Loves Crochet here
37. Valeria, The Dutch Bunny Crochet Pattern by Franciscan Gypsy
Meet Valeria, and she is a Dutch Bunny, not some sort of weird hamster. The pattern will be so lifelike, that when you finish, you will think that you got a new Dutch rabbit as a pet.

You can choose between different color schemes such as brown and white, black and white, or a single roan color.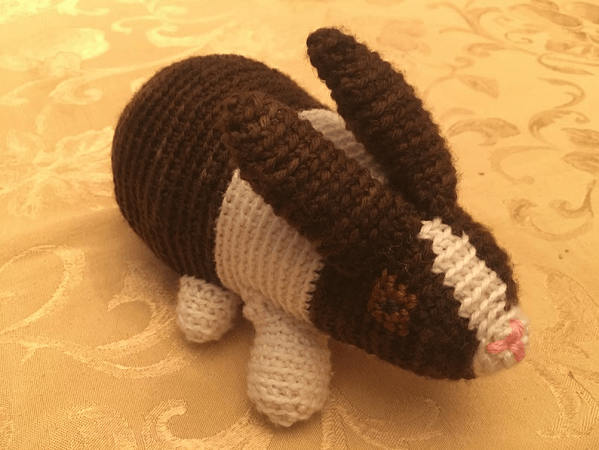 Get the Pattern by Franciscan Gypsy here
38. Chester, The Friendly Rabbit Amigurumi Pattern by Bunnies And Yarn
Chester, the friendly rabbit is so sweet and cuddly. You will love how simple he is. He is about 13.4 in. (34 cm.) tall if you use worsted weight yarn and a 4.00 mm. crochet hook.

Just change the color of the rabbit's overall and add ribbons or flowers if you want to whip up a female one.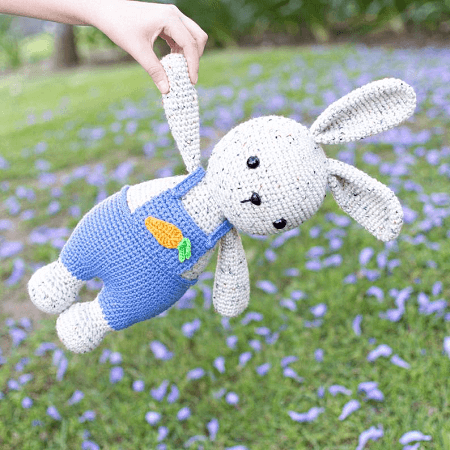 Get the Pattern by Bunnies And Yarn here
39. Corner To Corner Crochet Bunny Blanket Pattern by Make And Do Crew
The colors in this plaid Corner to Corner Crochet Bunny Blanket Pattern are easily customizable or crochet the entire rabbit in a solid color for a more beginner-friendly C2C project.

Whether you're an animal-lover, decorating for Easter, or have a baby on the way, this corner to corner bunny blanket pattern is going to hop right into your heart.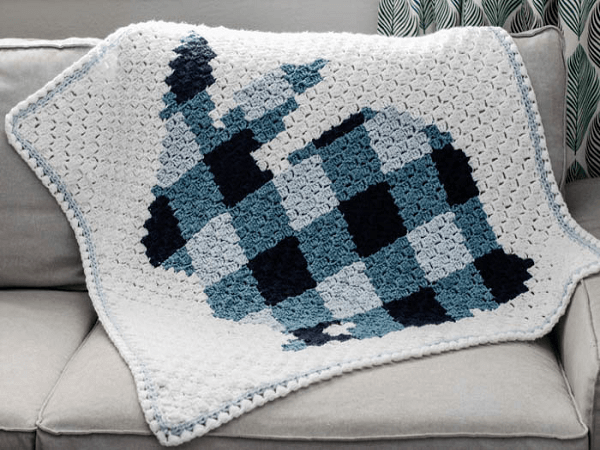 Get the Pattern here
40. Crochet Bunny Amigurumi Pattern by Amiguroom Toys
If a special young one in your life is looking for a new friend, take a look at this Crochet Bunny Amigurumi Pattern. Who doesn't like cuddling? These soft, cuddly bunnies are here to give your little one (and you) some warm hugs!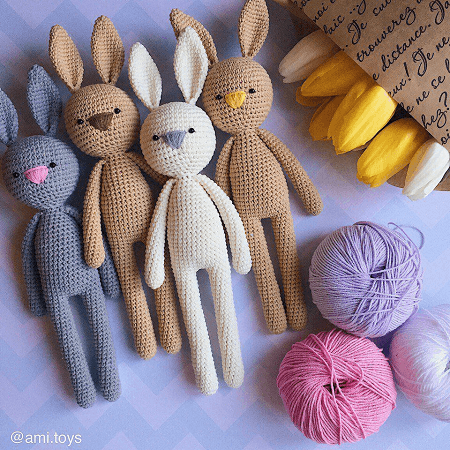 Get the Pattern here
41. Realistic Crochet Rabbit Pattern by Soft Strings Gift Shop
Looking for a realist bunny pattern? Crochet an adorable realistic looking rabbit today! The finished doll measures approximately 4 inches tall by 7 inches long.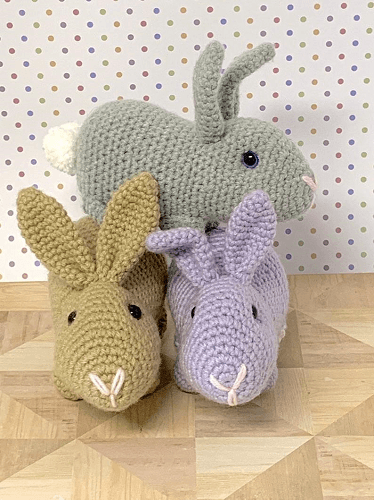 Get the Pattern by Soft Strings Gift Shop here
42. Crochet Bunny Floor Pillow Pattern by Yarnspirations
Create something they'll never forget! This easy to Crochet Floor Bunny is perfect for any child to cuddle up with and watch TV or to spark their imagination during playtime.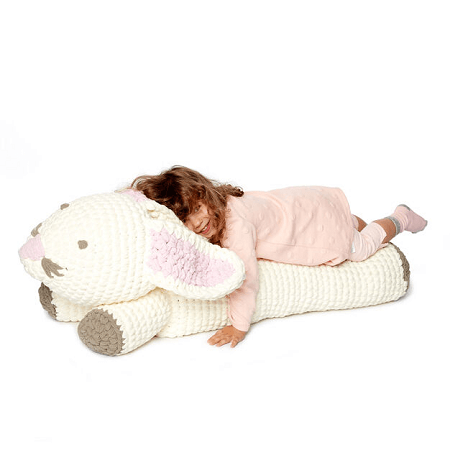 Get the Pattern here
43. Pocket Bunny Free Crochet Pattern by Spin A Yarn Crochet
Cute and curious, these Pocket Bunnies love nothing more than being toted around in the pocket of your backpack or pair of jeans – just mind you don't sit on them!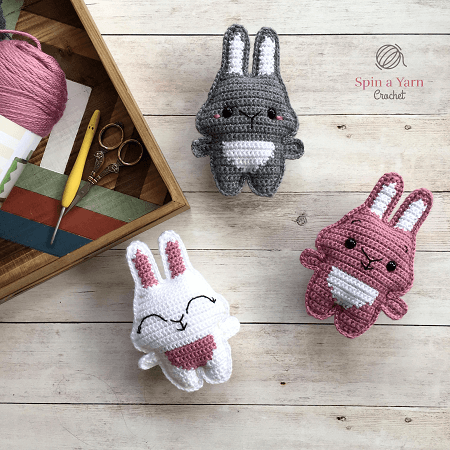 Get the Pattern here
44. Crochet Bunny Pattern by Dot Pebbles
This Crochet Bunny Pattern is crocheted by working just double crochet stitches in rows and sewn together as you go along. He does take a couple or three days to work up but at least you won't be left with endless pieces to join together afterward?

He's nice and weighty due to the nature of crochet stitches and yarn choices. Crochet it with two and three strands together to achieve the tonal qualities similar to rabbit colorations.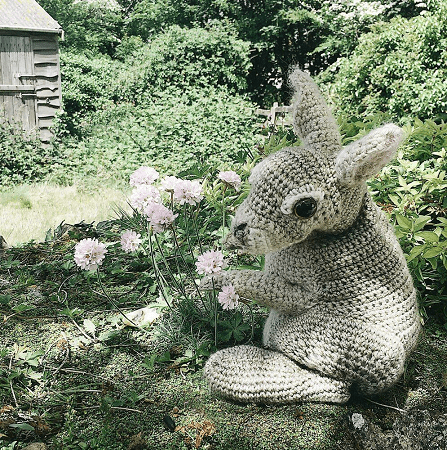 Get the Pattern by Dot Pebbles here
45. Bunny Mask Crochet Free Pattern by Nadia Fuad
This bunny mask will be perfect for Easter. There is still time to be able to crochet these fun crochet mask in time. Whether making them for the kids or the grown-ups too, they look super-cute and fun. Because they're only small, it won't take you long too.
Don't you love a project that you can start and finish in a single sitting? We get enormous satisfaction from the small crochet projects.
Materials needed:
–Red Heart Super Saver Yarn in Soft White, Spring Green, Baby Pink and Perfect Pink
-G 4.25mm Hook
–Stitch Markers
–Elastic
–Felt Pink
–Tacky Glue
–Yarn Needle
–Scissors
Bunny Mask Crochet Free Pattern Video Tutorial
Get the Pattern by Nadia Fuad here
46. Crochet Bunny Hat free Pattern by MakeandDoCrew
Need a new yet simple outfit on the go for your little ones? Well, this cute crochet baby bunny hat is perfect for your little boss.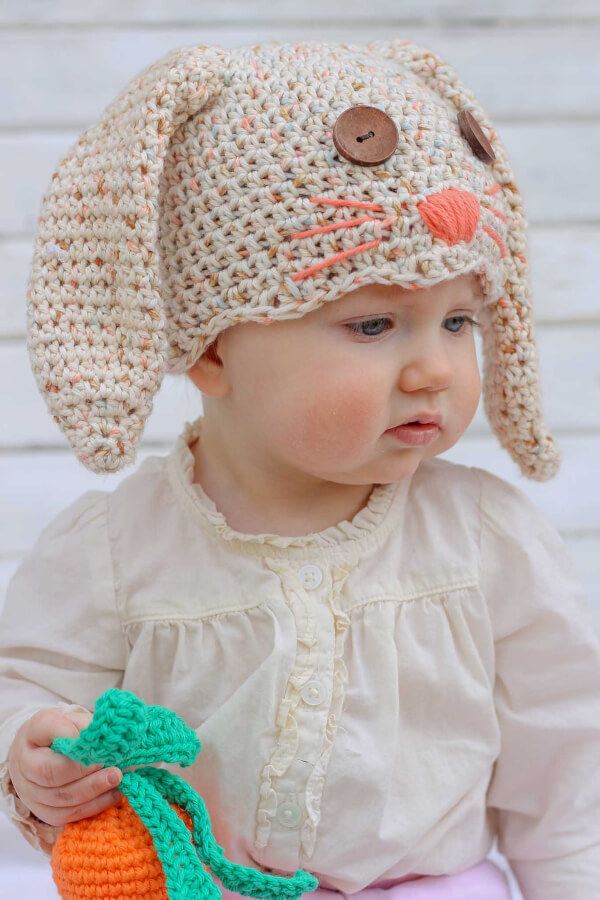 About the pattern
Jess of @MakeandDoCrew designed this cute bunny hat pattern. The hat can be made depending on your choice. It can be either made with face details or not.
If you want a simpler look, it still looks so cute even without extra designs. But, if you love adding more designs like face details or anything you want, it is entirely up to you! It is your masterpiece.
This crochet bunny hat is perfect for new-born babies and toddlers.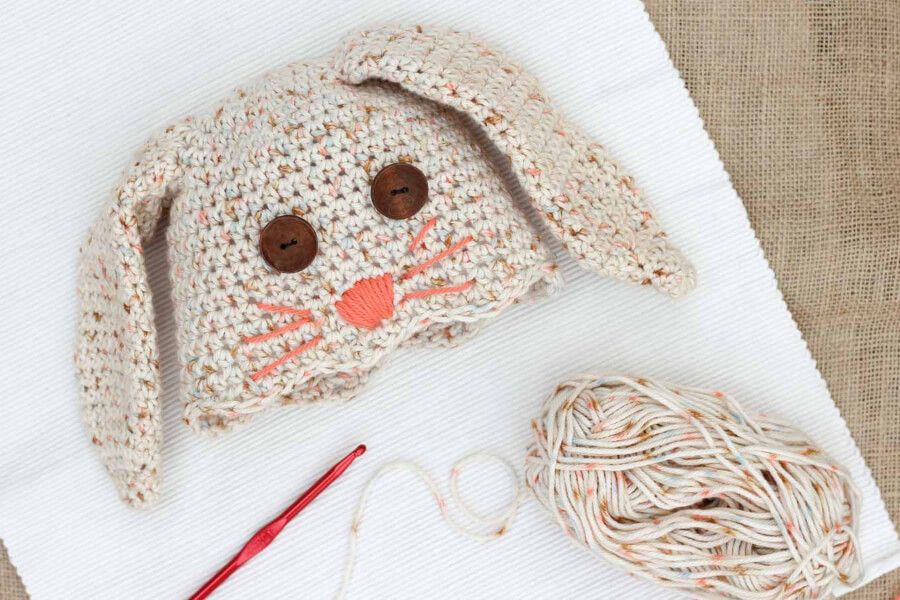 Skill level
Beginner
Gauge
2" = 7 stitches
MATERIALS NEEDED
1 skein "I Love This Cotton" (from Hobby Lobby) – color: Spunky
size I/9 crochet hook
(2) 1" wooden buttons for eyes
small amount of accent color yarn for nose and whiskers
tapestry needle
sewing needle and thread (to attach button eyes)
Finishing Size
Size for new born babies. If you wish to make larger crochet bunny hat for your pre-schoolers, pattern is also available for free in their website.
How to work on with stitches
For each part of the hat ( head and bunny ears), there is a corresponding steps and stitches applicable. You just need to follow the simple steps provided in the free guide.
This pattern is perfect for beginners, especially for parents. It is a great way to practice and hone your stitching skills.
Not just that, you'll also love seeing your baby showcase his/her cuteness with your piece.
Pair this crochet bunny hat pattern with our Crochet Baby Sweater Patterns and Crochet Baby Boots Patterns.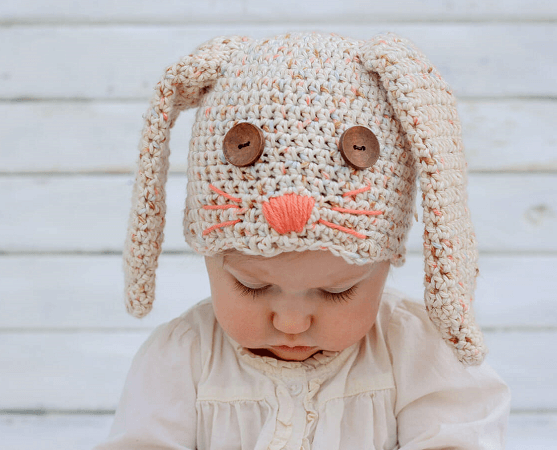 Whether you're looking for Easter crochet patterns or just want to work up a nice bunny, these crochet bunny patterns are perfect to share with family and friends!
Once finished, please have a moment to share your works on our Facebook Page. We love seeing you bring these patterns to life with your own special touches!
And also, take time to browse other patterns that we have such as Crochet Elephant Patterns and Crochet Dragon Amigurumi. You will surely find something interesting to crochet next.

We hope you enjoyed all these crochet bunny patterns. Happy stitching friends!