Today we're going to take a break from all the sugar, but still enjoy our favorite treat – by making cute Crochet Cupcake Patterns.
Cupcakes aren't just a treat for your palate – they're also a sight for sore eyes! All that fluffy, airy frosting, topped with colorful sprinkles of fruit – just thinking about it is making my mouth water!

There will be no guilt when indulging in these decadent sweets!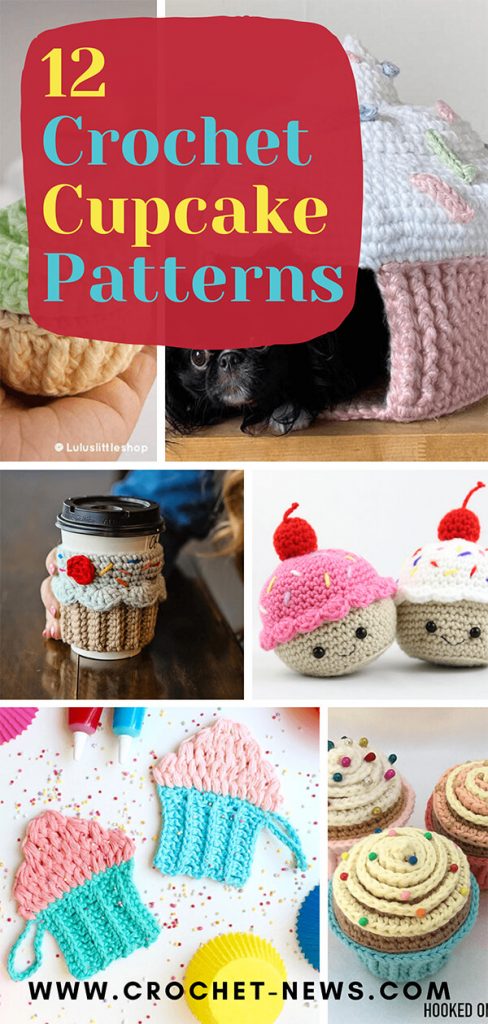 1. Free Amigurumi Cupcake Pattern by Stringy Ding Ding
Make some cute and easy cupcakes with this Cupcake Amigurumi Free Crochet Pattern!
This happy cupcake is an adorable stuffed dessert for any occasion. It features sprinkles, safety eyes, a cherry on top, and a flat bottom to sit comfortably on any surface.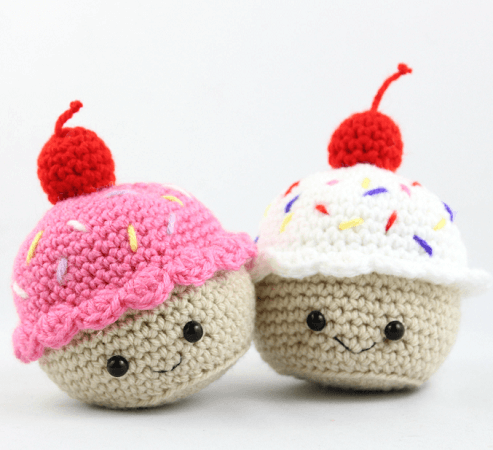 Get the Pattern here

2. Cupcake Coin Purse Crochet Pattern by Lau Loves Crochet
This adorable coin purse resembles a delicious cupcake!
The pattern contains both front post double crochet (fpdc) and back post double crochet (bpdc) stitches. This is a fun, yet fast little project – perfect for using up some of your scrap yarn.
This Cupcake Coin Purse Crochet Pattern works up quickly and makes a delicious, zero-calorie gift! Who couldn't use a Cupcake purse in their lives?! The 'flavors' are endless!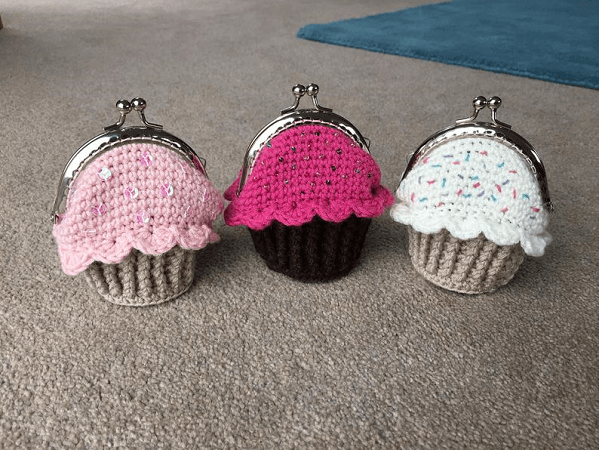 Get the Pattern by Lau Loves Crochet here

3. Crochet Cupcake Pattern by Lulu's Little Shop
Here is an easy-to-follow crochet pattern for a no-sew, top-down Cupcake. Crocheted in the round as one piece, these cupcakes do not require sewing.
Crochet a bunch of these cupcakes to use as play food, or as pincushions. These cupcakes feature a textured pattern on the sides to create the cup lines and on the top to create a swirled icing effect.
Feel free to mix and match colors to make different flavors and add beads to make sprinkles if desired!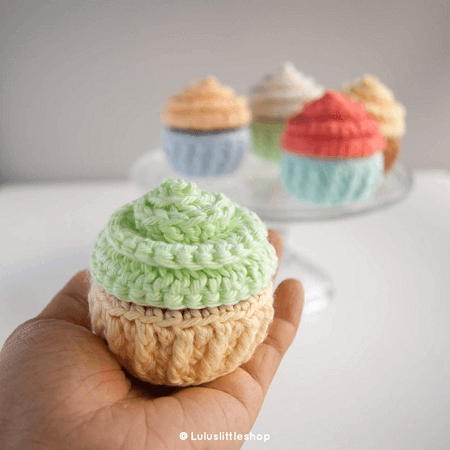 Get the Pattern by Lulu's Little Shop here

4. Cupcake Pin Cushion Crochet Pattern by Hooked On Patterns
Crochet some super cute, and useful, Cupcake Pin Cushion. This makes a great scrap yarn project, as you'll only use less than 20g/30yds of each color
You can make these as play food too. Of course, you'll leave out your pins and just replace the weight pouch with more stuffing. You could also sew on little beads for the 100's and 1000's sprinkles effect.
These cupcakes measure approximately 2"/5cm in diameter at the base and 3"/7.5cm in diameter at the widest point and stand 3.5"/ 9cm tall.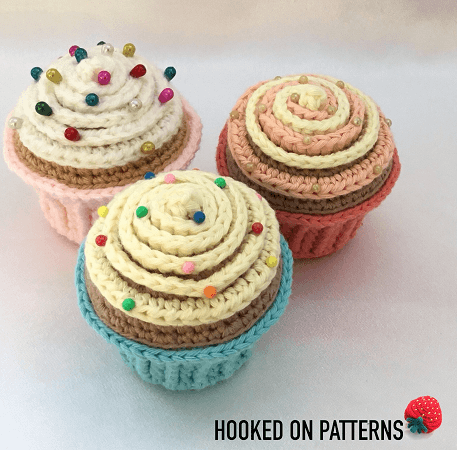 Get the Pattern here

5. Crochet Cupcake Face Scrubby Pattern by Vivid Kreations
This Crochet Cupcake Face Scrubby Pattern is quick and fun to whip up for yourself or to give as a gift to make someone else's day that little bit sweeter.
It has a textured scrubby cupcake case to help gently exfoliate and it's topped with soft squishy frosting to gently clean your skin.
Use it to freshen your face up at the end of the day or daily in the shower, either way your bathroom will be brighter with this hanging in there!

Extensive list of the best crochet scrubby patterns for the body, kitchen and bathroom.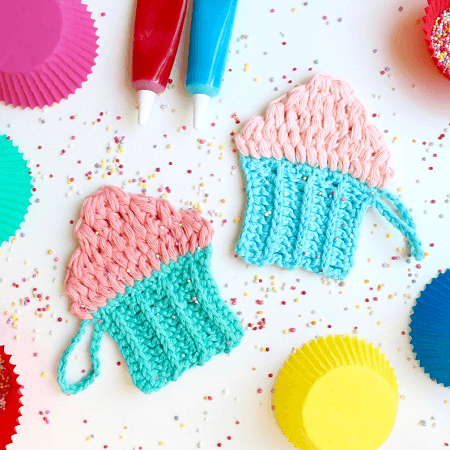 Get the Pattern by Vivid Kreations here

6. Cupcake Crochet Pattern by Loops And Love Crochet
These little crochet cupcakes are perfect for making birthdays extra happy. Or you can leave off the candle and make cupcakes for any occasion!
The finished cupcakes measure about 2 inches in diameter and 4 inches in height (including the candle). This Cupcake Crochet Pattern is worked in the rounds. Each piece is made separately and sewn together at the end.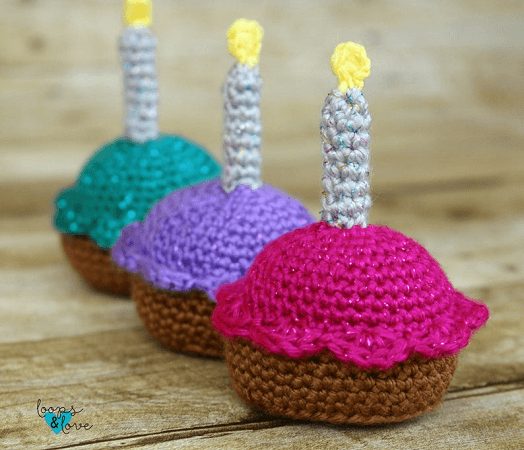 Get the Pattern here

7. Cupcake Cup Cozy Crochet Pattern by Vonnie And Co
This Cupcake Cup Cozy is a great gift for the coffee or tea lover – can be used for hot or iced coffee drinks, water bottles, even sippy cups.
Stash one in your purse, backpack, or glove box – you'll always be ready for a coffee break.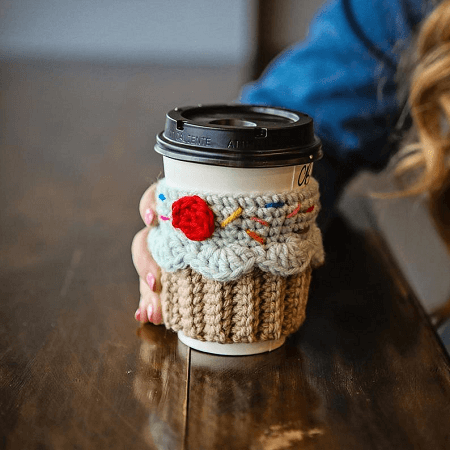 Get the Pattern by Vonnie And Co here

8. Crochet Cupcake Pet Cave Pattern by Foxalope Fiber Co
Create your own cute and cuddly Crochet Cupcake Pet Cave for both small and medium pets.
The smaller cave is the perfect nesting size for a hedgehog, hamster, chinchilla, rat, ferret, or guinea pig and the bigger one is the perfect napping size for a cat or very small dog.
Crocheted with an extra tight gauge to be comfortable as bedding, yet able to retain its shape under a small pet's weight, and in amigurumi style to maximize adorableness.

Here are more Crochet Cat Cave and Bed Patterns for your furry friends.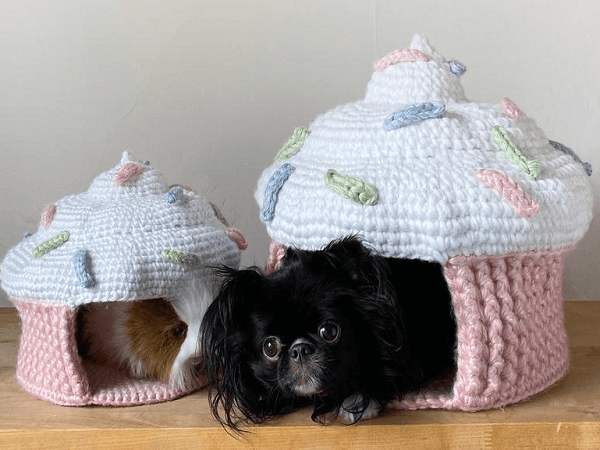 Get the Pattern by Foxalope Fiber Co here

9. Amigurumi Cupcakes Crochet Pattern by Super Cute Design Shop
This is a crochet pattern for these cupcakes, you can choose if you want to make it with a strawberry on top or with a birthday candle!
Make these cupcakes to dress up your desk, give as personalized gifts, or sell at your local craft fair. This exciting take on crochet food is incredibly versatile.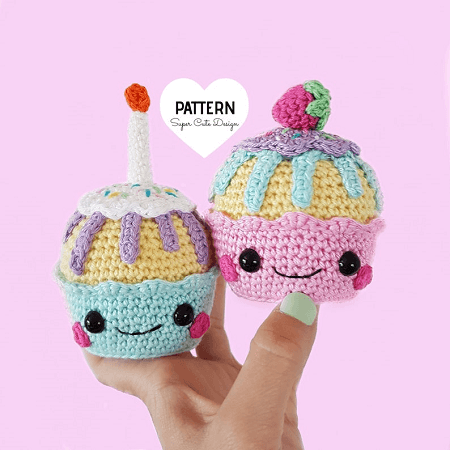 Get the Pattern by Super Cute Design Shop here

10. Free Crochet Cupcake Pattern by Yarnspirations
Brighten up someone's day with sweet crocheted treats!
Try a plate full of these decadent delights to say happy birthday, or celebrate another special occasion. Lily Sugar'n Cream brings them to life in the mouthwatering colors shown, or match the theme of your event.
With so many shades to inspire, turn out a batch for anyone on any day.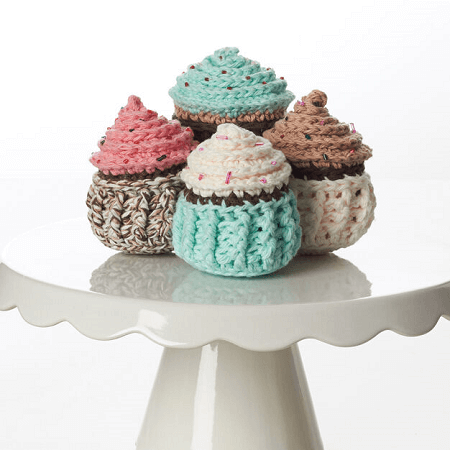 Get the Pattern here

11. Crochet Cupcake Pixel Blanket Pattern by Repeat Crafter Me
This Crochet Cupcake Pixel Blanket Pattern is broken up into 4 different posts in order to give you as much step by step direction and detail as possible.
The finished blanket is 63×53 inches and fits perfectly over a twin size bed. The only way to adjust the size of this blanket is by adjusting the size of the squares (use a smaller hook and lighter weight yarn).
This pixel blanket is just what the name says – made of pixels. The pixels do puff out a little but you will like the dimension it adds to it. This blanket would be so sweet to a little girl's room!
Get the Pattern here

12. Cupcake Trio Crochet Pattern by A Yarny Robin
These cupcakes would look just divine as a table display for a special occasion and would also make a very special play set for a children's kitchen.
This Cupcake Trio Crochet Pattern is for all 3 cupcakes: Mint Oreo Swirl, Strawberry Swirl, and Cookie Swirl. The finished cupcake is approx. 9cms tall and is made in dk cotton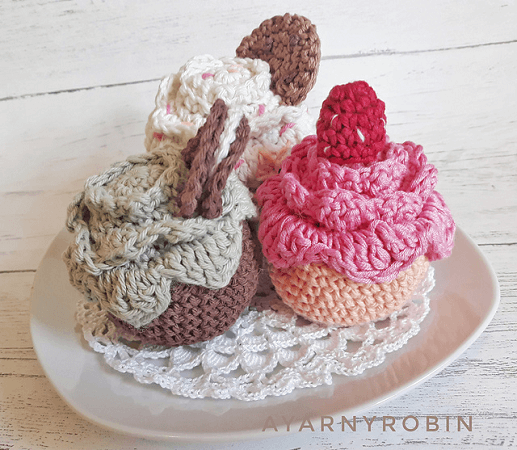 Get the Pattern by A Yarny Robin here
It's impossible to say "no" to a cupcake – especially when these adorable crochet cupcake sweets come with a 100 percent guilt-free guarantee!
Before you know it, you'll be making these adorable cupcakes for baby showers, office gifts, friends who could use a pick-me-up, and more. And be sure to share your finished pics on our Facebook Page!
Please take your time to browse our site for many more crochet-worthy collection of patterns. From clothing to crochet baby toys, from home decors to gifts, we got you covered!
For now, let's get to baking… eh-hem, I mean crocheting some of these crochet cupcake patterns, shall we?