Itching to make a granny square project but don't know how to crochet granny squares? Let us help you learn how to make one!
We used to think crochet granny squares are only used to make quilts and blankets. But imagine our surprise when we realized that there are lots of other projects you can make using these crochet granny squares!
Crochet along with us as we learn how to crochet a granny square for beginners!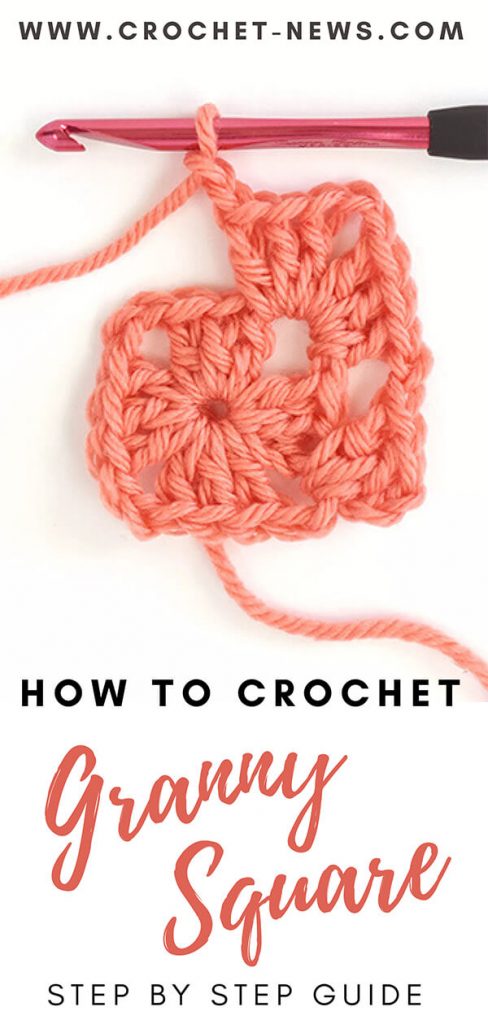 What are Crochet Granny Squares?
If you think granny squares are outdated designs that are only used by our grannies, well it's good that you're reading this article!
Granny squares are not just for our grannies! In fact, there are a lot of gorgeous and trendy patterns that use granny squares just like this Granny Square Pillow.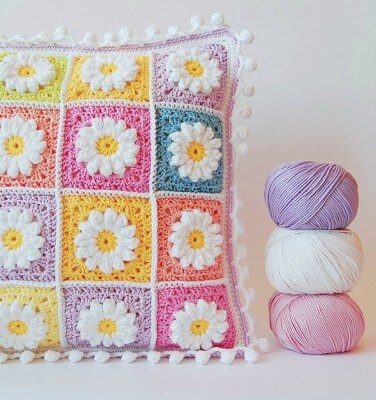 Technically, a granny square is the name of the motif that is worked in the round using clusters of three double crochets. These clusters are also known as the granny cluster.
Furthermore, these granny clusters are separated by chain stitches. To increase the size of the motif, you have to increase the number of clusters per row.
Materials Needed
A yarn and a crochet hook are all the materials you need to own to start doing crochet granny square pattern.
The crochet hook should be proportional to the weight of your yarn as recommended in the printed yarn label to be able to get the desired result.
Granny Square Crochet Tutorial
Step 1: Make the Center Circle
For the first step, you have to create the center circle. To do this, you have to chain 4. Then slip stitch on the first stitch.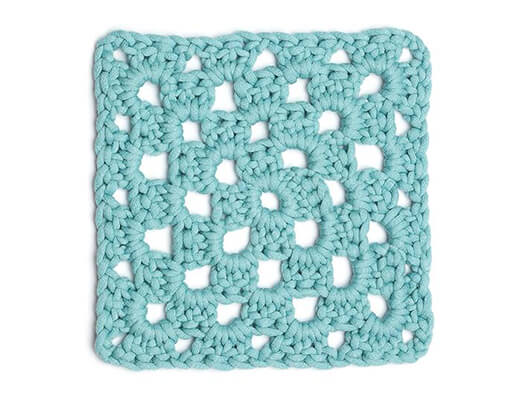 Step 2: Create the first row.
Now that you have your circle, you have to chain 3 more. This will serve as your first double crochet (dc). Next, work 2 more dc onto the ring. * 3dc, ch3* three times.
Then, slip stitch on top of the first ch3. You'll end up with a total of 12 dc, and 4 ch3.
Step 3: Create the second row.
To start working on the next row, chain 4. Then, on the first ch3 space from the previous row work make *3dc, ch3, 3dc* This will be your first corner. You will again work on the next chain space. * ch1, 3dc, ch3, 3dc* Repeat this pattern one more time.
For the next chain space, work a 3dc, ch3, 2dc. Slip stitch to the 3rd chain of the chain 4 from the beginning of the round.
You'll end up with a total of 24dc, 4 ch3, 4 ch1.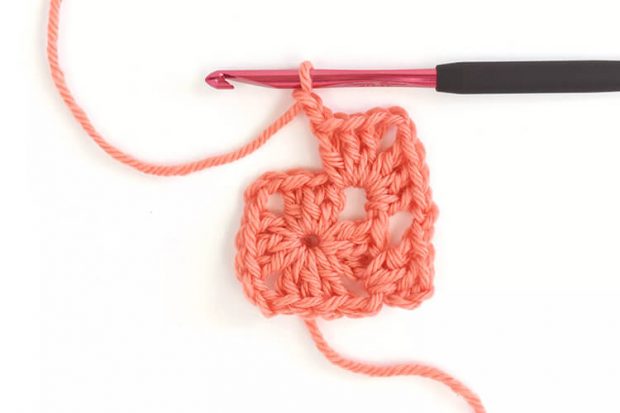 Step 4: Work on the third row.
Start by making a ch3. 2dc in the ch 1 space. *3dc, 3ch, 3dc in the next ch3 space to make the corner. Ch1, then 3dc in the next ch1 space.* Make this pattern 3 times. 3dc, ch3, 3dc into the corner space then ch1.
Slip stitch to the third chain of the first chain stitch. You'll have 36dc, 4 ch3, 8 ch1.
Step 5: Work on the fourth row.
Chain 4, then make 3dc on the first ch1 space. *3dc, ch3, 3dc on the next ch3 space. (ch1, 3dc on the next ch1 space) two times.* Do this pattern 3 times. 3dc, ch3, 3dc on the last ch3 space. Ch1, 2dc on the last ch1 space.
Slip stitch in 3rd chain of the first stitch. You'll end up with 48 dc, 4 ch3, 12 ch1.
Video Tutorial on How To Crochet A Granny Square
Simple and Versatile Granny Squares
We're you able to follow along and learn how to crochet a granny square? So easy isn't it?
Don't be pressured by the number of squares you have to make. You'll surely be able to finish them in a breeze after making a few ones.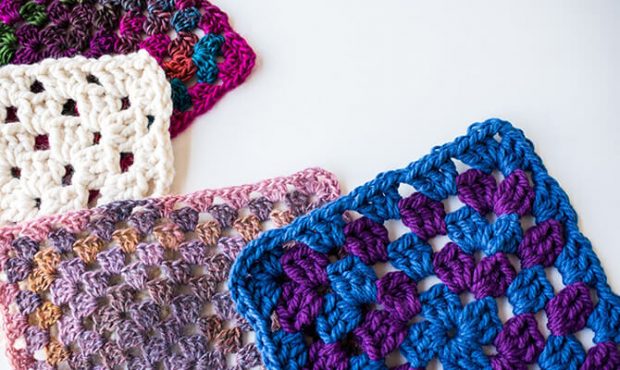 Now that you know the basics, do you want to level up and create a few more challenging ones? You can start by changing yarn colors in each round for a much colorful designs and accessories.
Next Level Ideas For Crochet Granny Square Stitch
Using a ch-1 instead of a ch-2 makes tighter squares
Try experimenting on smaller granny square variation to make a big impact.
Adding crochet edging to the crochet Classic Granny Square Stitch to make it more enticing.
Make crochet granny squares crafts, like a granny square blanket or a pillow case. The first step in doing this is to learn how to join granny squares.
Learning other types of square patterned crochet stitches.
Study how to crochet more complicated granny shapes such as the granny rectangle, granny triangle, and granny circle.
Sample Patterns for Crochet Granny Squares:
Granny Squares Coasters by Kristine Salmina of KristinesCrochet – This pattern will definitely look good on your center and dining tables.
Granny Square Pattern Baby Blanket by Nella's Cottage – A fancy design with a close-knit fabric, perfect for keeping your babies warm at night.
Crochet Textured Granny Square Pillow Pattern designed by Mystee of TheCraftNutShop – This pattern looks very elegant and fits perfectly with your sofa set.
Feel free to experiment and create new crochet granny square pattern!
The Granny Square Crochet Tutorial is a multifaceted stitch that adds spice to home decorations and colors to your wardrobe. Imagine the fulfilment in seeing your very own handmade crochet granny square pattern pillow cases or blankets that you made all by yourself.
You can also check other patterns that use the crochet granny square stitch here. Don't forget to update us by posting your new works on our Facebook Page.
Now that you know how to make crochet granny squares, what project are you thinking of doing next?