Hand-make your bathroom and kitchen essentials with the following Crochet Scrubbies Patterns.

Either to make your kitchen look interesting or to have some fun with the regular face scrubbies you use in the bathroom, crochet is the best way to go.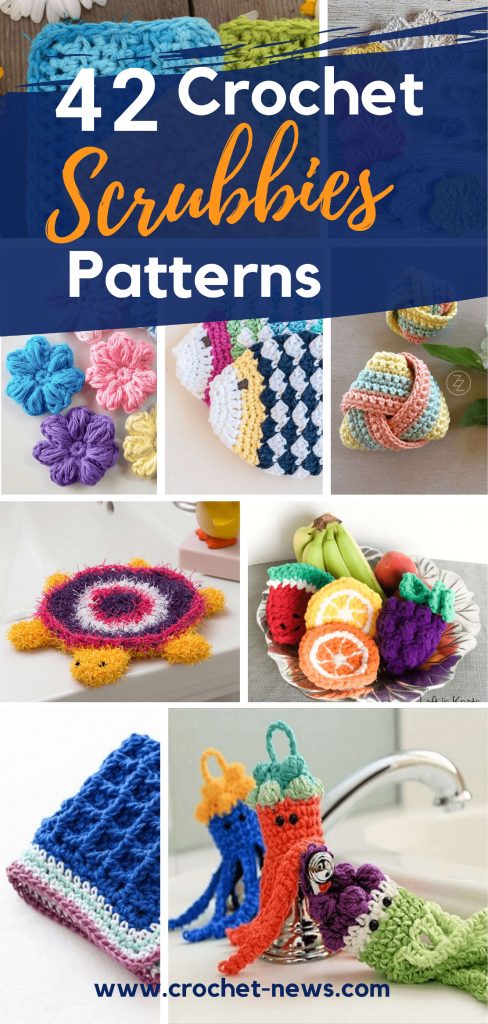 Equip yourself, your mother, sisters, and friends with these crochet wonders. You don't even know yet how much you need these colorful scrubbies in your life, trust us!

1. Crochet Kitchen Scrubby Pattern by CAAB Crochet
This cotton scrubby is designed to have the same look and feel like your kitchen sponge but is 100% cotton and reusable.

These are super easy to make! And with all the colors of cotton and scrubby yarn out there, the color combination possibilities are endless! Great for yourself, or as an easy gift!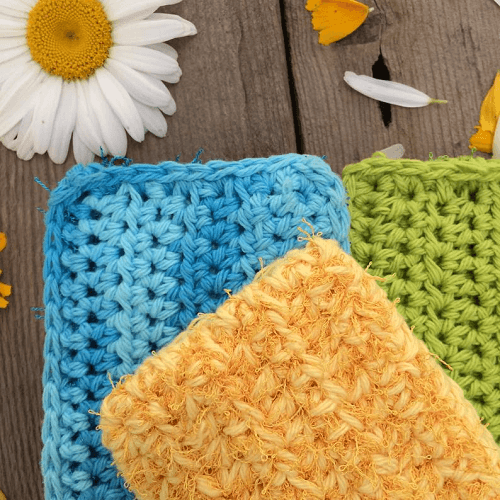 Get the Pattern by CAAB Crochet here

2. Crochet Flower Scrubbies Pattern by Carolyn Calderon
This is the most adorable little pattern for the home. Designed as face scrubbies for a wonderful exfoliating experience, you can also work up these little cloths as dishcloths.

The choice is yours! Make a set in a variety of colors as a great gift, and don't forget to make some of these crocheted dish scrubbies for yourself, too.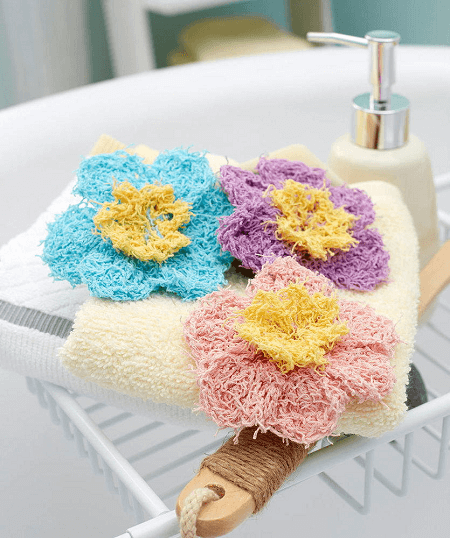 Get the Pattern here

3. Sakura Face Scrubbies Crochet Pattern by KAME Crochet
A rainbow of these Sakura Face Scrubbies will certainly help you exfoliate and care for your skin. It's a great project for beginners and to use up leftover yarn. Make a bunch for yourself or give some to a friend!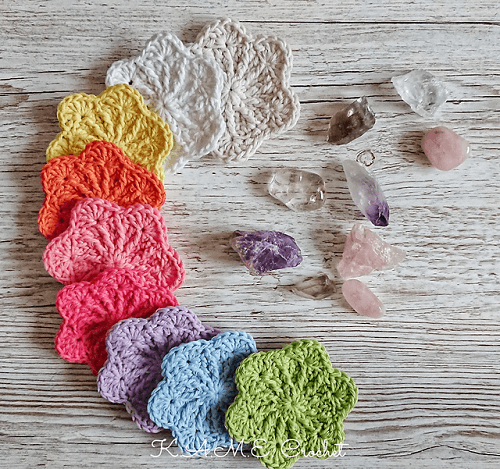 Get the Pattern here

4. Bulky Dish Scrubbies Crochet Pattern by 3rd House From The End
These washable heavy-duty scrubbies are an absolute must for Spring cleaning! This is a super easy pattern, and it only takes 10 minutes to make one. Combine this with some homemade cleaning solutions for a great housewarming present!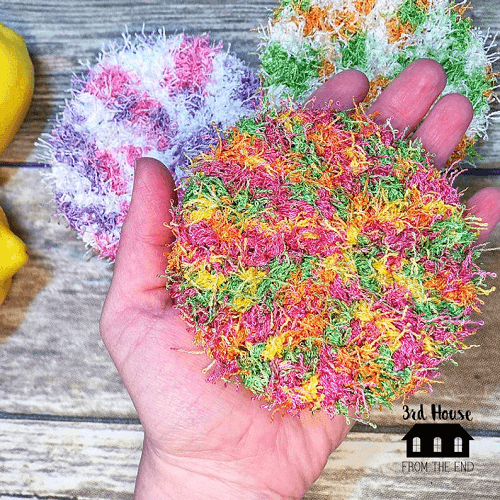 Get the Pattern by 3rd House From The End here

5. Crochet Fruit Scrubbies Pattern by Left In Knots
Brighten up your cleaning with these cute, fast and functional crochet fruit scrubbies. Perfect for the summer, and brings just the right pop of color to your kitchen or bathroom.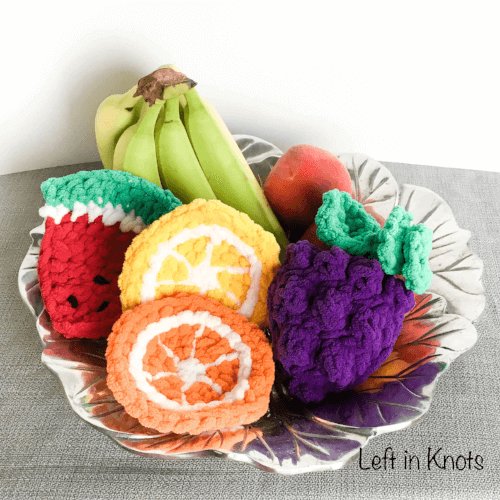 Get the Pattern here

6. Sunburst Dish Scrubby Crochet Pattern by Bash Yarn Works
These sunburst scrubbies are just the right size for all your kitchen or bathroom scrubbing needs. The stitches are tight enough that food particles do not get lodged inside. These would make a great housewarming gift and are great sellers at craft fairs!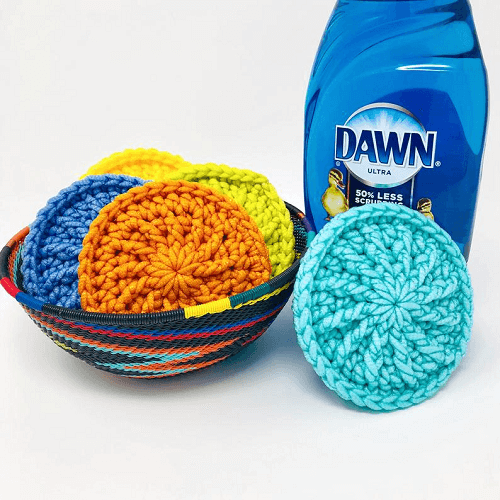 Get the Pattern by Bash Yarn Works here

7. Circle Granny Square Scrubby Crochet Pattern by Rich Textures Crochet
For this scrubby, just take one of the simple dollar store scrubbies and dressed it up a little bit using a classic granny square design. The pattern only requires a small amount of your favorite worsted weight cotton making it a great stash buster!

Mix and match colors to add your own taste and style. They make up quite quickly!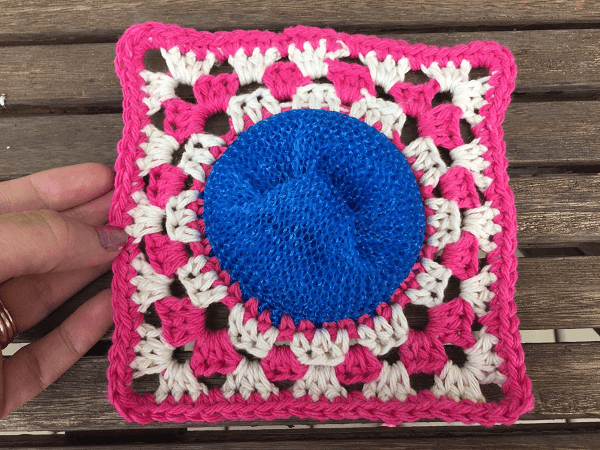 Get the Pattern here

8. Crochet Tulle Scrubbie Pattern by Persia Lou
Learn how to crochet scrubbies out of tulle with this free crochet pattern! These crochet tulle scrubbies are bright, colorful, and perfect for cleaning up those dirty pots!

Dish scrubbies made from tulle is great for getting food off of pots and pans without scratching!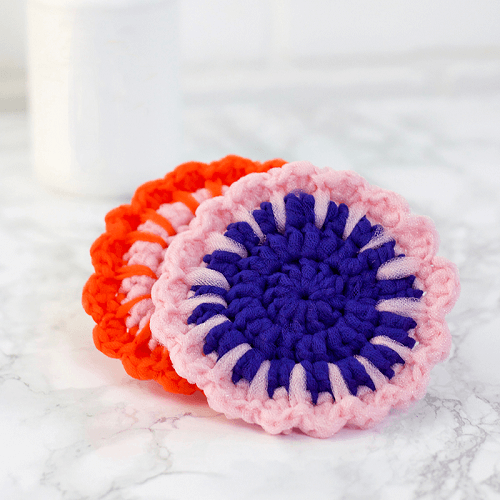 Get the Pattern here

9. Jellyfish Bath Scrubbies Crochet Pattern by Simply Notable
Get out your hook and create some fun tub time for the little surfers in your life! Jellyfish crochet bath scrubbies are as fun to make as they are to gift.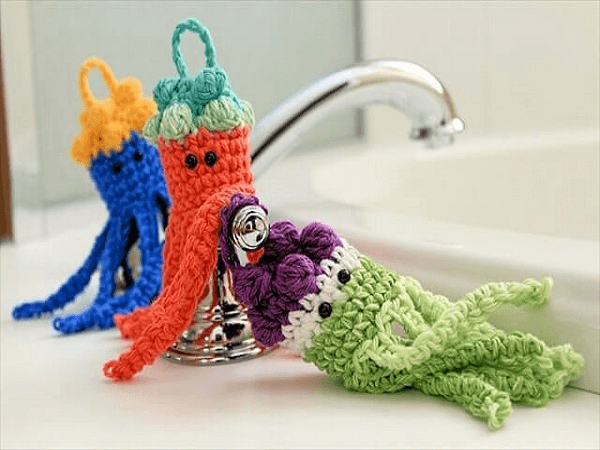 Get the Pattern here

10. Fish Scrubbie Crochet Pattern by 1 Dog Woof
Add to a nautical themed bathroom or kitchen with these adorable fish washcloth scrubbies. They're great fun for kids in the bath and look great just hanging up as well.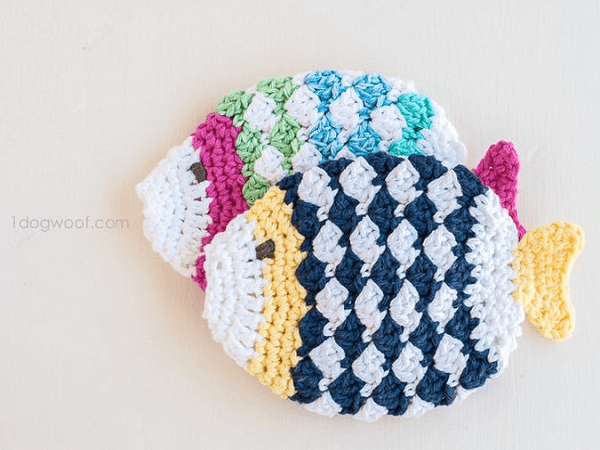 Get the Pattern by 1 Dog Woof here

11. Crochet Face Scrubbies Pattern by Creations Misfit
This is an advanced beginner-friendly pattern that uses cotton yarn for extra durability. It works up fast and makes a great gift for yourself or someone else.

You will love these super soft, reusable, washable, and eco-friendly cotton rounds. Perfect for removing makeup or using with your own soap and/or cleanser.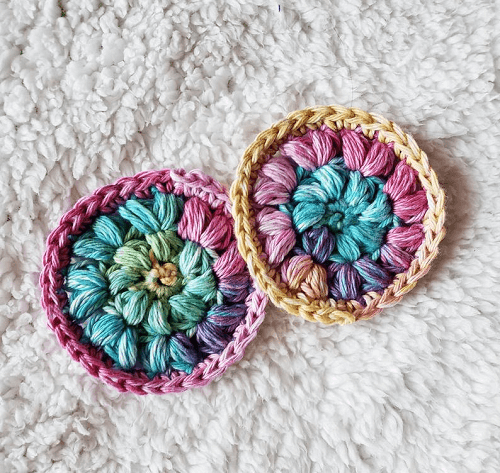 Get the Pattern by Creations Misfit here


12. Potato Sack Kitchen Scrubbie Crochet Pattern by Creative Jewish Mom
Too busy to crochet? Not anymore, because in just 7 minutes or less you can recycle a mesh potato sack, get in some crocheting and make yourself a great upcycled potato sack kitchen scrubbie!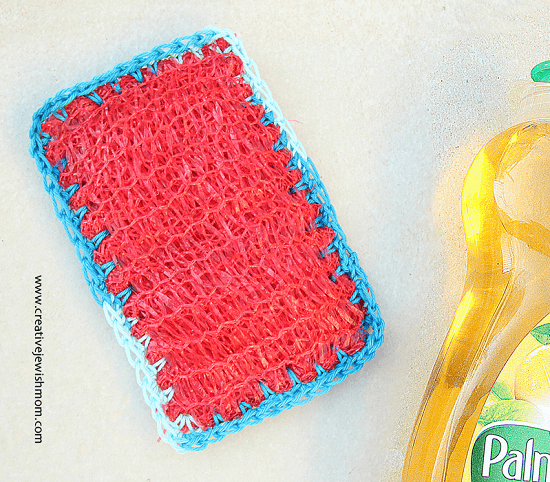 Get the Pattern here

13. Crochet Turtle Bath Scrubby Pattern by Yarnspirations
Crochet this uniquely textured washcloth that kids will love using in the bathtub. It's also great for scrubbing pots in the kitchen. Choose any color or color combination of yarns to give your little turtle lots of character and a personal touch!
Are you a turtle lover? If you are then you will surely love our list of crochet turtle patterns!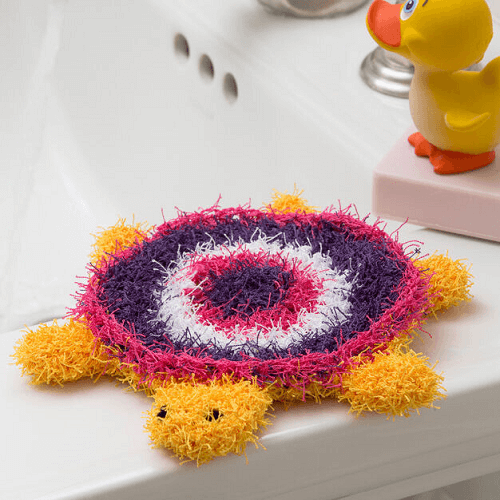 Get the Pattern here

14. Cactus Dish Scrubby Crochet Pattern by Belle And Bean Crochet
You can add a bit of desert chic to your kitchen with these crochet cactus scrubbies! You will love having a darling cactus by your sink. It would make a lovely housewarming or Mother's Day gift, or for you to keep for yourself.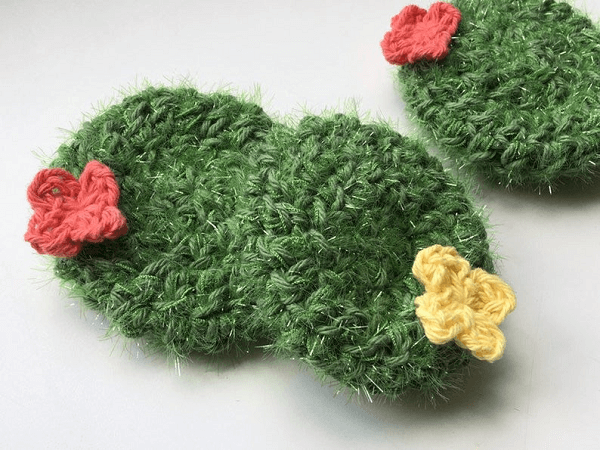 Get the Pattern by Belle And Bean Crochet here

15. Bumpy Scrubby Crochet Pattern by Sewrella
This bumpy scrubby has a great texture to it, perfect for catching grime! Crochet this with cotton yarn so that it is durable and versatile for lots of scrubbing. It works up rather quickly and is a great advanced beginner project.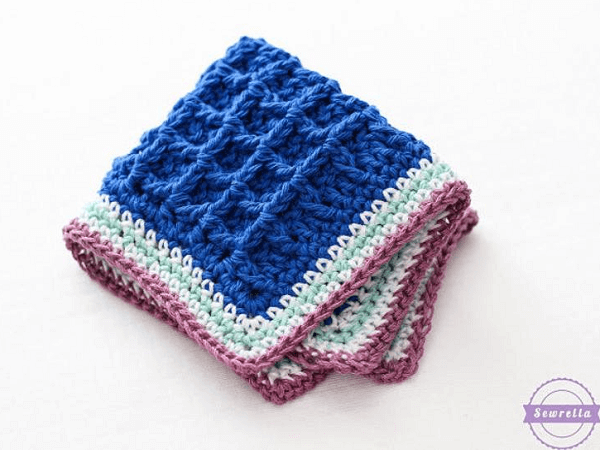 Get the Pattern by Sewrella here

16. Crochet Watermelon Scrubbie Pattern by Midwestern Moms
Follow this Watermelon Scrubbie Crochet pattern and you'll hook a slice of summer that's truly one in a melon! Your kids are far more likely to help with the dishes if they get to scrub that casserole dish with a replica of the dessert they just enjoyed!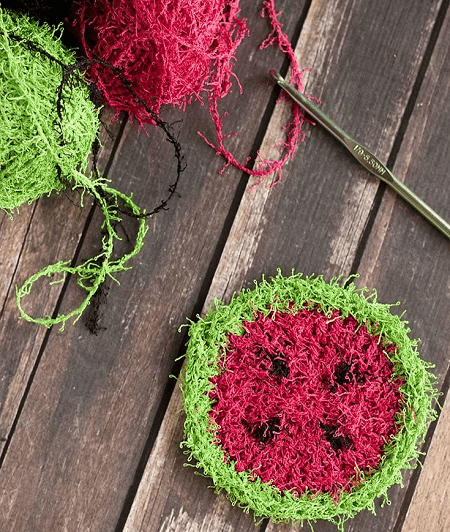 Get the Pattern here

17. Crochet Dish Scrubbies Pattern by Zbrka Zdola
These cute scrubbies are so simple to make and you can make them in two sizes. You can use them to do almost anything from cleaning pots, pans, and dishes to scrubbing showers and sinks. You can easily craft one set for yourself and another to gift to a friend.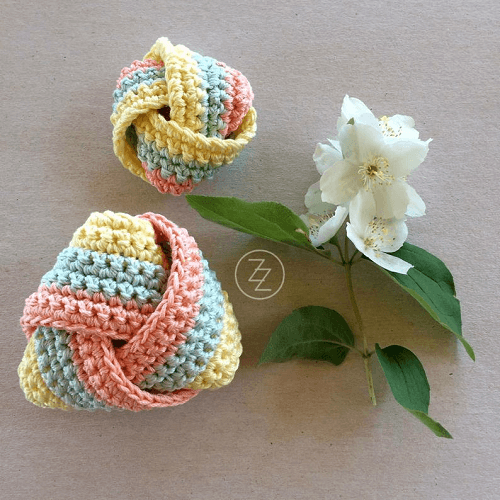 Get the Pattern by Zbrka Zdola here

18. Crochet Nylon Net Scrubbies Pattern by Melanie Larsen
These are heavy dish scrubbies that uses a nylon net. The nylon netting is rough enough to get the pots clean but gentle enough not to scratch the Teflon.

Perfect for cleaning casserole dishes, but also great for bathtubs or cars. And they won't scratch those non-stick pans you've probably paid a fortune for.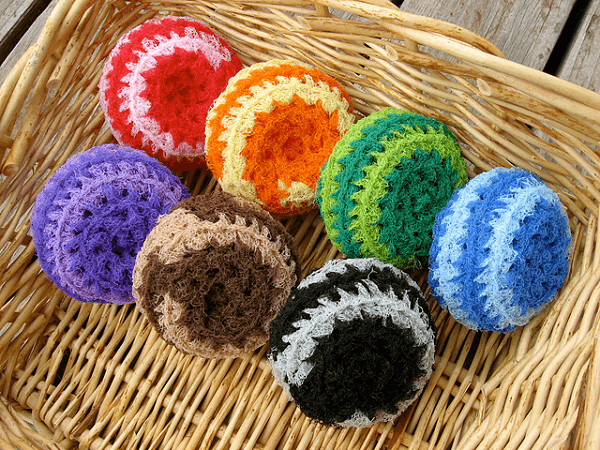 Get the Pattern here

19. Cupcake Face Scrubby Crochet Pattern by Vivid Kreations
Add sweetness to your dishwashing time with a delicious looking cupcake scrubby. It is quick and fun to whip up for yourself or to give as a gift to make someone else's day that little bit sweeter!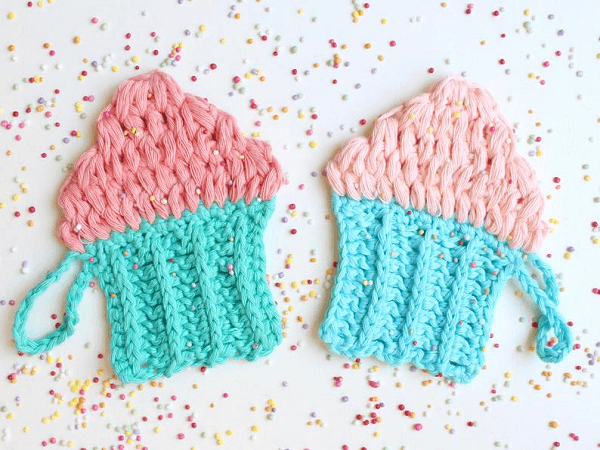 Get the Pattern by Vivid Kreations here

20. Ruffles Face Scrubbie Pattern by Loopingly Made
You could make this scrubby as big or small as you like. Besides being a great beginner project, it's also a great project for your leftover yarn. Make as many as you need, and gift them.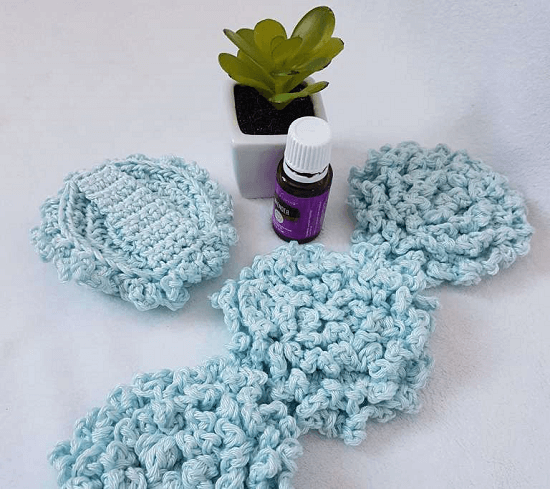 Get the Pattern here

21. Scrubby Mitten Crochet Pattern by Goddess Crochet
Use your worsted weight cotton yarn to make this ribbed scrubby mitt, handy to use in the kitchen or bath. Makes a really nice gift – it's never too early to start on holiday making!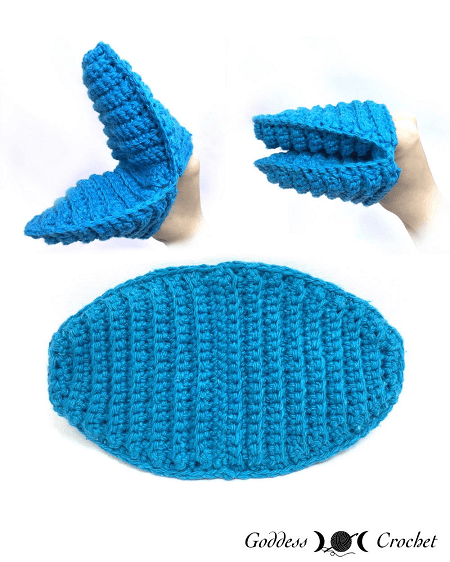 Get the Pattern here

22. Crochet Spiral Dish Scrubbies Pattern by The Curly Vine
These spiral dish scrubbies will make a great house-warming gift! They're the perfect size to fit in your hand comfortably while the coarse yarn works away at scrubbing off the hard stuff and leaving your hands nice and soft!

Better yet, make a few to keep in the shower and use them as a body exfoliator too!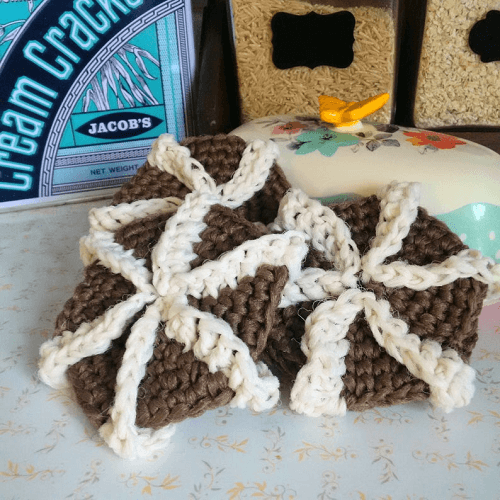 Get the Pattern by The Curly Vine here

23. Heart-Shaped Dish Scrubby Crochet Pattern by Spin A Yarn Crochet
These hearts are so sweet! They would be great in Valentine's Day gift basket, or even as a gift for Mother's Day. Give this heart-shaped Scrubby to make their dishwashing or bathing a time to remember that they are loved.
Get the Pattern here

24. Pot Of Daisy Scrubbies Crochet Pattern by Crochet Spot Patterns
The pattern includes daisy-shaped scrubbies and leaf-inspired cleaning cloths that can be displayed in a cute flower pot to resemble a pot of daisies.

The daisy scrubbies are crocheted with ordinary yarn and nylon netting held together to create a rough, textured center that's great for scrubbing dishes or even exfoliating your face and body.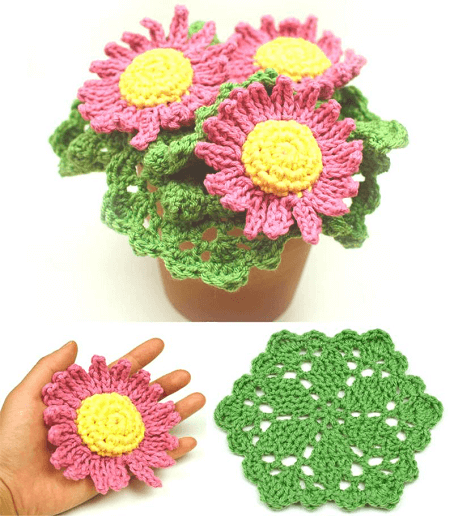 Get this Pattern by Crochet Spot Patterns here

25. Crochet Scrubby Veggie Washer Pattern by Yarnspirations
Crochet a scrubby to use for washing your fruits and vegetables. This veggie washer scrubby is made with textured yarn that will make quick work of washing off the dirt and chemicals.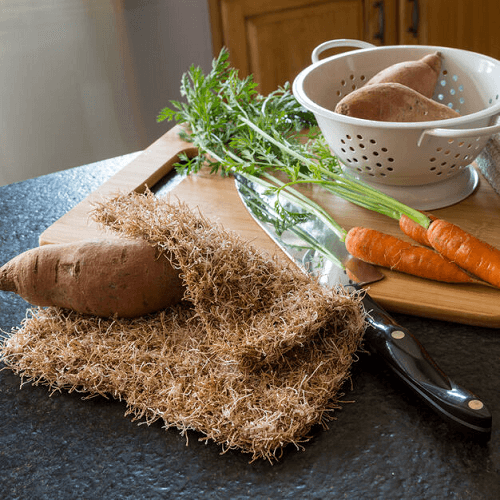 Get the Pattern here

26. Scrubby Posey Crochet Pattern by Lily Sugar' n Cream
Brighten up your spring cleaning routine with these fun scrubbies. A cute and practical idea for the kitchen is this Crochet Posey Scrubby.

Starting with an existing plastic scrubber that you can pick up at a dollar store, you can crochet using it as a base and add on whatever you need.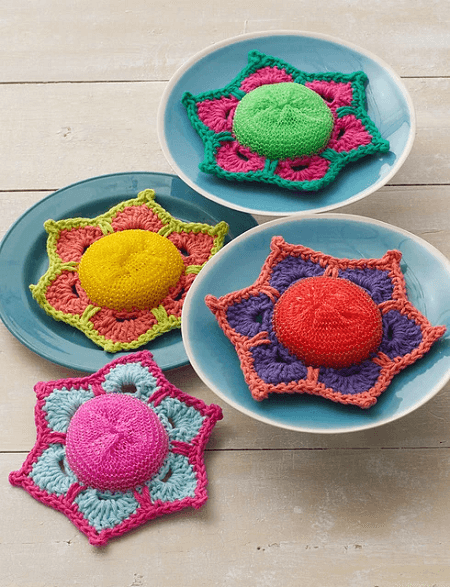 Get the Pattern here

27. Kitchen Scrubbies Crochet Pattern by Karla's Making It
Whip up this cute and easy flower-shaped scrubby which is perfect for your face or in the kitchen. Crochet one for every day of the week and simply pop them into the laundry.

They make a great gift paired with a nice soap or a scented candle.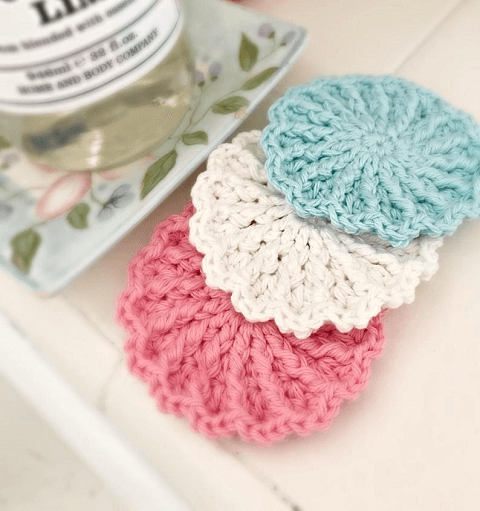 Get the Pattern by Karla's Making It here

28. Chevron Crochet Scrubbie Pattern by Lorene Eppolite
Add on-trend style to your kitchen with this Chevron Crochet Scrubbie. The ingenious yarn is great at cutting the dirt without being rough on your skin.

This easy pattern washes easily by machine for thrifty reuse-ability, and the chevron pattern keeps you from misplacing it.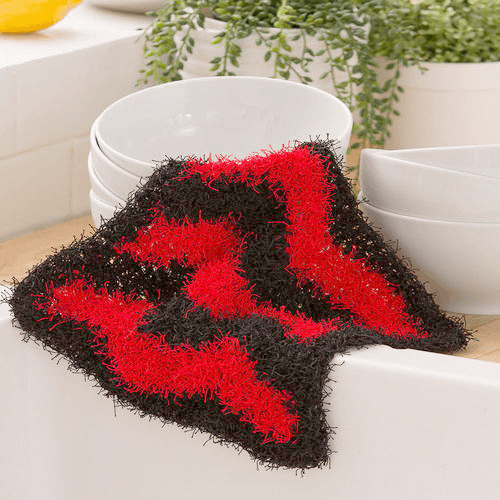 Get the Pattern here

29. Crochet Hemp Scrubbies Pattern by Persia Lou
These pretty little crocheted hemp scrubbies are the perfect things for scrubbing up your dirty dishes and anything else that needs a good scrub.

The great thing about using hemp cord for scrubbies is that they are antibacterial. That means these scrubbies won't be all stinky and gross.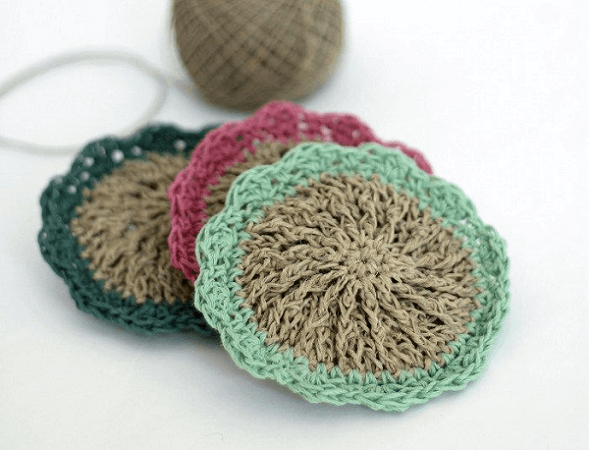 Get the Pattern here

30. Crochet Butterfly Scrubbies Pattern by Yarnutopia
What a fun and easy gift this would make all-year-round for anyone on your gift-giving list! Make a set of Scrubby Butterflies and pair them with nice soaps for a fun homemade gift that comes right from the hands and heart!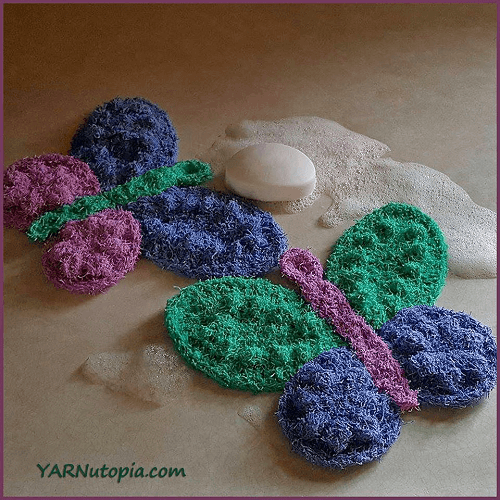 Get the Pattern here

31. Bobble Heart Crochet Scrubbies Pattern by Sunny And Stitch
Make this lovely scrubbies for use in the kitchen or the bathroom. For everyday use in the kitchen, the bobble side is perfect for scrubbing dishes whilst the softly textured side is great for wiping down worktops. They are very absorbent and great for use with your routine.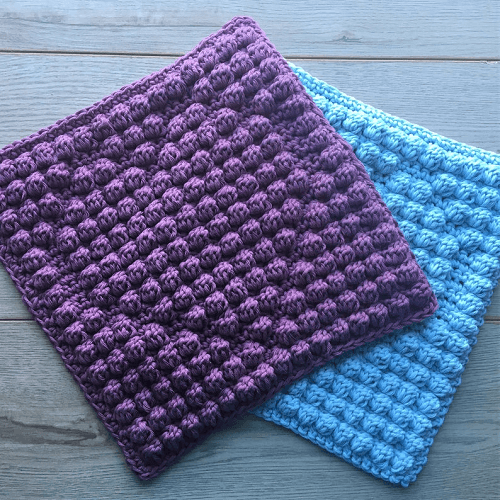 Get the Pattern by Sunny And Stitch here

32. Crochet Flower Scrubbie Pattern by Wren Couture
A cute crochet flower dish scrubbie to power away grim and add some sunshine to your kitchen sink. This pattern takes the same idea of upcycling an inexpensive store scrubby, but instead of making it a granny square it's turned into a flower.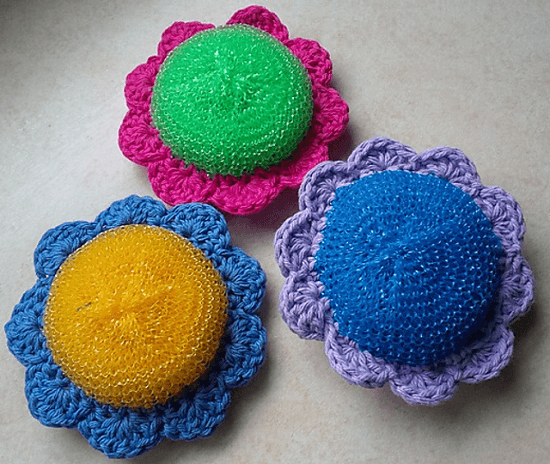 Get the Pattern here

33. Scrubby Swiffer Cover Crochet Pattern by Rich Textures Crochet
The pattern (Except for the ties) is worked holding one strand of RedHeart Scrubby yarn alongside one strand of cotton yarn. This gives the cover a little extra scrubbing power!

This is a great handmade solution to clean your tile and hardwood floors without needing to buy expensive Swiffer cover refills.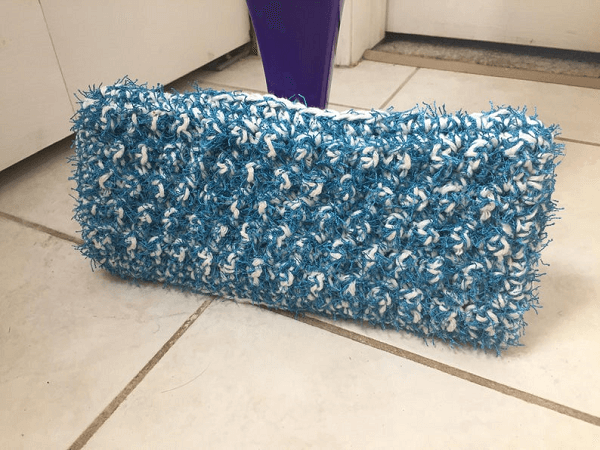 Get this Pattern by Rich Textures Crochet here

34. Owl Dish Scrubbie Crochet Pattern by String With Style
It will be a race to wash the dishes when you have these super cute Owl Crochet Dish Scrubbies hanging around the sink. They really are adorable and they will bring a cheeriness to your home every time you use them! They make a great homemade gift too.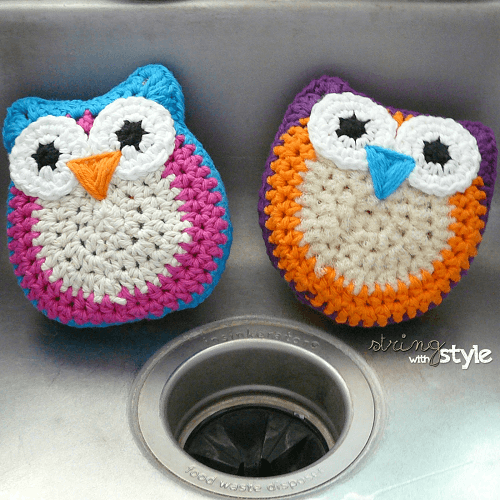 Get the Pattern here

35. Blossom Scrubby Crochet Pattern by Naztazia
Scrubbies are so much fun to make – and these flower ones really brighten a kitchen or bathroom. The Blossom Scrubby makes it easy to crochet with textured scrubby yarn.

They work as either facial cleansing pads or make-up removers. Because of their pretty shape, they would be a beautiful pattern to crochet for mom for a Mother's Day gift, or some other special occasion.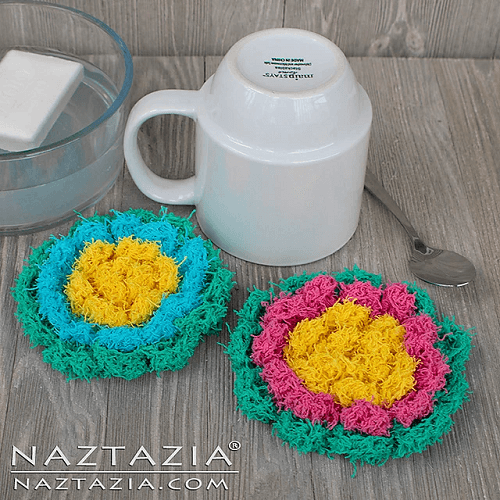 Get the Pattern here

36. Dish Scrubbies Crochet Pattern by Prims N Stitches
This scrubby fits right over your hand for easy scrubbing, is eco-friendly/washable and can hang from your kitchen faucet to dry. It can also be used in the bathroom to scrub tubs/tile/sinks.

They are quick to whip up and would make great gifts, giveaways, or small filler items at craft shows.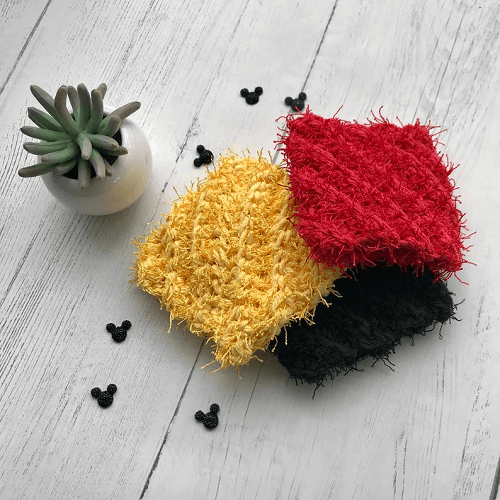 Get the Pattern by Prims N Stitches here

37. Crochet Melted Snowman Kitchen Scrubby Pattern by Crystalized Design
Being quick to work up and using a small amount of yarn, you can make several of this adorable kitchen scrubby in a short amount of time. They're great as gifts, an eye-catching product for craft fairs, or fun basket filler!

More Crochet Snowman Patterns here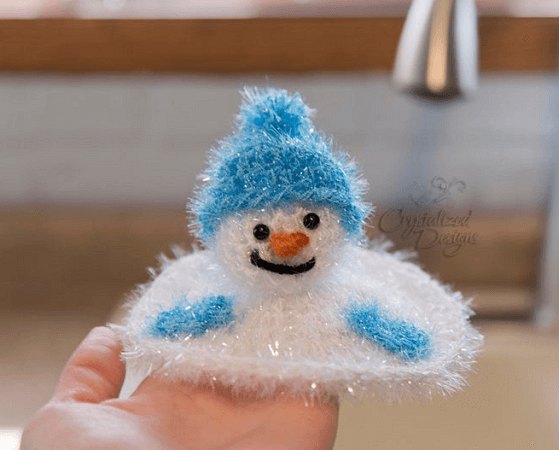 Get the Pattern by Crystalized Design here

38. Floral Popcorn Scrubbies Crochet Pattern by Rebecca J. Venton
Enjoy a refreshing shower or bath as these pretty flowers help smooth your skin. Crocheted with just 4 rounds, you can create a whole bouquet in little time. They dry quickly and wash easily by machine.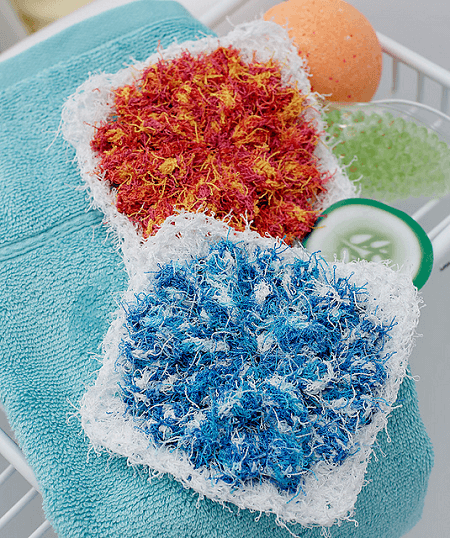 Get the Pattern here

39. Crochet Diamond Textured Scrubbies Pattern by Mother Bunch
These reusable mini face washers/make-up remover pads are great for gifts or for yourself. After each use, just chuck it in the wash. Make a set of 8 so you have one for each day + an extra for washing day.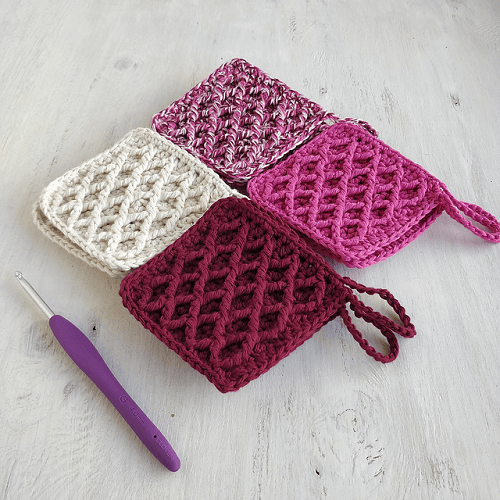 Get the Pattern here

40. Nubby Scrubbies Crochet Pattern by The Stitchin Mommy
These Nubby Scrubbies have a wonderful nubby texture and make a great addition to your spa basket! They are small, simple and works great for scrubbing dishes and counters! Could easily be made in any size desired.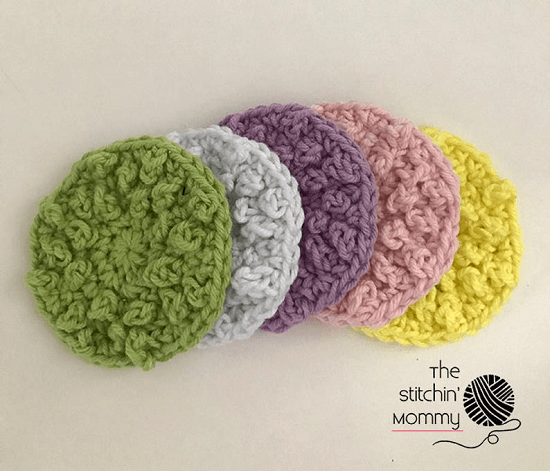 Get the Pattern by The Stitchin Mommy here

41. Donut Scrubbies Crochet Pattern by Fiber Flux
These fun donut scrubbies are super simple to make and perfect for both bath and kitchen! Work a few up to make a set for your home and they also make great gifts too!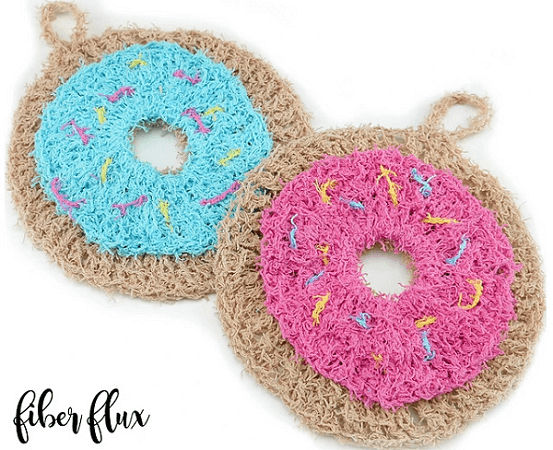 Get the Pattern here

42. Daisy Face Scrubbie Crochet Pattern by Hilde Ropstad
These face scrubbies are perfect for cleansing and gently exfoliating the skin. They are a great, reusable pad for make-up removal and cleansing.

It is a very easy, two-round pattern, that works up quickly – a perfect project for beginners or for those of us looking to use up scraps of yarn.
Get the Pattern here
With so many cute scrubbies patterns, the only problem is choosing which one to start with!
You may also want to check our roundup of Crochet Dishcloth Patterns and Crochet Soap Saver Patterns to keep your crockery happy.
We would love to see the pictures when you're done, so please feel free to share them on our Facebook Page and show off your projects!
These will change your cleaning routine forever, without a doubt! Make cleaning more fun with these crochet scrubbies patterns!