Exciting amigurumi and crochet turtle patterns below. Including toys, rugs, blankets, soft amigurumi toys and many more unique and fun patterns.

This summer, as you visit various places, you're likely to come across many little creatures – crabs, starfish, bugs and – turtles!
Turtles are among the most adorable marine creatures, never mind how slow or fast they move! There's something endearing about the peace-loving, own-business-minding, slow-moving turtle.

1. Crochet Turtle Pattern by Toysneed
Make your own sweet little turtle in just a few hours! Use your imagination to customize it's colors for endless possibilities!

It is perfect make for adults and children alike. A fun and quick pattern to crochet, make yourself a snuggly friend today!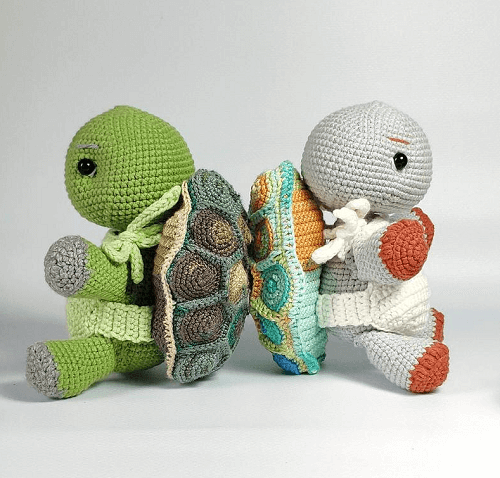 Get the Pattern by Toysneed here

2. Crochet Turtle Potholder Pattern by Soft Strings Gift Shop
This beautiful potfolder is perfect for hot pots and pans or hot plates and bowls. The pattern creates a fun and unique potholder that resembles a woodland turtle!

The shell design mimics the design of a turtle shell. You can make so many fun turtles in different colors!

27+ more Crochet Pot Holder Patterns Here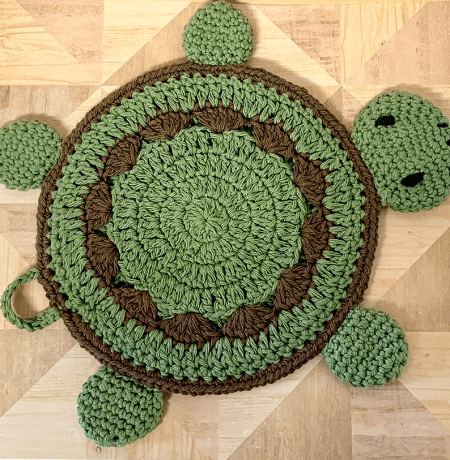 Get the Pattern by Soft Strings Gift Shop here

3. Crochet Sea Turtle Pattern by Whistle And Ivy
This darling little crochet sea turtle will delight all children with his adorable hexagon sheep and tiny little flippers. Make him in 2 or 3 colors and he will be your child's new favorite toy.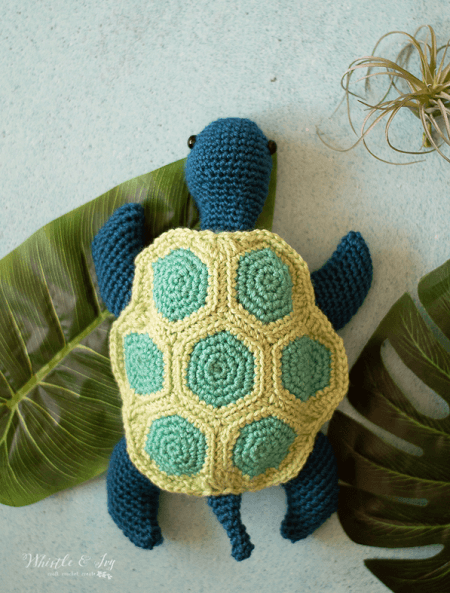 Get the Pattern here

4. Hooded Turtle Blanket Crochet Pattern by MJs Off The Hook Designs
Wrap yourself in this cozy Hooded Sea Turtle Blanket. Perfect for cuddling, play and display. You'll fall in love with this Sea Turtles big gorgeous eyes!

Turtle blanket features multi-coloured hexagon shells seamed together to form a beautiful turtle shell. When not in use the blanket folds into a cute little pillow.
More of these Sea Turtle crochet blankets here.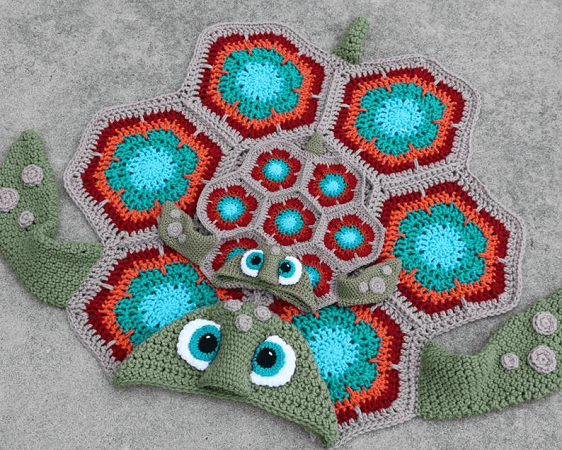 Get the Pattern by MJs Off The Hook Designs here

5. Crochet Turtle Applique Pattern by Golden Lucy Crafts
This cute crochet turtle applique pattern is made in the shape of a heart. This will be great to embellish various children's items, you can also use it for scrapbooking or greeting cards.

You are free to experiment with different yarn weights and hooks to achieve different sizes.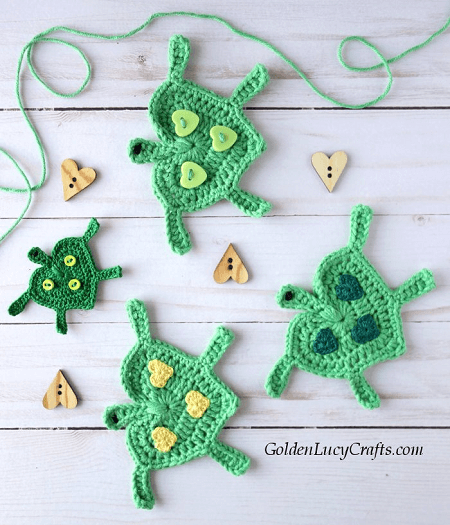 Get the Pattern here

6. Squirt (Finding Nemo) Turtle Crochet Pattern by Krawka
This adorable turtle is the perfect size for little ones to carry around, take on many adventures, and best of all snuggle up with at night!

Great size for a nursery decor accent piece in a turtle, or spring, or gender neutral, themed nursery. Makes a wonderful gift for baby showers, holidays, and birthdays!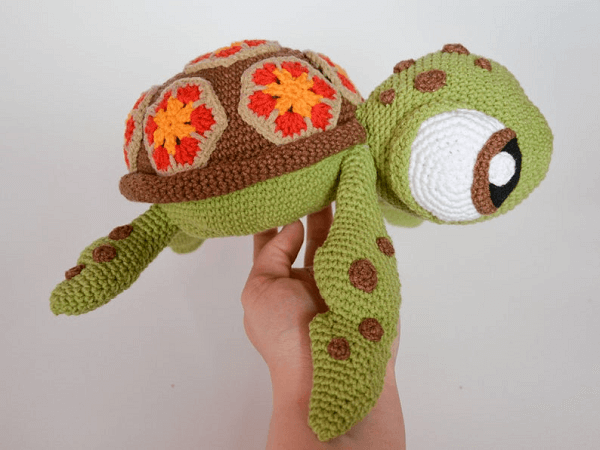 Get the Pattern by Krawka here

7. Crochet Baby Turtles Pattern by The Easy Design
This simple pattern works up super quick, and is a delightful way to use up your bits of yarn. Feel free to mix and match different colours to create your own unique turtles!

Use them to decorate bags, make a garland, hang it on the wall or above the window to add instant color, as embellishments in your projects or as party ornaments!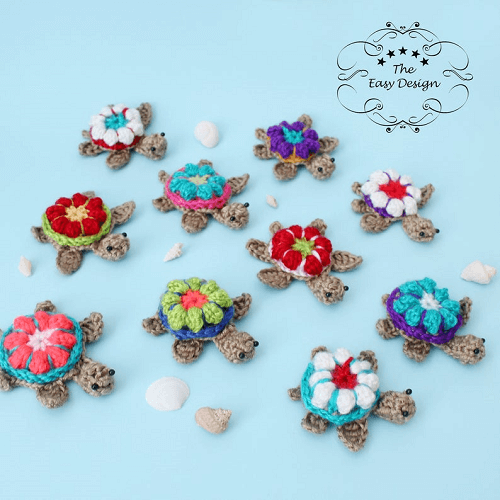 Get the Pattern by The Easy Design here

8. Crochet Turtle Hat Pattern by Jenia's Designs
This one-of-a-kind, fun, playful and super cute Turtle Hat for Boys and Girls features an adorable character with realistic looking turtle features.

It's warm, fun and practical. The pattern sizing accommodates ages from newborn to adult. A great gift idea that is perfect for chilly days, picture time and as a part of a costume.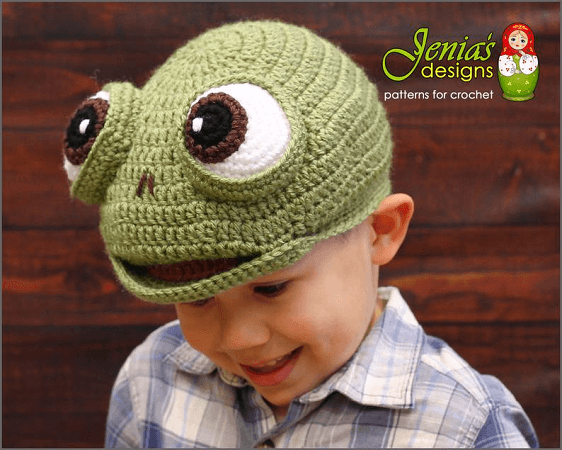 Get the Pattern by Jenia's Designs here

9. Free Crochet Turtle Pattern by Loops And Love Crochet
When finished, this turtle measures about 6.5 inches long from head to tail, and is a great size for cuddling and playing with, but is not too big to sit on a shelf as a decoration as well.

There are so many possibilities with shell colors that you could make a whole family of turtles, each one looking unique!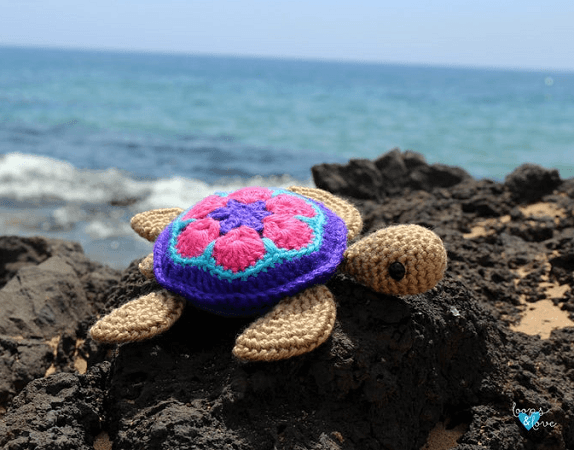 Get the Pattern here

10. Crochet Turtle Teether Ring Pattern by Toys By Knit Friends
This crochet turtle ring is a good gift for a baby shower, for new parents or an addition to the pregnancy gift box. The texture of this organic cotton toy is suitable for tactile stimulation of the baby's little fingers.

It develops fine motor skills from birth! Make this in neutral or bright colors!

More Adorable Baby Crochet Toy Patterns Here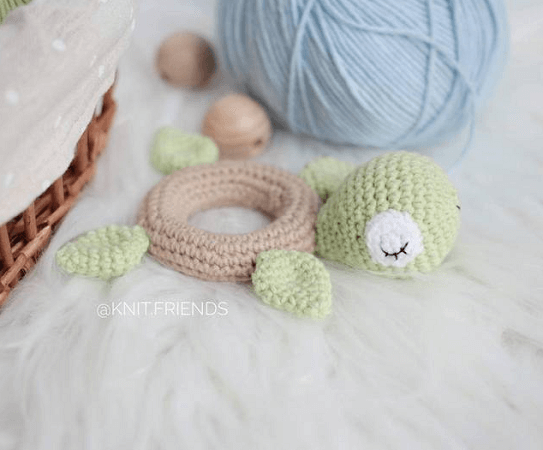 Get the Pattern by Toys By Knit Friends here

11. Tiny Turtle Crochet Pattern by Pink Mouse Boutique
You can crochet your own teeny- tiny turtles in any colors you choose with this easy tiny turtle crochet pattern. There's just something adorable about the baby sea turtles and this so itty bitty sea turtle knows how to become someone's center of attention!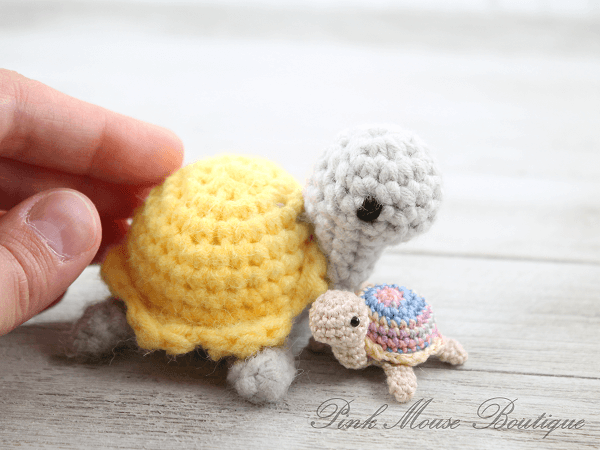 Get the Pattern here

12. Crochet Sea Turtle Basket Pattern by AMK Crochet
This crochet sea turtle basket is a great addition to a nursery, as a decorate basket, diaper bin, or toy basket. This is also a perfect desk organizer and definitely an eye catcher. A must have for all turtle lovers!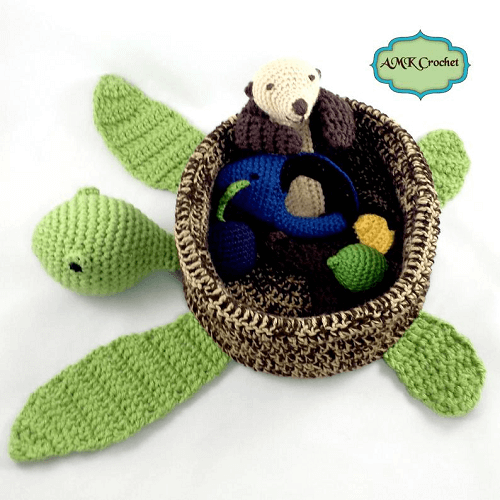 Get the Pattern by AMK Crochet here

13. Crochet Sea Turtle Blanket Pattern by Owl B Hooked
This Turtle blanket features a subtle, peek-a-boo sea turtle design with no need for several color changes or ends to weave in. Or add all the color your heart desires!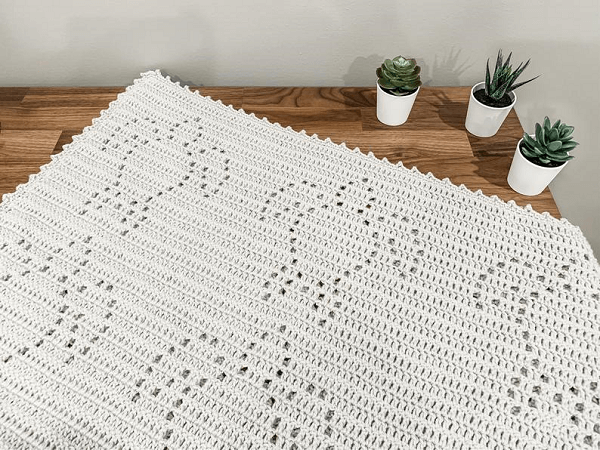 Get the Pattern by Owl B Hooked here

14. Amigurumi Turtle Pattern by Eden Dintsikos
This happy turtle will bring smiles to you and your babies' faces. He is the best gift for baby shower party, 1st birthday, baptism day or any other occasion. Great for a gift to a child or for the decor of children's rooms.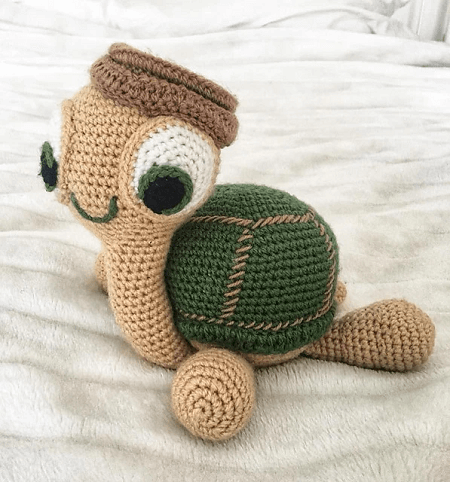 Get the Pattern here

15. Crochet Turtle Rug Pattern by Ira Rott Patterns
This crochet sea turtle rug is so adorable, it would be a lovely addition for your kid's room. Make it with your favorite color to match your home decor. Any children in the world will enjoy getting out of the tub and stepping onto this!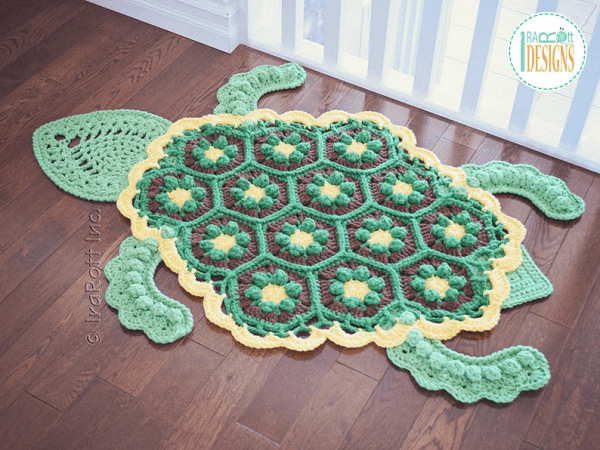 Get the Pattern by Ira Rott Patterns here

16. Turtle Crochet Amigurumi Pattern by The Blue Elephants
This little guy is really easy to make. He's mostly just circles so it's a great pattern for beginners. This adorable turtle can be made from any weight yarn and appropriate hook for different sizes.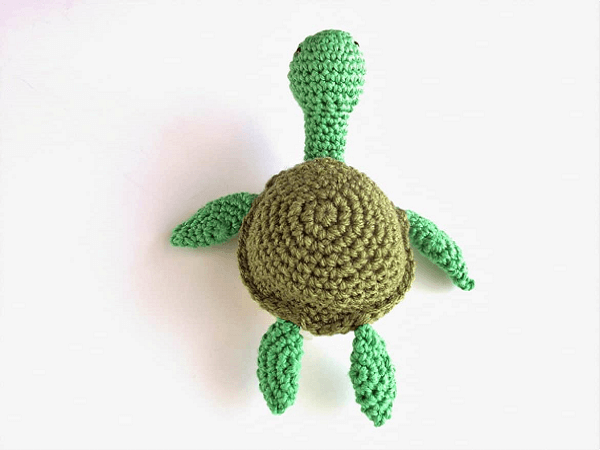 Get the Pattern here

17. Crochet Turtle Pouf Pattern by Anne Marie's Brei Blog
Make this cute turtle for a nursery or children's room. When finished you have a children's pouf of approximately 40cm wide.

Of course, this depends on the type of t-shirt yarn you are using and the size of your crochet hook. This adorable turtle makes a great children's floor pillow or can be used for nursery decor.

Great T-Shirt Yarn Patterns Here
Get the Pattern by Anne Marie's Brei Blog here
Go ahead and give your kids that crochet turtle pattern they've been asking for!
These sweet, little turtles bring so much joy to any home where there's a little one or where is a kid at heart. And this is true even more for any kid who loves ocean animals and sea creatures. If you make one, please do share your makes with us on our Facebook Page!
If you are loving everything ocean-themed right now, you may also want to check out our round-up for Crochet Octopus, Jellyfish, Seashell, Narwhal, Whale, and Fish patterns!
Even if you didn't know you loved turtles, you're bound to fall in love after browsing these adorable Crochet Turtle Patterns!