She crochet seashells by the seashore, so can you! Keep a piece of the ocean in your home all year round with these seashell crochet patterns.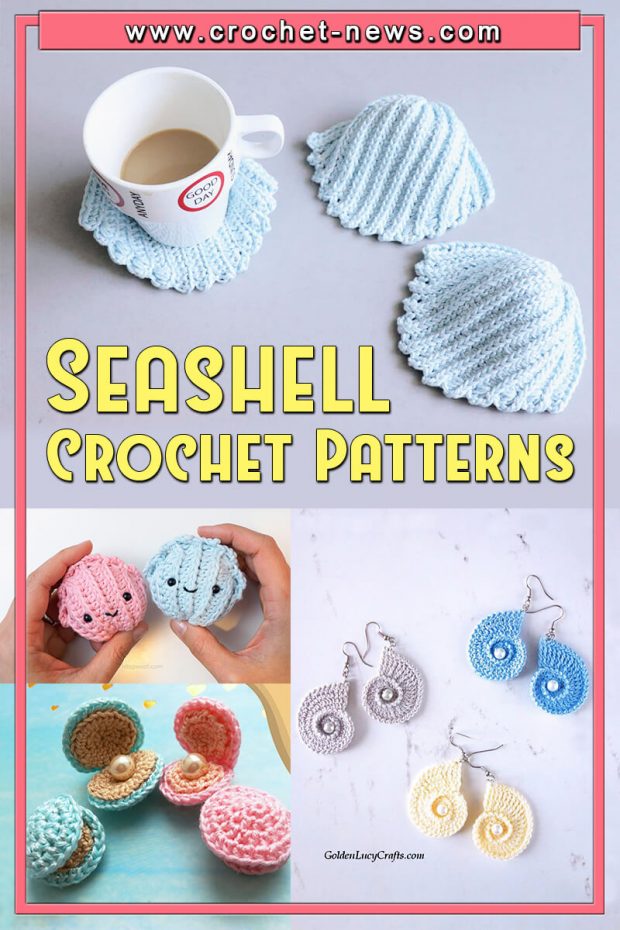 If you don't have access to shells by the beach, you can make your own! So much fun to have spending a day by the shore. Or cuddle up with yarn with one of these seashell crochet patterns. They're too cute to pass on!

1. Easy Seashell Crochet Coasters Pattern by Craft Her
These seashell coasters are so cute and unique, that even if you decide not to use them as coasters, you could decorate you shelf with them.
They are also super easy to make. Easy enough for a beginner crocheter and textured enough for more experienced ones.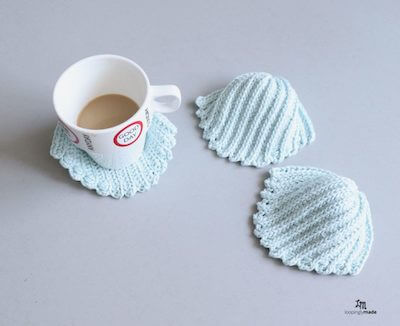 Get the Pattern here

2. Nautilus Shell Crochet Basket Pattern by Julia Verbytska
This unusual Nautilus Shell Crochet Basket is a perfect accessory for your coastal home, beach house or lakeside cottage, or just as a memory of lovely summer days.

It has a shape of Nautilus shell – perfect for a beach themed wedding: fill it with rose petals, shells or treats, or put a pot of flowers in it.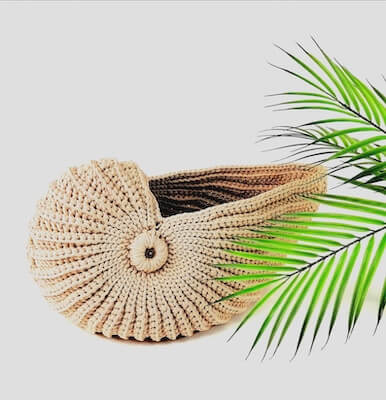 Get the Pattern by Julia Verbytska here

3. Coin Purse Free SeashellCrochet Pattern by Yay For Yarn
This ocean-inspired coin purse is perfect for keeping small items organized in your beach bag! It is a cute, functional project that is quick to make, and only requires a small amount of yarn.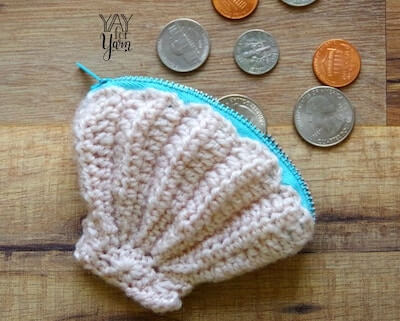 Get the Pattern here

4. Crochet Seashell Earrings Pattern by Golden Lucy Crafts
The design of these beautiful Crochet Seashell Earrings is inspired by the sea. They are made in the shape of nautilus seashells and are embellished with pearl beads.
Such earrings will be a wonderful addition to your summer beach outfit!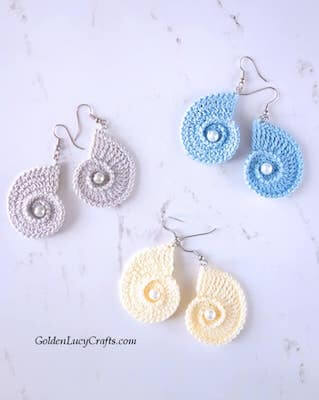 Get the Pattern here

5. Amigurumi Seashell Crochet Pattern by 1 Dog Woof
This seashell is a little different than your normal round amigurumi because it's worked in rows and then joined together. It's like making a beanie, but shell-shaped!
So sweet and fun, these little mini clams would make a great addition to a nursery mobile or a keychain.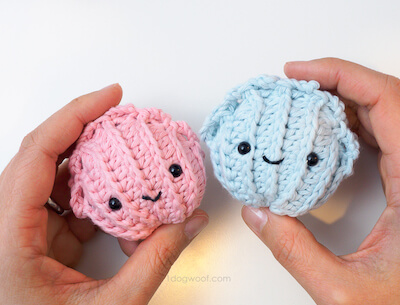 Get the Pattern here

6. Seashell Crochet Pattern by Curly Tail Crochet
This pattern is for a beautiful scallop seashell. It is your choice whether or not to add a Pearl at the end. This design makes for a flat seashell that can be used as a beautiful appliqué, coasters or mermaid top.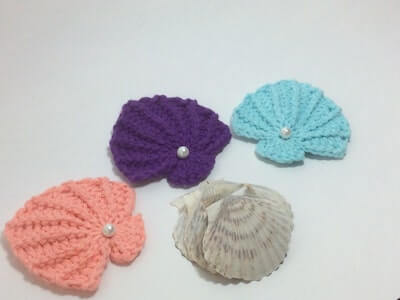 Get the Pattern by Curly Tail Crochet here

7. Mini Sea Shells Crochet Pattern by Rebeckha's Treasures
These shells patterns are designed for any gauge. This means you can pick your favorite yarn or thread and all you need to do is use a hook size that produces tight stitches!

These were originally designed in thread so they would be small enough for my fashion dolls, but even when worked in sport yarn, they are still really small and will fit in the palm of your hand.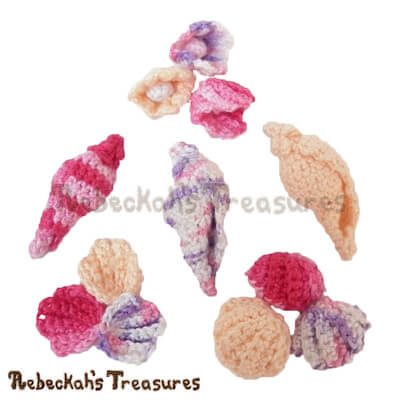 Get the Pattern here

8. Scallop Seashell Washcloths Crochet Pattern by Crochet Is The Way
Use these washcloths to brighten your decor and inspire thoughts of a warm summer day on the beach. A few ridges of raised post stitches worked in super-soft cotton make the perfect combination of soft and scrubby.
They're also durable enough to use for dishcloths, but may be too pretty to use in the kitchen!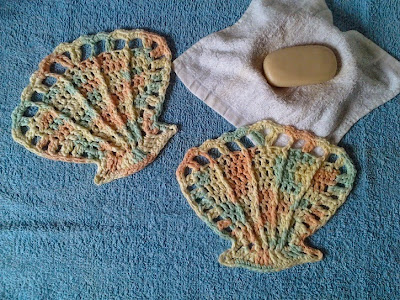 Get the Pattern here

9. Amigurumi Seashell With Pearl Crochet Pattern by Crochet Toys For Kids
If you're looking for a small and easy crochet project, that is and adorable and beautifully crafted seashell, with a pedal inside, then this pattern is just the one for you!

Ideal as a soft pocket toy, as decoration, or as a gift. This easy seashell crochet pattern is small enough that it can be completed pretty fast, allowing you to make multiple of them in no time!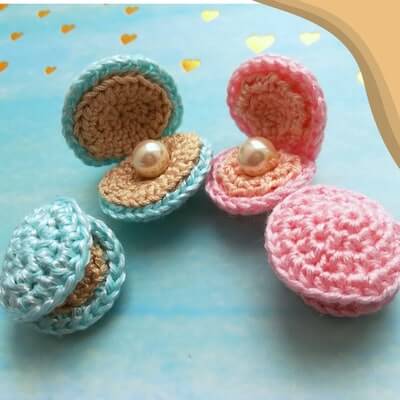 Get the Pattern by Crochet Toys For Kids here

10. Crochet Seashell Pillow Pattern by Yalis And Yabos Crochet
This Crochet Seashell Pillow is quick to whip up, and would make a gorgeous addition to any ocean theme nursery. Or make it to instantly transform absolutely any room into a happy, mermaid-y place!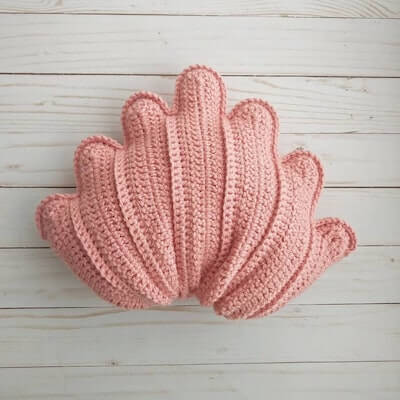 Get the Pattern by Yalis And Yabos Crochet here

11. Crochet Seashell Pattern by Catcozy
This crochet seashell is hollow inside, it welcomes you to put anything inside or nothing if that's what you prefer. Even if you don't put anything inside the seashell, the seashell can have its form with the proper yarn.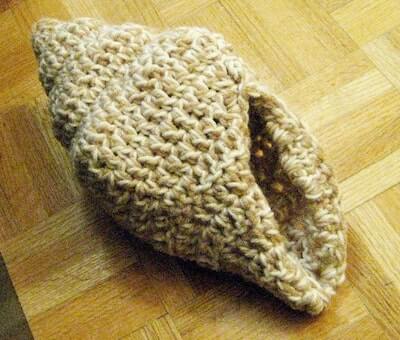 Get the Pattern by Catcozy here

12. Crochet Conch Sea Shells And Star Fish Pattern by TC Designs UK
Bring a touch of the seaside to your home with these highly textured 3D Conch Shell Sea Shells and starfish. Fun, unusual and a great way to use up oddments of cotton yarn.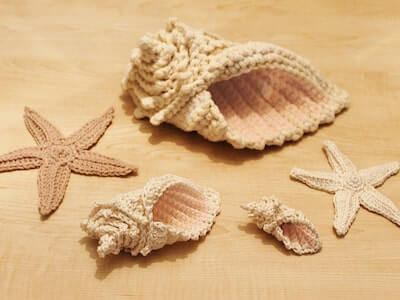 Get the Pattern by TC Designs UK here

13. Conch Free SeaShell Crochet Pattern by Yarnspirations
A sea songs conch shell adds a relaxing vibe to any space. It's a beautiful accent piece in the bright color you choose, or make a complete set as shown.
They're so reminiscent of the sea, it's easy to sit back, close your eyes and imagine the ocean's magic.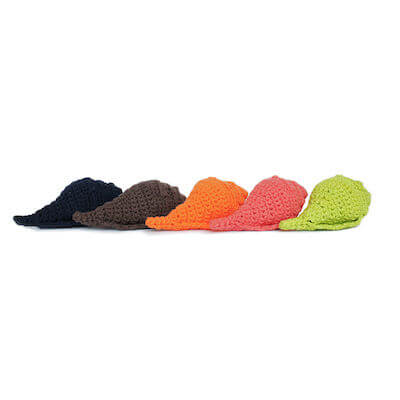 Get the Pattern here

14. Spiral Shell Crochet Basket Pattern by Julia Verbytska
This Spiral Shell Crochet Basket is perfect for having in the bedroom or living room, in order to keep things tidy and organized! It looks especially good in beach houses or coastal areas, or simply in a sea-themed setting.

Plus, it could also make for an amazing gift, and could be filled with other nautical or shell-themed items!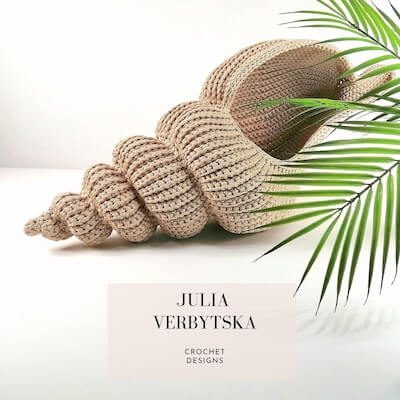 Get the Pattern by Julia Verbytska here

15. Amigurumi Shell Crochet Pattern by Yarnspirations
Accent the home with color using sweet shells you create and display. The pattern lets you complete a selection of bright and playful pieces using shades that work in any room.
Make extras since they're adorable add-ons to any homemade gift for a friend.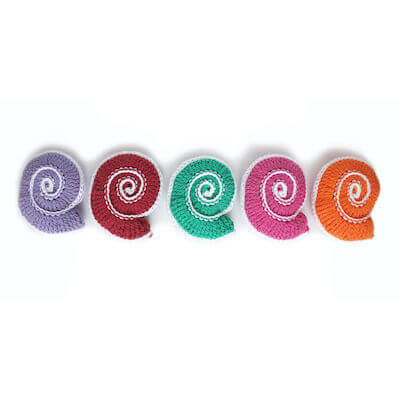 Get the Pattern here
TOO FUN NOT TO SHARE, THESE SEASHELL CROCHET PATTERNS LOOK AS DELICATE AS THEIR NAMESAKE BUT ARE EASY CROCHET!
Don't forget to share your oceanic makes with us over on our Facebook Page. And if you're looking for more irresistible ocean creatures to crochet, check out these fabulous aquatic critters – from starfish, crabs, whales, narwhals, and sharks to mermaids and fish, we're sure we've got something to inspire you!
These seashell crochet patterns are as special finds as pristine shells you pick up at the beach! Lend a summery vibe to wherever you live by crocheting some today!