Now that summer's here, we're all about the sunshine, beach, and ocean animals. We've put together a super fun list of crochet crab patterns that we think you are going to love.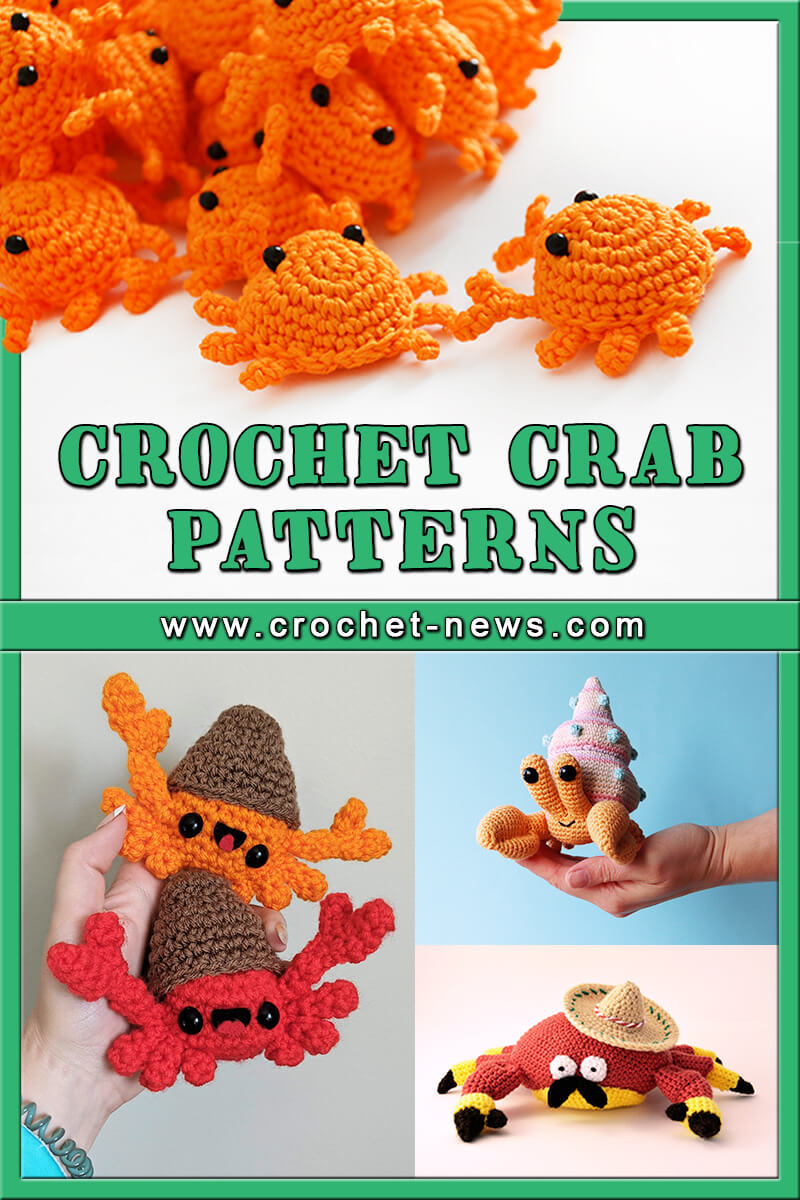 13 Crab Crochet Patterns
Although perhaps not the most obvious choice of crocheting themes, let an amigurumi crab channel your inner Sebastian.
After all, these wonderful creatures are one of Nature's little miracles and also deserve to be celebrated by crocheters.

1. Scuttles, The Crochet Crab Free Pattern by Spin A Yarn Crochet
If you don't have fine or light weight yarn on hand, go ahead and use whatever you have! Your finished Scuttles will simply be a little bigger than the featured one.

Add a loop to the back of Scuttles, or to the top of one of his claws and attach a keychain to make a sweet bag charm, or simply attach the jump ring right through one of the stitches.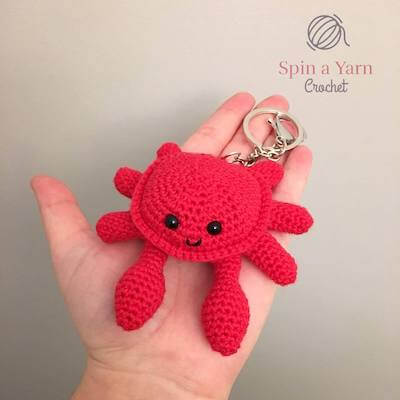 Get the Pattern here

2. Edward, The Fiddler Crab Crochet Pattern by Irene Strange
Edward, the Fiddler Crab is full of bashful charm, always ready to impress anyone watching with his big colorful claw!
When made with DK weight yarn and 3.50mm hook the finished crab will measure about 15cm/5 1/2 in tall.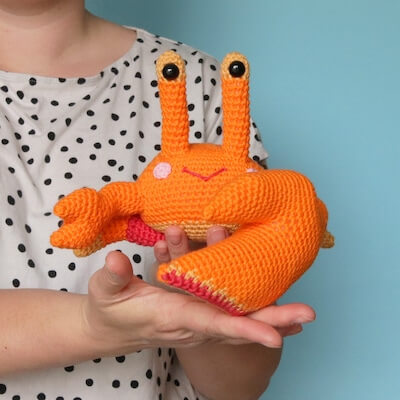 Get the Pattern by Irene Strange here

3. Little Amigurumi Crab Crochet Pattern by Airali Design
Crochet amigurumi crab pattern for little and cute crabs. Crocheting these tiny crabs is really addictive! After the first one you can't resist crocheting a handful of crabs with little claws. Great as party favors and little present!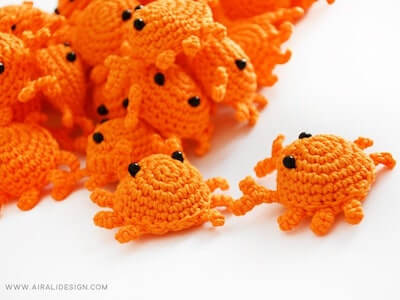 Get the Pattern by Airali Design here

4. Crochet Crab Free Pattern by Repeat Crafter Me
This cute little crochet crab will surely cheer you up! He measures about 8 inches across (from big claw to big claw) and about 3 inches wide. This is a fun little amigurumi project to make to celebrate summer!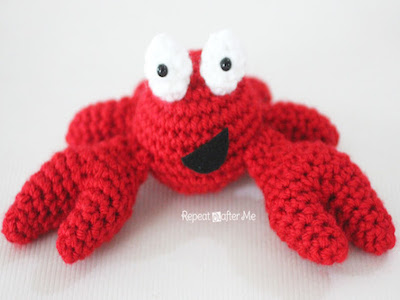 Get the Pattern here

5. Crochet Heart Crab Applique Pattern by Golden Lucy Crafts
This Crochet Crab Applique is made in the shape of a heart. This will be great to embellish kid's blankets or clothes.
You can also use it for scrapbooking and custom greeting cards. It will be also perfect for different under the sea projects.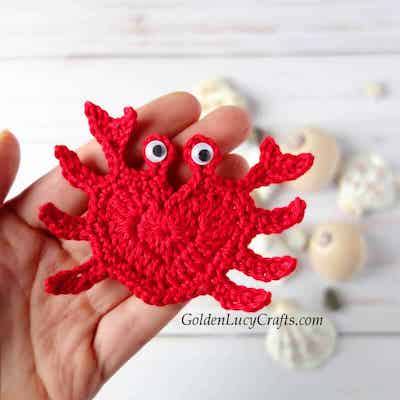 Get the Pattern here

6. Spicy Crab Cakes Crochet Pattern by Red Heart
Spicy Crab Cakes will bring a smile to anyone who needs one – he'll be on their side no matter what. Crochet this little guy in bright, snappy colors and he'll never be lost in the crowd.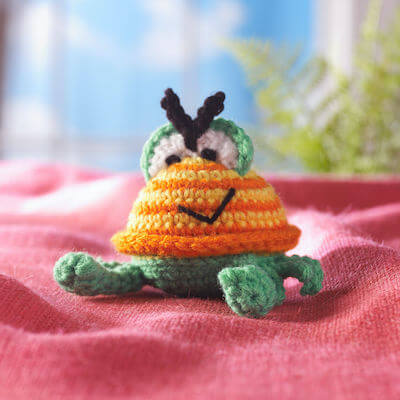 Get the Pattern here

7. Hermit Crab Amigurumi Pattern by Outlaw Heart Creations
You can't be crabby when these little cuties are around! So cute and quick to whip up, these little hermit crabs make perfect "pets", desk ornaments or add a keychain hanger for a one of a kind backpack buddy!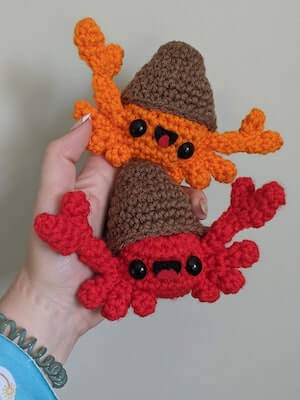 Get the Pattern by Outlaw Heart Creations here

8. Mexican Crab Crochet Pattern by Vliegende Hollander
Meet Juan Carlos, an amigurumi crab from Mexico! This happiest crab you've ever seen with his sombrero can't wait to brighten up your day.
Now you can make your very own crab friend with this clear and easy to follow crochet pattern.
Get the Pattern by Vliegende Hollander here

9. Beachy Crochet Crab Free Pattern by Hi Sheep
Here is a happy little crustacean ready to welcome you with open pincers! In particular, I think the two-tone body is the best part of this amigurumi crab.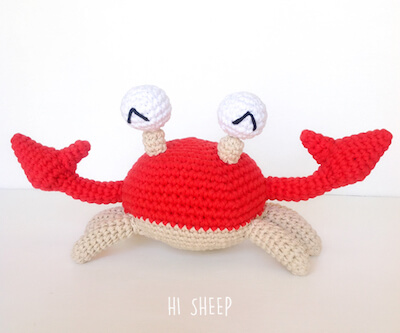 Get the Pattern here

10. Crochet Baby Crabs Pattern by Jade Gauthier-Boutin
With this crochet crab free pattern, you will be able to make as many baby crabs as you would like. Here are some even cuter amigurumi crab siblings to enjoy!
Overall, this is a super crochet crab pattern for a beginner to make, but also to use up your stash of yarn bits.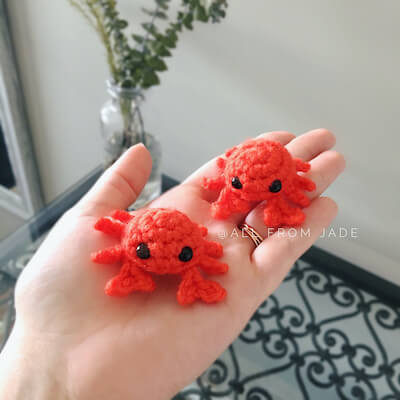 Get the Pattern here

11. Hettie, The Hermit Crab Crochet Pattern by Irene Strange
Hettie, the Hermit Crab is at home wherever she is, her colourful shell shining cheerfully as she strolls along the shoreline!

The pattern includes how to make the pieces and finish the toy. When made with DK weight yarn and 3.0mm hook the finished Hermit Crab will measure about 14cm/5 ½in tall.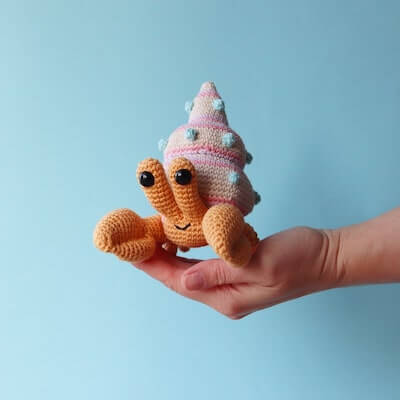 Get the Pattern by Irene Strange here

12. Crochet Crab Rug Pattern by Ira Rott Patterns
This Crochet Crab Rug will make you think about long beach walk and cozy bonfires across the sea. If you want a more realistic nautical-themed rug in your kiddo's nursery, this one just might be the one.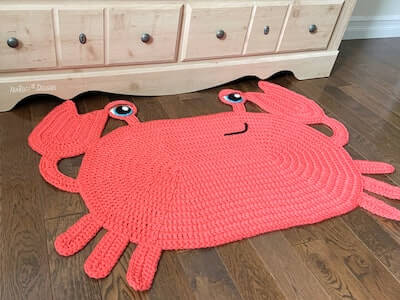 Get the Pattern by Ira Rott Patterns here

13. Giant Crab Crochet Pattern by Left-Handed Crocheter
This giant, squishy crab is pretty simple to make. The super bulky weight yarn makes them extra big, and extra soft.
It does require a lot of poly-fil, but it's worth it to have this huggable creature to cuddle up with or use as a pillow.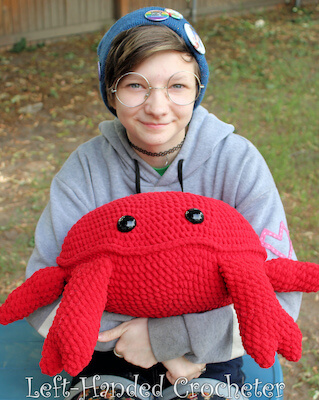 Get the Pattern here
THESE CROCHET CRABS ARE PERFECT GIFTS FOR SOMEONE WHO LOVES CRABS, SEA CREATURES, OR CUTE ANIMALS!
Don't forget to share your oceanic makes with us over on our Facebook Page. We'd love to see them!
Once you get started on the first few, you won't be able to resist crocheting a few more pieces of the ocean to go along with it.
So, you better check our compilation of ocean animal crochet patterns for Crochet Octopus, Whales, Turtles, Jellyfish, Sharks, Fish, Swan, Crocodiles and even Seashells!

Crochet your own ocean pets with a crochet crab pattern to make today!