If you or someone you know is a crocodile lover, you might consider making one of these crochet crocodile patterns. Where else are you going to find a crocodile in colorful sweaters?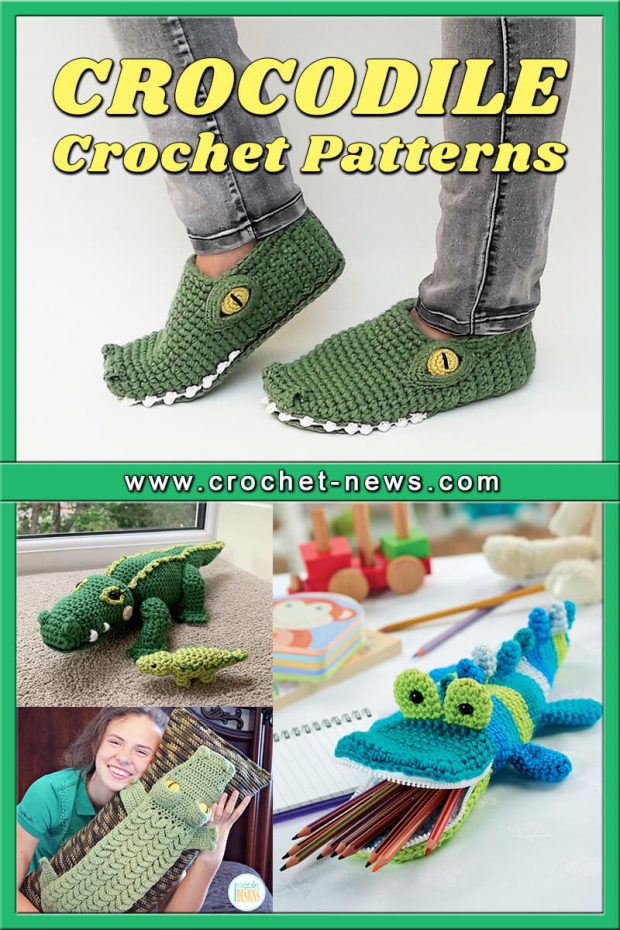 You can resist these adorable crochet crocodile and alligator patterns
Crocodiles and alligators are ancient creatures, powerful, and majestic. Sometimes you just want to have a little bit of fun with them!
Turn your love with these animal into characters that you can put in your home for some interesting conversation, for sure!

1. Amigurumi Crocodile With Hatching Baby Crochet Pattern by Lau loves Crochet
With this design, the crocodile's body contains the egg which then 'hatches' to reveal the baby crocodile inside that!
The pattern includes the instructions for the adult crocodile, as well as for the baby and its egg.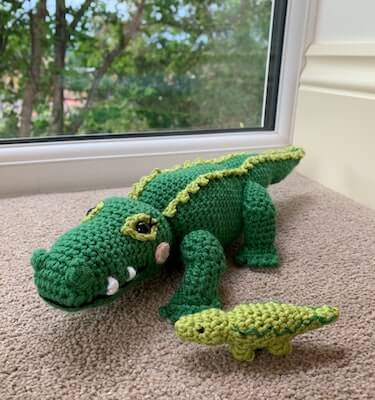 Get the Pattern by Lau Loves Crochet here

2. Pencil Case Free Crocodile Crochet Pattern by Irene Strange
Despite his impressive appearance and powerful jaws, Mister Snaps is known up and down the river for being a big softie. So much so, he keeps all of the pencils that his fish friends find safe in his mouth and even sharpens them with his teeth!

Mainly worked in four row colour stripes, you can mix and match the colours of Irene Strange's cheeky croc to personalise this fun pencil case that younger relatives will love taking to school.
Find more fun crochet pencil case patterns here.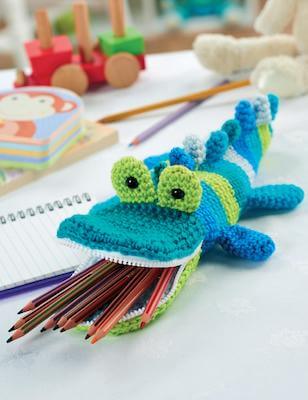 Get the Pattern here

3. Crochet Alligator Pattern by Sons Popkes
Is it a dragon? Is it an alligator? No, this is Drago, a cuddly Crochet Alligator! This ever so fluffy and cuddly amigurumi crochet alligator are with worsted weight wool. He is 13.5cm/5.6 inches when sitting.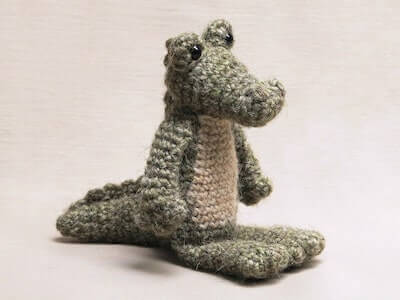 Get the Pattern by Sons Popkes here

4. Sofia, The Crochet Alligator Pattern by Madelenon
She is Sofia, the friendliest alligator. You'll always find her with her headphones on, listening to the best music! She's approx. 21 cm/ 8,26 inches long but you can make her bigger or smaller according to the yarn and hook you use.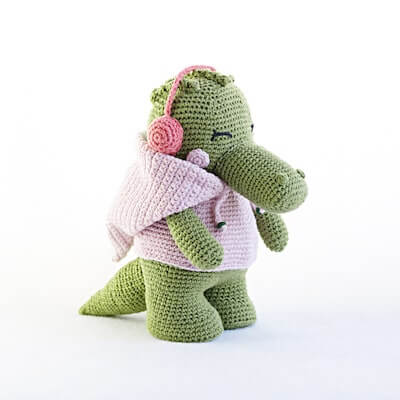 Get this crochet alligator pattern by Madelenon here

5. Snappy Simon, The Crocodile Pillow Crochet Pattern by Ira Rott Patterns
Simon is a fun, cuddly and very protective friend who will start a great adventure in your jungle themed room.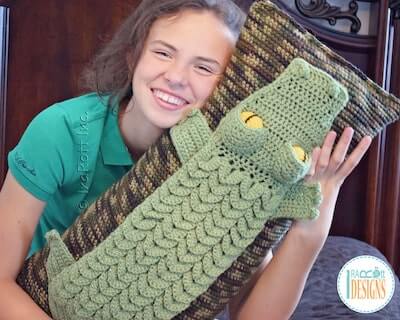 Get the Pattern by Ira Rott Patterns here

6. Cassius the Friendly Crocodile Hand Crochet Pattern by Three Loops On The Hook
Meet Cassius, the friendly crocodile hand puppet. Cassius is perfect for interactive play with children of any age.
He induces great belly-laughs wherever he goes, no matter how shy the child may be they seem to come out of their shell when interacting with Cassius.

Made using the Amigurumi technique of continuous rounds, this pattern is a quick yet effective make for anyone working with children or just for fun with the little ones at home.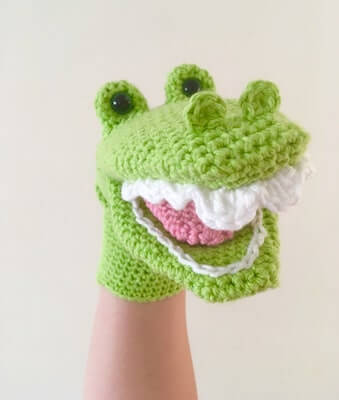 Get the Pattern by Three Loops On The Hook here

7. Crochet Crocodile Slippers Pattern by Upamigurrumin
These may look wild but they are as comfy as a fluffy bunny, thanks to their double sole and double held yarn.
If you were looking for an original, practical and quick gift to make, these crochet crocodile slippers are ideal.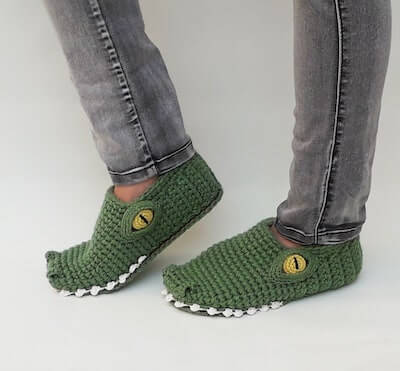 Get the Pattern by Upamigurrumin here

8. Crochet Crocodile Pattern by Kornflake Stew
This is Corky the amigurumi crocodile, his head, body, and tail are worked as one piece so he's super quick to make. When finished, he will be approx. 16 inches long.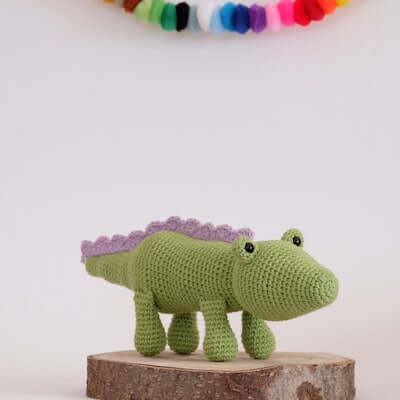 Get the Pattern by Kornflake Stew here

9. Crochet Crocodile Bookmark Pattern by Supergurumi Shop
This crocodile bookmark will silently wait for the right moment to draw you back into the story. Save your spot in a comical way that'll draw attention by using this crochet crocodile bookmark pattern.
More unique crochet bookmark patterns here.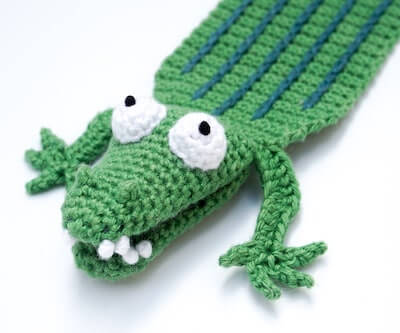 Get the Pattern by Supergurumi Shop here

10. Snappy Simon Crochet Crocodile Hat Pattern by Ira Rott Patterns
Make all your campers happy campers with this awesome Snappy Simon the crocodile hat. The pattern comes in 8 sizes to keep adults and hatchlings warm while camping.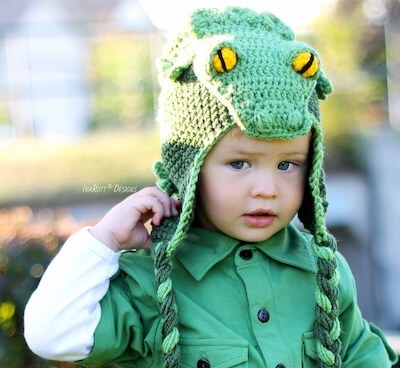 Get the Pattern by Ira Rott Patterns here

11. Colin, The Crochet Crocodile Pattern by Look At What I Made
With this free crocodile crochet pattern, you can turn this scaly reptile into a soft, squeezable amigurumi animal that you child can feel free to venture off with.

This free crocodile crochet pattern even gives this crocodile a differently colored stomach to give it a little variety. As crocodile tend to be, it's a fairly long toy, coming in at a little over nine inches once finished.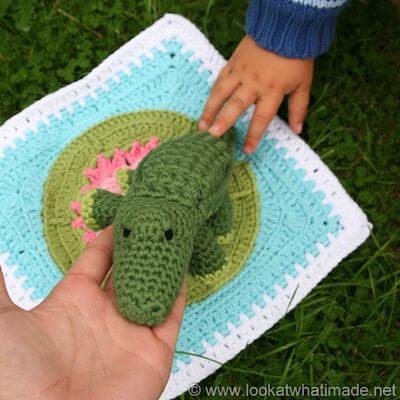 Get the Pattern here

12. Cray, The Crocodile Crochet Pattern by Chai Coffee Crochet
With his bulging eyes and sweet smile, you will Cray, the crocodile! He is made in DK yarn with a 2.5mm hook but can be adapted to any yarn with the relevant hook. He is able to stand on his own, with his tail providing balance.

He stands at approximately 7.5 inches tall and is super huggable!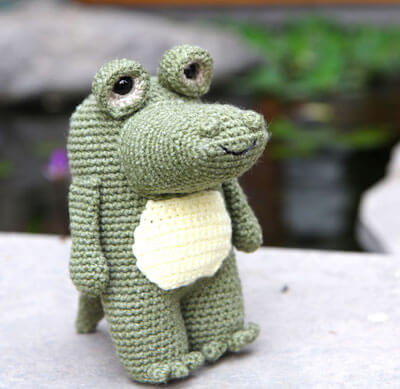 Get the Pattern here
WHETHER YOU'RE A CROCODILE LOVER, OR A GENERAL ANIMAL ENTHUSIAST, THESE CROCHET CROCODILE PATTERNS ARE WORTH THE TRY!
If you make one, please do share your makes with us on our Facebook Page!
Sure, reptiles like crocodiles may not be the most ideal pet for some people. But some of them really do love the creepy crawlies and snakes!
If you want more of them, check out these posts: Crochet Snake Patterns, Crochet Chameleon Amigurumi Patterns, Crochet Lizard Patterns and Crochet Turtle Patterns.

It doesn't take long to crochet a zoo, let's begin with a crochet crocodile pattern today!