These crochet lizard patterns will allow you to explore the wonderful world of lizards, in a way that keeps the actual creatures out of your home (win-win!).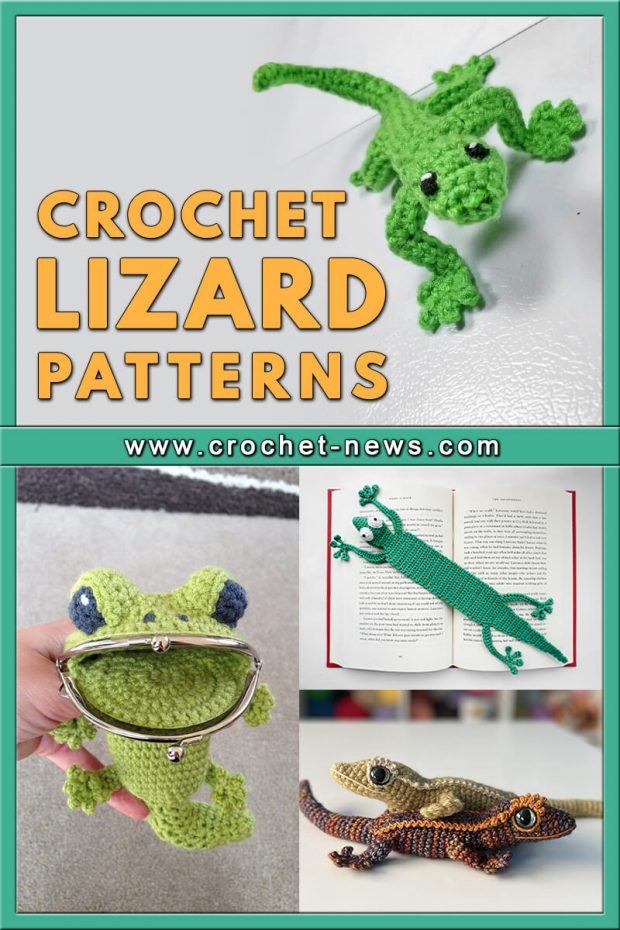 You might associate crochet with handmade textile hats and tea cozies, but the age-old technique can be used to create almost anything.
For those who are looking for an unconventional crochet pattern, a crochet lizard might just be the one for you!

1. Abayomi, The Agama Lizard Crochet Pattern by Smiley Crochet Things
Say hello to Abayomi, his name means 'bringer of happiness' and that's certainly what he'll do. He loves scampering around over rocks and playing chase with the other lizards.
He is so bright and colorful that he's practically a rainbow on legs! Abayomi's body is made in one piece from his nose to his tail.
The legs are made separately and then sewn to the body. This means that he is fairly simple to make and construct.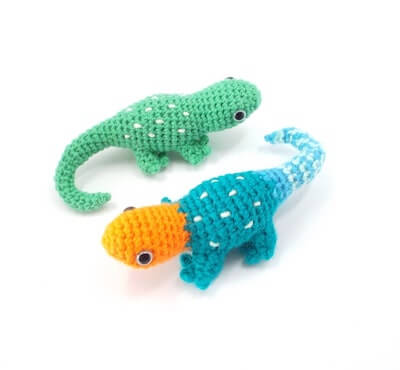 Get the Pattern by Smiley Crochet Things here

2. Amigurumi Lizard Crochet Bookmark Pattern by Supergurumi
This crocheted bookmark is suitable for all book sizes, whether paperbacks, hardcover or booklets. Not only does this Amigurumi Lizard rid your books of ugly dog-eared pages, but it also does exactly what it's crocheted to do, to lie around lazily in your book and remind you where you last left off.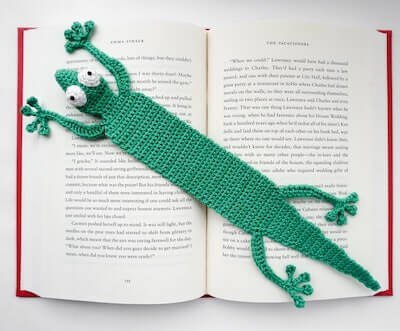 Get the Pattern here

3. Crochet Lizard Magnet Pattern by Top Stitches Crochet
The finished lizard magnet measures 10.5" long. He is wired and can be posed to nearly any position, and he has magnets on all four of his appendages so that he can stick to anything magnetic.

He's super handy on the refrigerator for holding notes – and he can hold up to four! This crochet lizard magnet would be the perfect gift for a teacher or anybody who loves lizards (or magnets!).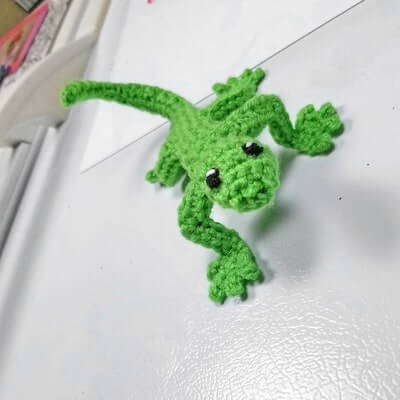 Get the Pattern by Top Stitches Crochet here

4. Gaspard, The Lizard Amigurumi Pattern by Flogurumi
Gaspard is a lovely lizard that really loves being outdoors, in both rough and calm weathers and likes thunderstorms, walking in the rain and watching the wind blow things around! He will be the ideal companion for long chilling days.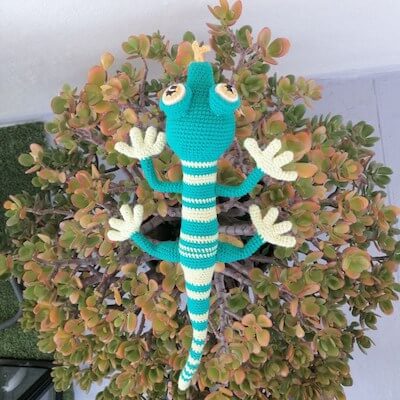 Get the Pattern by Flogurumi here

5. Gayle, The Crochet Lizard Pattern by Critteriffic Crochet
Meet Gayle, the Gecko! This amigurumi lizard crochet pattern is one of the cutest lizards around. She is sure to become one of your favorite crochet patterns to create!

This adorable little gecko is a wonderful project that works up beautifully in many colors. She uses both worsted weight and 4ply cotton yarns to accent large lovely 15mm safety eyes.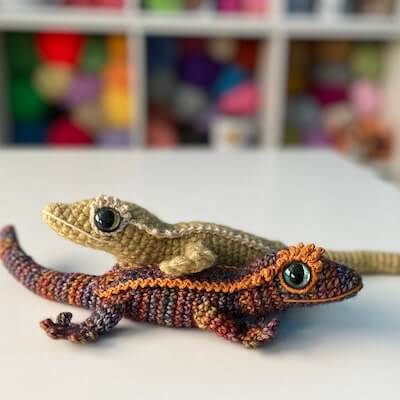 Get the Pattern by Critteriffic Crochet here

6. Gecko Coin Purse Free Crochet Lizard Pattern by Laura Sutcliffe
Show off your playful side with this adorable gecko coin purse with an arch frame kiss purse clasp.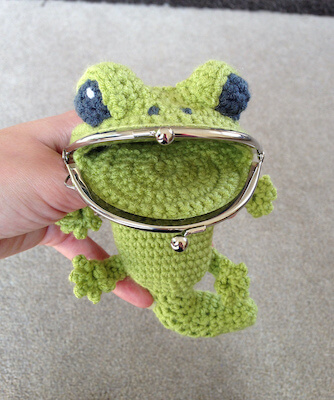 Get the Pattern here

7. Gerty, The Gecko Lizard Crochet Pattern by Moji Moji Design
Gerty is a house gecko so don't be surprised if you find her quietly minding her own business halfway up your wall.
She's naturally quite shy but if you're lucky she might give you a little wave and a cheeky grin to show that she appreciates you sharing your home with her. What a lovely and colorful pattern!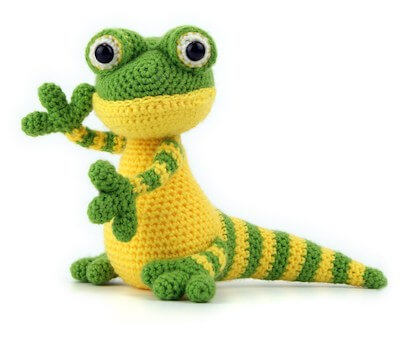 Get the Pattern by Moji Moji Design here

8. Crochet Bead Lizard Pattern by Lucky Mermaid Crochet
Feeling nostalgic for the 90s? This beaded lizard is the perfect thing to help you remember your youth.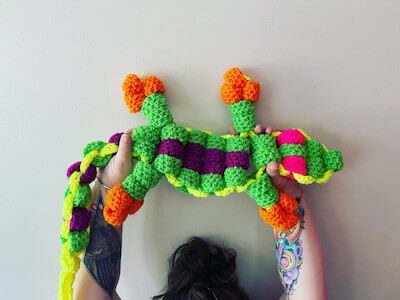 Get the Pattern by Lucky Mermaid Crochet here

9. Green Keel-Belllied Lizard Crochet Pattern by Skyfire Treasure Trove
This Green Keel-Bellied Lizard will run on it hind legs right into a special place in your heart! It's the perfect gift for anyone who loves natures and the fascinating reptiles found there.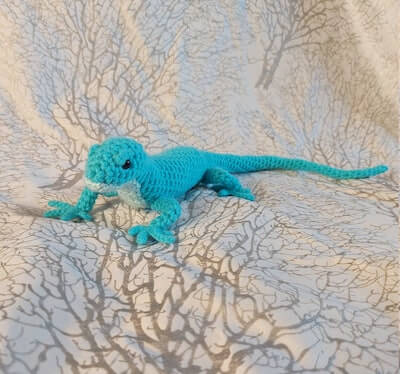 Get the Pattern by Skyfire Treasure Trove here

10. Larry, The Lizard Crochet Pattern by Maggie's Crochet
This fun and playful set will put a smile on any child's face. This great afghan and pillow is perfect for long car rides or just nap time at home!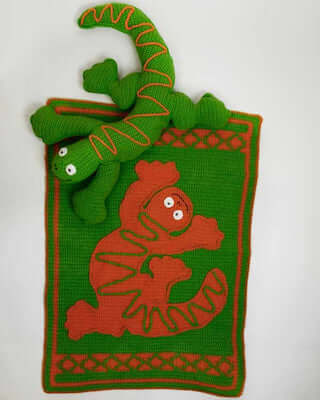 Get the Pattern here
WHETHER YOU'RE A REPTILE LOVER , OR A GENERAL ANIMAL ENTHUSIAST, THESE CROCHET LIZARD PATTERNS ARE WORTH THE TRY!
Whether you make them in green, blue, or in rainbow colors, they will surely be a cute addition to your crochet projects. If you make one, please do share your makes with us on our Facebook Page!

Who said that reptiles are scary? With our collection of crochet reptile patterns like chameleons, snakes, crocodiles, and turtles, you can create one that will be cheerful and friendly. Check them out, as well!
We hope you have enjoyed this collection, and that you feel inspired to make some crochet lizards of your own.