In the ever-evolving spirit of crocheting the peculiar, here are 15 Crochet Chameleon Patterns for you to crochet and enjoy!
These colorful and cuddly reptiles make lovely children's' toys or unusual ephemera for the plush collector.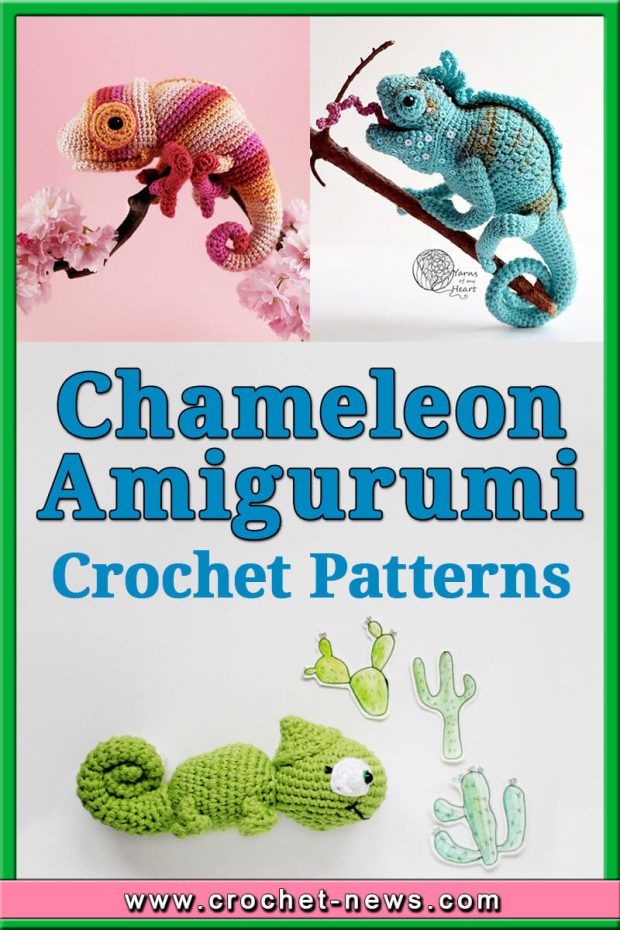 Whether you are making these up for a special friend or for yourself, you will surely find that these projects challenge and tickle your crocheting sensibilities.
1. Crochet Chameleon Amigurumi Super Cute by Moji Moji Design

Crochet chameleon amigurumi, Oh my word! What a stunner. Amazing colors, and wow, what a great design. Perfect for using up your bright leftovers. I want one in every possible color combination.
Finished size:
When made with light worsted weight (DK/8ply) yarn and a 3.25mm hook, Camelia measures 9″ (23 cm) long when the tail is curled. Suggested safety eye size – 9 mm
While you check out the pattern, do go and look at the designers Etsy shop – it's stunning! If the colorful chameleon isn't for you, then surely something else there will be.

2. Baby Chameleon Amigurumi Pattern by Red Cat Tales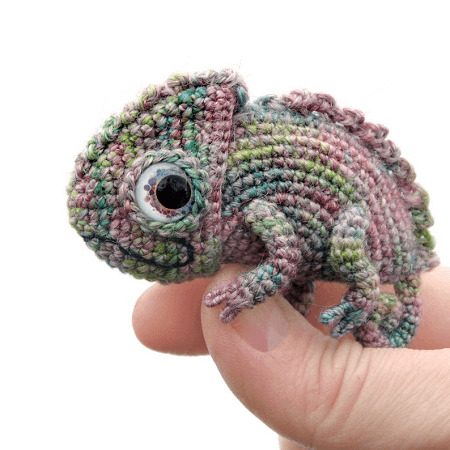 Get the Pattern by Red Cat Tales here

3. Chameleon Applique Crochet Pattern by One And Two Company
These little chameleons are great to be used as appliques to decorate blankets, clothes, bags, everything that comes to mind!
The Chameleon Applique Crochet Pattern is made with worsted weight yarn so they work up super quick. You can make them larger or smaller by changing the type of yarn and hook.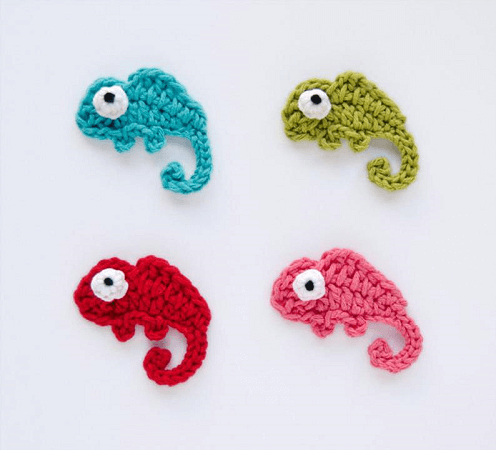 Get the Pattern by One And Two Company here

4. Charming Chameleon Crochet Pattern by Ami Amour
Charming Chameleon is charmed to meet you!
It has huge eyes that like to peer at you and a tail that goes into the perfect spiral. When finished, this amigurumi chameleon will measure approximately 9 inches long and 5 inches tall.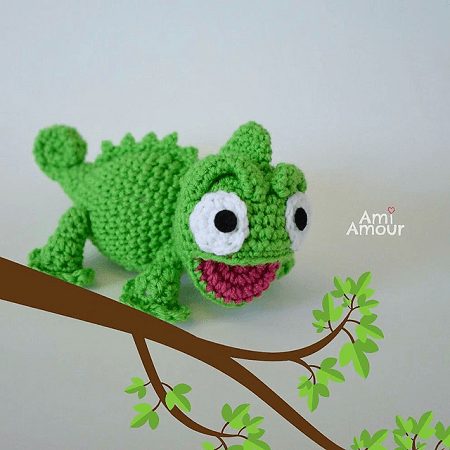 Get the Pattern here

5. Crochet Chameleon Pattern by Yarns Of My Heart
What's cool about this Crochet Chameleon Pattern is that it's a 'no-sew', which means that you won't need to sew the details together or weave in annoying ends.
The pattern is suitable for different level crocheters as long as you are familiar with the following stitches: chain, single crochet, double crochet, slip stitch, decrease, picot stitch, working in rounds, and working with wire.
This amigurumi toy is fully wired so it's absolutely posable and so can perform many beautiful 'asanas'!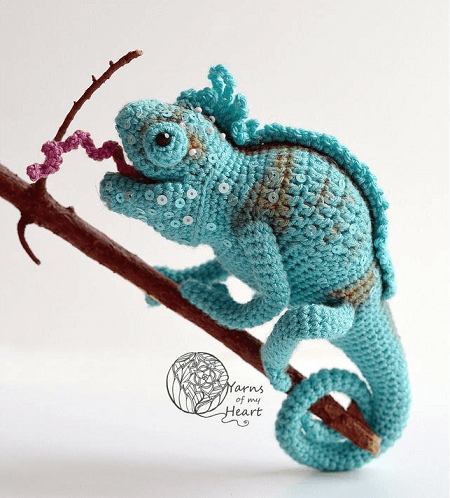 Get the Pattern by Yarns Of My Heart here

6. Karen, The Chameleon Crochet Pattern by Amigurumisnl
Karen, the chameleon finished measurement is 20 cm (7.9″) long, made with hook size 2.5.
This critter is a splendid venture for getting to grasps with shading changes and culminating in your system.
The stripes on her body loan themselves well to spending some colorful pieces in your reserve – so Karen will truly have the capacity to camouflage into each shading.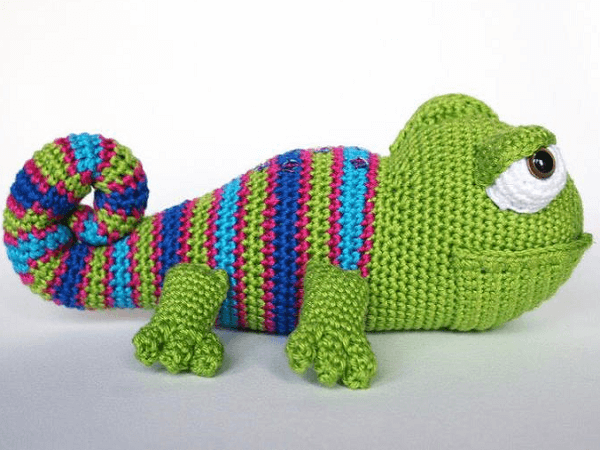 Get the Pattern by Amigurumisnl here

7. Amigurumi Chameleon Crochet Pattern by Julia Ka Pattern
You can get creative with this Amigurumi Chameleon Crochet Pattern using different colors and embellishments.
This amigurumi measures approximately 12 cm ( 4.7 in) – just cute enough for your hands to hold!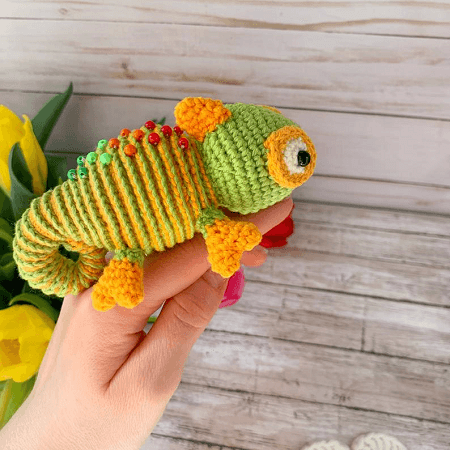 Get the Pattern by Julia Ka Pattern here

8. Napoleon, The Chameleon Crochet Pattern by Aukillu
Meet Napoleon. Wouldn't he make a great gift for a baby shower? Or an adorable decor for a nature-themed nursery? He would also look great in a newborn photoshoot. Who wouldn't want to have a cool lizard?
Make your own chameleon sidekick everywhere you go just like Rapunzel with this crochet pattern!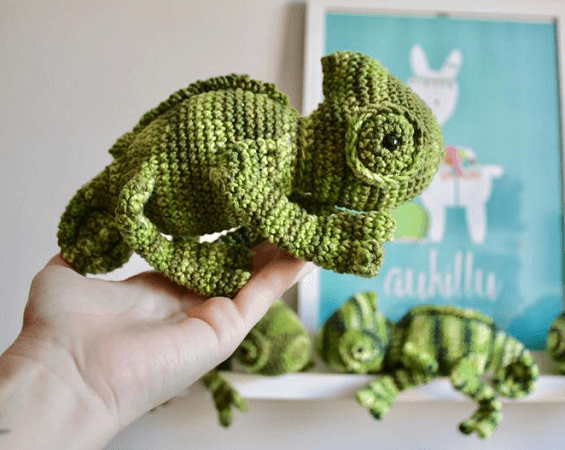 Get the Pattern by Aukillu here

9. Doughnut Chameleon Crochet Pattern by Oodles Of Crochet
This Doughnut Chameleon would make a perfect baby rattle – just add squeakers or jingly bells. It would make a great child-friendly Christmas Tree ornaments too!
This chameleon measures approximately 4 to 5 inches wide depending on yarn weight and hook size used.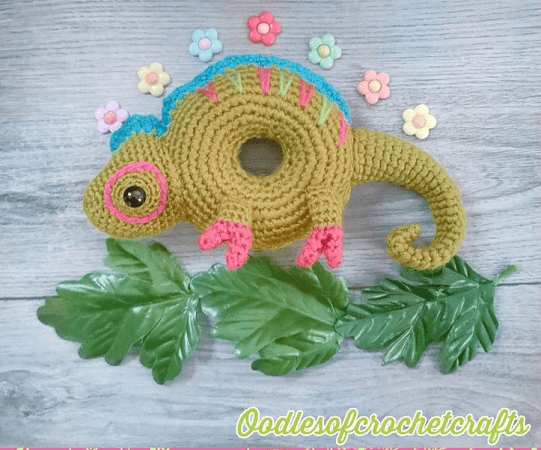 Get the Pattern by Oodles Of Crochet here

10. Mini Chameleon Crochet Pattern by Loopy Pattern
This Mini Crochet Chameleon will surely be an inseparable friend for the kids! The toy measures approximately 17 cm high – perfect for those little hands to play with.
This chameleon is made in green but can be customized in any color. It is a chameleon after all!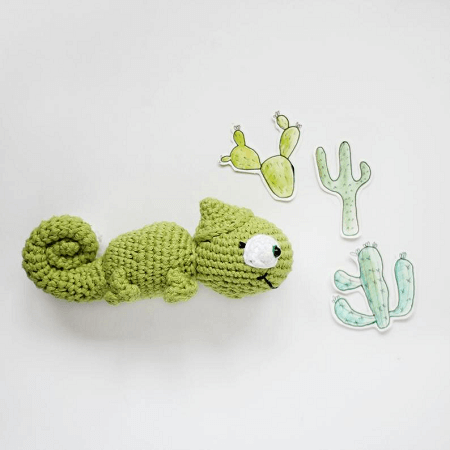 Get the Pattern by Loopy Pattern here

11. Colour Pop Chameleon Amigurumi Pattern by Irene Strange
Chameleons are so colourful and fun – now we can work one up in no time using a mixed colour yarn or get extra detailed with a bit of crochet colourwork!
This Colour Pop Chameleon Pattern includes two versions of the design, one made in a single multi-colour yarn and one where two colours are mixed together to create the pattern along the back.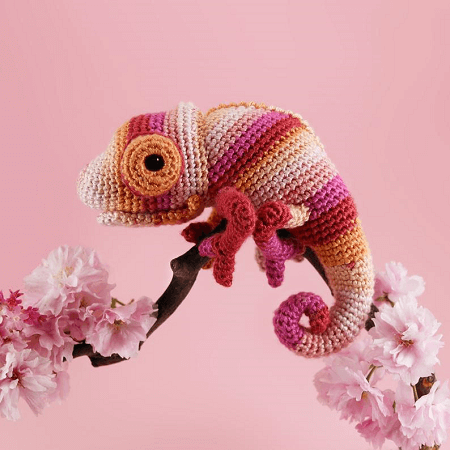 Get the Pattern by Irene Strange here

12. Leo, The Tiny Chameleon Crochet Pattern by Wee Creatures
Leo, the Tiny Chameleon is made from embroidery floss. You only need 1 skein of the main color and a small amount of secondary color for embellishment around eyes and mouth.
This adorable chameleon would be perfect for any dollhouse, a lovely gift for chameleon lovers, or decorate your collection of miniature animals.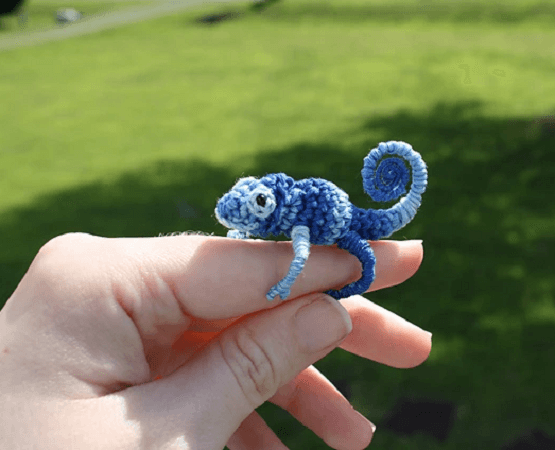 Get the Pattern here

13. Cameron, The Chameleon Crochet Pattern by Alyssa Voznak
Meet Cameron the Chameleon, a colorful character who stands out just as much as he blends in.
He can be made in any yarn and hook combination you want. Just be certain that the fabric is firm enough that stuffing does not show through.
Cameron is an intermediate-level pattern. Skills you will need include single crochet, increases, decreases, crocheting into the bottom of a foundation chain, and some seaming.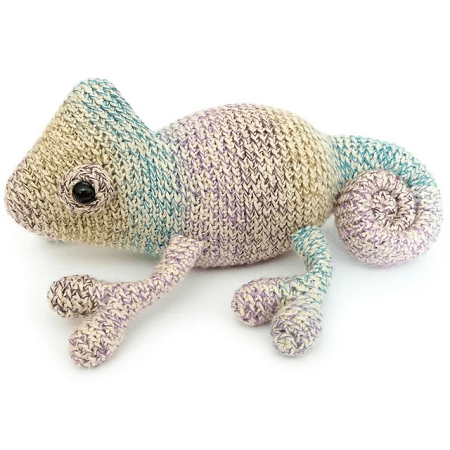 Get the Pattern here

14. Chameleon Crochet Pattern by Vliegende Hollander
Now you can make your own very fancy chameleon with this very clear and easy to follow Chameleon Crochet Pattern!
When made with a 4.0mm crochet needle, this chameleon will become approximately 25cm in length (which is about 9″).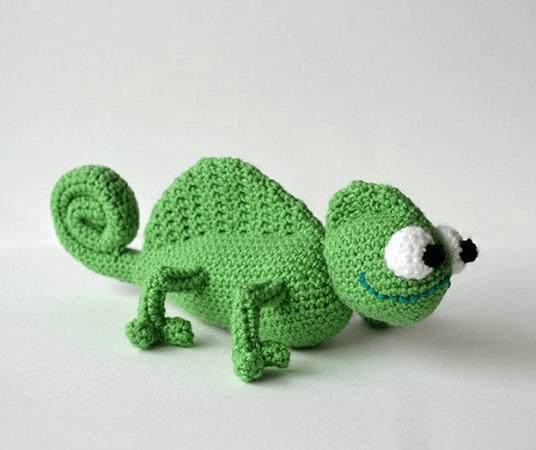 Get the Pattern by Vliegende Hollander here

15. Chameleon Amigurumi Pattern by Red Cat Tales
Take a look at this chameleon – it looks alive! This bright and beautiful baby will delight everyone! He could bend his legs and tail, therefore you could put him to any place.
It will be an original and cute gift for your children or friends and will become an interesting home decoration or a spectacular addition to a photo shoot.
This Chameleon Amigurumi Pattern includes 24-pages pdf, step-by-step instruction with big photos of the process, and is suitable for different level crocheters as long as you are familiar with the basics of crochet.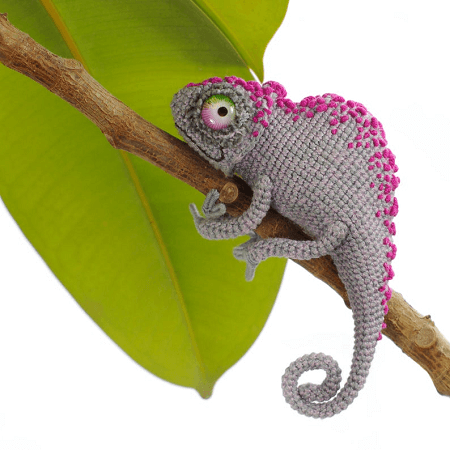 Get the Pattern by Red Cat Tales here
We think these little crochet chameleons will bring us good karma!
Whether you make them in green, blue, or in rainbow colors, they will surely be a cute addition to your crochet projects.
If you're done with your own chameleons, we would be glad if you share them with us. For more animal crochet, also see our list of ferret, elephant, kangaroo and tiger patterns. Please share some pics to our Facebook Page!
Happy crocheting in bright and colorful yarns with these crochet chameleon patterns!