We've put together a collection of 10 Crochet Elephant Rugs and snuggly Blanket Patterns to add a splash of color to your rooms. These Adorable Crochet Elephant Rugs are just so incredibly cute!
Are you on the hunt for some gorgeous Crochet Elephant Rug Patterns to make? Look no further, we have put together some cute ideas that you and your kids are going to love!
Make them for you, your little ones, your friends, and everyone you know who loves Elephants!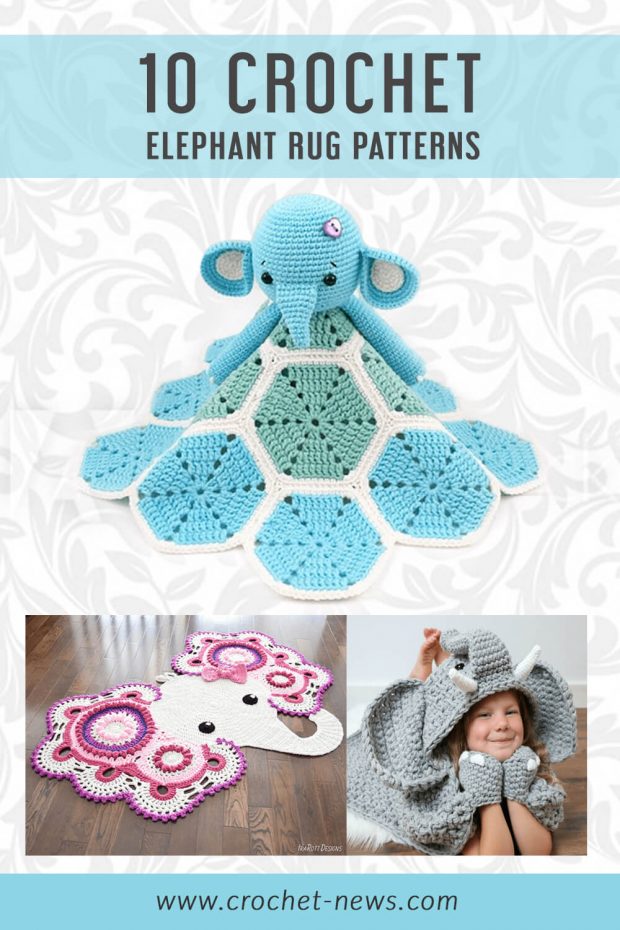 1. Crochet Elephant Rug for Nursery by Irarott Patterns
This elephant rug pattern is written row-by-row using US crochet terms. It also includes crochet diagrams, step-by-step photos, and a conversion chart to UK terms.
This super adorable rug will make a great addition to any nursery or bedroom!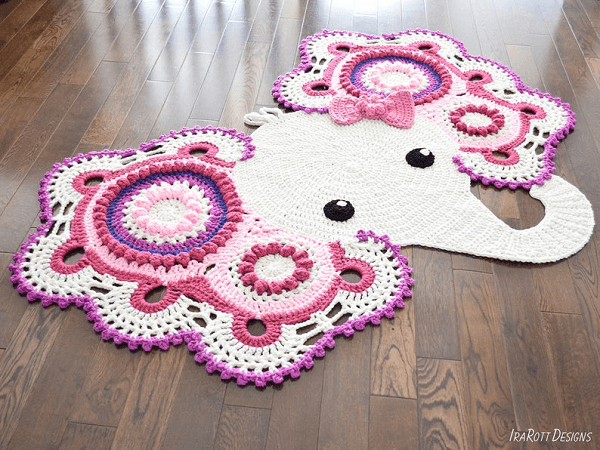 Get this Pattern by Irarott Patterns here

2. Elephant Story Time Rug Pattern by Heritage Knot
Make this lovely elephant storytime rug your own! Put your own elephant spin on storytime. Easy to make would be perfect for an intermediate or beginner crocheter.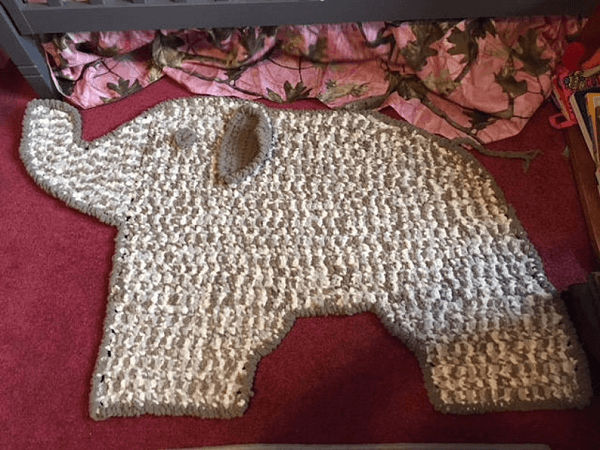 Get this Pattern by Heritage Knot here

3. Free Crochet Elephant Rug Pattern by Barbara Roy
With a finished size of 22 inches wide x 30 inches long, this crochet elephant rug totally rocks! This Elephant Rug by Barbara Roy is a very cute crochet project, even beginners can make.
This rug is perfect for a baby's room. Your little one will be mesmerized by this fun and soft elephant rug underfoot.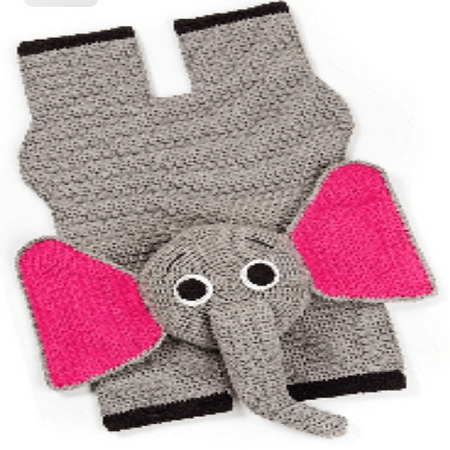 Get this Pattern here

4. Crochet Elephant Lovey Pattern by One And Two Company
This crochet elephant lovey pattern is absolutely adorable. It begins with the head and arms of an elephant and transitions into a security blanket. You can change up the colors as you like for the little one you're making it for, be it pink, blue, yellow, green or rainbow!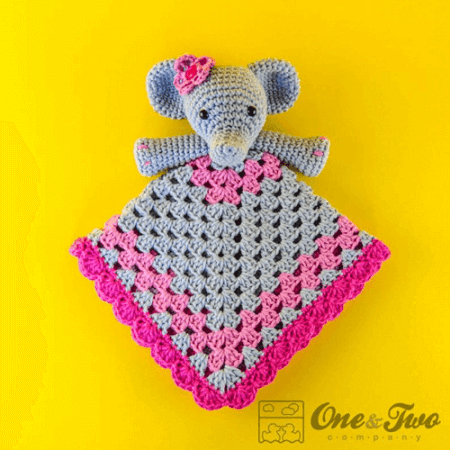 Get this Pattern by One And Two Company here
Or check out our post on this pattern in more depth here

5. Ellie The Elephant Lovey Crochet Pattern by A Purpose And A Stitch
A beautiful baby lovey you can make in the colors that suit your baby. This will do a wonderful baby shower or birthday gift. This pattern includes a large print, colored, easy-to-read PDF 5-page pattern, step-by-step pictures, and instructions of making this beautiful and sweet elephant lovey. Check out their website for more patterns!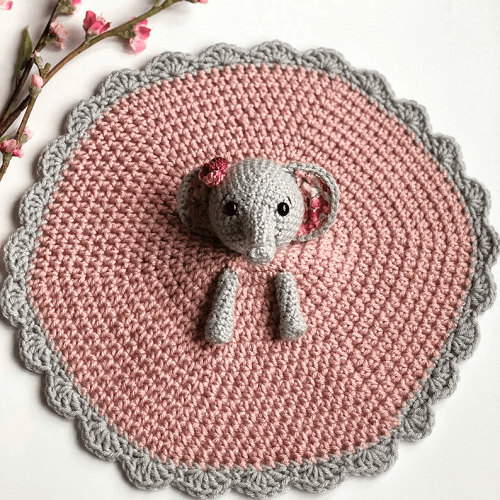 Get this Pattern by A Purpose And A Stitch here

6. Elephant Baby Lovey Toy Crochet Pattern by Tikva Patterns
This elephant lovey is a fairly easy pattern to work up and makes a wonderful gift for a new baby boy or girl. Crochet this sweet little elephant lovey blanket toy for a little one in your life, and see their eyes sparkle with delight at meeting their new cuddly friend.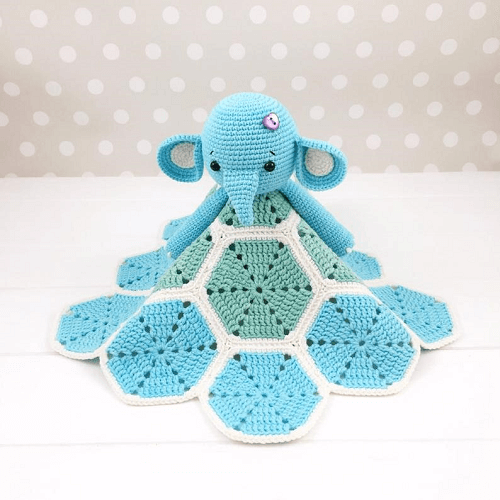 Get this Pattern by Tikva Patterns here

7. Hooded Elephant Blanket Crochet Pattern by MJs Off The Hook Designs
Wrap yourself in this cozy Hooded Elephant blanket. Perfect for cuddling, play, and display. This Elephant blanket features a moss stitch pattern, mittens, and detailed Elephant hood. Baby size is large enough to wrap up the baby and also the perfect size for a toddler! Check out MJs Off The Hook Designs for more.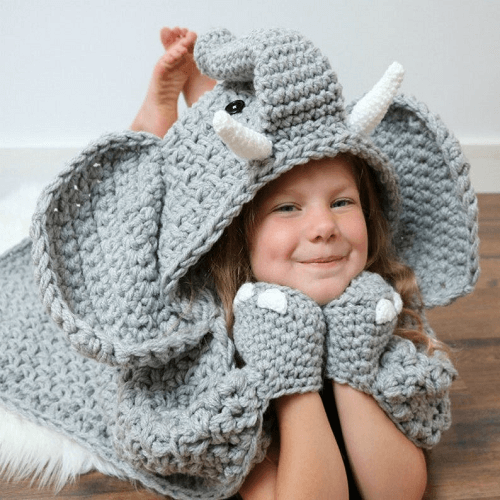 Get this Pattern by Mjs Off The Hook Designs here

8. Josefina And Jeffery Elephant Blanket Crochet Pattern by Irarott Patterns
Josefina and Jeffery are the most adorable elephants out there. This blanket will make a great addition to any nursery or an elephant themed room. This pattern is very easy to follow and the photos included are extremely helpful for you to make one!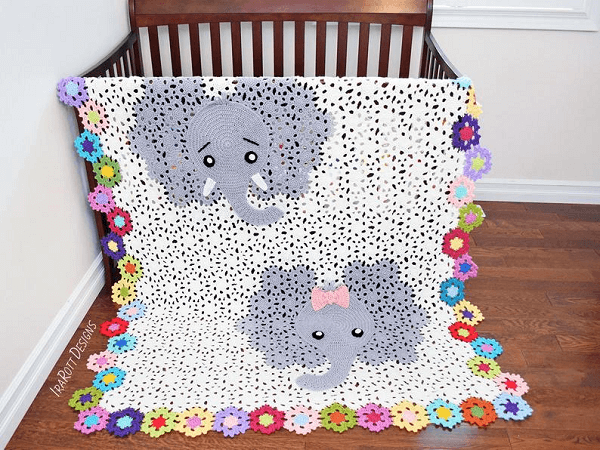 Get this Pattern by Irarott Patterns here

9. Crochet Elephant Baby Blanket Pattern by Red Heart
Here's a blanket that doubles as a huggable pillow! The large buttons keep it rolled up securely and the elephant's head and tail are placed where they stick out from the ends when rolled up. Isn't it cute?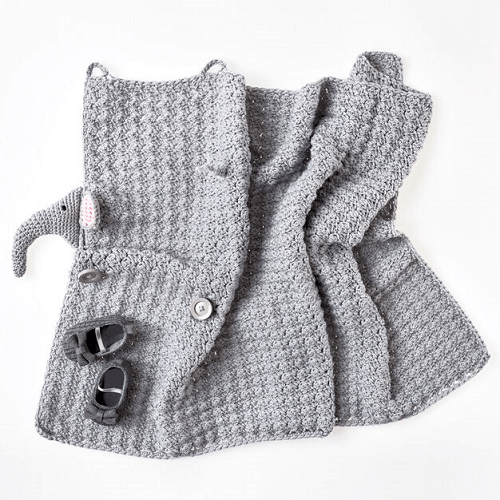 Get this Pattern here

10. Bulky Elephant Blanket For Two Crochet Pattern by Dana Dee Crochet
This blanket works up, thick, quick, and bulky for two people to share. It's perfect for snuggling or using alone if you don't want to share! This fun and whimsical blanket lay flat across your body, while each elephant leg is a cocoon for one person's calves and feet. Perfect for snuggling on the couch!
Get this Pattern by Dana Dee Crochet here
Check out these patterns and learn how to crochet an elephant rug. Elephants are the cutest animals ever! Their curved trunks remind me of hooks and inspire me to crochet.

They make great gifts for new babies, children's birthdays, Christmas gifts, zoo parties, and nursery decor.
Be sure to also visit our free pattern for Crochet Elephant Pillow to add in your Elephant Crochet collection!
This list of 10 Crochet Elephant Rug Patterns with Lovey and Blanket Patterns is full of adorable ideas you'll be tripping over yourself to make – pun intended! These patterns are unique, crazy cute, and perfect for everyone's room!