Let the cool breeze in and keep your door open with these crochet doorstop patterns!
As much as possible, we want everything we own to not only be functional but also fun to look at.
Thus, we listed a wide range out crochet doorstop that is perfectly capable of holding your doors open and can also serve as a decoration.
We included simple bag patterns, different animal door stop patterns, and various types of houses.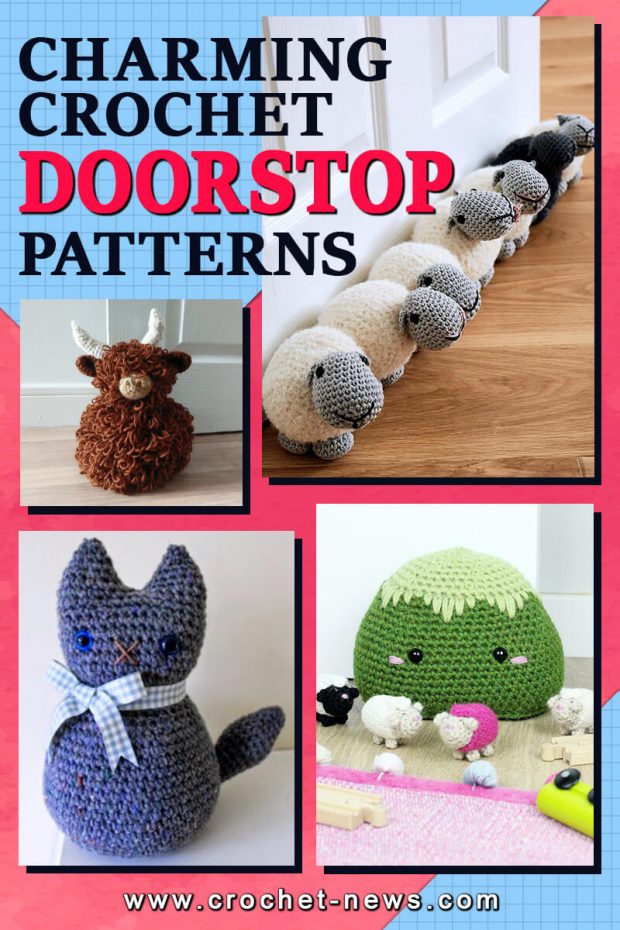 11. Crochet Doorstop Beach House Pattern
This Crochet Doorstop is adorable. As the nights draw in, the temperatures plummet and the sun rises lower in the sky every day.
Our thoughts naturally turn to summer, the beach, the sparkling sea and the warmer temperatures. That's when we came across this crochet beach hut pattern!
A jaunty beach hut doorstop which brings the summer into your home all year round. You can customise your beach hut by changing the colour stripes.
This would make a perfect 'New Home' gift for any beach lover.
Materials Needed:
Mostly white and blue yarn with splashes of color – use up scraps of leftover yarn in colors of your choice for the door, bunting etc.
1 x 11mm Button
Tapestry Needle
Toy Stuffing
heavy stuffing such as sand or rice in a bag to give it weight if using it as a door stop
Find links to the suggested yarns underneath the pattern towards the bottom of the page.
Easy click to add to cart and you have the perfect make it yourself kit including the pattern and the yarn.
Find more fun crochet house patterns here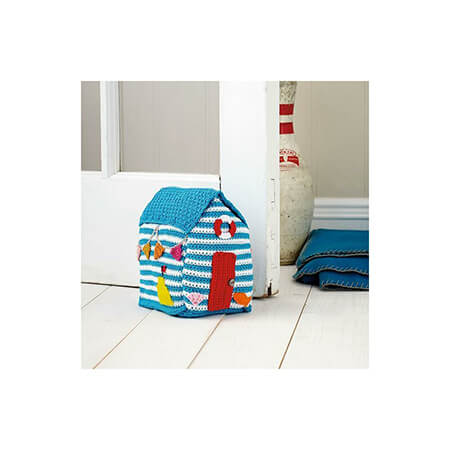 Get this Crochet Doorstop Beach House Pattern Here
12. Crochet Doorstop VW Camper Pattern By Emma Varnam
Crochet Doorstop VW camper pattern. Are you a fan of the traditional and highly sought after Volkswagen Camper?
Invoke a feeling of nostalgia with this Camper crochet pattern, and make yours into a softie or even a doorstop. This pattern combines simple double crochet with basic sewing techniques.
You could personalize the campervan by embroidering the initials of the recipient onto the license plate.
Yarn Weight:DK
Format:Downloadable PDF
Skill Level:Intermediate
Featured Yarn:Rico Essentials Cotton DK
Notes: also used 4 x small white buttons, 2 x small orange buttons, Some grey, white and yellow felt.
You can get this pattern on Love Crochet. It's one of our favorite sites because the pattern designers can also create ready to make kits which have direct links to all of the yarns and materials or tools they used.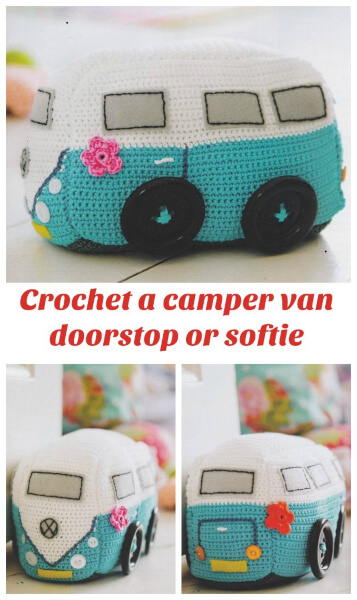 Get the pattern here.
Which Crochet Doorstop Are You Planning to Make?
Have you decided which crochet doorstop to make? With the wide range of design we provided, we're sure you'll be able to pick one that will perfectly complete the decor of your room.
Share with us which door stop pattern you worked on by posting a picture on our Facebook Page! We cannot wait to see all your works!

If you are looking for other crochet decorations for your home, we have an article focusing on Square Crochet Baskets and Owl Crochet Baskets you can work on. Also you can find more Crochet Decor Here
We hope that with this crochet doorstop, you are able to welcome more fresh air into your home!