Let the cool breeze in and keep your door open with these crochet doorstop patterns!
As much as possible, we want everything we own to not only be functional but also fun to look at.
Thus, we listed a wide range out crochet doorstop that is perfectly capable of holding your doors open and can also serve as a decoration.
We included simple bag patterns, different animal door stop patterns, and various types of houses.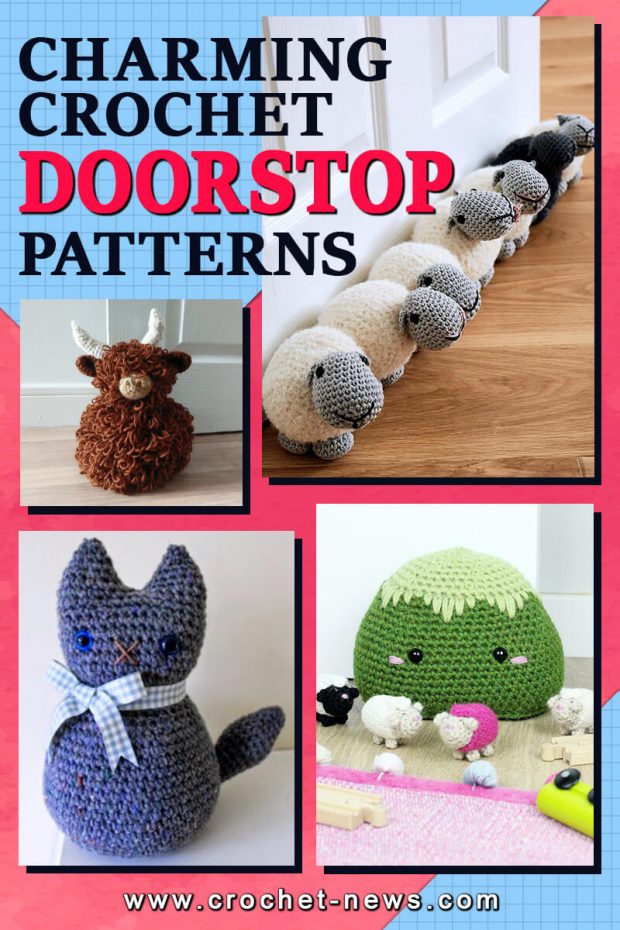 1. Sheep Amigurumi Doorstop Pattern By AmigurumiBarmy
Some things are better when created in multiple, just like this row of adorable sheep crochet doorstop.
With is small size and easy-to-make pattern, you'll be able to finish more than one in a day.
Personalize it by creating different faces for each sheep. You can also make an odd one out sheep by using a contrasting color.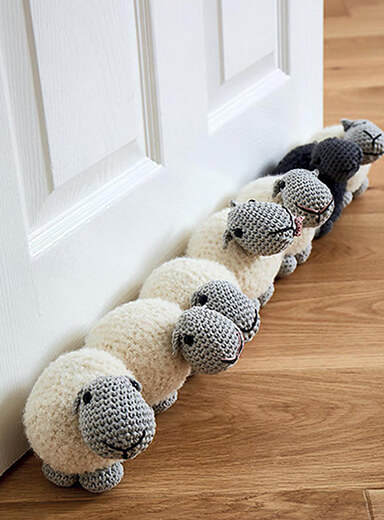 Get the Sheep Amigurumi Doorstop Pattern By AmigurumiBarmy Here.
2. Free Rainbow Storage Crochet Doorstop Pattern By Look at what I made
The next pattern on our list can be used both as a door stopper and to store your kids' loose toys.
This multi-purpose Rainbow Storage Crochet Door stop is made using 10 yarn colors from the Scheepjes 62460 Stonewashed-Riverwashed Pack, a 4.5mm hook for the base, a 5mm hook for the sides, and a yarn needle.
This 25 cm high and 48 cm wide crochet door stop only uses the basic stitches. If you want to have the exact look, they included a color sequence chart you can refer to.
Feel free to try others to create your own unique look.
Get this Pattern Here.
3. Totoro and Friend 3-pack Doorstop Pattern By MaysCraftCabin
If you loved Totoro and his friends, we found a discounted 3-pack Totoro and friends crochet doorstop pattern!
It comes with a 13 inches Totoro, 7.5 inches blue Totoro, and 4.5 inches white Totoro.
Because of its size and the option to add an inner lining and a zipper for the filling, this pattern is targeted for intermediate crocheters.
However, they included detailed photos to guide you as you work on the pattern.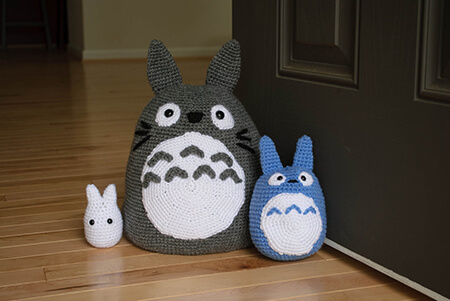 Get the Totoro and Friend 3-pack Doorstop Pattern By MaysCraftCabin Here.
4. Multi-colored Owl Doorstop Pattern By AmigurumiBarmy
Beginner crocheters will enjoy working on this Multi-colored owl doorstop pattern. Measuring only 30×20 cm, this easy pattern can be completed in around five hours.
Just like any other amigurumi project, this pattern is worked in rounds.
You'll also need to know the basic stitches like the chain stitch, single crochet stitch, and double crochet stitch.
Get the Multi-colored Owl Doorstop Pattern By AmigurumiBarmy Here.
5. Fairies Cottage Crochet Doorstop Pattern By KnotenzeugbyKaRa
The next pattern on the list is a little more intricate, perfect for our intermediate crocheter friends.
Every detail in this Crochet doorstop Fairies Cottage is so well made, it feels as if you took your lovely garden indoors.
However, because of all the details, you have to make you will be needing a lot of yarn colors and other materials.
But there's nothing to worry about, they listed all the necessary materials, and even the stitches you need to know, in their pattern.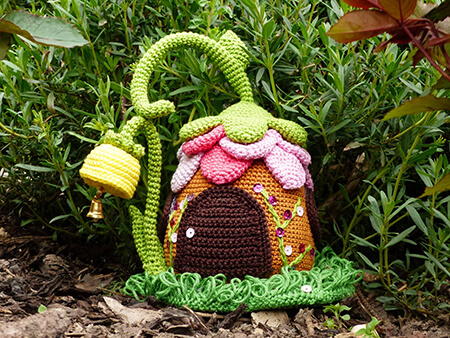 Get the Fairies Cottage Crochet Doorstop Pattern By KnotenzeugbyKaRa Here.
6. Toby the Dog Crochet Doorstop Pattern By Veronika Cromwell
If you cannot decide if you want a pattern for a cuddle toy or a dog doorstop pattern, why not buy this crochet doorstop pattern!
Use a soft fluffy filling to make a stuffed toy, or use heavy beads to turn it into an animal door stop.
Looking for the exact yarn colors will not be a problem because they already listed the exact colors you can use.
Just use Lily Sugar 'n Cream Solids in … and you will be able to make the exact crochet dog stop!
Get the Toby the Dog Crochet Doorstop Pattern By Veronika Cromwell Here.
7. Pumpkin Stack Doorstop Pattern By Patterns by steph
Although this Pumpkin sack crochet doorstop pattern does not involve any sewing, it is still recommended for intermediate sewing because of all its details.
To make it a bit easier, they included step-by-step instructions accompanied by detailed reference pictures you can refer to while working on this crochet doorstop.
You are free to use any available yarn you have. Just keep in mind that using a lighter yarn will result in smaller output, and using a heavier yarn will result in a bigger output.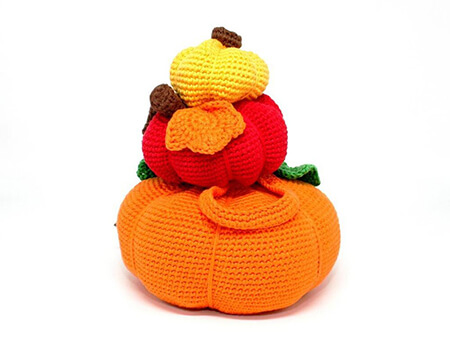 Get the Pumpkin Stack Doorstop Pattern By Patterns by steph Here.
8. Misty the Mountain Door Stopper By Tremendu
If you're looking for something that's easy to make and the little ones will love, you have to check out the Misty Mountain Door Stopper.
Standing 6 inches tall, the mountain is made using grey and white or green and light green worsted weight yarn.
You can also make the tiny little sheep using white, light beige, black, and light pink worsted weight yarns.
Feel free to make multiples for your little kid to play with.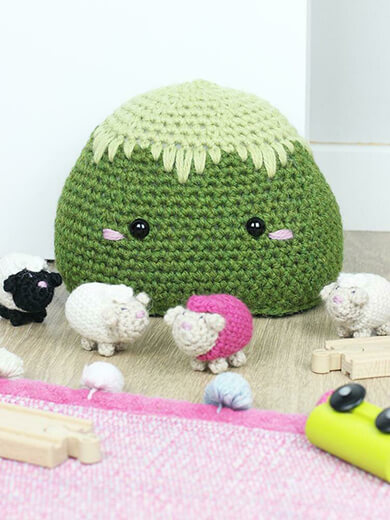 9. Highland Cow Door Stop Crochet Pattern By TheHookGeekDesigns
Another animal door stop pattern on the list is this Highland Cow Crochet Door stop. Unlike the other patterns that have the usual amigurumi look, this crochet doorstop pattern has loopy yarns that mirror the long shaggy coat of highland cows.
The complete list of materials you'll need for this project is included in the pattern. Along with the materials, they also listed the stitches you'll need to know to complete the project.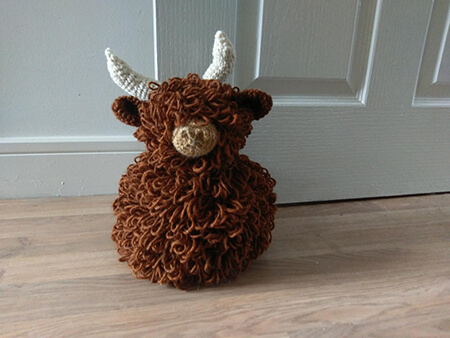 Get the Highland Cow Door Stop Crochet Pattern By TheHookGeekDesignsHere.
10. Free Moogy Cat Door Stop Pattern by Annaboo's House
We have included all sorts of animal door stop patterns on this list, but we have not had a cat pattern, right? Well, here's moggy the cat doorstop by Annaboo's House!
Worked in continuous rounds of single crochet, you can work on this pattern using leftover chunky yarns from your other projects.
To make the stuffing process easier, you can start adding the sand bag to add some weight to your door stopper.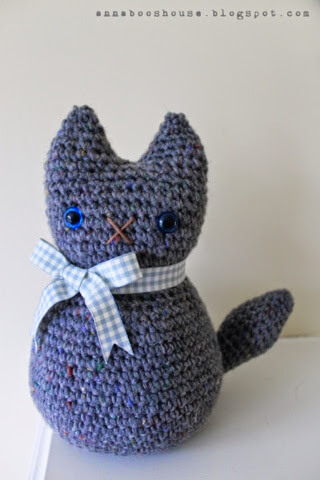 Get this Pattern Here.
11. Crochet Doorstop Beach House Pattern
This Crochet Doorstop is adorable. As the nights draw in, the temperatures plummet and the sun rises lower in the sky every day.
Our thoughts naturally turn to summer, the beach, the sparkling sea and the warmer temperatures. That's when we came across this crochet beach hut pattern!
A jaunty beach hut doorstop which brings the summer into your home all year round. You can customise your beach hut by changing the colour stripes.
This would make a perfect 'New Home' gift for any beach lover.
Materials Needed:
Mostly white and blue yarn with splashes of color – use up scraps of leftover yarn in colors of your choice for the door, bunting etc.
1 x 11mm Button
Tapestry Needle
Toy Stuffing
heavy stuffing such as sand or rice in a bag to give it weight if using it as a door stop
Find links to the suggested yarns underneath the pattern towards the bottom of the page.
Easy click to add to cart and you have the perfect make it yourself kit including the pattern and the yarn.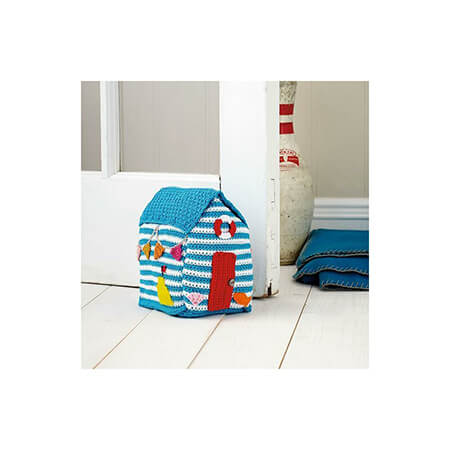 Get this Crochet Doorstop Beach House Pattern Here.
12. Crochet Doorstop VW Camper Pattern By Emma Varnam
Crochet Doorstop VW camper pattern. Are you a fan of the traditional and highly sought after Volkswagen Camper?
Invoke a feeling of nostalgia with this Camper crochet pattern, and make yours into a softie or even a doorstop. This pattern combines simple double crochet with basic sewing techniques.
You could personalize the campervan by embroidering the initials of the recipient onto the license plate.
Yarn Weight:DK
Format:Downloadable PDF
Skill Level:Intermediate
Featured Yarn:Rico Essentials Cotton DK
Notes: also used 4 x small white buttons, 2 x small orange buttons, Some grey, white and yellow felt.
You can get this pattern on Love Crochet. It's one of our favorite sites because the pattern designers can also create ready to make kits which have direct links to all of the yarns and materials or tools they used.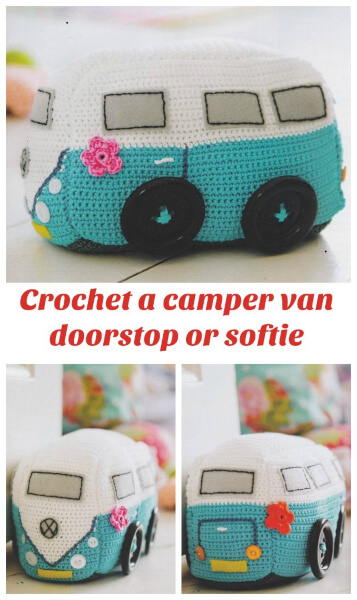 Get the pattern here.
Which Crochet Doorstop Are You Planning to Make?
Have you decided which crochet doorstop to make? With the wide range of design we provided, we're sure you'll be able to pick one that will perfectly complete the decor of your room.
Share with us which door stop pattern you worked on by posting a picture on our Facebook Page! We cannot wait to see all your works!

If you are looking for other crochet decorations for your home, we have an article focusing on Square Crochet Baskets and Owl Crochet Baskets you can work on.
We hope that with this crochet doorstop, you are able to welcome more fresh air into your home!