We love coming up with new patterns to make! These crochet house patterns are fun one-time projects to make when you need a break from a larger project. Don't you think they all have a lovely hygge vibe to them?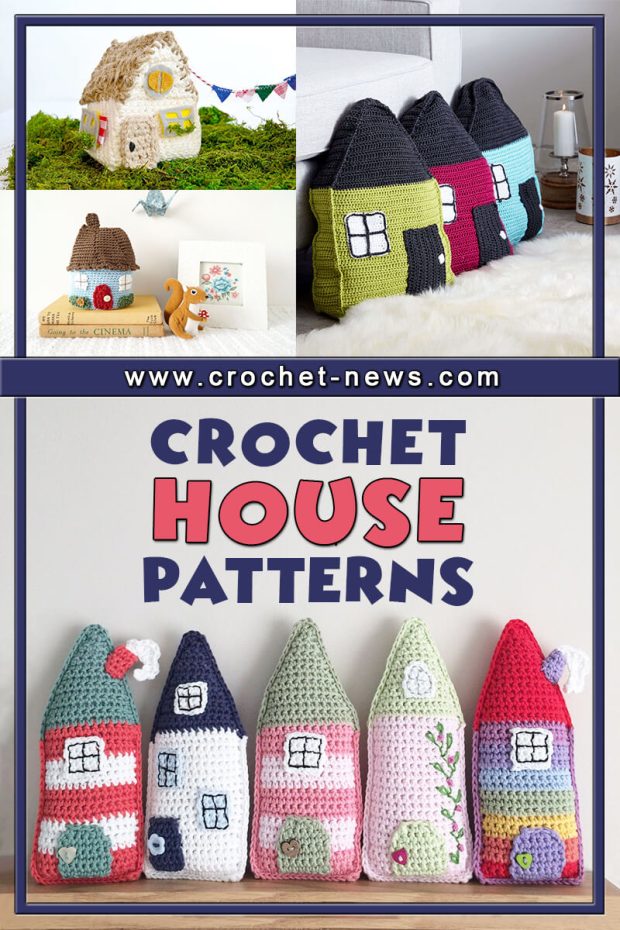 These adorable little houses can be used as pillows, ornaments, buntings, decorations, and toys. They're the perfect size to go with tiny toys in a scene or to remind you of home. Most of these little houses are quick to crochet and use scrap yarn, making them ideal stash busters!

1. Cozy Cottage Crochet Pillow Pattern by Yarnspirations
Sometimes it's all about the home. Make this darling house shaped pillow using your favorite color combinations. Needless to say, this DIY accessory is a great conversation starter, so gift a set at your next housewarming.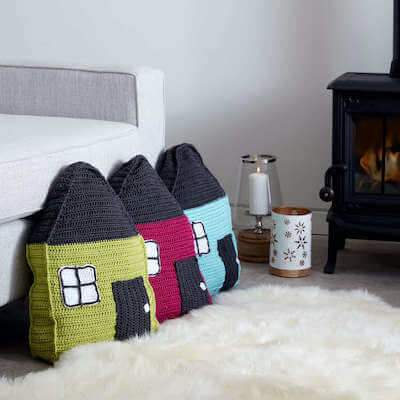 Get the Pattern here

2. Crochet Tiny Houses Pattern by Elisa's Crochet
Since there is not such a thing as too many Christmas tree ornaments, here's a new fun project for you – little crocheted houses!

They look adorable on the tree, but they could also perfectly work as mantel decorations, baby crib mobile attachments or door knobs hangers – so many options!oy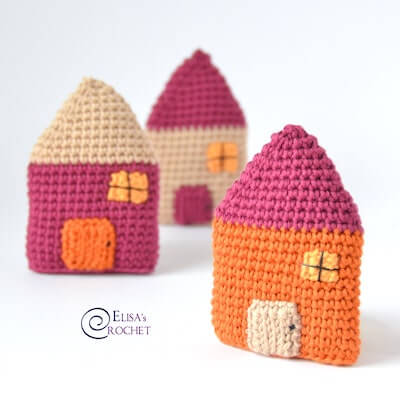 Get the Pattern by Elisa's Crochet here

3. Crochet House Tree Pattern by Steffi Glaves
This pattern shows you how to make a magical world of snow-topped trees, miniature houses, and a crescent moon to oversee it all. Use these motifs to accessories a wreath, make bunting, or as hanging decorations in their own right.

This pattern isn't just for Christmas – it can just as easily have a springtime fairy feel depending on your chosen colour combination.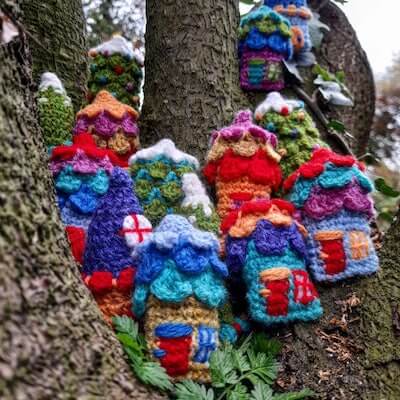 Get the Pattern by Steffi Glaves here

4. Little Thatch Roof Crochet House Pattern by Mama In A Stitch
This Little Thatch Roof House is an adorable addition for a child's play set or for your home dcor. The top opens up to store any miniatures inside! It is adorable decorated for any holiday, and easy enough for someone with very little crochet experience.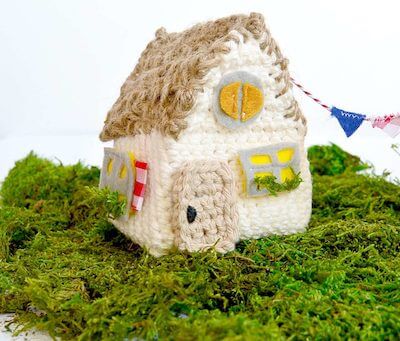 Get the Pattern here

5. Crochet Houe Pouch Pattern by Mei Li Lee
A house is not a home until you make it so. And home, is where the heart is. n the same light, this pattern to make Uchi the cozy cottage crochet pouch will let you bring a little piece of home with you wherever you go.

You can add on a lining or zipper or even a long strap to turn it into a sweet little sling bag for a tiny special tot — cute and functional as a Christmas gift!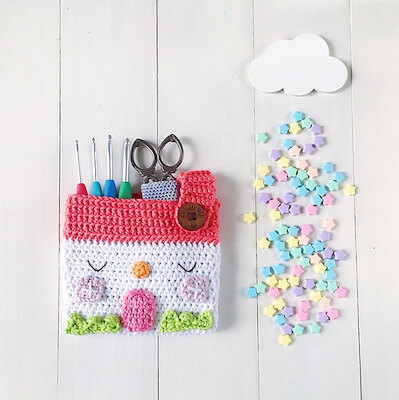 Get the Pattern here

6. Crochet Little Folk House Pattern by Flo And Dot Shop
How sweet are these little folk style houses with their colorful stripes and cute little windows! They make a perfect house warming gift and look great standing or hanging.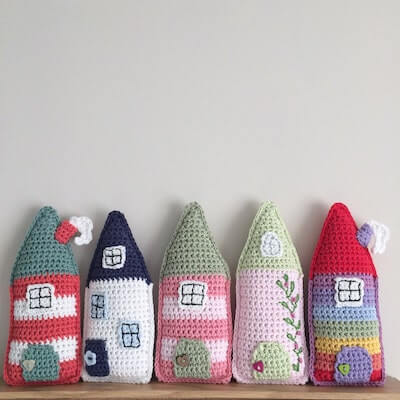 Get the Pattern by Flo And Dot Shop here

7. Crochet Amigurumi House Pattern by Little Doolally
Look at this sweet cottage with its thatched roof and flower boxes! It's a fun little Country Cottage to make for your shelf to add that quirky item to your room, or as a great gift or toy. This would make a fabulous housewarming gift, don't you think?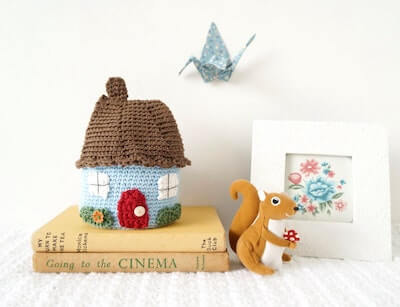 Get the Pattern by Little Doolally here

8. English Country Cottage Cozy Crochet Pattern by Bella Crochet
Use this English Country Cottage Cozy to cover your favorite tea pot or a jar of homemade cookies; it is sure to bring a smile to all and a touch of whimsy to your home. As a purely decorative item, It also makes a charming fairy house for a favorite child, or anyone who loves fairies.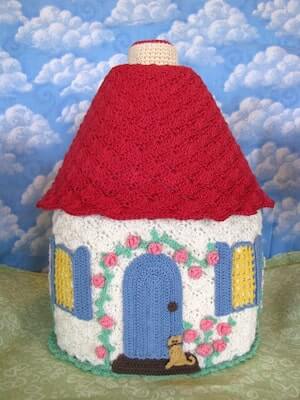 Get the Pattern by Bella Crochet here

9. Andra Tutto Bene Trivet Crochet Pattern by Rebekah Haas Crochet
This textured trivet pattern is to commemorate those who took the opportunity to reach and encourage those around them during the national quarantine of 2020.

The pattern is written in the crochet seed stitch with some simple color work. It works up quickly and thickly and can be used as a trivet or coaster.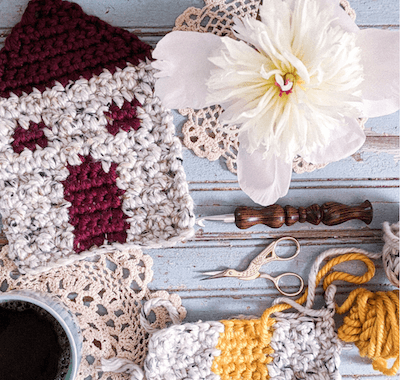 Get the Pattern here

10. Little Crochet Houses Pattern by Knit Purl Hook
Here's another pattern to make super cute and easy little crochet houses. They can be used in a bunting or as an applique or even as a Christmas tree decoration.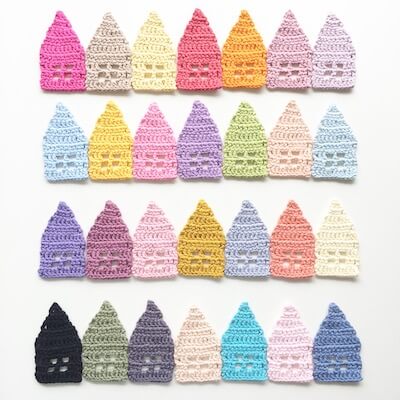 Get the Pattern here

11. Beach Huts Crochet Pattern by Lau Loves Crochet
This pattern is for a hollow beach hut with an opening roof and door! It includes a choice of 3 decorations for the front door, so why not make a row of beach huts in different colors?!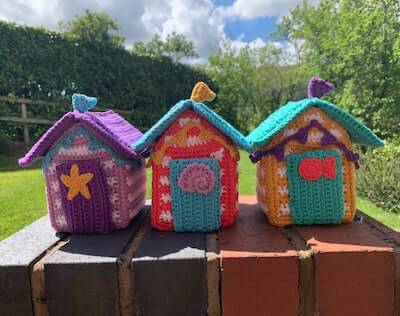 Get the Pattern by Lau Loves Crochet here

12. Christmas House Crochet Pattern by Top Crochet Patterns
What is it about a crocheted house that is so darn lovely? Offering a festive feel, this design is perfect for creating showstopping scenes this Christmas.

Here's an idea – try and replicate your own home for a personalised take or use additional yarns to make an entire street if you fancy taking on a bigger project.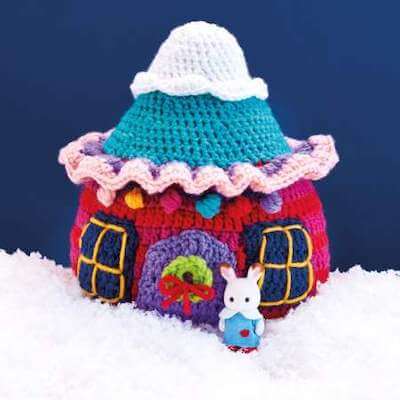 Get the Pattern here

13. Amigurumi Happy Houses Crochet Pattern by Artesesa Designs
How about making a whole street full of these sweet houses with different color roofs and windows! It works spirally and in traditional, to be able to perform it you need to have basic knowledge of crochet such as magic ring, single crochet, double crochet, increase, decrease and perfect circle, etc.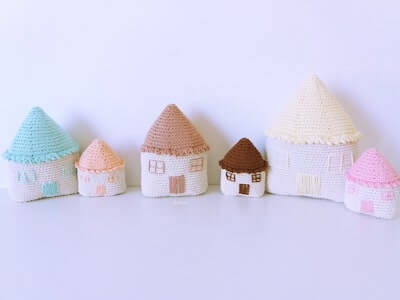 Get the Pattern by Artesesa Designs here

14. Crochet House Applique Pattern by Crochet By Colleen US
This heartwarming Cottage House Crochet Applique Pattern makes a great accent for gift bags – or anywhere you like. This beginner-friendly project works up quickly and the finished product is approximately 10 x 9.5 inches. Try it in thread for a mini appliqué, or make 2 in bulky for a cottagecore pillow!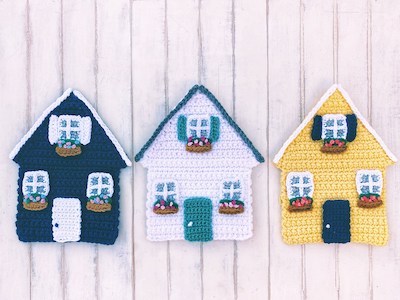 Get the Pattern by Crochet By Colleen US here

15. Crochet House Pattern by Lime Green Lady
Here's a crocheted houe stuffed with upholstery foam so it can be easily shaped into loads of different building shapes. You could either crochet or embroider the door and windows on. Have fun adding details to your houses, or even try something a little bit more adventurous!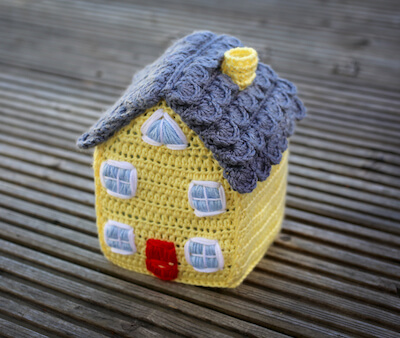 Get the Pattern here
ONE GREAT THING ABOUT THESE CROCHET HOUSE PATTERNS IS HOW EASY THEY ARE TO MAKE. AND THEY CAN BE USED IN MANY DIFFERENT WAYS!
We can't wait to see what you create—or how you use your crocheted houses! Remember to share and post your makes on our Facebook Page.

For more fun and unique crochet projects to make, you may also want to check out these patterns:
What are you waiting for? Make something cute and fun today with these crochet house patterns!