Music lovers, this one's for you! For many, music is much more than a song on the radio – it's a way of life. Classical, country, rock, or pop. While everyone has their preferences, it's hard to find someone who doesn't like music.
If you're looking for something quick and cute to crochet for the musicians and music lovers in your life, these crochet music notes patterns are perfect way to show your appreciation.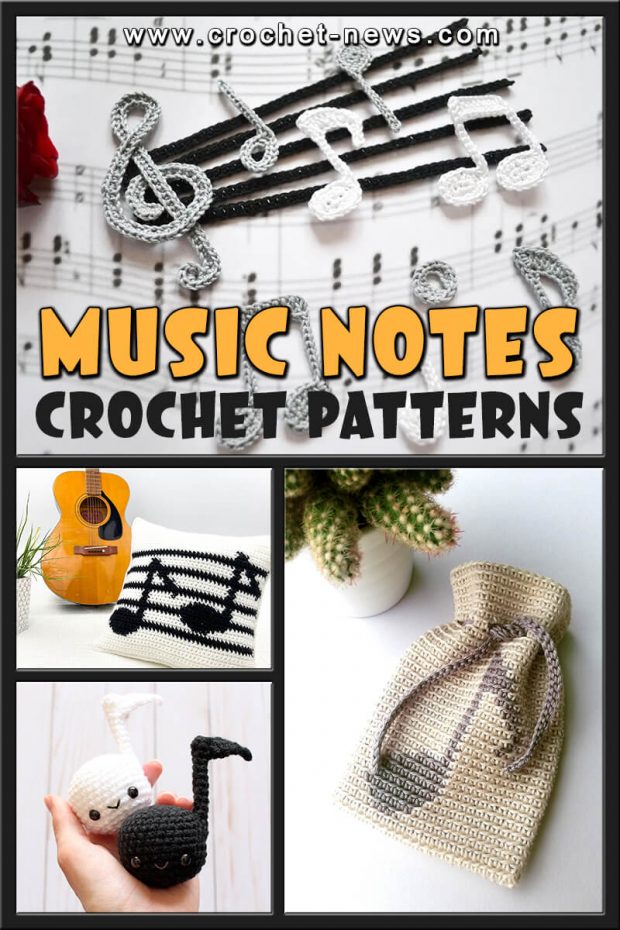 You can give the gift of music to others all year, and if you have the skill of crocheting, you can use it to make your musical gift. These unique presents will be music to their ears!

1. Grace, The Amigurumi Music Notes Crochet Pattern by Storyland Amis
Meet Grace the Note! She'd make the perfect gift for any music teacher or music student. She'd also make a great keychain or Christmas ornament and she'd look pretty cute in a variety of colors!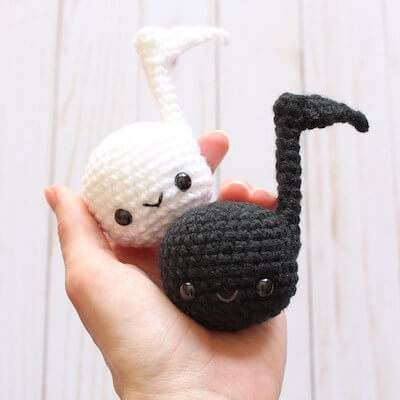 Get the Pattern by Storyland Amis here

2. Crochet Music Notes Appliques Pattern by Moogly
Here's a set of Music Notes Crochet Appliques to help you keep the hooky beat! The pieces here can be mixed and matched to create custom musical notation – be sure to grab the bits and pieces you need of each to create the music notes you're looking for!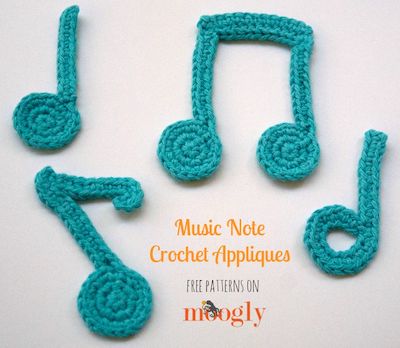 Get the Pattern here

3. Crochet Music Notes Scarf Pattern by Kangaroo Crafts
This winter, wrap yourself in the wondrous world of music! Stay warm and stylish with this great addition to you wardrobe! This will be perfect for your music loving friend or family member, and you can have the added pleasure of saying you made it yourself!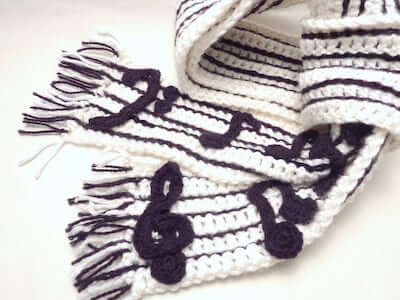 Get the Pattern by Kangaroo Crafts here

4. Pillow Cover Crochet Musical Note Pattern by Jo To The World Creation
Ready to "jazz" up your home decor or make a gift for the music lover in your life? Here's a "key" crochet pattern that you'll want to take "note" of!

This Pillow Cover Crochet Musical Notes makes an awesome crochet gift for men, women, friends, family and definitely a music / piano teacher. The cushion / throw cover goes over a 18" x 18" pillow, is super soft, removable and washable. It'll be a "major" hit!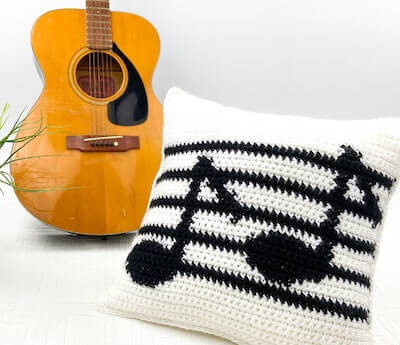 Get the Pattern by Jo To The World Creation here

5. Crochet Music Note Bag Pattern by Nordic Hook
This tapestry crochet drawstring bag with a music note would be perfect for keeping your headphones. It is a very quick project and it is great for practicing tapestry crochet.

The pattern includes a written pattern, a color chart and detailed photo instructions showing how to make this cute bag, so you could try it even if you are not familiar with tapestry crochet.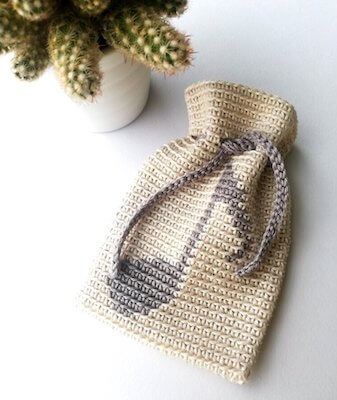 Get the Pattern by Nordic Hook here

6. Bookmark Crochet Music Note Pattern by Little Owls Hut
These bookmarks can be made in any color you like. An ideal gift for book lovers and music lovers. These musical notes can make your life lyrical and in full rhythm. Another great pattern to try!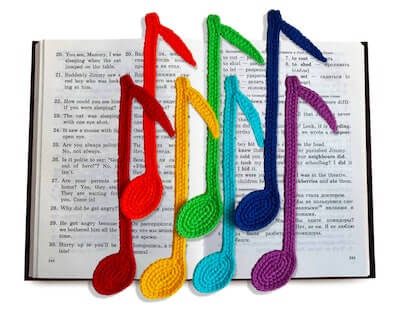 Get the Pattern by Little Owls Hut here

7. Crochet Musical Note Blanket Pattern by Krafty Pop
This bright and musical inspired blanket is incredibly quick to make up and can be easily amended to suit your preference.

Using your own choice of colours for notes, and arrangements for the tune, you can make a completely unique and special keepsake for a special little one.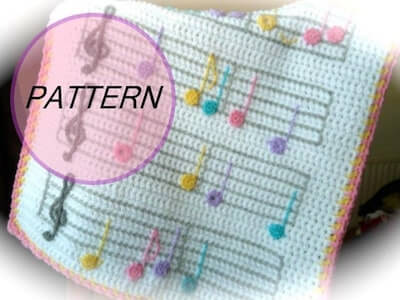 Get the Pattern by Krafty Pop here

8. Crochet Music Symbol Pattern by Elisa's Crochet
Send some music vibes through these fun musical notes! These colorful and cheerful notes can be used as rattle toys or mobile attachments. Play with yarn and colors and make your very own notes set!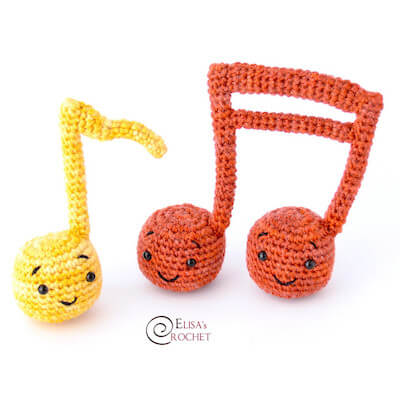 Get the Pattern here

9. Crochet Music Poncho Pattern by Stephanie Kline
This is an ode to music. The music notes make this perfect for musicians and music lovers! An easy, light poncho for spring and summer and fall. Made with a sport weight yarn, it's the perfect cover-up and will still let you stay cool.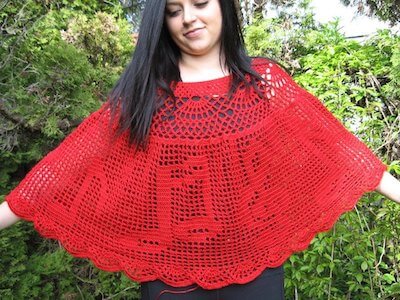 Get the Pattern by Stephanie Kline here

10. Crochet Musical Note Pattern by Blog Of Joy
These fairly small appliques would be perfect sewn onto a musical lovers blanket or scarf! This pattern is also great for using up scraps since each note takes just a very small amount of yarn. Experiment with different sizes of notes by using different hooks and yarns.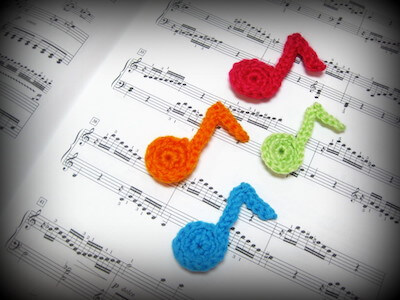 Get the Pattern here

11. Music Notes Crochet Pattern by Make It Easy Craftroom
This Music Notes Crochet Pattern is great idea to make a beautiful birthday or any other special occasion card. The notes included: Quarter Note or Crotchet, Half Note or Minim, Whole note or Semibreve, Eighth Note or Quaver, Beamed Notes, Treble Clef and the Staff.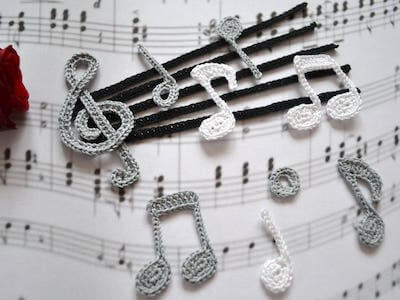 Get the Pattern by Make It Easy Craftroom here

12. C2C Crochet Music Note Square Pattern by Repeat Crafter Me
This C2C Crochet Music Note Square would also look stunning in black and white and made into a pillow. It would be such a great gift for a music teacher!
Each pixel graph is 24×24 squares. The finished size of each square after it is crocheted is approximately 16×16 inches.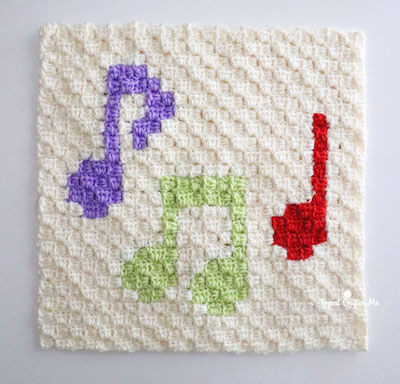 Get the Pattern here
FEEL FREE TO LET ALL YOUR CREATIVITY SHINE AND MAKE YOUR CROCHET MUSIC NOTES IN YOUR FAVORITE COLORS!
We hope you had fun making these music notes! Please share pictures of your projects with us through Facebook. We love seeing what you create!
For more crochet-themed projects, you may also want to check out our round-ups for Crochet Letter Patterns, Crochet Car Patterns, Seashell Crochet Patterns, Spiral Crochet Patterns, and Crochet Feather Patterns.
Combining our love of crochet and music – what's not to love with these crochet music notes patterns?