To create embellishments or unique designs for your projects, learn how to crochet spirals with these spiral crochet patterns.
The spiral technique will keep your work nice and neat. It also creates a gorgeous spiral design, making it perfect for those pretty beanies, sturdy baskets and beautiful rugs you've been dying to make!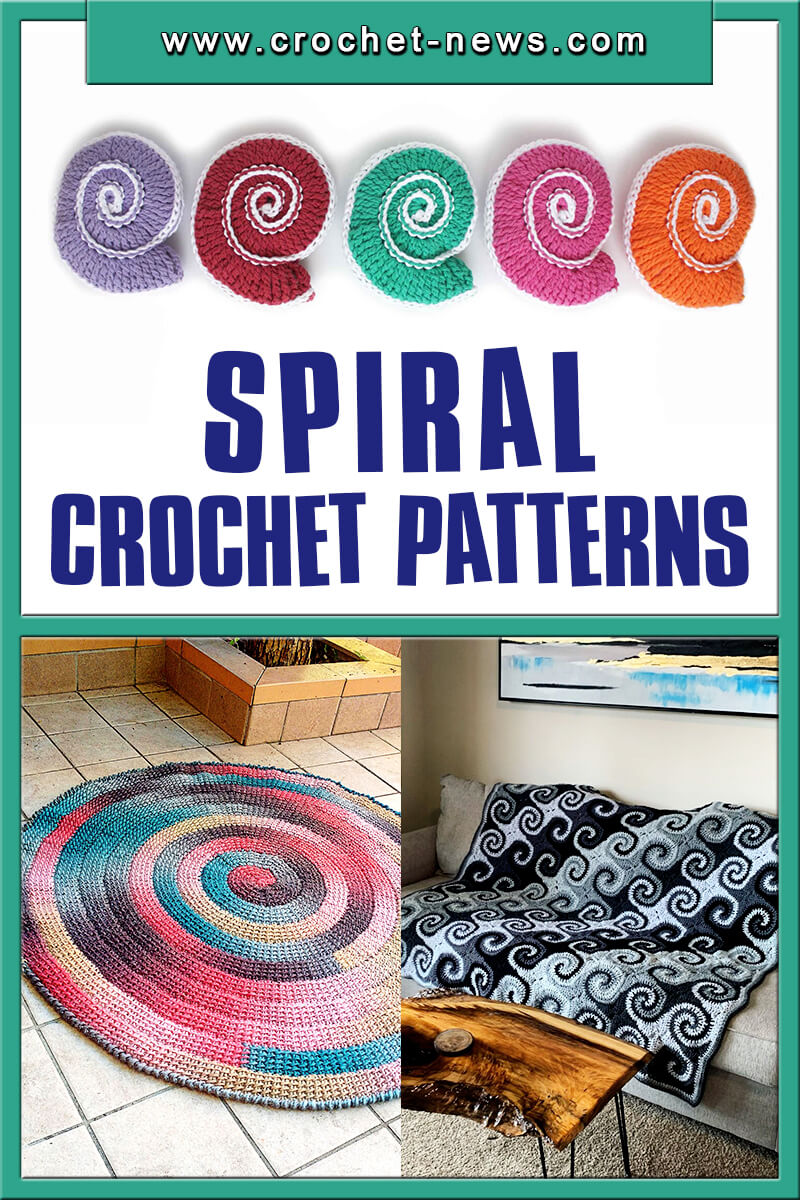 10 Crochet Spiral Patterns
Crocheting a spiral isn't much different from regular crochet in the round, and yet it has a totally different design impact. You simply don't see items worked in spiral crochet nearly as often, so it feels exciting to see them — especially when smart color choices add additional illusions to play with the eye.
Browse though the patterns below for your inspiration!

1. Spiral Crochet Charger Pattern by Yarnspirations
Simple contrasting shades and easy stitch work bring life to this mod crochet charger. A cool spiral effect is featured on this geometric mat that's worked using linked double crochet, reverse single crochet and color work techniques.
Easy to customize using any 2 shades for a similar effect, you can create a set that's perfect for your home. Pick favorite colors and it's an impressive housewarming gift, too!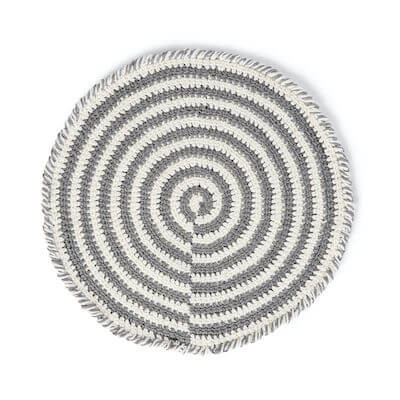 Get the Pattern here

2. Whirligig Spiral Crochet Pattern by Of Mars
This Whirligig Crochet Spiral is a large octagonal spiral shape that can be incorporated into your own freeform crochet pieces, transformed into a vest, used as a doily – the list goes on. Use your imagination!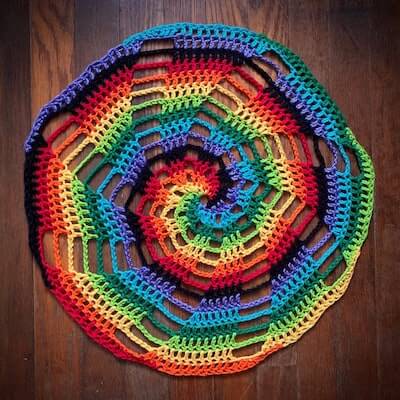 Get the Pattern by Of Mars here

3. Loop Scarf Easy Spiral Crochet Pattern by Petals To Picots
Who says easy can't be fashionable? Loop scarves are so hot right now and this spiral version is so much fun! The easy-to-follow pattern includes instructions to make three sizes of the loop scarf that can be worn alone or stacked for this look.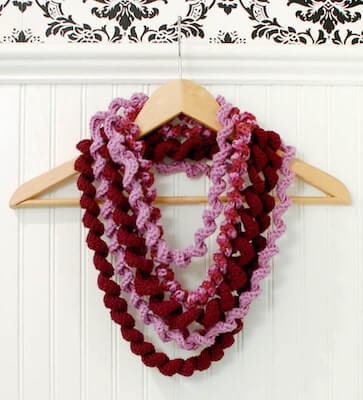 Get the Pattern by Petals To Picots here

4. Flower Free Crochet Spiral Pattern by B.Hooked Crochet
Wow anyone with a finishing touch that looks like no other crochet flower you've seen before. Use the small size for a baby project, the medium size for a hat or use all three for a layered look.

If you're looking for a unique way to embellish your project, the free crochet spiral pattern is the way to go. With three size options to choose from you'll be able to accent projects of all shapes and sizes.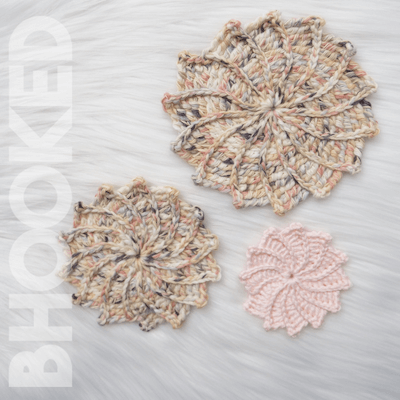 Get the Pattern here

5. Rainbow Dream Catcher Spiral Crochet Pattern by String Theory Crochet
Learn how to crochet the granny stitch in the round as a spiral for this really fun dreamcatcher pattern. Use yarn wrapping to attach the pattern to a round hoop for hanging and display. Change colors strategically to get the rainbow pattern.
Looking for more dream catchers? Check out these pretty Crochet Dreamcatcher Patterns.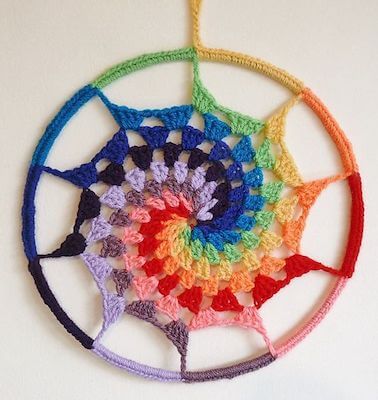 Get the Pattern here

6. Spiral Rug Crochet Pattern by Hook Loop Sarah
Create this stunning Tunisian Crochet Spiral Rug following this step-by-step instructions: a mesmerizing design for the most impressive decorative item. An original processing technique, best enhanced by a self-striping yarn, for your home or as wonderful gift.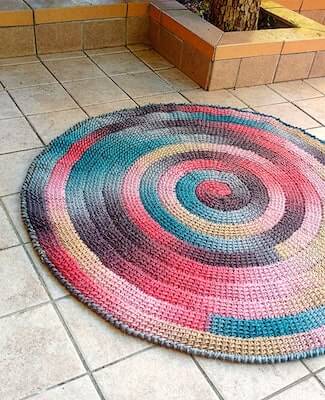 Get the Pattern by Hook Loop Sarah here

7. Shell Spiral Crochet Pattern by Yarnspirations
Accent the home with color using sweet shells you create and display. This free crochet spiral pattern lets you complete a selection of bright and playful pieces using shades that work in any room. Make extras since they're adorable add-ons to any homemade gift for a friend.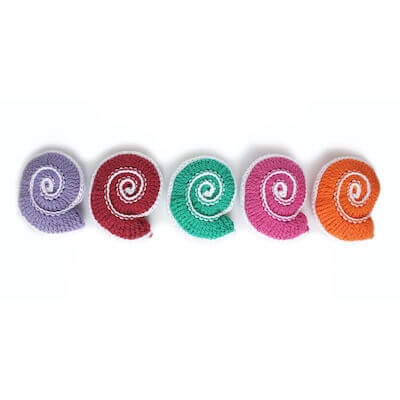 Get the Pattern here

8. Spiral Coaster Crochet Pattern by Hooked On Patterns
Make some fun, 2 colour swirl effect coasters with this spiral crochet coasters pattern. These can be made in any color combinations. These crochet spiral coasters are quick and easy to make (here are more quick crochet projects), so they would be perfect as craft stall fillers or last minute gifts!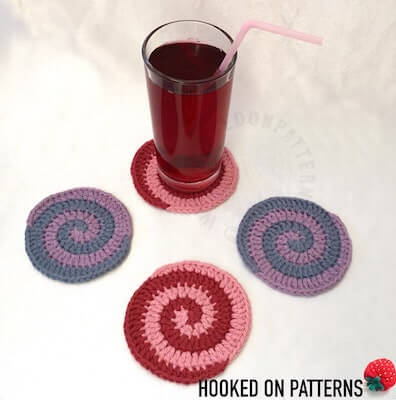 Get the Pattern by Hooked On Patterns here

9. Granny Spiral Crochet Blanket Pattern by Of Mars
This blanket is fun to make & creates a stunning continuous spiral pattern. It is made using a serious of spiral squares sewn together in a funky fashion to make a swirly, unique blanket.
The blanket can be made in as many or as few colors as you want. Use your own unique color combinations to make it your own!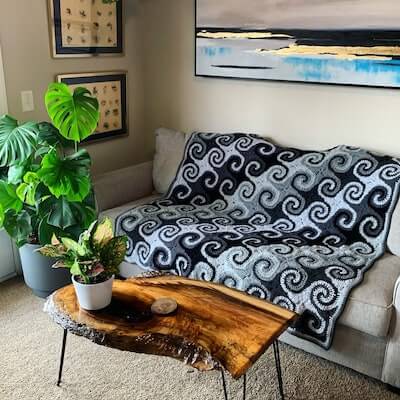 Get the Pattern by Of Mars here

10. Seven Spiral Doily Crochet Pattern by Grid Mammal Crafts
This extraordinary spiral doily is constructed in such a way that each medallion can be crocheted individually and then sewn together, or can be crocheted to the surrounding medallions as it is being made.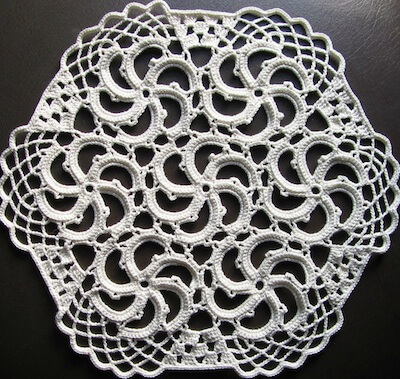 Get the Pattern here
GRAB YOUR HOOKS AND GET READY TO CROCHET SOME CURVES WITH THESE SPIRAL CROCHET PATTERNS!
Go ahead and decide the one you want to work on first and get started. When you're done, be sure to post some finished pictures on our Facebook Page. We'd love to see how it turns out! 

Crochet motifs like these spiral crochet patterns usually a quick and easy way to add a personal touch to practically any crochet pattern such as hats, bags, home decor, and more. Plus, they usually only require a small amount of yarn, so crochet motifs are great stash buster patterns, as well!

For more ideas, go through these patterns: African Flower Crochet Patterns, Crochet Lace Patterns, Mandala Crochet Patterns, Tapestry Crochet Patterns, Crochet Star Patterns, Crochet Square Patterns, Crochet Oval Patterns, Log Cabin Crochet Patterns and Crochet Snowflake Patterns.

These spiral crochet patterns are a joy to make. Why not make them all?