Today you'll find 49 uniquely delightful mandala crochet patterns to stitch up whenever the mood strikes. Bursting with imagination and a playful use of color, these mandalas will keep you happily stitching the day away.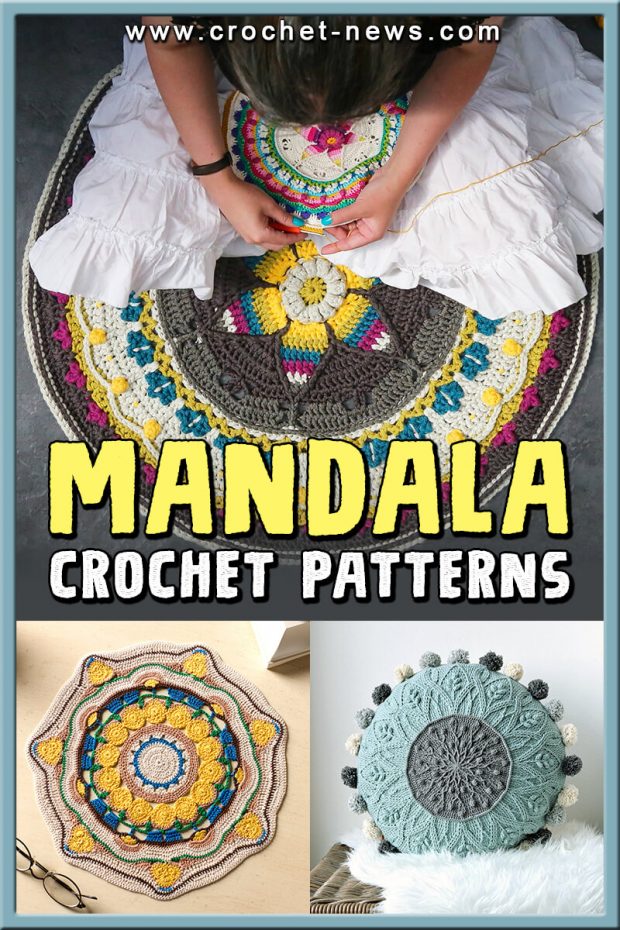 49 Crochet Mandala Patterns
A crochet mandala has many uses: it can be used as a coaster or a doily, as a seat cover or a pillowcase or even as hanging wall art. Since they're worked out from the center, they can be customized to fit your needs, bit or small.

Whether you're a beginner or a more experienced crocheter, they offer a unique canvas for experimentation with color, texture, and many types of stitches, all within a relatively small space.
Working these motifs in a single color produces a chic, romantic look; using multiple colors makes for really fun boho combinations. Take a look around and see what strikes your fancy!

1. Fringed Mandala Pillow Crochet Pattern by Red Heart
The mandala design has been credited as a focal point to reach heightened states of subconsciousness. This crocheted pillow has a mandala appliqué and offers the comfort and textural interest that we love in our living spaces.
Get the Pattern here

2. Summer Mandala Free Crochet Pattern by Annie Design Crochet
This Summer Mandala can be used as a table doily/mat, or turned into a stunning Dream Catcher or Wall Art. Instructions are given to make the crochet mandala, and a simple easy way of attaching it to a hoop.
You can then hang it on your wall or porch, or even hang outside for a beautiful decoration or for yarn bombing!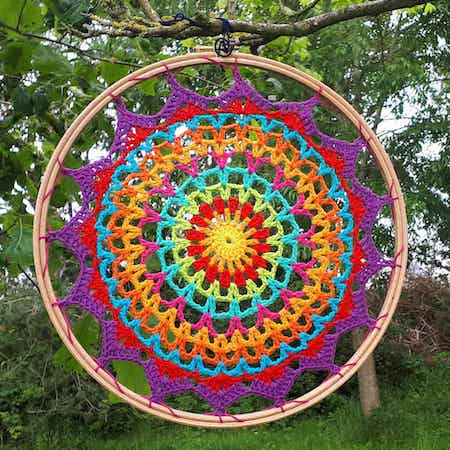 Get the Pattern here

3. Mandala Duster Crochet Pattern by Morale Fiber
This Mandala Duster is a stunning circular jacket sure to get attention with a central mandala design and tons of floaty ruffles, alluring mesh stitching, and mega dramatic pointed bell sleeves! This pattern leaves you free to plan your own color changes.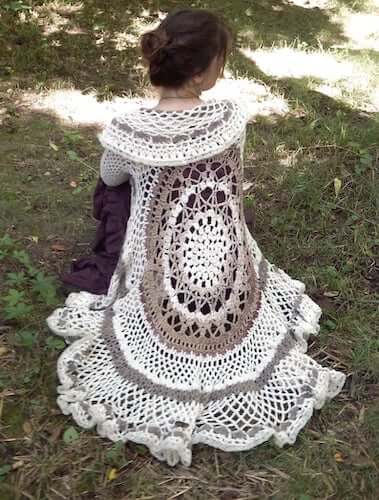 Get the Pattern by Morale Fiber here

4. Rainbow Mini Mandala Earrings Crochet Pattern by Divine Debris
Looking for some statement earrings? These Rainbow Mini Mandala Earrings are for you. But if you're not into earrings, you can definitely make these into something more your style – maybe some cute motifs to hang from a garland?

Or secure them together along the last row to make a lovely doily table runner? Or even a large lapghan can be made if you use thicker yarn. It's all up to you and your creativity!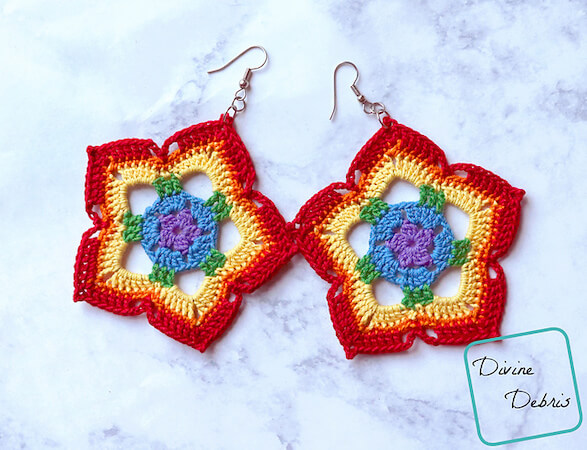 Get the Pattern here

5. Sun Blossom Mandala Doily Crochet Pattern by Yarnspirations
Many people and cultures have found meaning in the mandala, the circle with a center. This piece will add a superb decorative masterpiece in your home decor!

This Sun Blossom Mandala Doily has been beautifully designed with interesting crochet stitches so that you can take your own journey as you create it and then display it.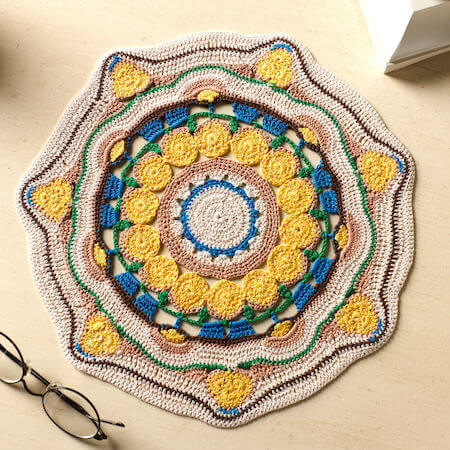 Get the Pattern here

6. Mandala Placemat Crochet Pattern by Knitting With Chopsticks
Here's the perfect option for you to choose for the spring and summer season. This is because it is very colorful and incorporates many colors of the spring. If your house is very plain and boring, just add this Mandala Placemat to your home to make it fun.
Star by a knot and end this project with some beautiful weaving at the end to give it that stunning look.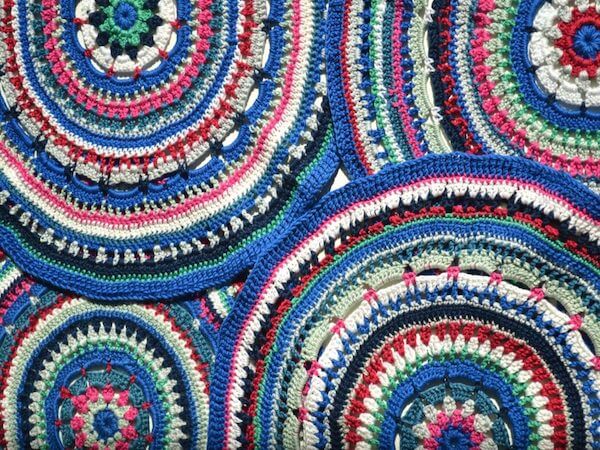 Get the Pattern here

7. Bloom Mandala Crochet Pattern by 1 Dog Woof
A simple circle filled with fun stitches and lots of texture, this Bloom Mandala is an adventure to work up. This round design can be strung up in a floral hoop for a wall hanging, crocheted with thread for a coaster, worked up in super bulky yarn for a rug, and everything in between.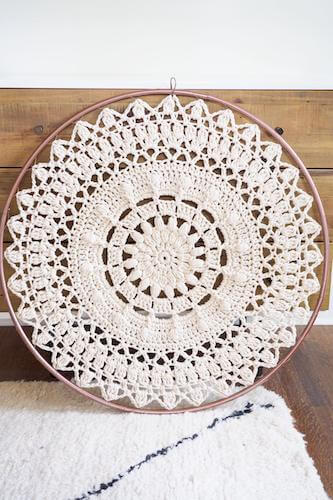 Get the Pattern by 1 Dog Woof here

8. Serene Mandala Dreamcatcher Crochet Pattern by Kristin Omdahl
A quick and thoughtful, handmade gift that brings joy and peace all year long, this Mandala Dreamcatcher Crochet project is the perfect gift! Make one for yourself, and anyone on your list!
Adding the gorgeous feathers below the fringe adds a bohemian flair and is totally inspired by dreamcatchers.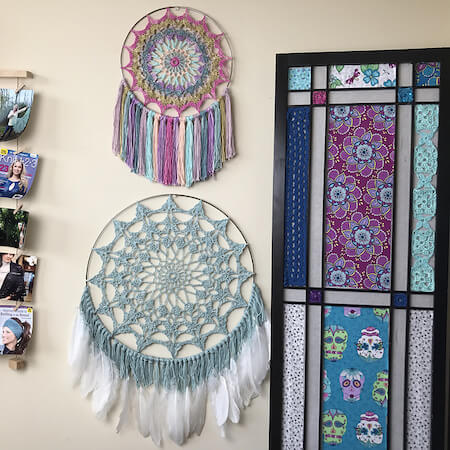 Get the Pattern here

9. Sakura Mandala Pillow Crochet Pattern by Lilla Bjorn Crochet
The idea of this design is to crochet two cabled mandalas in one or several colors, simple but with lots of texture. And turn them into a round pillow decorated with pom poms.

This Sakura Pillow can be put together in several ways. you can just crochet two mandalas together along the edge with slip stitches or single crochet stitches, and stuff it as-you-go.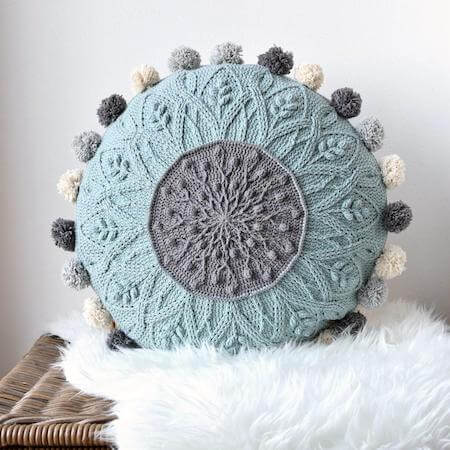 Get the Pattern by Lilla Bjorn Crochet here

10. Crochet Mandala Vest Pattern by Of Mars
This Mandala Vest is a super cute, versatile vest that looks great worn alone over a bandeau for a cute summery look or layered through the colder months. The vest features a large floral mandala at the back, cropped fit, crab stitch edging, and lace up front.

It looks great laced up or open in the front. This vest works up very quickly and can easily be completed in an afternoon of stitching.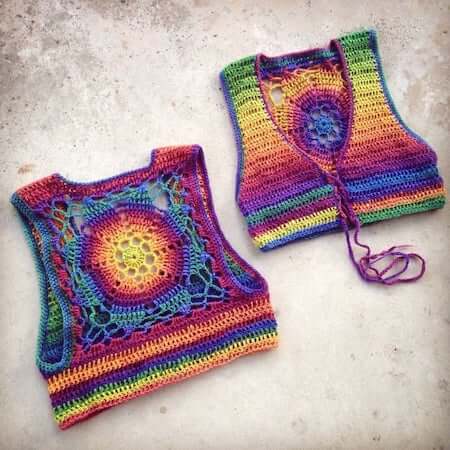 Get the Pattern by Of Mars here

11. Free Festival Earrings Crochet Pattern by Gathered
Bold colors and a marvelous mandala – what's not to love about these fab festival crochet earrings! These over-sized crochet earrings use a bangle to help keep the shape, then you just add it onto a pair of hoop earrings to complete the project!

It's a fab way to show off your crochet skills with some bright and bold colours, and we think that as well as being the perfect accessory for your festival outfits, they'll also find their way into your crochet jewellery collection even when it's not festival season!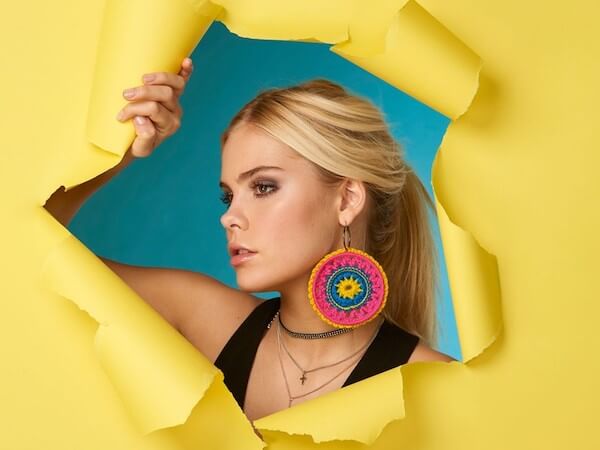 Get the Pattern here

12. Mandala Table Runner Crochet Pattern by Part Pixy Patterns
In some religions, mandalas are a geometric figure representing the universe, or in psychology, they can be a symbol in a dream, representing the dreamer's search for completeness and self-unity. This design craze is perfect for crocheters who are looking to stretch their skills.

This Table Runner can be customized to your length preference. This pattern includes a color table for 5 motifs and full of pictures at key steps of design to check your work.
Get the Pattern by Part Pixy Patterns here

13. Mandala Doily Crochet Pattern by Yarnspirations
Fall shades adorn a stunning mandala design on this crochet doily, but imagine any palette that inspires your space with color! Display it as a focal point in a room, or frame it as an unexpected gift of art for mandala collectors.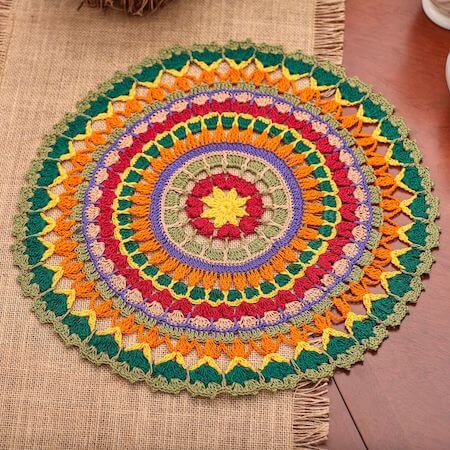 Get the Pattern here

14. Sunburst Circle Bag Crochet Pattern by 1 Dog Woof
Puffs, clusters, and eyelets are on full display in this mandala Sunburst Circle Bag. Make it in raffia for a stylish beach bag, or choose any yarn of your choice. The bag also features a simple, rustic handle.
It instantly makes any outfit feel summery – whether your style is jeans and t-shirts or floral dresses, or both!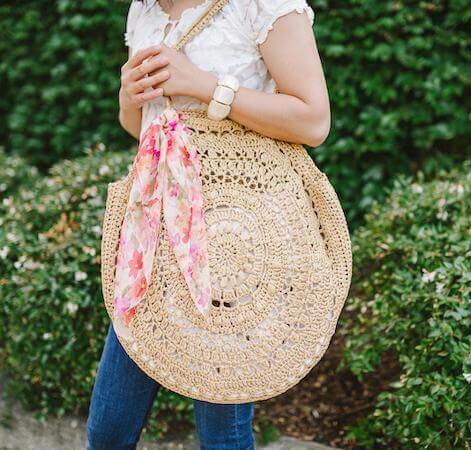 Get the Pattern by 1 Dog Woof here

15. Crochet Mandala Pattern by The Spruce Crafts
You can make your mandala with any colors you like or even work with just one color; however, it's also fun to crochet a rainbow. This version blends different colors with a neutral for a fun marled look.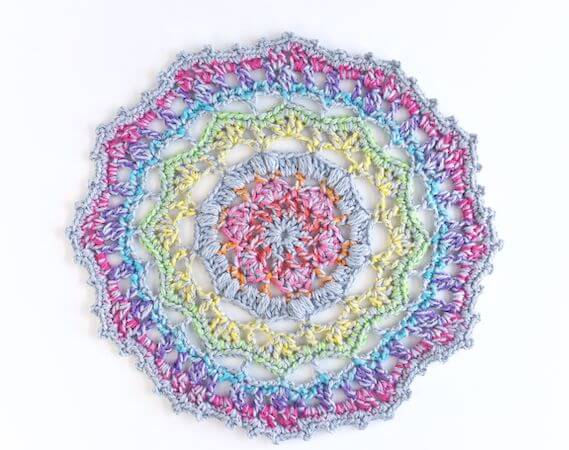 Get the Pattern here

16. Tree Of Life Mandala Crochet Pattern by Morale Fiber
This Tree of Life Mandala features an intricate central tree motif, worked in the round using a variety of crochet stitches. The intertwining branches are worked in layers, with double-treble stitches criss-crossing and forming the signature woven look of the Tree of Life symbolism.

The full instructions include the central tree motif, the surrounding rounds, attaching to the hoop, and finishing with the neat petal border row.
Get the Pattern here

17. Skull Mandala Crochet Pattern by Dolly Daydream Crochet
This Skull Mandala Crochet Pattern contains step by step instructions and photos for making the skull motif, the surrounding background to make it into a circle, and the expanding mandala design.
This makes the perfect gothic home decor, a unique wedding gift or housewarming gift.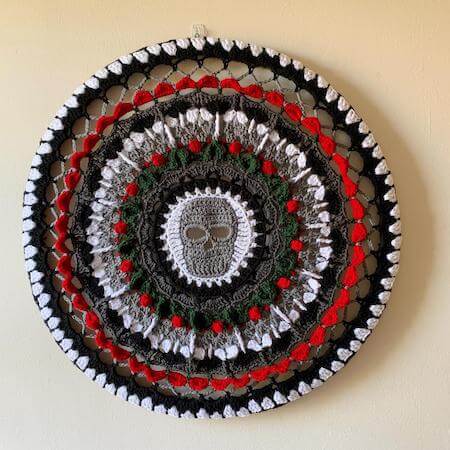 Get the Pattern by Dolly Daydream Crochet here

18. Lace Mandala Crochet Pattern by Desert Blossom Crafts
The Stellar Mandalas – a stunning wall piece for your home! This design features beautiful crocheted lace, designed to make an impact on anyone who seems them. Plus, you'll get instructions for 2 sizes – a 12″ and 23″ mandala!

This Lace Mandala Crochet Pattern uses beautiful pineapple lace and shell stitches to create a stunning piece you will definitely want hanging on your wall.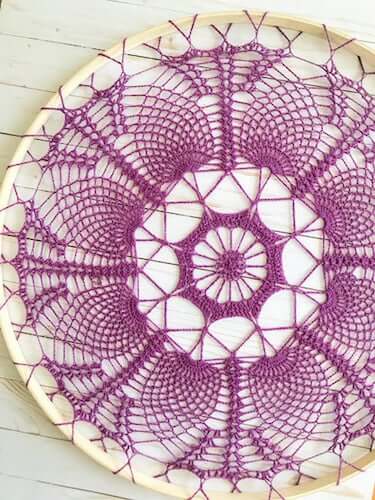 Get the Pattern by Desert Blossom Crafts here

19. Magic Spike Mandala Free Crochet Pattern by Moogly
This Magic Spike Mandala is relatively simple, but spike stitches and shells combine to make it fun and fabulous. And just like magic, you can make drinks coasters and placemats, lightweight trivets and heavyweight doilies, even dishcloths and facecloths – all from the same pattern!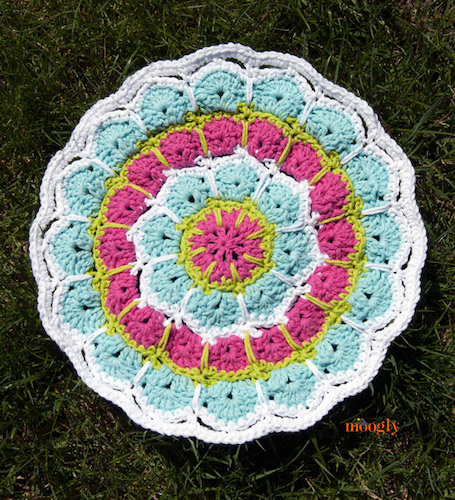 Get the Pattern here

20. Circular Fall Mandala Throw Crochet Pattern by Red Heart
The kaleidoscope of colors on this mandala throw celebrate the season and keep you interested as you crochet. Designed using a variety of shades, this project really unleashes your creative spirit.
A color lover's dream, this standout project is also a meaningful gift for mandala fans everywhere!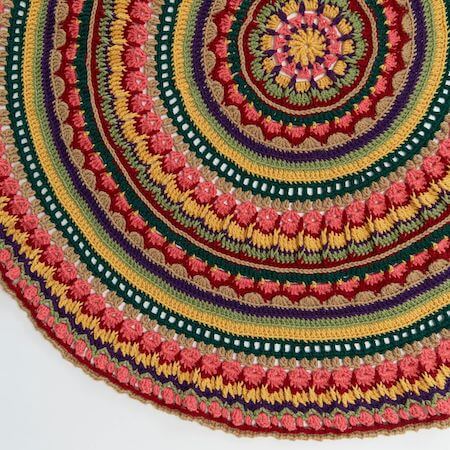 Get the Pattern here

21. Karmic Mandala Placemats Crochet Pattern by Part Pixy Patterns
If you want a dramatic-looking placemat, this gorgeous mandala-inspired design is just perfect. This Karmic Mandala Placemats Crochet Pattern is a guaranteed stash buster, use up those scraps you can't bear to throw away!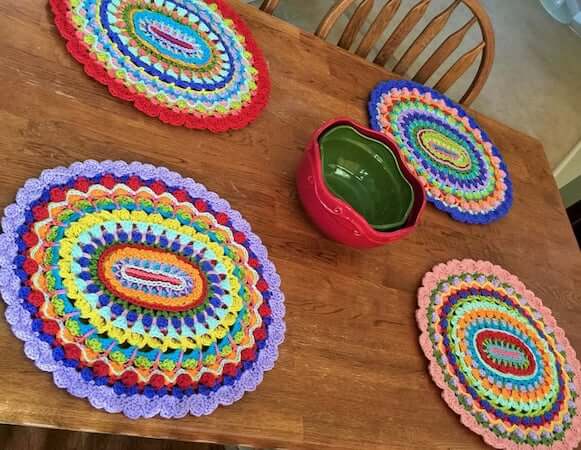 Get the Pattern by Part Pixy Patterns here

22. Blossom Crochet Mandala Wall Hanging Pattern by 1 Dog Woof
There's so many beautiful possibilities with this half circle mandala pattern. Hang it right-side-up or upside-down – you get to choose which is which! Fringe or nor fringe? Retro rainbow or vintage bohemian?
Use rope, single skein yarn, or leftover yarn from your stash. Get creative and have fun!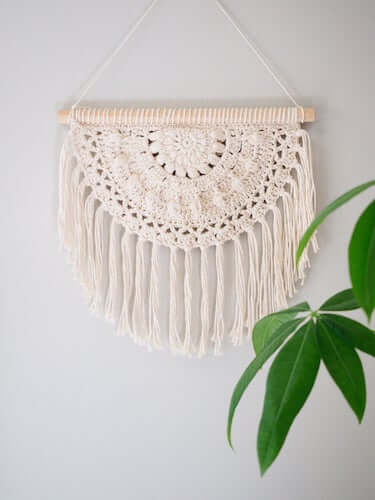 Get the Pattern by 1 Dog Woof here

23. Hula Hoop Mandala Crochet Pattern by Cypress Textiles
Make your own mandalas super epic with this incredible Hula Hoop Mandala Crochet Pattern. The pattern also includes 2 different hula hoop mandala options, one solid color version for DK yarn and this multi-colored version made with Aran yarn.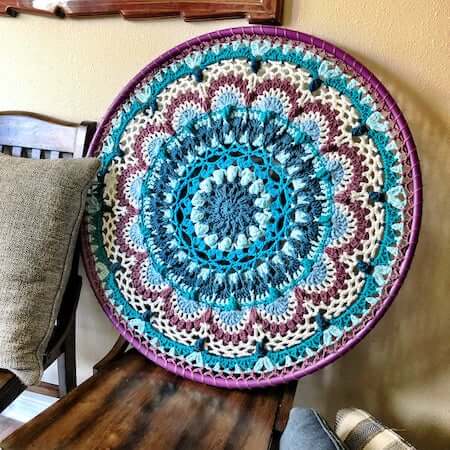 Get the Pattern by Cypress Textiles here

24. Mira Mandala Crochet Pattern by Lilla Bjorn Crochet
Mira Mandala is a "classical" example of overlay crochet – thick and heavily covered with overlaid stitches. Its size is generous for a round pillow. Or it can make a nice wall hanging decoration.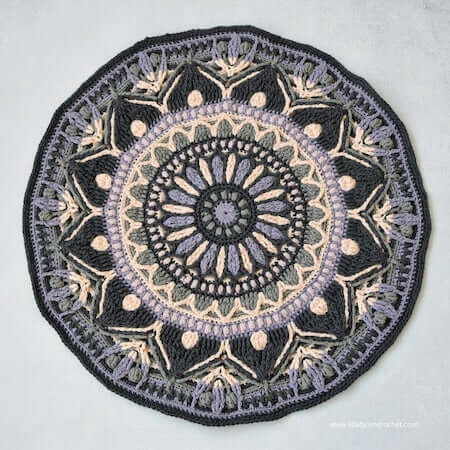 Get the Pattern by Lilla Bjorn Crochet here

25. Sweet Posy Mandala Crochet Pattern by Confessions Of A Yarnaholic
This Sweet Posy Mandala is a quick and easy project, with few technical stitches and is a great project for intermediate and ambitious beginners alike. The recommended yarn weight is worsted (Aran), and with a hook size 4mm, the finished mandala will measure approximately 30cm.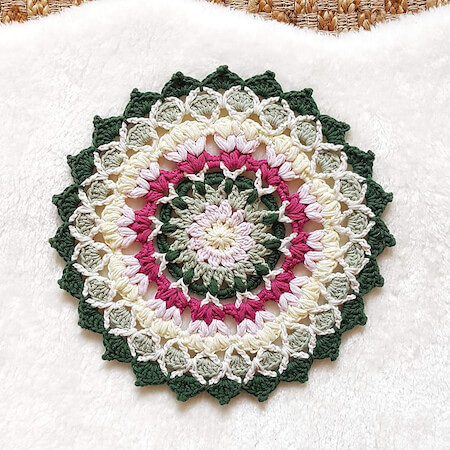 Get the Pattern here

26. Geo Mandala Crochet Pattern by Yumiko Arai
This mandala contains 4 colors but you can use as many colors as you want. The more colors the merrier! This is approximately 46 cm across. It is good as a wall hanging, as a mat for plants, or even a toy mat for a children's tea-party.
Get the Pattern here

27. Floral Mandala Sweater Crochet Pattern by Morale Fiber
With a bold, colorful openwork design and a flattering A-line shape, this Floral Mandala Sweater lets the good vibes flow! A great layering piece for any season and a guaranteed eye-catcher at the beach, festivals, markets, concerts, yoga, or anywhere you feel like letting your hippie flag fly.

This funkadelic mandala sweater dress is made with the same easy-care worsted weight acrylic yarn that lets you zen out to your favorite color combinations without breaking the bank.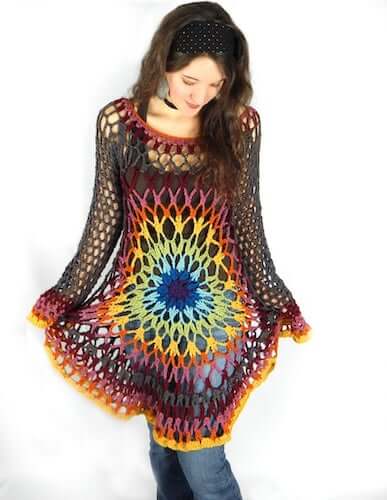 Get the Pattern by Morale Fiber here

28. Twilight Mandala Beret Crochet Pattern by Stitching Stone Design
The deep, rich colors of this beret are reminiscent of a sky at twilight. You'll love working this Twilight Mandala Beret Crochet Pattern for this wearable work of art and want to make at least one for yourself and several to give as gifts.
It's stretchy, so one size fits most women. Perfect for Christmas, Hanukkah, Birthdays, Mothers' Day and many other occasions.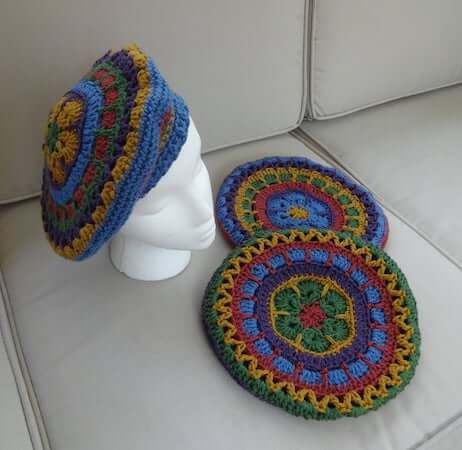 Get the Pattern by Stitching Stone Design here

29. Free Mandala Crochet Pattern by Cre8tion Crochet
This fun mandala combines treble stitches with simple chains and single crochets to create this pretty design. You can choose to use 3 colors like the sample but this design would look great in one color up to nine different colors.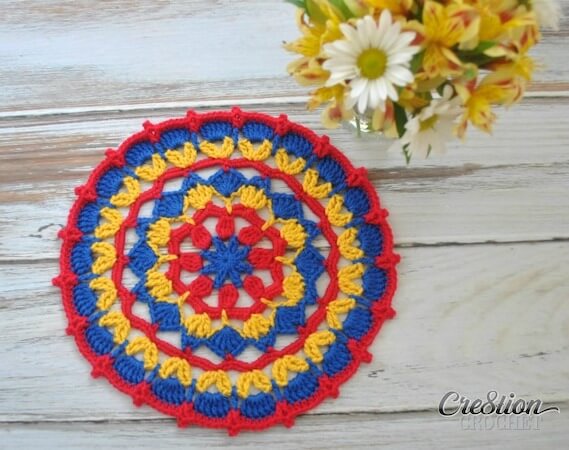 Get the Pattern here

30. Mandala Sampler Throw Crochet Pattern by Red Heart
Wow your family and friends by displaying this masterpiece in your home. Every hexagon in this mesmerizing crochet throw is unique and interesting in shades of your choice.

Throw is made from 19 hexagons sewn together following the assembly diagram included with the pattern. It's a satisfying project that adds color and interest, whether tossed over furniture or strewn across the bed.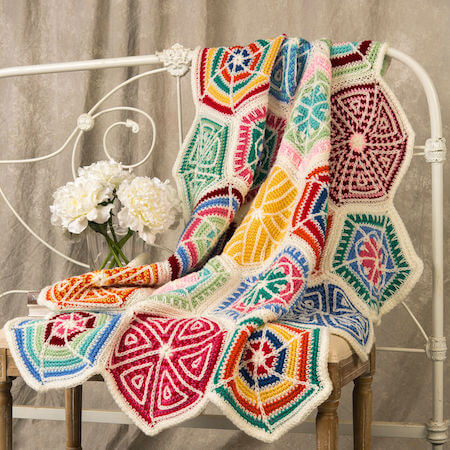 Get the Pattern here

31. Marigold Cross Body Bag Crochet Pattern by 1 Dog Woof
Two identical mandala panels meet in the middle to form this An over-the- shoulder leather strap and classic button and string closure adds personality and practicality.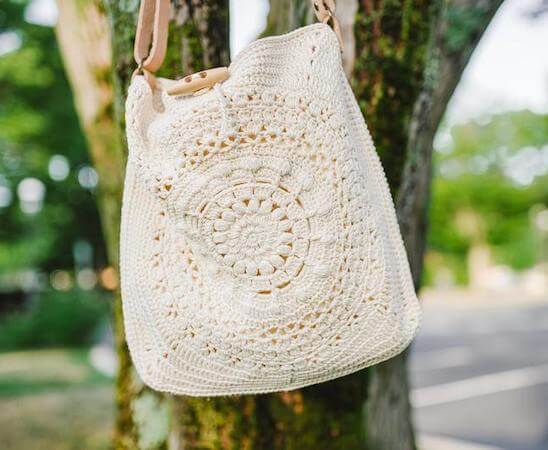 Get the Pattern by 1 Dog Woof here

32. Camping In Cornwall Rug Crochet Pattern by Look At What I Made
This Camping in Cornwall Rug is big and squishy, and the colors are so very pretty. The rug has a lot of surface detail/texture. It includes overlay, ruffled flowers, popcorns, and bobbles, and lots of back post stitches.

The mandala-based design is so decorative and simply vibrating with spring charm. If you want to make something beautiful, here is the pattern you need!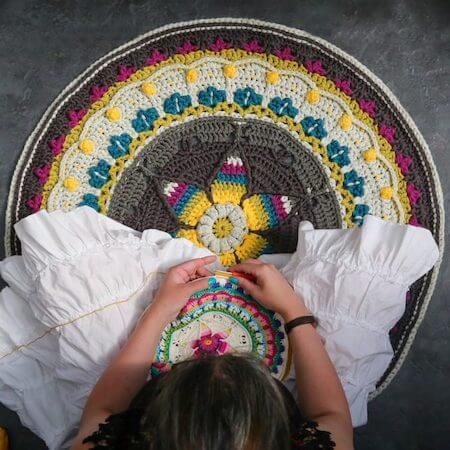 Get the Pattern here

33. Mandala Coaster Crochet Pattern by Lilla Bjorn Crochet
Make good use of your scrap yarn with these Mandala Coasters. They are quick project to whip up and are perfect for last-minute gift. You can change the colors to suit your taste, even making it in just one color if you would prefer.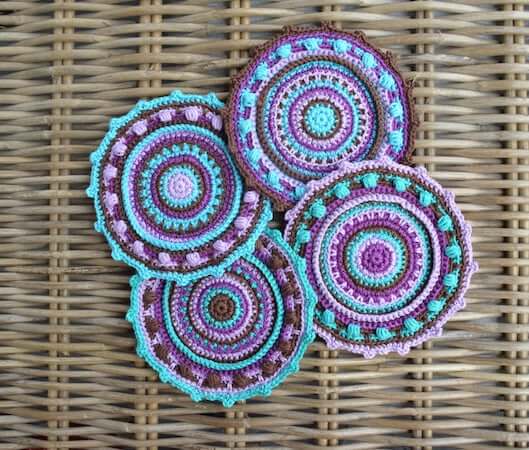 Get the Pattern by Lilla Bjorn Crochet here

34. Embroidery Hoop Mandalas Crochet Pattern by Karen Wiederhold
Crochet three pretty hoops for your wall. Three is a magic number when it comes to design. Grouping objects together in trios is an instant way of creating a pleasing visual arrangement.
Decorate a plain wall in your home with these three beautiful mandalas. Each design is different and presented on a simple wooden embroidery frame.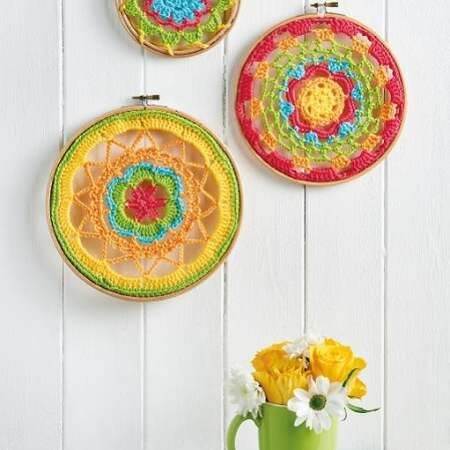 Get the Pattern here

35. Mandala Market Bag Crochet Pattern by La Belle Vie Mais Oui
Made with your favorite cotton yarn, the detail of the stitches are so beautifully defined. It works up so quickly, you'll be making them in every color! And why stop with bags? Make a cute set of coasters by stopping at the indicated round of your mandala, or finish your mandala and stretch it to make a dream catcher. It's a versatile pattern!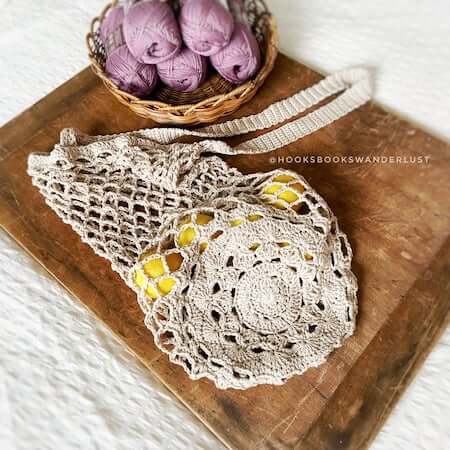 Get the Pattern here La Belle Vie Mais Oui

36. Butterfly Mandala Vest Crochet Pattern by A Crocheted Simplicity
Little girls and butterflies, both flutter around carefree. This Butterfly Mandala Vest is designed to match your girl's free spirit. The edges are pretty and flowy. Because of the flowy design, this vest will fit a range of sizes. You will love these fun details!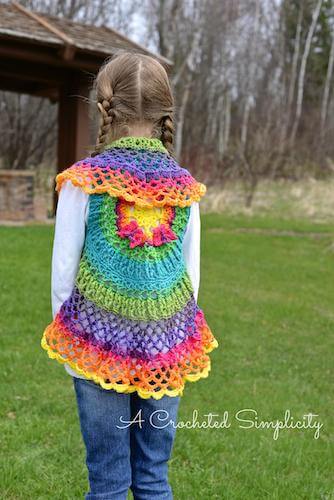 Get the Pattern by A Crocheted Simplicity here

37. Mandala Boho Purse Crochet Pattern by 'Ohana Boutique
Simple yet stylish purse will definitely be a great addition to your summer outfit. You can easily customize this mandala circle with your favorite colors and decorate it with colorful fringe.
This is easy to customize with or without fringe, length of straps and button size.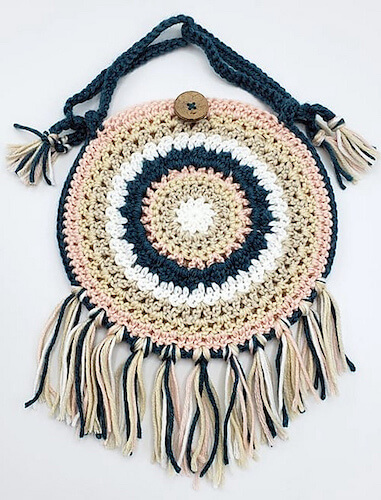 Get the Pattern here

38. So Natural Mandala Crochet Pattern by Renata Saj
Crochet this So Natural Mandala, a magical shape where your attention automatically gets drawn to the middle point of the circle. Such a beautiful project to crochet one yourself!

This project is for intermediate/advanced crocheters. You should be familiar with some special stitches: front and back post stitches and popcorn stitches.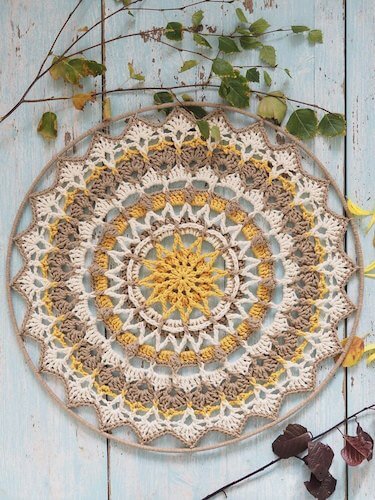 Get the Pattern by Renata Saj here

39. Sweet Mandala Top Crochet Pattern by Fiona Langtry
This top is designed to take a mandala of your choosing, and turn it into something you can wear almost every day! Create your own mandala up to 24cm (9.5″) wide, then follow the instructions in this pattern to produce a relaxed-fit top which will become your favourite coverall for the beach, parties or for shopping.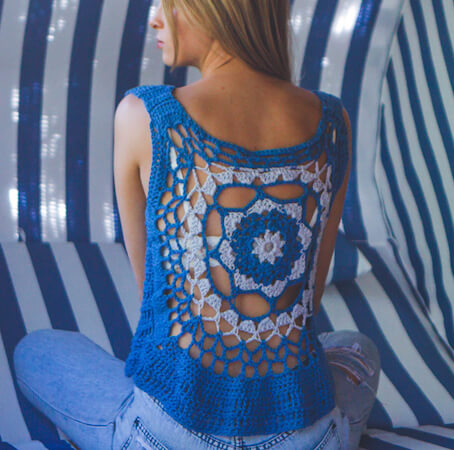 Get the Pattern by Fiona Langtry here

40. Flower Mandala Circle Poncho Crochet Pattern by Creations By Courtney
This Flower Mandala Circle Poncho is the perfect layering piece for summer festivals, or lunch outside. This poncho differs with a short front and cape-like back to showcase the large flower center.

You can use 2 neutral colors for a subtle look, or go bold by using a different color for every round. Pair this poncho with a summer dress or with a turtle neck, jeans and boots during cool weather days.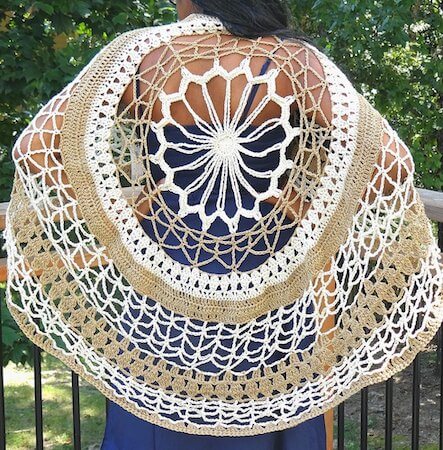 Get the Pattern by Creations By Courtney here

41. Sunshine Mandala Crochet Pattern by Hooks Books N Me Designs
Dress up your home with this beautiful flower centric round mandala, this will definitely enhance the look of your living room setting. Customize your work by choosing your own color palette.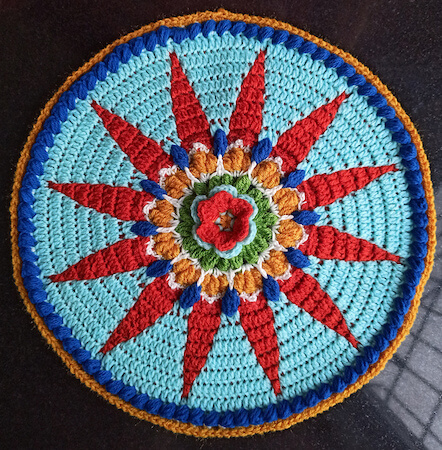 Get the Pattern here

42. Mandala Stool Cover Crochet Pattern by Felted Button
Amazing texture and in your choice of colors – this Mandala Crochet Pattern contains instructions that allow you to make a unique mandala – In multiple colors or even in all one color – using small bits of yarn.

This is a great stash-buster! It also contains instructions to make your mandala into a stool cover. It could be transformed into a pillow cover, trivet or wall hanging, too.
Just attach it to an embroidery hoop, and hang it on your wall! Work it up in colors to match your own style and decor!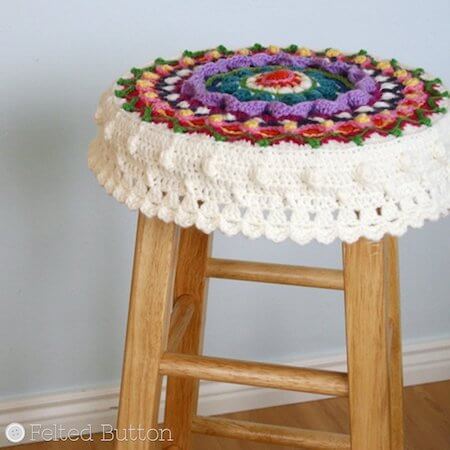 Get the Pattern here

43. Mandala Toddler Mat Crochet Pattern by Celtic Knot Crochet
By using a large hook and tall stitches, this Mandala Toddler Mat works up in no time and adds a colorful and cheerful accessory to a toddler's room. This would also look cute in a college dorm room or on a back porch adding color and cheer to those spaces, too.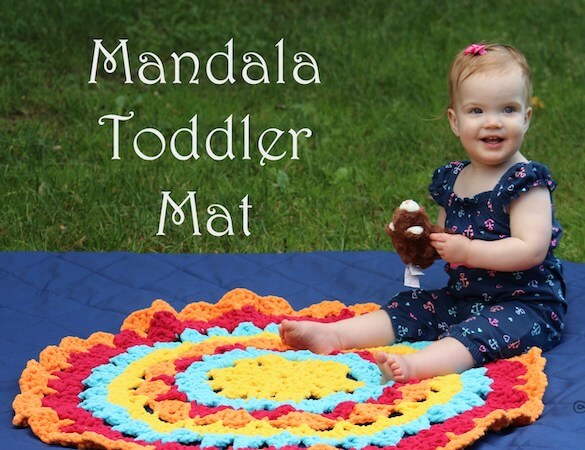 Get the Pattern here

44. Crochet Mandala Doily Pattern by Sew Happy Creative
This Mandala Crochet Doily will look stunning in any color recipe! It's perfect for injecting some color into your home and is a nice, bright way of protecting furniture as well!

The doily crochet pattern makes a medium-sized mandala approximately 22.5cm/9″ using 4ply yarn, using DK yarn will make a larger mandala.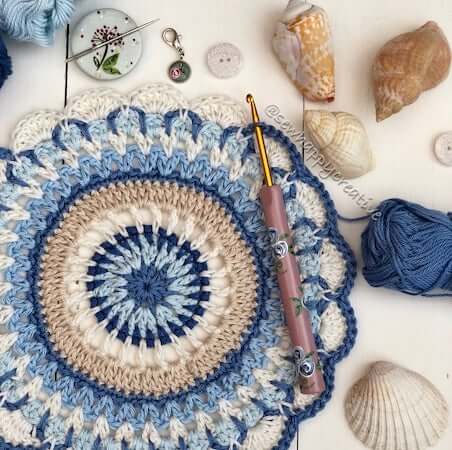 Get the Pattern by Sew Happy Creative here

45. Midnight Star Crochet Mandala Rug Pattern by The Lavender Chair
This Midnight Star Crochet Mandala Rug would make the perfect addition to your home. You can use it in your living room as a gorgeous accent piece or just have it on the side of your bed to have something squishy to step on when you get out.

This pattern is made with a series of shell and chain stitches throughout creating a gorgeous star like center! You could even use this rug as a circular baby blanket.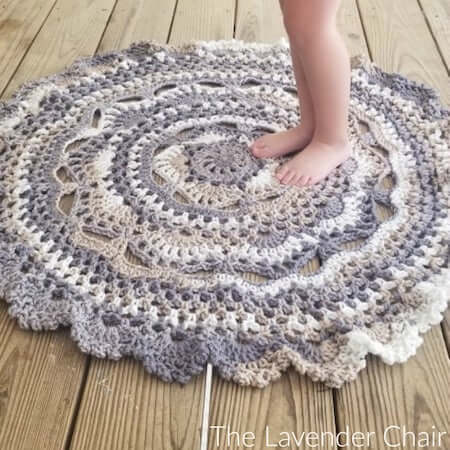 Get the Pattern by The Lavender Chair here

46. Radiant Rose Mandala Doily Crochet Pattern by Bella Crochet
The beauty of traditional Irish lace crochet gets a fresh, updated look in this gorgeous Radiant Rose Mandala Doily! This elegant yet fun-to-make doily is the perfect design for experimenting with color combinations.
Let your imagination run wild and create your own delightful masterpiece!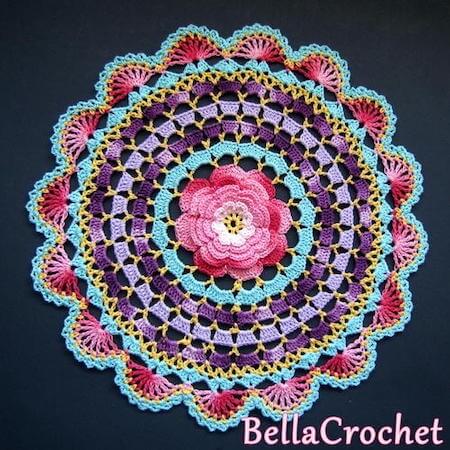 Get the Pattern here


47. Mandala Top Crochet Pattern by Morale Fiber
Whether you're a beginner who is ready to move on from hats and scarves or a master of the hook who just needs some color therapy, this intermediate level project is as relaxing to make as it is to wear.

The design features quick, simple shaping techniques and easy stitches explained in charts and photos as well as written instructions. Worked up in worsted weight solids, this Mandala Top is impressive without the extra cost!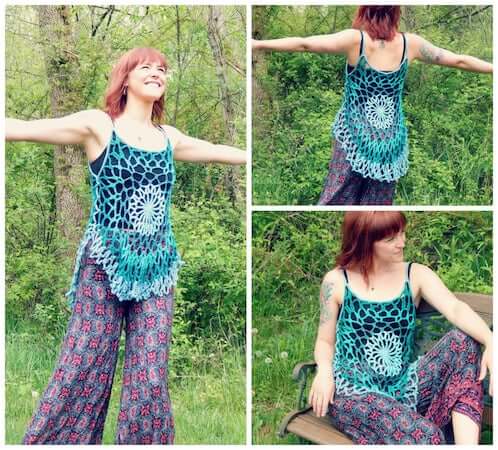 Get the Pattern by Morale Fiber here

48. Pretty Petals Mandala Crochet Pattern by Hattie Risdale
A pretty floral project to bring a touch of happy to your home and to make you smile! Mix and match all the pretty colors and bring the outside in. This Pretty Petals Mandala will bring all the cheerful colors from springtime blooms into your home.
You could also hang it on the wall like a painting, and make a one inspired by every season.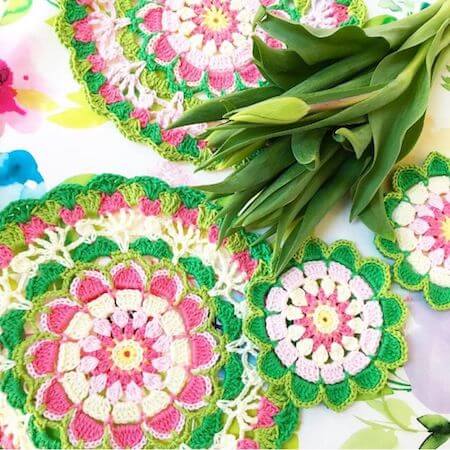 Get the Pattern here

49. Kaleidoscope Mandala Throw Crochet Pattern by Hannah Cross
Whether used to drape on a sofa or spread on a bed in all it's glory, the 135cm round throw is a stunning addition to any home or garden. The construction comes from a central round section that has twelve motifs worked onto it in rows which are then joined by a section edging to create the basis for the next set of twelve motifs and so on.
Great big chunky tassels finish off the design and add more weight to enhance the glorious drape and shape of the throw.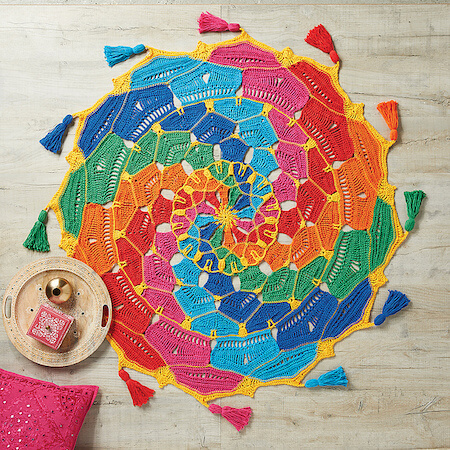 Get the Pattern here
WITH ENDLESS COLOR CHOICES AND PATTERNS, THERE'S A MANDALA CROCHET PATTERN FOR EVERY HOME AND OCCASION.
Ready to make your own? Grab your hook and favorite colorful yarn and let's go! For more varieties of crochet patterns, check out our Crochet Lace Patterns, Log Cabin Patterns, Spiral Crochet Patterns and Filet Crochet Patterns. Once you're done, share your makes on our Facebook Page. We'd love to see them!
If you're craving for more crochet home decor inspiration, be sure to check our Crochet Home Decor Archives.
You will surely find something you can use to furnish and decorate any room in your home. Check out these Crochet Doilies Patterns, Crochet Bunting Patterns, Crochet Placemat Patterns, Crochet Dreamcatcher Patterns, and more!

With the simple construction and unlimited design choices of these mandala crochet patterns, making and sharing mandalas is a tradition you could start with your loved ones today!