Filet crochet is an open, lacy technique that's often used to show geometric patterns, images and lettering. The techniques involved are very simple – basic filet only uses chains and treble stitches, but with just these basic stitches, you can create an unlimited number of filet crochet patterns, shapes and images. Here are 21 filet crochet patterns for you to try!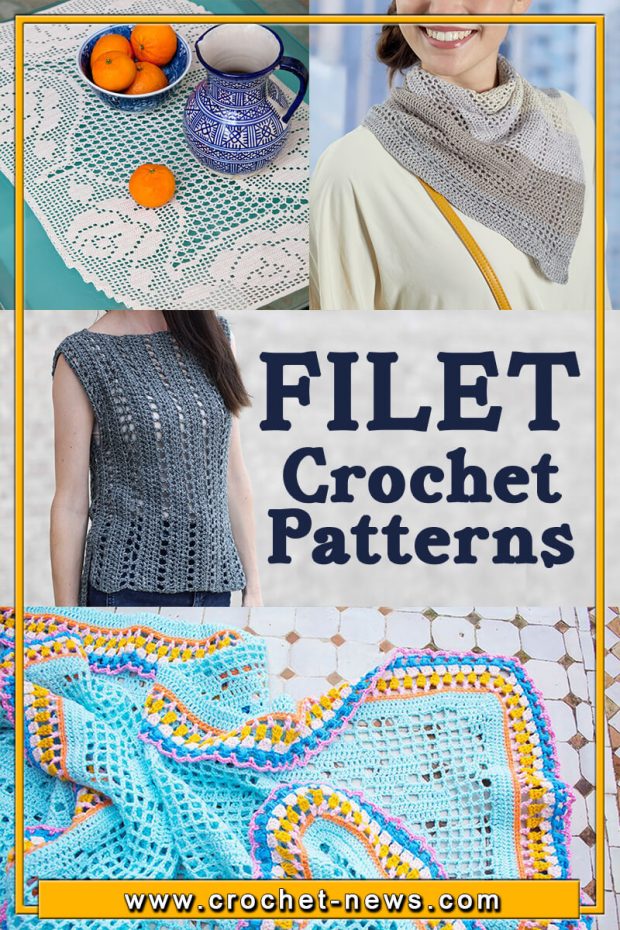 There are so many wonderful crochet filet patterns out there that aren't just a lace table runner! As you can see from the patterns below, there are so many ways that you can create a design just by leaving holes in your crochet.
So browse through this list because we now at least one of these patterns would be great as your next project!

1. Filet Crochet Bunny Blanket Pattern by Red Heart
If you love filet crochet, try this fresh springtime project that brings elegant warmth to the nursery or guestroom. Crochet as shown, in all its bunny glory, or select a shade that makes the bunny silhouette adorable to you. It's an entertaining and easy crochet blanket if you've never tried filet crochet before.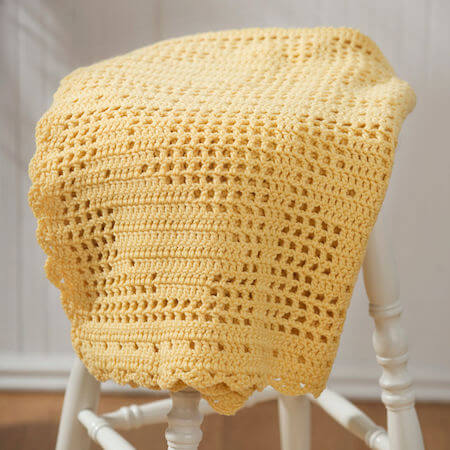 Get the Pattern here

2. Lace Beach Cover Up Crochet Pattern by The Snugglery Patterns
Filet crochet is a fun technique using the negative space of chain spaces to create bold graphic designs. The technique, applied in this intermediate pattern, creates a lacy boho beach cover-up with a hint of a modern, geometric design that looks incredibly advanced using only the most basic crochet stitches.
Check out our roundup of crochet cover up patterns to get you ready for the beach.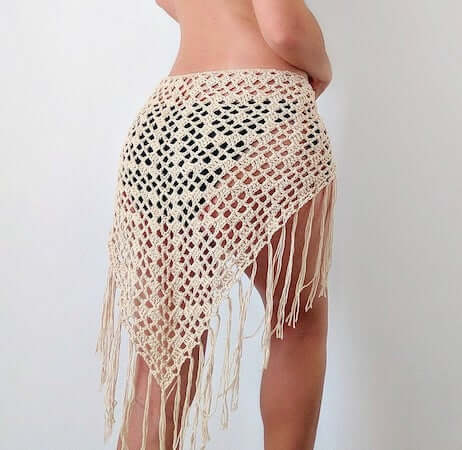 Get the Pattern by The Snugglery Patterns here

3. Shrug Easy Filet Crochet Pattern by Make And Do Crew
Don't let the dolman sleeves and modern silhouette fool you—the construction of this on-trend sweater is super simple! You'll work one large rectangle in a mesh pattern using only double crochet and chains.
After seaming the rectangle in half, you'll add sleeves, again using only basic stitches. Lastly, a long rectangle made from the accent color will be added to form the wide collar and edging.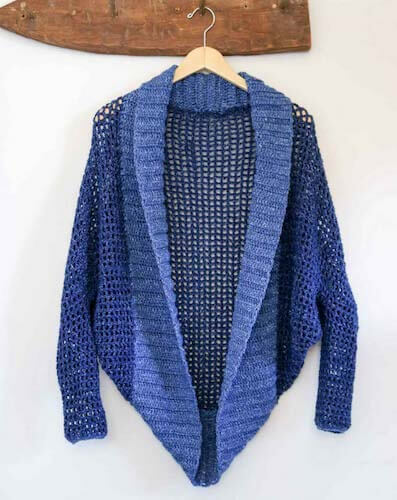 Get the Pattern here

4. Easy Sleeveless Top Filet Crochet Pattern by Mama In A Stitch
Subtle vintage vibes make this denim-look crocheted top a classic for summer. The boat neck top features clean lines, open stitching and a fabric that's both soft and has amazing drape.

Pair it with jeans, a skirt or shorts to take you from the work day to coffee with friends. The simple design of the shirt is created by an equally simple pattern which will be enjoyed by beginners and intermediate crochet artists alike.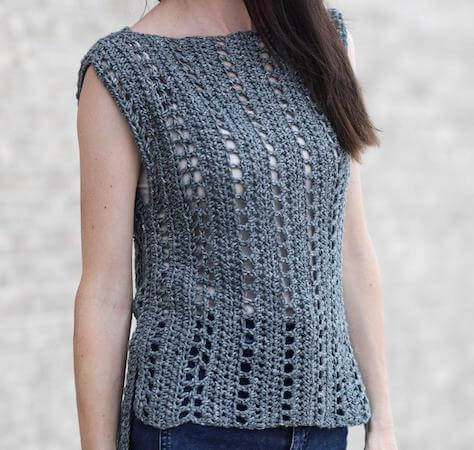 Get the Pattern here

5. Butterfly Meadows Table Runner Crochet Pattern by The Unraveled Mitten
This Butterfly Table Runner features a pretty floral filet crochet pattern. Perfect for spring! This pattern is written in English using standard American terms with step-by-step instructions and photos to help guide your hook to completion.
This beautiful butterfly table runner would make a nice gift for anyone who enjoys the spring season.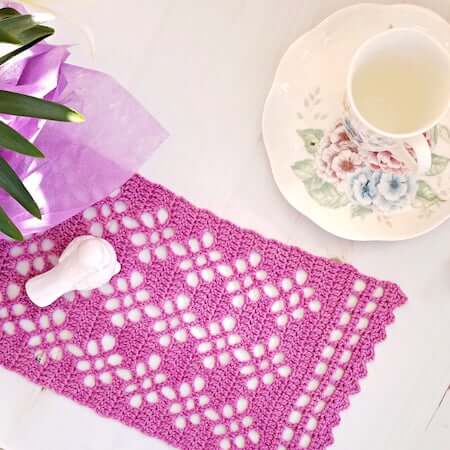 Get the Pattern by The Unraveled Mitten here

6. Rose And Lace Doily Crochet Pattern by Yarnspirations
This lacy filet crochet doily is created with a timeless rose design that makes it attractive for tables, buffets, dressers, and more. Your project begins in any shade that inspires your creativity.

It's an elegant accent that brings distinction to a room, softening the feel of modern spaces, as well as the country and traditional décors. Where will you display your first project?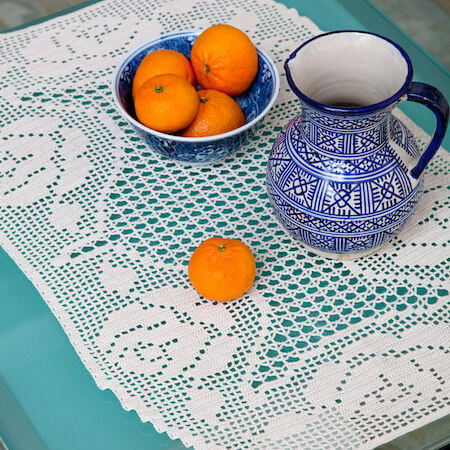 Get the Pattern here

7. Alphabet Blanket Filet Crochet Pattern by Avondale Patterns
This delightful alphabet filet blanket is a wonderful heirloom blanket for a newborn or young baby. It is a blanket that can easily be undertaken by beginners as there are no unusual or difficult stitches to master.

The blanket is made using DK weight yarn and uses chains, double crochet (US-single crochet), and treble crochet (US-double crochet) stitches.

You will also need a size 4.00 mm (G/6) hook and a yarn needle. The finished blanket measures approx 31.5 inches x 28.5 inches / 80 cm x 73 cm.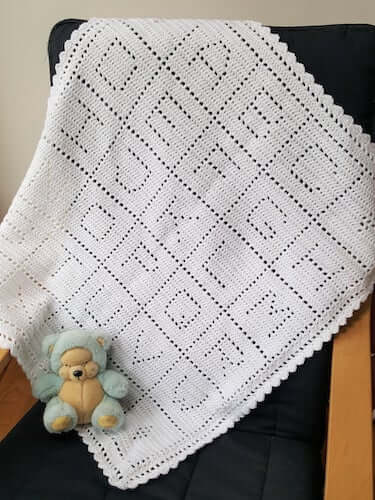 Get the Pattern by Avondale Patterns here

8. Crochet Lacy Cardigan Pattern by For The Frills
Light and airy, this Crochet Lacy Summer Cardigan is the ultimate summer project! Simple crochet stitches and chains combine to create a drapey lace cardigan, that's a lot easier to crochet than it seems!
With a relaxed, comfy fit, this cardigan pairs well over jeans, dresses, or use it as a cover-up at the beach!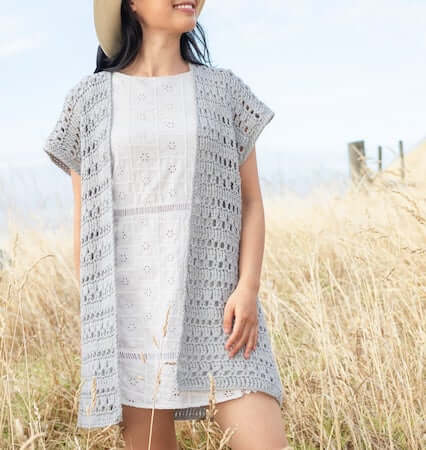 Get the Pattern by For The Frills here

9. Tablecloth Free Filet Crochet Pattern by Yarn Plaza
This cheerful tablecloth is the perfect item to do so! Doesn't the cheerful color makes you want to start right away? This tablecloth is crocheted using a filet crochet technique. When working according to the pattern chart you create a beautiful pattern in your work.

It's called 'drawing with your crochet hook and designed a floral pattern that constantly will be repeated. This way you'll get a cheerful floral tablecloth.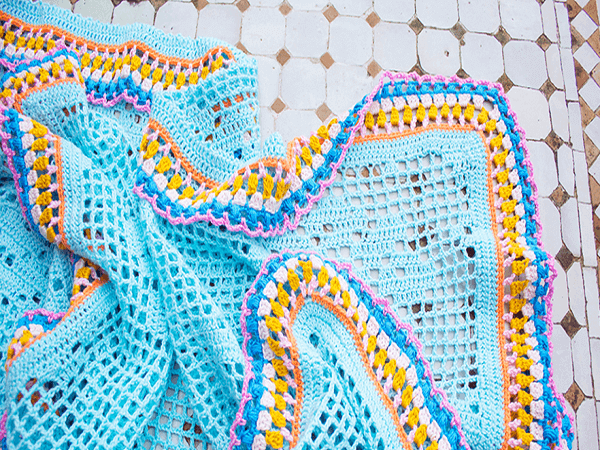 Get the Pattern here

10. Filet Bandanna Crochet Pattern by Red Heart
This crochet bandanna is a great way to try out filet crochet and expand your skills! Delicate and sophisticated, it adds a lovely layer of texture to any outfit. This accessory is fetching in any color that sets off your style!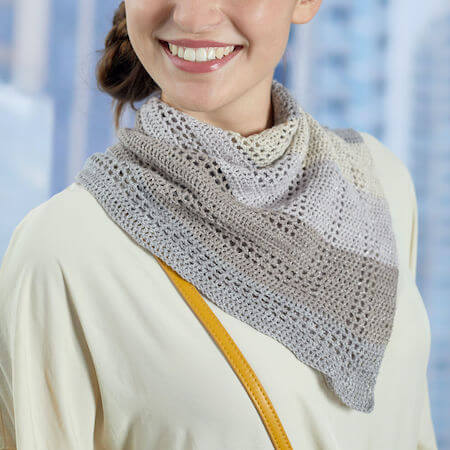 Get the Pattern here

11. Simple Filet Crochet Starburst Square Pattern by Creative Jewish Mom
Here's a super simple yet quite lovely filet crochet, with just enough detail to make it interesting, yet simple enough for crocheters of any level to pull off. Since there are no color changes that means a lot fewer ends to weave in!

And the fun part is that the squares are attached by crocheting them together, first with a row of single crochet and then a raised row of double crochet, simple and really unique!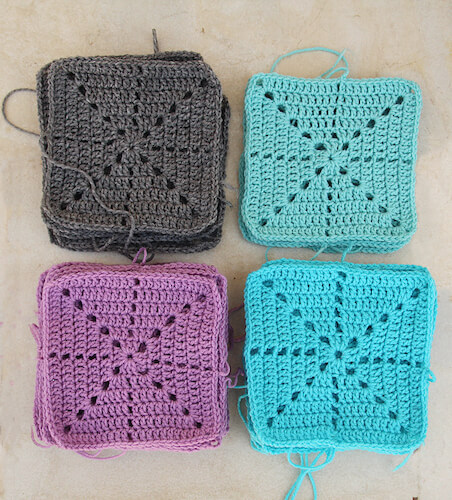 Get the Pattern here

12. Filet Crochet Diamond Wrap Pattern by Christa Co Design
This Blue Diamond Wrap is an easy to wear wrap that doesn't overwhelming while still providing coverage. Versatile enough to wear loosely or wrapped more securely, according to your needs.
The simple diamond design is achieved with simple skipped stitches and chains. A great beginner piece for creating designs with filet crochet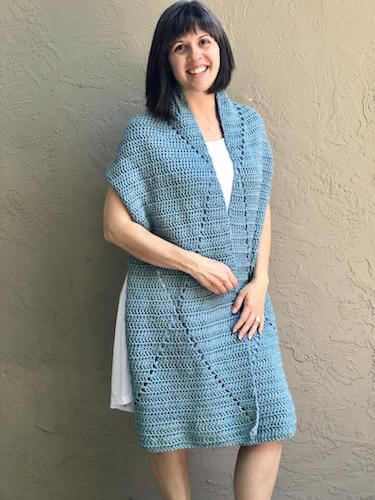 Get the Pattern by Christa Co Design here

13. Messy Bun Hat Crochet Pattern by It Was Yarn
The messy bun hat is a fun variation on the beanie. There is a ​hole in the top to put your ponytail or bun through, so you can have an updo and wear a beanie at the same time.

This crochet beanie pattern is a particularly lacy design. It is intended as a summer hat, more for decoration than to keep you warm.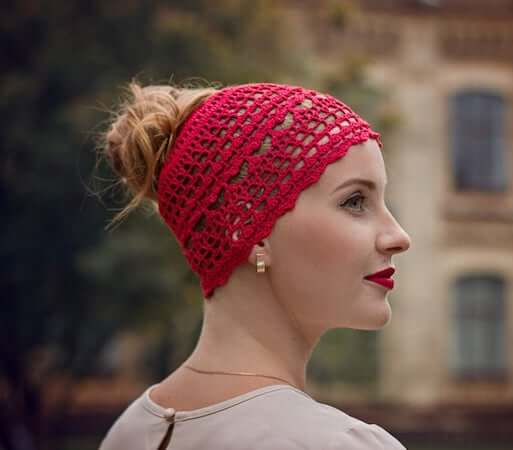 Get the Pattern by It Was Yarn here

14. Filet Poncho Crochet Pattern by Heart Hook Home
For this pattern we are using a variation of filet crochet. Filet crochet means that you're crocheting double crochets and chain-spaces in "blocks" or "sets" of squares. In this pattern we have 9-block squares that are separated out by rows of solid crochet, then offset the next time.

It's roomy, it's flowy, it's warm, it's got a peek-a-boo effect – it's simply fabulous! The "one-size" fits most folks up to about XL – 2XL. The "plus size" fits up to about 3XL. If a size larger is needed, there are recommendations for this as well!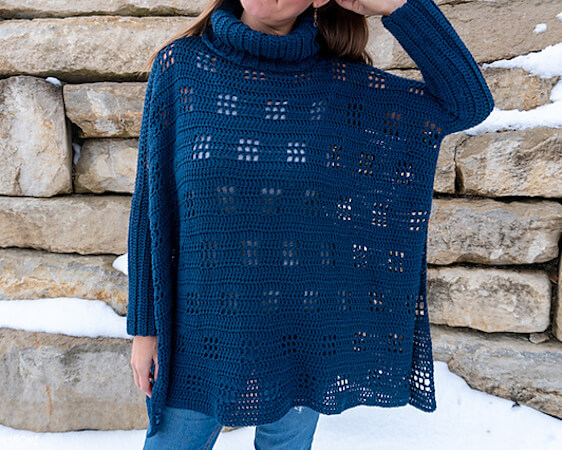 Get the Pattern here

15. Quilt Block Filet Pillow Crochet Pattern by Yarnspirations
Interest in filet crochet is on the rise. This contemporary, quilt-inspired pillow makes good use of the filet technique. It's a perfect finishing touch, so enhance any space with a pillow in your favorite shade.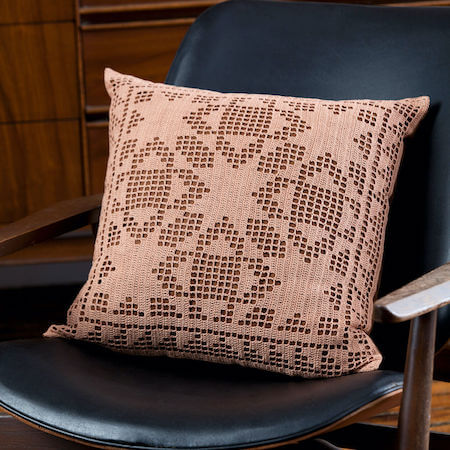 Get the Pattern here

16. Linked Hearts Blanket Filet Crochet Pattern by Stitched Up By Emma
This is a simple and unique blanket, made using the Filet technique of crochet. It is such an addictive technique to use as you slowly see the pattern emerging with each finished row.
It uses DK yarn and a 4.5 mm hook but you can use any to suit your preference but this will alter the size of your blanket.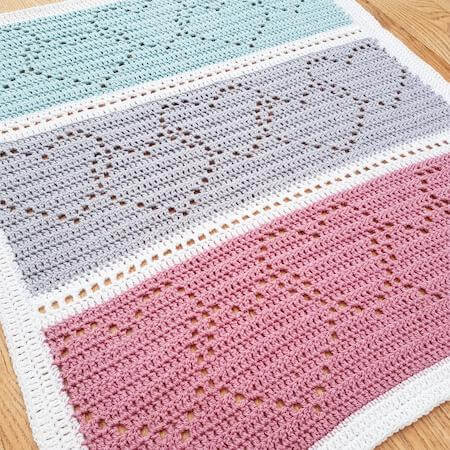 Get the Pattern by Stitched Up By Emma here

17. Filet Crochet Curtain Tie Back Pattern by B.hooked Crochet
This is a thread crochet pattern that worked in the niche of filet crochet. If you haven't already learned this niche, here is a great pattern to work on as a beginner.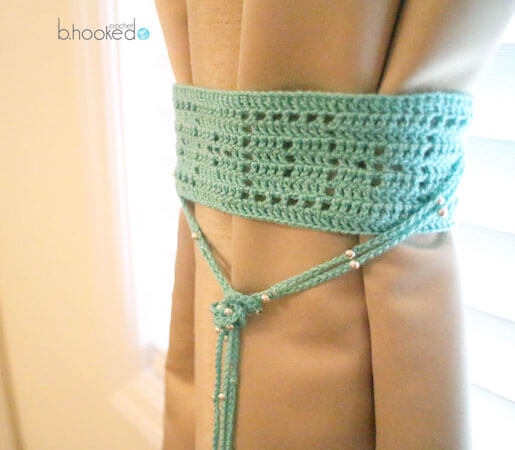 Get the Pattern here

18. Honeycomb Tank Top Crochet Pattern by Briana K Designs
Need a comfy and cool summer top? This Honeycomb Crochet Tank Top Pattern is a unique and buzzing summer trend in fashion. This unique use of filet hexagons creates a honeycomb look for a cool and wearable crochet summer top.
This pattern is worked as one piece, from bottom up, and in rows. If a longer length is desired add one more repeat on the body portion. Trim is added and at the same time buttonholes are created for the front.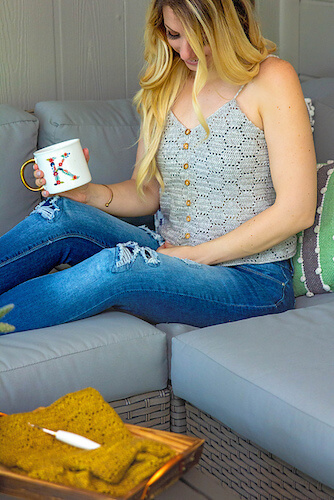 Get the Pattern by Briana K Designs here

19. Lace Crochet Gloves Patterns by Crochet Create
It's coming to the time of year when gloves hats and scarves will be needed as more than a fashion accessory. Be that as it may it's still nice to be adorned with something stylish yet simple. These beautiful blue gloves will do just the trick.

Dress up a casual outfit, wear them as part of a costume for halloween or simply to add a stylish bit of detail to any outfit. Make them in blue, pink, red, green, black, any colour you wish, one set for every outfit if you like!
The gloves mix the form of filet crochet with a delicate ruffle to form a glove that will truly be one of a kind.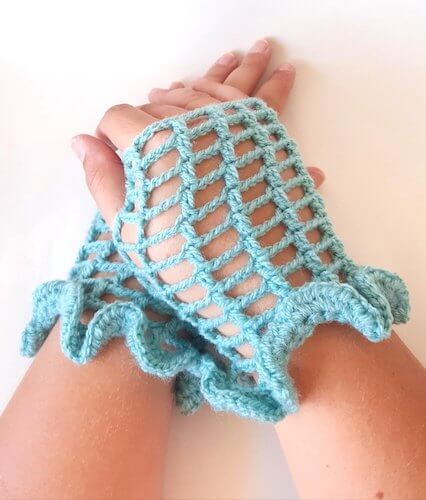 Get the Pattern by Crochet Create here

20. Filet Crochet Butterfly Pattern by Stitches N Scraps
Out of a myriad of lace comes the Filet Crochet Butterfly. You will love the design of this pattern that kind of sneaks the butterfly in. There is a lacy and a solid version, which you can make in any yarn weight.
This pattern comes with charts to show you how to filet crochet easily. You can use this motif for whatever project you want or make it into a wall hanging decoration.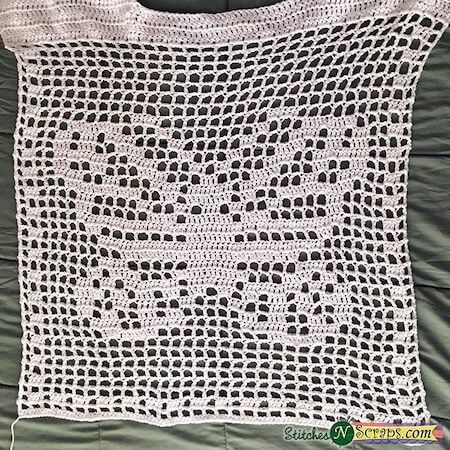 Get the Pattern here

21. Bookmark For Mom Filet Crochet Pattern by Yarnspirations
Is there a better gift for Mother's Day than this handmade crochet bookmark? Created especially for mom, this delicate project is finished with a pretty butterfly end.

Customize in any shade for a beautiful heirloom befitting the best mom in the world! We know you'll want to share this wonderful pattern with fellow crocheters too!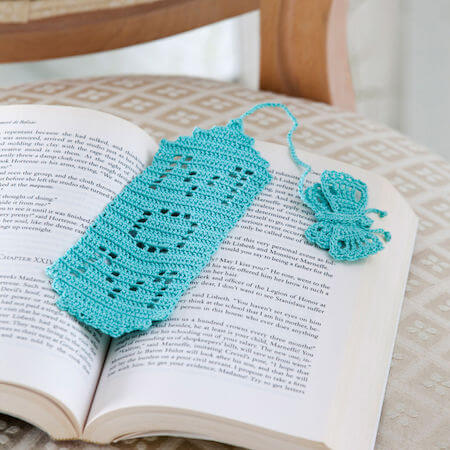 Get the Pattern here
THERE'S SO MUCH TO LOVE ABOUT FILET CROCHET, SO ADD IT TO YOUR REPERTOIRE AND STITCH TO YOUR HEART'S CONTENT!

Give it a try and make up something fun! Make sure to post all of the amazing pieces you crochet to our Facebook Page. Pretty sure everyone else would love to see them. For more enjoyable patterns, check out our Crochet Lace Patterns and Crochet Mandala Patterns.

And if you're looking for other challenging stitches to take on, we have lots of other stitches in store for you!

Now, it's time to practice your filet crochet techniques with these beautiful filet crochet patterns!