Here's the list of 27 Crochet Dishcloth Patterns that will make you actually want to wash the dishes now!
Why shouldn't your dishes have fabulous accessories too? Crochet up a dishcloth or two to keep your crockery happy.

Choose from square, rectangular, circular or flower-shaped in funky colors or sedate neutrals. You'll love doing the washing up so much more, we promise!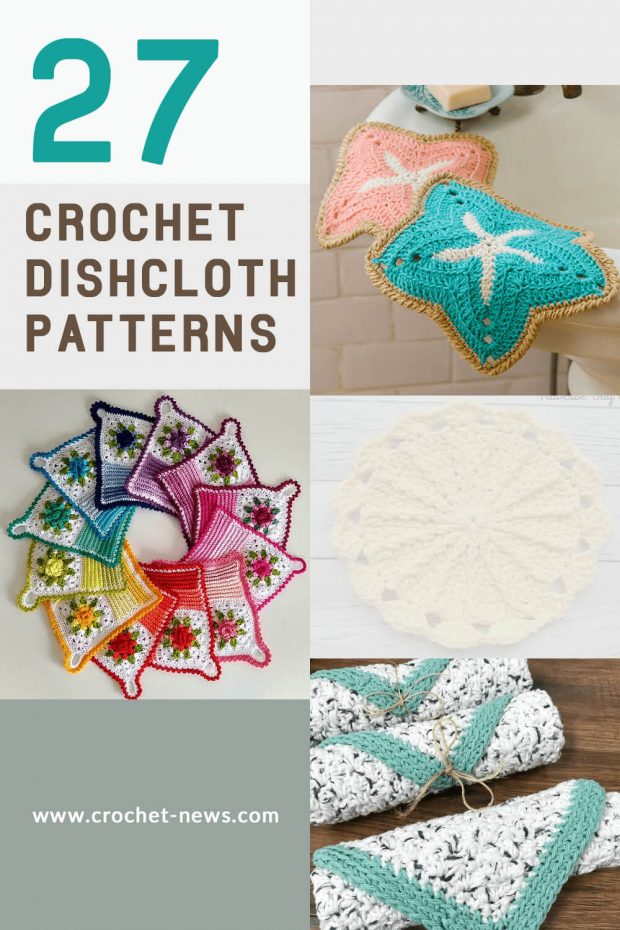 1. Quick and Easy Crochet Dishcloth by HCK Crafts
This dishcloth pattern is easy to read for beginners and works up quickly and easily. This dishcloth has a textured look and feels to it. Make these dishcloths for yourself or for a gift.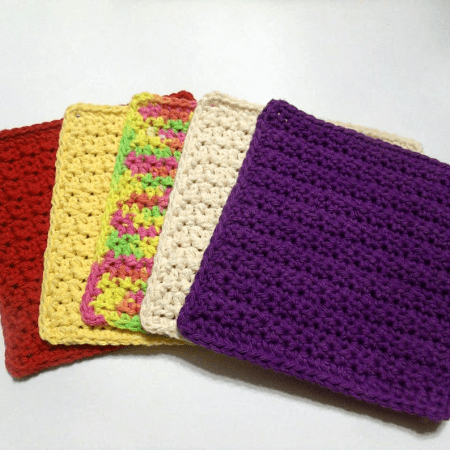 Get this Pattern by HCK Crafts here

2. Colorful Solid Granny Square Dishcloth Crochet Pattern by Dabbles And Babbles
It's fair to say washing the dishes is way down there on our fave activity list, kind of around the painting the walls and taking out the bins mark.
We think we can make it just that teeny bit more exciting with these granny square dishcloths though, or at least a bit more colorful. This fun, bold and super simple crocheted dishclothes will brighten up any kitchen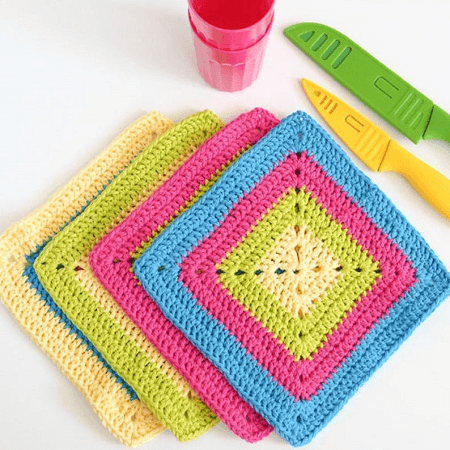 Get this Pattern by Dabbles And Babbles here

3. Ombre Easy Crochet Dishcloth Pattern by Lily Sugar n' Cream
This basic dishcloth is like one big granny square that worked in basic double crocheted stitches. The ombre yarn provides the variation in color without switching balls.
Ombre is such a stylish and sophisticated effect, and this project comes together so quickly. If you've never crocheted a dishcloth before, you absolutely must try this Easy Ombre Dishcloth Crochet Pattern.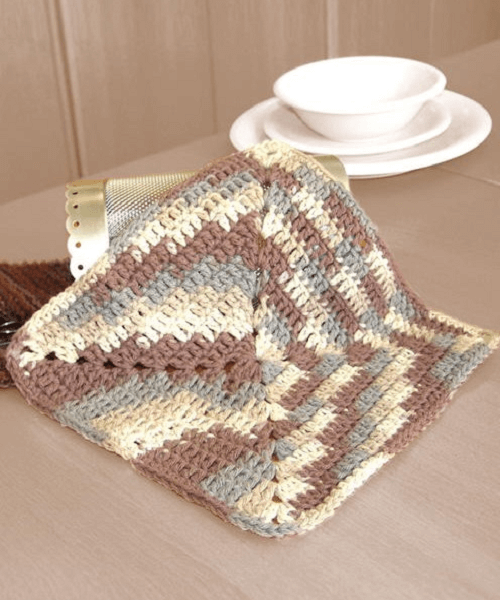 Get this Pattern here

4. Classic Crochet Dishcloths Pattern by Yarn Blossom Boutique
This is the perfect project for beginner crocheters or anyone who loves a pretty handmade dishcloth! Pattern includes instructions to make 6 different dishcloths all using a classic crochet stitch.
Also included are the printable gift tags/labels; so they also make the perfect gift!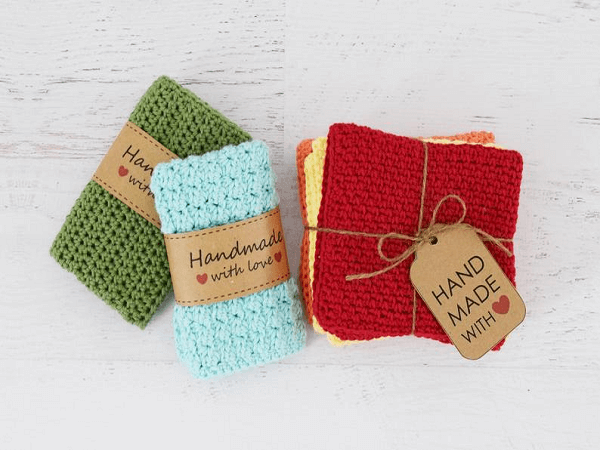 Get this Pattern by Yarn Blossom Boutique here

5. Rainbow Daze Crochet Dishcloth Pattern by Celina
Rainbows are another delightful inspiration for crochet dishcloths. After all, how can you not feel joy when you see rainbow colors? Practice changing colors and creating a semi-circle with this adorable pattern.
This Cute Rainbow Daze Dishcloth can also be used as a crochet washcloth or whimsical coaster. It's super easy to crochet and you can finish one in about 15 minutes!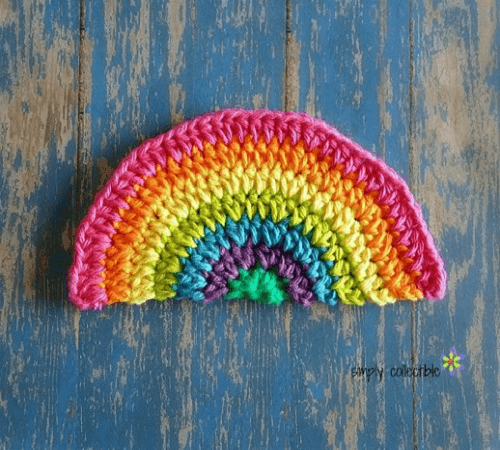 Get this Pattern here

6. Starfish Dishcloths Crochet Pattern by Red Heart
Crochet these clever starfish-shaped dishcloths and use them to wash dishes as you daydream about the beach. These crochet starfish dishcloths are colorful and wistful, whether placed in the bathroom or kitchen.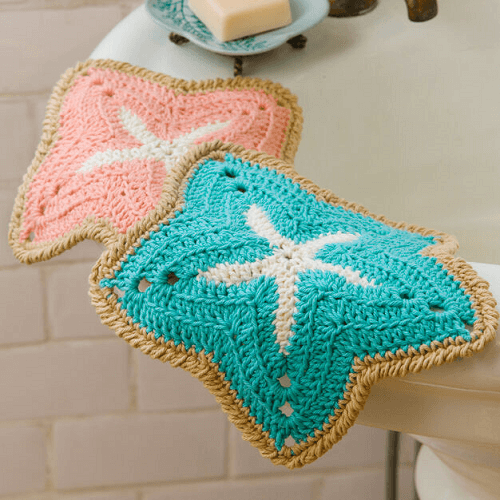 Get this Pattern here

7. Rustic Farmhouse Dishcloth Crochet Pattern by MJs Off The Hook Designs
This is an easy crochet pattern that works up quick! Suitable for beginner and includes a YouTube video tutorial.
This cloth is bordered in a solid for a pop of color. Adds a rustic homemade touch to your kitchen. Perfect party favors, Christmas or teachers' gifts.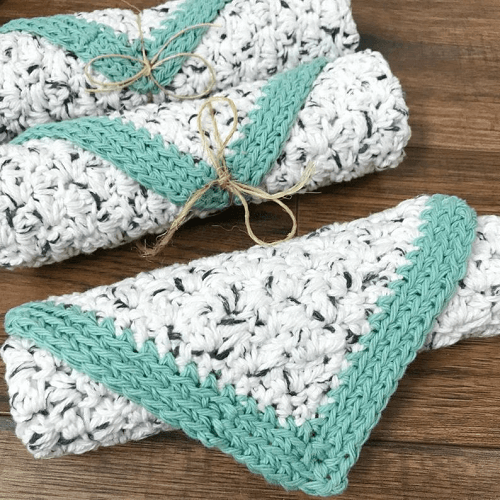 Get this Pattern by MJs Off The Hook Designs

8. Mitered Blossom Dishcloth Crochet Pattern by Apple Blossom Dreams
These Mitered Blossom Dishcloths are so fun to make and to gift. The really great thing about using these as a dishcloth is that, after use, you can just rinse and wring them thoroughly.
Then hang them from a hook by the sink or the faucet with that convenient handle. Make some for yourself or as gifts. Check out her website for more amazing patterns.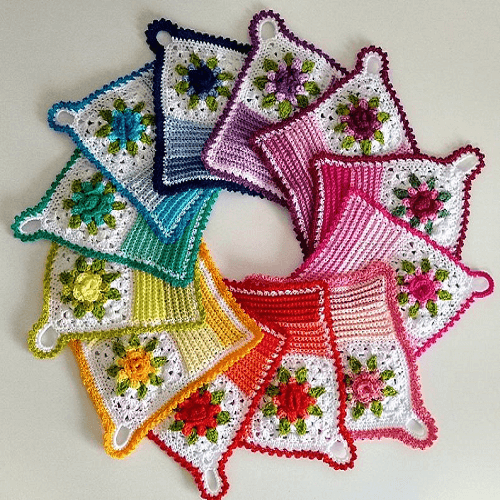 Get this Pattern by Apple Blossom Dreams here

9. Sunny Day Crochet Dishcloth Pattern by Traverse Bay Crochet
The Sunny Day crochet dishcloth features the front post double crochet stitch and shell border to create a cute sun dishcloth, perfect for Summer!
This project uses a size H hook and 100% cotton yarn. You will surely love creating this gorgeous dishcloth!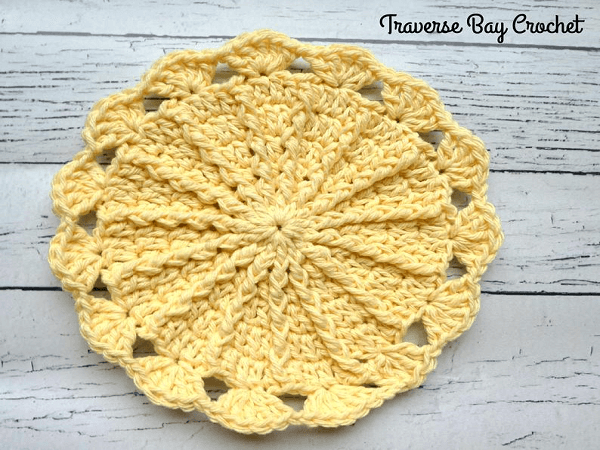 Get this Pattern by Traverse Bay Crochet here

10. Easy Dishcloth Crochet Pattern by Flamingo Toes
This easy crochet pattern uses the Primrose stitch for the main section and has such a great texture to it. These dishcloths are so easy and quick to makeup and they work so well.
One skein should easily make more than one cloth if you want to use all one color for your main section and edging.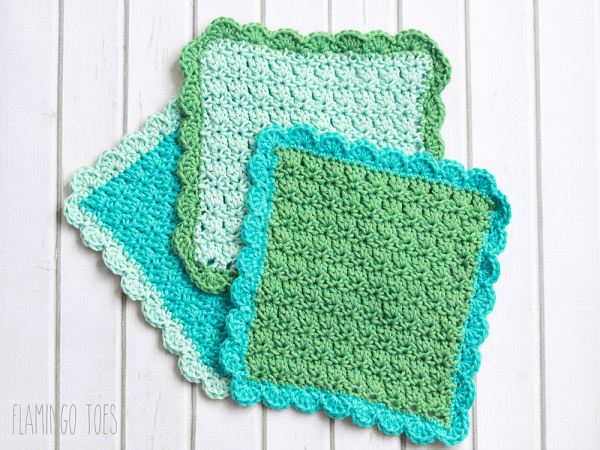 Get this Pattern here

11. Tunisian Pebbles Dishcloth Crochet Pattern by Tamara Kelly
If you've played around with the Tunisian Simple Stitch and are ready to make something fun with it, the Tunisian Pebbles Dishcloth (or washcloth!) is the answer!
It takes simple variegated kitchen cotton and makes it amazing. This Tunisian Pebbles Dishcloth is pretty enough to be a spa cloth as well – no reason to confine it to the kitchen.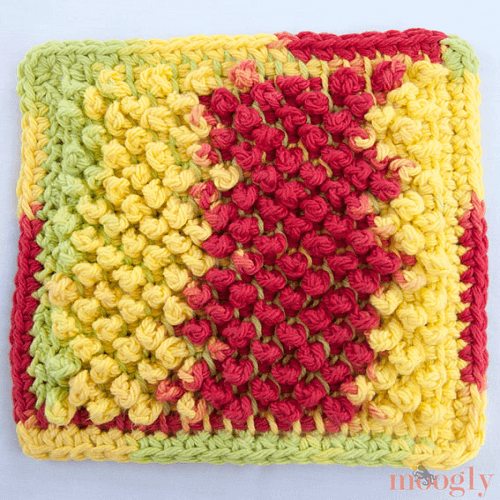 Get this Pattern here

12. Moss Stitch Dishcloth Crochet Pattern by Just Be Crafty Shop
You'll love how elegant this crochet dishcloth looks, as the moss stitch creates a beautiful design. This crochet pattern is so easy to make, so consider making duplicates of this design and keep them on hand for any upcoming bridal showers or housewarming parties you have on the schedule.

Learn the crochet moss stitch here.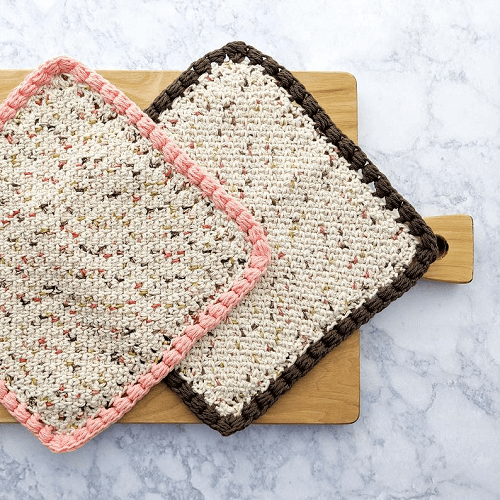 Get this Pattern by Just Be Crafty Shop here

13. Starburst Daisy Dishcloth Crochet Pattern by Lullaby Lodge
Homemade dishcloths really brighten up your day, especially when they come in such delicious colors. This pattern could also be used for washcloths or even as a decorative doily or large coaster.
Play with colors and find out which combinations work best for you! It's time to invite into your kitchen a flower that will never wither in the form of these Starburst Daisy Dishcloths.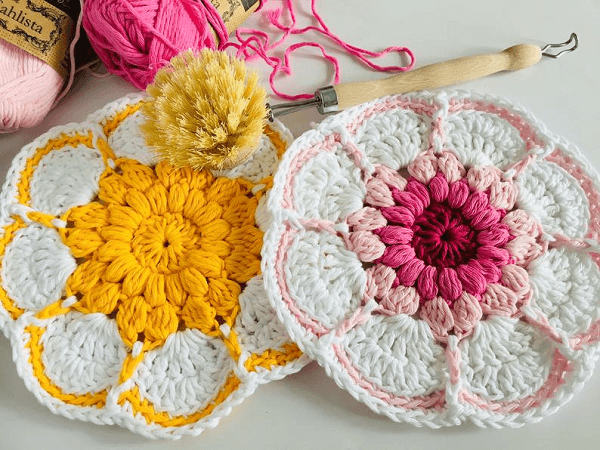 Get this Pattern by Lullaby Lodge here

14. Textured Dishcloth Crochet Pattern by Left In Knots
Add some personalized character to your kitchen with this adorable crochet textured dishcloth pattern. Made with cotton yarn, this dishcloth provides the durability you need to tackle tough messes!
Whether you are a beginner or well-versed crocheter, these textured dishcloths are so easy to make! Whip up a few or a few dozen!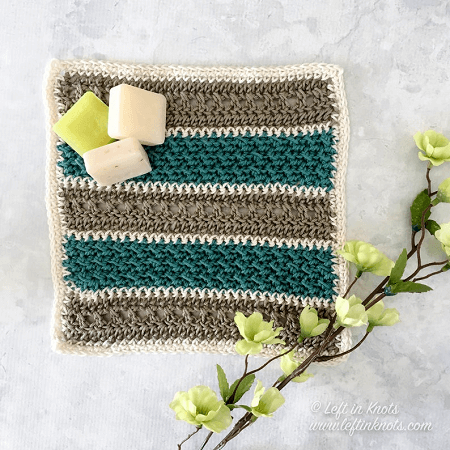 Get this Pattern by Left In Knots here

15. Scrubby Crochet Dishcloth Pattern by Petals To Picots
These scrubby dishcloths are the perfect all-purpose cleaning cloths. They are double-sided with a gentle cotton side for nonabrasive cleaning and a scrubby side for tougher jobs.
Make a set for yourself or to give as a gift. Best of all, you can just throw them in the wash when you're done and they're good as new!

Check out compilation of the best 42 Crochet Scrubby Patterns.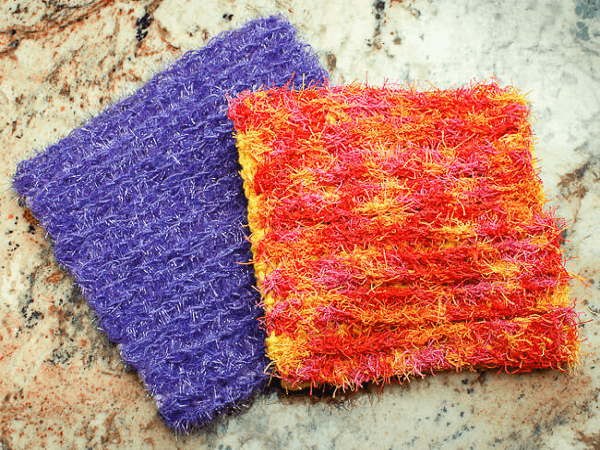 Get this Pattern here

16. Simply Square Log Cabin Dishcloth Crochet Pattern by Deborah Ellis
A fun multi-color dishcloth that is bright and cheerful, a crochet pattern for you to enjoy and compliment your kitchen decor, or you can just use it for the practical purpose of cleaning your dishes.
Show off to your family and friends what you have made or make a few and give them as gifts. These are perfect for using up odd scraps of yarn!
Get this Pattern here

17. House Dishcloth Crochet Pattern by Whiskers And Wool
This pattern includes several helpful photos to help you create this unique dishcloth. The stitches used to create the dishcloth are sc, dc, fpdc (front post double crochet), ch and a bobble stitch.
Not only can you use this as a dishcloth, but it also makes a great crochet washcloth as well. This crochet pattern is made with a 100% cotton yarn so it also feels great on your skin.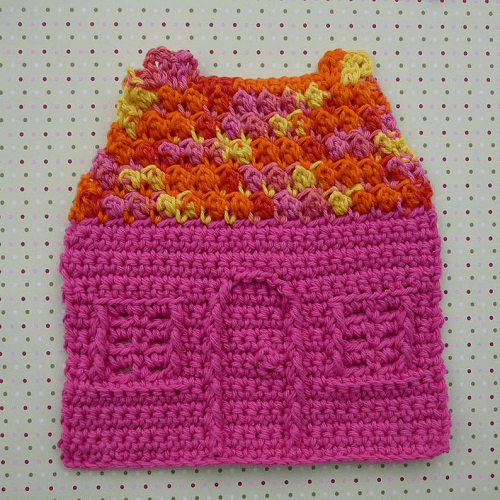 Get this Pattern by Whiskers And Wool here

18. Bobble Stitch Dishcloth/Washcloth Crochet Pattern by Sunny And Stitch
You can make this bobble stitch washcloth for everyday use in the shower or bath .

Ideal for exfoliating the skin whilst the softly textured side gently cleanses and can also be used for makeup removal.

Or for everyday use in the kitchen, perfect for scrubbing dishes whilst the softly textured side is great for wiping down worktops.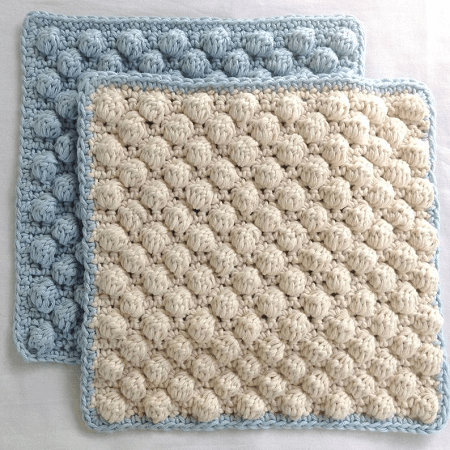 Get this Pattern by Sunny And Stitch here

19. Crochet Textured Stitch Dishcloth Pattern by The Birch Cottage
This pattern is sort of a variation on the puff stitch or seed stitch. It uses two simple stitches: single crochet and double crochet. Do you see all those bumps (a.k.a texture) and the thickness of the dishcloth in the image?
That's what makes this pattern so great! It's soft, yet strong and works perfectly for scrubbing even the most stubborn dirty dishes.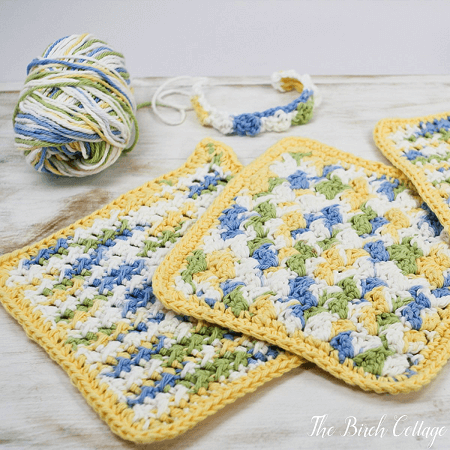 Get this Pattern here

20. Crochet Watermelon Dishcloth Pattern by Marias Blue Crayon
These watermelon themed dishcloths/washcloths are fun, summery, and all have great textures! This pattern includes all three watermelon themed dishcloth patterns.
There are also photos as a guide to help you learn the spike stitch, as well as the corner to corner stitch/method and tips on how to change color within the same row, are also provided.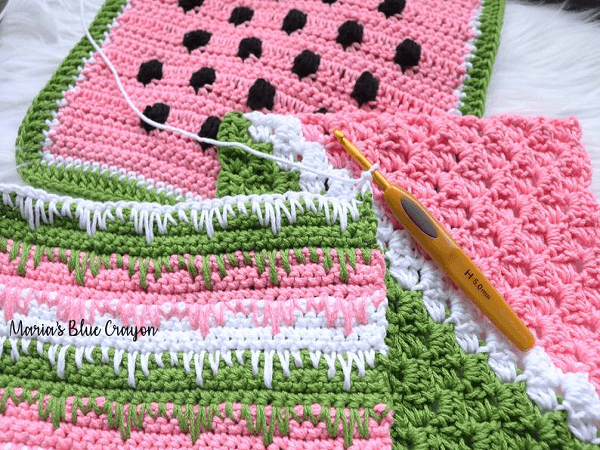 Get this Pattern by Marias Blue Crayon

21. Spring Gingham Dishcloth Crochet Pattern by Left In Knots
Use this beginner-friendly crochet pattern to brighten up your kitchen for spring and summer with these modern, trendy gingham dishcloths! These colorful gingham dishcloths are a fast and fun way to update your decor for spring!
So even if you still have snow on the ground, you can bring bright and fun colors inside. These dishcloths are made in pink, green and purple, but really you can make any color combo you want using basic worsted weight cotton yarn.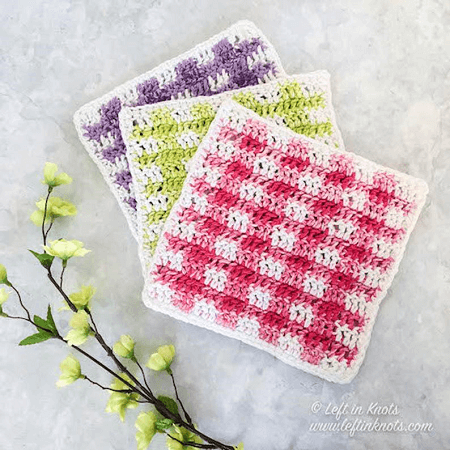 Get this Pattern by Left In Knots here

22. Donut Dishcloth Crochet Pattern by Green Fox Farms Designs
Crochet food is a fun choice for a dishcloth pattern. This free pattern shows you how to make crochet donuts which you can use as dishcloths or trivets.
With their bright colors, they're a cheerful addition to your home decor. Hang them up for display when not in use!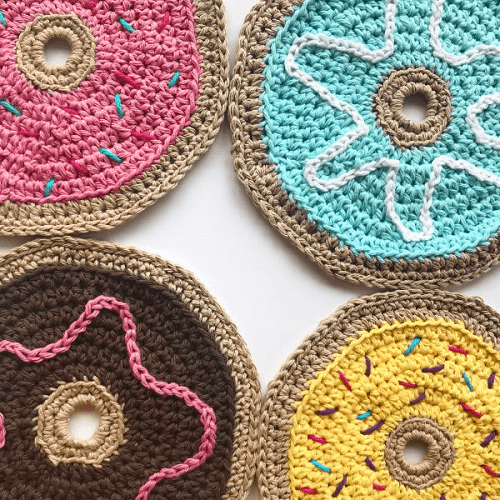 Get this Pattern here

23. Ruffled Dishcloth Crochet Pattern by North Summit Creations
This 100% cotton ruffled dishcloth pattern is easy to follow and works up in just an hour or two. It looks good in solid colors or stripes. A great pattern for using up all your left-over cotton yarn.
This pattern only uses sc, dc, ch, and slip stitches. Easy enough for a beginner, but interesting enough for an advanced crocheter.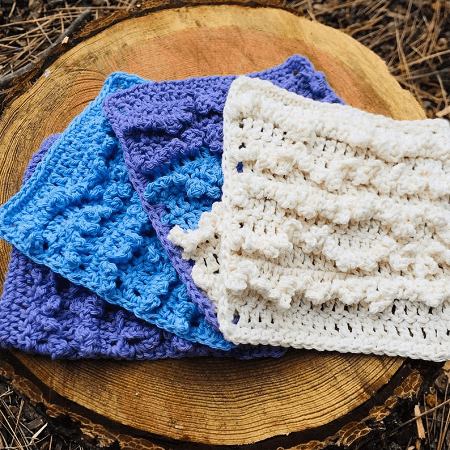 Get this Pattern by North Summit Creations here

24. Crochet Scrubbie Dishcloth Set Pattern by Crochet Spot Patterns
These small square scrubbie dishcloths fit great in the palm of your hand, but if you want a larger or smaller size the scrubbies can easily be adjusting by following the instructions within this pattern.
Use them as a dishcloth to scrub your dishes, clean your countertops, stove, and all areas of your house. You can also use them as washcloths for kids or adults while bathing.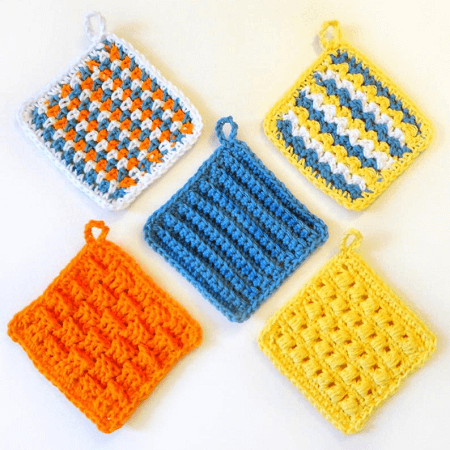 Get this Pattern by Crochet Spot Patterns here

25. Spring Dahlia Dishcloth Crochet Pattern by Lily Sugar 'n Cream
This circular dishcloth is a burst of sunshine in your kitchen. Bring life to the creamy version shown, or imagine your own combination of shades.
You can decorate your kitchen table with this easy crochet pattern or use them to wash your dishes. It's impossible not to smile when you see this bright and cheerful crochet pattern.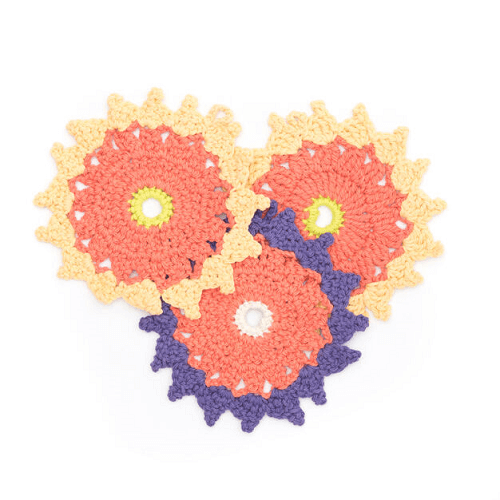 Get this Pattern here

26. Heart Motif Dishcloth Crochet Pattern by The Pattern Paradise
Make this washcloth or dishtowel for Valentine's Day or just for someone you love. The design is worked in corner to corner with a graph for the heart motif.
These dishcloths are made in cotton and can be used for bath or kitchen. This quick and easy project is a basic corner to corner square and the added heart, well, it just adds a little bit of love!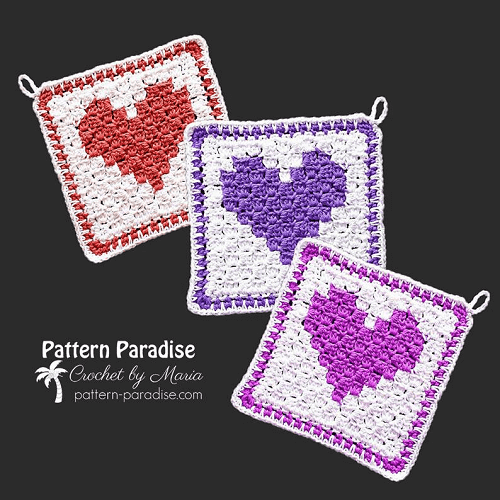 Get this Pattern by The Pattern Paradise here

27. Spring Cleaning Crochet Dishcloth Pattern by 3rd House From The End
These durable cotton dishcloths are perfect for any heavy-duty cleaning and great for the environment! These are made using a stitch called The Lemon Peel stitch, a pattern that uses Single Crochet and Double Crochet Stitch and is very quick and easy to make.
These sturdy dishcloths are great for cleaning for those screens, outdoor furniture and for dusting away cobwebs. They're also great for washing down windows.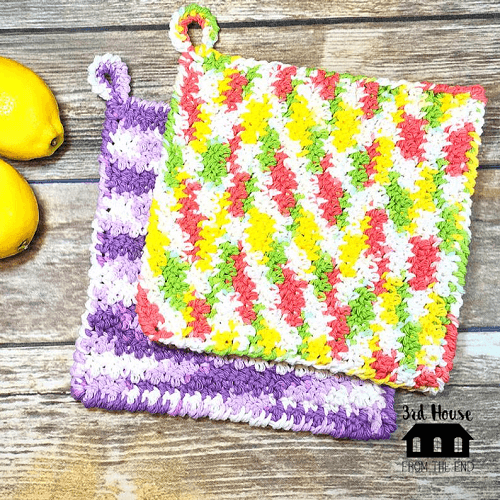 Get this Pattern by 3rd House From The End here
28. Lazy Waves Dishcloth Pattern by Look What I Made
This crochet dishcloth is a textured dishcloth in bright colors. It is sure to bring a splash to your washing up or wiping down. We love to crochet dishcloths and facecloths because they are a great way to learn and practice new stitches and also to use up smaller pieces of yarn that aren't enough for larger projects.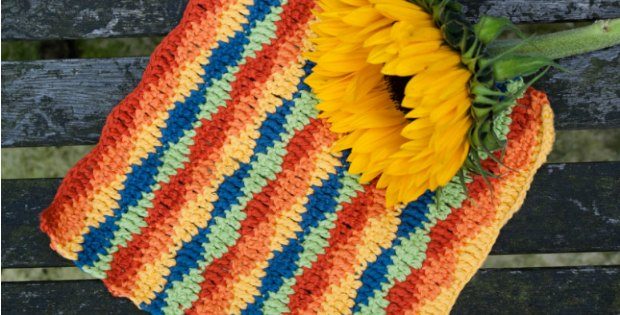 Get this pattern here.
Wrapping Up These Crochet Dishcloth Patterns
So what patterns have you selected for your next crochet project? With all these great options, we know it will be hard to decide.
Washing with these cute and colorful crocheted dishcloths would be really gentle to your hands too and thus let them retain their beauty. Moreover, you can display these lovely pieces of crochet dishcloths on the walls of your kitchen to add an extra touch of decor.
For more kitchen decor ideas, check our patterns for Crochet Tea Towel, Crochet Tea Towel Topper, Crochet Hot Pads and Crochet Scrubbies.
Using your crochet skills and some of the yarn stash you can create a lot of crochet dishcloth patterns to wash the dishes in the kitchen with much delight. You'll surely enjoy making them all!