Are you tired of hand towels falling off of your fridge or oven door bar? Then you need to add a topper to it to keep it in place!
These 16 Crochet Towel Topper Patterns will help you make your own crochet towel topper that is a cool little addition to a kitchen towel that allows you to hang it oh-so-conveniently from your oven or cabinets.
Browse through this beautiful collection and save them all!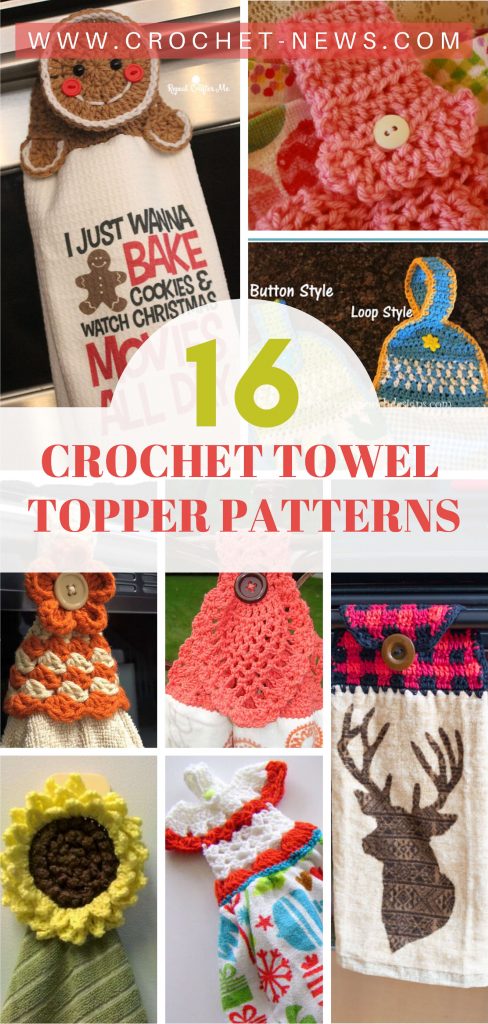 1. Crochet Gingerbread Towel Topper Pattern by Repeat Crafter Me
This absolutely adorable pattern is perfect to hang in the kitchen for the holidays. This Gingerbread Towel Topper is crocheted in medium weight yarn [4] with a 5 mm (H) hook.
You will also need a 1-inch button, 2 small red buttons, and two 12 mm safety eyes. You could also leave off the gingerbread head and arms and use this pattern as a standard towel topper instead.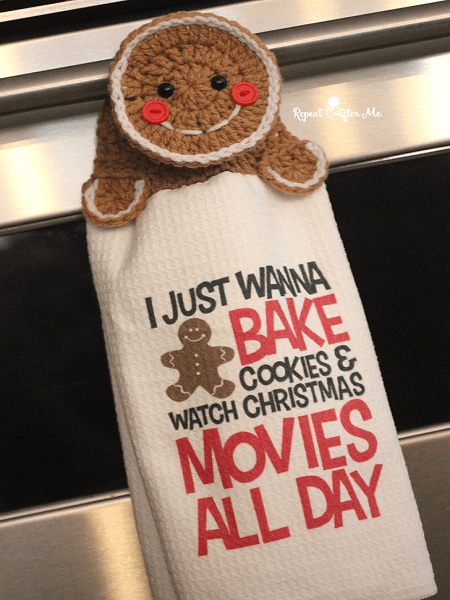 Get this Pattern here

2. Crochet Towel Topper Pattern by Apple Blossom Dream
This pattern for the Crochet Towel Topper is easy to follow. They are complete with a lot of step-by-step photos. Once you make a few for yourself you will likely find your friends and family requesting them.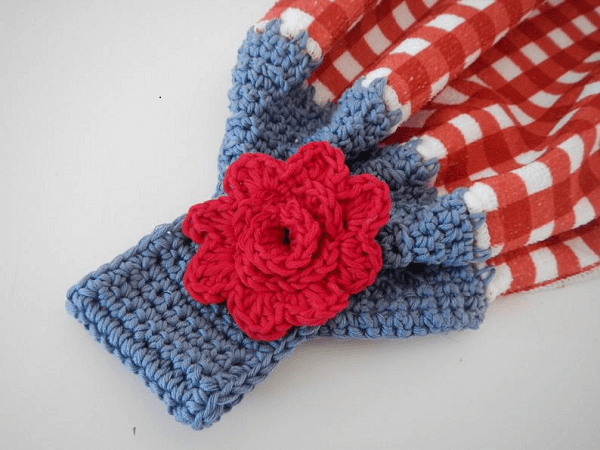 Get this Pattern by Apple Blossom Dream here

3. Crochet Tea Towel Topper Pattern by Ivy's Treasures
This is a simple and easy pattern for moderately skilled crocheters. With the crocheted handle, this pattern is designed for the user to hang the towel around the handle of your cupboard or can be hung on a hook.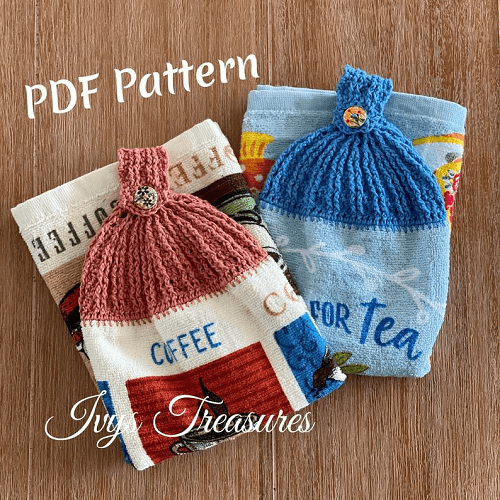 Get this Pattern by Ivy's Treasures here

4. Summer Sundress Towel Topper Pattern by Cylinda Mathews
This adorable Summer Sundress Towel Topper measures 3.5 inches wide by 5 inches tall from the waist to the top of the straps. You will need a 5 mm (H) hook and Medium Weight Yarn [4].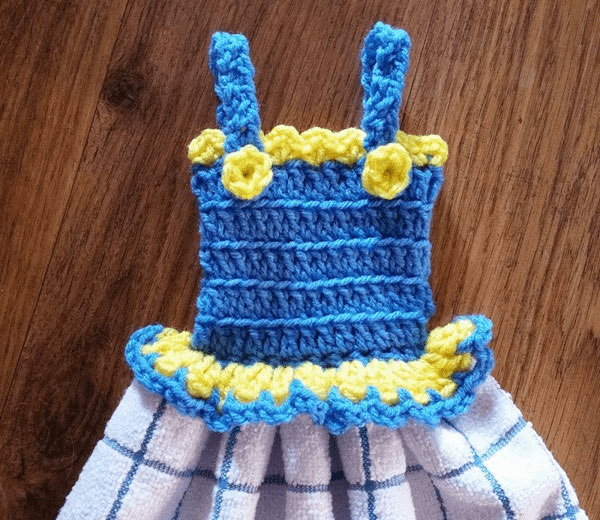 Get this Pattern here

5. Crochet Popcorn Stitch Towel Topper Pattern by Knot Just Crocheted
Use worsted weight yarn to make this popular, quick, and easy pattern featuring popcorn stitches. Button it to your refrigerator or stove door handle to make your kitchen chores easier.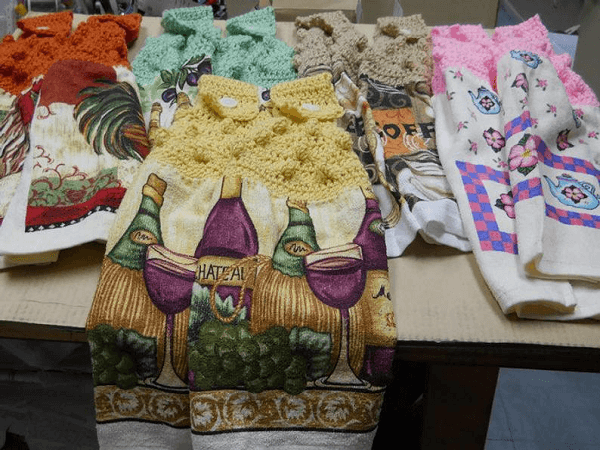 Get this Pattern by Knot Just Crocheted here

6. Crochet Towel Topper Ring Pattern by Heartspun By Wendy
These are wonderful, quick and EASY to make!! This "towel topper" is NOT actually connected to the towel, there is a hidden ring underneath that holds the towel!
When the tea towel is dirty, just change out the towel with a new one, no need to wash the decorative towel holder at all, so it stays looking like new much longer! This also make excellent gifts! Make these in pretty colors and give with matching kitchen towels.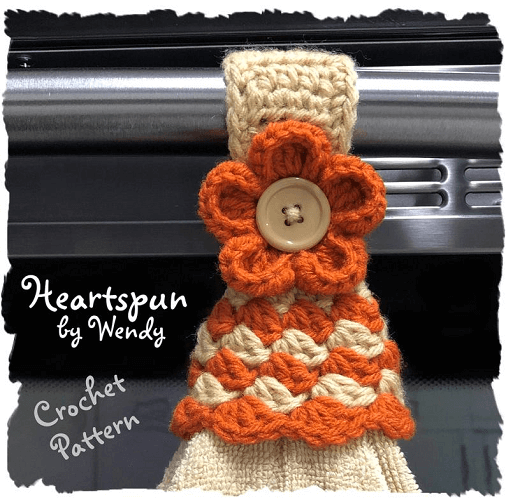 Get this Pattern by Heartspun By Wendy here

7. Dish Towel Toppers Crochet Pattern by Sara Sach
This crochet pattern has 2 styles of toppers; the button style and the loop style. They are both made the same, except for the end of the loop. One has a buttonhole and the other you stitch into a loop.
This easy to follow pattern uses medium weight [4] yarn and a 5 mm (H) crochet hook.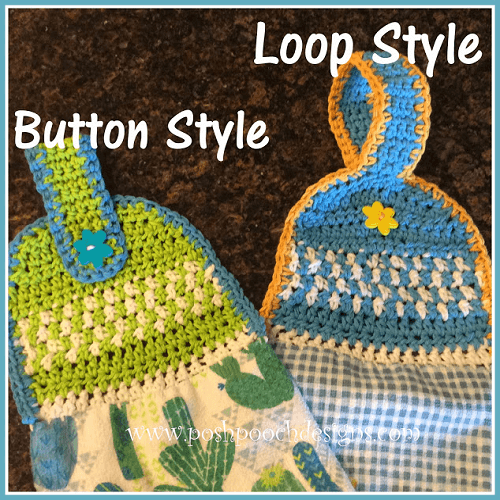 Get this Pattern here

8. Easy Towel Topper Crochet Pattern by Meg Made With Love
This is a fun little pattern that is quick to whip up. This easy towel topper is made with two strands of worsted weight yarn to make it more sturdy and dense. They're also a unique gift that doesn't have to break the bank. Win-win!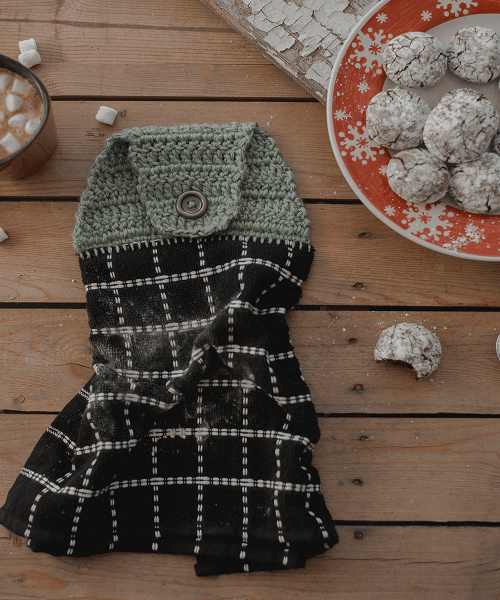 Get this Pattern here

9. Crochet Handle Dress Towel Topper Pattern by Brenda Created
This towel dress topper pattern has so many possibilities. The towel is cut in half and the dress is attached to the front and then the back of the towel.
Hang this over the oven door handle and tie bows undersleeve on each side. Add flowers or buttons if you want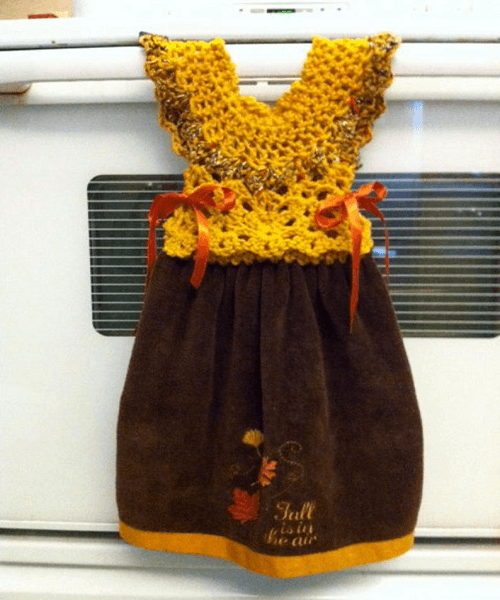 Get this Pattern by Brenda Created here

10. Crochet Gnome Towel Topper Pattern by Nana's Crafty Home
If you love Gnomes, you are going to love how simple, easy and fun this Gnome Towel Topper is to make! Perfect for gift giving or to decorate your own kitchen, this pattern could be made for Christmas or any time of the year – just change up your colors.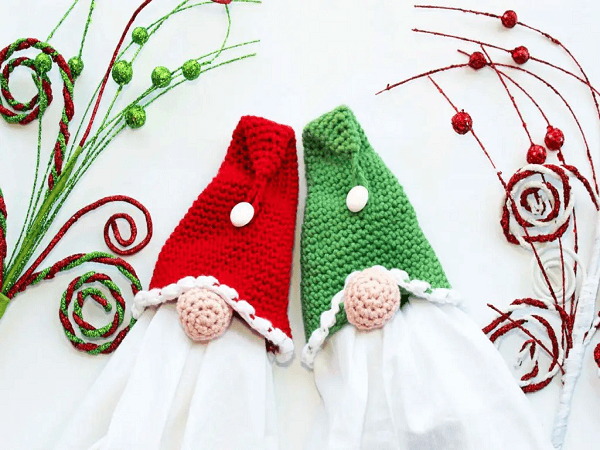 Get this Pattern here

11. Crochet Sunflower Towel Topper Pattern by Cozy Nest Crochet
The sunflower design gives your towels an increasingly gorgeous look. This project is a great way to freshen up your kitchen and its bloom will add beauty to the heart of your home!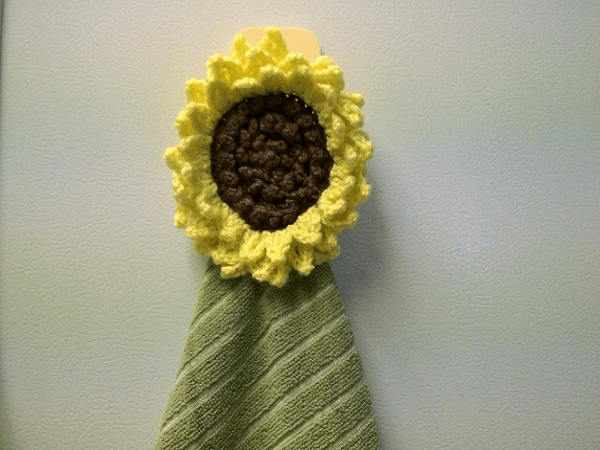 Get this Pattern by Cozy Nest Crochet here

12. Dressy Towel Topper Pattern by Sew Ritzy
This Dressy Towel Topper has a button hook at the top which hangs over your oven rail and don't you love the sweet crochet ruffle detail. You can make them in different colors to suit your decor and for the various seasons and festivities.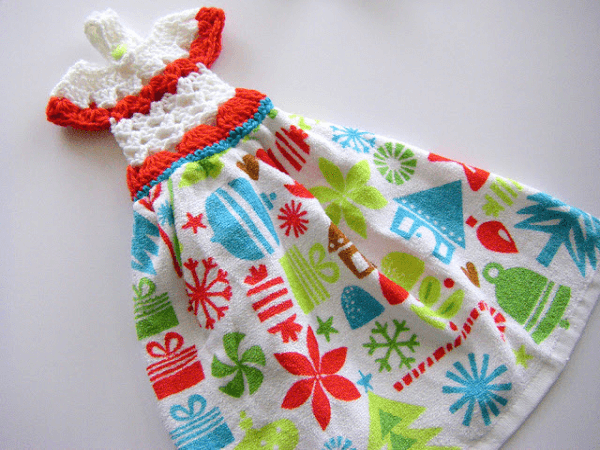 Get this Pattern here

13. Crochet Pineapple Towel Topper Pattern by Heather Holland
If you want to crochet something for the home that is either decorative or useful ( or maybe both!) this towel topper is especially fun to make. This Pineapple Towel Topper by Heather Holland works up fairly quickly.
It's a cute project. This great towel topper pattern with such a delicate look makes great house warming, casual or even wedding gifts.
Get this Pattern here

14. Puff Kitchen Towel Topper Pattern by Ashley Bower
This Puff Kitchen Towel Topper gives great visual texture to enhance any kitchen towel. The best part is that you can use either WWY or cotton yarn to complete this towel topper.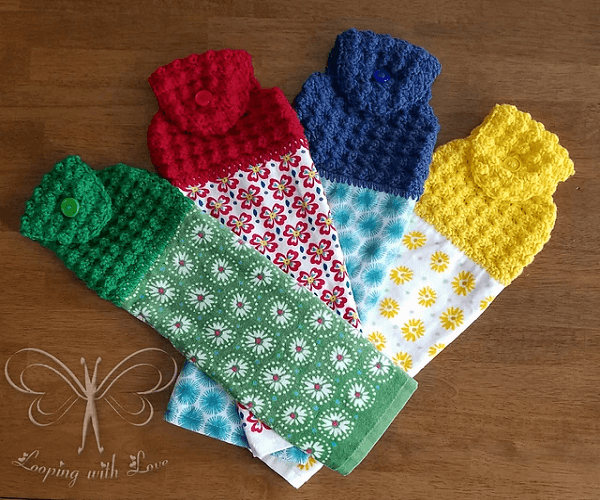 Get this Pattern here

15. A Little Bit Frilly Crochet Towel Topper Pattern by Little Miss Stitcher
Crochet this Towel Topper in any color to match the rest of the fabric of your towel, your kitchen walls, or even your dishware. It's another thing to work up to add your own touch to what seems like a simple kitchen accessory.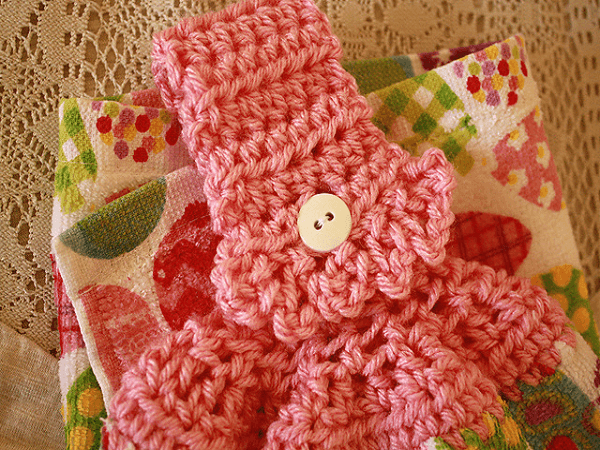 Get this Pattern here

16. Plaid Crochet Towel Topper Pattern by Whistle And Ivy
Bring a little rustic, wintry holiday to your kitchen with a Plaid Crochet Towel Topper. This towel topper is easy to make and has a modern look. It makes a wonderful handmade gift to someone or yourself.
You can also go with a more woodland/rustic look or you can do more modern colors and a neutral towel to make it work for your kitchen!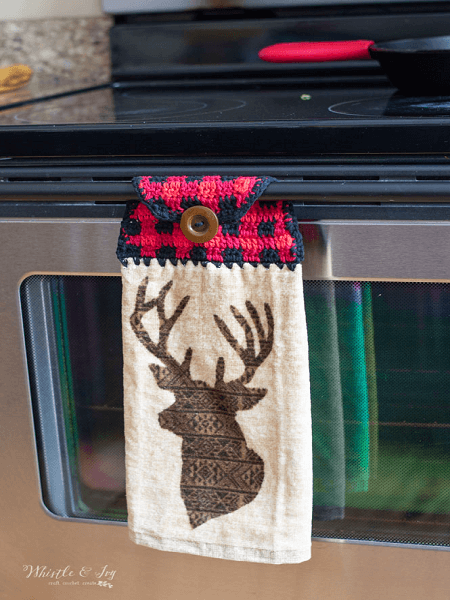 Get this Pattern here
Time to start crocheting your favorite tea towel topper pattern
Making a cute topper for your towel would definitely be one of the agendas in your to-do list and what better can it be than crocheting ones of interesting designs, especially if you are adept at the skill.
Do not stop your fascination for crocheting here and you may try other crochet patterns such as dishcloth or a potholder. These projects are fast, fun and very satisfying to create!
If you make some of these towel toppers, please share it on our Facebook Page! We love seeing your finished pieces!
These crochet towel topper patterns would definitely help you in crocheting a whole lot of towel toppers for your dish, kitchen, tea or hand towels. Happy Hooking!