This crochet tea towel pattern is free and makes the perfect addition to any kitchen. Choose your own vibrant colors to really make your kitchen pop. Make them in 100% cotton for good absorbency and durability. Perfect for those of you who want to continue crocheting in the warmer months, here is a lovely free pattern for your home, crochet tea towels.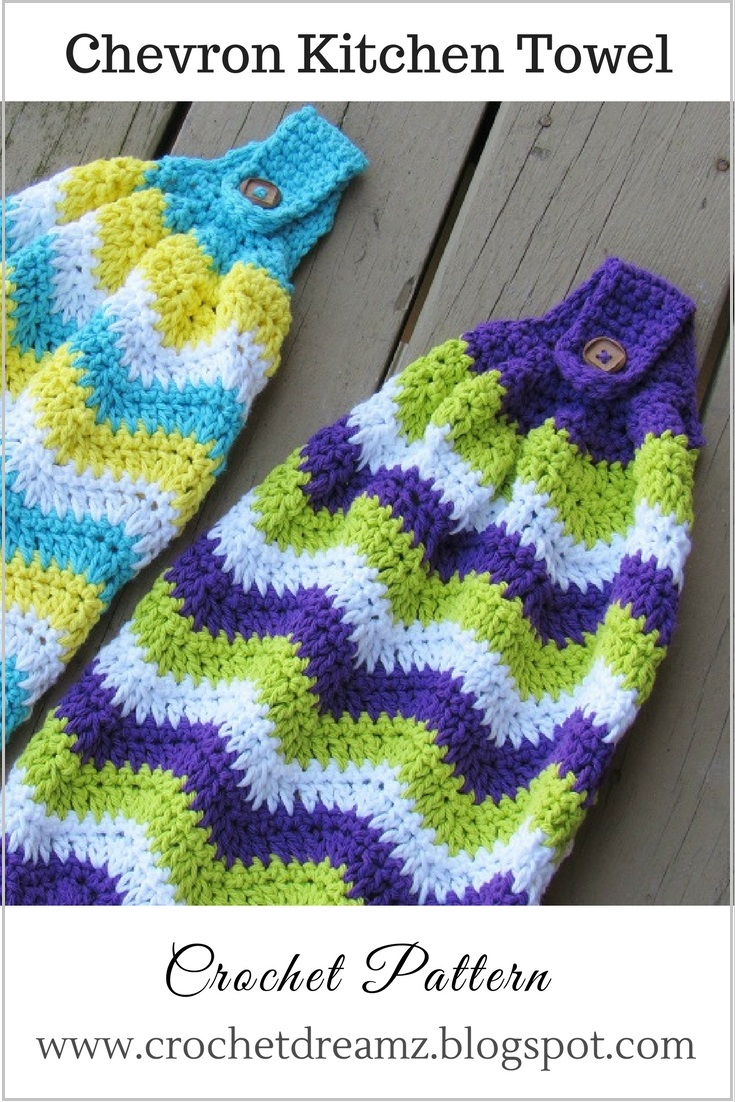 Crochet Tea Towel Free Pattern
Some might think of it as being a bit strange, but I would rather crochet up kitchen fabrics than buy new ones. Growing up, my sister and I loved the items Mom would crochet for around the house. Now and then she would come up with the most amazing projects and more often than not, a handful of these involved kitchen towels.
I learned my crocheting skills as a teenager, and one of my very first projects was a crochet tea towel. Boy, was I delighted to see this crochet tea towel pattern after years. I'm telling you, this brought on such pleasant memories I had to try the pattern once more. Crochet tea towel patterns are a wonderful addition to any kitchen.
You can choose your preferred colors schemes when putting together a crochet tea towel. The more vibrant colors you throw in, the more vibrant your kitchen will be. For those of you who want to continue crocheting in the warmer months, here is a lovely free pattern for your home, crochet tea towels.
Crochet Tea Towel Materials
I've always had a thing for crocheting my own hand towels, dishcloths, and everything. My most recent obsession is with crochet tea towel patterns. It's a whole new world I am sure you will come to love. Here's what you need.
Worsted weight cotton yarn in 3 colors. Lily sugar n cream was used for the sample.
Hook I (5.5mm)
One ¾ inch button
Yarn needle for weaving in the ends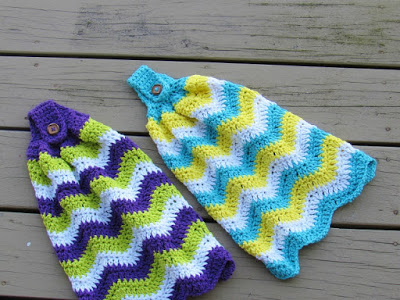 I have so far made a handful of these crochet tea towel pieces, and I have to say, this is a really fun pattern to try. I made a few for my kitchen but most of these I gave out to some of my friends. These are not the type you just cut a terry cloth towel in half and call it a day.
This pattern is the real deal, a full crochet tea towel that is as colorful and absorbent as they come. Pretty cool, right?
Finished Size
The finished crochet tea towel measures 15 inches wide at the base and 17 inches tall after buttoning up.
Crochet Stitches Needed, Great Beginner Pattern
For good absorbency and durability, it is recommended to make your crochet tea towel in 100% cotton. This tea towel pattern uses a combination of single crochet rows and alternate double crochet.
This pattern is, therefore, a quicker version of the chevron stitch. It is less tedious compared to the single crochet chevron. So instead of shopping for new tea towels why not grab a hook and some yarn and get going on this tea towel pattern?
You can use a crochet tea towel to line a tray or a serving basket. Or even cover your freshly baked foods such as scones, biscuits, and rolls or you can also use a crochet tea towel as a napkin or a casual placemat.
There is nothing you can't use these towels for. Dry your fruit and vegetables with a tea towel, wipe down your counter tops, and every other task you have in the kitchen.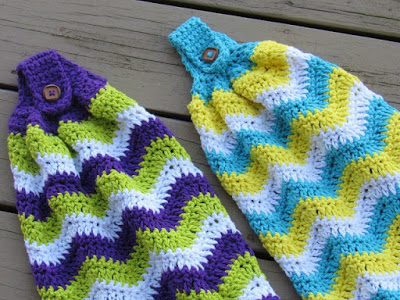 Final Thoughts On The Crochet Towel Pattern
This is one of those projects where you don't have to plan or think too much of it, just go ahead and get it done. You will be proud of your efforts once you see the final results. I already own a couple of these tea towels, but I think I'll crochet myself a few more new tea towels.
These towels are made using a modified linen stitch. Which translates into a thick, beautiful pattern that should hold up quite well with regular uses in the kitchen. The tea towels are super fast to crochet and look so pretty it's unbelievable. The best thing about this tea towel pattern is that it is repetitive, meaning you can crochet up your tea towels as big or as small as you'd prefer.
With a handful of these tea towels, you can rotate the cleaning cycles. In such a way that as you use one bunch, you can wash and store the other bunch. I find this method to be practical and very hygienic as well. But don't take my word for it, try crocheting some tea towels and judge for yourself.
Get The Free Crochet Pattern Here