These adorable 39 Crochet Coaster Patterns are a perfect addition to any coffee table. Use these patterns to make useful and decorative coasters for your home.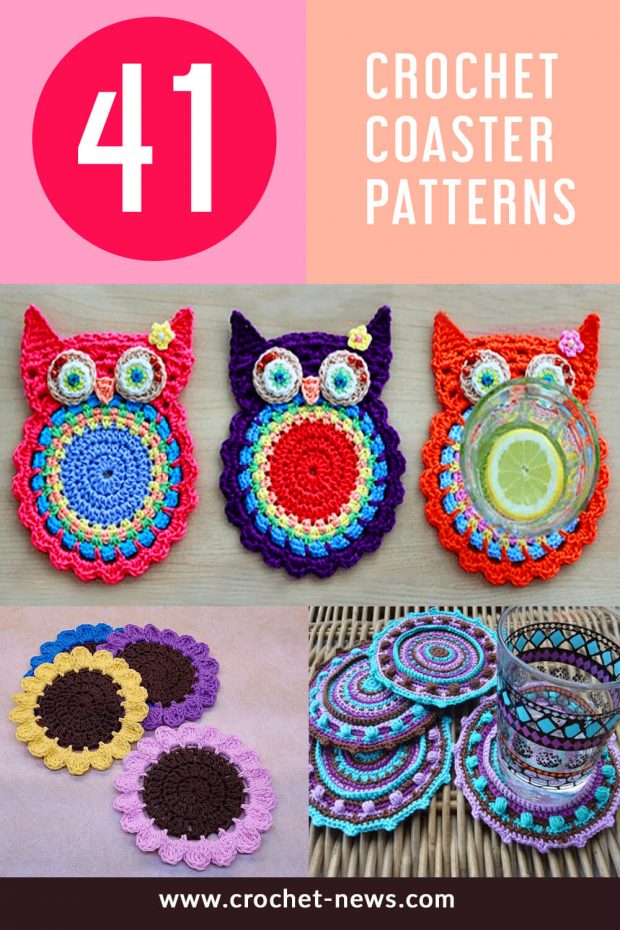 From the dining table to the side table and also from the party table to the coffee table or any DIY furniture, these crochet coaster for beginners can be used as the safety mediums between the table surface and your food utensils.
You can also use these coaster patterns to make motifs that can be used in bunting or as wall art.
39 Unique and easy crochet coaster patterns perfect for home decor
Check out this collection of Free Crochet Coaster Patterns and start cleaning out your yarn stash today!

1. Crochet Wildflowers Coaster Pattern by Bago Day Crochet
How pretty are these? Use as many color combinations as you'd like and use them as colorful coasters to decorate your table or make a set to gift.
These beautiful Flower Coasters are great for holding your drinks, no matter what you're drinking. If you have a nice wooden or glass table you won't want ring marks, which is where these crocheted coasters come into play!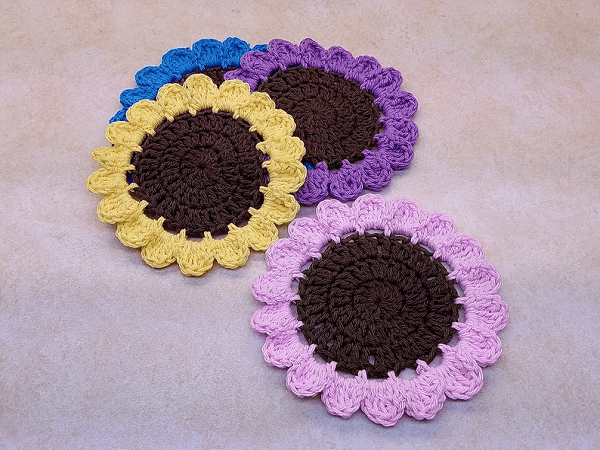 Get this Pattern by Bago Day Crochet here

2. Crochet Owl Coasters Pattern by Zoom Yummy
This crocheted owl coaster pattern is simply adorable. It is simple to make.

It is a great practice project for newbies who want to hone their skills with working in the round and with increase stitches. I can see an entire kitchen outfitted in an owl theme!

Love owls? Check out owl patterns here.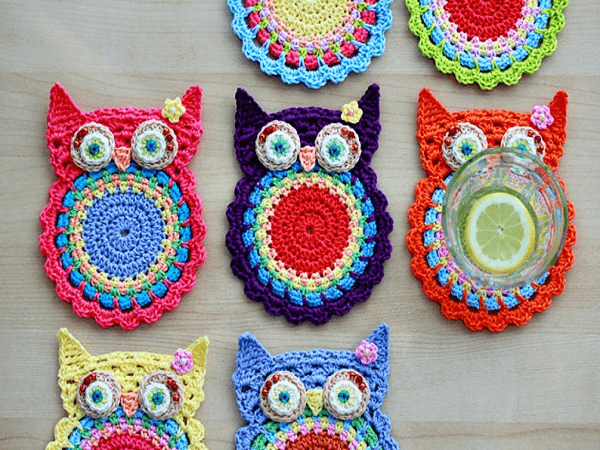 Get this Pattern Zoom Yummy here

3. Crochet Mandala Coaster Pattern by Lilla Bjorn Crochet
This easy to follow 8-page pattern is written for one size coaster. It also contains lots of pictures explaining all the tricky and difficult places. An intermediate pattern that uses front post stitches, though an "adventurous" beginner can also handle it! These mandala coasters will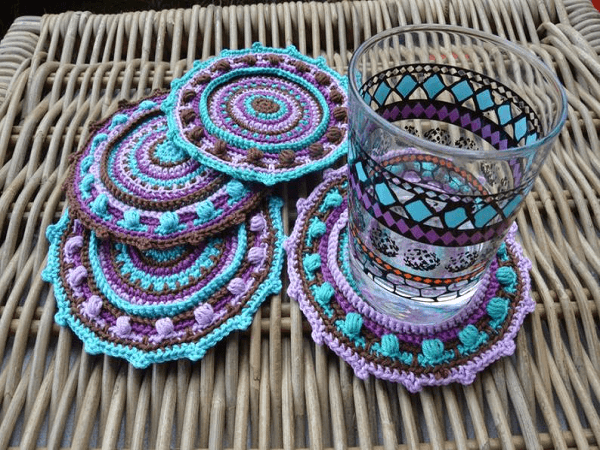 Get this Pattern by Lilla Bjorn Crochet here

4. Granny Heart Coaster Crochet Pattern by Island Style Crochet
This solid and multi-purpose Granny Heart coaster could be used all year long.
Plus, they are also the perfect applique for decorating a variety of projects like gift bags, totes, baby clothes, and banners. The opportunities are endless!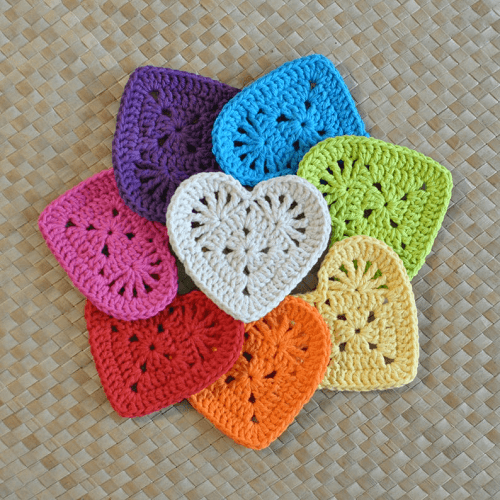 Get this Pattern by Island Style Crochet here

5. Spring Bloom Coaster Crochet Pattern by The Unraveled Mitten
These quick and easy crochet coasters are great for using up those scraps of cotton yarn you have taking up valuable space in your stash. You could make these coasters in all solid colors but they would also look great in multiple colors.

These crochet coasters would be a great addition to your tables. Crochet up a set in coordinating colors and package them together.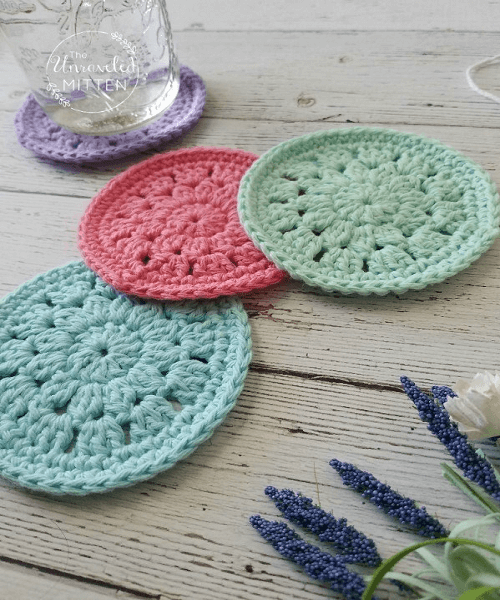 Get this Pattern here

6. Boho Crochet Coasters Pattern by The Plush Pineapple
If you are interested in a quick practical crochet project you will love working up these boho crochet coasters. You can easily use some scrap yarn you have on hand or pick up some colors that will match your home decor. These coasters will give you so many ocean vibes!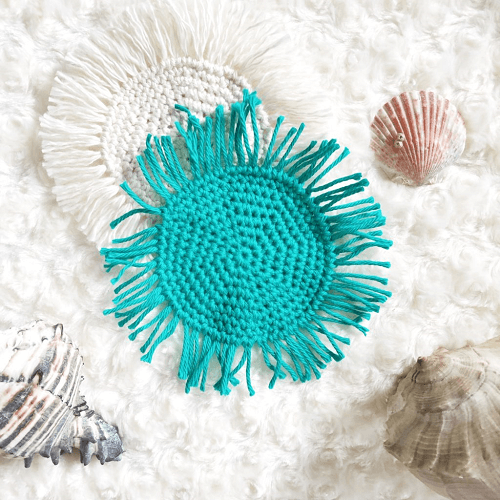 Get this Pattern here

7. Free Coaster Crochet Pattern by Mango Tree Crafts
These bright crochet coasters are easy to make and they will make you happy just by looking at them. You can crochet this in any type of yarn and make it as small or as large as you see fit for the glasses you'll be using.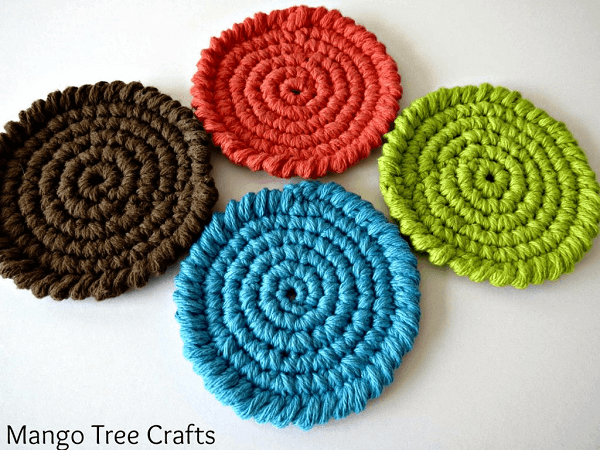 Get this Pattern here

8. Football Coaster Crochet Pattern by Hookedo Patterns
These coasters are a great Father's Day gift idea, perfect for games rooms, or even a fun parting gift for those leaving the nest!

Whether you're having a Super Bowl party or celebrating March Madness or watching The Olympics, you can whip up some crochet coasters that go along with the event.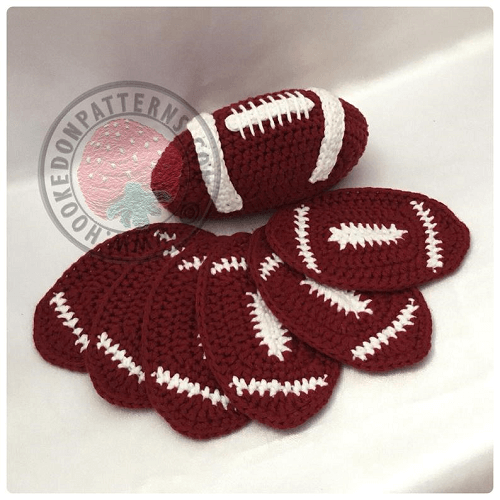 Get this Pattern by Hookedo Patterns here

9. Crochet Cactus Coasters Pattern by Sewrella
This Cactus Coaster is perfect for any home! They are a lot of fun to make as they work up rather quickly – you could easily make a set in an afternoon. Crochet Cacti are so on-trend right now and this pattern is a clever take on the style. These make a great housewarming or hostess gift!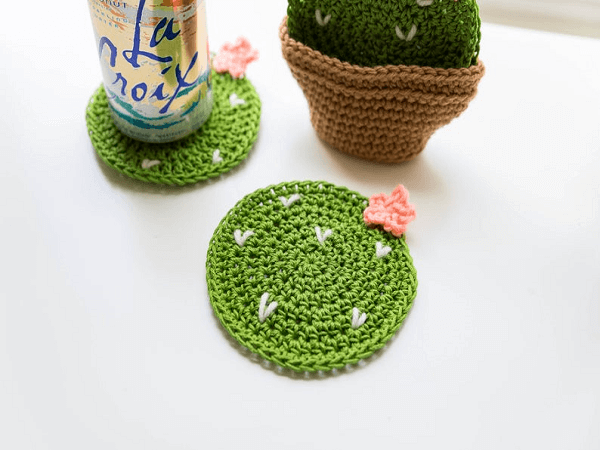 Get this Pattern by Sewrella here

10. Crochet Leaf Coasters Pattern by Katherine Laight
These leaf coasters are a fun addition to any decor. They are not hard to make, so you can whip up a bunch for any number of guests.

You can make thematic sets, such as the rainbow set below or a fall colored set for Halloween or thanksgiving. Sky is the limit!

Plenty of crochet leaf patterns growing here.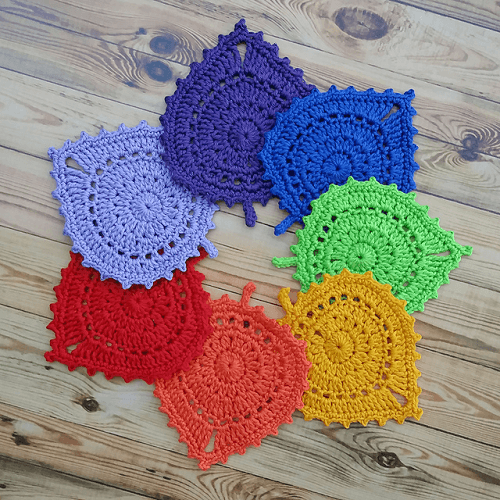 Get this Pattern here

11. Crochet Coasters Pattern by TLB Patterns
This pattern comes for all four crochet coaster designs, a detailed tutorial on Tapestry Crochet, and works up really quickly.

This Coaster set has a modern, geometric style that makes a great birthday or holiday gift. They would look great in any color combination and would compliment any contemporary decor.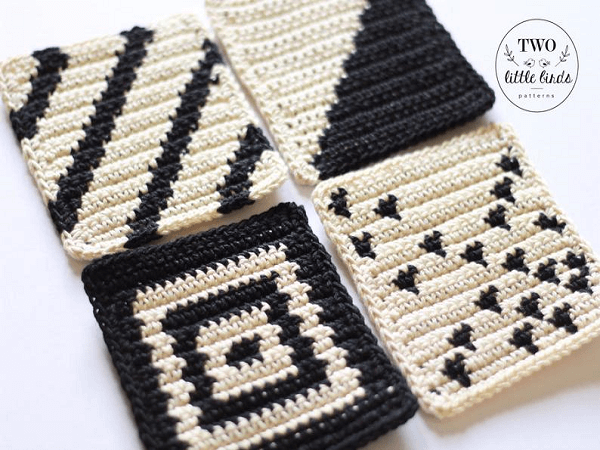 Get this Pattern by TLB Patterns here

12. Crochet Sunflower Coasters Pattern by Amigurumi Patterns PDF
Invite Summer to your home with these Crochet Sunflower Coasters Pattern. These would brighten up your living room, or make a lovely housewarming gift.

Whether you are stuck inside due to hot temperatures outdoors or you are snuggled up on the couch in the chilly months of winter, crocheting sunflowers may be just the project for whiling away the hours.
Also see: Crochet Sunflower Patterns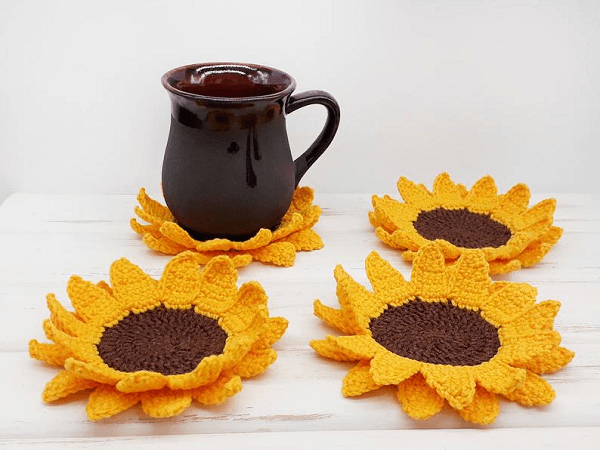 Get this Pattern by Amigurumi Patterns PDF

13. Crochet Coffee Coasters Pattern by Repeat Crafter Me
You will be even more excited to get your morning caffeine fix when you work up these Crazy Cute Coffee Coasters. Give your warm coffee mug a cozy rest on these easy crochet coasters.

Choose your favorite colors and keep them on hand in your kitchen or make a set to present as a hostess gift. This adorable pattern can even be used as an applique for another project.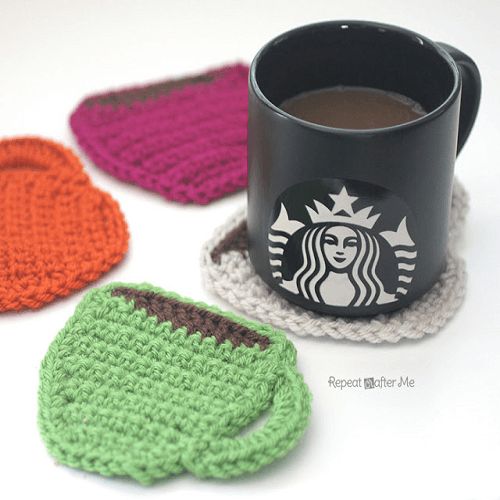 Get this Pattern here

14. Zesty Coasters Crochet Pattern by Annie Design Crochet
Made in the round, this modern pattern will have you reaching for your stash to make some in all the colors. You can make these coasters in summer colors to add a bright pop of color to your kitchen table.

Or in this alternative color combination that is more muted and modern in greys. Have fun trying out your own colors!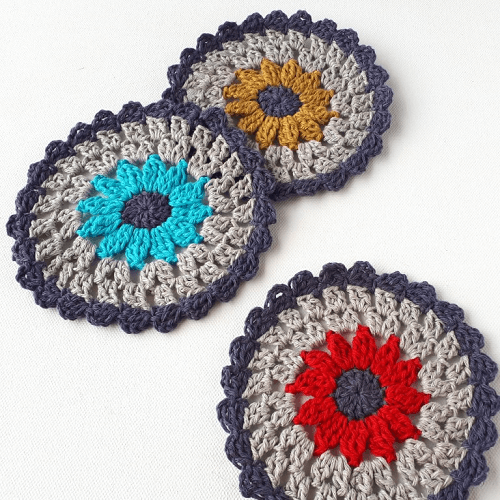 Get this Pattern here

15. Crochet Doughnut Coasters Pattern by Crochet Dreamz
Make yourself a unique and delicious looking doughnut coasters set using this incredible cute pattern. These Doughnut Coasters by Crochet Dreamz are easy to make and most certainly will protect your surfaces in the yummiest way!

These crochet doughnut coasters pattern also comes with a holder to keep them organized. Surprise your guests with this cute set!
Delicious Crochet Donut Patterns here.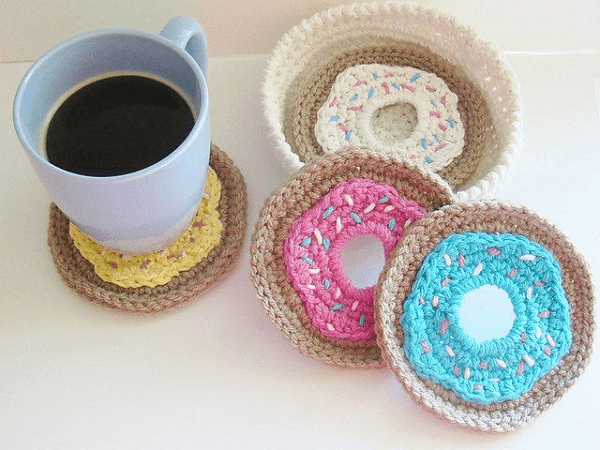 Get this Pattern here

16. Crochet Cat Butt Coaster Pattern by Shop Raven Craft
Any cat lover will get a kick out of these adorable cat butt coasters! Cute and funny, this Cat Butt Coasters pattern is easy for any crocheter to follow and will make any guest to your house bursting with laughter.

This little pattern has endless possibilities: from coasters to wall decorations, this cat butt coaster pattern is simply just too cute for words!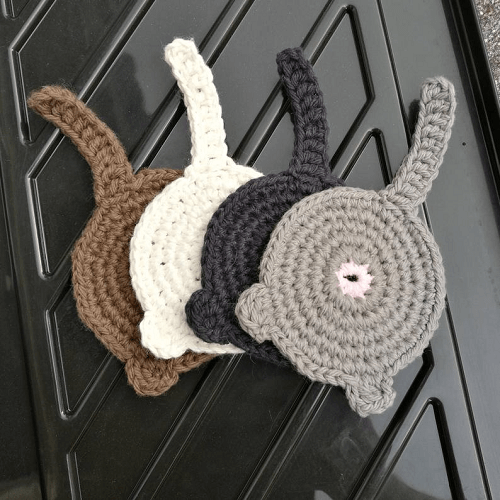 Get this Pattern by Shop Raven Craft here

17. Crochet Coaster for Beginners Pattern by Hooked Homemade Happy
Because they are made of cotton, these are great coasters! You could use acrylic, it would definitely still give that "rug" look, but acrylic yarn won't absorb moisture as the cotton yarn will.

This coaster is a must-have right after the cup cozy! This quick and easy free crochet pattern is perfect for beginners and designed for all the coffee lovers in your life.
Get this Pattern by Hooked Handmade Happy here

18. Bunny Coasters Crochet Pattern by Tikva Patterns
What could be more adorable than this Bunny Coaster? A set of these homemade coasters would make lovely Easter gifts for your friends and family.

Give some special person these funny bunny coasters or dress up your own table with them. It will be a memorable gift for many years and what is best, this crochet pattern is very easy!
Get this Pattern by Tikva Patterns here

19. Apple Coasters Crochet Pattern by HGS Designs
These adorable little coasters would look great on anyone's coffee table! Crochet a cute apple coaster to hold your drink or your apple. These lovely crochet apple coasters will look fabulous on your garden table or your autumn dinner table.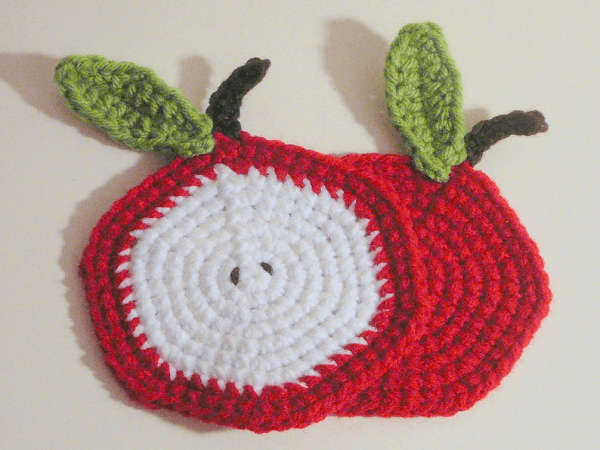 Get this Pattern by HGS Designs here

20. Crochet Color Burst Coasters Pattern by Moois Van M(i)e
These coasters are thicker than usual because of the studs. Because of their thickness, they protect the surface underneath them better against heat, precisely because they are so thick.
This pattern is for these color burst or bursting with color coasters. This free crochet pattern is so bright you can't help and smile.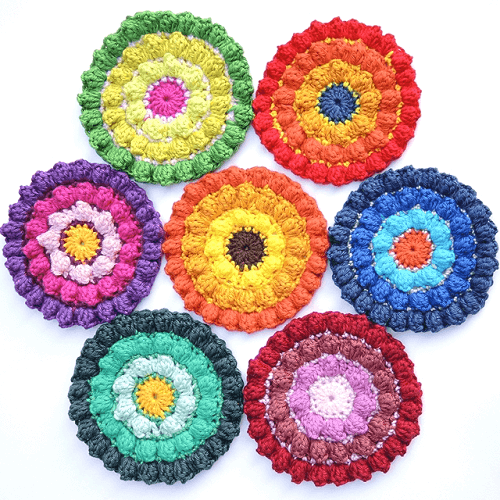 Get this Pattern here

21. Unicorn Coaster Crochet Pattern by Colorful Easy Crochet
This beautiful Unicorn Coaster would be perfect for anyone who loves this mystical creature! Only basic skills of crocheting are needed to make these cute coasters. This pattern is easy to make and made with 100 percent cotton yarn so completely washable and dryable so a no-fuss design.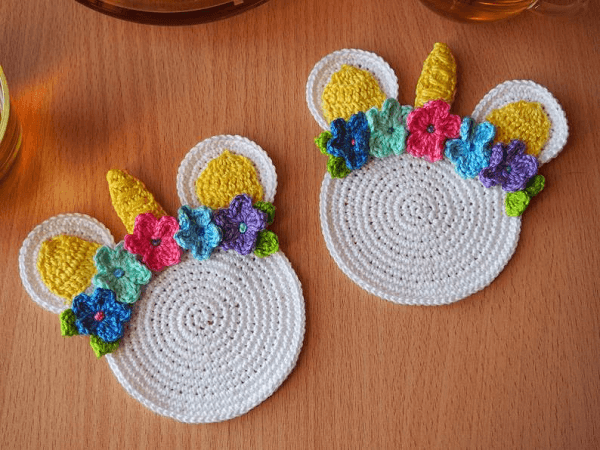 Get this Pattern by Colorful Easy Crochet here

22. Crochet Dragonfly Coaster Pattern by Pattern Paradise
These playful coasters are so sweet with a dragonfly in the center. These coasters are made in all different colors for fun but they would look great all in one color too.

And, because each one only requires approximately 12 yards for the body and about 7 yards for the border, they are great stash-busters too! They are super quick to make and look great stacked on a table, ready for easy access to protect your surfaces.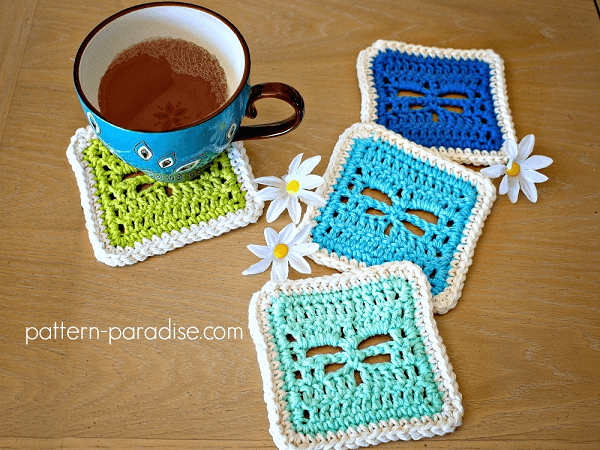 Get this Pattern here

23. Crochet Strawberry Coaster Pattern by Lyubava Crochet
For your lovely mom, grandma, for the best teachers, for students, for coffee and tea lovers, this coaster is a great house warming gift. Place a coaster on your table or desk to prevent cup ring marks.

Use these cute coasters to protect your furniture, made of 100% Cotton yarn, they are super absorbent.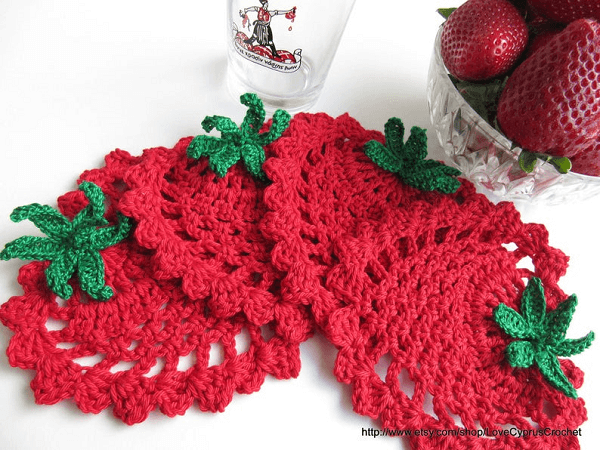 Get this Pattern by Lyubava Crochet here

24. Crochet Peacock Tail Feathers Pattern by The Curio Crafts Room
This pattern tutorial consists of 10 pages with 39 clear photos with a step by step description. These coasters look fabulous in all kinds of color combinations. But you do not necessarily have to make them use as coasters.

I can imagine you might want to use them to decorate box lids, notebook covers or laptop/tablet sleeves, to name but a few possibilities. And they make a lovely birthday, teacher or housewarming gifts.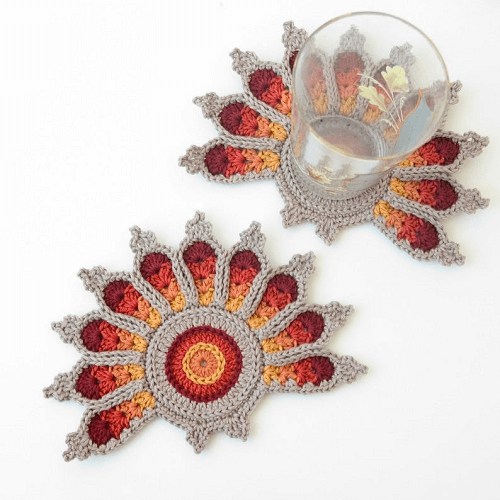 Get this Pattern by The Curio Crafts Room here

25. Easy Square Coasters Crochet Pattern by Red Heart
We love projects we can whip up quickly using timeless crochet stitches like the granny square! Practice your granny square technique and make this set of crochet coasters as a housewarming gift, or stuff a few stockings. It's a satisfying project that's both easy and functional.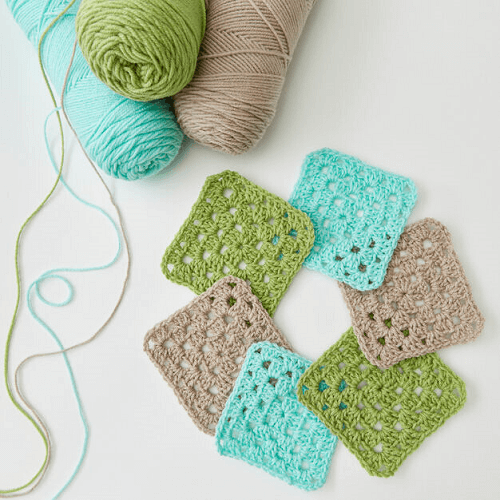 Get this Pattern here

26. Crochet Flip Flop Coasters Pattern by Crochet Spot Patterns
Crochet these cute and fun flip flop coasters to use with a martini, wine, champagne, or any other footed glasses. The bottom of the glass fits snugly into the flip flop straps, attaching the coaster to the bottom of the glass.

These coasters can also be used as glass markers if you crochet a set in a variety of colors. Crochet a set of these coasters for a party, or just to have a set around the house.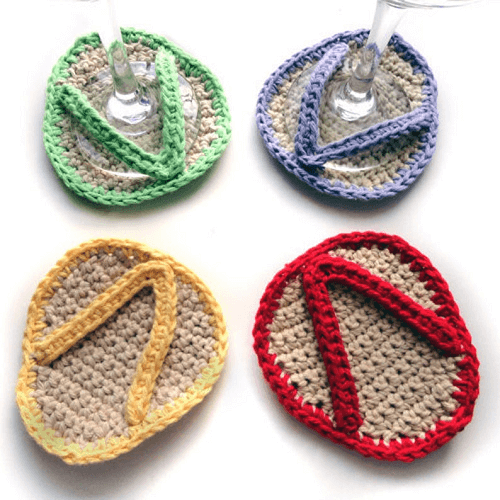 Get this Pattern by Crochet Spot Patterns here

27. Crochet Turkey Coasters Pattern by Craft Passion
Here is the crochet pattern to make turkey coasters or hang them up as ornaments and decorations. Crochet some to celebrate your Thanksgiving with. Using some fall-themed color yarns to crochet the base of the turkey, then outline it to give it a magical touch.

10 Awesome Crochet Turkey Hat Patterns.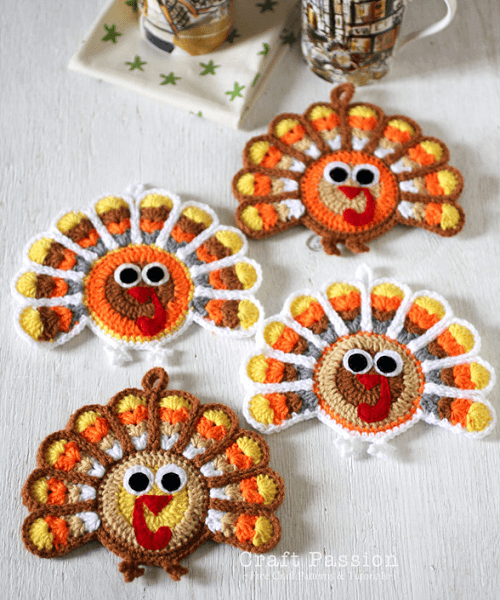 Get this Pattern here

28. Crochet Lacy Shells Coaster Pattern by Vivid Kreations
Add a touch of elegance to your table with this coaster. This lovely shell pattern creates a vintage feel without being too frilly – which you will love.

Use a single color or change color every round, this coaster will be a charming vintage touch for your home or a pretty gift for a friend.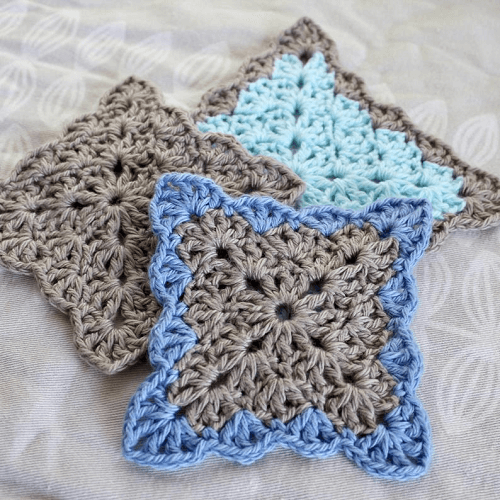 Get this Pattern by Vivid Kreations here

29. Crochet Cat Coaster Pattern by Tikva Patterns
This is a perfect crochet cat coaster for cat lovers to decorate their homes. This pattern is easy for any crocheter to follow and it has endless possibilities.

The great thing about this pattern is that you can have these match any cats in your life, or you can create any kind of kitty cat your heart desires.

The primary use for this pattern is a coaster, but you can also make a great wall decoration or a potholder.

Best Crochet Cat Pattern Compilation.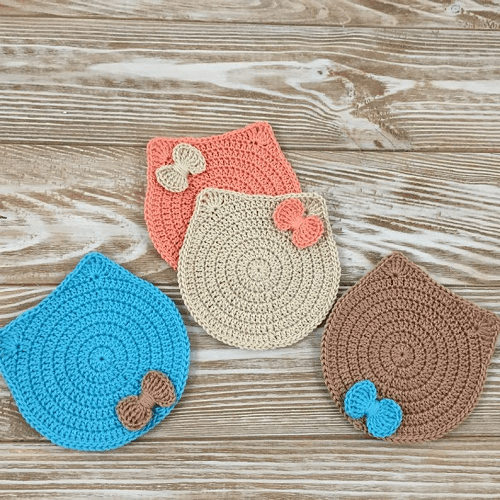 Get this Pattern by Tikva Patterns here

30. Crochet Coffee Coaster Pattern by LTK Cuties
This is a perfect gift to pair with a cute mug for Christmas or Mother's day. A great market item too and so quick to make! The perfect coaster for your scrap yarns! Check out LTK Cuties for more patterns!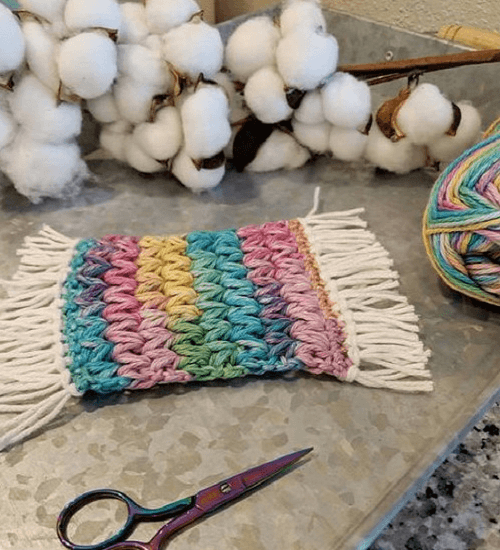 Get this Pattern by LTK Cuties here

31. Crochet Star Coaster Pattern by Island Style Crochet
Technically this pattern is "intermediate" because of the large variety of stitches used and the shaping. This very versatile motif makes a beautiful bunting, an adorable adornment, or a pretty perfect & fun set of coasters. Use all different colors for a fun setup.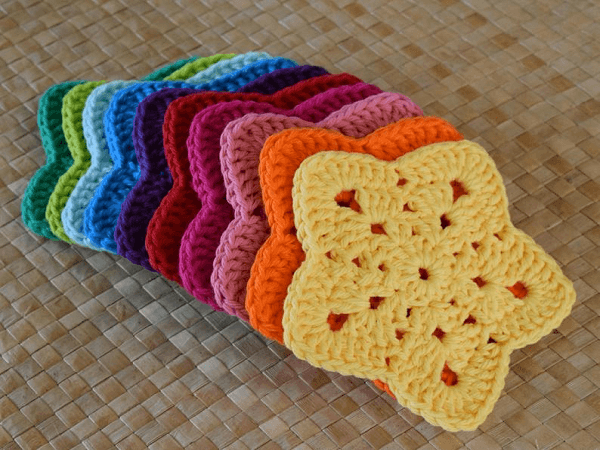 Get this Pattern by Island Style Crochet here

32. Crochet Roller Coaster Pattern by Kirsten Ballering
Round and round and round these Roller coasters go, where they'll stop, that's up to you! You can create a set in an evening, making them a perfect quick and easy DIY crochet gift! You can also play around with other colors. Put your imagination to work!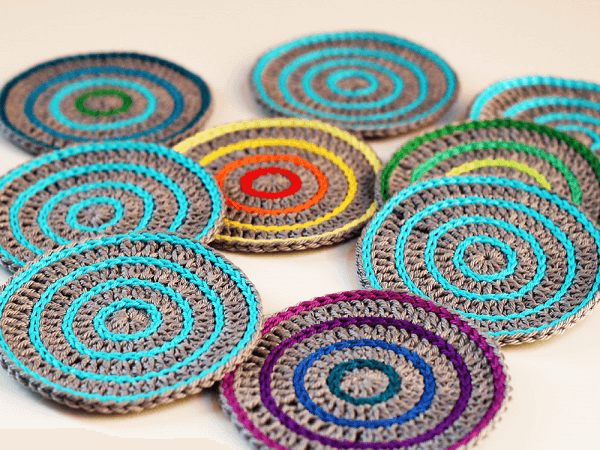 Get this Pattern here
33. Crochet Sun Coasters Pattern by Jennifer Pionk
Add a little happy sunshine to your table with these pretty and handy coasters. Sun coaster is easy and fun to make project to decorate your table. Make them with colors to match your style, and they really add a personal touch.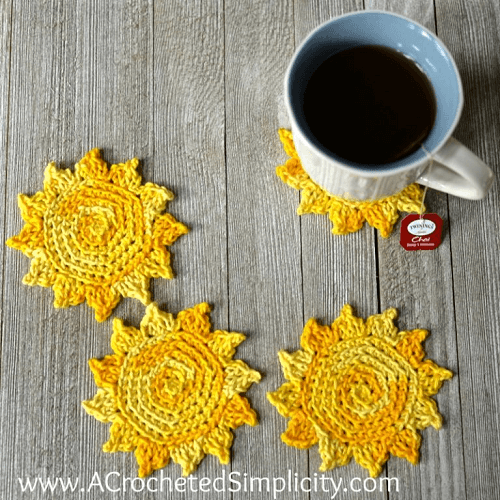 Get this Pattern here


34. Teapot Coaster Crochet Pattern by Vendulka M
This pattern is written in standard US terms, in the English language, with step-by-step instruction and plenty of pictures for successfully completing your work. This lovely coaster could be a great gift for your grandmother or mother. Don't you think?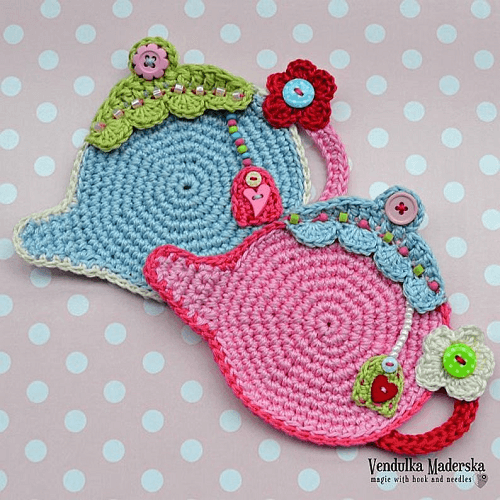 Get this Pattern by Vendulka M here

35. Colorful Granny Square Coasters Crochet Pattern by Addies Knitted Gifts
These pretty coasters are perfect if you are looking for a quick project. The pattern is for the individual squares but with a little imagination, you could use them to create cushions or blankets!

Learn the Crochet Granny Square Here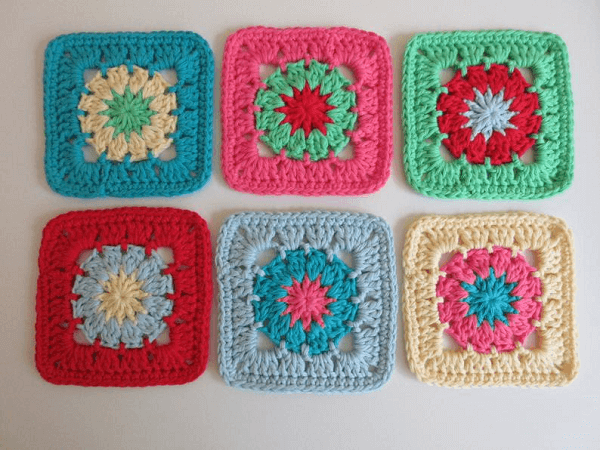 Get this Pattern by Addies Knitted Gifts here

36. Crochet Farmhouse Coasters Pattern by Stitching Tog
This modern crochet coaster pattern will add the perfect farmhouse style to your house. Easy pattern to follow. You can easily whip up a few of these in an afternoon. This pattern calls for 100% cotton yarn.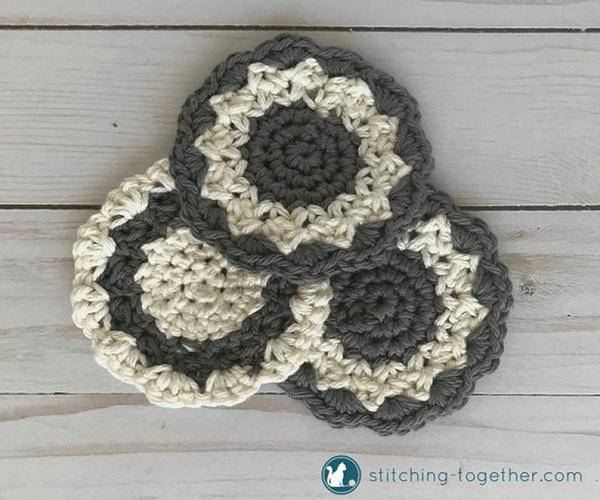 Get this Pattern by Stitching Tog here

37. Tunisian Free Crochet Coaster Patterns by Petals To Picots
This Tunisian crochet coaster pattern works up so quickly so you can make a set of charming coasters for your home or give as a gift! It's also the perfect size for practicing your stitches!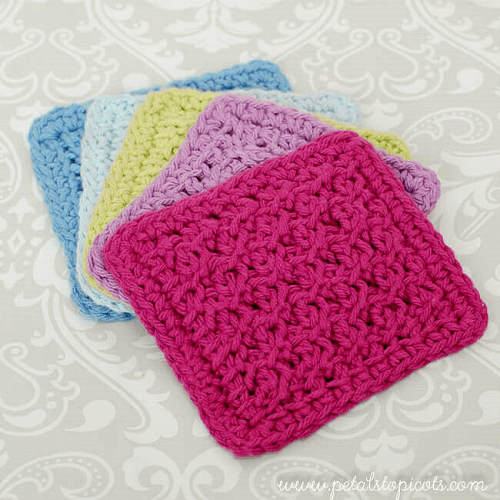 Get this Pattern here

38. Crochet Sports Coaster Pattern by Crocheted Compliments
Your guy and kids will actually use a coaster with this fun variety pack. Mix and match—baseball, basketball, football, soccer, tennis, and bowling. Made in a larger size (4 inches in diameter), they can easily accommodate mugs and pilsners.

Check out these Football Theme Crochet Patterns for game day.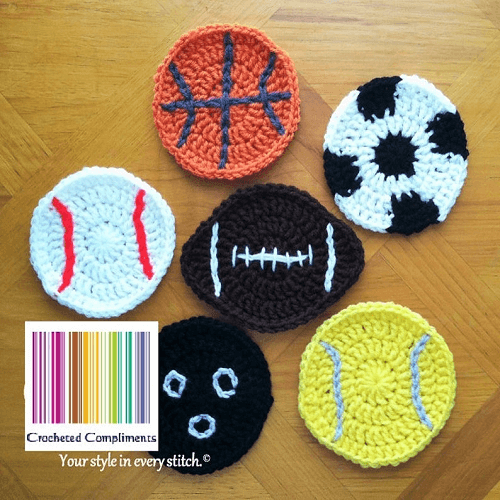 Get this Pattern by Crocheted Compliments here

39. Crochet Pizza Coasters Pattern by Whistle And Ivy
Pizza lover? Or maybe a ninja turtle lover? These whimsical pepperoni pizza coasters are the perfect gift for yourself who someone in your life who loves pizza!
The best way to protect your furniture is with coasters, and what better way to do so by using your new crochet pizza coasters?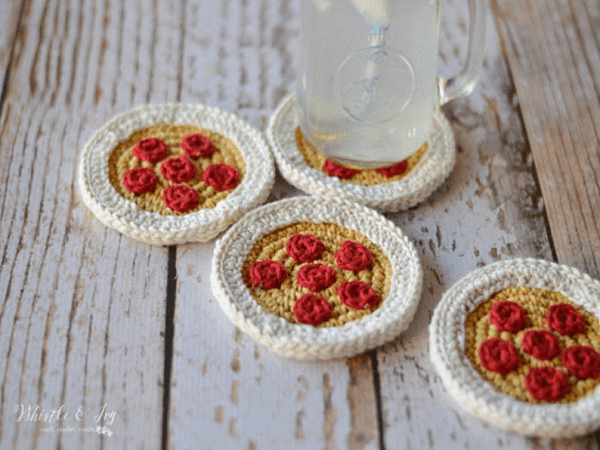 Get this Pattern by Whistle And Ivy here

Crochet Coaster Patterns Frequently Asked Questions
Why crochet coasters?
Dishcloths are usually my favorite projects for beginners or anyone trying out new stitches, but coasters are a close second. They're great because they are such small projects that don't require a lot of time or yarn.
Crochet coasters can also be made in different colors to match any decor scheme and work well as house-warming gifts.
How do you crochet a coaster?
Crocheting coasters can be done in a variety of ways. Making a simple circle—starting from the center and gradually expanding the coaster while using increases to keep it flat—is by far the most common.
You can also make square coasters by working in rows back and forth. There are also unique coasters in the shapes of animals, hearts, and so on. These are frequently constructed differently.
What is the best yarn for crochet coasters?
Cotton yarn is ideal for crochet coasters. Of course, many crocheters mix cotton yarn with another fiber, acrylic yarn, a cotton blend, or even wool. Cotton yarn is more absorbent and machine washable, so I prefer to use it for coasters.
What size to make your crochet coasters?
Coaster size is a matter of personal preference, but I find that sizes ranging from 3 to 5 inches work best.
How much yarn is needed for a coaster?
Since coasters are typically small, you do not need much yarn for a crocheted coaster. You can easily make several out of a single skein of yarn.
What is the best crochet stitch for a coaster?
Because single crochet stitches are small and tight, they are frequently used in crochet coaster patterns. This crochet stitch results in a clean and modern-looking crochet coaster that is also simple to make!
Do crochet coasters actually work?
Not only do crochet coasters protect from water rings, but certain cups or glasses may also leave small scratches or nicks in the table.
This is especially true if you're moving your drink around a lot. With all that in mind, a crocheted coaster will help.
So how many sets and different crochet coaster designs are you going to make?
You can go with custom crochet stitches for beautiful textures that can result in graceful circles, hexagons or squares which would work great as beverage coasters. You can vary the yarn colors to change the decorative theme of your crochet coasters.
Moreover, you can even crochet a set of your favorite coasters that can be given as a gift to someone special or you can also pack them for a great housewarming gift!
For more adorable ideas, visit our patterns for Crochet Mug Rug, Crochet mug cozy, Crochet Spider Web Coaster, Crochet Pot Holder, and Crochet Dishcloth Patterns.
We have shared here 39 Crochet Coaster Patterns that are all adorable and super beautiful, and you can easily choose your favorite ones from this given collection. Happy crocheting!