Here you'll find what we believe to be the 25 best crochet owl patterns. You will find everything from stuffed owls to owl purses and from owl hats to owl booties!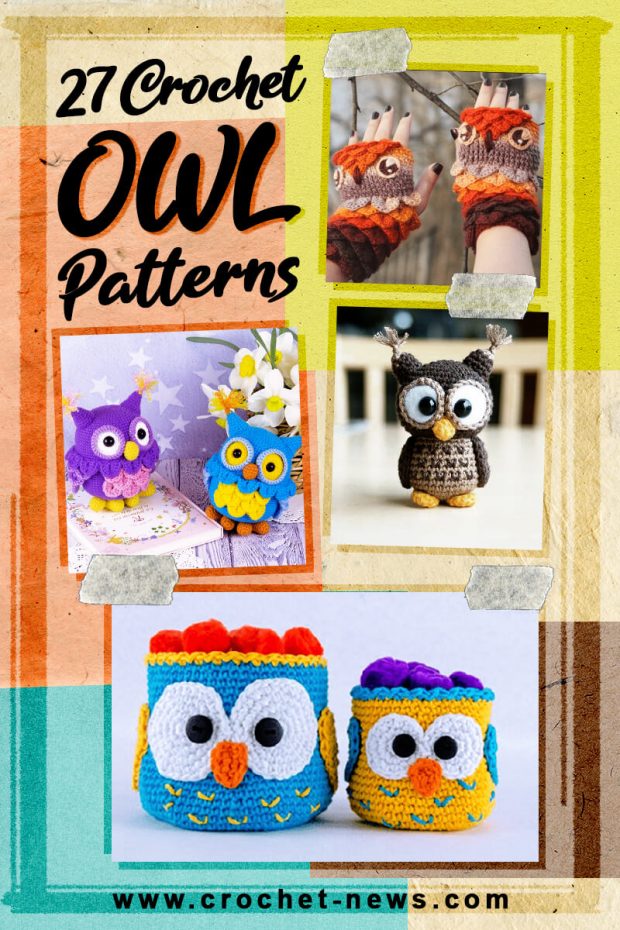 Owls are so cute! These wise birds are incredibly popular right now, so why not make owl-themed decorations and accessories for your children and watch the delight on their faces?
These owls are too cute to pass by! They are a hoot for sure!

1. Crochet Owl Amigurumi Pattern by Amigurumi Today
Crochet your own adorable owl with this easy crochet pattern. You can even make dozens of these squishy bundles of cuteness!

The look changes greatly with different yarn selections, so you will never get bored crocheting them. A pair of two crochet owls can make a cute gift for couples in love or newly-weds.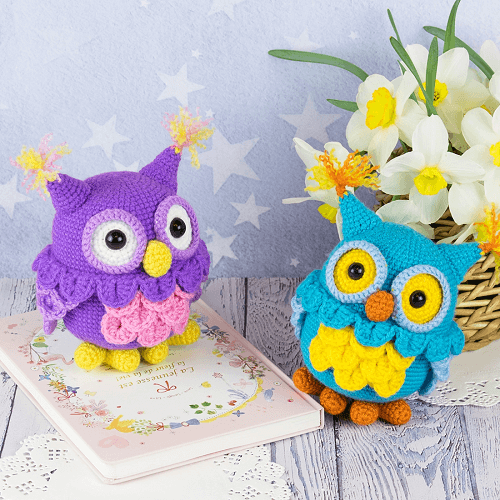 Get the Pattern here

2. Albert, The Owl Crochet Pattern by Em Sa Crochet
This cute little owl named Albert would make a perfect toy and a gift for any kid! Those huge adorable eyes, the little orange beaks, and the fact that they could fit in the palm of my hand! So cute!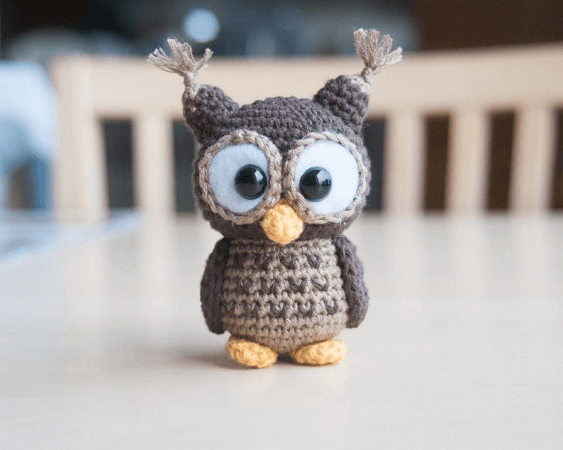 Get the Pattern by Em Sa Crochet here

3. Crochet Owl Blanket Pattern by Mjs Off The Hook Designs
This Blanket is designed as a gorgeous hooded fringe throw. Wrap yourself up, forget your worries and be the owl! Or simply lay the blanket over top and admire your cozy owl Blanket.

When not in use tuck into a pillow. This fun whimsical design will make any owl fans day and makes the perfect gift!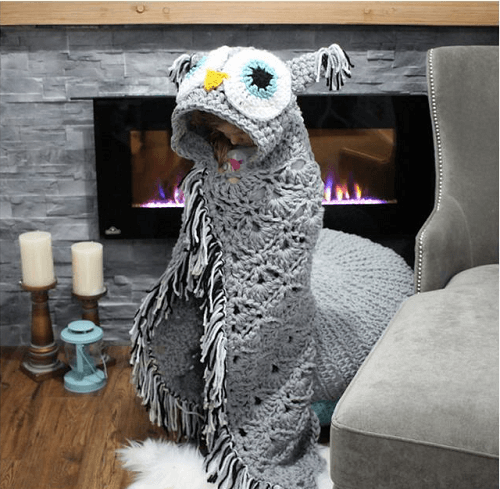 Get the Pattern by Mjs Off The Hook Designs here

4. Crochet Owl Pouch Pattern by One Dog Woof
Grab some scrap yarn and follow this free pattern for a crochet owl pouch. This cutie can be a change purse or to just hold your little treasures. This owl does more than just look adorable and festive, it doubles as a cute little bag! That's my kind of owl.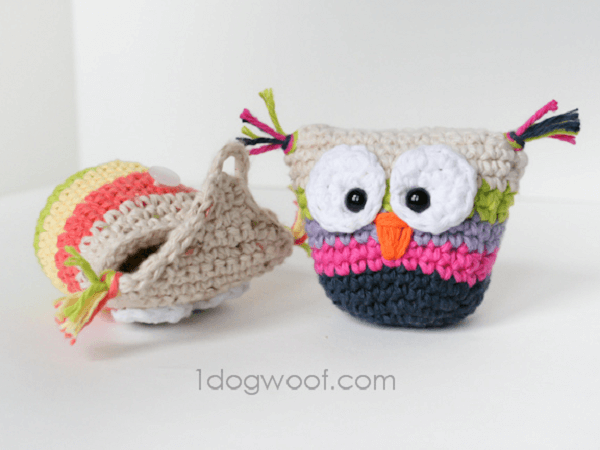 Get the Pattern here

5. Owl With Hatching Owlet Crochet Pattern by Lau Loves Crochet
With this design, the egg fits inside the body of the owl and then 'hatches' to reveal the owlet inside that! The pattern includes the instructions for the adult owl, as well as for the little owlet and its egg. This one is guaranteed to make you smile with their cuteness!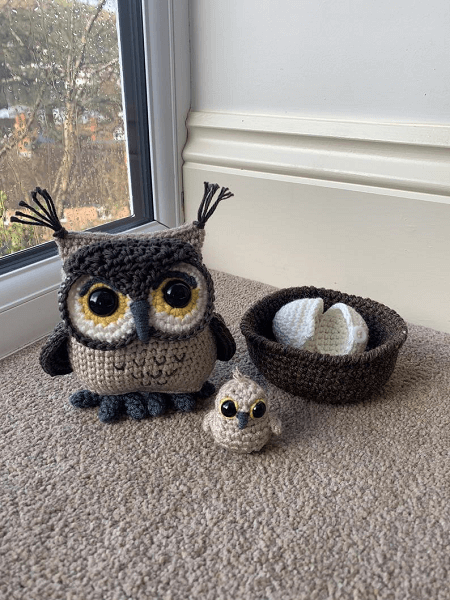 Get the Pattern by Lau Loves Crochet here

6. Crochet Oversized Owl Pillow Pattern by Repeat Crafter Me
This is the most snuggly, cuddly, and super soft owl around! The voluptuous stitches and large size make it the perfect lounging and cuddling companion.

The flexible design even allows for tweaking so that there is room inside for toy stashing. Don't let the "oversized" scare you – the easy crochet pattern will make the project a quick one.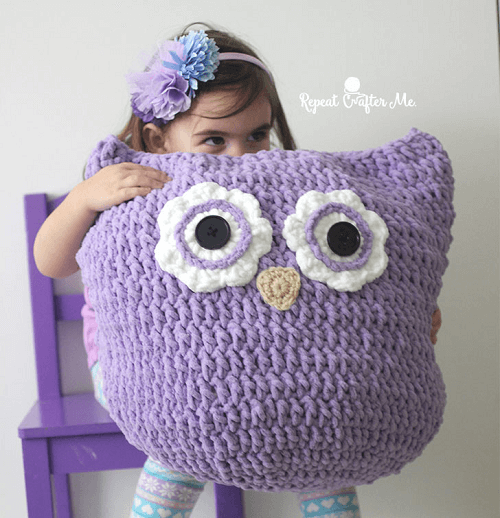 Get the Pattern here

7. Crochet Owl Hat Pattern by Jenny And Teddy
This super cute Owl hat is perfect for newborn first photo session and for everyday! Owls are so so cute with the big round eyes and it's even cuter when we wear owl hat on our little one. This pattern is perfect for a beginner crocheter – you can whip one easily!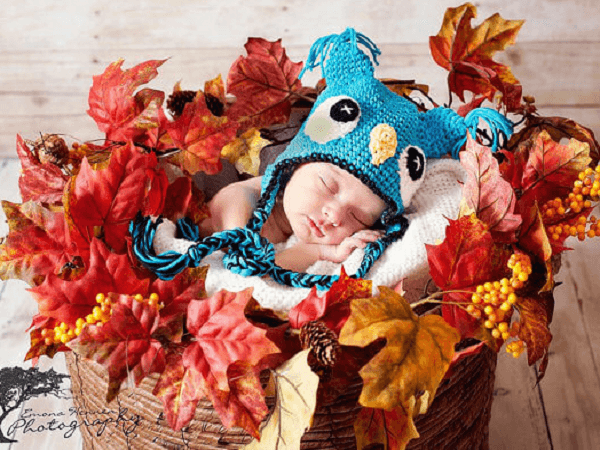 Get the Pattern here

8. Crochet Barn Owl Pattern by Great Grey Crochet
This barn owl is not a toy for young children due to wire and small parts. He has a wingspan of about 21 and 1/2", and is about 10" high from head to toe.

The realistic look of this owl looks like he could take wing and fly away! This one is very close to a real one with those white and brown yarn colors.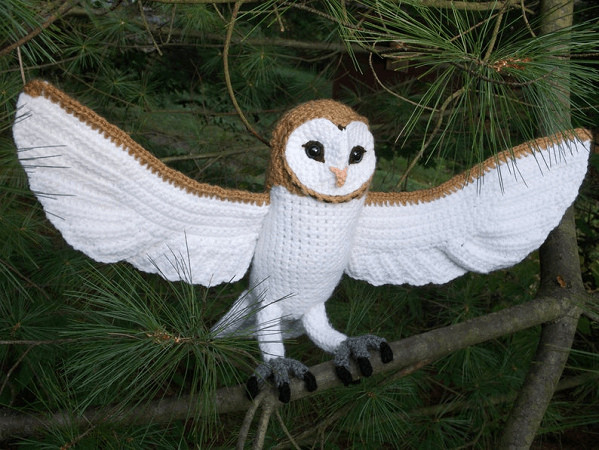 Get the Pattern by Great Grey Crochet here

9. Crochet Owl Coasters Pattern by Zoom Yummy
Another great way to bring owls to your life is to crochet some brilliant owl coasters for your home. Just use them as ready-made owl coasters that will be super beautiful to see while placed on any table surface! They come in brilliant design textures and are just super eye-catching!

Check out our roundup of crochet coaster patterns for more options.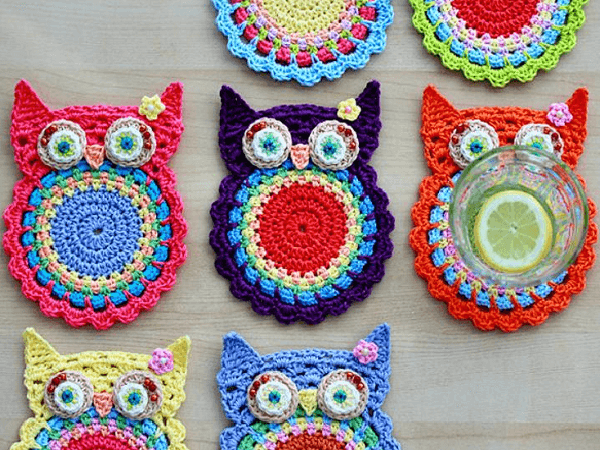 Get the Pattern by Zoom Yummy here

10. Owl Bib Crochet Pattern by Lion Brand
This adorable bib would be perfect for a photo prop or just for every day. This is quick too – which means a set of pretty bibs is a perfect handmade baby shower gift! Another amazing crochet owl pattern which you can try using different yarn colors.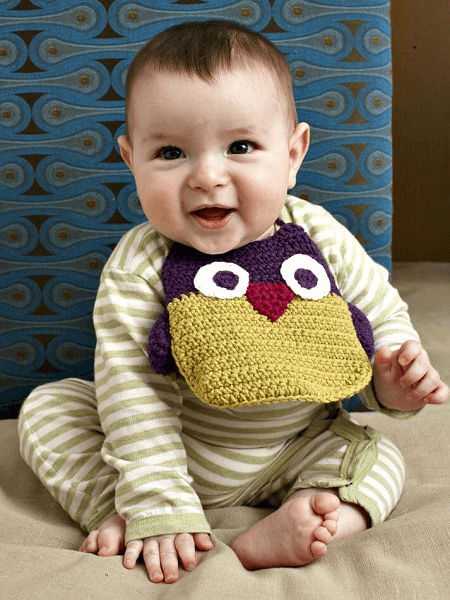 Get the Pattern here

11. Crocodile Stitch Owl Gloves Crochet Pattern by Bonita Patterns
These fingerless gloves are fun and works up pretty fast making it ideal as a quick project for a gift or selling the finished items. An intermediate crocheter or even a dedicated beginner will master this stitch in no time at all.
Need to learn this stitch? Crochet crocodile stitch tutorial here
Get the Pattern by Bonita Patterns here

12. Owl Toy Crochet Pattern by Daisy Cottage Designs
Kids can snuggle up with this adorable owl toy to use as a pillow or to carry around as a stuffed animal. Their new wisdom-inspiring companion can be worked up in a few hours and is an easy crochet pattern to tackle for the afternoon.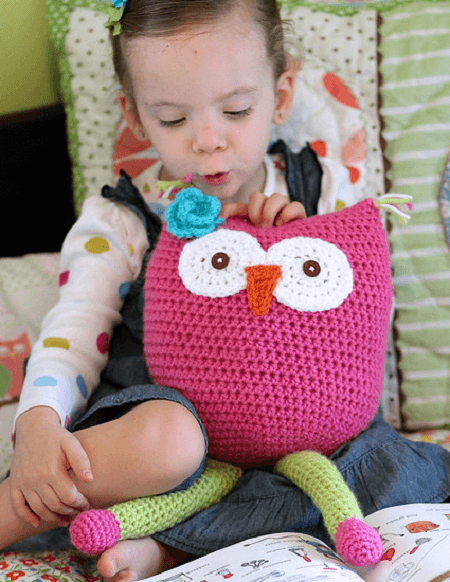 Get the Pattern here

13. Crochet Owl Backpack Pattern by Vi Talina Craft
This beautiful backpack is an ideal accessory for you little one. It is big enough to pack in all kid's favourite things and brighten up their long trip or just short walk around.

This Owl backpack has adjustable shoulder straps and one functional pocket decorated with cute little buttons. It can be made for both boys and girls depending on colours combination.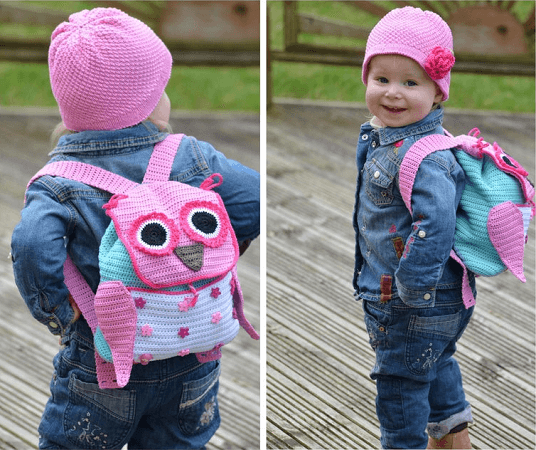 Get the Pattern by Vi Talina Craft here

14. Amigurumi Owl Pattern by Crazy 4 Crochet 71
This adorable owl sits around 9 inches tall when using DK yarn and a 3mm hook. Because of the crocodile stitch that was used, this crochet owl looks as if its body is covered with real feathers. This would be pretty for home decoration and a sweet handmade gift.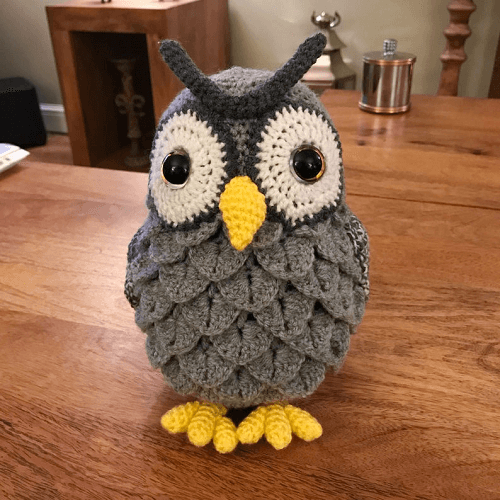 Get the Pattern by Crazy 4 Crochet 71 here

15. Owl Purse Crochet Pattern by A Frayed Knot Boutique
Here's another gorgeous idea. This owl purse is made using a crocodile stitch and it couldn't be sweeter. The pattern can be adjusted by using a bigger hook and thicker yarn – perfect for parent/ child matching. This is definitely a stunner and is bound to attract many admiring glances.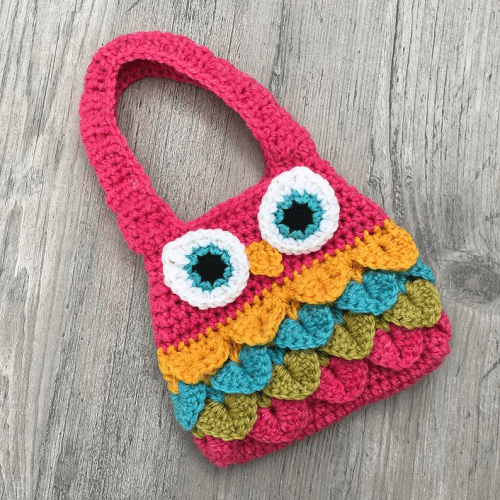 Get the Pattern by A Frayed Knot Boutique here

16. Maggie The African Flower Owl Crochet Pattern by Jo's Crocheteria
For beginner or expert, this crochet pattern is a one fit all. Want to watch TV and relax while crocheting? Then the African Flower Pattern is a perfect fit! After just a few flowers you will know the pattern by heart and you can just sit back, relax and crochet!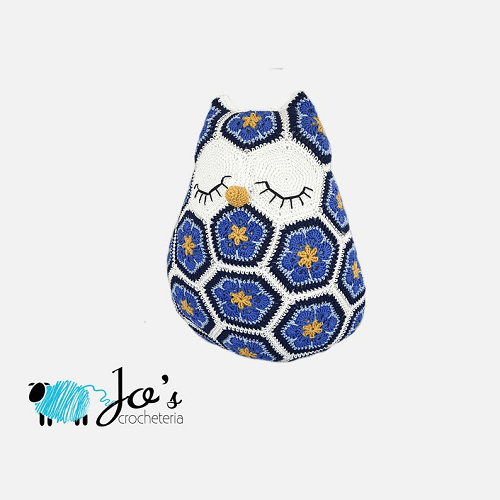 Get the Pattern by Jo's Crocheteria here

17. Owl Baby Booties Crochet Pattern by Hopeful Honey
Your baby's feet will be super warm no matter the temperature. These baby booties would make a great gift at a baby shower. You'll have a hoot and a half over these adorable booties and your baby's feet will be snuggly. I love the pom poms on the front and the bright colors!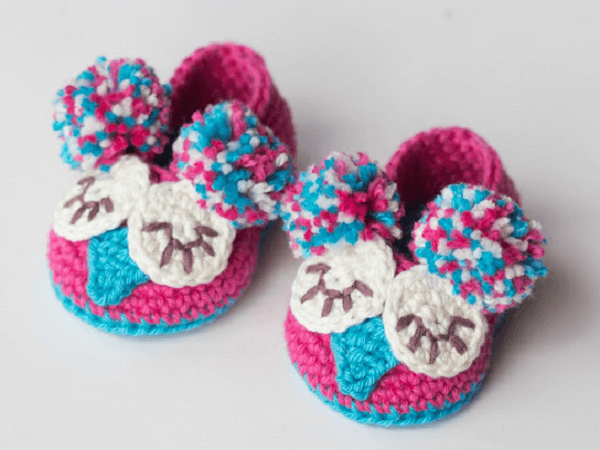 Get the Pattern here

18. Crochet Owl Cocoon Pattern by Shi Fio
This lovely crochet pattern comes in 3 sizes, preemie, 0-3 months and 3-6 months. Crochet baby cocoon is a great gift idea to give that expectant mom.

Make this adorable owl baby cocoon to keep baby comfy and cozy. Every baby will look picture perfect in this little getup. It's a hoot!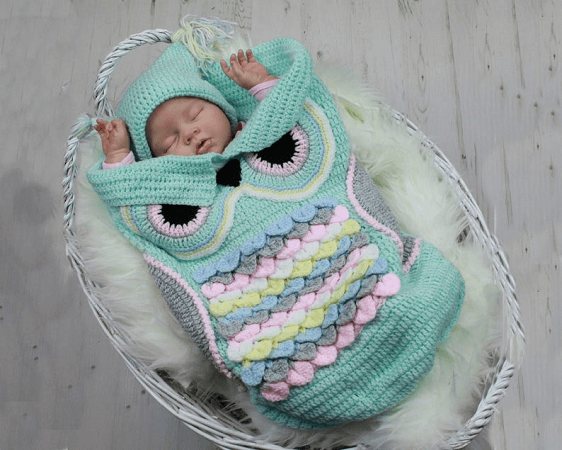 Get the Pattern by Shi Fio here

19. Crochet Owl Applique Pattern by Golden Lucy Crafts
This crochet Owl will beautifully embellish many different items. It would brighten many different clothing items and could also serve well in other applications such as scrapbooking or embellishing greeting cards. Make plenty of these adorable owls in all your favorite colors!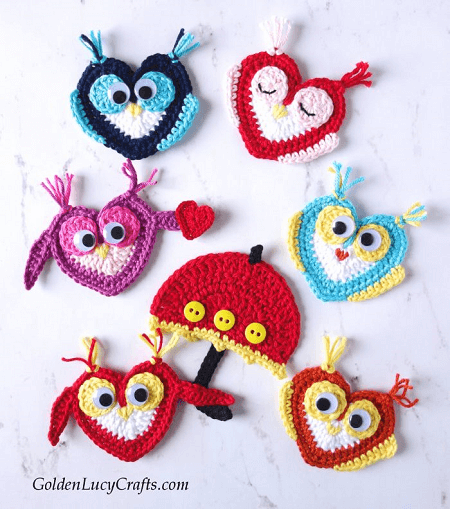 Get the Pattern here

20. Owl Baby Blanket Crochet Pattern by Kerry Jayne Designs
This little Owl blanket is just the right size for a stroller, crib or moses basket. The Owl squares are fun to make, with simple double crochet seam joining them together and a cute dotty border adding the perfect finish!

It can be adjusted and made to any size to fit requirements simply by adding more granny squares.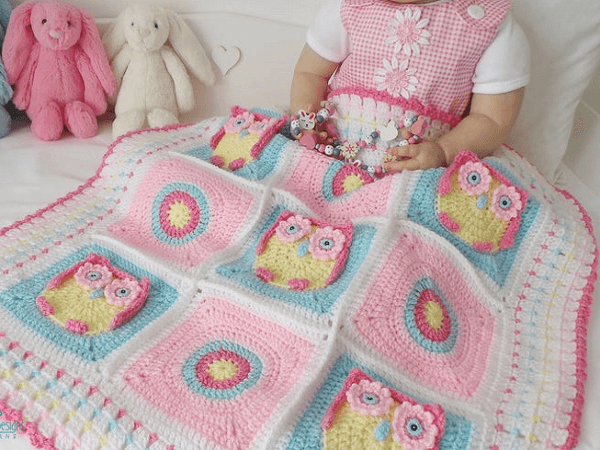 Get the Pattern by Kerry Jayne Designs here

21. Crochet Owl Organizer Pattern by Vi Talina Craft
This beautiful organizer can be used in the car and keep your little one busy during long journeys or it can be used as a wall decoration for a baby room.

This Owl organizer has three functional pockets decorated with cute crochet applications and colorful buttons. It can be made for both boys and girls depending on eyes type and applique choice.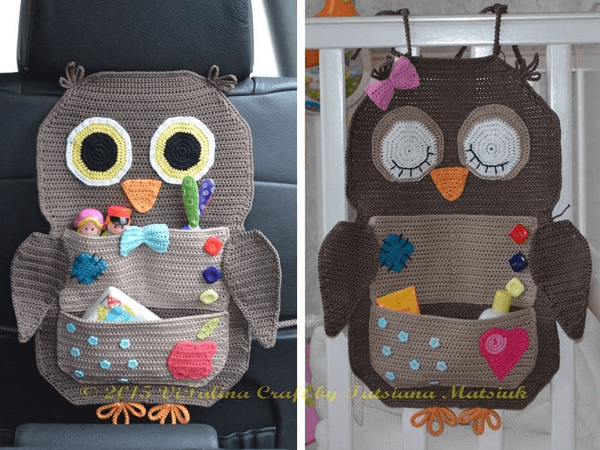 Get the Pattern by Vi Talina Craft here

22. Owl Scrubbies Crochet Pattern by String With Style
How freaking adorable are these little owls? It will be a race to wash the dishes when you have these super cute Owl Crochet Dish Scrubbies hanging around the sink. They really are adorable and they add some personality to your kitchen. They make a great homemade gift too!

Crochet Dish Scrubbie roundup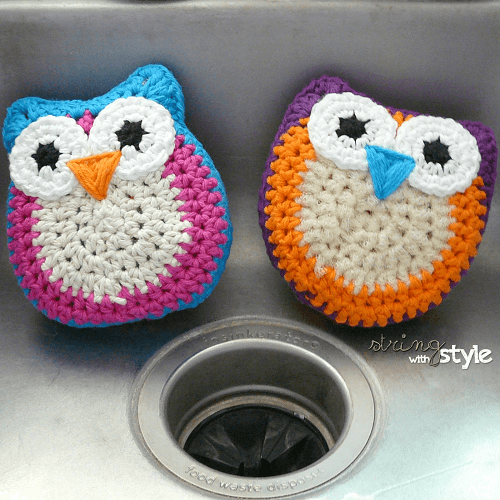 Get the Pattern here

23. Nesting Baby Owls Crochet Pattern by Moji Moji Design
Here's a set of wide-eyed Rainbow Owls and a mossy nest for them to snuggle up in. Of course, you don't have to stick with the rainbow theme. These little guys would look good in any color combinations. I think you'll agree this family of owls looks very comfy in there!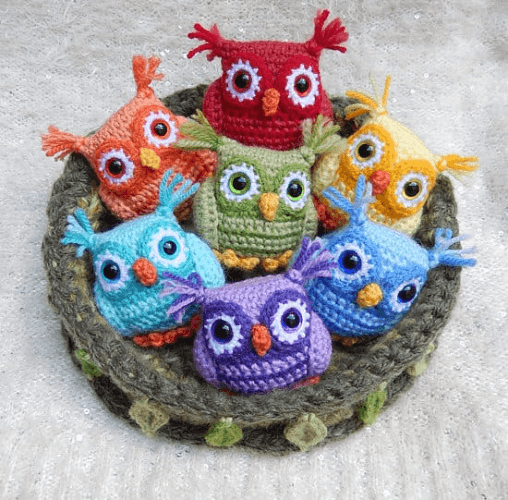 Get the Pattern here

24. Crochet Owl Key Chain Pattern by Yarn Artists
This owl key chains would be ideal for gifts or craft show items. You could attach your owl to a key chain or a backpack clip. Very simple, cute and quick to make, this adorable crochet owl key chain pattern is sure to put a smile on your face!

These cute owls are very easy to make and a great little stash buster.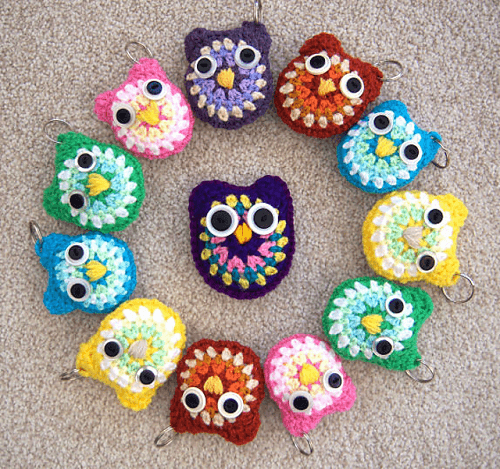 Get the Pattern here

25. Owl Crochet Baskets Pattern by One And Two Company
These are adorable and cute owl baskets. Create custom color schemes and decorate any place in your home. These baskets are living proof that functional can be beautiful.

It will also function well on its own as a decoration for that special nook or cranny you had problems accessorizing!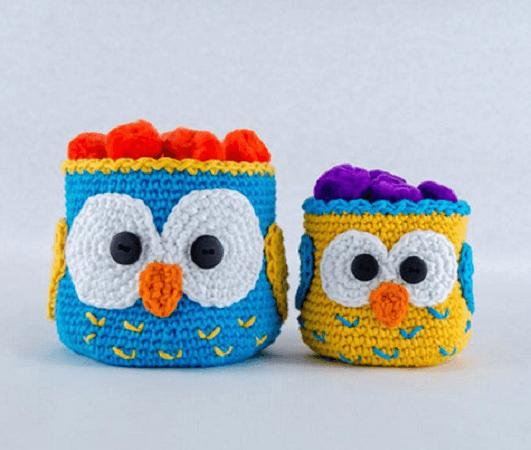 Get the Pattern by One And Two Company here

26. Crochet Owl Mask Free Written Pattern And Video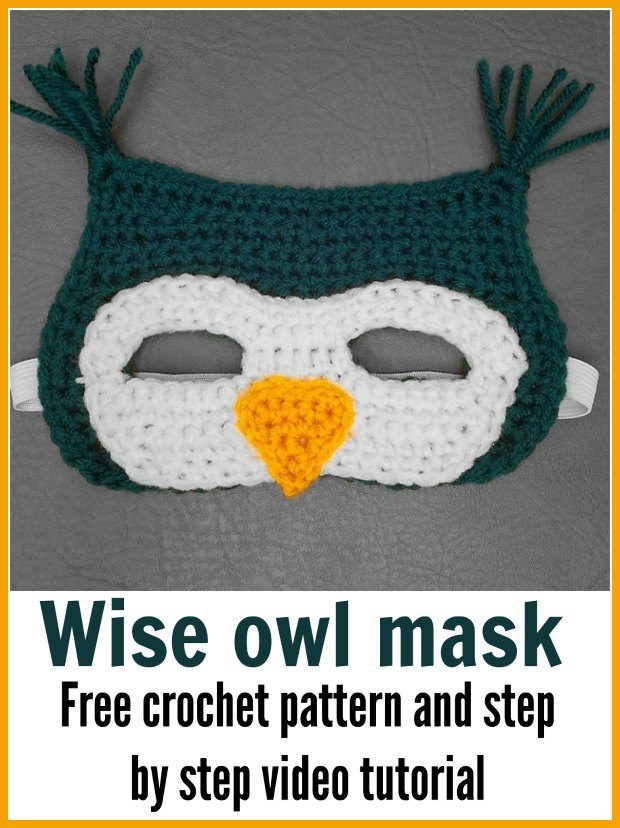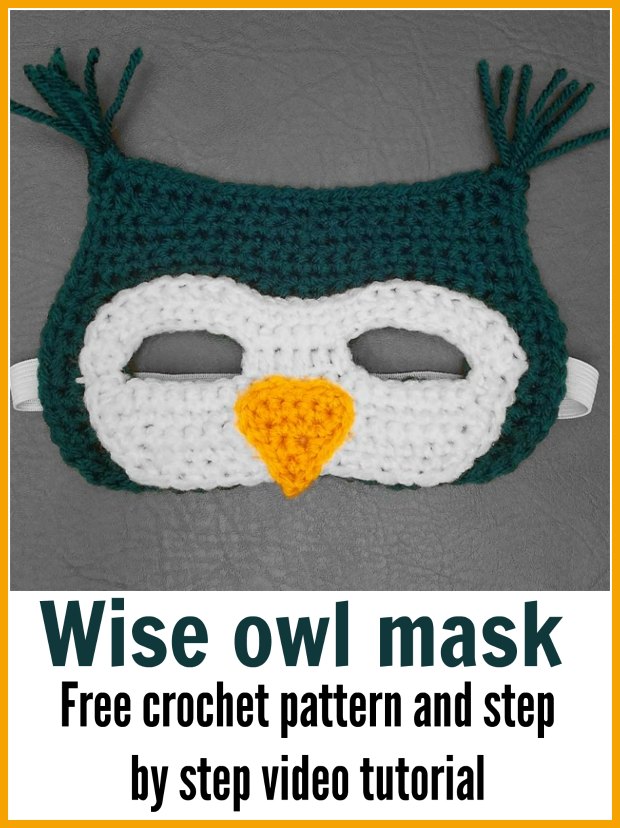 Crochet Owl Mask Pattern adds a sense of mystery and prestige to a dress up party costume or playing fancy dress at home. Owls have become a sensation in the last few years and you'll see them everywhere.
Well, almost everywhere. If you want to really see them everywhere then you'll need to crochet your own owl masks! These things are a hoot – great for playtime, fancy dress, dressing up and Halloween.
Materials needed:
–Red Heart Super Saver Yarn in Soft White, Real Teal and Gold
-G-4.25mm Crochet Hook
–Yarn Needle
–Scissors
–Elastic
Watch the step by step video below – Get the written pattern here –>

27. Dreamy the Owl Amigurumi Crochet Pattern
Oh my, what a cutie! This owl amigurumi crochet pattern is free, so a great way to get your hook moving with minimal cost.

These cute little amigurumi is are a great way to use up small lengths of leftover yarns from other projects. They also make great gift ideas, or are good sellers at craft fairs and market stalls.
This pattern includes instructions for crocheting, a list of abbreviation and lots of photos.
Owl Dreamy is approx. 14cm high (sitting).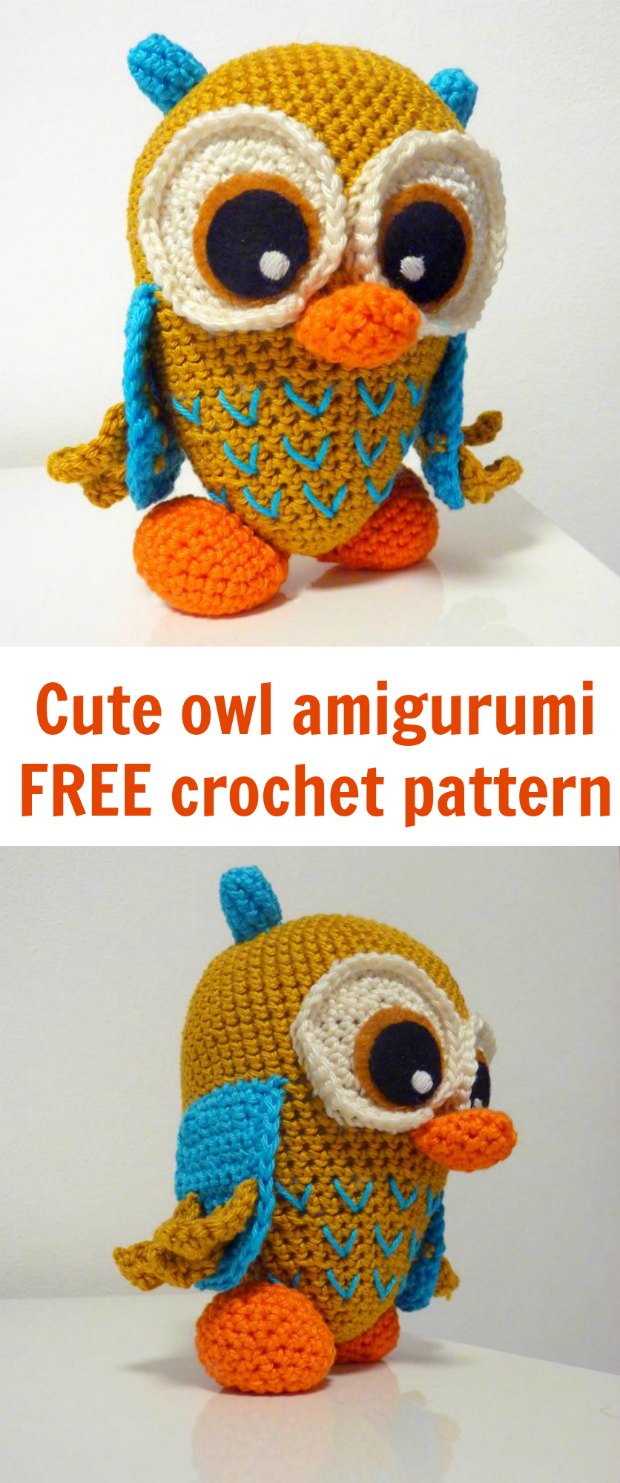 Get the pattern here

Which Crochet Owl Pattern will you start with?
We'd love to see your crochet owls – share them with us by posting pics to our Facebook Page. And if you love animal patterns, we also have handy posts for Crochet Dinosaurs, Giraffes, Turtles, Sloths, Pandas, and even Jellyfish. Check them out too!
Make one (or all!) of these hoot-worthy crochet owl patterns today and start hooking right away!