Have you seen an animal that sleeps for a good part of the day, rarely sets foot on the ground, prefers hanging around and moves very, very slowly? The sloth!
Sloths are cute, lazy and the slowest mammals on Earth. Their normal facial expression looks like a smile. Sloths are so popular as many people, who are tired of their fast, stressed lifestyles, admire these animals and their quiet slow life.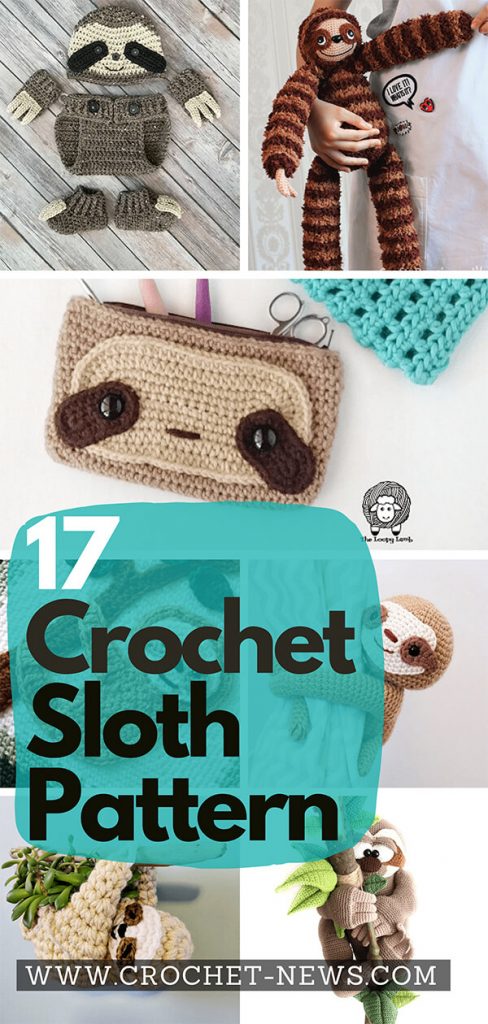 Celebrate your inner sloth with one or many of the Crochet Sloth Patterns below!

1. Sloth Amigurumi Pattern by Spunky Onion Patterns
Complete with a cheeky grin, this sloth definitely has character. A darker shade allows you to use up all your chocolate brown fibers, which works nicely in contrast to his cream face.

Or a pink one for a more feminine look. Don't forget to add on its toes and fingers – the most integral part of the sloth being, of course.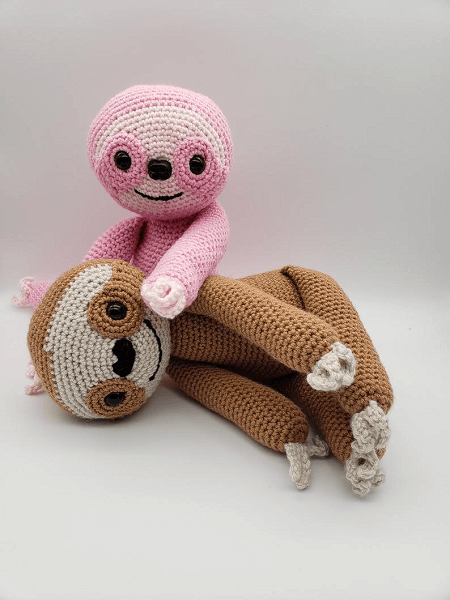 Get the Pattern by Spunky Onion Patterns here

2. Crochet Sloth Planter Pattern by Corrieneeltjeshop
With this crafty Crochet Sloth Planter, you can pretend that your living room is actually a part of the sloth's natural habitat. What an adorable addition to your home!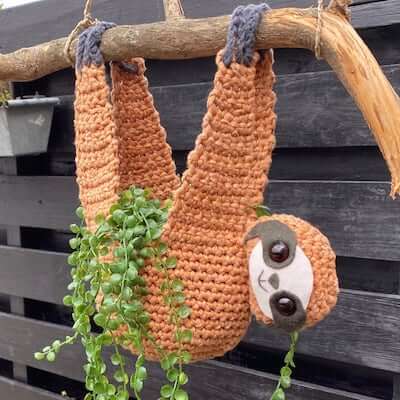 Get the Pattern by Corrieneeltjeshop here

3. Crochet Sloth Applique Pattern by Repeat Crafter Me
This Sloth crochet applique will be great for the embellishment of children's clothing or blanket items. This sweet little crochet sloth applique pattern is big enough to cover the center of one of your favorite blanket in seed stitch!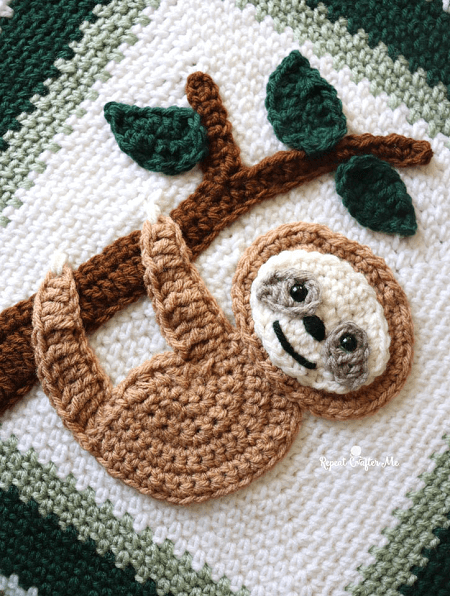 Get the Pattern here

4. Ragdoll Sloth Crochet Pattern by Spin A Yarn Crochet
Isn't this ragdoll sloth just the sweetest with his gentle smile and big eyes? He would make an adorable addition to a nursery or a little one's bedroom as a wall-hanging! Just add some twine to each end of the branch and away you go.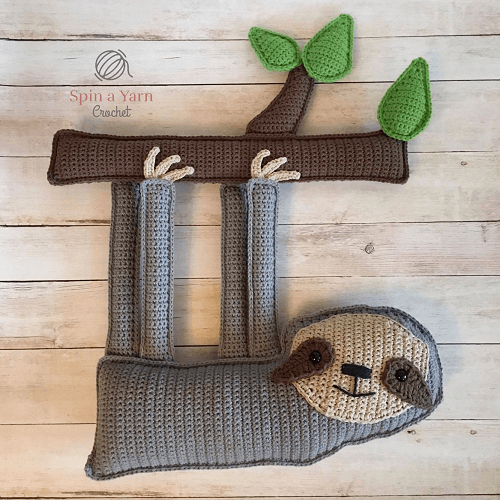 Get the Pattern here

5. Crochet Sloth Curtain Tie Back Pattern by Thoresby Cottage
This adorable sloth curtain tie back is perfect for any nursery, baby room, or playroom! They will add to a sloth themed nursery so perfectly. They would also make cute gifts for so many occasions including baby showers and birthdays!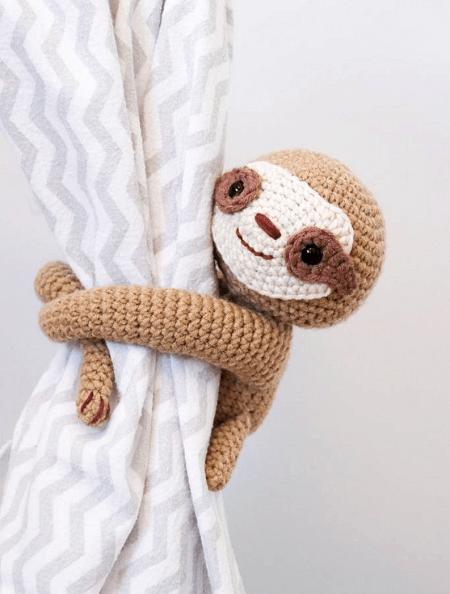 Get the Pattern by Thoresby Cottages here

6. Hook Case Free Crochet Sloth Pattern by The Loopy Lamb
This Sloth Hook Case is a quick and easy free crochet pattern. It can be used as a hook case, a clutch, pencil case or makeup bag. This hook case is super adorable. If you're ambitious you can line this with cute and fun fabric.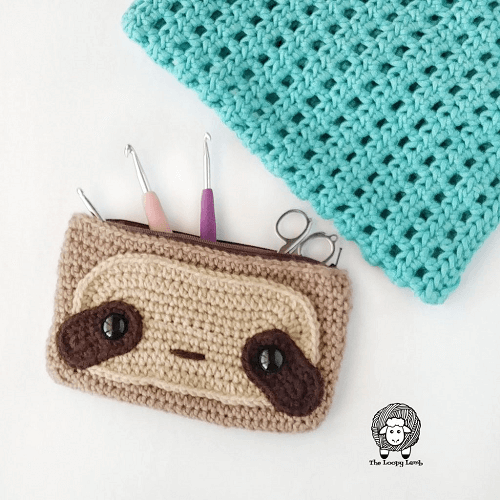 Get the Pattern here

7. Cuddly Sloth Crochet Pattern by Irene Strange
This cuddly sloth is everything your young one would look for in a best friend. His baby blue coat would fit perfectly in a nursery or prop up on the end of your little one's bed.

A more basic design but still just as pretty, this pattern has less detailing on the face, but make sure you stock up on blue yarn!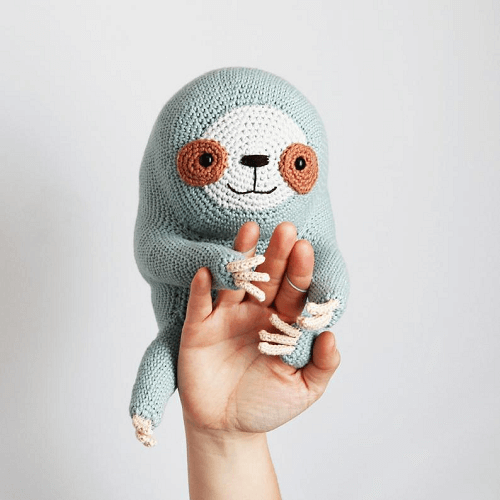 Get the Pattern by Irene Strange here

8. Crochet Sloth Rug Pattern by Ira Rott Patterns
Do you love Sloths? Then you will love to add this little guy to your decor. Perfect to keep your feet nice and warm on a winter day. It also has lots of texture so your little one can use it as a sensory rug.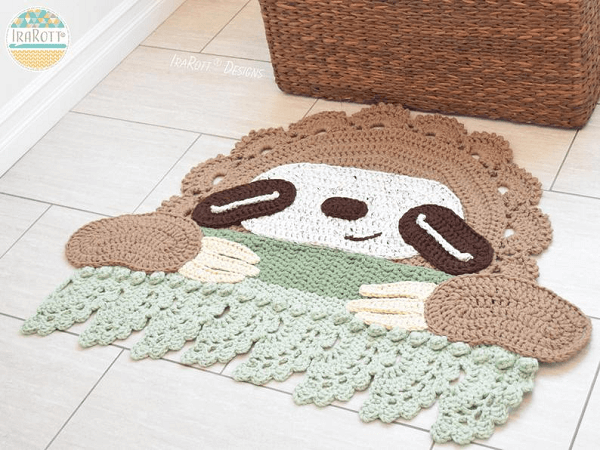 Get the Pattern by Ira Rott Patterns here

9. Sloth Bookmark Crochet Pattern by Heart Hook Home
This cute sloth will be your newest friend that is most obliging as you read. He'll wait patiently for his turn to mark your place when you are ready for a break. A fun crochet sloth page saver for any reading or sloth fan!

Check out 30+ Crochet Bookmark Patterns Here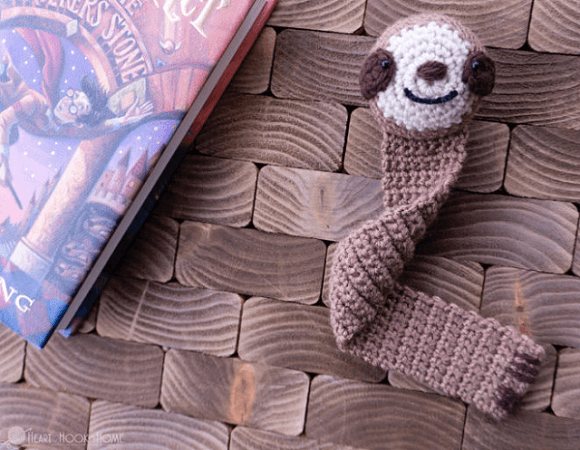 Get the Pattern here

10. Sloth Backpack Crochet Pattern by Lady Dust Bunny
This sloth backpack pattern is designed to be soft, cute, and a cuddly accessory to enjoy!

The pattern includes a list of needed materials, instructions on how to create this backpack, and how to have stuffed portions or skip the stuffing parts of the bag.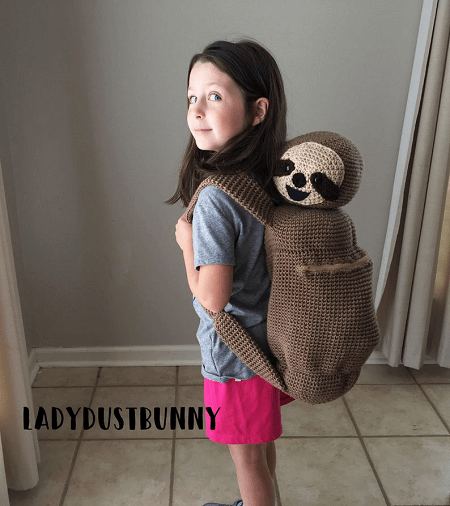 Get the Pattern by Lady Dust Bunny here

11. Crochet Sloth Amigurumi Pattern by Craft Passion
This baby sloth amigurumi is a happy little guy who craves for human hugging and cradling. Being slow in clawing, he prefers to be carried around.

This project would make a lovely toy for the sloth-lover in your family or just a great company at your bedside. You can decide.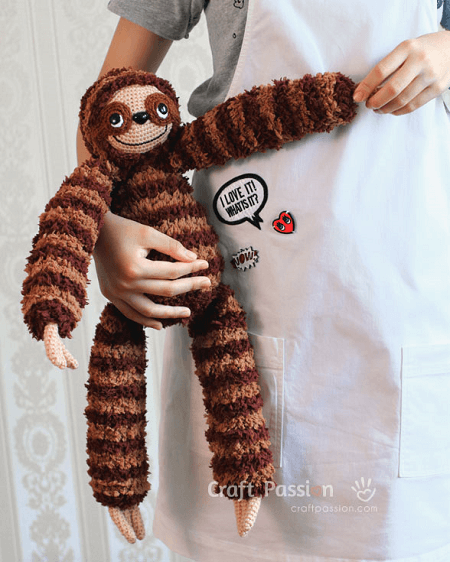 Get the Pattern here

12. Crochet Sloth Pattern by Nella's Cottage
This crocheted sloth is just too cute and would be darling added to any blanket, pillow, wall hanging or any decor. The pattern is easy to follow and the end results are just wonderful!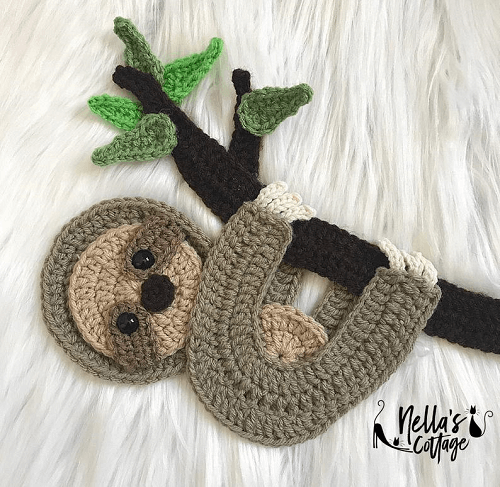 Get the Pattern by Nella's Cottage here

13. Baby Sloth Outfit Crochet Pattern by Baby Baum Boutique
This little guy makes a great gift for expectant parents or for your own newly arrived little one to be adorned in for photos. Also makes a great Halloween costume! This outfit is sized to fit babies 0-3 months.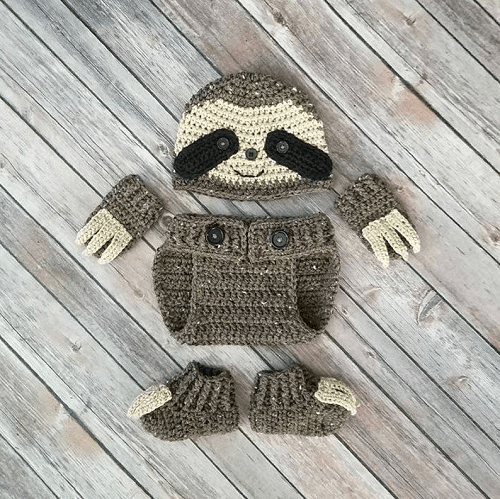 Get the Pattern by Baby Baum Boutique here

14. Baby Sloth Crochet Pattern by Storyland Amis
This baby sloth is tiny but has a really big head. Just like regular babies, but much cuter. This miniature is super cute and small in size, meaning it can be the perfect pocket pal to sit on your mantelpiece. A great make for amigurumi beginners too, as it's not too complicated.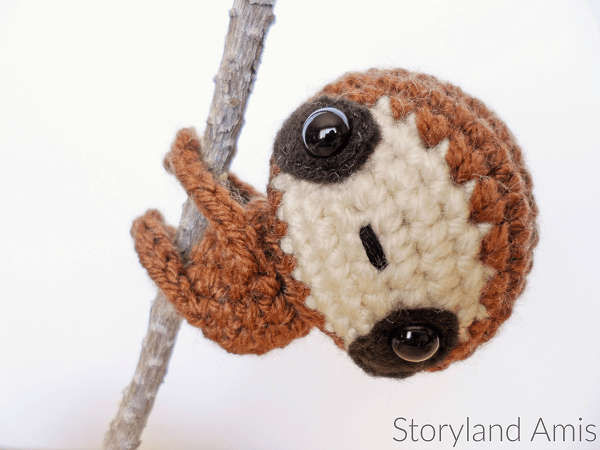 Get the Pattern here

15. Crochet Sloth Pillow Pattern by TLB Patterns
This pillow features a sweet smiling sloth hanging around on a branch, taking things slow. This adorable sloth pillow is perfect for a nursery or a child's bedroom.

Doesn't she look so peaceful? Really, she's perfect for sloth lovers of all ages.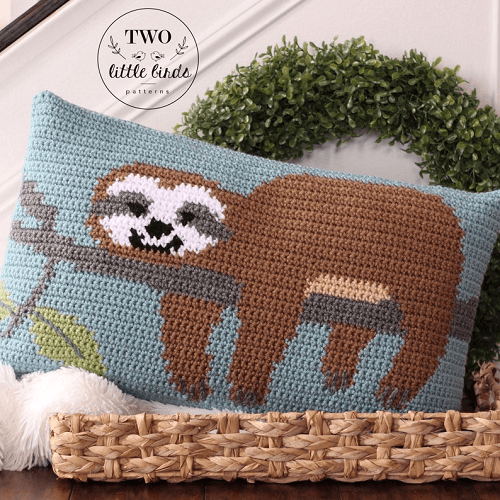 Get the Pattern by TLB Patterns here

16. Sloth Crochet Pattern by Mala Design
A cartoon-like alternative to the more traditional design, Mala Designs has created a sloth character full of personality! Have him clinging onto a tree or resting on your coat rail, or, maybe try hiding him somewhere for another surprise!
Get the Pattern by Mala Design here

17. Crochet Sleepy Sloth Lovie Pattern by Yarnspirations
This adorable sloth lovey is a perfect cuddle companion for little ones. Tackle this adorable project for your next baby shower gift. This will quickly become one of your favorite blankets to make for gift giving.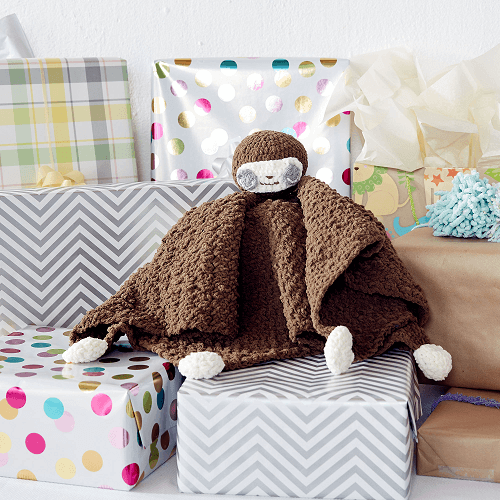 Get the Pattern here
Everyone needs a sleepy crochet sloth in their life. Agreed?
We also have round-up of patterns for Crochet Cat, Pandas, crochet dogs and Giraffes that you may want to whip up too!
Enjoy your adorable sloths, and don't forget to share your work with us on our Facebook Page.
Have fun with the sweet sloth by making these super cute crochet sloth patterns!