As the temperatures rise and the days get longer, the arrival of springtime brings with it a colorful and lively phenomenon: the arrival of butterflies. Do you love butterflies? Then this collection of crochet butterfly appliqué patterns is just what your project list has been waiting for!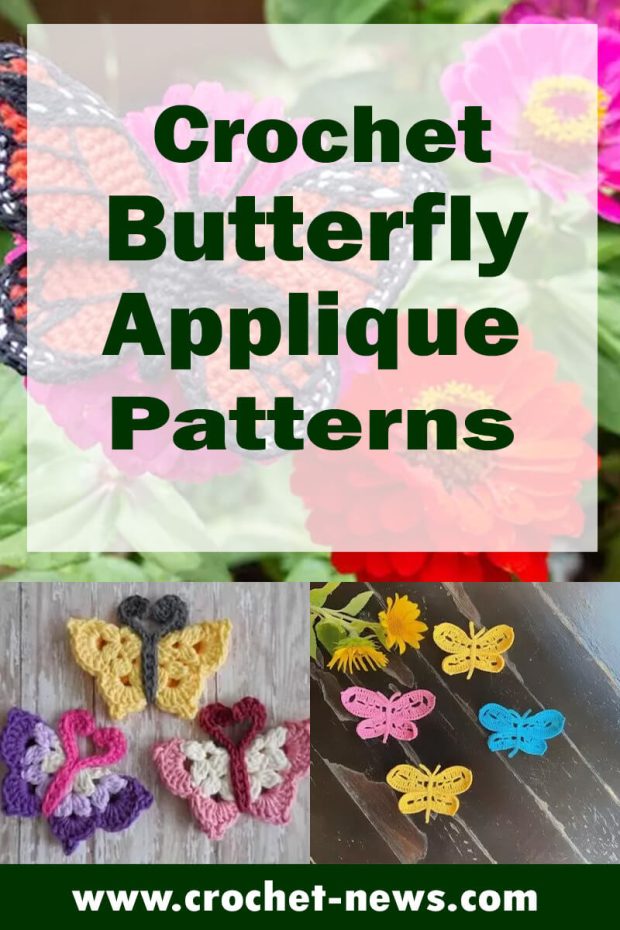 I love how versatile crochet embellishments are. Whether you want to add your butterfly to a brooch, get creative and create a piece of jewelry, add a sweet detail to a scarf or hat, or make a bunting chain – the possibilities are endless with crochet embellishments. Plus, did I mention they're great for using up scraps? Have fun and get creative!
15 Crochet Butterfly Applique Patterns

1. Crochet Butterfly Applique Pattern by Jami K Succop
These butterfly appliqués take just a yard or two of yarn, and can be completed in mere minutes! Add a bead or faux gemstone as a final touch, and then apply these little cuties to any project your heart desires.
Get the Pattern here

2. Crochet Heart Butterfly Applique Pattern by Golden Lucy Crafts
This beautiful crochet Butterfly applique is made from crocheted hearts. You just need to make hearts according to the instructions and then sew them together! It is easy and fun to make and the result is very cute!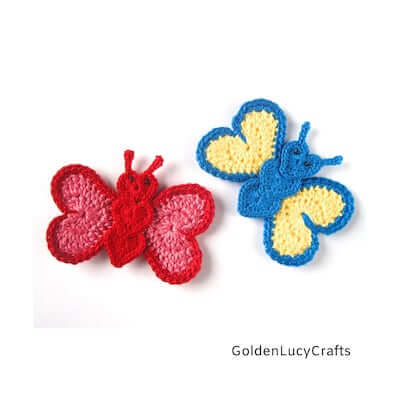 Get the Pattern by Golden Lucy Crafts here

3. Crochet Butterfly Pattern by Kerri's Crochet
These pretty butterflies will brighten up any room, outfit, or anything else in your life. Vibrant and fun, you will enjoy working these up as much as displaying them.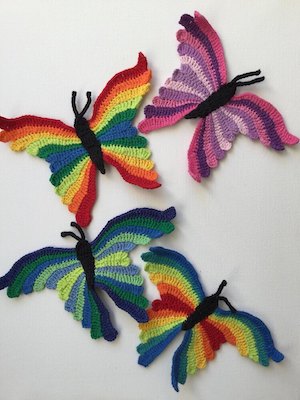 Get the Pattern by Kerri's Crochet here

4. Crochet 3D Butterfly Applique Pattern by The Easy Design
Crochet this cute Butterfly pattern with pipe cleaner antennas for your home, as decor, as a gift for birthdays, Mother's Day or simply for Spring and Summer.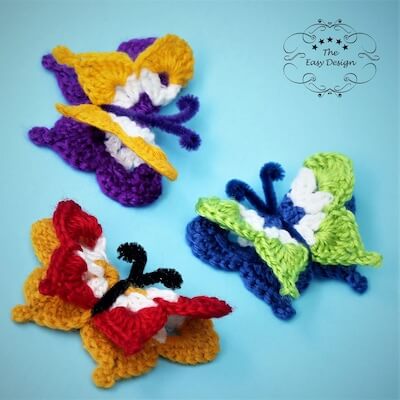 Get the Pattern by The Easy Design here

5. Crochet Butterfly Sophia Pattern by Island Style Crochet
This Crochet Butterfly Sophia combines basic granny beginnings followed by cluster shells and just the right amount of fancy with her playfully placed picots.You'll love making different color combos with your scrap yarn and will have a pile of butterflies before you know it.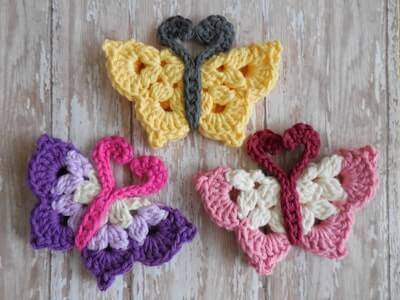 Get the Pattern by Island Style Crochet here

6. Quick Crochet Butterfly Pattern by Kristi Simpson
These whimsical butterflies would make lovely hair clips or brooches! Amazingly enough, they consist of only a chain and one round!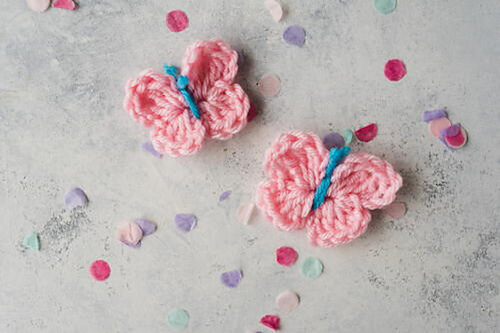 Get the Pattern here

7. Crochet Butterfly Motif Pattern by Stitching Together
Here are adorable little crochet butterflies that work great from appliqués, hair accessories, magnets and more! The great thing about these butterflies is that they don't take much yarn (scrap amounts) and they can be made with almost any yarn in any color.

As you can tell, the butterfly is quite puffy and, as you guessed it, is made mostly of puff stitches.Chains, slip stitches, and one single crochet also make importance appearances in this pattern.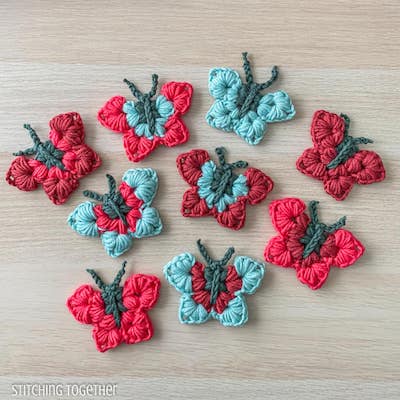 Get the Pattern here

8. Crochet Monarch Butterfly Applique Pattern by Stella's Yarn Universe
This crochet butterfly pattern is a great project for intermediate and seasoned crocheters! It is inspired by the Monarch Butterfly but of course you could use it to create different kinds of butterflies. If using the recommended yarn and hook size, your butterfly will measure about 10 x 7cm/4 x 3″ wide and long.

The butterfly itself is made in 5 separate pieces that are then joined together. The intricate veins and markings on the wings are sewed on the finished project.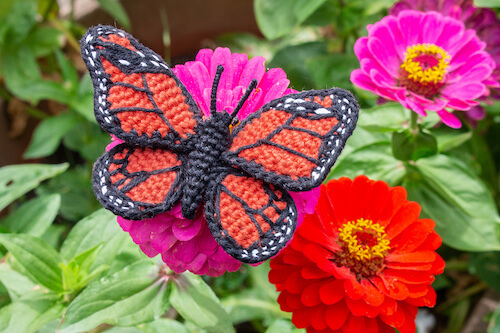 Get the Pattern here

9. Crochet Butterfly Of Paradise Pattern by Crochet Mon Cherie
As delicate as the real thing, this Butterfly of Paradise is just as beautiful, as well. Use it as a lovely accents to tank tops and t-shirts. You can also create a wonderful wall display.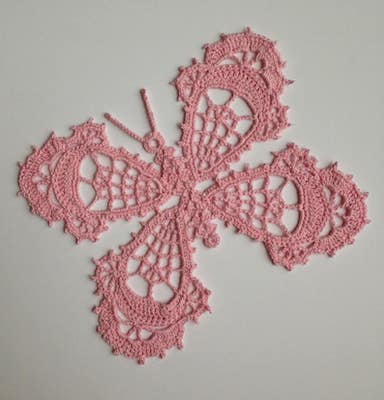 Get the Pattern by Crochet Mon Cherie here

10. Crochet Small Butterfly Applique Pattern by Dolia Galina Crochet
Colorful butterflies are the perfect accompaniment to pretty spring flowers, so for your stitching pleasure, here is a darling dainty butterfly that you can use in a variety of ways.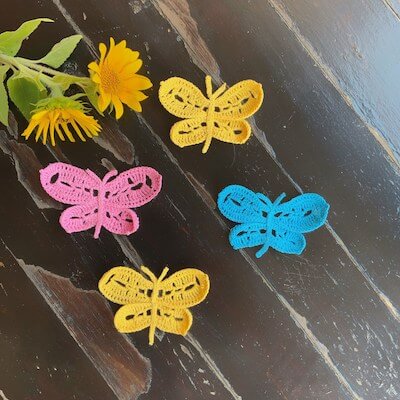 Get the Pattern by Dolia Galina Crochet here

11. Crochet Large Butterfly Applique Pattern by Hookfully
This easy crochet applique is perfect for embellishing kids projects for Spring and Summer. This big, flat butterfly has a happy face with cute antennae, and large heart shaped butterfly wings.

This butterfly applique measures 14cm wide by 15cm high and is crocheted in several pieces and sewn up together as you work. Overall, the big butterfly is a very fast, easy crochet pattern that's great for using up scraps of yarn.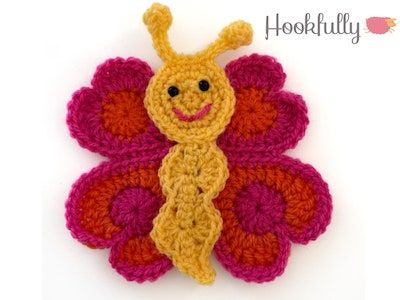 Get the Pattern by Hookfully here

12. Crochet Butterfly Catalyna Pattern by Island Style Crochet
Here's a crochet butterfly that is simple and easy to make. This DIY crochet butterfly motif works great on a hat, scarf, shawl, headband, purse, handbag and more. You can make the butterflies in one color, or 2-3 colors.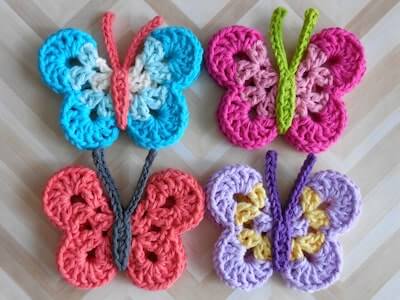 Get the Pattern by Island Style Crochet here

13. Crochet Butterfly Applique by Golden Lucy Crafts
Butterflies and hearts, what a lovely combination of motifs! These cute little butterflies works great not only for Spring, but also for Valentine's Day projects. They are perfect for your scrap yarns or if you need a quick crochet fix.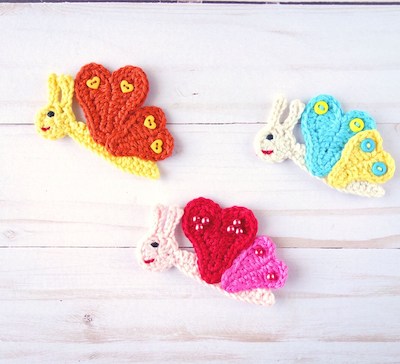 Get the Pattern by Golden Lucy Crafts here

14. Crochet Butterfly Fairy Wings Pattern by Sweet Softies
Both a written pattern and a tutorial video are available for these adorable little butterfly fairy wings! Only two rounds of crocheting are required to make them, and everything is completed in one piece with no sewing involved.

It goes well with a miniature fairy doll and other little creatures. These wings can also be used as appliques or embellishments on knit or crocheted items (such as a baby blanket, beanie, or sweater).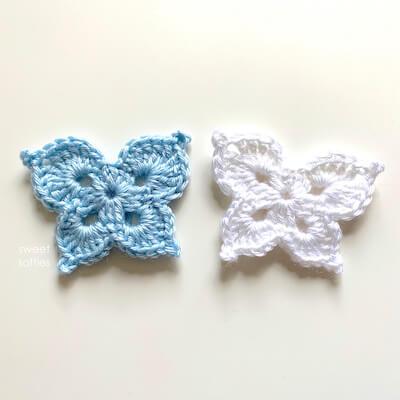 Get the Pattern here

15. Free Crochet Butterfly Pattern by Crochet 365 Knit Too
Crocheted butterflies make great pins and appliqués for crochet projects. You can easily make a butterfly by creating a ruffled granny square and then folding it in half to form the butterfly's body. Then, you can embellish your butterfly with antennae to make it look even more realistic.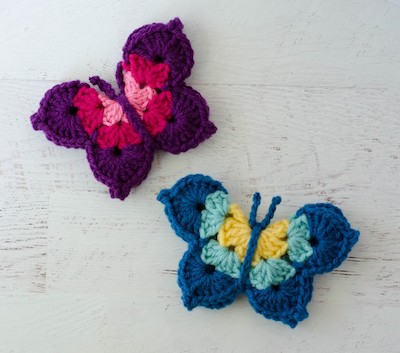 Get the Pattern here
ADD A GARDEN OF BUTTERFLIES TO YOUR NEXT CROCHET PIECE WITH THESE CROCHET BUTTERFLY APPLIQUE PATTERNS!
Questions? Feedback? We want to hear from you! Reach out anytime. And show us what you're crafting by sharing photos of your finished projects on our Facebook Page. I love seeing your creations online, as it motivates us to work harder to create more beautiful round-ups.
If you're looking for spring crochet patterns, then these ideas will satisfy your creative impulses.
So what are you waiting for? Let's make beautiful crochet butterfly appliqués for personal use or as wonderful; gift for a loved one today.