Work up these adorable crochet chick patterns for Easter and add an array of colorful twists to the home decorations! You can make a number of these as little Easter basket gift ideas – moving away from all that chocolate to making something cute that your kids can play with!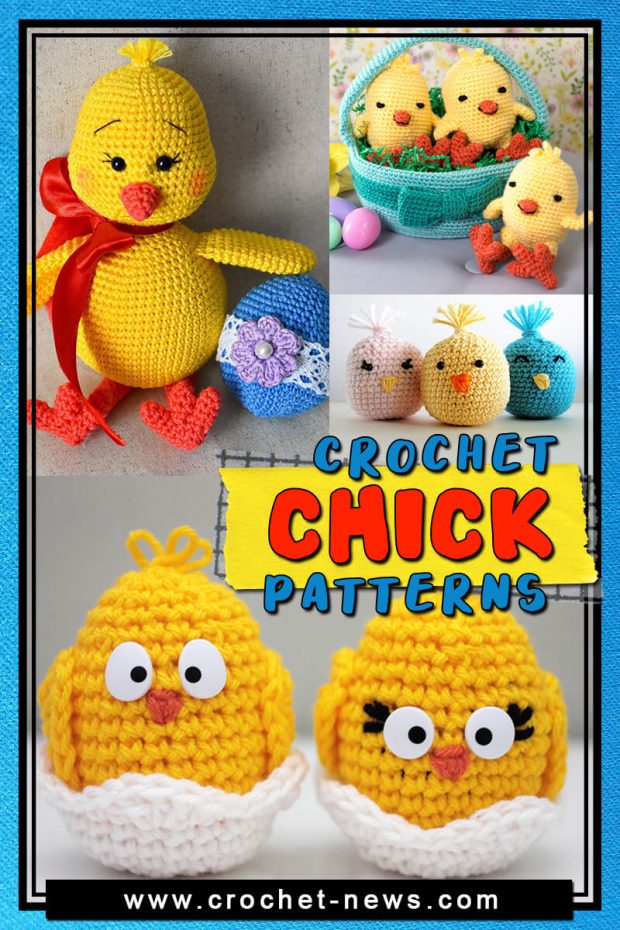 15 Cute Crochet Chick Patterns For Your Next Easter Project
Easter is just around the corner and Spring is already in the air, and the only thing cuter than little bunny rabbits are these little crochet chick patterns. Have fun making these cuties!
1. Easter Amigurumi Chick Pattern by Amiguroom Toys
This free crochet easter chick pattern is for the cute Easter chick with her egg. They are both super cute and easy to make. Put them in your Easter basket, decorate your home with them, or make a sweet gift for your loved ones!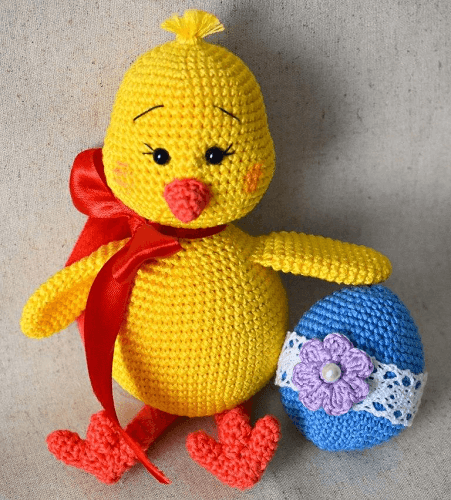 Get the Pattern here
2. Crochet Easter Chick Pattern by Ro Kiki
These lovely Crochet Easter Chick are going to make the sweetest Easter surprise. If you're still looking for a little detail to complete your gift, these cute fellows might be just it. Everyone will love them! With the yarns used in this project, the Crochet Easter Chick Pattern measures 12cm (4.7 inch) tall and 9 cm (3.5 inch) wide.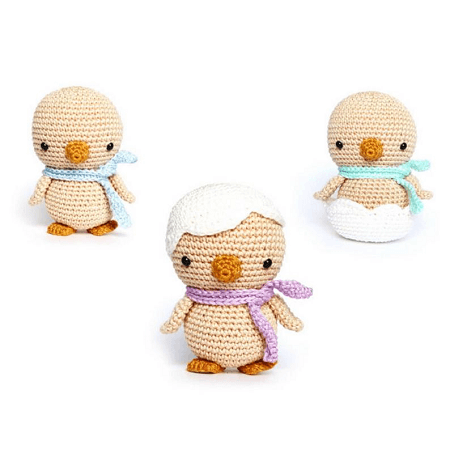 Get the Pattern by Ro Kiki here
3. Crochet Easter Chick Pattern by Yarn Hild
These adorable crochet chicks are easy to make loop stitches are added to give them an interesting look. The loop stitches are so easy to make once you get the hang of it, so now you can really create some unique and festive chicks for easter!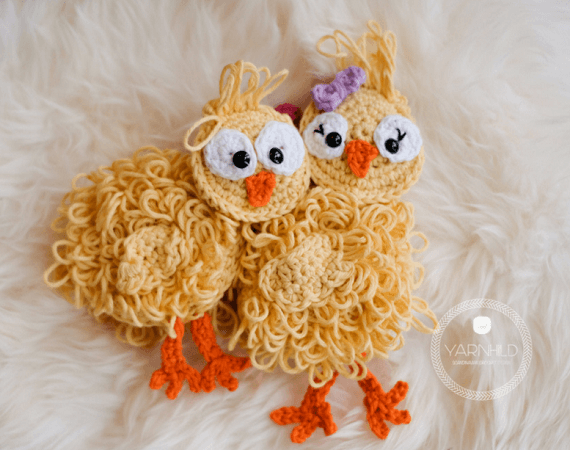 Get the Pattern here
4. Three Amigurumi Chicks In A Basket Crochet Pattern by Yarnspirations
Make Easter memorable with colorful crocheted chicks in a basket. This endearing project celebrates the arrival of spring in fresh seasonal shades, or using your colors. It's a playful decoration for the home, or a fun toy for all ages, since everyone relates to these peeps!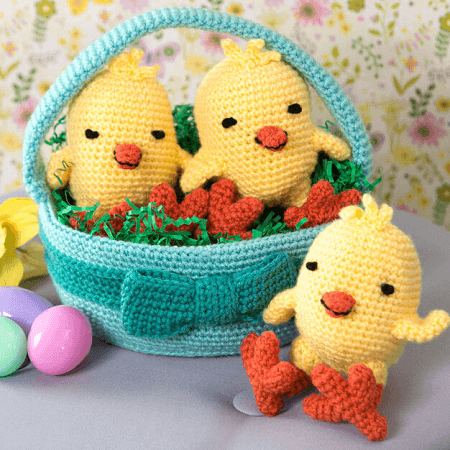 Get the Pattern here
5. Hatching Amigurumi Chick Crochet Pattern by Kayte Dids
This 5in mini Hatching Amigurumi Chick is a great addition to your Easter collection. He works up so quickly and is a great way to use up scrap yarn.

This little creature will give your own little one lots of fun at playtime. The amigurumi chick with hair feathers has his own little egg that he can be tucked into and taken out of.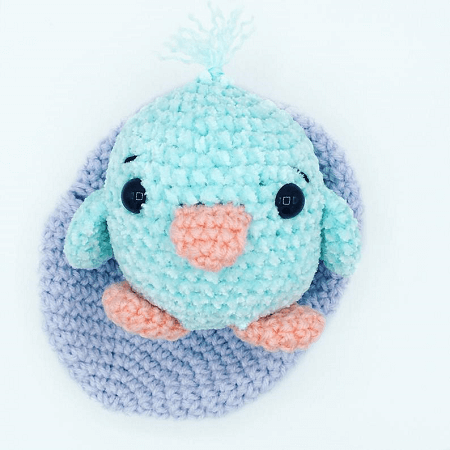 Get the Pattern by Kayte Dids here

6. Crochet Chick Pillow Pattern by Grace And Yarn
With Spring around the corner, this sweet Crochet Chick Pillow makes the perfect gift! Using only one skein of yellow yarn and super easy stitches this pattern is great for any skill level!

This crochet chick pattern works up quite quickly and is the type of project you can do while watching your favorite movie. Most stitches are in continuous rounds with easy repeats.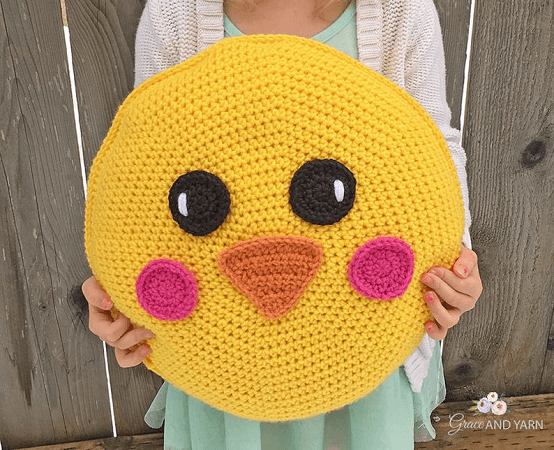 Get the Pattern by Grace And Yarn here

7. Amigurumi Shakers Free Chick Crochet Pattern by Maria's Blue Crayon
These Amigurumi Shakers Crochet Easter Chick are stuffed with poly-fil that would hold an Easter egg filled with something to make noise. They would be a great addition to my kid's Easter basket.

You can definitely whip a few of these up in an evening. They're really easy and you can use whatever scrap yarn you have!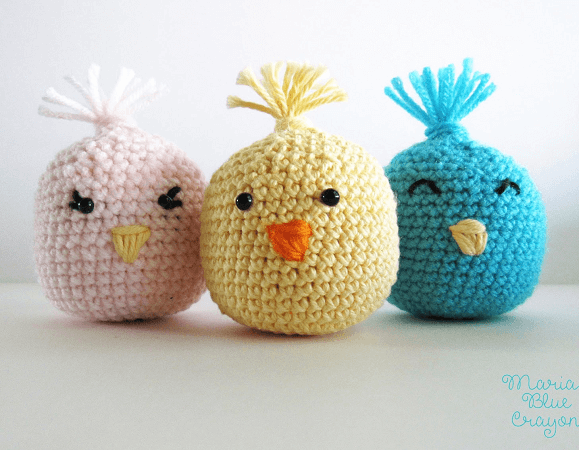 Get the Pattern here


8. Chubby Spring Chicks Crochet Pattern by Spin A Yarn Studio
If you are in the mood to crochet something simple and quick, but also cute, colorful, springy, and bright, these Chubby Spring Chicks fit the bill perfectly! You will love the little added surprise when they pop out of their shells to reveal their little feet!

You could also embroider a little flower on the chicks for an additional surprise when taken out of their shells. They would make a sweet addition to an Easter basket and would even make a great hiding spot for some tasty Easter treats!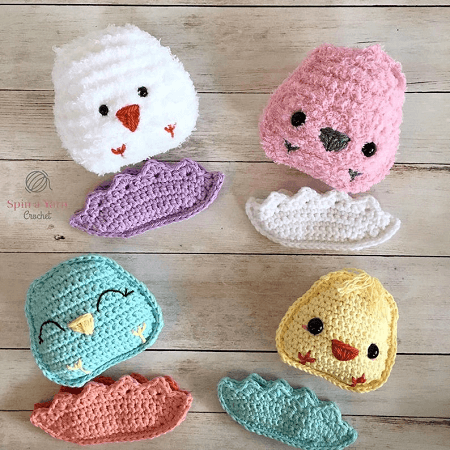 Get the Pattern by Spin A Yarn Studio here


9. Baby Amigurumi Chick Crochet Pattern by Repeat Crafter Me
This Baby Chick Crochet Pattern is hatching just in time for Spring and Easter crafting! He works up super quick and the safety eyes really bring this guy to life. A great decoration, place setting piece, gift, Easter basket favor, and more.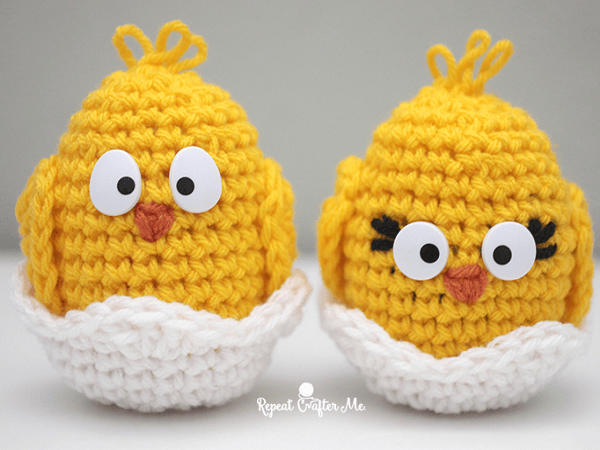 Get the Pattern here

10. Ragdoll Crochet Chick Pattern by Yarn Hild
You can use this Ragdoll Chick for decoration or it can easily be turned into a bookmark! How great is that?! You can easily transform these chicks into a bookmark, simply by making the feet longer.

These chicks look hilarious with their long feet. You can customize this pattern and make it individual, just change the colors and have fun with it!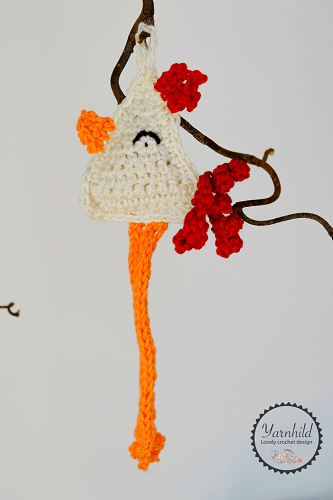 Get the Pattern here

11. Treat Bags Crochet Easter Chick Pattern by Moji Moji Design
Carrying this Treat Bags Crochet Easter Chick as you walk around is sure to put a 'spring' in your step. Great fun for the little Easter Egg hunters in your life, or fill with chocolates and surprises to make your spring gifts even more special.

This crochet chick pattern is designed with a three-dimensional crochet amigurumi chick popping off of the tote bag. It also comes with Easter eggs. This super cute bag can also be a school bag or activities bag during the spring season.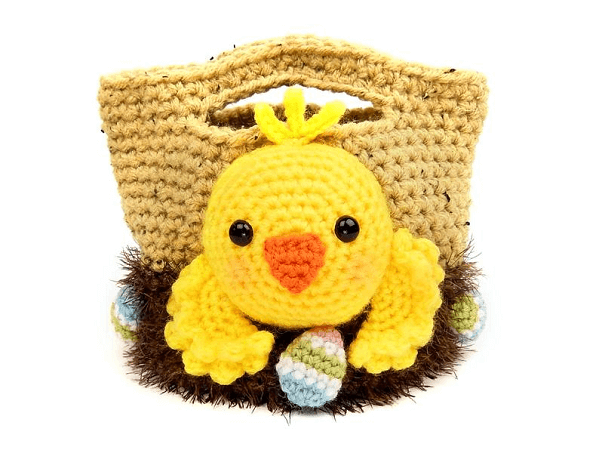 Get the Pattern by Moji Moji Design here

12. Mini Easter Basket Crochet Chick Pattern by Winding Road Crochet
This Mini Easter Basket Crochet Chick Pattern is perfect for Easter or spring decorations. The quick and easy free crochet pattern works up in about 30 minutes and will be a great easter basket filler for any child. Fill this crochet spring chick basket with easter candy to be enjoyed by everyone.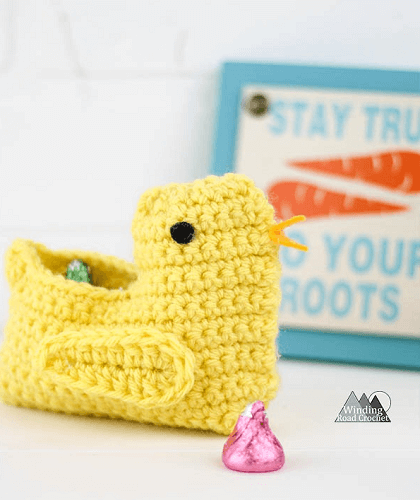 Get the Pattern here

13. Crochet Chick Pattern by Zoom Yummy
The cute little chicks that you can create with this pattern are about 3 inches (7.5 cm) long, 2.4 inches (6 cm) wide and 3.2 inches (8 cm) tall. Make a bunch of these cuties and gift them to your friends and family!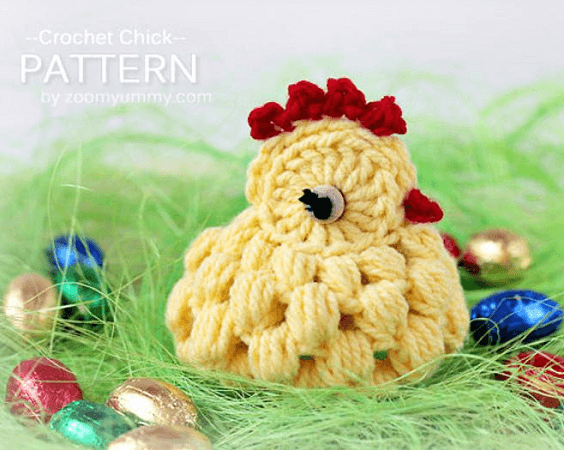 Get the Pattern by Zoom Yummy here

14. Baby Chick Hat Crochet Pattern by Yarnspirations
You get 2 adorable colorways with this whimsical hat pattern that's just the thing to celebrate spring! Crochet your hat as designed, or make it personal in any shades of your choice.

With so many colors to inspire your creativity, you can create sweet gifts that add a smile to any day, rain or shine. It's a delightful project to celebrate Easter or kick off the season.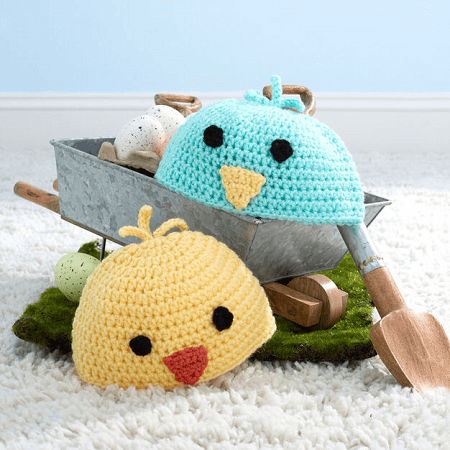 Get the Pattern here

15. Crochet Easter Chick Amigurumi Pattern With Friends
There is not another holiday that I like more than Christmas except for Easter holidays. For one it's quite a long holiday in the middle of the year, and I know we all like the break from work just to spend time with family.
The other reason is the variety of decorations that are put up. I am a sucker for decorations; I find it just so fun to let my creative juices flow. I couldn't hide my delight when I stumbled upon this cute crochet easter chick pattern on Etsy.com.
The little amigurumi chick will be the cutest decoration you will put up this Christmas. Don't be surprised if you get questions about where you got it. So what exactly do you need for the crochet easter chick pattern?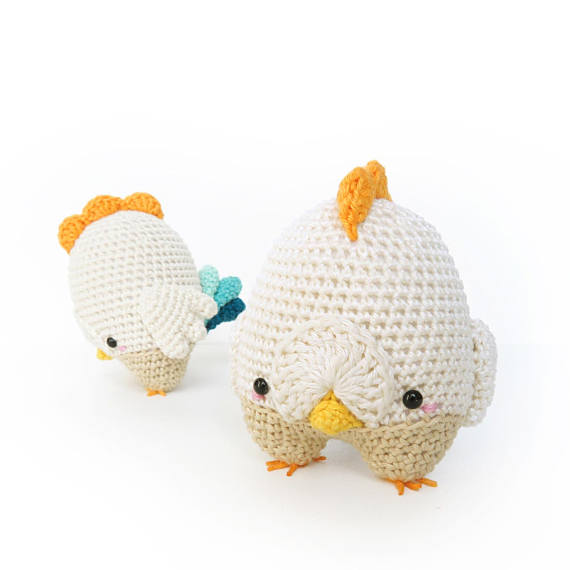 Get The Easter Crochet Patterns Here
Crochet Easter Chick Materials
Approx 50g of Aran weight yarn in a skin tone (the creator used stylecraft special Aran cream)
Around 50g of Aran weight yarn in grey (stylecraft special Aran – Aspen)
Approx 50g of chunky/bulky weight yarn in light orange for the hair and feet (the creator used Lion brand thick n quick)
Black cotton/embroidery thread for the eyelashes
Pink or red crayon for the cheeks
3mm crochet hook
Tapestry needle
Sewing needle
9mm safety eyes
Toy stuffing
Chick, Bunny And Lamb Tutorials And PDFs
The requirements for the amigurumi chick crochet pattern are quite numerous this is understandable since the pattern comes as a combination of three amigurumi patterns; a chick, a bunny, and a lamb.
The instructions for each of the amigurumi dolls come separate, but they are quite similar. The pdf's and tutorials are written in simple English and are quite easy to follow.
The instructions also include illustrations and pictures to ensure that you are on track. If you follow the instructions precisely, you will most assuredly end up with these beautiful creations to color your Easter.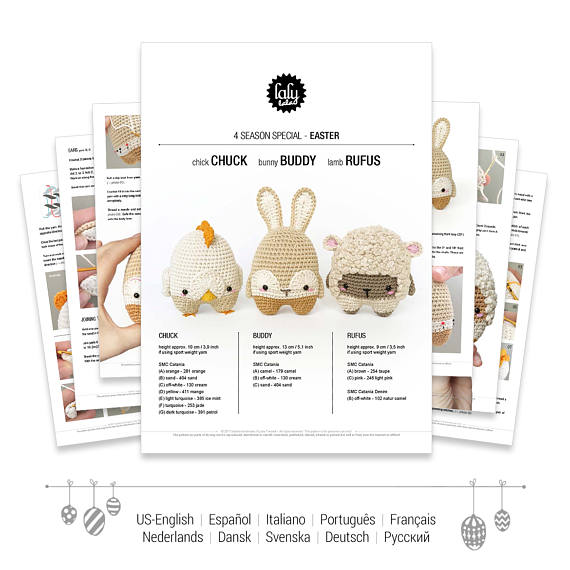 Easter Amigurumi Games To Play
There are many applications for the crochet Easter chick pattern. You can use them as decorative pieces around your home during Easter to get everyone in the mood. You can also put them up during your Easter celebration, and they are bound to get everyone talking about them.
A good idea is instead of the usual egg hunt you can put a few Easter crochet chicks around your home for the kids to find. Try it and watch your kids scurry around trying to find the tiny chicks, bunnies, and lambs. It will be a whole other experience for them and trust me they will love it.
We only have a few weeks until Easter so what are you waiting for? Get the Easter chick crochet pattern and let it find you prepared. Don't limit yourself when using the pattern.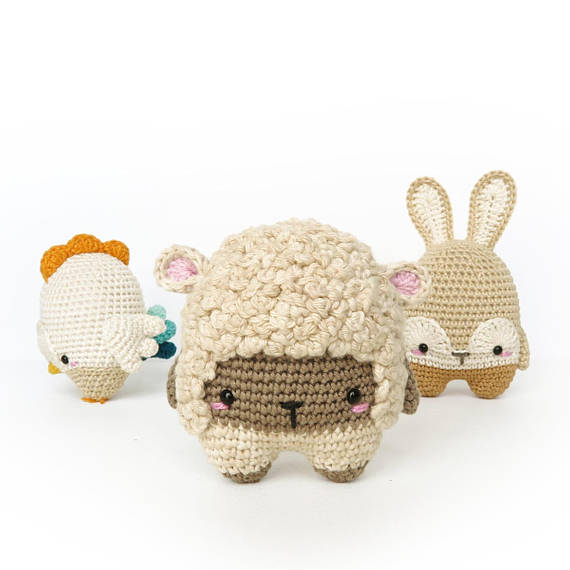 Try out different colors, mix and match to create the same effect as Easter eggs. You can also try out thicker yarn which will make your amigurumi chick bigger.
Get The Easter Crochet Patterns Here
If you are looking for something to make this Easter different from the rest, then this collection of crochet chick pattern is just the thing!
We can't wait to see your very own little feathery friends. Please share a pic of your finished crochet chicks on our Facebook Page. We'd love to see how they turned out!

From amigurumi Easter eggs to lambs to bunnies – if you fancy a bit of quick and cute Easter crochet, we got you Easter day ready!

With all these crochet chick patterns above, Easter will be extra special this year with a bit of added crochet beauty!