Whether it's spring, Easter, or Bakrid, these cute and creative crochet sheep and lamb patterns are just what you need! And whether you have a baby shower coming up or you just love sheep, these are some of the cutest patterns you'll find anywhere!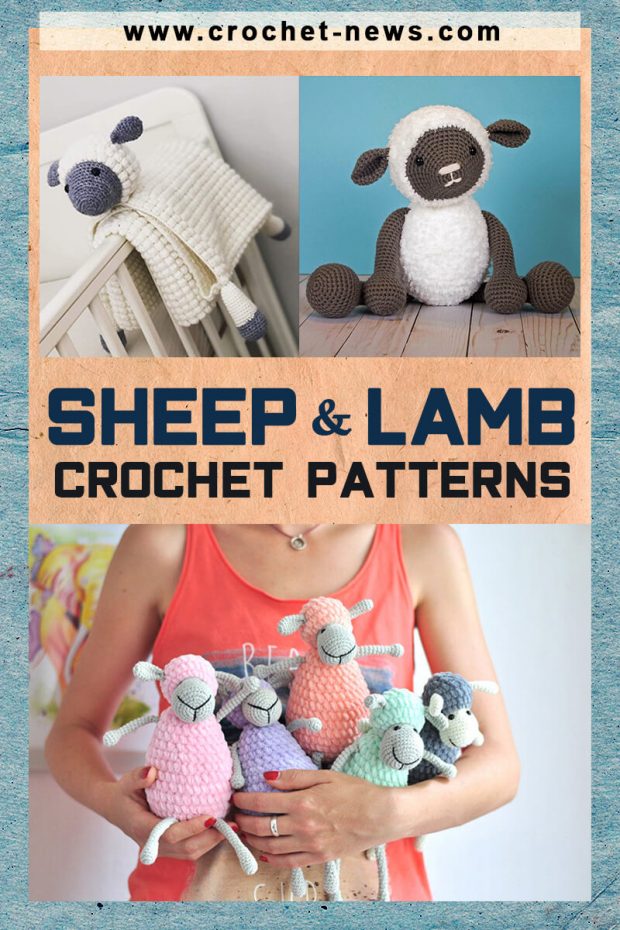 15 Crochet Sheep and Lamb Patterns
Crocheters have a special fondness for sheep and lambs since they generously provide the supplies for our addiction – yarn! From blankets to full, puffy, huggable sheep, you'll fill your cuteness quota in no time!

1. Shelby, The Lamb Crochet Pattern by Aradiya Toys
If you're looking for a project that's cute and fun to crochet, you're in the right place! Shelby, the lamb is a great amigurumi project for Easter, baby showers, or just because. Isn't she adorable?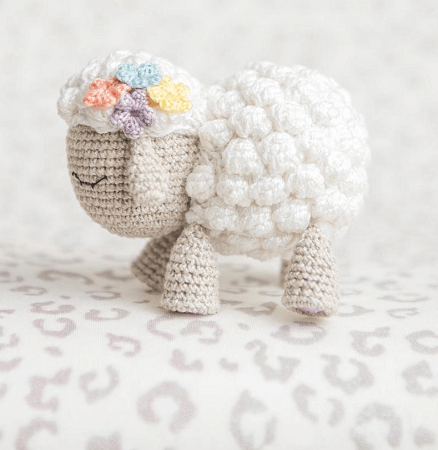 Get the Pattern by Aradiya Toys here
2. Bobby, The Bighorn Sheep Crochet Pattern by CCs Whimsical Crochet
Bobby is the cutest bighorn sheep there ever was! Who wouldn't want him? The pattern includes instructions to make this cute sheep that will measure about 5 1/2 inches tall and 5 inches long.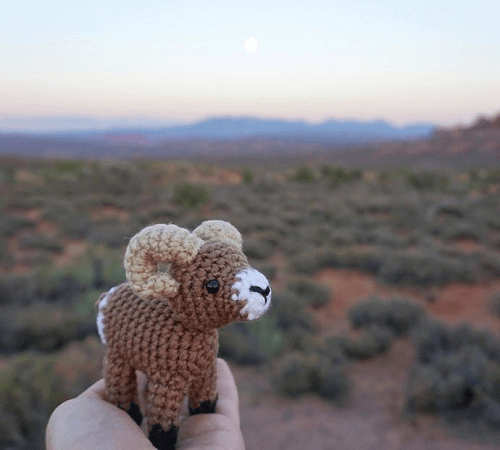 Get the Pattern by CCs Whimsical Crochet here

3. Easter Crochet Lamb Rug Pattern by Ira Rott Patterns
Like a dreamy wooly cloud, this Crochet Easter Lamb Rug will bring spring into your home. You can make it from 3 strands of medium yarn (weight 4) or just use a single strand of squishy Bernat Blanket yarn (weight 6).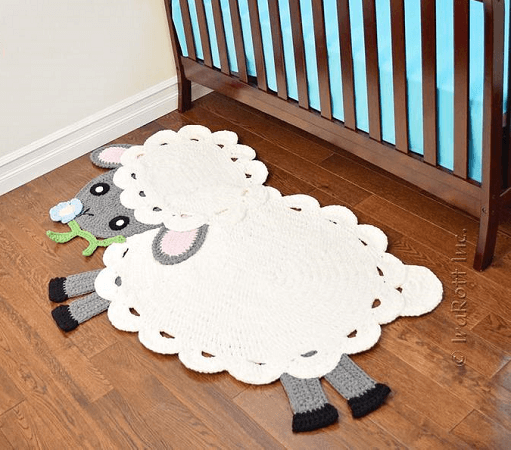 Get the Pattern by Ira Rott Patterns here
4. Amigurumi Crochet Sheep Pattern by Kristi Tullus
The head and body of this cute little sheep are crocheted using bobble stitch – a great technique that creates this wonderfully fluffy texture. Does take a bit of time to make and uses up a lot of yarn, but the result is absolutely worth it.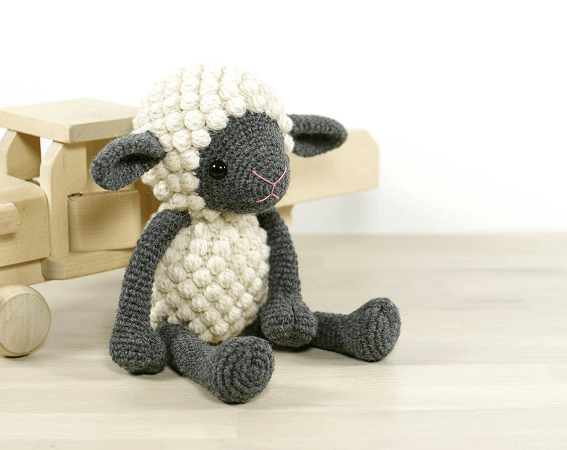 Get the Pattern by Kristi Tullus here

5. Amigurumi Crochet Lamb Pattern by The Friendly Red Fox
This little Amigurumi Crochet Lamb Pattern is such a fun project! Measuring 10 inches tall sitting down (16 standing up!) it is the perfect size to snuggle.

And you will definitely want to because the Bernat Pipsqueak yarn is so soft. Combined with the sweet expression on its face and the rounded hands and feet, this may be one of your favorite amigurumi ever.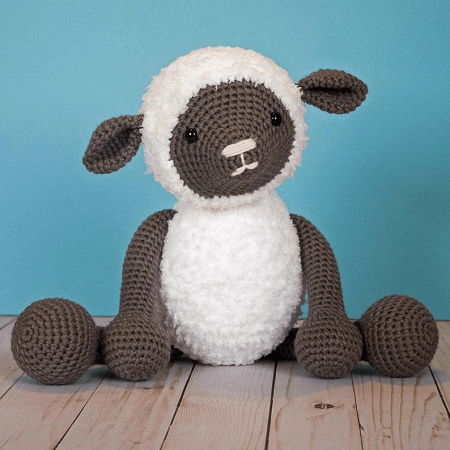 Get the Pattern by The Friendly Red Fox here

6. Cuddle Me Amigurumi Sheep Pattern by Amigurumi Today
These baby amigurumi sheeps are looking forward to being picked up and cuddled by your little one. Every child and anyone who's young at heart will absolutely be captivated by these adorable Cuddle Me Sheep.

The pattern is easy to follow with lots of step by step full color photos. It will make your next crochet project fun and easy! Crochet them in your favorite colors!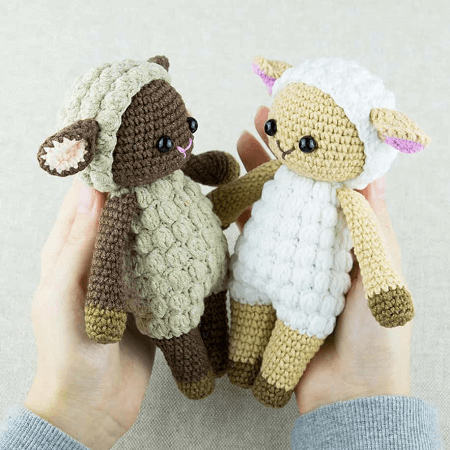 Get the Pattern here

7. Crochet Lamb Curtain Tie Back Pattern by BB Adorables
This Crochet Lamb Curtain Tie Back is not only a curtain tie, it's also a cute home decorator, nursery room gift, or as a toy for your the kids.
The height of this lamb in the sitting position is 20 cm (8 inches) using a 3.00 mm hook and the arms' length is 20 cm (8 inches) but whatever hook sizes you use, your lamb will turn out great!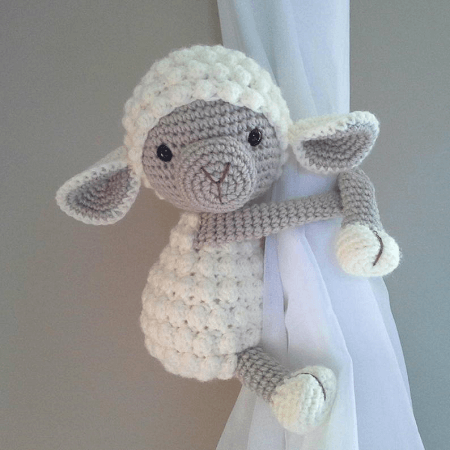 Get the Pattern by BB Adorables here

8. Mobile Free Crochet Sheep Pattern by Yarnspirations
Let little ones drift away into dreamland with a tranquil piece that lulls them to sleep in familiar comfort. Featuring the lush shine of Bernat Baby Velvet, these little friends are worked in the round in a bobble stitch.

With simple shaping techniques, and an assortment of soft shades to customize your work, complete a precious mobile that adds warmth to the crib.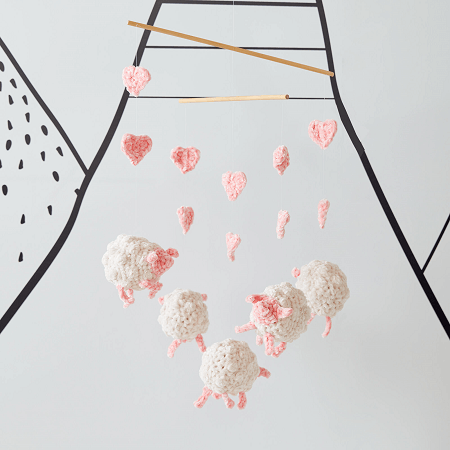 Get the Pattern here

9. Drawstring Bag Free Crochet Sheep Pattern by Repeat Crafter Me
This Crochet Sheep Drawstring Bag is cute as they come. The crocheted drawstring bag can be used for many different purposes. Why not fill it up with little goodies and give it to someone as a gift?

The crocheted bag shaped like a little sheep makes use of the bobble stitch. The drawstring also does double-duty as a cinching mechanism and as a cute little bow over your sheep's head.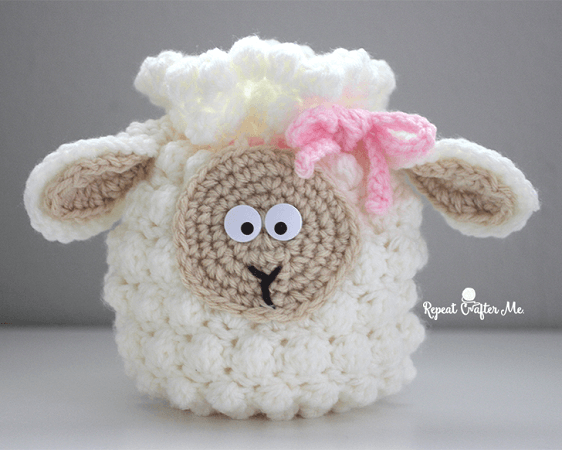 Get the Pattern here
10. Amigurumi Sheep Crochet Pattern by Emerens Love
As you can see from the photo, you can make these amigurumi sheep in all your favorite colors and they are the perfect handmade gift. They guarantee to bring a smile to anyone's dial.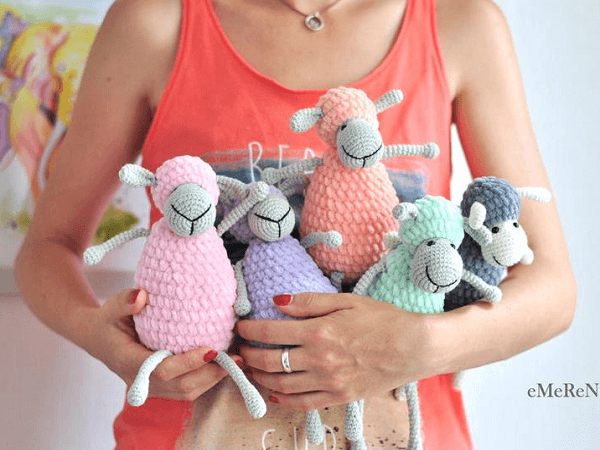 Get the Pattern by Emerens Love here

11. Free Crochet Ragdoll Lamb Pattern by Yarn Hild
This Free Crochet Ragdoll Lamb Pattern is quite quick to make, and you can probably stitch up a lamb in one evening. This cute sheep is made with simple crochet stitches, like single crochet and the bobble stitch.

This free crochet sheep pattern is soft and squishy and the bobble stitch gives the yarn an interesting look and texture. You can use any kind of yarn, just make sure that the size of your crochet hook matches your yarn!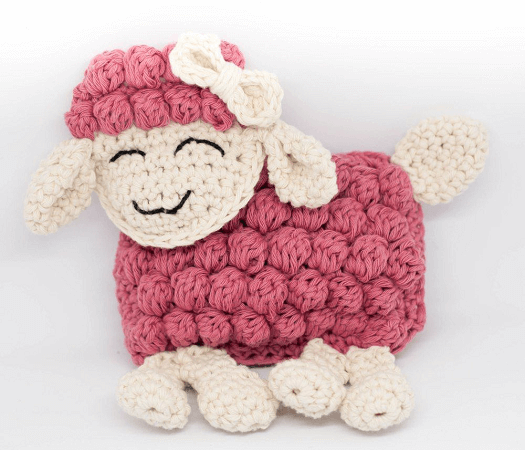 Get the Pattern here

12. Baby Blanket Crochet Sheep Pattern by Crafting Happiness UK
This Baby Blanket Crochet Sheep is a cuddly warm blanket that the baby can play with and then it folds into a decorative toy.

It's perfect for a minimalist home, it's gender-neutral and looks gorgeous when folded and rested on the armchair. The colors are neutral and fit in any home, but you can go bold and choose brighter colors to suit your home.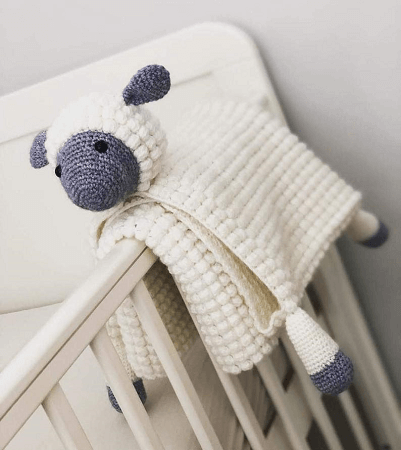 Get the Pattern by Crafting Happiness UK here

13. Crochet Sheep Applique Pattern by The Yarn Conspiracy
This Crochet Sheep Applique can be used for a wide variety of craft projects and would be perfect to decorate baby's clothes. This lovely little sheep measures 6" x 5.25". You can adjust the size by using a different hook size.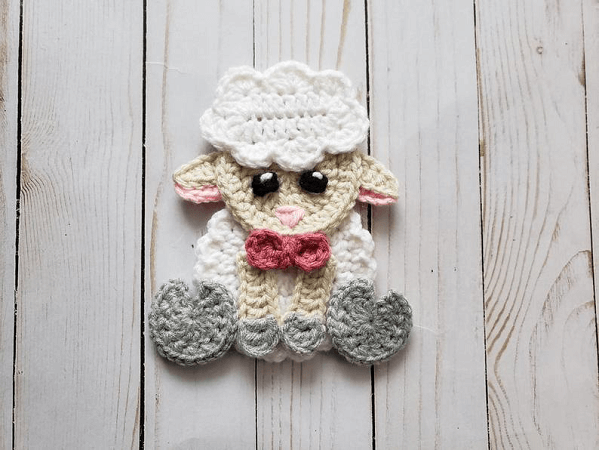 Get the Pattern by The Yarn Conspiracy here

14. Little Crochet Lamb Pattern by Sewrella
This Little Crochet Lamb is the cutest baby toy and is just the right size for carrying everywhere, playing with on the go, or snuggling during quiet time.

She is made using 2 different kinds of yarn, cotton for the face and limbs (more durable and baby-proof!) and fuzzier acrylic yarn for the body and head. The best of both worlds!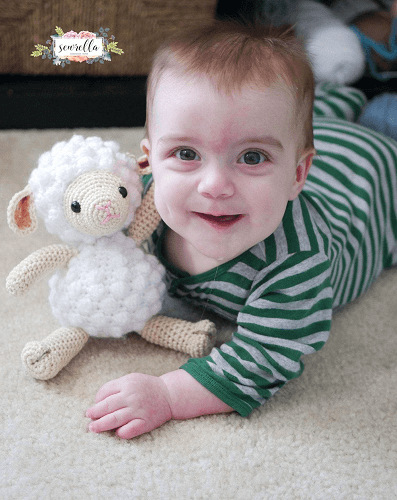 Get the Pattern here
15. Crochet Amigurumi Sheep Pattern by Skeins Away
This Crochet Amigurumi Sheep Pattern is the softest and cutest sheep on the internet. We have a bit of a soft spot for sheep. Make this free crochet pattern in super soft yarn and this little bobble sheep could have a soft spot for you too. More from Aran Crochet Patterns.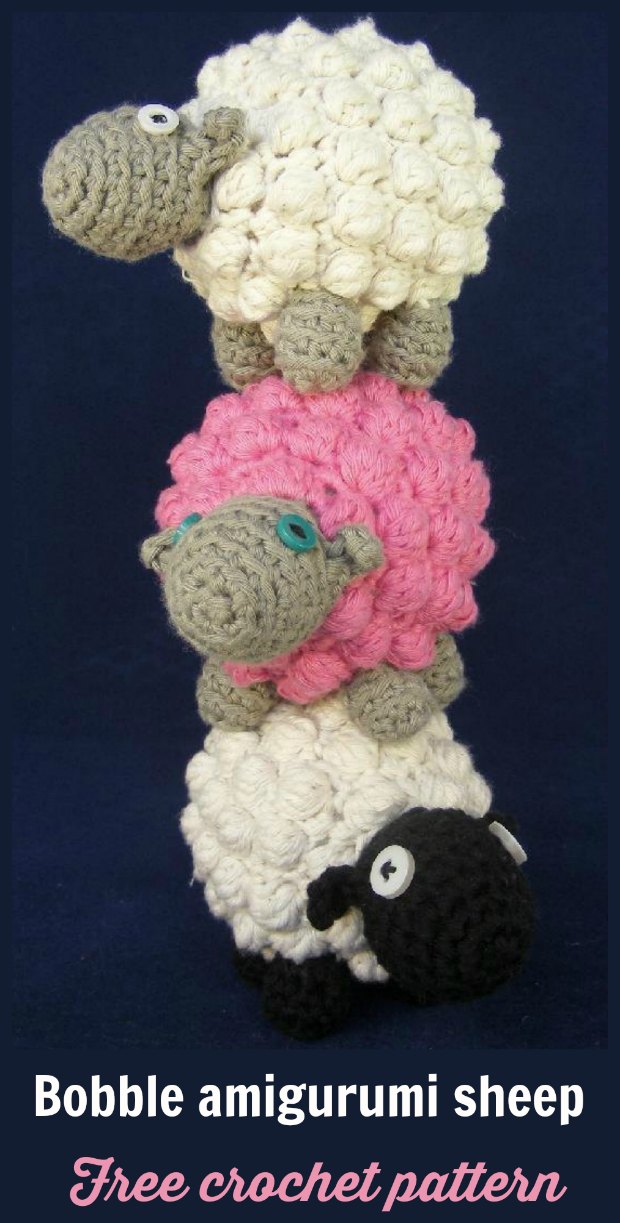 Amigurumi Sheep Pattern Materials
Get the Pattern by Skeins Away he
Show your love of the cutest fiber-producing animal by crocheting one of these crochet sheep patterns!
We can't wait to see your very own fluffy sheep. Please share a pic of your finished crochet sheep and lambs on our Facebook Page. We'd love to see how they turned out!

Don't go far because more gorgeous animal roundups are just around the corner! You may check our collection of Pig, goat, chicken, cow patterns if you really love farmyard animals. They are too adorable to pass on!
For now, let's get our hands busy with our favorite crochet sheep pattern.