Cast on some cute farmyard friends with these 32 crochet cow patterns! These little loves are easy to crochet, all smiles and ready to cheer up your day!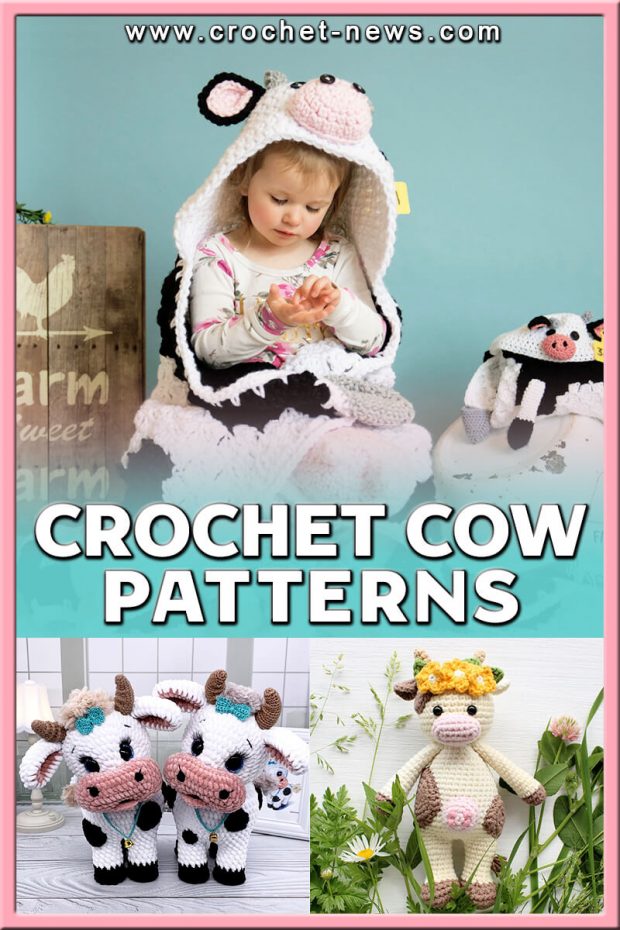 Add these cute cows to your upcoming letter C, farm, or animal crochet projects. From blankets to full huggable cows, you'll fill your cuteness quota in no time! Make them for you, your kids, your friends, and everyone you know who are a cattle fanatic.
32 Crochet Cow Patterns

1. Amigurumi Cow Crochet Pattern by Grace And Yarn
This Amigurumi Cow Crochet Pattern is sure to bring some joy! It works up fast and is a great size ( 13 inches) for any little one to play with! The legs, body and head are made as one piece to save time on sewing!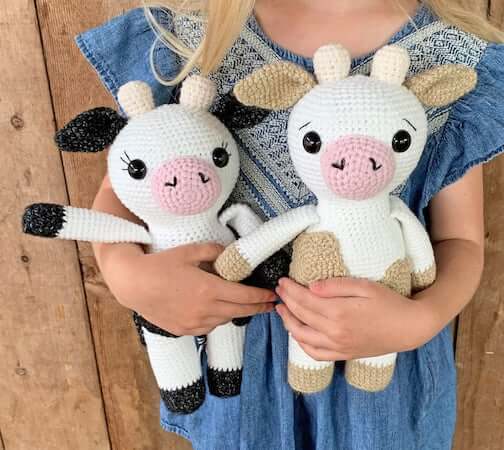 Get the Pattern by Grace And Yarn here

2. Cow Baby Blanket Crochet Pattern by Crochet Arcade
This crochet patterns is so versatile. Make this cow crochet baby blanket with spots or just use this baby blanket crochet pattern to make a white cow with no spots and no color work to worry about.

This crochet baby blanket is especially handy when travelling either in a pram or a car seat. It's not only space saving (blanket and toy 2 in 1) but it also keeps the baby occupied in both folded and unfolded form.
It can also be hung over the cot (and tied in to it with ribbons) when not in use for smaller babies to look at.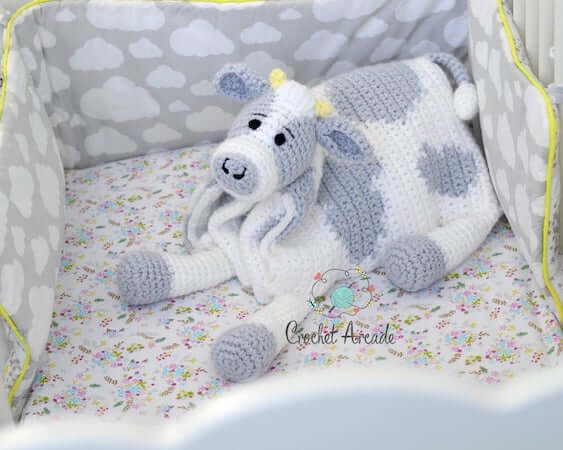 Get the Pattern by Crochet Arcade here

3. Alpine Cow Crochet Pattern by Amigurumi Today
This wonderfully crocheted Alpine Cow is all about having a good time and making everyone happy. It can't solve all of your problems, do your chores, or make your homework disappear but it can make all of those things a lot more fun than they would be without a cheerful companion by your side!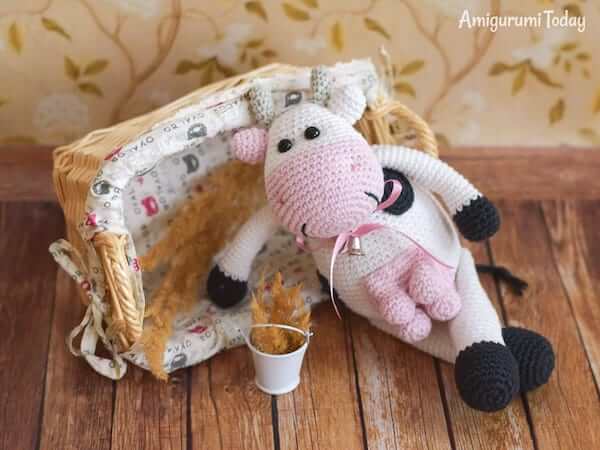 Get the Pattern here

4. Happy Cow Rattle Crochet Pattern by Tilly Some
The loop design of this Happy Cow Rattle makes it is easy for little hands to grab and play. It's a super cute friend for your baby! You can use this pattern to make larger or smaller rattle by using finer or bulkier yarn.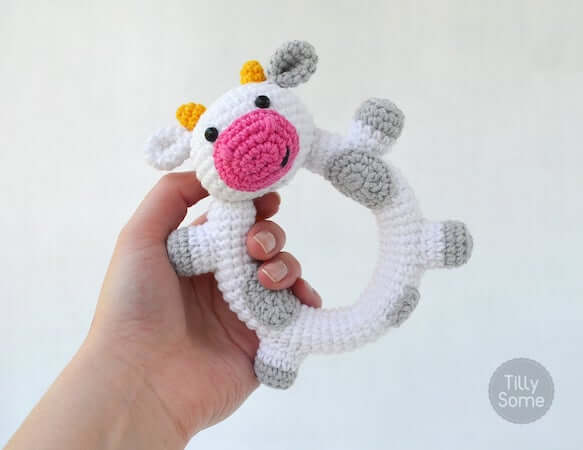 Get the Pattern by Tilly Some here

5. Crochet Cow With Calf Pattern by Lau Loves Crochet
With this design, the adult cow's body has an internal pocket which opens to reveal the baby calf inside! The pattern includes the instructions for both the cow and her calf, as well as optional extras such as an ear tag and a blade of grass for her to eat.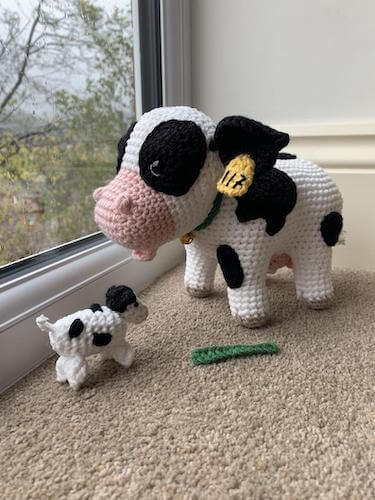 Get the Pattern by Lau Loves Crochet here

6. Crochet Boho Cow Appliqué Pattern by Nella's Cottage
Stitch up a little piece of the farm with this adorable Crochet Boho Cow Appliqué Pattern! Whether you are making a blanket, a play mat, or a sweet cardigan, this appliqué will surely highlight your design.
If they already caught your eye, but you haven't got a plan – you can join them together in a bunting, or make a keychain. It's a great way to use up your leftover yarns!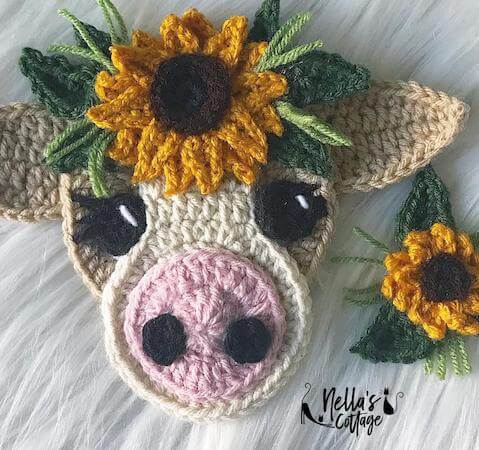 Get the Pattern by Nella's Cottage here

7. Funny Cow Crochet Pattern by Aleniya 2
This adorable cow looks great and very realistic. It will be a fun project to make and a funny gift for a friend or for a kid. The toy is crocheted from plush yarn. The eight of the toy using recommended materials is 10.63 inches.
Attach a bow or a flower for a spring-themed cow that will bring a little humor and sweetness to any nursery.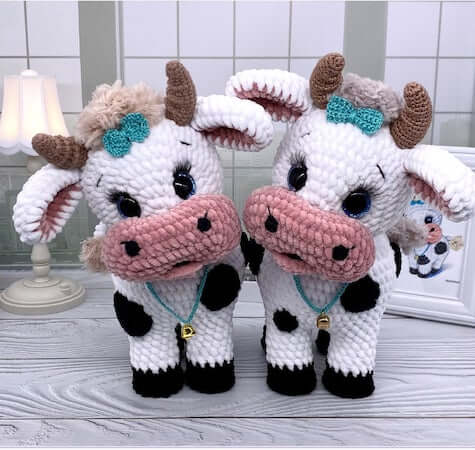 Get the Pattern by Aleniya 2 here

8. Cuddle Me Cow Amigurumi Pattern by Amigurumi Today
This cute crochet cow amigurumi is super soft and huggable! The toy is not only a perfect gift idea for anyone who likes and collects cows, but it's also for those who wants to bring a unique housewarming gift to loved ones.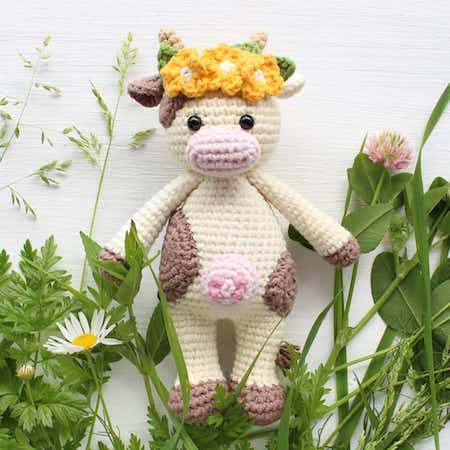 Get the Pattern here

9. Crochet Hooded Cow Blanket Pattern by Mj's Off The Hook Designs
This Crochet Hooded Cow Blanket Pattern comes in baby, child and adult size and is made in chunky yarn for a quick snuggly blanket. Not only is this cow blanket adorable but it's also a great teaching tool.
Show your littles where milk comes from. Just look at those udders! You will love how you can tuck the kids right into it. Perfect for play and cuddling.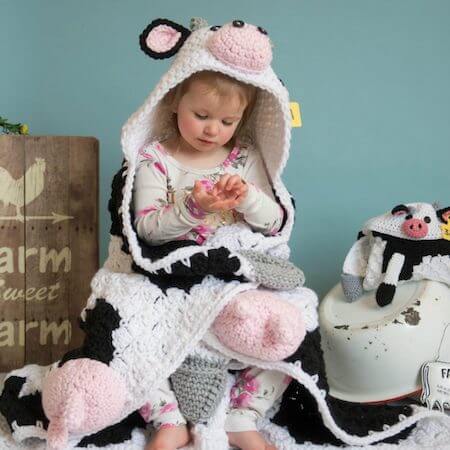 Get the Pattern here

10. Crochet Cow Slippers Pattern by Red Heart
Create a pair of slippers with kitschy style. These cute stuffed heifers are an easy crochet project that will bring on the fun! These are udderly adorable. Your little mooo-ver's feet will be cozy in these sweet slippers.
They come in a variety of sizes, and can be personalized however you would like!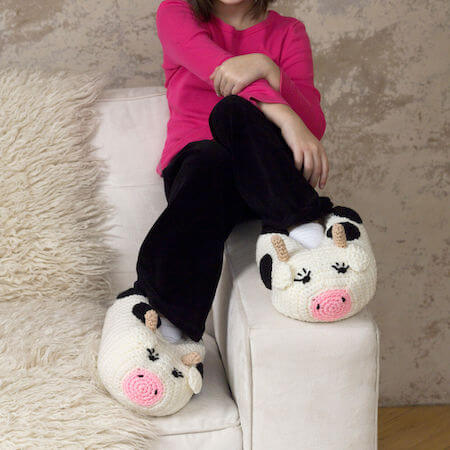 Get the Pattern here

11. Dishcloth Free Crochet Cow Pattern by Yarnspirations
Add a touch of country flair to your kitchen with a fun, cow print dishcloth. Move over ratty dishcloths and make room for this playful new favorite. Show your originality by crocheting in any colors you imagine, or finish as shown.
No matter how you complete it, this dishcloth works hard and looks great.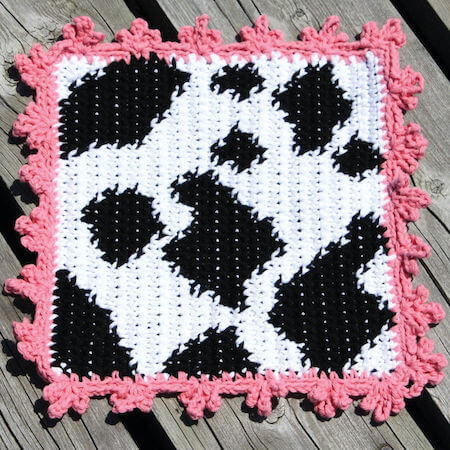 Get the Pattern here

12. Spotty, The Cow Crochet Pattern by Lilleliis
If you love spots, then Spotty the Cow will definitely bring a smile on your face. Twisted tail and tiny horns make her completely irresistible. This cow is also a great decoration for baby's room.
You can spice it up with colors you've used in the interior.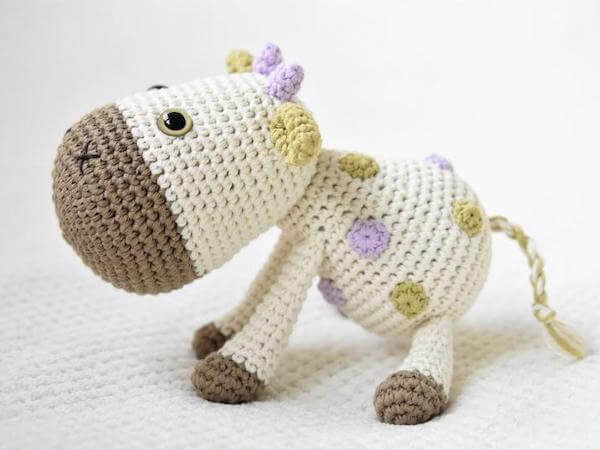 Get the Pattern by Lilleliis here

13. Crochet Cow Squish Pattern by Moogly
This Crochet Cow Squish is hard to resist squeezing! Made with super bulky yarn and fiberfill, this pattern is extra soft and lovable! It's finished size is approximately 10″ across.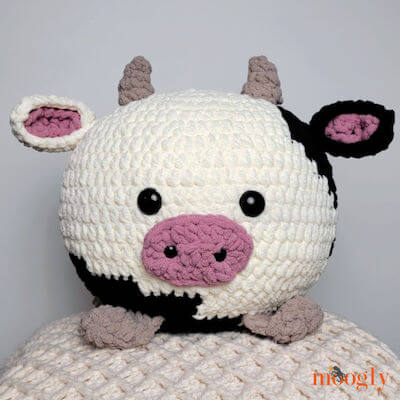 Get the Pattern here

14. Crochet Strawberry Plush Cow Pattern by I Knit Buddy
This Crochet Strawberry Plush Cow would make the perfect gift for little ones. Complete with pink spots, handbag and hair accessories, it'll quickly become their best friend.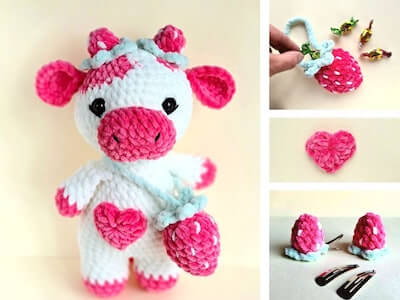 Get the Pattern by I Knit Buddy here

15. Crochet Chubby Cow Amigurumi Pattern by Bumbee Crochet Designs
Bring to life an irresistibly plump and huggable bovine friend with this Crochet Chubby Cow Amigurumi Pattern. It combines the soft, plush texture of chunky yarn with a simplified design to create an adorable chubby cow that fits perfectly in your hand.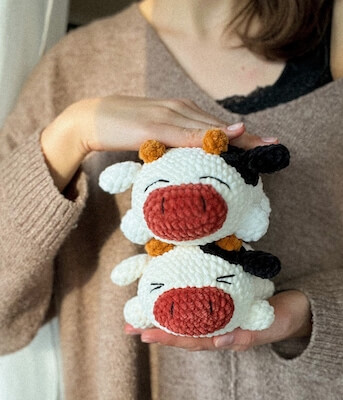 Get the Pattern by Bumbee Crochet Designs here

16. Cleo, The Cow Crochet Rattle Pattern by Chai Coffee Crochet
This little cow baby rattle is a cute last minute baby gift! It works up very quickly and is beginner-friendly. The rattle stem has balls that allow for an easy grip.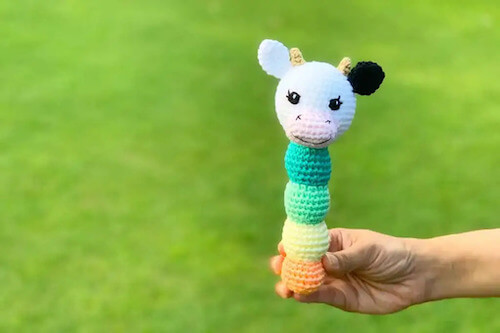 Get the Pattern here

17. Crochet Cow Card Wallet Pattern by Hello Happy
Make the cutest cow card wallet with this crochet pattern! This darling pattern features a zipper closure, so you can be sure that your cards stay safe, secure, and easily accessible. Wallet measures about 4.5 inches wide by 3 inches tall. You will crochet most of the wallet holding two strands of yarn together.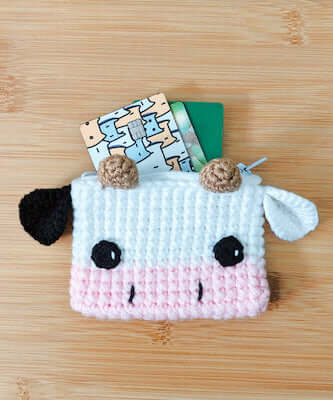 Get the Pattern here

18. Free Crochet Cow Amigurumi Pattern by A Crafty Concept
Here's a super easy amigurumi cow pattern that's perfect for beginner crocheters. Explore all the fun, cow-themed color combinations you could try!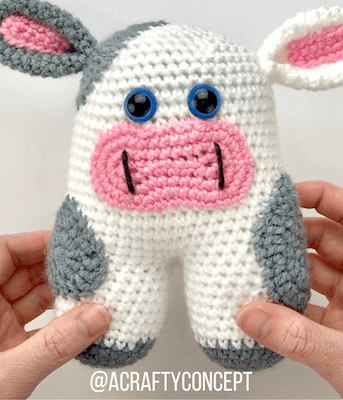 Get the Pattern here

19. Heather, The Highland Cow Crochet Trophy Head Pattern by Squibberly Rose
Add a touch of Highland country charm to your home with this Heather, the Highland Cow Crochet Trophy Head. Made with African flowers, crochet it in your your favorite colors or choose shades to match their bedroom or playroom.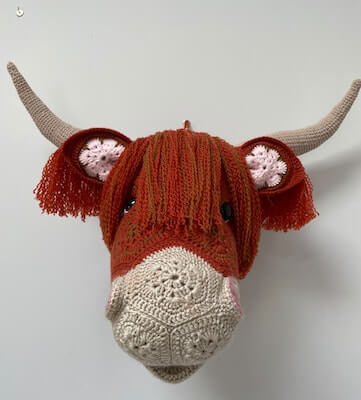 Get the Pattern by Squibberly Rose here

20. Crochet Cow Amigurumi Pattern by Elegant Purely
This versatile pattern set allows you to create not just one, but three distinct cow designs, each with its own unique personality. Change up the colors and details to your liking, and you'll have a family of adorable crochet cows ready to bring smiles to your home.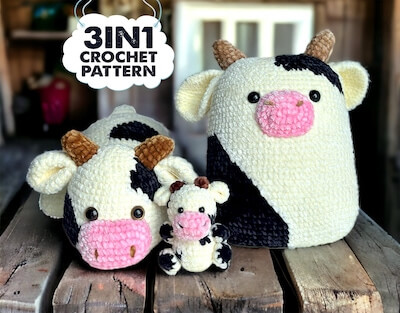 Get the Pattern by Elegant Purely here

21. Crochet Cow Wall Hanging Pattern by Claudette Z
How adorable is this crochet wall hanging with a cute cow on it? It's the perfect item to decorate your nursery or kid's bedroom and a great introduction to tapestry crochet.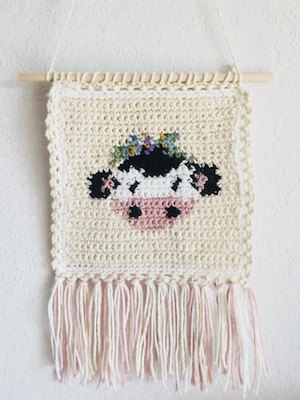 Get the Pattern by Claudette Z here

22. Fuzzy Highland Cow Crochet Pattern by Stringy Ding Ding
Meet this delightful brown highland cow. With its irresistible charm and warm, plush texture, this isn't just a toy – it's a fuzzy friend waiting to become part of your home!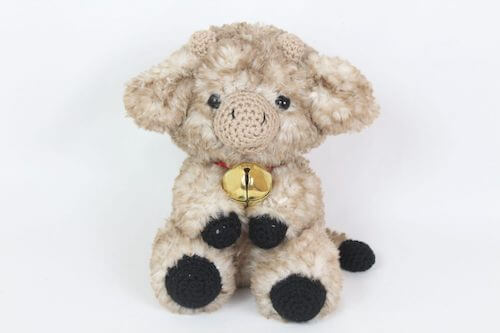 Get the Pattern here

23. Bertha, The Cow Crochet Pattern by Amigurumisnl
Bring the cuteness of farm life to the comfort of your home with Bertha, the cow! This realistic cow plushie is almost as if you had a cute cow in your house! She has the iconic white and black spots as milk cows are known for and measures approx. 18 cm/ 7.1″ high, 25 cm/ 9.8″ long when made with 2.5 hook size.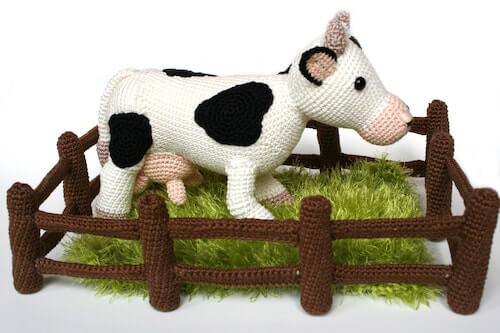 Get the Pattern by Amigurumisnl here

24. Crochet Cow Scarf Pattern by Betsy Dey
Here's a fun pattern that lets you make a playful and unique scarf designed with cow prints. What sets it apart is the addition of udders on both ends, making it a truly one-of-a-kind accessory. Crochet it for yourself to bring smiles and warmth on cold days or make one to gift for that cow-obsessed person in your life!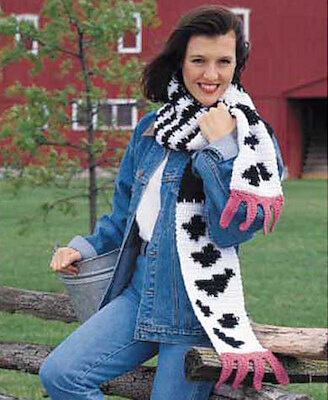 Get the Pattern here

25. Free Crochet Cow Brooch Pattern by Amigurumi Space
Nothing's cuter than a crocheted accessory, and this little Crochet Amigurumi Cow Brooch is no exception. This lovely brooch works up really quickly and doesn't take much yarn to make. So, turn those yarn lying around your home into adorable accessories!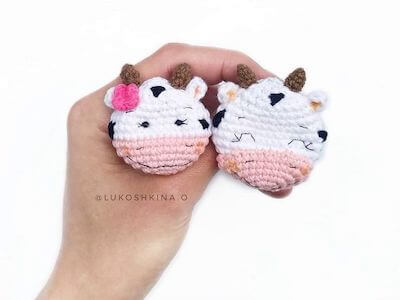 Get the Pattern here

26. Crochet Cow Stuffie Pattern by Repeat Crafter Me
Stitch up an adorable farm friend with this cute Cow Stuffie! This easy crochet pattern is perfect for amigurumi beginners, featuring basic stitches like single, double and half double crochets. Children of all ages will cherish this sweet handmade gift.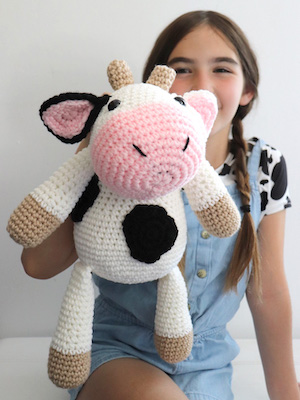 Get the Pattern here

27. Cow Head Keychain Crochet Pattern by HH Designs 4
This Crochet Cow Head Keychain is a fun way to add personal style to your keyring – and help you keep track of your keys at the same time. Make several with different colors so you can put all the scraps of yarn you have been collecting to good use!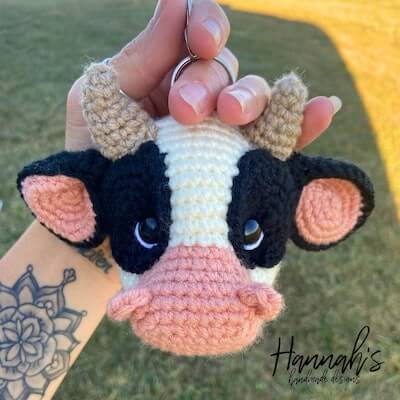 Get the Pattern by HH Designs 4 here

28. Crochet Jumbo Cow Pattern by Vibes Crochet Co
This 16″ Crochet Jumbo Cow is perfect as a cow cushion. The very round shape and chunky soft yarn makes for a great squishy cuddle buddy!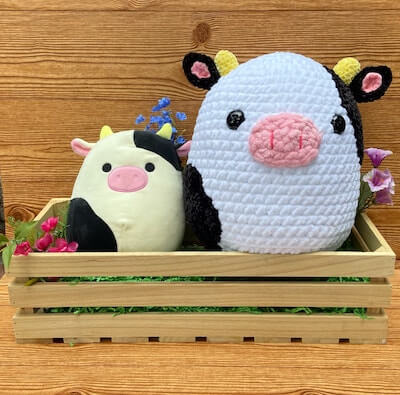 Get the Pattern by Vibes Crochet Co here

29. Mini Cow Crochet Pattern by Supergurumi
This small amigurumi cow is perfect as a tiny companion you can keep in your pocket, or you could attach a keychain to it and hang it on your bag or purse!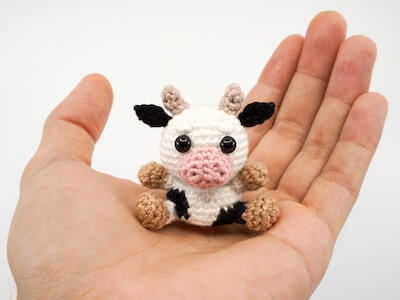 Get the Pattern here

30. Crochet Cow Cushion Pattern by Amy Astle
Inject some character into your home with this wonderful Crochet Cow Cushion Cover. nspired by nature and the English countryside, this adorable home decor is the perfect present for the animal lover in your life, or a great way to jazz up your country cottage.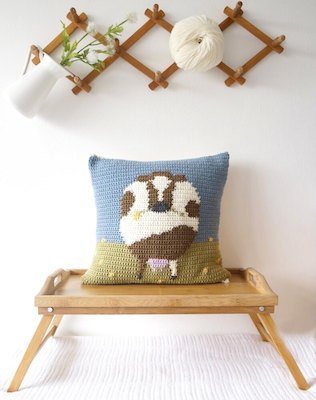 Get the Pattern by Amy Astle here

31. Hilde, The Cow Crochet Pattern by Yarn Society
This quick and easy Highland cow pattern is the ideal introduction to toy-making, using basic crochet stitches to create Hilde. With only small amounts of soft worsted weight yarn needed, she's also ideal for using up scraps from your stash!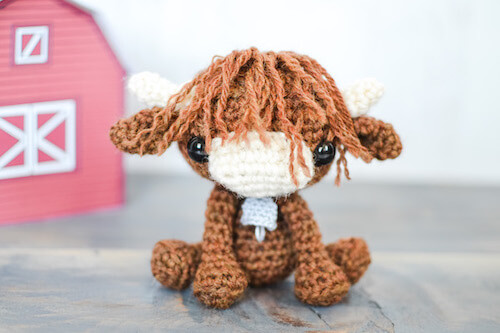 Get the Pattern here

32. Crochet Cow Comforter Pattern by Aleksandra C
Who doesn't love a comforter? Change up the colors of these cuties to make whatever breed of cow is your favorite—or make your own! Rainbow, anyone?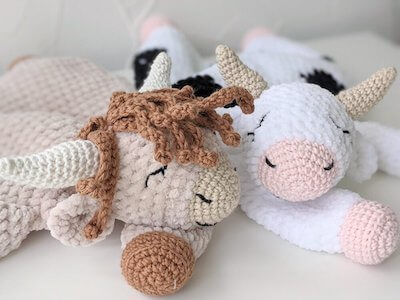 Get the Pattern by Aleksandra C here
YOUR HANDMADE FARM IS NOT COMPLETE UNTIL SOME OF THESE CROCHET COW PATTERNS ARE CALLING IT HOME!
We can't wait to see your creativity and all the different colors you folks come up with. When you complete one, please post it on our Facebook Page. We love seeing your work!

We have lots more cute farm critters for you to crochet next! Choose from these fab crochet farm animal patterns:
You'll have a hard time choosing which of these crochet cow patterns to cast on first, as they're all absolutely adorable!