Alpacas and llamas (there is a difference—I'm just not sure what it is!) are all the rage right now in the world of plushies. Today, I'm sharing some of the hippiest, cutest, and most colorful Llama Crochet Patterns and Amigurumi Alpaca Patterns.

No matter what your crochet level of expertise, you will find more than one project in this round-up that'll inspire you to add some of these adorable creatures to your home!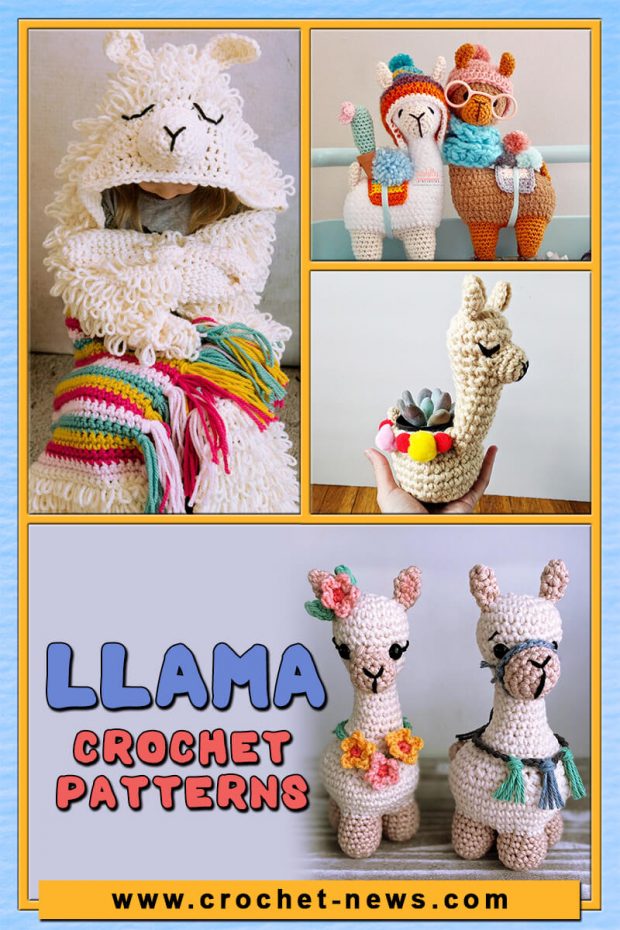 Everyone just loves these ball of fluffs , and when you look at those fuzzy little faces, all doe-eyes. and long lashes, how could you not?

Over down yonder, I've put together quite the list of my favorite patterns for llama and alpaca lovers that just might have them fall in love with the animal even more than they already did. Don't limit yourself, go llama(and alpaca!) crazy, you know you want to!
32 Llama Crochet Patterns And Amigurumi Alpaca Patterns

1. Llama Crochet Pattern by Cloud 9 Knots
If you're looking for a new, fun amigurumi for your kiddo, make sure you check out this little Llama Crochet Pattern. They are so colorful and squishy.

Find all of the colorful scraps of yarn you have in your stash because they will come in handy for accessories – the fringes and the flowers.
Get the Pattern by Cloud 9 Knots here

2. Free Amigurumi Alpaca Planter Crochet Pattern by. Sweet Softies
This Alpaca Planter is a quick, easy, and fun amigurumi crochet project that makes a lovely office desk buddy! It's a perfect gift for those who love alpacas and llamas, and those who love having indoor succulent plants, too.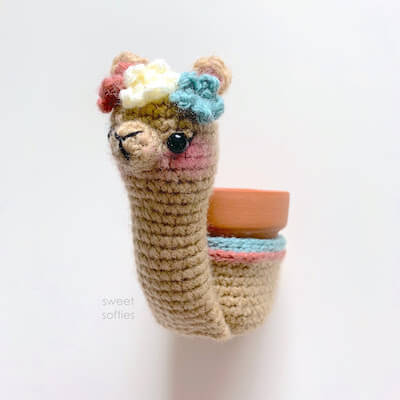 Get the Pattern here

3. Free Llama Crochet Pattern by Red Heart
Crochet this cuddly llama to lull your animal lover to sleep. Use Red Heart With Love yarn to finish the authentic version shown – complete with multi-color blanket and harness.

Or, make your project using any fun shades your child desires. This adorable toy makes a warm companion at bedtime or playtime.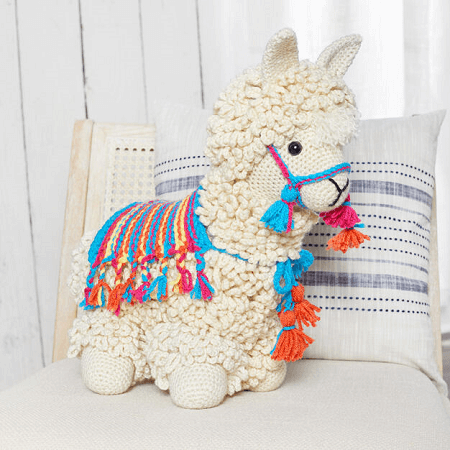 Get the Pattern here

4. Llama Blanket Crochet Pattern by MJs Off The Hook Designs
This Llama Blanket can go with you anywhere because it folds up perfectly into a pillow. It uses the loop stitch and has little mitten toes and stripes with fringes.

This blanket works up quickly in super bulky yarn. The pattern includes toddler, child, and adult size with a step by step tutorial.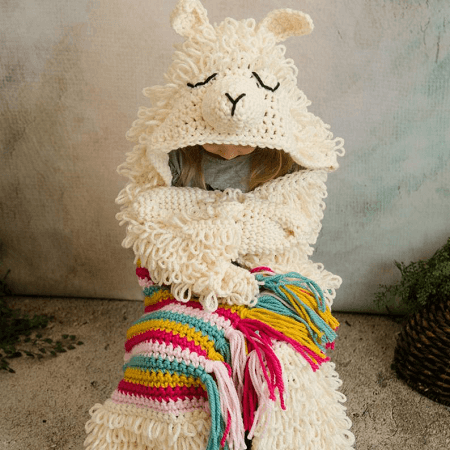 Get the Pattern by MJs Off The Hook Designs here

5. Amigurumi Llama Free Crochet Pattern by Grace And Yarn
These llamas work up quite quickly with few color changes. The legs and body are made as one piece and the neck is at a great width to help reduce the chance of a wobbly head.

For this pattern, you will want to be familiar with making a magic circle, invisible decreases, and color changes.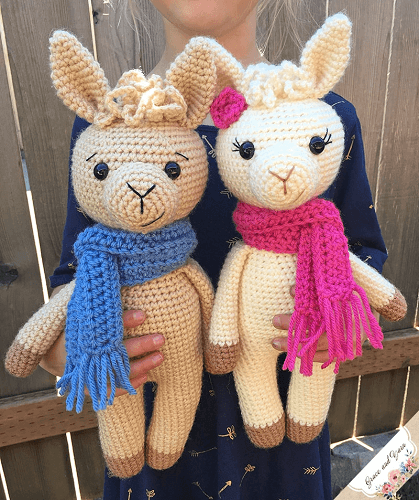 Get the Pattern here

6. Crochet Llama Amigurumi Pattern by Kami Dake
This Llama Amigurumi Crochet Pattern is designed with limited sewing in mind. Traditional amigurumi often requires sewing pieces together after the crochet is done.

This pattern involves some unusual joining techniques so the piece can be worked continuously as much as possible.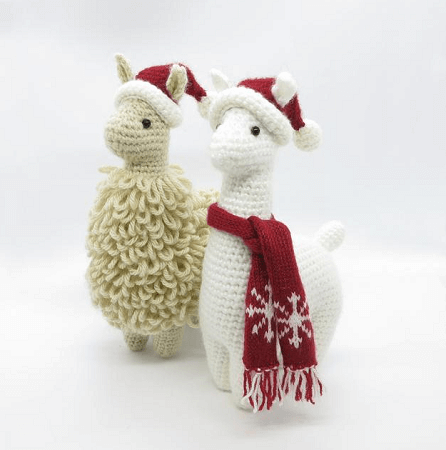 Get the Pattern by Kami Dake here

7. Amigurumi Alpaca Crochet Pattern by Crafty Kitty Crochet
It doesn't get much cuter than a fluffy, cuddly alpaca! And now you can make your very own with this incredibly easy pattern! Thanks to the super bulky yarn used, each part of this project works up with only a few rows or rounds. So you can make an entire field of your own little alpaca cuties in no time!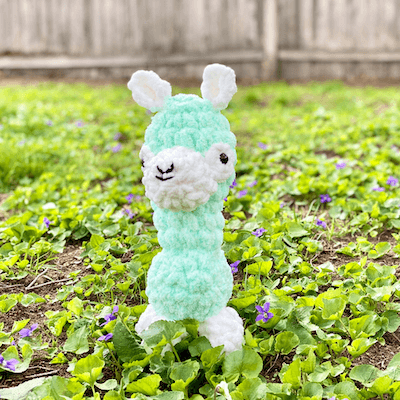 Get the Pattern here

8. Crochet Llama Pattern by The Friendly Red Fox
This Crochet Llama Pattern is very beginner-friendly, even with the fuzzy yarn! You will love the bright colors, tassels, and pom-poms associated with them, too! Plus, this little llama is just fun to make and snuggle!

This friendly llama is about 11 inches to the top of his ears. The pattern is made very simple to follow, and most of the decreasing and increasing is done with the worsted weight.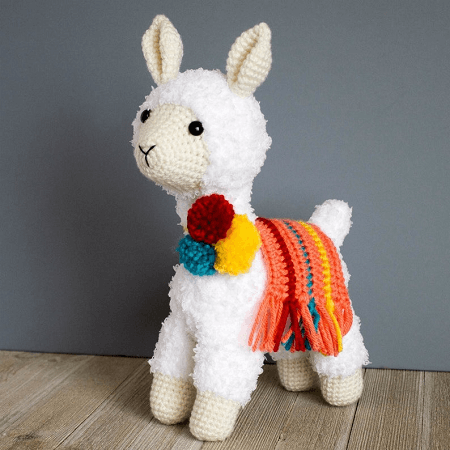 Get the Pattern by The Friendly Red Fox here

9. Ragdoll Llama Free Crochet Pattern by Spin A Yarn Crochet
Aside from their super fuzzy and cuddly fur, the decorative blanket, tassels, and baubles will be your absolute favorite parts of this Ragdoll Llama Crochet Pattern.

It will be difficult to choose just two combinations of colors. You will want to make dozens more of them just to explore all the decorative possibilities!!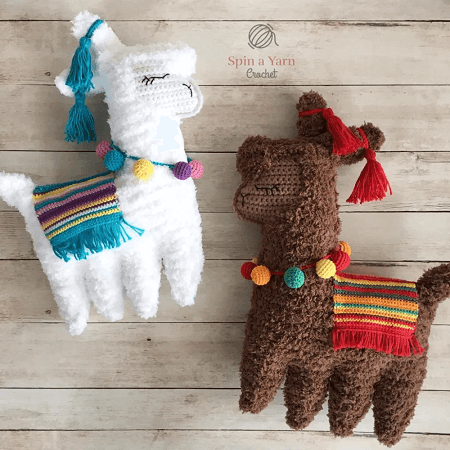 Get the Pattern here

10. Crochet Llama Hat Pattern by My Hookupz
This cute Crochet Llama Hat Pattern will be the favorite this winter! If you or your little one loves Llamas you will absolutely love this hat!

This pattern is for children sizes Toddler 2-4 years old (18"-19"x 7"), child 5-10 Years old (19"-20" x 7.5"), and adult (22"-23" x 8).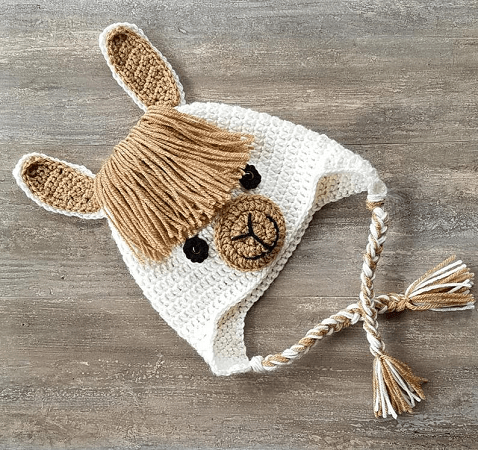 Get the Pattern by My Hookupz here

11. Violet, The Alpaca Amigurumi Pattern by Elisa's Crochet
Here's a fun crochet project to create a sweet amigurumi alpaca! Violet with her chic, yet simple style measures 10″ x 6″ and is made using bulky-weight yarn. Her blanket is made using worsted-weight yarn and uses a simple Tunisian stitch.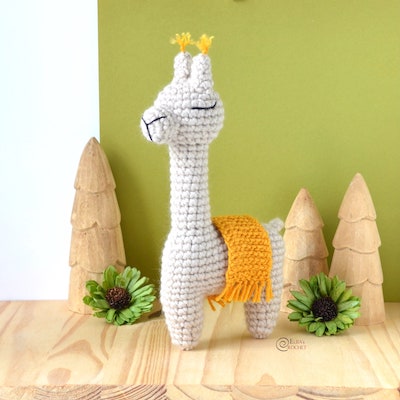 Get the Pattern by Elisa's Crochet here

12. Lluna, The Llama Crochet Pattern by Yarnspirations
It's no prob-llama to bring a smile to someone's face with this cuddly crochet llama toy! Lluna the Llama is worked in single crochet with simple increases and decreases and then seamed together to give her adorable shape.

Make her adorable blanket in your favorite colors to make this a truly unique gift!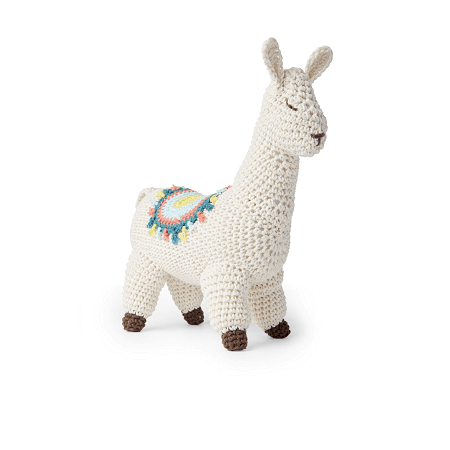 Get the Pattern here

13. Llama Applique Crochet Pattern by Nella's Cottage
Fans of decorative appliques and llamas will adore this fun little addition to their collection. This crochet llama is adorable and just the thing to embellish backpacks, denim jackets, pants, and more! The appliques work up to be about 7″ tall with a 3.75mm hook.
Get the Pattern by Nella's Cottage here

14. Alfie, The Alpaca Amigurumi Pattern by Patchwork Moose
If completed, Alfie the Alpaca should measure at between 7 and 8 inches and would make a lovely addition to a baby or toddler's bedroom! His curly locks, puppy dog eyes, and cute sitting position make him perfect for kids to cuddle up with or be comforted by.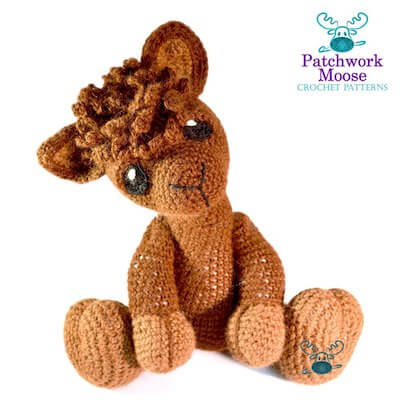 Get the Pattern by Patchwork Moose here

15. Allie, The Crochet Alpaca Toy Pattern by Make & Do Crew
Perfect for alpaca (or llama!) lovers of all ages, this super squishy alpaca toy is just the right size to hug. While the fuzzy yarn might be intimidating, it's also extremely forgiving, so you can crochet an adorable alpaca friend without obsessing over stitch counts.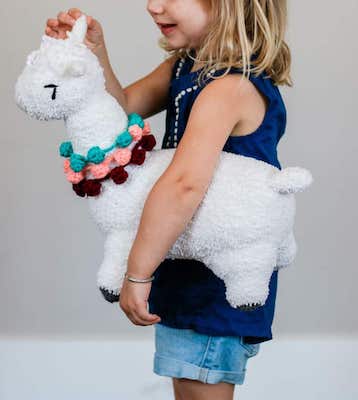 Get the Pattern here

16. Llama Baby Mobile Crochet Pattern by Birds And Crickets
This Llama Baby Mobile would be the perfect addition to a boho styled baby's nursery. It features three cute crochet Llamas with a colorful striped rug on their back and three pompoms.

Their friendly faces will keep your baby interested and cradle him in a sweet sleep. Your friends and family will surely notice this adorable mobile, and you can proudly say that you've made it yourself!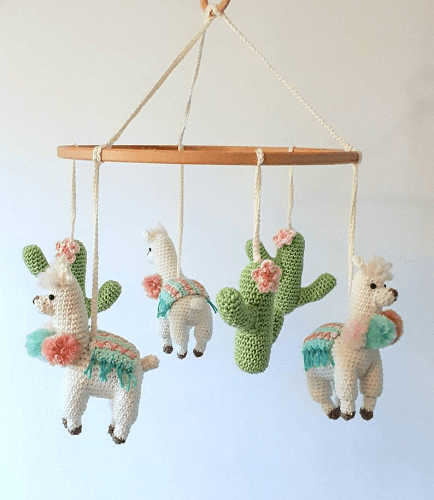 Get the Pattern by Birds And Crickets here

17. Free Crochet Llama Pattern by While They Dream
This Llama uses simple stitches worked in a continuous manner in order to create a soft and squishy Llama that your little one is going to love playing with.

There is minimal assembly due to the leg, body, and head all being worked continuously. You will need to assemble arms, nose, eyes, and ears.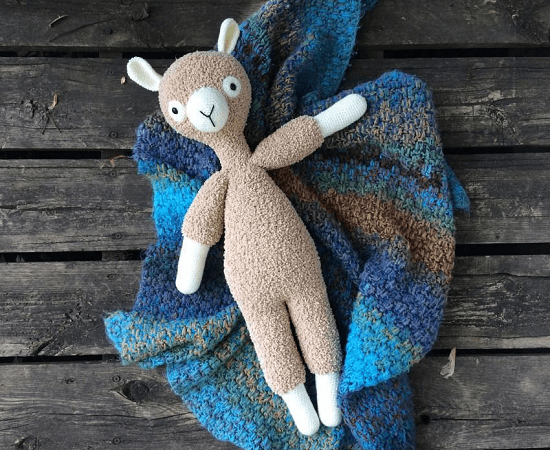 Get the Pattern here

18. Crochet Alpaca Family Pattern by Hobbii
Alpacas are so cute! Why not make a whole family of them? This pattern includes instructions for a small alpaca (25 cm tall) and a large alpaca (35 cm tall). Keep in mind that by varying the yarn and hook size you can make alpacas of all different sizes.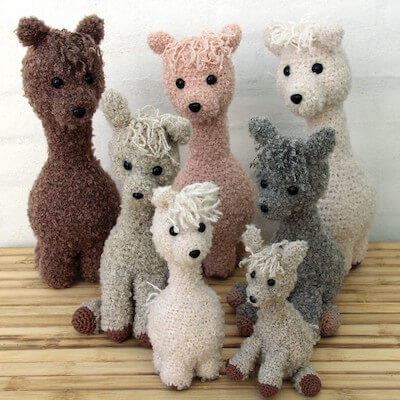 Get the Pattern here

19. Pacha And Hipster Llama Crochet Pattern by Aukillu
Hipster llamas are the cutest creatures with plenty of details and accessories. For all llama lovers whatever their age, this pair is an adorable toys to make. Soft and cuddly with plenty of textures, they will make a beautiful home decor as well!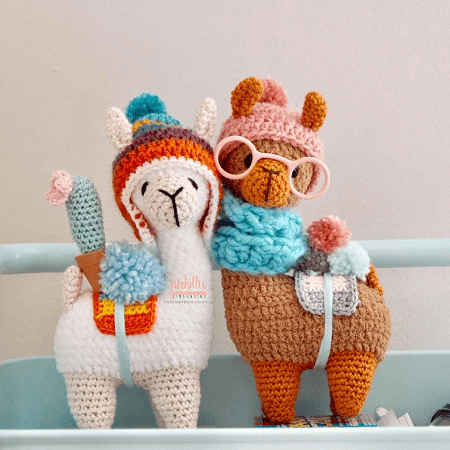 Get the Pattern by Aukillu here

20. Spring Alpacas Amigurumi Pattern by Stringy Ding Ding
These furry alpaca friends are ready to play, so invite them to your home! The best thing about this pattern is that it involves using loop stitches, so you don't need to use furry yarn in order to make this cute alpaca! Also, the body is crocheted all together, so there's nearly no sewing needed.

Although this pattern is called the Spring Alpacas Amigurumi, you can definitely make an alpaca for any time of the year.
Get the Pattern here

21. Llama Planter Crochet Pattern by Hello Happy
Make an adorable Llama (or alpaca if you prefer) mini planter with this crochet pattern!

This planter will fit those tiny succulents you find at hardware and home improvement stores, with little plastic pots 2-2.5 inches in diameter and 2-2.5 inches tall. The pattern only includes instructions for one size.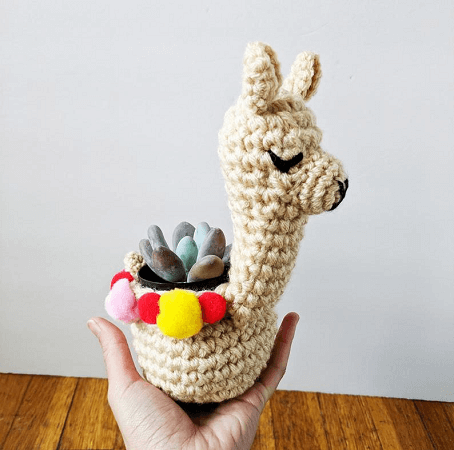 Get the Pattern by Hello Happy here

22. Llama Pillow Crochet Pattern by Yalis And Yabos Crochet
This Llama Pillow is the perfect decoration for any couch, bed, nursery, or kids room. With its cute smiling face and curly mop of hair, every child and adult would love to have this in their room. The finished pillow will measure approximately 10.5 inches in diameter.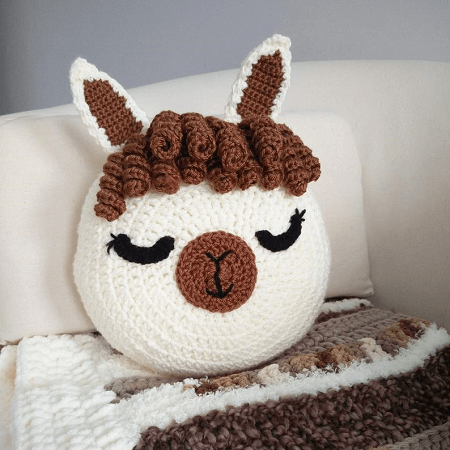 Get the Pattern by Yalis And Yabos Crochet here

23. Crochet Llama Alpaca Free Pattern by Knitted Story Bears
This Crochet Llama Alpaca Free Pattern is great for ambitious beginners, who want to try working with fluffy yarn. It's not easy, though, so be patient and crochet on!

This llama will look great in many color combinations, but the most important part is definitely a scarf. Make more of this, so that your llama can choose the right one for the right occasion!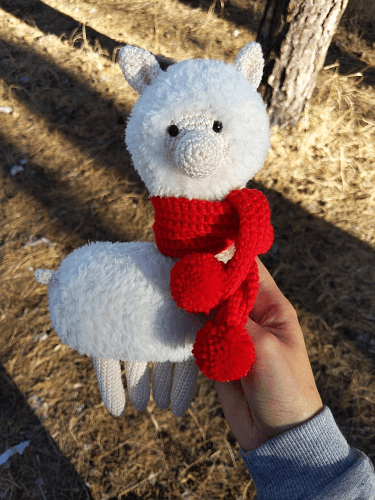 Get the Pattern here

24. Amigurumi Alpaca Crochet Pattern by Old Soul Crochet Co Shop
This Alpaca pattern features the bobble stitch, combined with chenille yarn, to make the cuddliest 19″ tall alpaca you have ever had the pleasure to snuggle!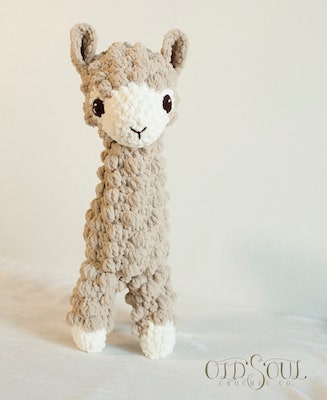 Get the Pattern by Old Soul Crochet Co Shop here

25. Llama Wall Hanging Crochet Pattern by Chica Outlet
Now this is a cheerful project! If you need a quick, cute crochet pattern to spend your weekend working on, try this Llama Wall Hanging!

All you need to make it is colorful yarn and a stick! Wall hangings are very on trend now, so be sure to make one for you or your daughter's bedroom.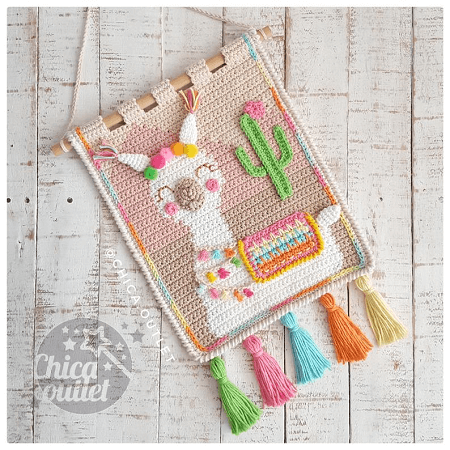 Get the Pattern by Chica Outlet here

26. Alana, The Alpaca Amigurumi Crochet Pattern by Sweet Softies Co
Alana, the Alpaca is a colorful, whimsical little alpaca who is very curious. She would love to stick her nose into your business! She also enjoys head-pats and back-pats, and would love a place to stay on your desk for frequent petting. She would be perfect for alpaca- and llama-lovers as a birthday, Christmas, or holiday gift!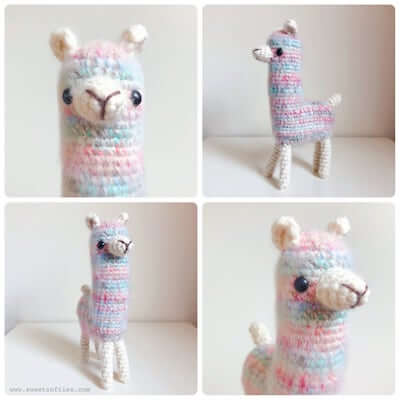 Get the Pattern by Sweet Softies Co here

27. Loopy Llama Crochet Blanket Pattern by Yarnspirations
You'll adore working on this colorful and textural crochet blanket featuring a loop-stitch llama. Work using the loop stitch to make a dimensional "loopy llama" that practically jumps off the blanket and into the hearts of everyone who sees it!

Choose alternate combinations of colors and explore different looks for this lighthearted project.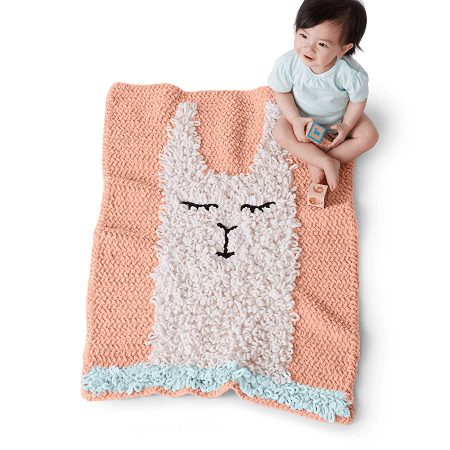 Get the Pattern here

28. Lola Llama Crochet Pattern by Lion Brand
This Lola Llama is as adorable as the little boy in the photo. Llamas are definitely trending right now and if you crocheted up one of these for the kids, you are sure to be a big hit this Christmas. This pattern is free which means we love it even more!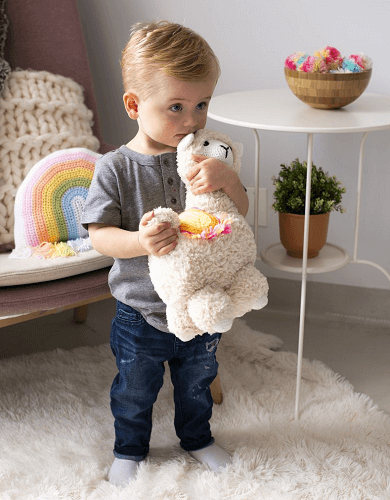 Get the Pattern here

29. Crochet Llama Sweater Pattern by EClaire Makery
Cuddle up with the cutest crochet sweater, the Llama Sweater! If you've always dreamed of having a llama sweater, make those dreams come true with this adorable crochet pullover!

Coming in over 22 sizes ranging from 12-18m all the way to women's 5XL, this sweater is perfect for any llama lover in your life! It has a simple and easy construction, which makes it great for making while watching your favorite show.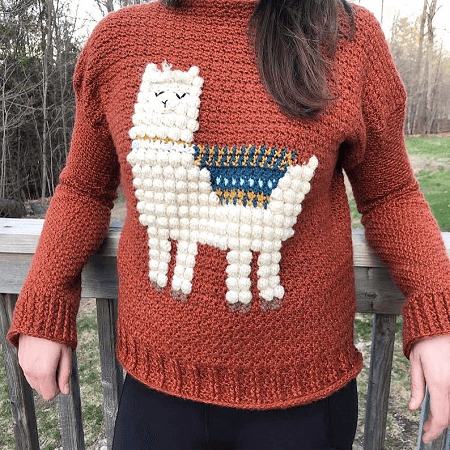 Get the Pattern by EClaire Makery here

30. Llama Purse Crochet Pattern by Birds And Crickets
Do you like llamas? With this easy Llama Purse Crochet Pattern, you will make an adorable and colorful toddler purse. It would be a perfect gift for someone (small) you love. You can make it for yourself too! In the original size, it perfectly fits a mobile phone.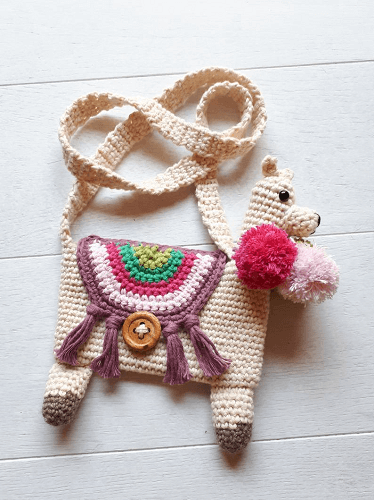 Get the Pattern by Birds And Crickets here

31. Carl, The Alpaca Free Crochet Pattern by Little World Of Whimsy
Carl, the Alpaca is an adorable Christmas-themed amigurumi, perfect for holiday home decor or as a stocking stuffer. He's quick and easy to make, with his body all in one piece (no sewing required!) and a few fun accessories that you can customize to your liking. You can make this amigurumi over a weekend, perfect as a last minute gift!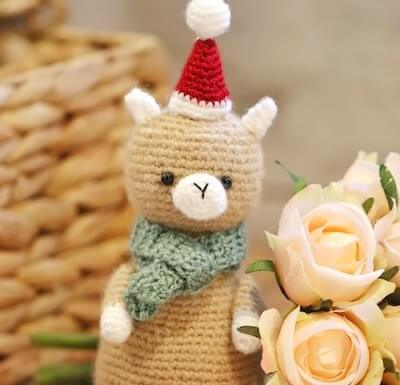 Get the Pattern here

32. Llama Corner To Corner Crochet Blanket Pattern by Make And Do Crew
Whether you want to wrap up a new baby in some soft, fuzzy love or indulge your own llama infatuation, this blanket pattern will fill you with furry good vibes from corner-to-corner.

Using the diagonal box stitch, you'll work from corner-to-corner to grow an adorable llama friend and add a playful bobble stitch border at the end. This pattern makes a generously sized baby blanket or adult lap afghan.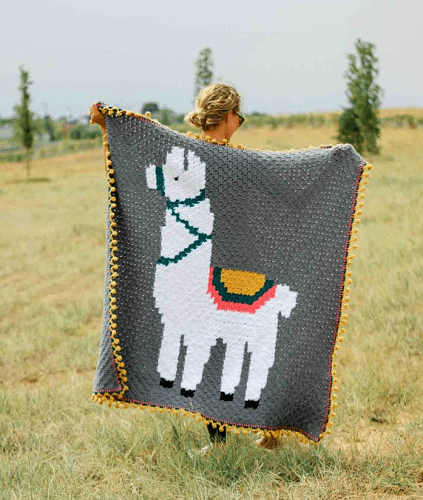 Get the Pattern here
NO WONDER CROCHETERS ARE CRAZY OVER THESE LLAMA CROCHET PATTERNS AND AMIGURUMI ALPACA PATTERNS, BECAUSE THESE ANIMALS ARE THE CUTEST!
We can't wait to see your creativity and all the different colors you folks come up with. When you complete one, please post it on our Facebook Page. We love seeing your work!

If you'd like to be completely on-trend these days, we'd suggest trying out some more things in addition to these llama and alpaca patterns – crochet dinosaurs, sloths, pandas, elephants, and of course, unicorns! Now you're going to be all hot and happening wherever you go!
So, if you're an animal lover and enjoy making different kinds of animals with your own hands, then these cute llama crochet patterns and amigurumi alpaca patterns are something you will adore! Get crocheting!