Love elephants and pretty much anything with an elephant on it? If so, then this list of Crochet Elephant Patterns will make you really happy!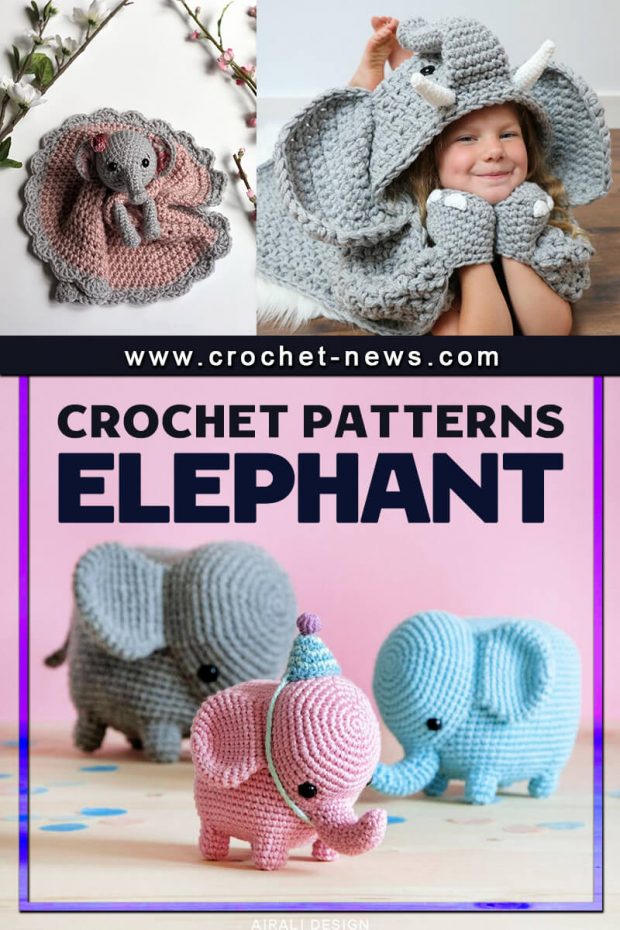 Whether you want to make a homemade baby shower gift, a toy for a child, or some elephant home decor items, you're sure to find the right elephant for you!

1. Crochet Elephant Pillow Pattern
This crochet elephant pattern by Ira Rott Patterns is a fun, cute and quirky addition to any baby's or child's room. The elephant pillows, named Josefina and Jeffrey are just plain adorable.
The finished pillow is quite large. Children will really enjoy hugging it!
You can make Jeffrey and Josefina in any color you like, really. The suggested colors are gray and lilac, but really any color will do. And Josefina can be made with an optional bow. Quite cute!
And with Dumbo making a big comeback right now this is a great time to work up one of these crochet elephant patterns.
Even better, Ira Rott Patterns has several coordinating items you can make to go with the elephant pillows, such as a rug, blanket, a small security blanket, big and small amigurumi elephants, hats and a diaper cover.
For all of those patterns, check out Etsy's page.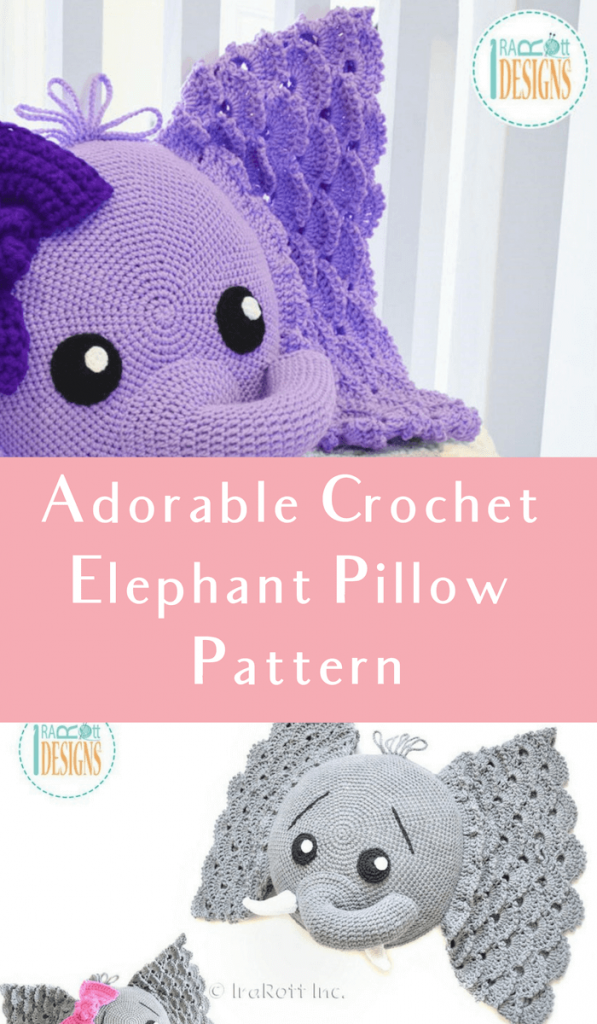 Get the Elephant Pillow Pattern here.
All About the Crochet Elephant Pillow Pattern
This elephant pillow crochet pattern is best for those of an intermediate skill level. There are several techniques you will need to know to work through this pattern.
We've listed those below. If you're not familiar with them, check out our tutorials on those stitches and practice it a bit. Once you've learned all of the required stitches, if you haven't already done so, then you should be able to work this pattern quite well!
This pattern is written in U.S. crochet terms, but can be easily converted to UK terms with the included chart. The pattern also includes step-by-step photos to assist you, as well as diagrams to break it all down for you.
You won't need any special yarn for this project, just some medium weight yarn and you're good to go.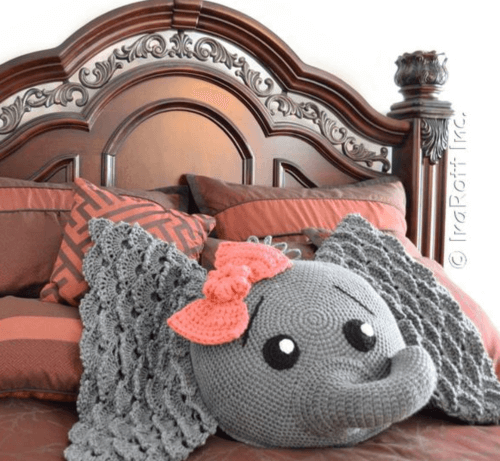 About the Crochet Elephant Pillow Pattern
Instant download PDF (downloads 19 pages, mobile device friendly)
US Crochet terms
Includes diagrams, photos with step-by-step instructions, and a U.K. terminology conversion chart
Skill level
Intermediate
Skills/techniques Needed:
Finished size: Approximately 30 inches wide and 21 1/2 inches long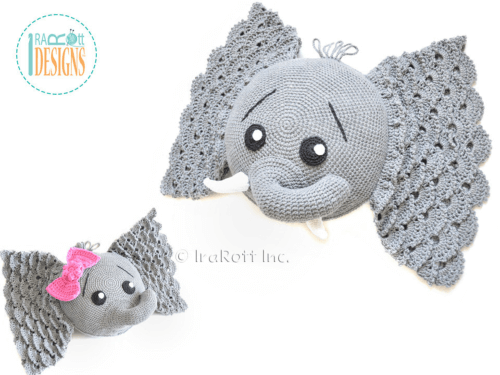 Elephant Pillow Materials Needed
Yarn: medium/4/worsted weight (suggested Bernat Super Value Yarn)
Quantity: 2.5 skeins of Lilac or Gray; 0.5 skein of any color for the optional bow; a small amount of black and white for the eyes and eyebrows
Tapestry Needle
Stitch Markers
Polyester Stuffing
Hooks:
4.25 mm (G)
5 mm (H)
5.5 mm (I)
9 mm (M/N)
2. Bubba, The Elephant Crochet Pattern by Chiqui Pork
Bubba, the elephant makes a great toy for young children (just make sure that you use child-safe eyes when crafting projects like this!).
This crochet elephant is also a great gift for an adult animal lover to keep on a desk. This design is worked with a 3.25 mm hook and made with acrylic worsted yarn.
Get the Pattern by Chiqui Pork here

3. Crochet Elephant Pattern by All About Ami
Crochet these absolutely adorable, whimsical elephants with a brilliant amigurumi technique that requires minimal attaching. Make them in a multitude of colors and add some fabric lining to the ears as a pretty touch!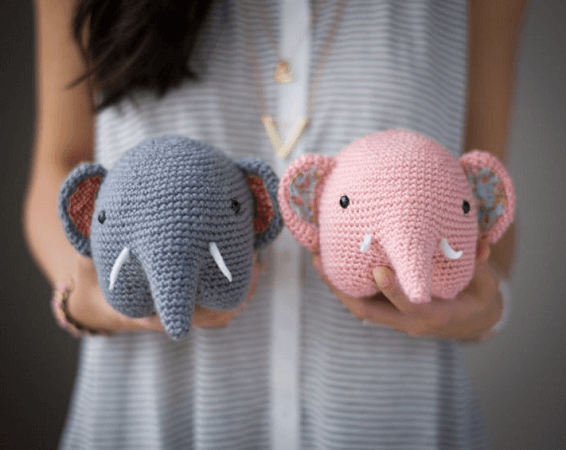 Get the Pattern here

4. Amigurumi Elephant Crochet Pattern by Spin A Yarn Studio
This Elephant Amigurumi is a unique amigurumi made in the ragdoll-style; separate pieces worked in flat rows and joined together to give it that charming and distinctive 2-D appearance.
This adorable elephant crochet pattern would make an absolutely darling nursery decor item, either as a wall hanging or even as a sweet cushion in a rocking chair.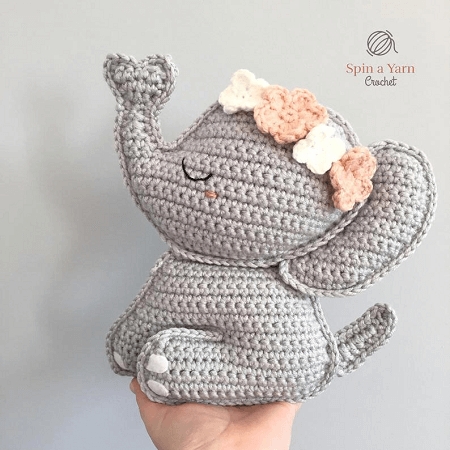 Get the Pattern by Spin A Yarn Studio here

5. Ellie The Elephant Lovey Crochet Pattern by A Purpose And A Stitch
Ellie, the Elephant Lovey is an adorable friend who wants to snuggle and be loved. This lovey crochet elephant blanket is made from worsted weight yarn and has a cute stuffed animal head and arms attached to it for baby to love on.
Pick your colors to make this a baby boy, baby girl, or gender neutral blanket.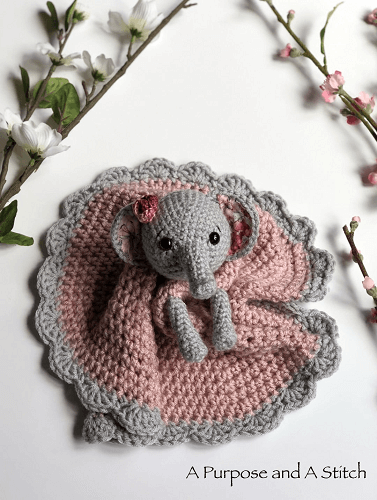 Get the Pattern here

6. Circus Elephant Crochet Pattern by Nella's Cottage
This Circus Elephant is so easy to make and comes out so cute! It's a terrific tactile item to add to baby items including blankets.
To make this applique, you will need a 3.75mm hook but you can use a smaller or bigger hook to make the applique smaller or bigger. This is an easy/beginner level crochet pattern.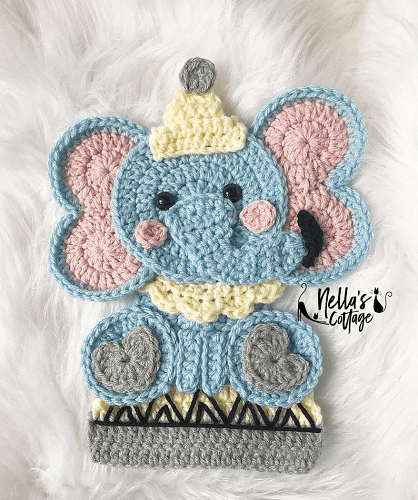 Get the Pattern by Nella's Cottage here

7. Floor Pillow Free Crochet Elephant Pattern by Yarnspirations
For the kid who loves animals, this Crochet Elephant Floor Pillow is just the thing to make for them!
Transform three pillows into an adorable elephant! Learn how to crochet the trinity stitch, use simple shaping techniques, and practice beginner-friendly embroidery with this floor pillow free elephant crochet pattern.
This design works up quickly with bulky Bernat Blanket Stripes yarn. Folded or flat, these versatile pillows let kids lounge in style.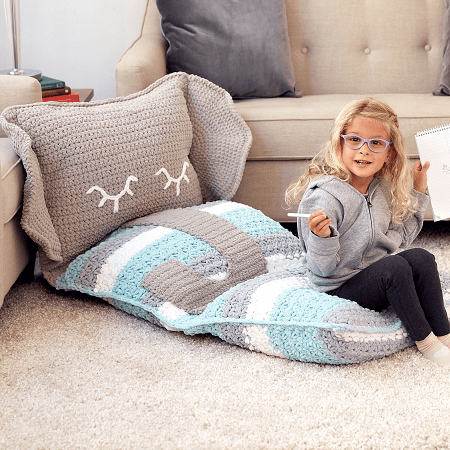 Get the Pattern here

8. Edgar, The Elephant Crochet Pattern by Meg Made With Love
Meet Edgar, the elephant. He is a soft, squishy and lovable crochet toy, perfect for your little one!
The pattern is designed to be simple, made up of mostly single crochets with minimal decreases.
Put a precious plaid bow on Edgar, which will give him a great finish. You could even make Edgar a "she" and put a little bow on top of it's head.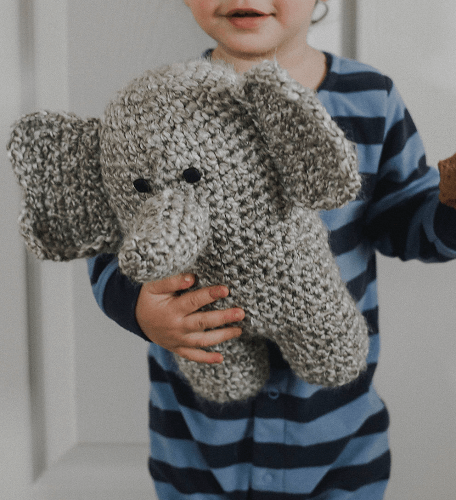 Get the Pattern here

9. Crochet Elephant Baby Blanket Pattern by Crochet Arcade
This Crochet Elephant Baby Blanket will make a cute, original, and at the same time practical crochet baby shower gift.
This crochet elephant blanket is especially handy when travelling either in a pram or a car seat. It's not only space saving (blanket and toy 2 in 1) but it also keeps the baby occupied in both folded and unfolded form.
It can also be hanged over the cot (and tied in to it with ribbon) when not in use or for smaller babies to look at. For smaller babies you can also use it as a play matt.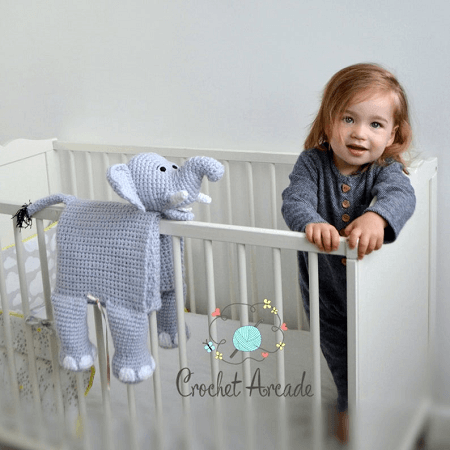 Get the Pattern by Crochet Arcade here

10. Colorful Crochet Elephant Pattern by Red Heart
Big on color, yet small in size, this friendly colorful elephant is the perfect companion for kids.
Tiny tots have no problem getting their fingers around this sweet crochet toy that you create in vivid shades of Red Heart Kids.
Shape it in the colors shown, or imagine a different personality for your gentle giant. It's a delightful project that's fun and inspired, so why not make a few for all the kids in your world?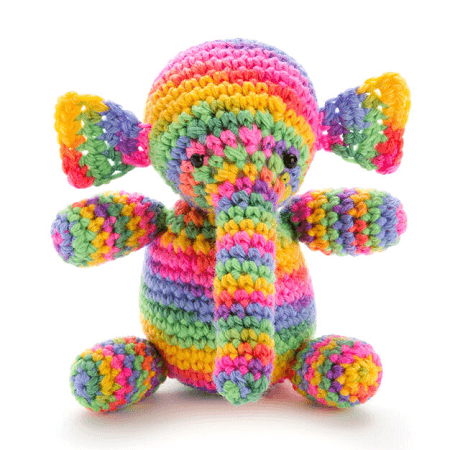 Get the Pattern here

11. Elephant Bookmark Crochet Pattern by Yarn Wave Shop
This Elephant Bookmark is simply adorable! It's a great gift for yourself or book-loving friends. Add a bow to the top of the head to make him more girly or simply leave him as i. He is adorable either way!
The size of the finished bookmark is about 21 cm (8.3 inches) if using indicated yarn and a crochet hook.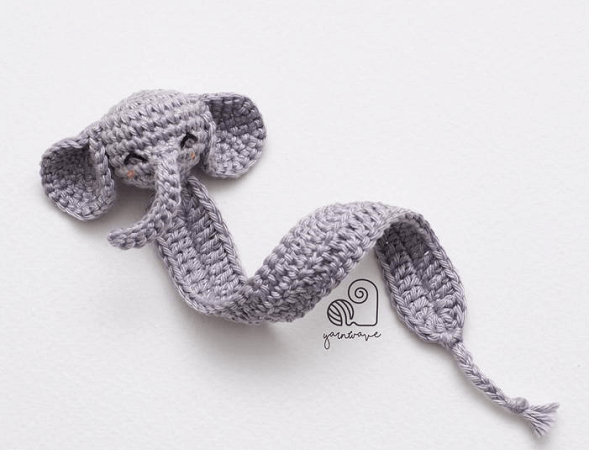 Get the Pattern by Yarn Wave Shop here

12. Crochet Elephant Basket Pattern by Yarnspirations
Clutter won't be the elephant in the room with this cute catch-all! Single crochet and simple shaping make this plush Elephant Basket a natural for adding a little whimsy to any space.
With so many great colors of Bernat Baby Blanket to chose from, you're sure to find just the right shade for the nursery or playroom!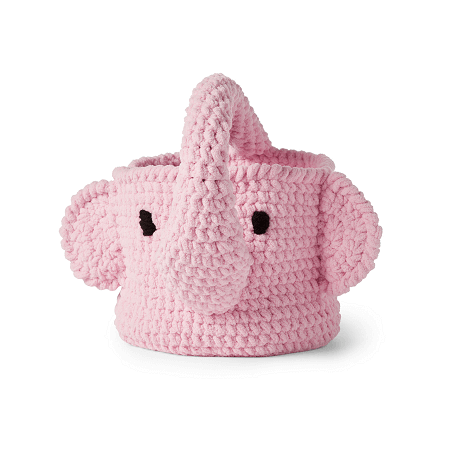 Get the Pattern here

13. Beaded Elephant Head Crochet Pattern by Vanessa Mooncie
Inspired by the beautiful colors of India, this Beaded Elephant Head will be a real talking point adorning your home and an heirloom piece for years to come.
This is worked in separate pieces, which are then stitched together. Beads and sequins add exotic appeal to this brightly-colored jungle beast. Stuff firmly, but with care, so you end up with a smooth, lump-free shape.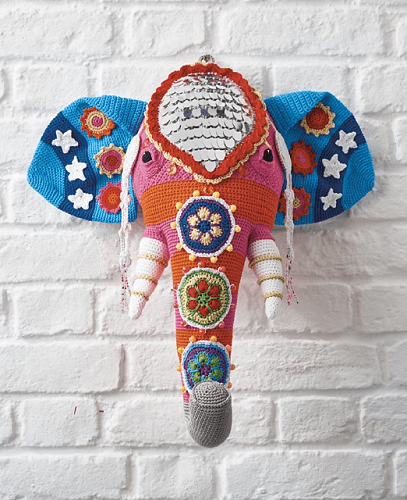 Get the Pattern here

14. Marie And Pierre Elephants Amigurumi Pattern by Amigurumi By Guli
Here's a little french touch, meet Marie and Pierre! Are they not the cutest ever in their very stylish clothing?
You will love to make her purse and sweet flowers in her hair, and his beret – all in your choice of colors!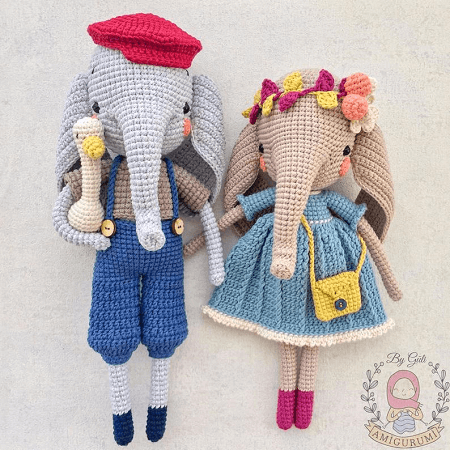 Get the Pattern by Amigurumi By Guli here

15. Filet Crochet Elephant Blanket Pattern by The Lavender Chair
This Filet Elephant Blanket Crochet Pattern features a cute little elephant in the middle and a charming border.
This crochet elephant blanket works up quickly and easily and includes a chart to aid you through the process. This is so adorable and so sweet for a handmade baby blanket gift!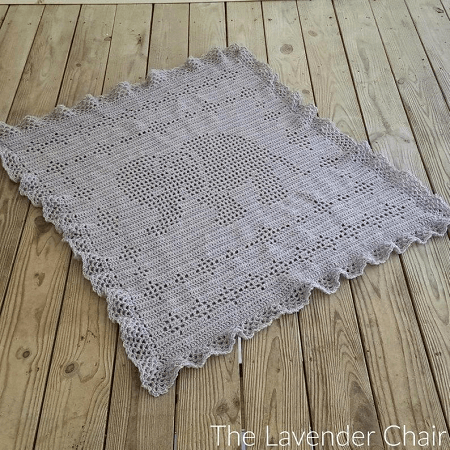 Get the Pattern by The Lavender Chair here

16. Granny Square Elephant Crochet Pattern by Cute & Cozy Crochet
This Granny Square Elephant is an intermediate pattern. Basic knowledge of granny squares, double crochet, slip stitch, and chaining is necessary.
The pattern makes a stuffed animal 9 inches tall and 12 inches wide and is perfect for making for any little boy or girl!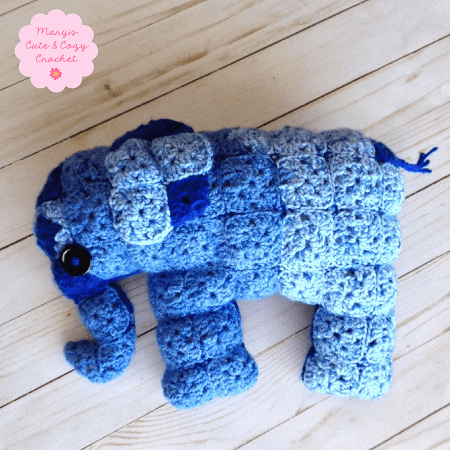 17. Elvie, The Elephant Amigurumi Pattern by Airali Design
Elvie is a crochet baby elephant with a chubby body and 4 small legs. The elephant is formed by 2 main parts: head (with ears and trunk) and body (with legs made without seams).
The only parts to be sewn are the head and tail to the already finished elephant's body.
If you're looking for a cute party companion, pay attention to this tiny amigurumi elephant! It will fit right in your purses!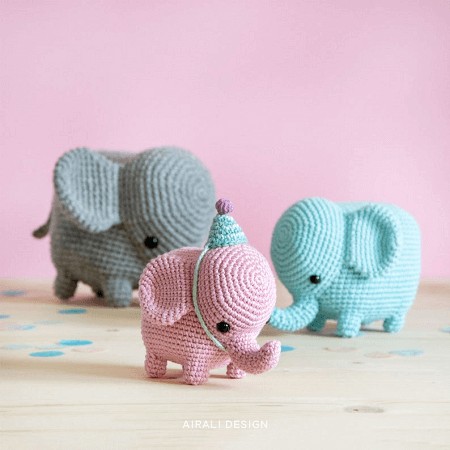 Get the Pattern by Airali Design here

18. Baby Elephant Crochet Pattern by Crafty Is Cool Crochet
We all love elephants and is there anything cuter than baby ones? This crochet elephant pattern instructs you how to make a life-size stuffed baby elephant doll with easy to find supplies and simple techniques.
You will love making her and her removable pink bathrobe. She measures 14″ tall and weighs 2 lbs.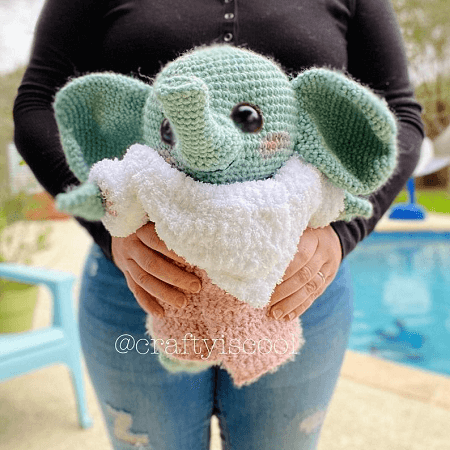 Get the Pattern by Crafty Is Cool Crochet here

19. Crochet Elephant Bookends Pattern by Moogly
This Crochet Elephant Bookends Pattern is great for adults, although it works as nursery decor as well.
It's an elephant that splits right in half to make bookends, with the trunk on one side and the tail on the other. This is a great gift for readers and animal lovers alike!
You could also adapt the pattern to make one whole elephant, or use just the "head" to create a faux taxidermy elephant design.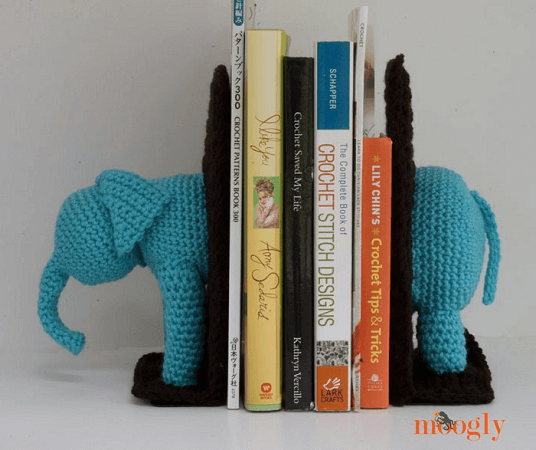 Get the Pattern here

20. Patriotic Elephant Scrubby Crochet Pattern by Yarnspirations
This clever Patriotic Elephant Scrubby is great for showing your party affiliation! This crochet design features true patriotic American colors.
This elephant is perfect when you need a cute scrubby and want to be patriotic. A fun and functional way to brighten up your kitchen!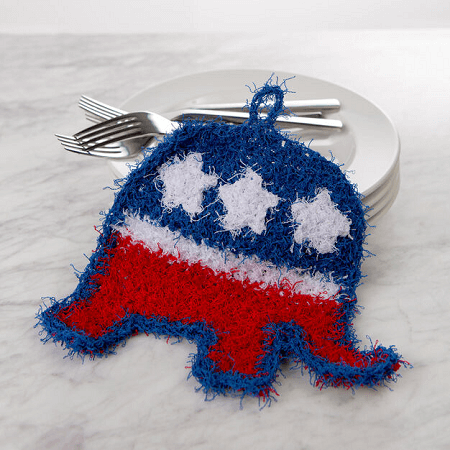 Get the Pattern here

21. Crochet Elephant Rug Pattern by Ira Rott Patterns
The combination of texture, lace, and chunkiness makes this Crochet Elephant Rug a conversation piece, which will bring your home to life.
Let your creativity shine and make the ears one of a kind by changing colors frequently in any round you like. This is a great project for using up your yarn leftovers!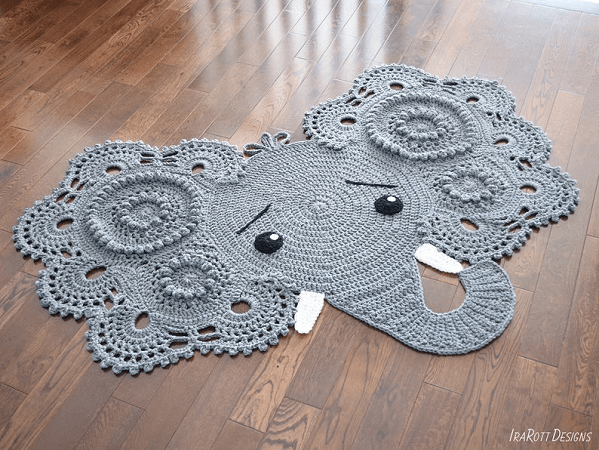 Get the Pattern by Ira Rott Patterns here

22. Everly, The Elephant Crochet Pattern by HH Designs 4
Whether on the go or spending time indoors, Everly, The Elephant makes the perfect companion for you and your child. The finished item is approximately 9 inches tall from the top of the head to bum when sitting!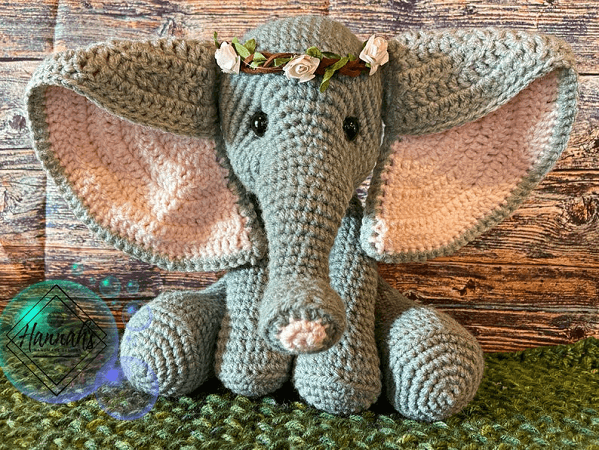 Get the Pattern by HH Designs 4 here

23. Ellie, The Elephant Baby Booties Crochet Pattern by Hopeful Honey
If you love elephants, this pair of sweet booties is just the project for you! The pattern is available in two sizes: 0-6 months and 6-12 months. It's great even for crochet newbies as it offers multiple "How to" photos!
These adorable baby booties are perfect as a gift for a baby shower. They are totally gorgeous and fun to craft!
Check out more crochet baby booties here.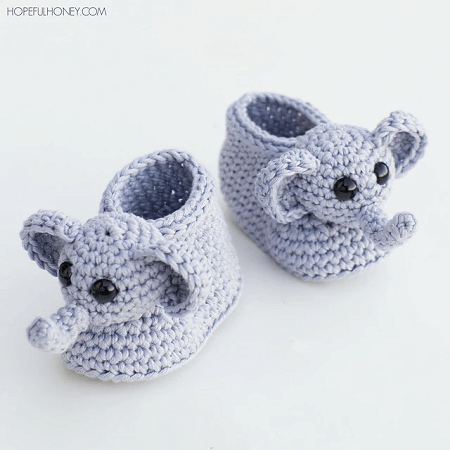 Get the Pattern here

24. Elephant Pillow Crochet Pattern by Heart Hook Home
Do you have an elephant lover in your life? If so, you'll want to whip up a giant Elephant Pillow for them to cuddle!
This elephant pillow is a whopping 34″ in circumference! His "wingspan" (ear to ear) is about 22″ across and he is about 10″ tall.
What a sweet little (BIG) gift for all animal-loving people you know!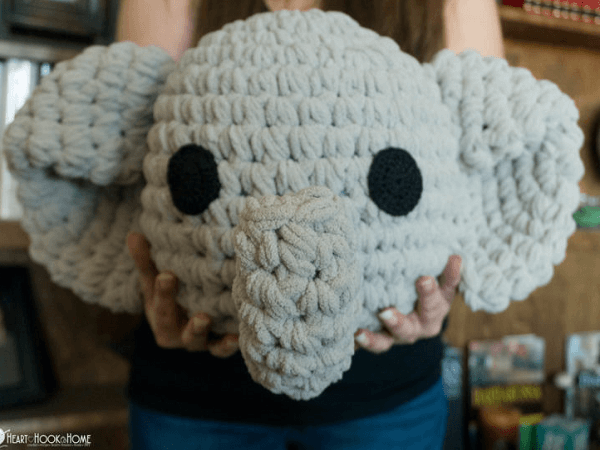 Get the Pattern here

25. Crochet Elephant Rattle Pattern by R Nata
Looking to create a little gift for a new bundle of joy? This Elephant Rattle would be perfect! It also would make a great gift for a baby shower or a hospital visit!
Crochet an adorable elephant rattle to entertain your little ones. You can easily customize it with different colors as well as with small details such as bows.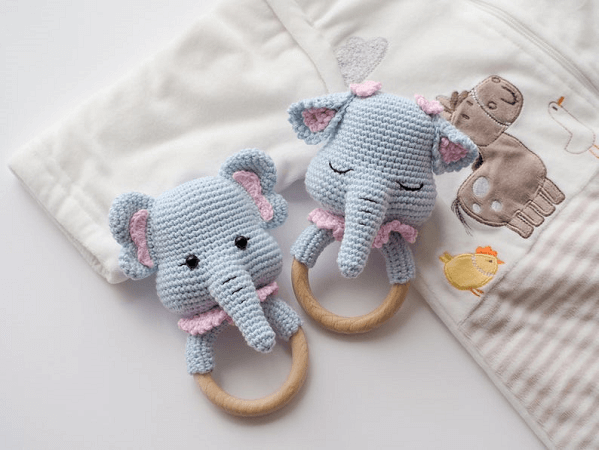 Get the Pattern by R Nata here

26. Crochet Hooded Elephant Blanket Pattern by MJs Off The Hook Designs
Wrap yourself in this cozy Crochet Hooded Elephant Blanket. Perfect for cuddling, play, and display.
This crochet elephant blanket features a moss stitch pattern, mittens, and detailed elephant hood. A warm blanket your child or yourself can snuggle in and then it folds into a decorative pillow/sofa decor when not in use.
The pattern will give you the option to make it in adult or child size and adjust the size of the blanket. Made with a chunky yarn, this blanket works up in no time!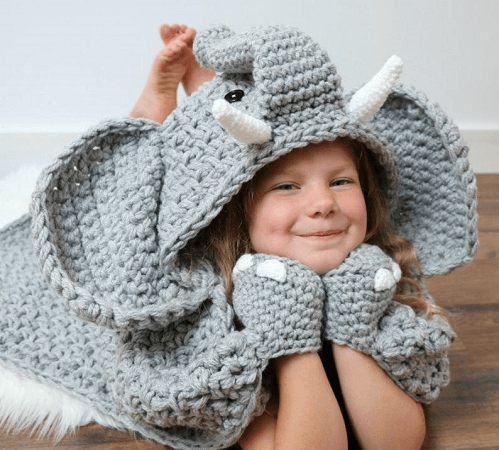 Get the Pattern by MJs Off The Hook Designs here

27. Elephant Amigurumi Free Crochet Pattern by Craft Passion
In the current situation, human beings are safe at home that makes animals safe in the wild. Thus, Elwis and Elyra, the Elephants are able to play at the open ground without any fear.
Elwis is a cheerful baby elephant that's wearing a blue stripe diaper pants. Elyra, on the other hand, is a shy quiet quiet girl who puts on her favorite rainbow-ruffles dress to the park with Elwis.
The Elephant Amigurumi is about 12″ tall in standing pose and about 9″ tall when it is sitting down, crochet from DK lightweight acrylic yarn by using 2.5mm hook.
It is a great size as a huggable softie, hence, it is absolutely lovely to make as a gift for someone who loves cuddling stuffed animals.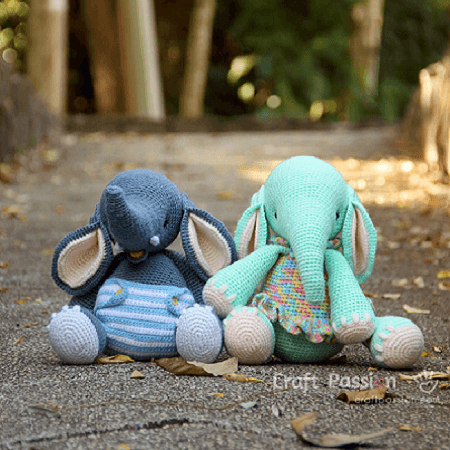 Get the Pattern here

28. Elephant Brooch Crochet Pattern by Crochet Pattern By Lily
Funny and positive Crochet Elephant Brooch is sure to dress up your everyday life and bring joy to you and the people around you.
Due to the presence of small parts, this toy is not suitable for the children under 10 and if you use the same materials as the designer, the brooch will measure around 5 cm (1.96 inches).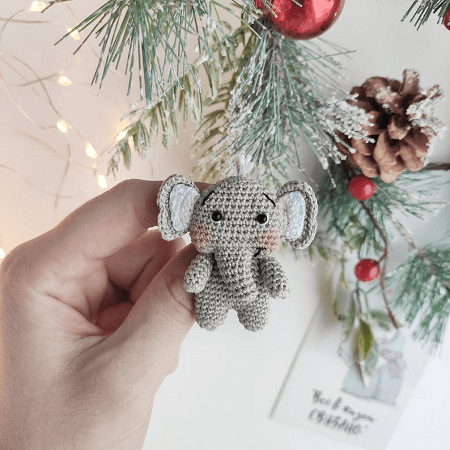 Get the Pattern by Crochet Pattern By Lily here

29. Elephant Curtain Tie Back Crochet Pattern by Cosy Patterns
The perfect gift for any occasion, this wonderful little Elephant Curtain Tie Back is bound to brighten up any room.
An excellent gift for new parents with young children, or even anyone that just wants to have a happier atmosphere in their room, this cute decorative elephant is a great finishing touch.
The elephant is around 18 cm (7") tall, using worsted weight (aran) yarn and a 3.00 mm or a 3.25mm crochet hook or around 13 cm (4″) tall, using double knit yarn and a 2.00mm or a 2.50mm crochet hook.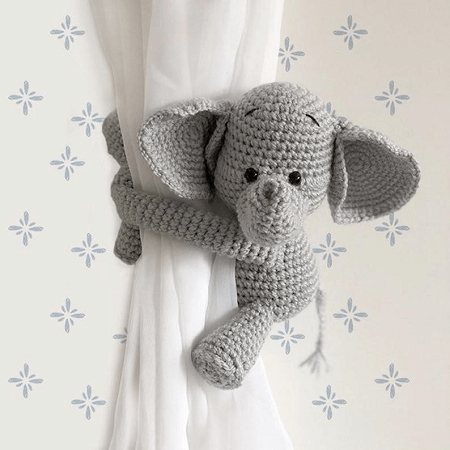 Get the Pattern by Cosy Patterns here

30. Cuddle Me Elephant Crochet Pattern by Amigurumi Today
This Cuddle Me Elephant just can't wait to be nursed and protected. Decorated with tropical flowers, a soft crochet elephant brings the sparkle into every child's eyes. It can make a cute birthday present!
The pattern will help you to create such a beautiful toy for your loved little one! Your amigurumi elephant will be about 16 cm (6.3″) tall if you use the specified yarn and hook.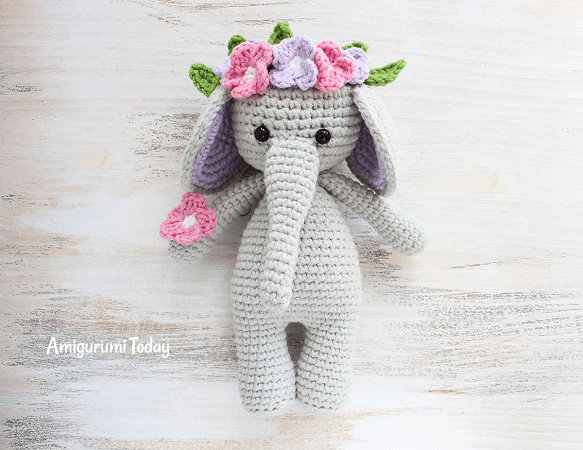 Get the Pattern here

31. Crochet Elephant Ear Hat Pattern by Sunny Sunflower Crafts
This adorable and unique Crochet Elephant Ear Hat is a quick and easy pattern that everyone will love.
These instructions include the pattern for the Elephant Ears, all four sizes (Infant to Adult Large) of the Earflap Beanie and how to combine them both to make your one-of-a-kind Elephant hat!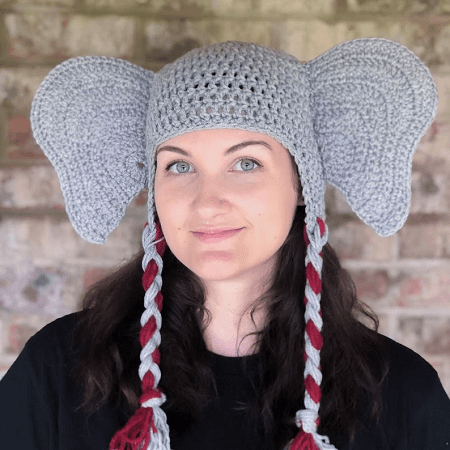 Get the Pattern by Sunny Sunflower Crafts here

32. Crochet Elephant Pattern by Crochet Pattern Guru
You know elephant crochet patterns aren't just all about baby shower gifts and kid's toys right? If you have a grown-up elephant lover in your family, they will love this gorgeous elephant to stand on their desks!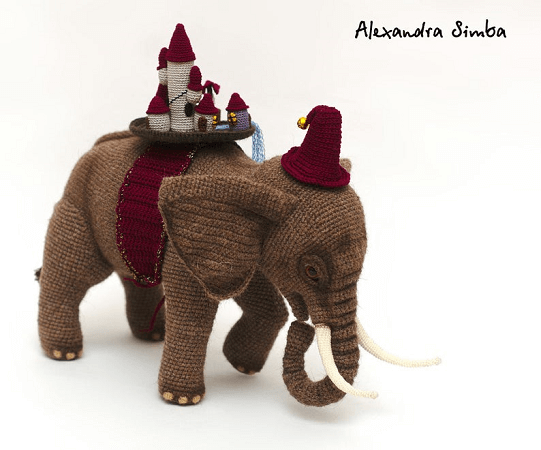 Get the Pattern by Crochet Pattern Guru here
With their giant ears, and soft, long trunks, what's not to love? Time to give this adorable crochet elephant patterns a whirl.
Make sure you share your makes with us on our Facebook Page. We'd love to see your elephantastic creations!
If you love animals but elephants aren't quite your thing, we also have gathered patterns for Giraffe, Panda, Sloth, Koala, and so much more!
For now, pick your favorite crochet elephant patterns, get your hook out and start whipping up a herd!