Today we're looking at an adorable crochet elephant pillow pattern!
This pattern is perfect for a baby's nursery or a child's room. For your own little one or as a gift.
You can work this up in a traditional elephant grey, or any color to make the recipient happy!
Definitely, keep reading for more information on this cute elephant with delicately crocheted ears.

Crochet Elephant Pillow Pattern
This by Ira Rott Patterns is a fun, cute and quirky addition to any baby's or child's room. The elephant pillows, named Josefina and Jeffrey are just plain adorable.
The finished pillow is quite large. Children will really enjoy hugging it!
You can make Jeffrey and Josefina in any color you like, really. The suggested colors are gray and lilac, but really any color will do. And Josefina can be made with an optional bow. Quite cute!
And with Dumbo making a big comeback right now this is a great time to work up one of these crochet elephant patterns.
Even better, Ira Rott Patterns has several coordinating items you can make to go with the elephant pillows, such as a rug, blanket, a small security blanket, big and small amigurumi elephants, hats and a diaper cover. For all of those patterns, check out this page.
Get the Elephant Pillow Pattern Here
All About the Crochet Elephant Pillow Pattern
This pattern for the elephant pillow crochet pattern is best for those of an intermediate skill level. There are several techniques you will need to know to work through this pattern. We've listed those below. If you're not familiar with them, check out our tutorials on those stitches and practice it a bit. Once you've learned all of the required stitches, if you haven't already done so, then you should be able to work this pattern quite well!
This pattern is written in U.S. crochet terms, but can be easily converted to UK terms with the included chart. The pattern also includes step-by-step photos to assist you, as well as diagrams to break it all down for you.
You won't need any special yarn for this project, just some medium weight yarn and you're good to go.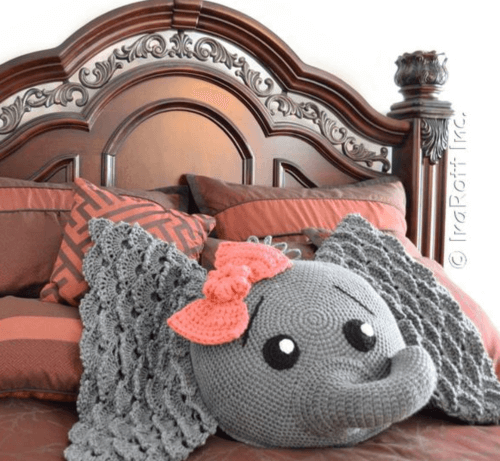 About the Crochet Elephant Pillow Pattern
Instant download PDF (downloads 19 pages, mobile device friendly)
US Crochet terms
Includes diagrams, photos with step-by-step instructions, and a U.K. terminology conversion chart
Skill level
Intermediate
Skills/techniques Needed:
back post single crochet
picot
working in rows
working in rounds
increasing/decreasing
complex pattern repeats
sewing
Finished size: Approximately 30 inches wide and 21 1/2 inches long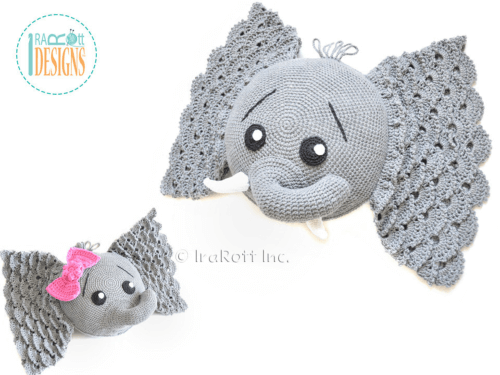 Elephant Pillow Materials Needed
Yarn: medium/4/worsted weight (suggested Bernat Super Value Yarn)
Quantity: 2.5 skeins of Lilac or Gray; 0.5 skein of any color for the optional bow; a small amount of black and white for the eyes and eyebrows
Tapestry Needle
Stitch Markers
Polyester Stuffing
Hooks:
4.25 mm (G)
5 mm (H)
5.5 mm (I)
9 mm (M/N)
Time to Get Started?
What do you think? Ready to give this adorable elephant pillow pattern a whirl? I know I am. I can think of some little ones I know that would love a big squishy elephant pillow. How about you?
Get the Elephant Pillow Pattern Here
Well, go on, grab your hooks and yarn and get to work on this fun and cute crochet elephant pillow pattern!