Now you can make your very own koala with these 22 Amigurumi Koala Crochet Patterns.

Koala bears are cute, their slow movements and soft fur make them absolutely adorable.
The results are cute crochet creations that you will absolutely adore.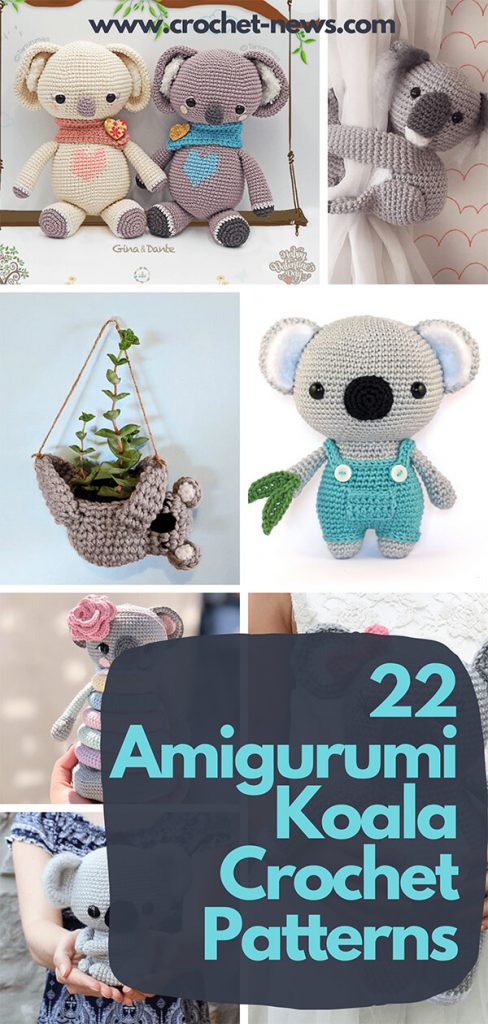 1. Amigurumi Koala Crochet Pattern by Diy Fluffies
He has on a tiny dungaree that will make your knees weak, and in his hand, he is holding on to some eucalyptus leaves because he is always hungry. If you are looking for something for your crocheting club to swoon over, then the koala crochet pattern is something you need.
You will have all the ladies badgering you to tell them how to make one. It is just too damned cute to not want one. So what exactly do you need to bring this furry little creation to life?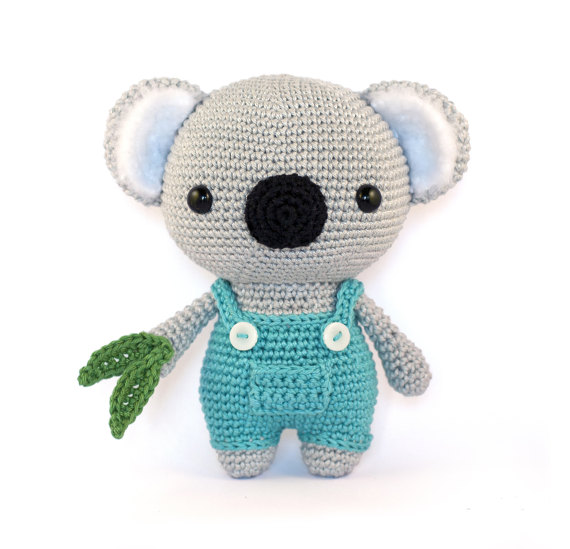 Intermediate Amigurumi Pattern
The creator warns that this pattern is technical and meant for the more intermediate crocheter. From my experience, I found the pattern reasonably manageable, but you do need some skills to produce the perfect amigurumi koala.
The tutorials and the PDF are well laid out with illustrations included to guide you every step of the way. They are also explained in simple English meaning that they are quite easy to understand. My advice if you follow the directions given precisely, you will end up with the cute crochet koala.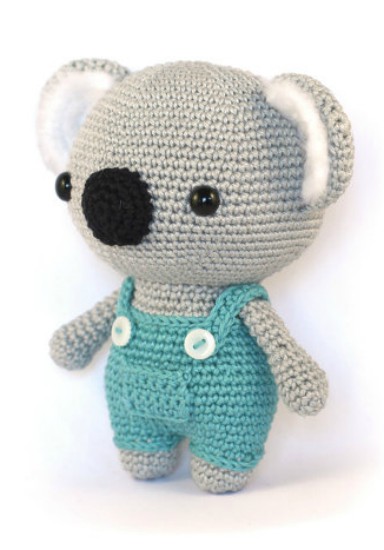 Get the Pattern by Diy Fluffies here

2. Kimba, The Koala Crochet Pattern by Theresa's Crochet Shop
Create your own little koala in just a few hours!
This super simple pattern includes one PDF file with detailed instructions and pictures on how to crochet and assemble all the parts to make this koala.
Only basic crocheting skills will be needed to make Kimba: chain, single crochet, increasing, and decreasing.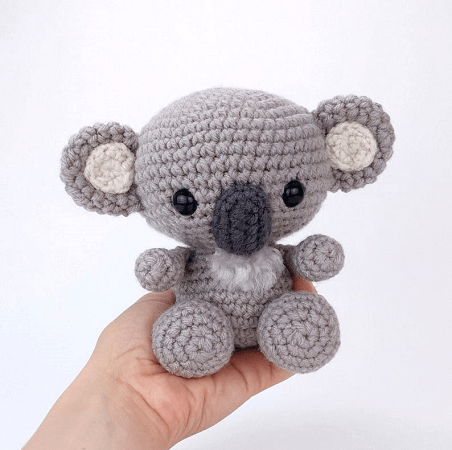 Get the Pattern by Theresa's Crochet Shop here

3. Amigurumi Koala Bear Crochet Pattern by Grace And Yarn
Meet Katie, the Koala Bear! She works up fast and is a great size ( 12 inches) for any little one to play with!
This Amigurumi Koala Bear Crochet Pattern comes with step by step photos and tutorial, making it a great project for beginners!
This works in the round with the legs and body as one piece. The head is made separately and sewn on for added strength in the neck – helping to avoid a wobbly head!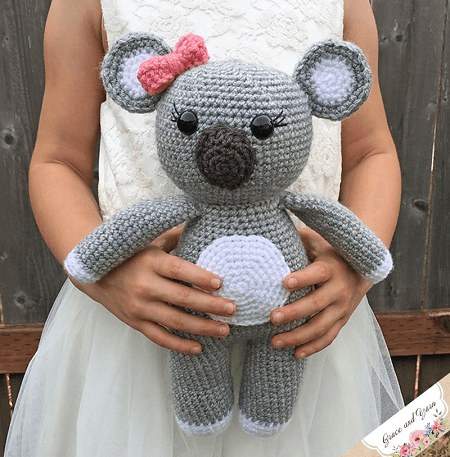 Get the Pattern here

4. Koala Planter Crochet Pattern by Hello Happy
Make an adorable koala mini planter with this crochet pattern!
This planter will fit those tiny succulents you find at hardware & home improvement stores, with little plastic pots 2-2.5 inches in diameter and 2-2.5 inches tall.
You'll make this planter with super bulky (weight 6) yarn or 2 strands of worsted (weight 4) yarn together, with a 6.5mm hook, and a 4mm hook for details. You will also need some string or skinny rope to hang it with.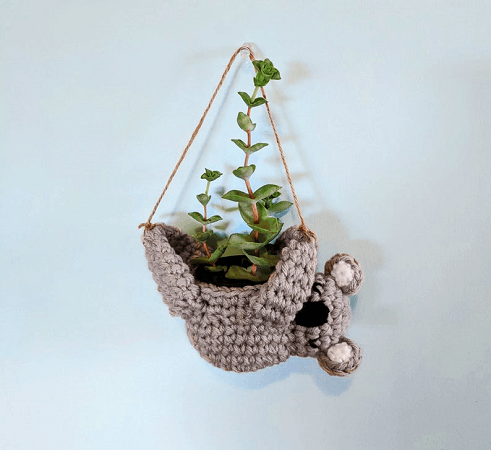 Get the Pattern by Hello Happy here

5. Kaya, The Koala Free Crochet Pattern by The Loopy Lamb
This koala crochet pattern is a relatively easy amigurumi pattern and it is the perfect cuddle size.
Plus, this pattern can be made with one ball of Fable Fur yarn and a small amount of worsted weight black yarn.
Kaya the Koala is an adorable koala that just begs to be cuddled! She is the perfect cuddle size, approximately 10" from the top of her head to the bottom of her feet.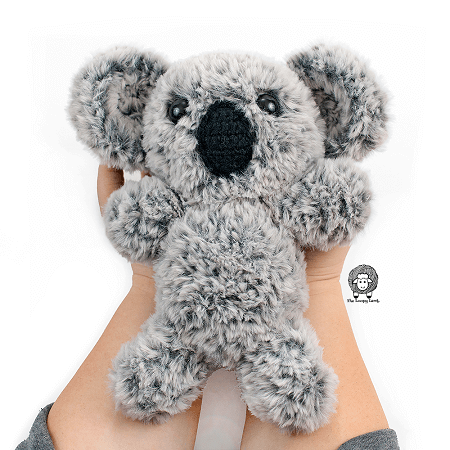 Get the Pattern here

6. Clancy, The Backpacker Koala Bear Crochet Pattern by Belle And Grace HMC
Meet Clancy, the Backpacker Koala!
While he spends most of my days high up in the eucalyptus trees, munching on the leaves and have a snooze or two, he has also been dreaming of an adventure of a lifetime.
With his backpack packed with his favorite gum leaves, his Bushman's hat, and of course his sleeping swag, he is off to catch up with his new amigurumi mates from around the world!
Crochet a cute little Clancy and take him wherever you go!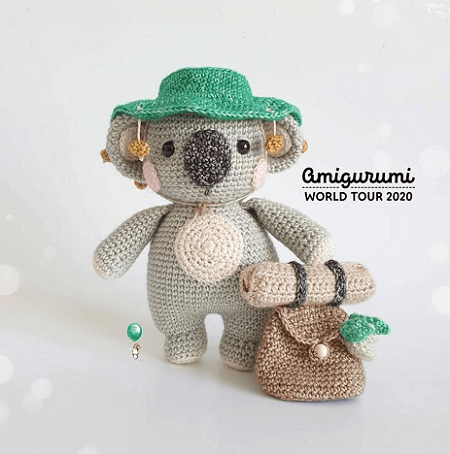 Get the Pattern by Belle And Grace HMC here

7. Free Crochet Koala Pattern by The Friendly Red Fox
This crochet koala is about 12 inches tall and the perfect size for cuddling.
This Free Crochet Koala Pattern is a pretty straight-forward pattern and could be made by someone new to amigurumi. The fuzzy yarn adds the perfect touch to this cuddly koala.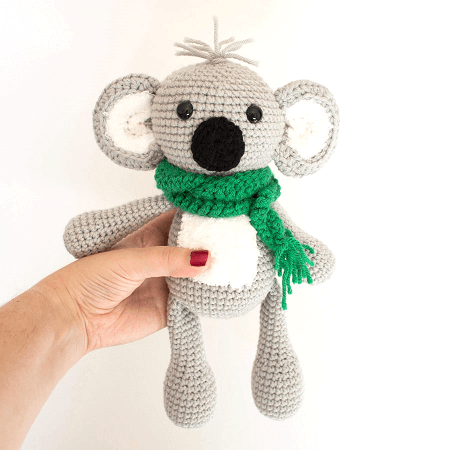 Get the Pattern here

8. Koala Amigurumi Crochet Pattern by Patchwork Moose
This lovely koala is named Hetty. She is ready to climb into your arms for a sweet koala hug.
Hetty is a good cuddle size, she measures about 8 inches sitting in a DK yarn, but she can be made from any weight yarn and appropriate hook for different sizes.
This Koala Amigurumi Crochet Pattern contains instructions for both a jointed koala and a koala with fixed arms and legs.
This is not a pattern for beginners, but it is an easy pattern to follow with plenty of photos to help with tricky bits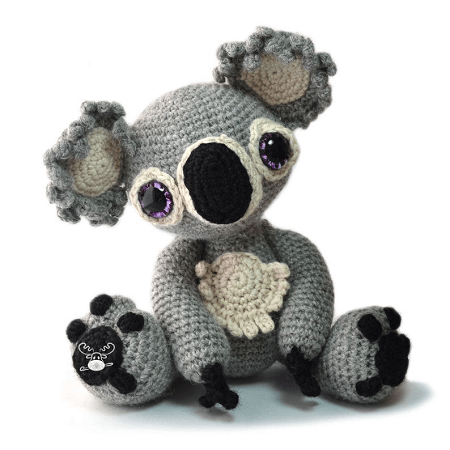 Get the Pattern by Patchwork Moose here

9. Koala Crochet Basket Pattern by Yarnspirations
Introducing your faithful desk buddy, a koala crochet basket!
A cute koala keeps pens and pencils company while you work. Complete this creative wonder quickly!
With its unique twist and super bulky gauge, you work fast, achieving a higher-end look without the higher-end price tag. Are you thinking of gifting for a student you know?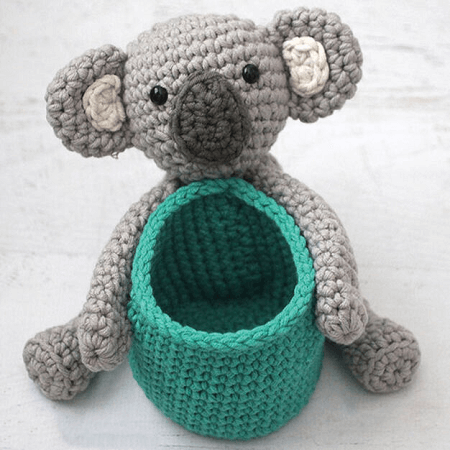 Get the Pattern here

10. Cuddle-Sized Koala Bear Amigurumi Pattern by Storyland Amis
Meet Kozy the Koala Bear! Kozy is just like her name suggests – cozy! And cuddly too! She loves eating eucalyptus leaves and taking naps. In fact, naptime is her favorite time of the day!
This cuddly-sized koala bear is a perfect soft cuddly toy for your child or for you and your friends.
Her finished koala measures about 6.5 in. (16.5 cm.) tall. This depends on your gauge and the type of yarn and hook you decide to use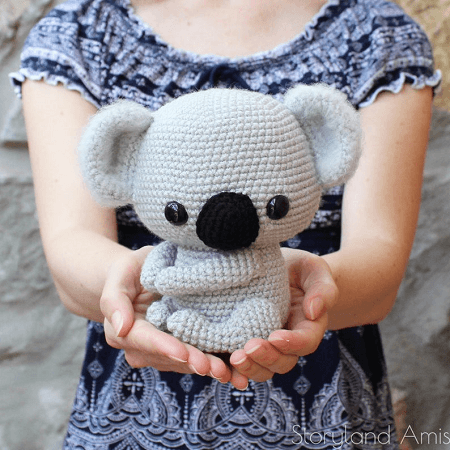 Get the Pattern by Storyland Amis here

11. Crochet Koala Bear Pattern by Yarn Hild
This koala bear is a unique amigurumi made in the ragdoll-style; separate pieces worked in flat rows and joined together to give it that charming and distinctive 2-D appearance.
This ragdoll koala bear is made entirely of single crochet and it's a pretty simple and fun project that you can stitch up watching a movie or your favorite TV show.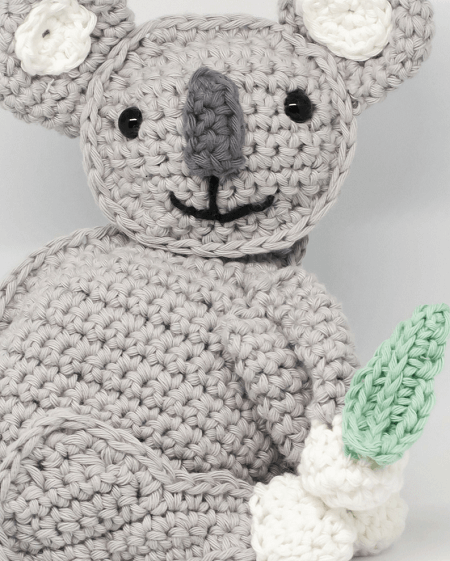 Get the Pattern here

12. Hatching Koala Crochet Amigurumi Pattern by Kayte Dids
Meet the Hatching Koala, stealing everyone's hearts, and holding on for hugs. He sits 8.5in tall and comes with his own little pouch to hide away in (10in).
The pattern is considered easy using simple terms such as SC, DEC, INC, SL, and Magic Circle.
Isn't this Koala bear the cutest? It's even cuter with the egg it hatches from. This would make a perfect gift for just about anyone!
Get the Pattern by Kayte Dids here

13. Koala Curtain Tie Back Crochet Pattern by Cosy Patterns
Now you will be able to make your own cute koala curtain tie back with this crochet pattern!
This makes a beautiful welcome to the world or baby shower gift and adds so much cuteness to a nursery or children's room.
Koala measures around 19cm (9") tall, using worsted weight yarn and a 3.00 mm or a 3.25mm crochet hook or around 15 cm (7″) tall, using double knit yarn and a 2.00mm or a 2.50mm crochet hook.
Whatever yarn and hook sizes you use, the koala will turn out great!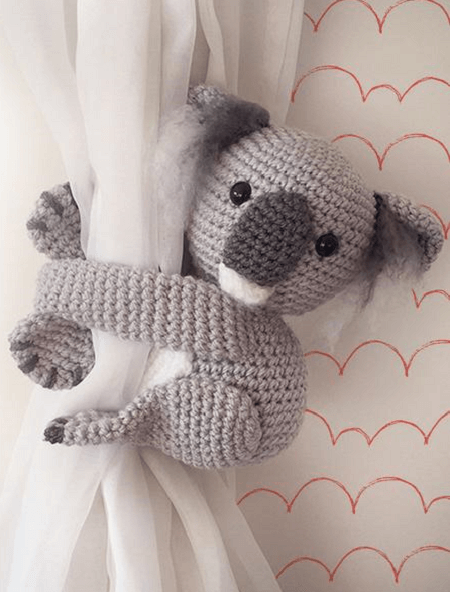 Get the Pattern by Cosy Patterns here

14. George, The Koala Cuddly Amigurumi Pattern by Irene Strange
George The Koala is so squishy and fluffy. You will never get enough hugs from him!
This amigurumi is a very nice cuddly toy size and works up very quickly with a 4.5mm hook and baby blanket yarn.
When made with the same yarns as the sample, he will measure 27cm/11inches tall and 23cm/9inch wide at the ears.
Mixing the different textured yarns for the body, tummy and ear trim creates an unusual and super-huggable toy.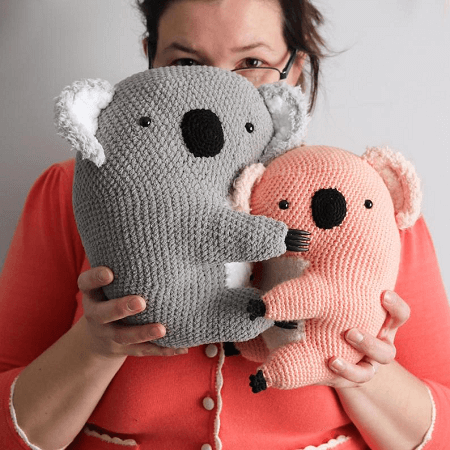 Get the Pattern by Irene Strange here

15. Matilda, The Koala Amigurumi Pattern by Hooked On Ewe Crochet UK
Matilda is a soft and cuddly Koala that when made up is suitable for all ages. She loves hanging around with her velcro limbs and loves to cling on to things, even her very own branch.
She is made her with super soft chenille yarn which gives her a gorgeous soft velvety feel.
But you can, of course, make her with any yarn you wish, just adjust hook size accordingly and you may need to change her eye size.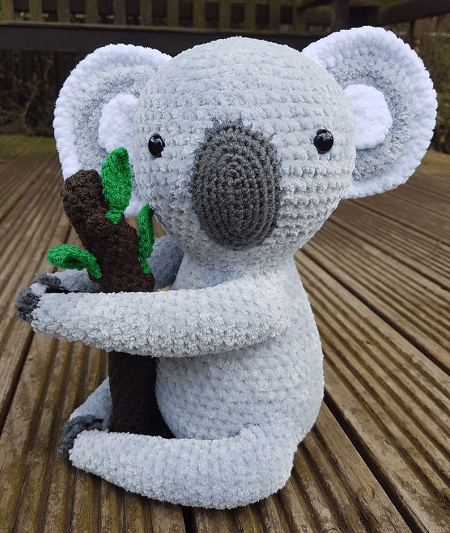 Get the Pattern by Hooked On Ewe Crochet UK here

16. Max, The Koala Amigurumi Pattern by Meow Knitting Boutique
Max, The Koala would be a lovely present this holiday. With his festive outfit, he's sure to be loved by all ages!
You can also make his outfit in different colors to match the season and your home decors.
This amigurumi pattern is easy to make and beginner-friendly. When crocheted with a 2.500 mm hook, this koala should measure approximately 20 cm (8 inches).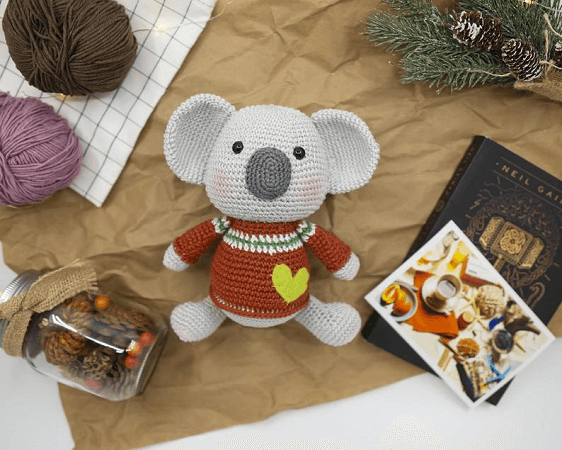 Get the Pattern by Meow Knitting Boutique here

17. Amigurumi Koala With Heart Crochet Pattern by Amigurumi Today
This adorable koala is sure to bring a smile to any face!
Along with being an extra cute and super cuddly, this koala with a soft crochet heart is just the perfect gift for koala lovers!
The height of the finished amigurumi koala is 12 cm and the size of the heart is 7cm – just the perfect size to sit on a bedside table, on the bookshelf, or on display.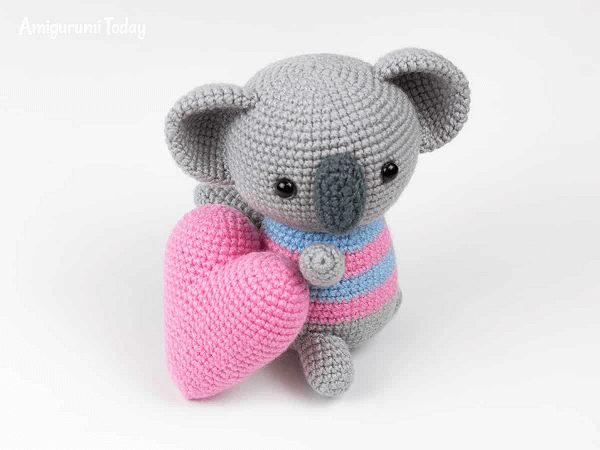 Get the Pattern here

18. Crochet Koala Amigurumi Pattern by My Toy Crochet
This koala is super soft and plush – a perfect gift for a birthday, baby shower, nursery, or just for yourself to keep. Isn't she cute with those flowers and leaves on her head?
This Crochet Koala Amigurumi Pattern requires an intermediate skill level and is a wonderfully rewarding project.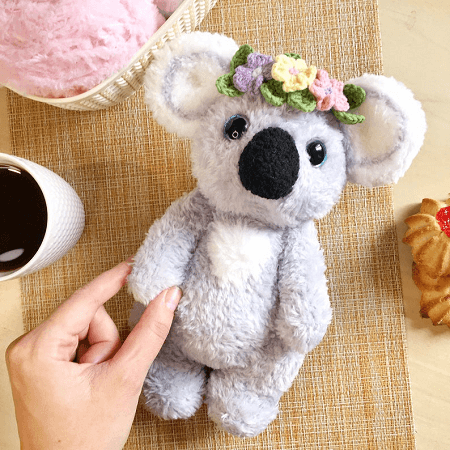 Get the Pattern by My Toy Crochet here

19. Ken, The Koala Crochet Pattern by Ira Rott Patterns
Ken the koala is a very fussy eater and he almost never skips his naps. However, when it comes to friends, he is accepting of everyone and can never have enough.
Make a little koala from bulky weight yarn (5) that will measure 13" (33 cm) or a tiny koala from medium weight yarn (4) that will measure 10" (25.4 cm); your finished size will depend on the yarn choice.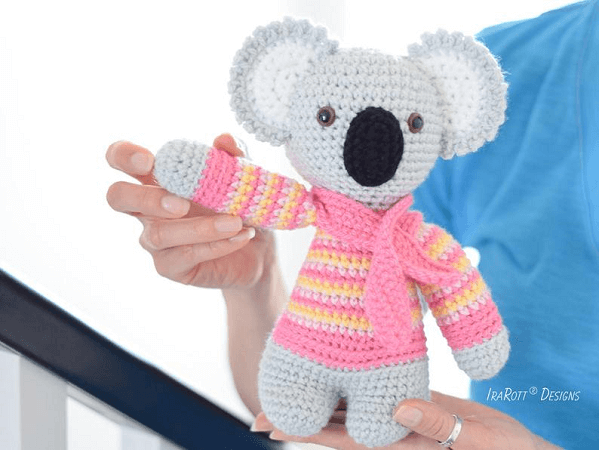 Get the Pattern by Ira Rott Patterns here

20. Valentine's Koalas Amigurumi Pattern by Tarturumies
These cuddly pair is named Gina and Dante. They enjoy their days together and they want to share the love with you too!
This amigurumi pattern is the same for both Gina and Dante. You will follow the same instructions and make the corresponding color change.
These little cuties are great helpers and will be very happy to settle in every children's room. Everyone is going to love them!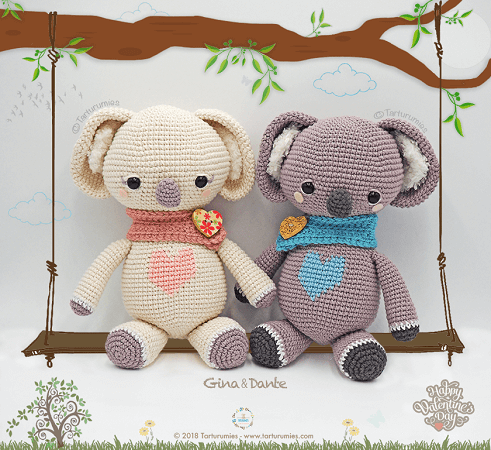 Get the Pattern here

21. Kc, The Koala Crochet Amigurumi Pattern by Hello Yellow Yarn
KC The Koala is loveable and fun to have around. He loves eucalyptus leaves so much, he carries them everywhere he goes! Don't you just want to give him a cuddle?
KC measures approximately 25cm (10 inches) tall when made with an 8 ply (US Light Worsted / UK DK) yarn and a 4.5mm crochet hook.
Get the Pattern by Hello Yellow Yarn here

22. Stacked Toy Koala Crochet Pattern by By Knit Toys
This stacked toy koala is not just adorable but can also help the kids to develop coordination and sensory perception through the multi-colored rings they can play with.
This innovative design is both educational and recreational. Colorful yarns and embroidery floss details combine to create this delightful stacking toy.
The children in your life will simply adore this koala toy that is beautiful to look at and fun to play with!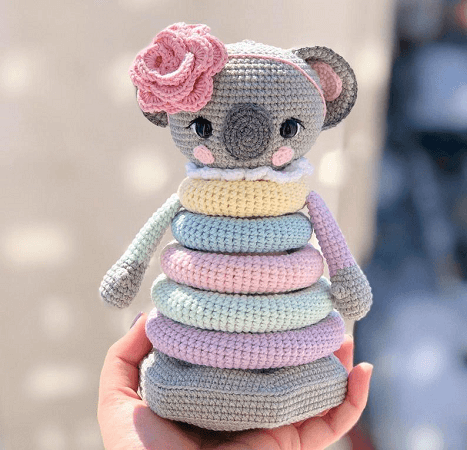 Get the Pattern by By Knit Toys here

If you love Koalas as much as we do, you will want to crochet one or two of these amigurumi koala crochet patterns for yourself, your kids and as gifts!
When you're done making your adorable koalas, be sure to share them with us. Post some pics to our Facebook Page. We'd love to see them!
In case Koalas are not enough, we have also gathered crochet patterns for Rhino, Giraffe, Panda, Sloth, Turtle, Jellyfish, and more! And if you're a fan of Amigurumi, we have lots of them here. Check them all out!
Get ready to start your next stuffed toy with these adorable amigurumi koala crochet patterns – with such a cute creation all your hard work will be worth it!