As its name suggests, rhinoceros means "nose horn." These gentle giants are known for the enormous horns growing out from their snouts. Unfortunately, these brilliant animals are on the brink of extinction due to illegal hunting.

You can make these crochet rhino patterns to help promote awareness of these majestic beasts while finding unique gifts for special people in your life who love rhinos.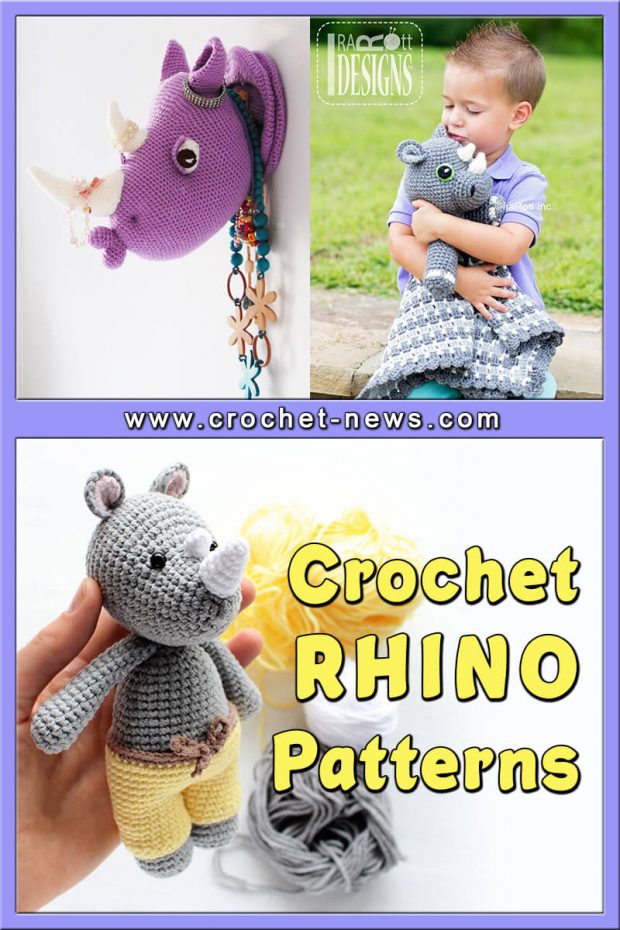 Whether you want to make a homemade baby shower gift, a toy for a child, or some rhino home decor items, you're sure to find the right rhino for you!

1. Amigurumi Rhino Crochet Pattern by Craft Passion
Ron, the crochet rhino free pattern, measures about 13" tall standing up and 10" while sitting. And at this size, making him the perfect huggable size.
Ron can be in any color as per his creator's preference. He'd be the best companion for children, keeping them comfortably safe and sound while they sleep.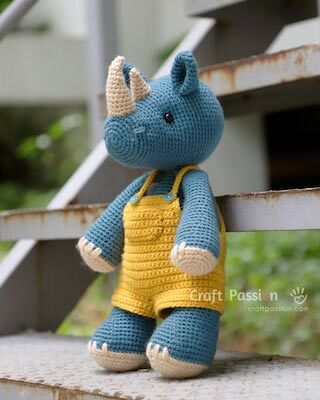 Get the Pattern here

2. Crochet Rhino Free Pattern by The Friendly Red Fox
This little crochet rhino is the perfect amigurumi rhino pattern for a cuddle sized little animal. About 8 inches tall, he is the best size for little hands to play with!
This little guy is charmingly simple, and easy enough for a determined beginner.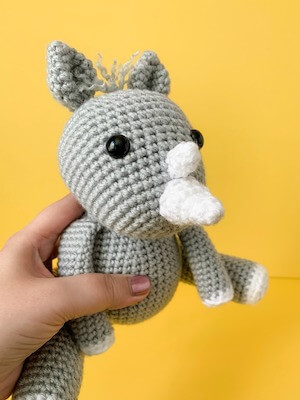 Get the Pattern here

3. Hollie, The Rhino Crochet Pattern by Hobbii
Say hello to the cutest amigurumi rhino, Hollie. She's wearing a pretty little dress and has topped it off with a bow. She would be the perfect hugging-buddy for a little boy or girl.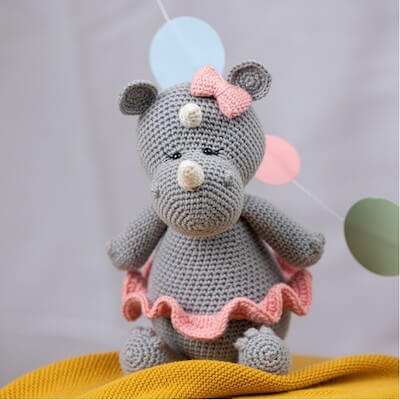 Get the Pattern here

4. Thandi, The African Flower Rhino Crochet Pattern by Heidi Bears
Thandi, the African Flower Rhino is an excellent stash buster project, as you only need to use very small amounts of leftover stock yarn to make a motif.
If you admired this unique motif, check out these African Flower Crochet Patterns.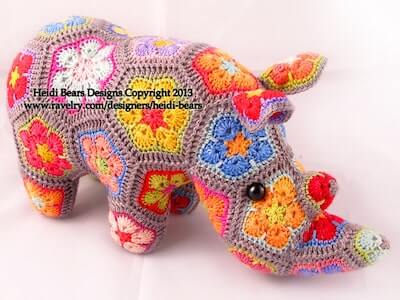 Get the Pattern by Heidi Bears here

5. Crochet Rhino Pattern by One Funny Moose
With this rhino pattern, you can make a small amigurumi toy rhino that can be a good friend to your child and a nice gift for any safari animal lover.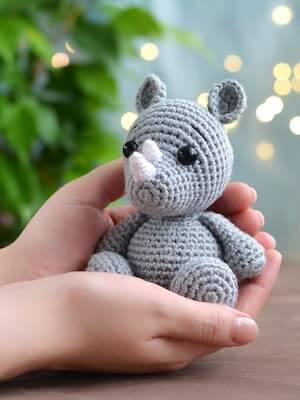 Get the Pattern by One Funny Moose here

6. Crochet Rhino Lovey Pattern by Ira Rott Patterns
Are you looking for a cuddly crochet lovey with an adorable amigurumi character a child can hug?

This adorable Rhino Lovey is a plush toy and security blanket all in one! It's perfect for baby's little hands and will surely become a friend for your baby. You can create something really special for your little one!

More Baby Lovey patterns here.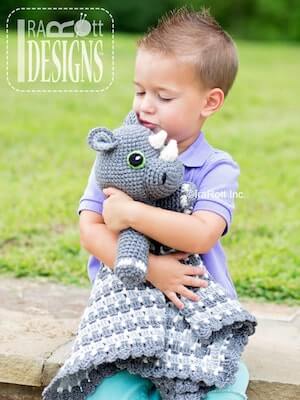 Get the Pattern by Ira Rott Patterns here

7. Cuddle Me Rhino Amigurumi Pattern by Amigurumi Today
This Cuddle Me Rhino amigurumi dressed in sunny pants is the ideal friend for your brainy little one! He loves adventures, challenging tasks and guarding small children.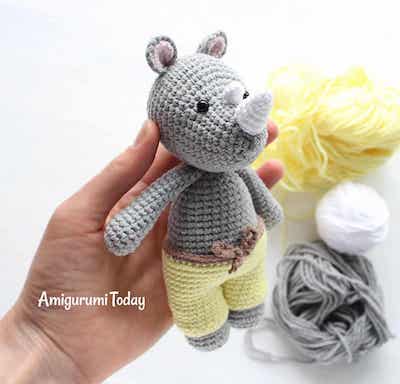 Get the Pattern here

8. Small Rhino Crochet Free Pattern by Kristi Tullus
With a large horn and stumpy legs, this rhino will definitely be a fun project. It's easy to make so it will make an adorable last minute gift.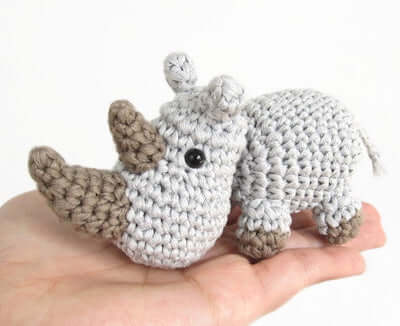 Get the Pattern here

9. Rhinka, The Rhino Crochet Pattern by Pepika
A dash of dry African air comes into your home with this fashionalbe young lady. She loves bold jewelry and has a thing for rhinestones.
She will allow you to put some bracelets on her horns, she will even let you pierce her lips.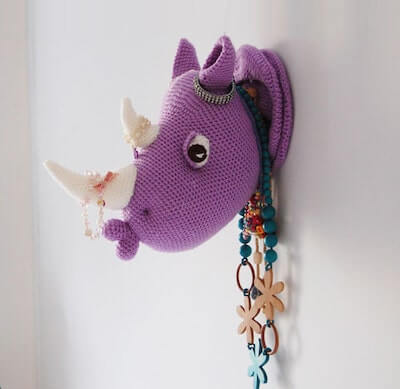 Get the Pattern by Pepika here

10. Rhino Crochet Pattern by Sweet Oddity Art
This crochet pattern includes instructions to make a rhino amigurumi in 2 sizes: large measures 15″(38 cm) tall when using a D hook and mini measures 8 inches tall when using a D hook. Mix and match colors to change their look.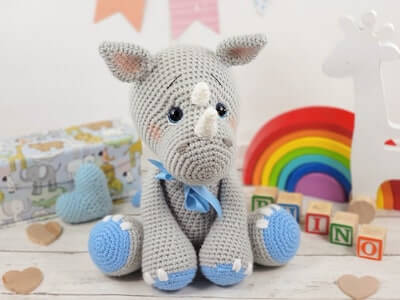 Get the Pattern by Sweet Oddity Art here
ADD THESE CROCHET RHINO PATTERNS TO YOUR ANIMAL WILDLIFE COLLECTION!
Enjoy your adorable rhinos, and don't forget to share your work with us on our Facebook Page.

We also have gathered patterns for Hippos, Elephants, Giraffes, Lions, Panda, Sloth, Koala, Bears, and so much more! Make one of each animal and enjoy a real homemade family zoo in your own home.

So, if you're an animal lover and enjoy making different kinds of animals with your own hands, then these cute crochet rhino patterns are something you will adore! Get crocheting!