These Crochet Bear Patterns are quick and fun projects to make for your home, your kids, or as a charity gift. Whether tiny or big, they are certainly the most favorite softies to keep or to give away.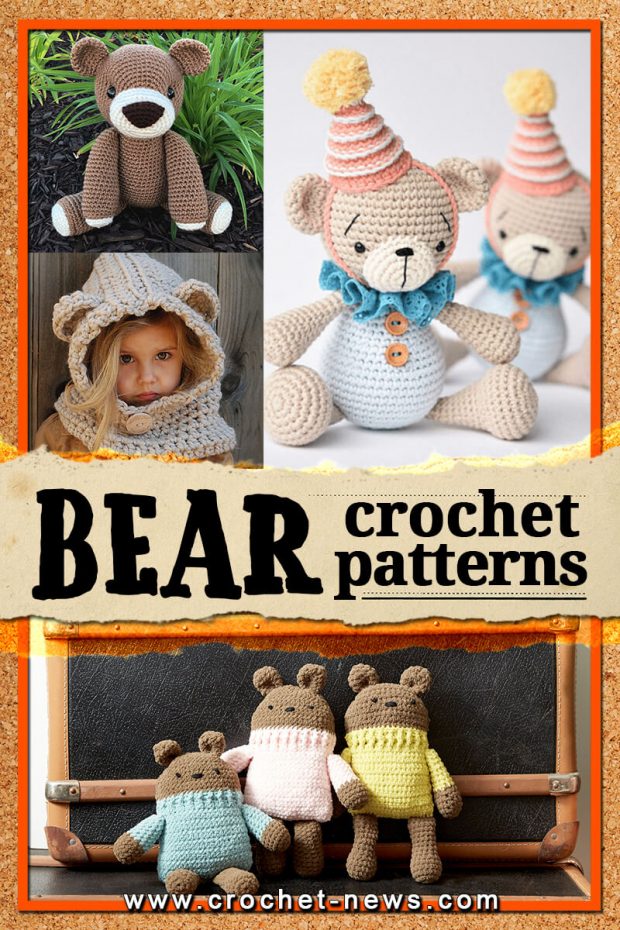 You can easily customize the patterns to create a variety of teddies. Dress them in colorful sweaters or pants so that each one has a different character. Embroider different facial features to personalize them and make them unique.

Surely, you will enjoy creating a whole bunch of these adorable bears so rummage through your stash and start crocheting!

1. Bear Pillow Crochet Pattern by The Turtle Trunk
This Crochet Bear Pillow would make the perfect addition to any room, home, or cabin! It would also make a great gift for anyone who loves the outdoors!

This pattern is classified as intermediate because of the color changes and intarsia technique. Even if you are not familiar with the intarsia technique, there are instructions to show you the way!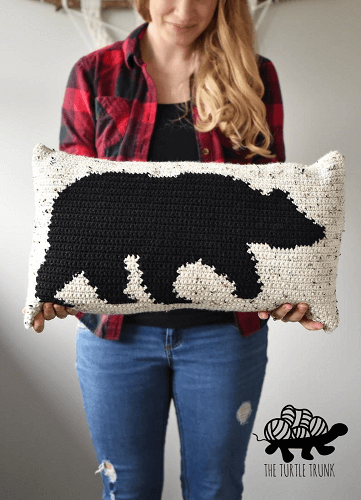 Get the Pattern by The Turtle Trunk here

2. Lying Bear Crochet Pattern by Amigurum
Crochet your own lying bear with this easy to follow amigurumi pattern. To make this cute bear you will need a 2.0 mm crochet hook and YarnArt Jeans yarn. The finished amigurumi bear is about 22 cm (8.7″) long.

This bear is an easy amigurumi pattern with a pear-shaped main body and stitched on limbs and accessories. It's a great little project for using up yarn ends that seem to accumulate all the time.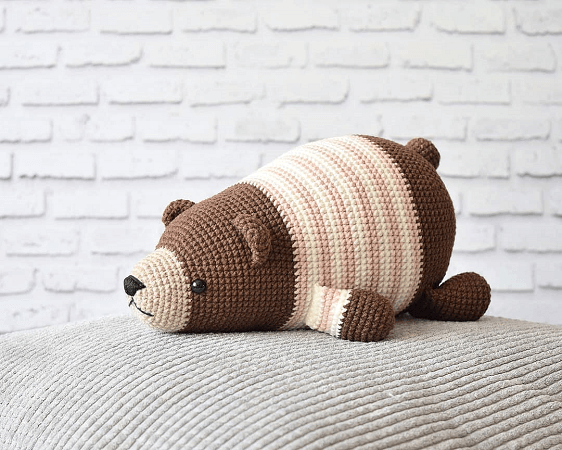 Get the Pattern here

3. Crochet Baylie Bear Cowl Pattern by The Velvet Acorn
This Crochet Baylie Bear Cowl Pattern is very easy to understand and follow, and you will love how this cowl is constructed! It works up quickly and you will be able to whip up one in one sitting!

This is such a great winter item as it doubles as a cowl and a hood/hat. If the child does not want to wear the hat, they simply slide it off their head and leave it as a cowl. It keeps both their neck and head warm!
Get the Pattern by The Velvet Acorn here

4. Billy, The Friendly Bear Crochet Pattern by Bunnies And Yarn
This pattern will help you to make your own Billy, the Friendly Bear Crochet Pattern – a wonderful and huge bear who measures about 21.5 in. (55 cm.) tall if you use worsted weight yarn and a 4.00 mm. crochet hook. This bear is super-cute and is guaranteed to bring more warmth and love to your household!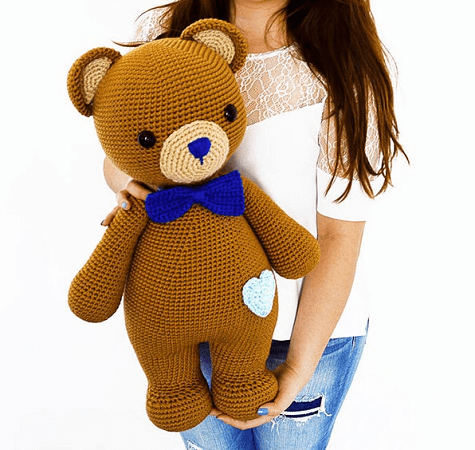 Get the Pattern by Bunnies And Yarn here

5. Crochet Square Bear Pattern by Yarnspirations
Make a crochet project they'll cherish forever! These Crochet Square Bears are great toys that can be worked up quickly.

Using mainly single crochet with some front post and back post detailing these cute crochet toys only takes 2 balls of yarn to make 4 bears! This is also a great crochet toy pattern for charities accepting toys for kids in need..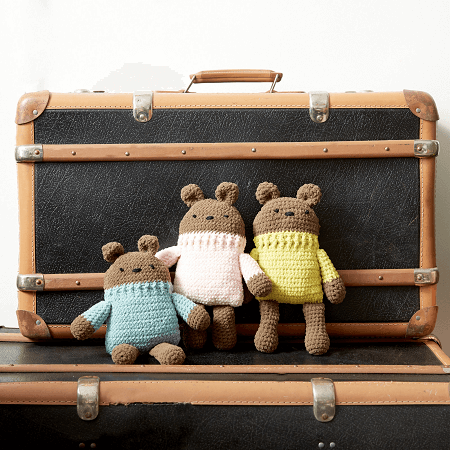 Get the Pattern here

6. Crochet Bear Folding Blanket Pattern by Crafting Happiness UK
Made with double knit (light worsted) yarn, this Crochet Bear Folding Blanket is warm and soft, but light in weight, perfect for babies of all sizes and ages.

The blanket is crocheted in gender-neutral shades of brown and will fit any nursery, make it your own and choose any color that suits your color scheme and decor.
Get the Pattern by Crafting Happiness UK here

7. Pocket Bear Crochet Pattern by Spin A Yarn Studio
These Pocket Bears are unique amigurumi made in the ragdoll-style; separate pieces worked in flat rows and joined together to give it that charming and distinctive 2-D appearance.

These cute little puffins will be your companion on your everyday adventures. You can keep them in your pocket or your bag as a lucky charm.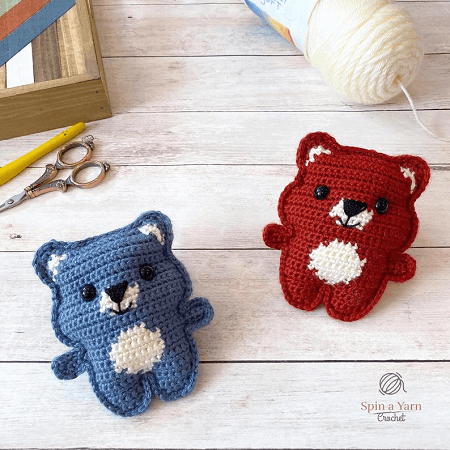 Get the Pattern by Spin A Yarn Studio here

8. Crochet Princess Bear Pattern by Red Heart
Wearing her pretty ruffled gown and brilliant crown, this Crochet Princess Bear is ready for hours of imaginative play. This crochet playset is so much fun to stitch up –especially with so many colors to give your bear a unique personality!

Make your project even more special by inviting your child to select the colors. It's a gift that stimulates minds and is sure to become any child's new favorite toy.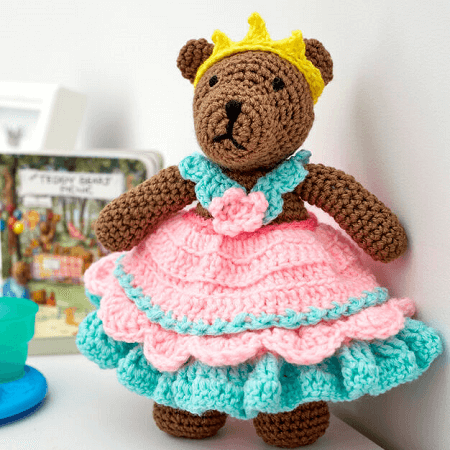 Get the Pattern here

9. Crochet Bear Amigurumi Pattern by Lilleliis
This is a step-by-step amigurumi pattern for making a baby bear with a party hat and a super delicious crochet cake. Perfect gift for baby's first birthday. Later on, the cake can be used separately in children's cooking games.
Get the Pattern by Lilleliis here

10. Crochet Bear Blanket Rug Pattern by Make And Do Crew
Perfect as a rustic throw, child's play mat, or nursery rug, this cuddly Crochet Bear Blanket Rug is sure to keep you cozy while you hibernate.

This magical bear is made entirely with single crochet, you'll quickly get the hang of feeling for your stitches in the fuzzy yarn and finish this fun project in no time!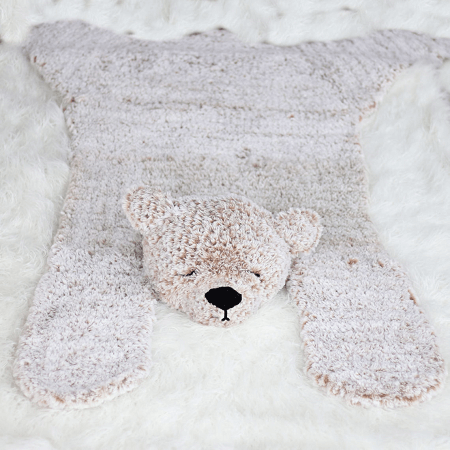 Get the Pattern here
Also see: Crochet Bear Faux Skin Nursery Rug Pattern

11. Crochet Bear Silhouette Hat Pattern by Lakeside Loops
You and your family will be so very warm in this Crochet Bear Silhouette Hat. Polar bear, black bear, brown bear – make them all with this easy to follow crochet pattern.

Written for intermediate crocheters and with 6 sizes to choose from, you can crochet one for Mama Bear, Papa Bear, and all their cubs!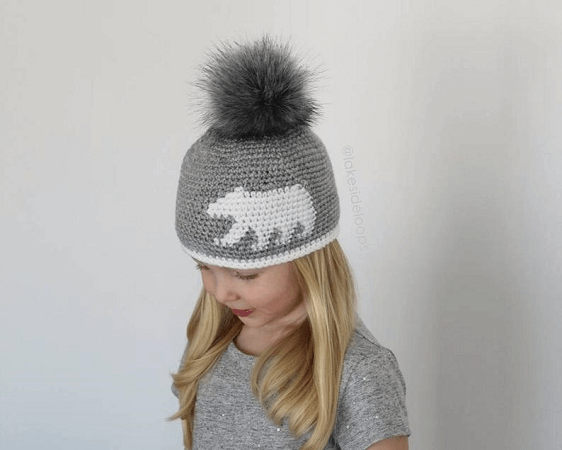 Get the Pattern by Lakeside Loops here

12. Crochet Bear Rattle Pattern by RNata
Cute and soft Crochet Bear Rattle – perfect for the smallest ones. This cutie will certainly bring a smile to any child's face.

13. Crochet Polar Bear Pattern by Grace And Yarn
This Crochet Polar Bear Pattern works up quickly and would be a fun stocking stuffer this Winter! With his striped sweater and bright red hat, he's ready for the Christmas season!

His body and head are made in one piece leaving this project with minimal sewing required. The finished bear measures approximately 8 inches tall making this a quick project!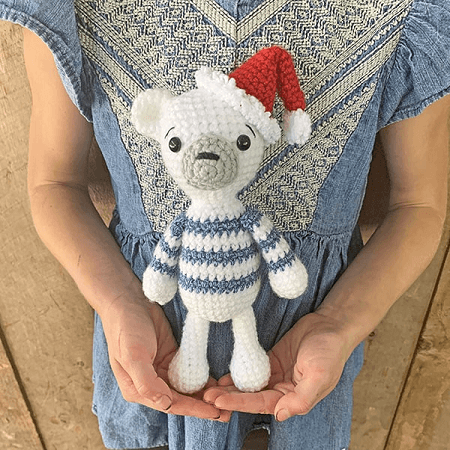 Get the Pattern here

14. Benedict, The Amigurumi Bear Free Pattern by Jess Huff
Meet Benedict, a huggable crochet bear that is just the right size to keep your little one company on his worldwide travels.

Whether it's a birthday or for no reason at all, watch little faces light up when they cuddle this loyal companion that's always up for big hugs!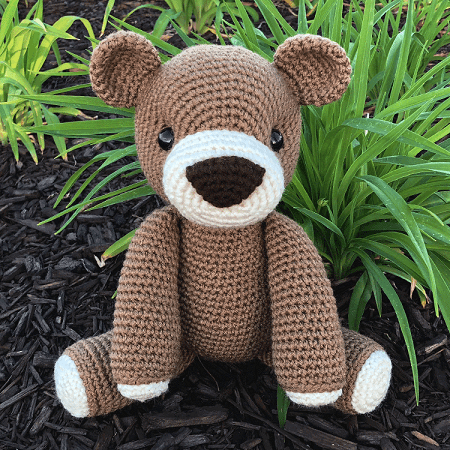 Get the Pattern here

15. Benjie, The Bear Crochet Pattern by Theresa's Crochet Shop
Create your own adorable Benjie, the Little Bear in just a couple of hours! This crochet pattern is easy and quick to make! Only basic crocheting skills will be needed: chain, single crochet, increasing, and decreasing. The final measurement for the finished bear will be 5 inches (or 13 cm) tall.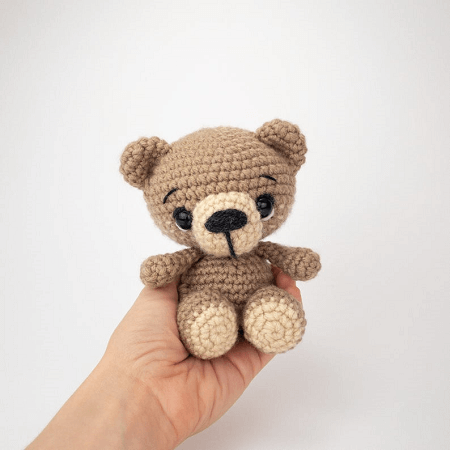 Get the Pattern by Theresa's Crochet Shop here

16. Lollo, The African Flower Bear Crochet Pattern by Heidi Bears
Lollo, the African Flower Bear has been made using the African Flower Hexagon crochet pattern and modified versions thereof.

It is an excellent stash buster project, as you only need to use small amounts of leftover yarns to make a motif. This bear can use as a decorative pillow and a wonderful toy for children!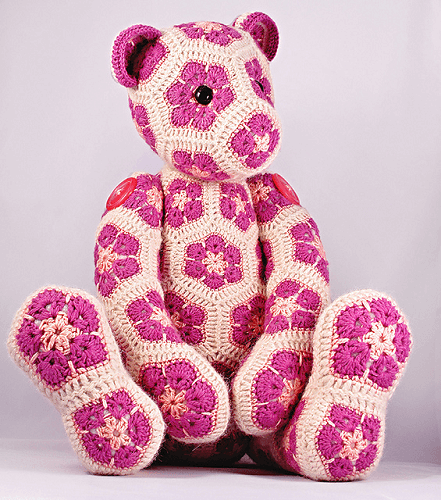 Get the Pattern here

17. Crochet Toy Bear Pattern by Tatiana Kucherovska
These cuties are tall, very soft, and squishy. They're made in lovely pastel colors, but you can always go for classic brown bear and play with the colors of their cute little clothes.

If you're looking for a timeless gift idea, these Crochet Toy Bears will be absolutely perfect, so make sure to check it out!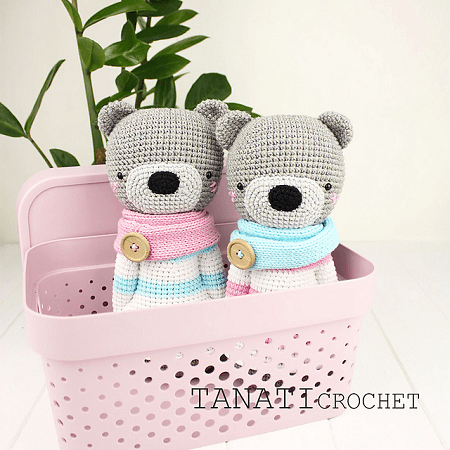 Get the Pattern here

18. Crochet Cuddly Big Bear Pattern by Violets And Heather
This super soft and cuddly bear works up quickly due to the super bulky yarn and is perfect when you're wanting to make an extra special gift!

He is made working in continuous rounds with individual pieces sewn together. He measures approximately 19" when sitting.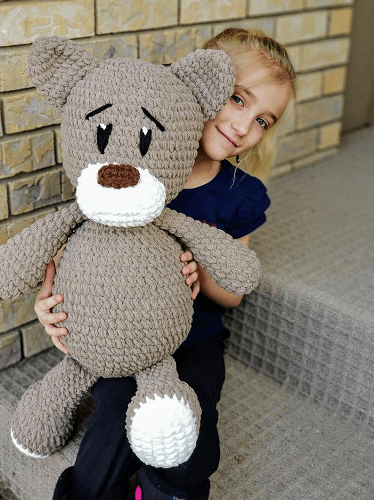 Get the Pattern by Violets And Heather here

19. Sleepy Bear Crochet Pattern by Squirrel Picnic
This Sleepy Bear Crochet Pattern makes a classic sitting teddy with ultra-adorable drooping eyes just nodding off. A great cuddle buddy to your sleepyheads!

This bear pattern is unique in one key way: the head and body are crocheted together. With this pattern, you crochet the head, do around in the front loops only to create the neck, and then continue with the body.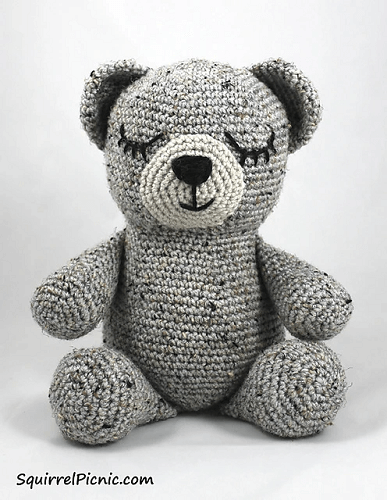 Get the Pattern here

20. Crochet Super Hero Bear Pattern by Red Heart
Dressed in his jumpsuit, boots, monogram belt, and superpower cape, this bigger-than-life crochet bear stimulates hours of imaginative play!

Create this furry crusader in any colors imaginable. Why not select your child's favorite shades? It's a thoughtful toy that comes with a world of mayhem and adventure just waiting to be explored!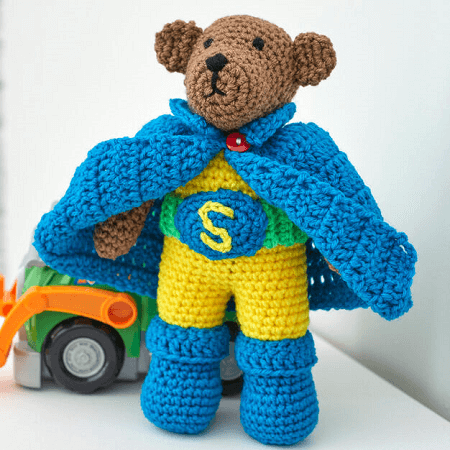 Get the Pattern here

21. Crochet Bear Hooded Cardigan Pattern by Mon Petit Violon
This Crochet Bear Hooded Cardigan is an easy pattern and you will surely have a lot of fun working with it. It is perfect for both boys and girls!
The pattern is written for five sizes: starting with baby and up to 8 years. The ears can be skipped if your big kid doesn't want them. It looks great without the ears too!
Get the Pattern by Mon Petit Violon here

22. Velvet Valentine Crochet Bear Pattern by Repeat Crafter Me
This cute crochet bear pattern is a perfect Valentine's Day gift idea for a loved one and works as a gift year-round, too. Bernat Velvet, a bulky weight yarn, makes for a plush finish.
Customize the bear by choosing your favorite colors from the classic Bernat Velvet shade range. The contrasting crochet heart accent adds a sweet touch.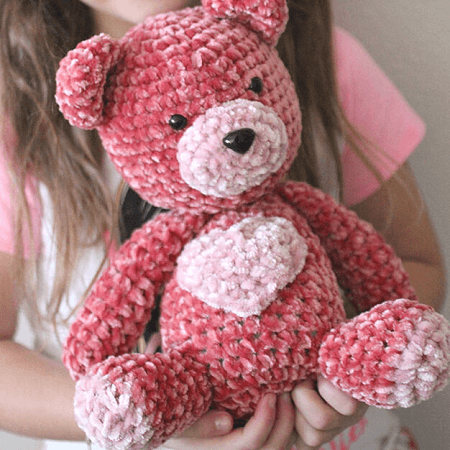 Get the Pattern here
Crochet some of these cute crochet bear patterns and watch as it brings comforting cuddles for years to come!
Be sure to share your finished works with us on our Facebook Page. We can't wait to see what you create! You can also check our huge collection of crochet toys and amigurumi patterns to make in your free time. We have tons of it!

So, move ahead, grab the yarn of your favorite colors, and start whipping up some of these adorable crochet bear patterns!