The African Flower motif is a beautiful variation of the granny square and can be used in many different projects. You have probably admired this unique motif and now you will be able to complete one with these African Flower Crochet Patterns.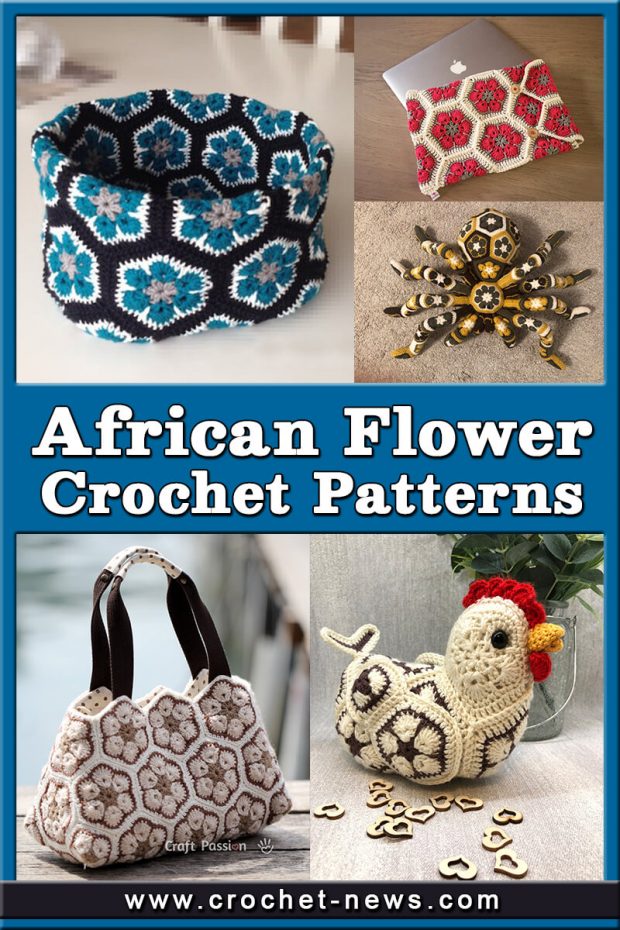 Just like Granny Square, this flower granny is a crochet motif but in different shapes, it can be joined next to each other to become a bigger piece and make into a blanket, bag, table runner, cushion cover, toys – you name it!

1. Crochet African Flower Tote Bag Pattern by The Hat And I
This Crochet African Flower Tote Bag Pattern is easy, exciting, and vibrantly colorful. The flower hexagon motif is unique, and you have the freedom to make it even more personal.
The number of things you can create is unimaginable. You could do purses, shawls, skirts, bags, and many more!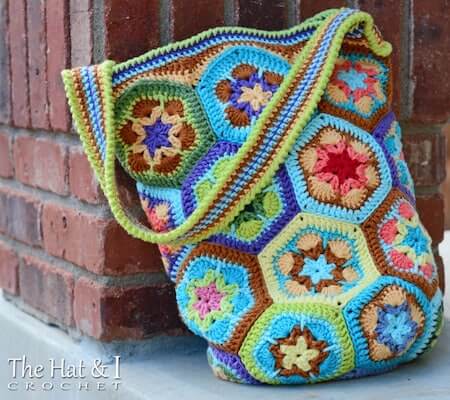 Get the Pattern by The Hat And I here

2. Plod, The Crochet African Flower Triceratops Pattern by Heidi Bears
Plod, the Crochet African Flower Triceratops is an excellent stash buster project, as you only need to use very small amounts of leftover stock yarn to make a motif.
If you love dinos, check out this Crochet Dinosaurs, Crochet Dinosaur Blankets and Knitted Dinosaur Patterns.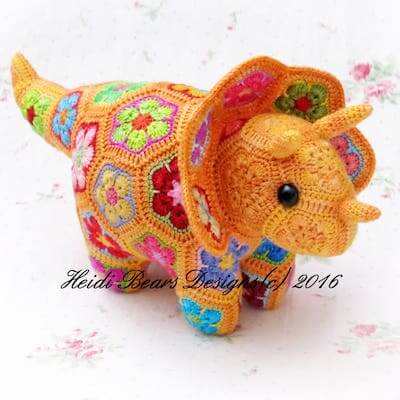 Get the Pattern by Heidi Bears here

3. African Flower Headwarmer Crochet Pattern by Whistle And Ivy
Take your African flower to the next level by making this head warmer. Just crochet the perfect hexagon with African flower centers and then join them gracefully, getting the perfect head warmer.
The given one is looking brilliant in the finally finished hue and consider giving it as a sweet gift too.
Get the Pattern here

4. Maggie, The African Flower Owl Crochet Pattern by Jo's Crocheteria
For beginner or expert, this crochet pattern is a one fit all. Want to watch TV and relax while crocheting? Then the African Flower Pattern is a perfect fit! After just a few flowers you will know the pattern by heart and you can just sit back, relax and crochet!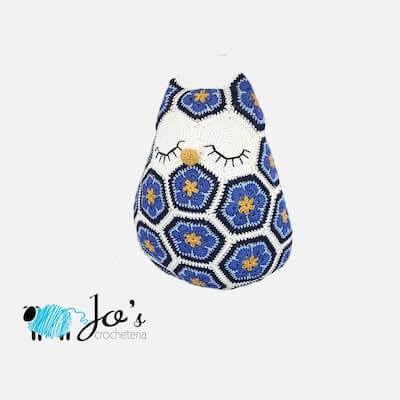 Get the Pattern by Jo's Crocheteria here

5. African Flower Chicken Crochet Pattern by Cute Crochet By Sarah B
This African Flower Crochet Chicken is a wonderful Christmas present for that crafty chicken keeper who loves to crochet. The finished chicken, when worked in 4ply yarn, will measure approximately 15cm high and 20cm beak to tail.

This will, of course, vary with weights of yarn and hook/tension. For a larger chicken work in double knit, aran, or chunky.
More feathery crochet chicken patterns here.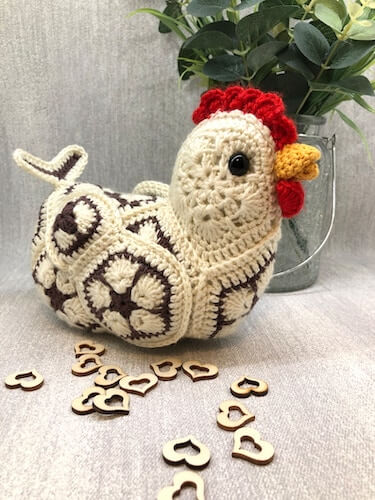 Get the Pattern by Cute Crochet By Sarah B here

6. Crochet African Flower Pincushion Pattern by Cherry Heart
This Crochet African Flower Pincushion is a quick and easy project, great for using up scraps and makes a excellent gift. They are very handy around the home and they make an excellent little gift which you can whip up quickly.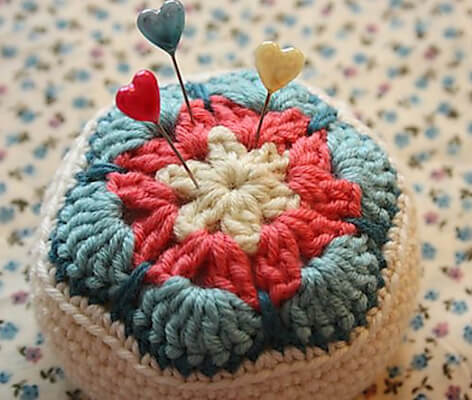 Get the Pattern here

7. Crochet African Flower Laptop Cover Pattern by Dimfies
This crochet pattern includes a pattern for a 13″inch Macbook cover of 33cm x 23cm x 2cm of african flowers. This easy and durable case will keep your laptop safe and stylish!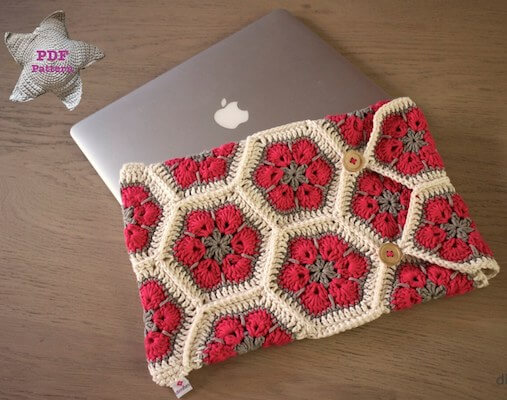 Get the Pattern by Dimfies here

8. African Flower Octopus Crochet Pattern by Line And Loops
From the deep dark depths of the oceans comes the lovable and sometimes hugs a little too tight, Octavius and Stubby the African Flower Octopuses.
This pattern includes both versions for the tentacles – 16 legs for the price of 8! So you can make either one!
If you are as much of a fan of octopuses, check out these octopus knitting patterns here.
Get the Pattern by Line And Loops here

9. African Flower Crochet Stocking Pattern by Petals To Picots
Store-bought stockings can look pretty plain, boring, and just like everyone else's. Personalize your Christmas stocking this year by trying this African Flower Crochet Stocking Pattern!
The stocking's intricate and detailed pattern will stand out in your home, and it will add some flair to your Christmas decorations.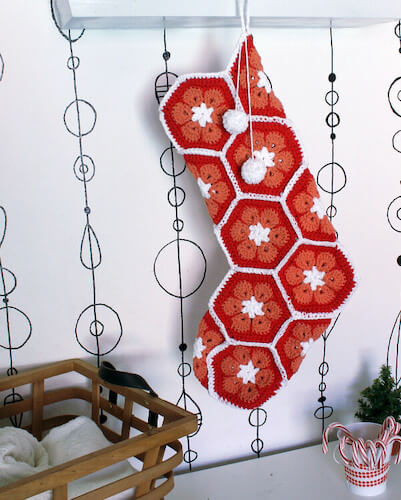 Get the Pattern here

10. Spider African Flower Crochet Pattern by Larrie Crafts NL
This beautiful giant Spider African Flower will be a cool gift for those who love spiders. It can be used as a pillow or to scare friends. The finished size is 50 cm (20 inches) depending on the yarn thickness and used crochet hook.
Get the Pattern by Larrie Crafts NL here

11. Snap, The Turtle African Flower Crochet Pattern by Heidi Bears
This adorable turtle is the perfect size for little ones to carry around, take on many adventures, and best of all snuggle up with at night!

Great size for a nursery decor accent piece in a turtle, or spring, or gender neutral, themed nursery. Makes a wonderful gift for baby showers, holidays, and birthdays!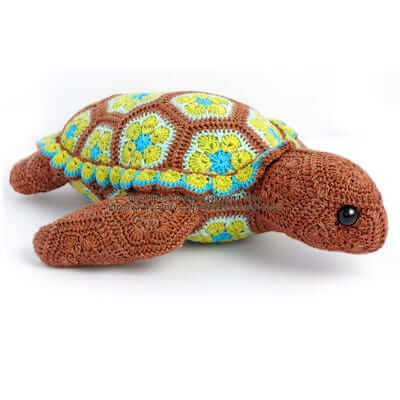 Get the Pattern by Heidi Bears here

12. African Flower Giraffe Lovey Crochet Pattern by Baby Crochet Designs UK
This giraffe lovey blanket is made with african flowers then a half double crochet border around each one before slot stitching together, then a picot border around the blanket.

It's perfect for baby's little hands and will surely become a friend for your baby. You can create something really special for your little one!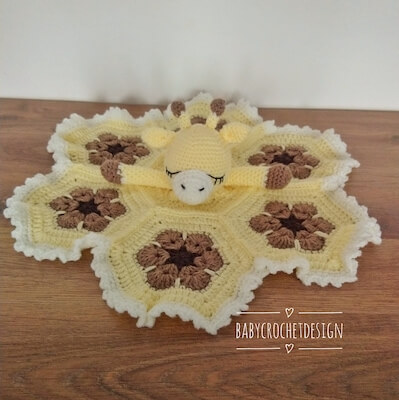 Get the Pattern by Baby Crochet Designs UK here

13. Joyful Flowers Table Runner Crochet Pattern by The Pattern Paradise
Decorate your holiday table with this festive runner. Made with African Flower motifs and bordered with seasonal colors. Of course, you can make this in any color scheme for year round use too. It's easy to adjust the size, just add or subtract motifs for custom sizing!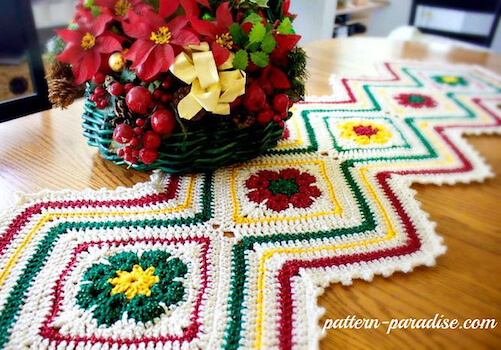 Get the Pattern by here

14. African Flower Bowl Crochet Pattern by Jo's Crocheteria
The beautiful thing about the African Flowers, on which this pattern is based, is that you can use any yarn you want. The bigger yarn you choose, the bigger your finished item will be! Play around with different colors and yarns and get your own unique bowl!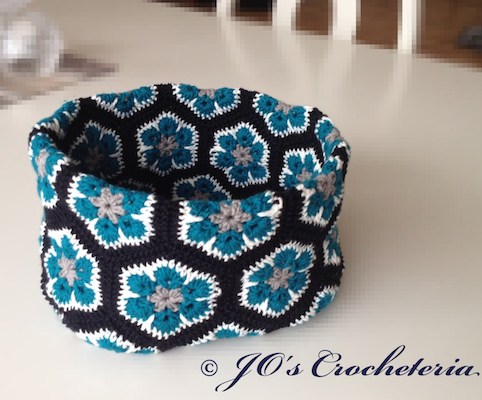 Get the Pattern by Jo's Crocheteria here

15. African Flower Purse Crochet Pattern by Craft Passion
A bag of a different shape, this African Flower Purse is perfect too. The two part tutorial includes both the crochet instructions and how to sew the lining and handles! Crochet this purse in neutral colors or vibrant tones for a fresher look.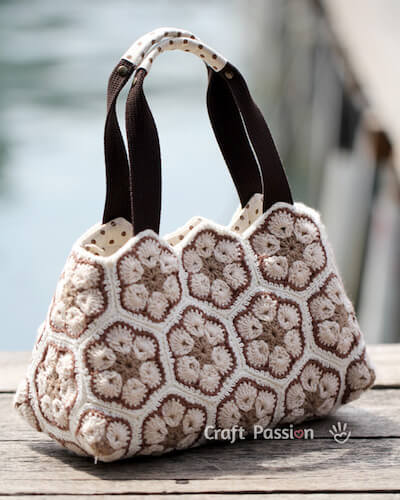 Get the Pattern here
BELIEVE US WHEN WE SAY THIS AFRICAN FLOWER CROCHET IS ONE CRAFT PROJECT YOU'LL BE COMING BACK TO AGAIN AND AGAIN – JUST AS WE DO!
For more flower patterns, check out our 21 Crochet Flower Headband Patterns and Flower Pinwheel Crochet Pattern. We'd love to know what ideas you came up with. So please share your finished projects on our Facebook Page. Or perhaps, looking for the easiest and most versatile way to build a crochet project?
Try your hand at one of these 42 Crochet Square Patterns and learn new techniques as you stitch up some new twists on the classic square.

Now it's time to pick out your favorite African Flower crochet patterns, grab your hook and some yarn and get crocheting!