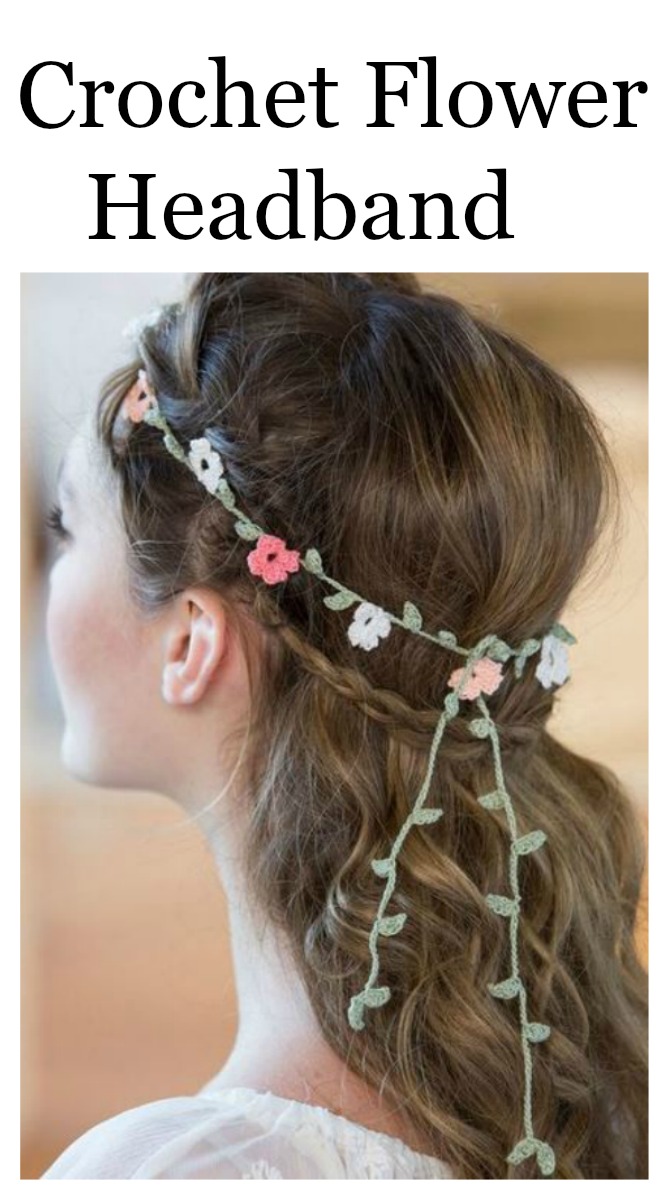 Crochet Flower Headband
This crochet flower headband pattern is simply magical! It makes me think of summer days in the park wearing a pretty dress, or a lovely day spent picnicking in the forest. It is delicate and feminine and looks elegant with any type of hairdo.
You can customize this floral headband to your favorite color of flower, or match it to an outfit if you are planning to make this to wear to an event. With the right colors, this would stunning to wear to a wedding. You could even add some beautiful beads to it for a little bt of sparkle.
Measurements
Headband measures 20" (51 cm) circumference, without trailing leaves.
Materials List
More Crochet Hat Patterns Here
Dainty Crochet Headband Accessories Pattern

Are you a mom nervously waiting for your baby girl? Thinking of activities to relax your nerves while waiting for her birth?
Great news! I have the perfect activity for you. How about making this adorable Crochet Headband Accessories Pattern as a gift for your little one?
You can even make one for yourself for a subtle twinning with your new baby girl!
Find out how to make this Crochet Headband Accessory by reading through this article.
Dainty Crochet Headband Accessories Pattern
This old rose crochet headband with intricate details is created by Monpetitviolon. Aside from accessories, she also creates hats, bonnets, baby clothes, and even crochet slippers!
Her light and pretty color palettes are to die for, the perfect color palette for your little girl and for moms like you too! Some of the patterns come in adult sizes too, perfect if you want those twinning moments with you baby.
It's really a pleasure going through her products and seeing all her detailed works! Intricate and dainty, you will surely find something soft and comfy for your baby girl.
About the Yarn
Because of all the intricate details needed for this pattern, using a fine, cotton yarn is suggested. The Camilla Cotton, a 100% mercerized cotton yarn, is one the best yarns to use for this project. It's also safe for your little ones since it is soft.
With this silky and vibrant Camilla Cotton yarn, you'll have lots of colors to choose from! Their choices of light color yarns is perfect for dainty patterns like this one.
Since it is a mercerized cotton yarn, you'll never have to worry about your accessory losing its vibrancy. These kinds of yarn are known to retain their colors and lasts longer than those made with non-mercerized materials.
Thinking of using a thicker yarn? Keep in mind that using thicker yarns will affect the size of your headband. The thicker the yarn, the bigger your output will be.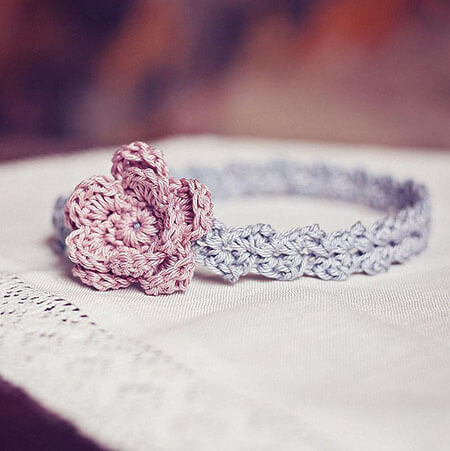 About the Pattern
With its fine, intricate designs you might think this pattern is for the more advanced crocheters. But guess what? This pattern is actually easy to make and easy to follow!
The dainty details are made using simple stitches only. To make it more beginner friendly, the pattern has detailed instructions and step by step description accompanied with photos. You will surely never have a hard time understanding how to work on this pattern.
Aside from the details, the color palette of this pattern makes this old rose headband accessory standout. It has just the right amount of contrast that helps the adorable rose pop from the headband.
For the perfect twinning moment with your little girl, create two versions! A small one for the little one, and an adult sized one for you.
Skill Level
Beginner
Materials Needed
Small amount of yarn in two colors – Camilla Cotton
Crochet hook 3.25mm (D)
Thread
Needle
Stitches Used
ch – chain stitch – learn chain stitch
dc – double crochet – double crochet tutorial
tr – treble crochet – guide on treble crochet
sc – single crochet – how to single crochet
sl st – slip stitch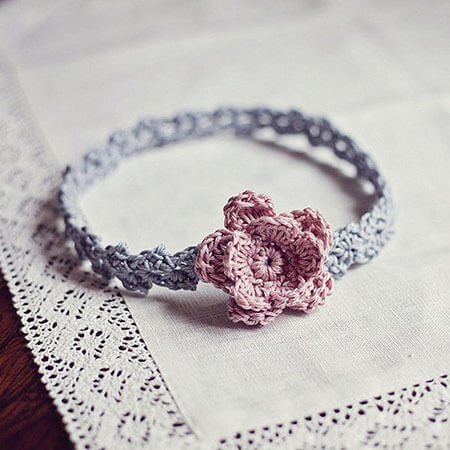 With this quick and easy pattern, working on this while waiting for your little one will surely not stress you out.
Check out more baby patterns like this cute baby booties crochet pattern, crochet baby gift set, and other baby themed crochet patterns.
Calm your nerves and start working on this special gift for your little girl. This old rose crochet headband accessories pattern is a perfect welcome surprise for the little one!
Spring Dainty Crochet Flower Pattern for Headband
Spring Dainty Crochet Flower Pattern for Headband creates a simple, easy-to-make fashionable head accessory for newborns to adults.
Flowers have been a symbol of love. They are frequently used as a design because of the ravishing vibe it gives to many beholders. They are best to use for apparel and trendy items like headbands.

Instead of stressing yourself overthinking where and what style of the headband to buy, why not start making your own? It may seem hard, but it can actually be done by beginners since the pattern is so simple and easy to follow. It is easier than other crochets for it requires less time and effort.

This pattern will lead you to a wonderful creation that will surely fit your OOTD!

CROCHET SKILL LEVEL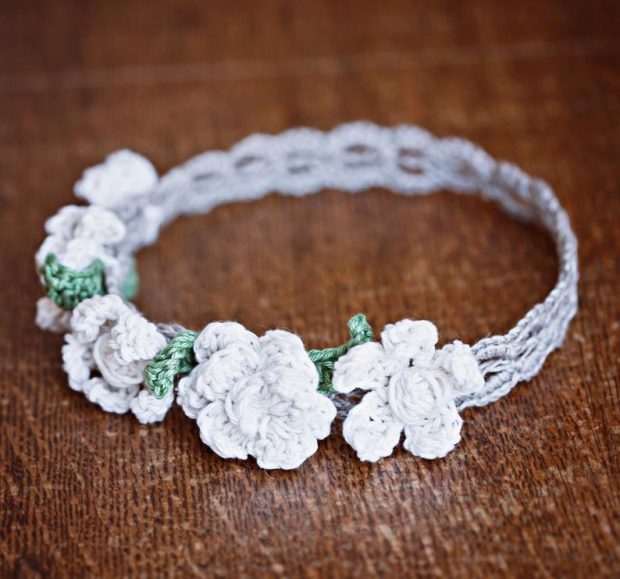 MATERIALS NEEDED TO CREATE A DAINTY CROCHET
Yarn in 3 different colors – specific yarn used is a 100% cotton DK weight or Light 3. Sport weight or worsted weight yarn can work as well
Hook – a 3.25 millimeter D or any hook that you feel that will work well with the yarn of your choice
Tapestry needle

PATTERN STITCHES USED

APPROXIMATE SIZES OF HEADBANDS FOR EACH AGE
You can customize the headbands by Vita of Mon Petit Violon Designs for any size. Here is the sizing measurement guide:
| | |
| --- | --- |
| AGE | Headband Size |
| Newborn – 3 months | 11 – 12 inches |
| 3 – 6 months | 13 – 14 inches |
| 6 – 12 months | 15 – 17 inches |
| 1 – 3 years | 16 to 18 inches |
| Child | 17 – 19 inches |
| Teen | 18 – 21 inches |
| Adults | 20 – 22 inches |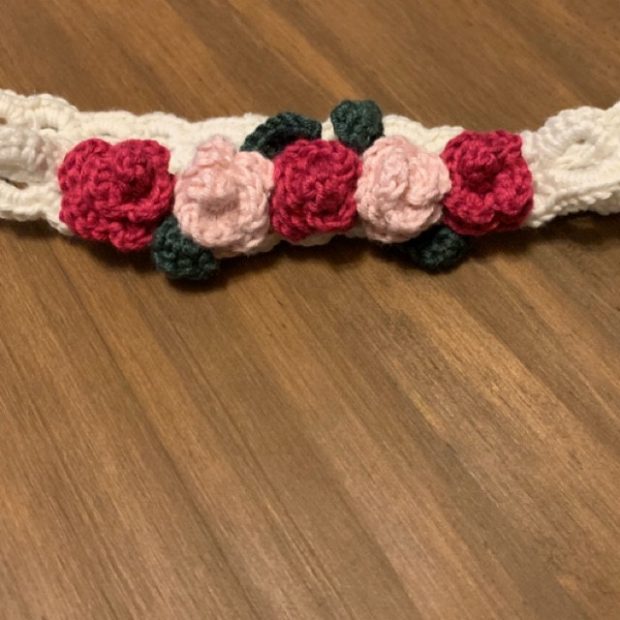 WHO IS THIS SPRING PATTERN FOR?
Take note, this can be done not only by ladies. Gentlemen, you can also try this very easy and simple crochet pattern to make floral headbands that will definitely be loved by your girlfriends, moms, sisters, or friends.

Just make sure that you prepare both the needed materials and yourself, and you are all set!

THINGS YOU CAN DO WITH CROCHETED FLOWER HEADBANDS
Occasional Gifts

A crocheted flower headband embellished with flowers is downright perfect as a gift for birthdays, Christmas, and other occasions. Definitely suited for all ages, not only for children but also for teens and adults. Doing it with your own hands makes it more precious and valuable.
Personal Collection

If you are fond of buying headbands for your everyday outfit, crocheted ones are the best for your collection! You can create your own style and choose any color to add beauty to your ever-gorgeous style!
Business
Start mastering the pattern and sell your finished products online. You can accept "personalized" orders by asking your customers' preferences. Who knows, you can even end up having your own boutique in the future!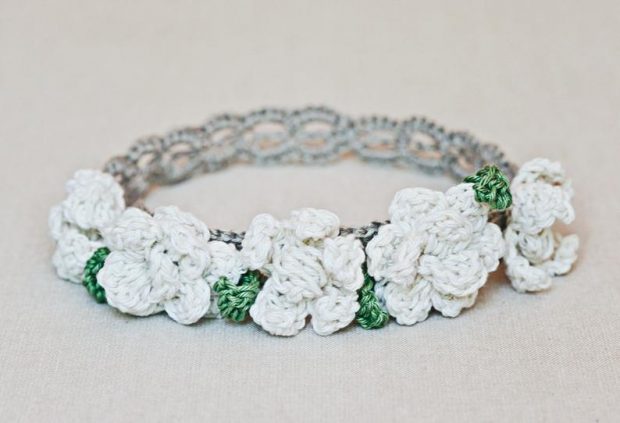 WHEN TO START CROCHETING FLOWER HEADBANDS?
Today is the best time to start the pattern for it suits all seasons– summer, winter, autumn, and spring. It always goes with the trend!

Crocheting headbands is just as easy as putting them on, and you can choose all the options above at once. The moment you start making one, you will surely enjoy and even find it quite addictive.

It might, as well, be your hidden talent yet to be discovered. If you want, you can call a partner to do the Spring Dainty Crochet floral headband Pattern.

So, what are you waiting for? Get the materials, and let your crocheted flower headbands bloom!