You don't need to be a 60's hippie to pull off a good floral headband – whether you're heading to a festival or just hanging out in the garden, these pretty crochet flower headband patterns will help you unleash your inner flower child!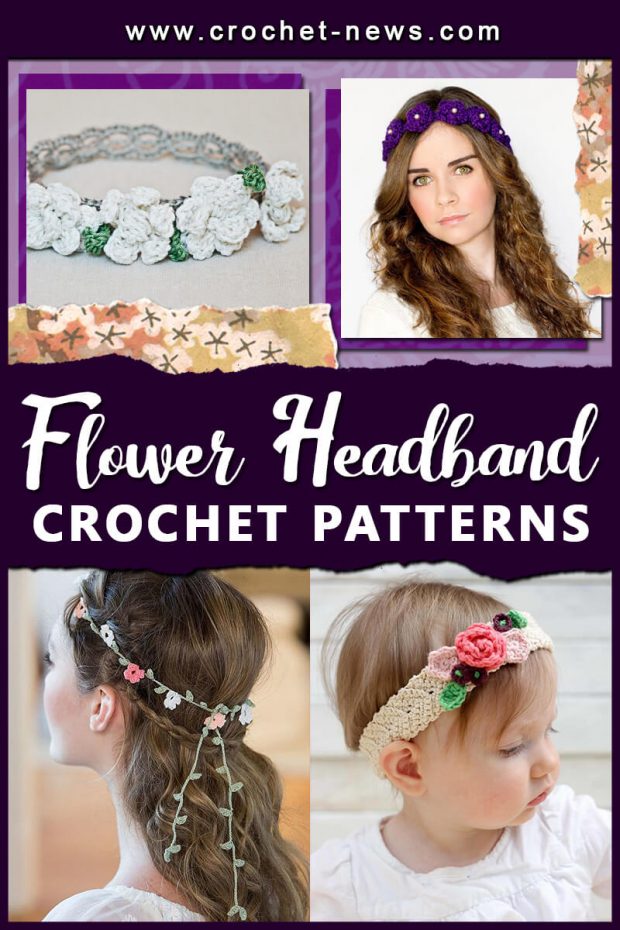 These crochet flower headbands can be subdued and single colored for formal events like weddings and garden parties, or they can be multicolored and crazy for music festivals and other lively summer gatherings.
The design choices are up to you, and the possibilities are endless!
1. Carys Cabled Headband Floral Crochet Pattern by Ruby Webbs
Your little blossom will be snug and warm on chilly, fall days and nights in this one of a kind headband, complimented by classic cables, pearl buttons and pretty little detachable flowers. Best of all, it is made by you!
This Carys Cabled Headband doubles as an ear and headwarmer as it can be made in different widths. Place the flowers as you want and add a central beads to finish it off beautifully.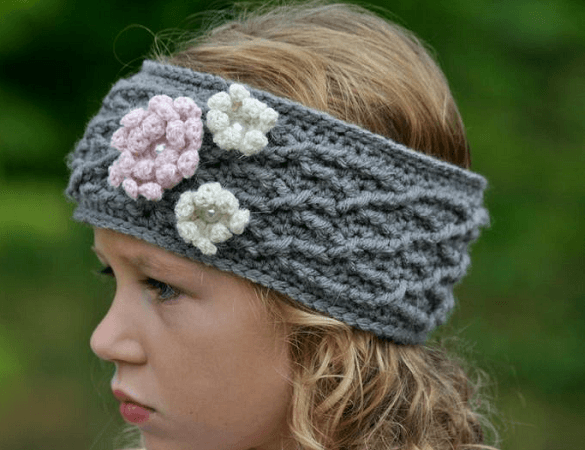 Get the Pattern by Ruby Webbs here
2. Crochet Flower Headband Crown Pattern by Crochet Spot Patterns
This Crochet Flower Headband Crown is quick and easy to make if you know the basics of Tunisian crochet, and the headband is easily adjustable to fit any size head. Try mixing up the colors to make something that will brighten your winter days!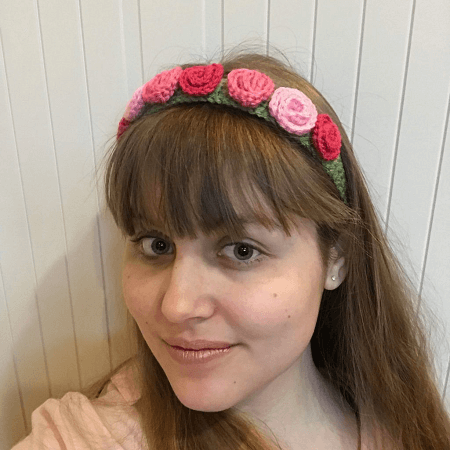 Get the Pattern here
3. Baby Headband Floral Crochet Pattern by Megmade With Love
This Floral Baby Headband is pretty darn simple. And you can easily put it together in less than an hour. It's definitely beginner-friendly! And not to mention the perfect photo prop for your baby photos.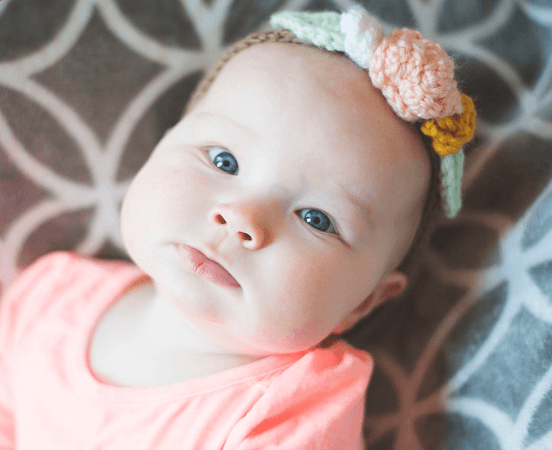 Get the Pattern here
4. Free Crochet Floral Headband Pattern by Gathered
Feel the flower power with this fab festival-style Crochet Floral Headband Pattern! The headband is essentially made by creating a long chain that includes the leaves, with the flowers stitched on afterward. Tie the headband at the back and let the leafy tendrils hang loose!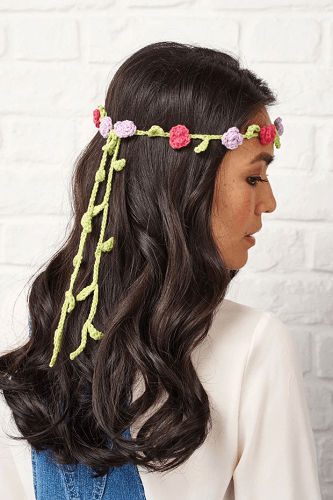 Get the Pattern here
5. Rose Crochet Flower Headband Pattern by Lilleliis
This beautiful headband floral crochet with a huge rose is a nice accessory in a little girl's wardrobe. Wear it at parties, every day, or for photographing. You can use a large variety of colors to create stunning results.
Match with the rest of the outfit by choosing the right colors! The rose can be used separately as well – as a brooch, on a hat or bag, home decoration, etc.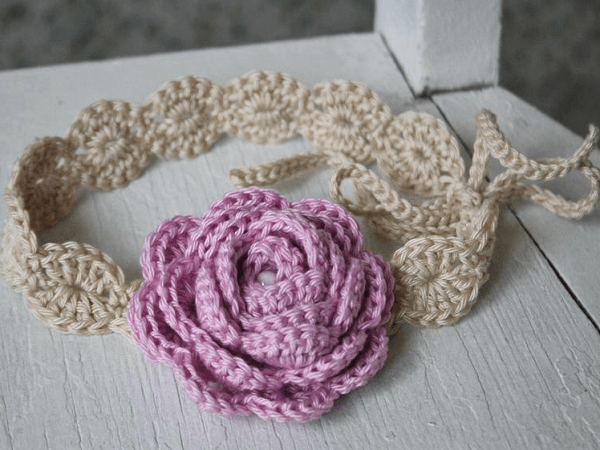 Get the Pattern by Lilleliis here
6. Cottage Rose Headband Crochet Pattern by The Hat And I
Keep your ears warm this winter! This Cottage Rose Warmer Headband Crochet Pattern comes with a feminine rose pattern to crochet and uses as an embellishment!
This headband pattern includes 5 sizes from newborns to adults. A lovely crochet flower pattern for headband for the ladies and sweet babies!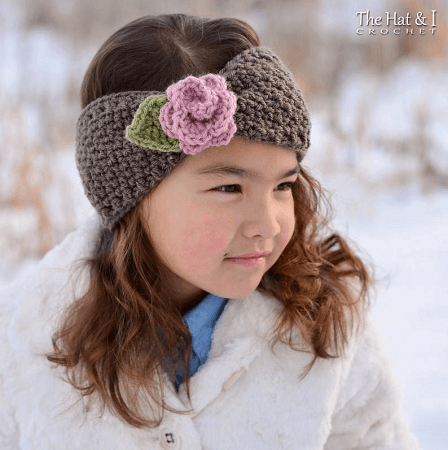 Get the Pattern by The Hat And I here
7. Spring Dainty Crochet Flower Pattern for Headband
Spring Dainty Crochet Flower Pattern for Headband creates a simple, easy-to-make fashionable head accessory for newborns to adults.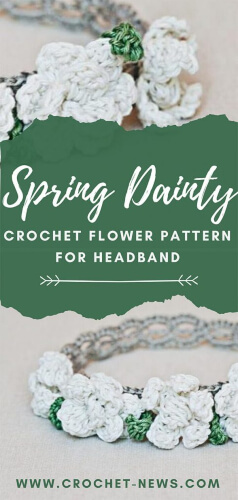 Flowers have been a symbol of love. They are frequently used as a design because of the ravishing vibe it gives to many beholders. They are best to use for apparel and trendy items like headbands.

Instead of stressing yourself overthinking where and what style of the headband to buy, why not start making your own? It may seem hard, but it can actually be done by beginners since the pattern is so simple and easy to follow. It is easier than other crochets for it requires less time and effort.

This crochet flower pattern for headband will lead you to a wonderful creation that will surely fit your OOTD!

CROCHET SKILL LEVEL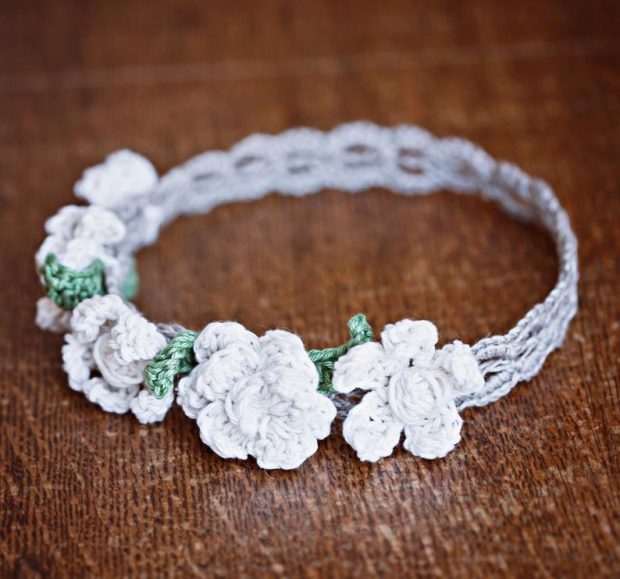 MATERIALS NEEDED FOR CROCHET FLOWER PATTERN FOR HEADBAND
Yarn in 3 different colors – specific yarn used is a 100% cotton DK weight or Light 3. Sport weight or worsted weight yarn can work as well
Hook – a 3.25 millimeter D or any hook that you feel that will work well with the yarn of your choice
Tapestry needle

PATTERN STITCHES USED

APPROXIMATE SIZES OF CROCHET FLOWER HEADBANDS FOR EACH AGE
You can customize the headbands by Vita of Mon Petit Violon Designs for any size. Here is the sizing measurement guide:
| | |
| --- | --- |
| AGE | Headband Size |
| Newborn – 3 months | 11 – 12 inches |
| 3 – 6 months | 13 – 14 inches |
| 6 – 12 months | 15 – 17 inches |
| 1 – 3 years | 16 to 18 inches |
| Child | 17 – 19 inches |
| Teen | 18 – 21 inches |
| Adults | 20 – 22 inches |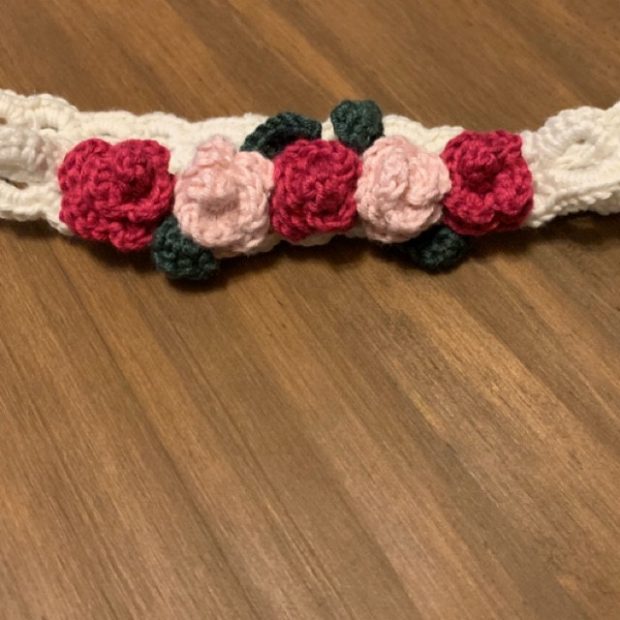 WHO IS THIS SPRING PATTERN FOR?
Take note, this can be done not only by ladies. Gentlemen, you can also try this very easy and simple crochet pattern to make floral headbands that will definitely be loved by your girlfriends, moms, sisters, or friends.

Just make sure that you prepare both the needed materials and yourself, and you are all set!
THINGS YOU CAN DO WITH CROCHET FLOWER HEADBANDS
Occasional Gifts

A crochet flower headband embellished with flowers is downright perfect as a gift for birthdays, Christmas, and other occasions. Definitely suited for all ages, not only for children but also for teens and adults. Doing it with your own hands makes it more precious and valuable.
Personal Collection

If you are fond of buying headbands for your everyday outfit, crocheted ones are the best for your collection! You can create your own style and choose any color to add beauty to your ever-gorgeous style!
Business
Start mastering the pattern and sell your finished products online. You can accept "personalized" orders by asking your customers' preferences. Who knows, you can even end up having your own boutique in the future!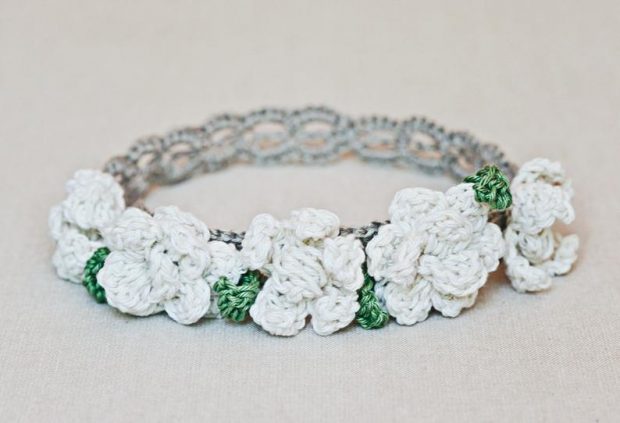 WHEN TO START CROCHETING FLOWER HEADBANDS?
Today is the best time to start the pattern for it suits all seasons– summer, winter, autumn, and spring. It always goes with the trend!

Crocheting headbands is just as easy as putting them on, and you can choose all the options above at once. The moment you start making one, you will surely enjoy and even find it quite addictive.

It might, as well, be your hidden talent yet to be discovered. If you want, you can call a partner to do the Spring Dainty Crochet floral headband Pattern.

So, what are you waiting for? Get the materials, and let your crocheted flower headbands bloom!
Get the Spring Dainty Crochet Flower Pattern for Headbands Here
8. Crochet Flower Headband Pattern by Of Mars
This piece features a wide headband and a layered, detailed flower adorned with a button. The headband portion is made using a super bulky yarn, so it's thick, warm, & works up super quickly! The flower is made using worsted weight yarn, so it's a bit more detailed.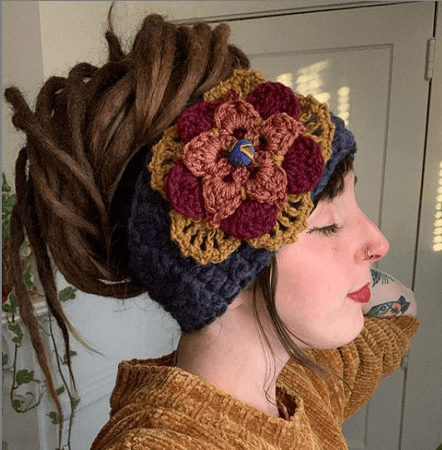 Get the Pattern by Of Mars here
9. Blooming Baby Headband Floral Crochet Pattern by Red Heart
Add a big feminine flower for an adorable way to accessorize baby's wardrobe. This flower is crocheted with petals in two colors and attached to a crocheted headband. Make this darling crochet flower pattern for headband in different colors to coordinate with all her looks.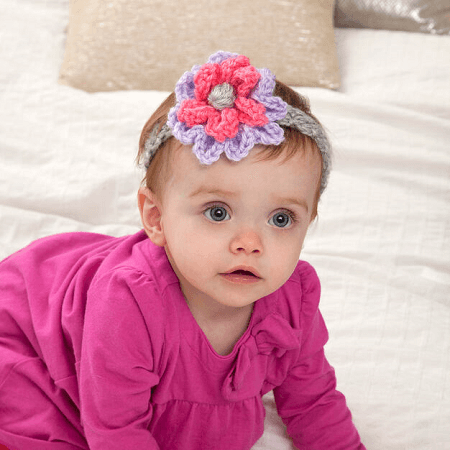 Get the Pattern here
10. Spiral Headband Floral Crochet Pattern by Yarn Twisted
This Spiral Headband Floral Crochet Pattern works up quickly in worsted weight yarn. It is sized to fit most adult heads and has 2 buttons so it's fully adjustable.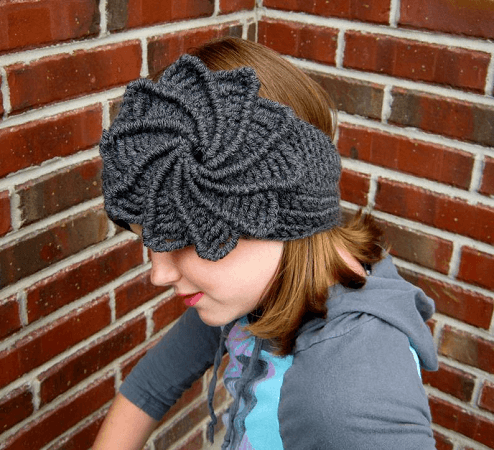 Get the Pattern by Yarn Twisted here
11. Stacking Flower Headband Crochet Pattern by Pawsome Crochet
These one-piece flowers can be worn 2 ways to make a simple but cute headband or collar for your pup. You can stack, mix, and match them to make endless combinations. These flowers work up quickly and use a very small amount of yarn, making this a great project for your remnants.

This crochet flower pattern for headband is written to fit large breed dogs, such as labs and golden retrievers (but they also fit people!). Each flower is made individually and features a one-piece design (no additional sewing or assembly).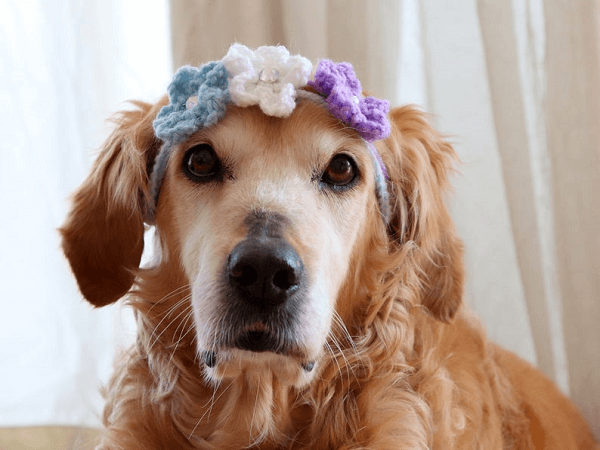 Get the Pattern by Pawsome Crochet here
12. Power Headband Floral Crochet Pattern by Elealinda Design
These colorful headbands made of connected crochet flowers are a fancy eye-catcher and keep your hair out of your face. This headband floral crochet pattern is very easy to crochet, so you'll better make half a dozen right away, each in different colors fitting a special outfit or as gifts or even for selling.

And the best: There's no need to bind or knot it to make it fit your head. You just need a simple hair tie to make it one size –little girls, as well as their mothers, can wear it and it always fits!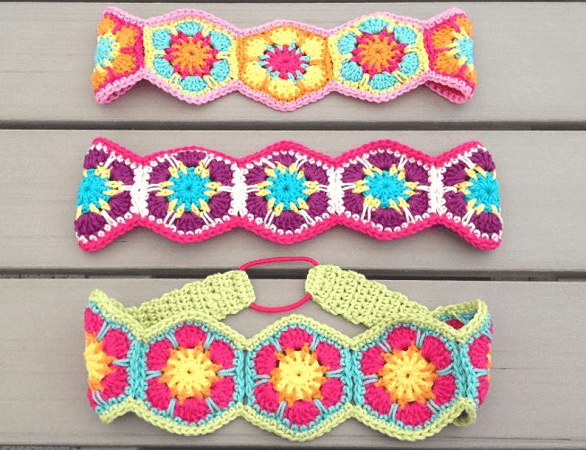 Get the Pattern by Elealinda Design here
13. Poppy Crochet Flower Headband Pattern by Accessodium
Love to create? Crochet this beautiful simple headband for your child, for yourself, or for someone you love. Not too hard to make, this pattern will take a few hours of your time.
Great for photo props, birthday, wedding, make it for music festivals or just for everyday wear. Use this crochet poppy flower as a decoration, brooch, or bracelet.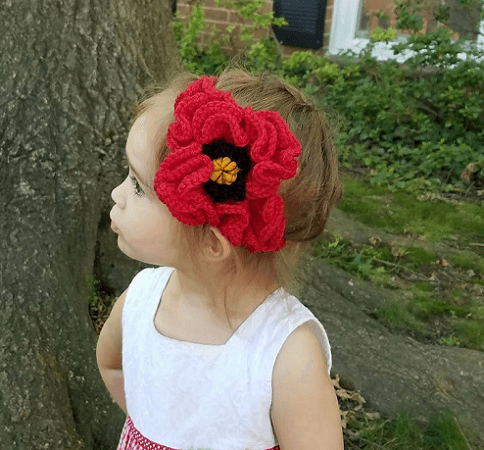 Get the Pattern by Accessodium here
14. Simple Crochet Flower Headband Pattern by Sweet Potato 3
Spring is nearly here and it is time to start switching from crocheting cold weather hats to spring and summer items. So, why not crochet some fun and simple headband floral crochet?

The pattern for this Simple Crochet Flower Headband works up quickly. Because you can use any yarn weight, you guessed it, you can bust through that stash! The headband is a great craft fair project because it is fast and you can have a whole stack of samples in a little amount of time.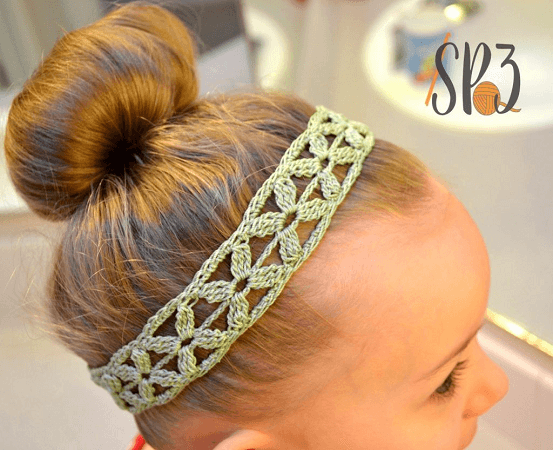 Get the Pattern here
15. Free Crochet Flower Headband Pattern by Make And Do Crew
This Free Crochet Flower Headband pattern is surprisingly easy and it makes an adorable headpiece for a young flower girl (or a bohemian beauty of any age)!

Since gauge isn't very important with this headband pattern, you can really use any yarn you like. You could use worsted weight yarn and a larger hook though if you'd like an overall bulkier headband (or ear warmer for the Winter).
Get the Pattern here
16. Crown Daisy Crochet Flower Pattern for Headband by Hopeful Honey
This delightful Crown Daisy Crochet Flower Pattern for Headband results in a feminine, romantic accessory for spring and summer. Sweet and dainty, this crochet flower headband will take only a little time.

Wear this piece to a summer music festival and show off your flower power. You'll feel lovely wearing this crochet crown with a pretty summer dress.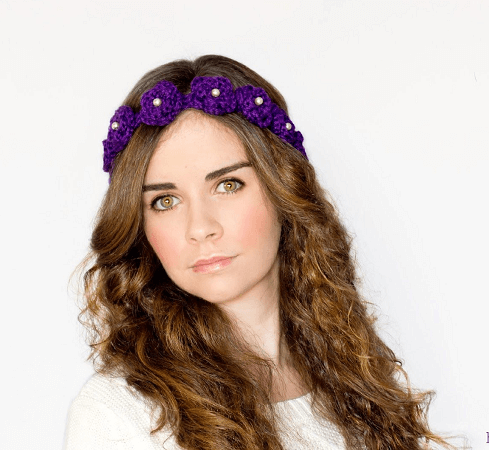 Get the Pattern here
17. Crochet Flower Headband Pattern by Yarnspirations
A headband is an out-of-the-ordinary way to keep your head and ears warm and toasty. This crochet floral headband features a lovely stitched flower to give it endearing charm.

In whatever color speaks to your style, give this pretty accessory a hint of glam that makes it special. It's a stylish alternative to a hat on chilly autumn days.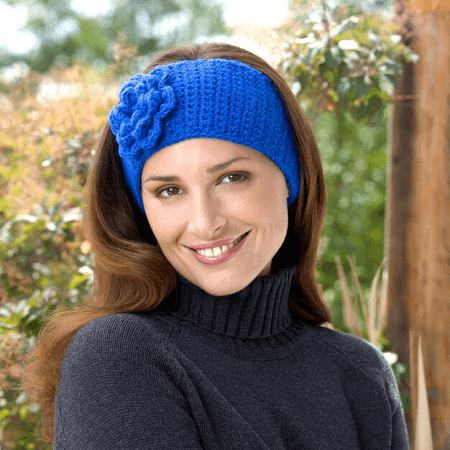 Get the Pattern here
18. Crochet Flower Headband Pattern by Skip To My Lou
This Crochet Flower Headband Pattern is a simple project that can be completed quickly and makes a beautiful useful handmade gift!

This crochet flower pattern for headband is nice and wide and will be the perfect ear warmer to keep those ears toasty during these cold-weather months.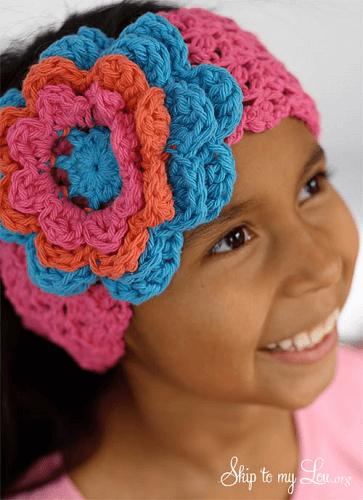 Get the Pattern here
19. Basket Full Of Poppies Crochet Flower Headband Pattern by Kirsten Holloway Designs
This Basket Full Of Poppies Crochet Flower Headband is a late-summer, Boho-style statement crochet pattern for women and girls. It includes instructions for the poppy flower and leaves too!

Because this crochet floral headband is worked from one end to the other, it is easy to customize for children as well as adults.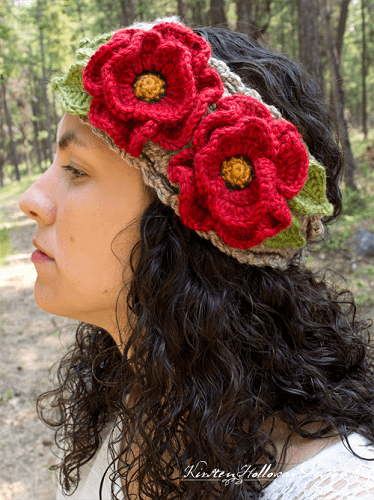 Get the Pattern here
20. Crochet Flower Headband Pattern by Amanda Saladin
This crochet flower headband pattern is simply magical! It makes me think of summer days in the park wearing a pretty dress, or a lovely day spent picnicking in the forest. It is delicate and feminine and looks elegant with any type of hairdo.
You can customize this crochet floral headband to your favorite color of flower, or match it to an outfit if you are planning to make this to wear to an event. With the right colors, this would stunning to wear to a wedding. You could even add some beautiful beads to it for a little bit of sparkle.
Measurements
Crochet floral headband measures 20" (51 cm) circumference, without trailing leaves.
Materials List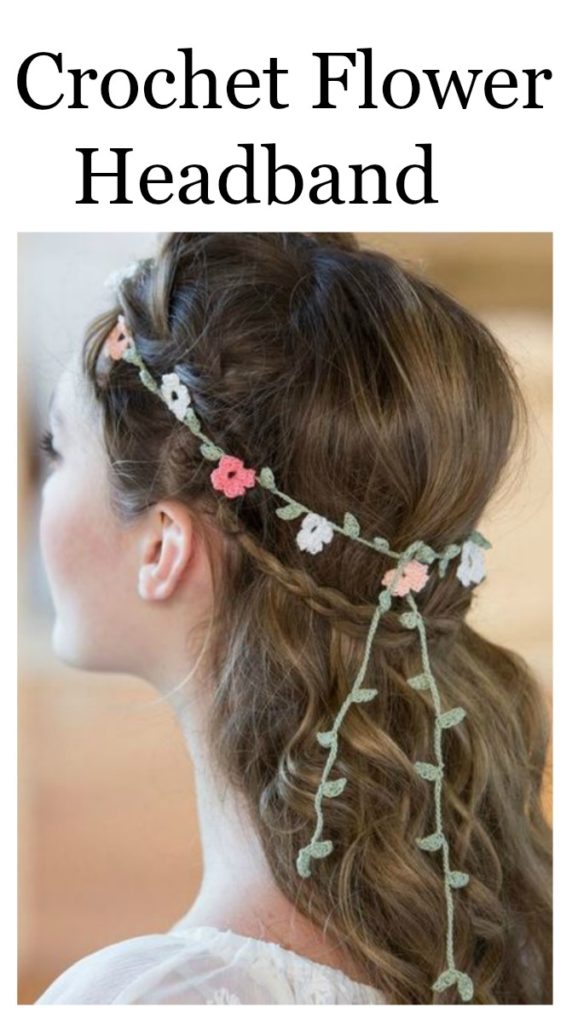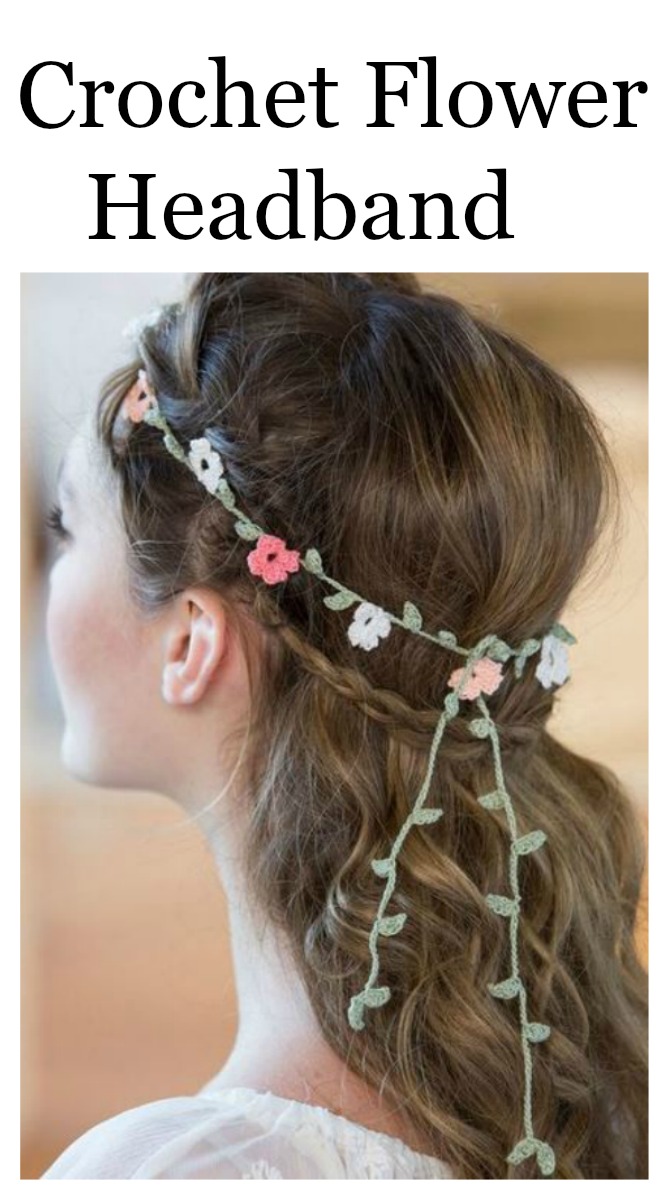 21. Dainty Crochet Flower Headband Accessories Pattern 

Are you a mom nervously waiting for your baby girl? Thinking of activities to relax your nerves while waiting for her birth?
Great news! I have the perfect activity for you. How about making this adorable Dainty Crochet Flower Headband Accessories Pattern as a gift for your little one?
You can even make one for yourself for a subtle twinning with your new baby girl!
Find out how to make this crochet flower headband pattern by reading through this article.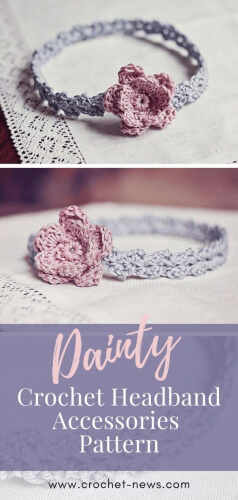 Dainty Crochet Flower Headband Pattern
This old rose crochet flower headband with intricate details is created by Monpetitviolon. Aside from accessories, she also creates hats, bonnets, baby clothes, and even crochet slippers!
Her light and pretty color palettes are to die for, the perfect color palette for your little girl and for moms like you too! Some of the patterns come in adult sizes too, perfect if you want those twinning moments with you baby.
It's really a pleasure going through her products and seeing all her detailed works! Intricate and dainty, you will surely find something soft and comfy for your baby girl.
About the Yarn
Because of all the intricate details needed for this crochet flower pattern for headband, using a fine, cotton yarn is suggested. The Camilla Cotton, a 100% mercerized cotton yarn, is one the best yarns to use for this project. It's also safe for your little ones since it is soft.
With this silky and vibrant Camilla Cotton yarn, you'll have lots of colors to choose from! Their choices of light color yarns is perfect for dainty patterns like this one.
Since it is a mercerized cotton yarn, you'll never have to worry about your accessory losing its vibrancy. These kinds of yarn are known to retain their colors and lasts longer than those made with non-mercerized materials.
Thinking of using a thicker yarn? Keep in mind that using thicker yarns will affect the size of your headband. The thicker the yarn, the bigger your output will be.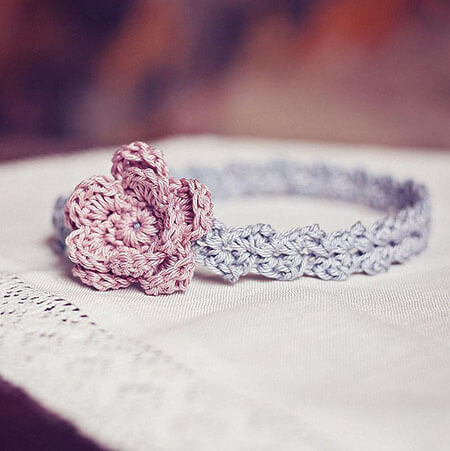 About the Pattern
With its fine, intricate designs you might think this crochet floral headband pattern is for the more advanced crocheters. But guess what? This pattern is actually easy to make and easy to follow!
The dainty details are made using simple stitches only. To make it more beginner friendly, the pattern has detailed instructions and step by step description accompanied with photos. You will surely never have a hard time understanding how to work on this crochet flower headband pattern.
Aside from the details, the color palette of this pattern makes this old rose headband accessory standout. It has just the right amount of contrast that helps the adorable rose pop from the headband.
For the perfect twinning moment with your little girl, create two versions! A small one for the little one, and an adult sized one for you.
Skill Level
Beginner
Materials Needed
Small amount of yarn in two colors – Camilla Cotton
Crochet hook 3.25mm (D)
Thread
Needle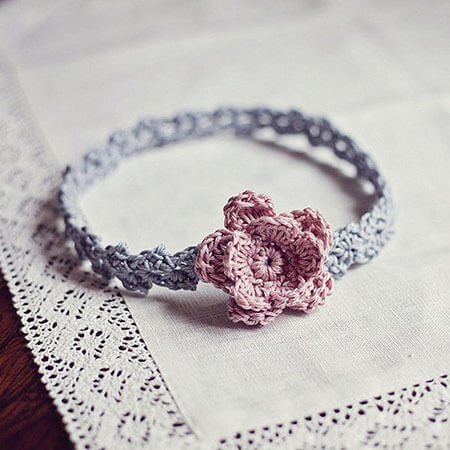 With this quick and easy crochet floral headband pattern, working on this while waiting for your little one will surely not stress you out.
Check out more baby patterns like this cute baby boots crochet patterns, baby themed crochet patterns, and crochet diaper cover patterns.
Calm your nerves and start working on this special gift for your little girl. This old rose crochet headband accessories pattern is a perfect welcome surprise for the little one!
Get Your Crochet Headband Accessories Pattern Here!



You can really get creative and make a crochet flower headband for yourself, a baby or child, in whatever type of yarn, color and style you want!
We would love to see a picture when you're done, so please feel free to come by our Facebook Page and show off your project! For more flower patterns, check out our Flower Pinwheel Crochet Pattern and African Flower Crochet Pattern.

Crochet headbands work up quickly and easily, plus they use up leftover yarn! Here are Crochet Headband Patterns and Crochet Hair Bow Patterns as inspirations to create your own!

What are you waiting for? Start your crochet flower headbands today!