Are you looking for a more challenging but quick flower pattern?

This free blooming pinwheel crochet flower pattern is perfect for you!

Having more complicated stitches and lots of yarn colors to choose from, you will surely have a blast making it!
Find out how to make this colorful crochet flower pattern by reading through this article.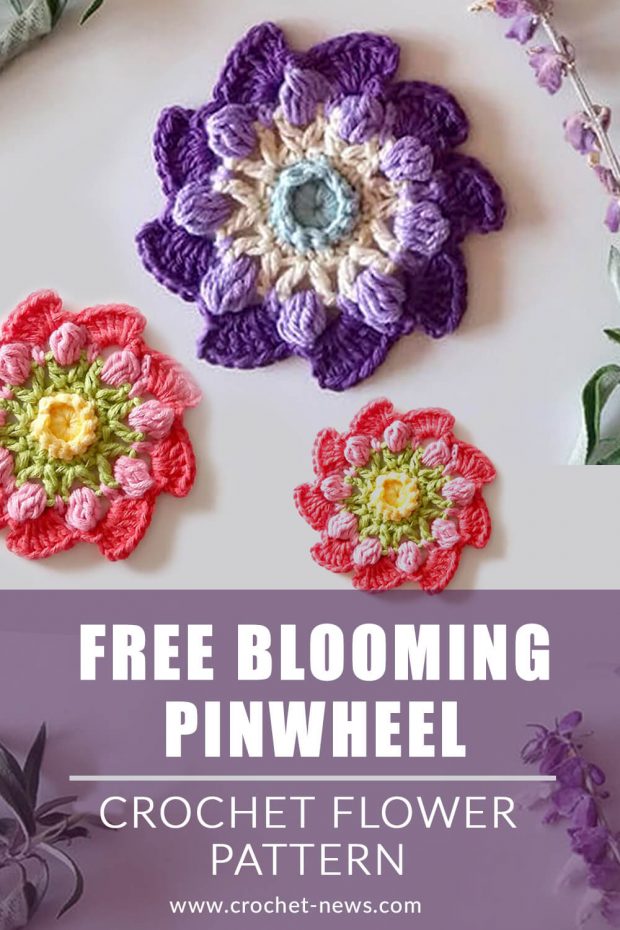 Colorful Crochet Flower Pattern
The blooming pinwheel crochet flower pattern is designed by Ana Morais Soares as a part of 365daysofcrochetflowers, a project that aims to create one crochet flower a day for the whole year! Imagine all the flowers you'll be able to make in a year!

Because of its intricate design and the burst of colors, it surely stands out from the other flower patterns. It's a perfect ornament for home use, and can even be used as a glass coaster!
Mix and match different color combinations to make the perfect set for your home.

About the Yarn

With all the colors you will be needing for this pattern, you'll be needing a yarn that comes in a lot of colors! Luckily this pattern is created using DROPS Safran by Garnstudio. It's a 4 ply 100% Egyptian combed cotton, durable and perfect for garments.

If such yarn is not available in your area, your best bet would be to look for a 4 ply cotton yarn that comes in different colors. You will be using four colors for this pattern, so make sure the yarn you choose has enough available colors!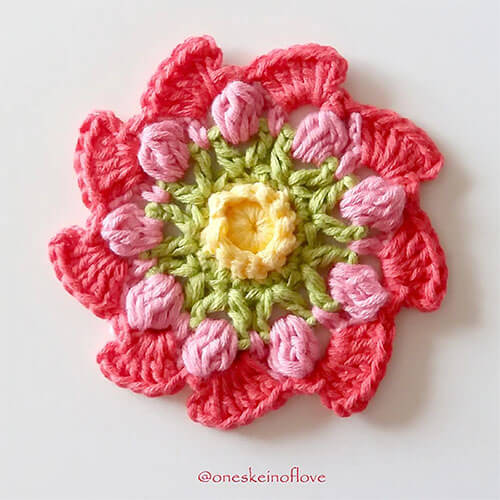 About the Blooming Pinwheel Crochet Flower Pattern

You can download this pattern for free! It is quite easy to finish, with only 7 rounds of crochet work. As it has a lot of intricate designs, the pattern is best for an intermediate crocheter.

With this pattern, you get to try and learn a lot of stitches (if you haven't tried some of them yet, don't worry we included links!).
You will also have to work in rounds and it may get a little complicated because of all the stitches, but the final output is worth any confusion you might encounter.

Skill Level
Intermediate

Gauge

99.99 stitches and 7 rows = 10 cm

Materials Needed

Four colors of cotton 4 ply yarn (DROPS Safran)
3mm Hook
Stitch Marker

Stitches Used

Chain Stitch – Chain stitch tutorial here.
Single Crochet – Guide on Single Crochet.
Half-double Crochet – Learn this stitch here.
Double Crochet – Double crochet tutorial.
Front post single crochet – Learn the stitch here.
V stitch – Check out how to do the stitch here.
Dc4tog – This video tutorial will walk you through on how to do this stitch.
Slip Stitch

How to make Front Post Single Crochet Stitch

To make the Front Post Single Crochet Stitch (Fpsc) – Insert the hook from front to back to front around the indicated stitch and work a sc.

How to make V Stitch

To make the v stitch (V-St) – 1 dc, ch2, 1 dc worked in the same stitch.

How to make Dc4tog

To make the Dc4tog – *Yarn over, insert hook into the indicated stitch, yarn over, pull up a loop, yarn over, draw through 2 loops. ** Repeat from * to ** three more times. Yarn over draw through all 5 loops on the hook.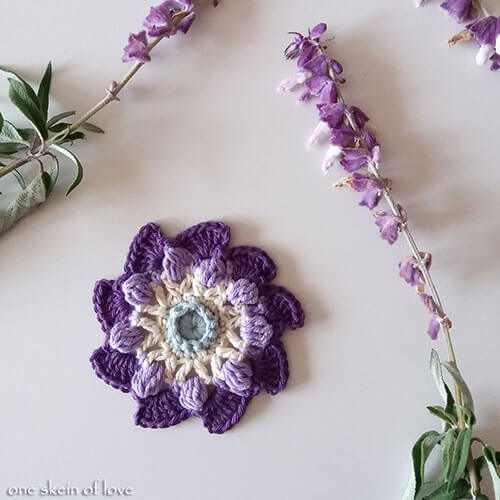 This pattern is perfect for an intermediate crocheter to learn more stitches and test their patience.

Are you ready to make your very own garden of flower crochets? Time to plan the color combinations you'll be using and buy that cotton 4 ply yarn.
Stock up on your yarn and start making your own blooming pinwheel crochet flower!