You'll be able to make fun headbands, hair ties, barrettes, and clips for all ages using these crochet hair bow patterns. Hair bows are the perfect accessory to that perfect outfit, whether on a barrette enhancing a little girl's beautiful frock or on the top of a clip you can wear yourself.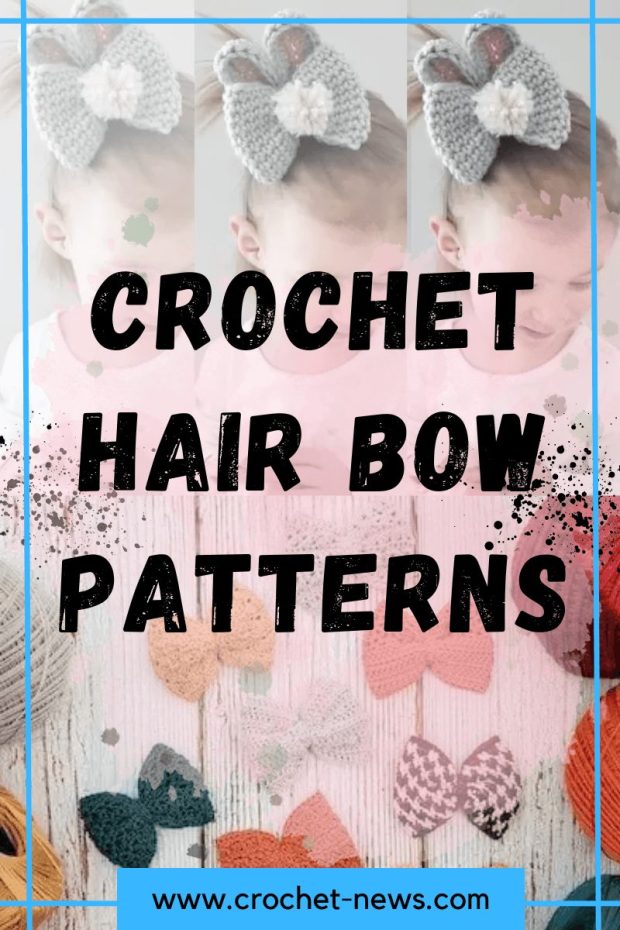 20 Stylish Crochet Hair Bow Patterns
These projects are great if you're working on shrinking your yarn stash like I am because the bows only use a small fraction of a skein of yarn. You can probably make several of these little guys without buying a single thing. So, pull out that junk drawer and get ready to turn all those little odds and ends into cute and fashionable hair accessories you can wear the whole year through!

1. Bobble Dot Hair Bow Crochet Pattern by Stuck On You Crochet
This Bobble Dot Bow is the perfect accessory for your favorite little one! These bows work up quickly and are perfect market makes. Sizing and style can easily be adjusted if desired, simply by changing the type of yarn and hook! Bows can be added to an alligator clip for a clip-on or put on a nylon band for a headband.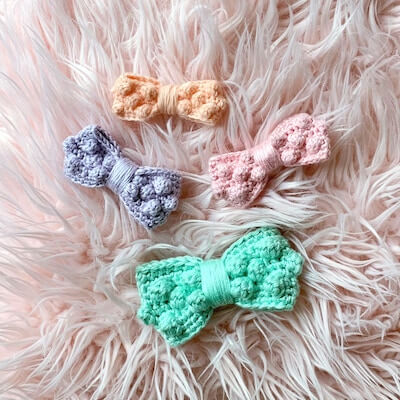 Get the Pattern by Stuck On You Crochet here

2. Crochet Hair Bow Pattern by The Nicole Chase
This Sweet Stars Hair Bow is a simple project for scrap busting and a great introduction to the star stitch. Add your finished bow to a hat or clip.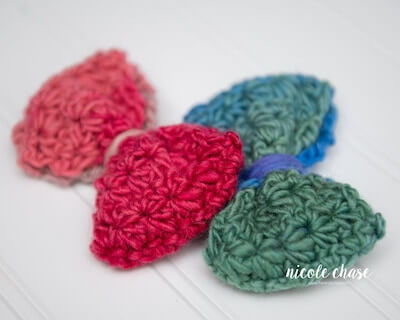 Get the Pattern by The Nicole Chase here

3. Crochet Bunny Hair Bow Pattern by But First Crochet
Crochet an adorable Bunny Ears Hair Bow for Easter or spring. This easy crochet bunny ears pattern is beginner friendly and works up really quick! Create this bow in an assortment of colors that's right up your girl's alley!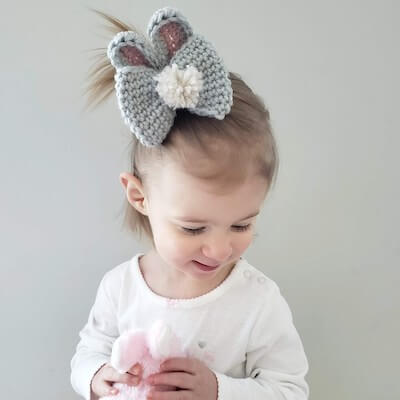 Get the Pattern by But First Crochet here

4. Crochet Hair Bow Free Pattern by Gathered
This little crochet bow is the perfect quick make if you're in need of a last minute gift. It is designed as a headband, but with a little adaptation you could easily turn it into a hair clip, a brooch or even a stylish bow tie!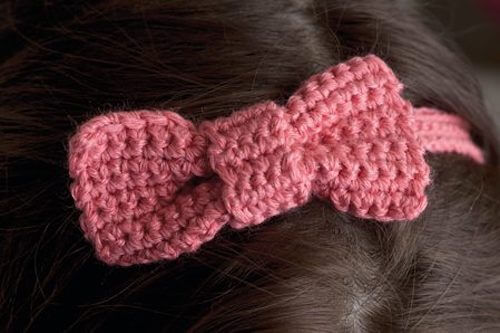 Get the Pattern here

5. Crochet Serendipity Hair Bows Pattern by Bonnie
These Serendipity Bows mean you will always have the right bow for the occasion! Babies and kids can wear a different hairbow everyday of the week! Attach them to headbands or hairclips to suit your style or need. Created with thread to give this small crochet project a light and airy feel or use the crochet pattern with larger hook and yarn to create a bigger bow!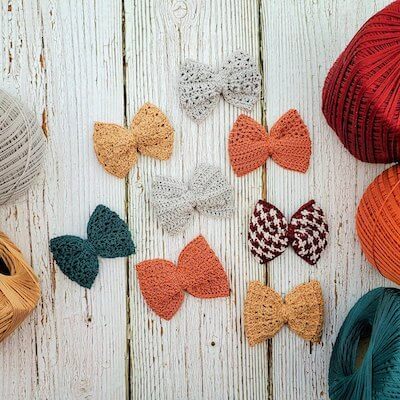 Get the Pattern by Bonnie here

6. Free Crochet Hair Bows Pattern by Whistle And Ivy
These crochet bows are an easy pattern that require no scrunching! The good thing about these crochet bows is that they are shaped like a bow before the middle is wrapped. You don't need to pinch and wrap, hoping it turns out okay. You get a perfect crochet bow every time!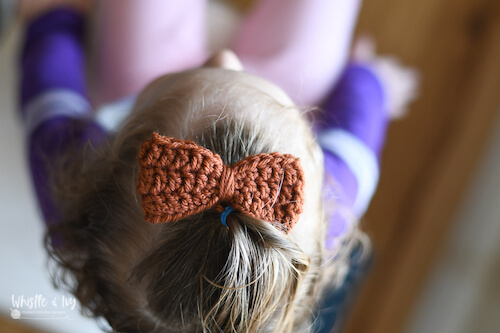 Get the Pattern here

7. Classic Sailor Hair Bow Crochet Pattern by The Wannabe Grandma
Get your favorite girls ready for fall with this free sailor bow crochet pattern. It's super simple, quick, and perfect for beginners! The pattern uses only chain stitches and single crochet. The tight weave of the single crochet stitch helps the bow keep its shape.

These bows can be made in five sizes ranging from mini, which is about 3 inches wide by 2.5 inches high, to jumbo, which is about 6 inches wide by 4.25 inches high. Below, you can find a free pattern and step-by-step tutorial for the medium size, which is about 4.5 inches wide by 3.5 inches high.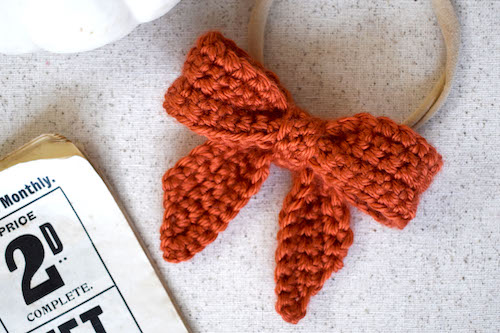 Get the Pattern here

8. Crochet Hair Bow Pattern by Roaming Pixies
These crochet hair bows are created by working in the round. One of the best things about making a bow in the round is that it's so easy to work the edging. All you need to do is make another round in contrast color.
Get the Pattern here

9. Mini Crochet Hair Bow Clip Pattern by Hello Yellow Yarn
If you think a giant crochet bow may be a little over-the-top, try this cute pattern for a mini crochet bow. These mini bow hair clips would make great gifts to crochet for little girls.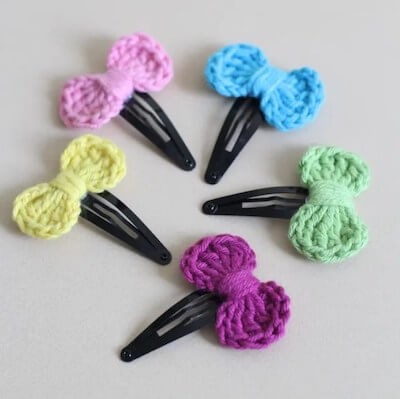 Get the Pattern here

10. Crochet Bountiful Hair Bow Pattern by Poppysmicks
With petal edges inspired by Spring blossoms, this Bountiful Bow is reminiscent of reading romantic poems while strolling through the garden. So chic!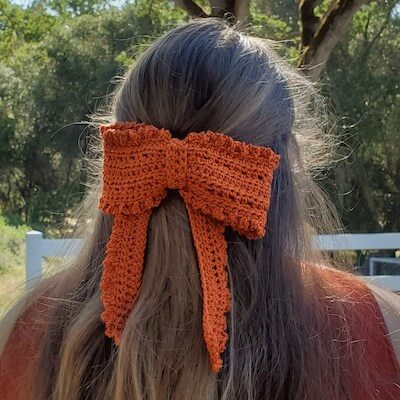 Get the Pattern by Poppysmicks here

11. Fancy Lace Bow Crochet Pattern by Woodland Stitchcraft
This Fancy Lace Bow is designed for Christmas but this looks adorable in any color combo you can dream up! I love this red and white version as it makes me think of Santa and Mrs. Claus. It would be amazing in any of the Christmas combos though! Green and red, red and gold, green and white! So many combos.

I think this bow could be a great addition to a Christmas outfit. Give those holiday card photos a touch of crochet love!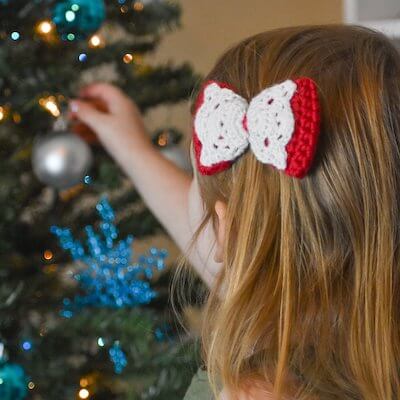 Get the Pattern here

12. Beaded Crochet Hair Bow Pattern by Woven Tales Designs
This adorable accessory makes the perfect gift for a loved one and would display wonderfully at your future market table setup. This is a great stash buster pattern, and there are endless yarn color and bead combinations that would work for this bow.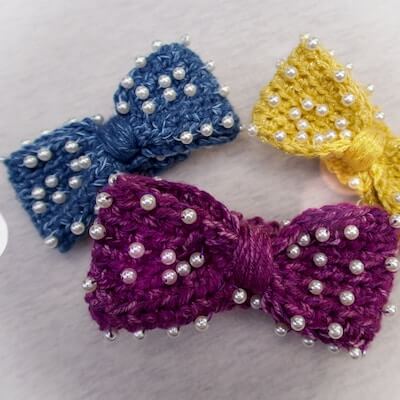 Get the Pattern by Woven Tales Designs here

13. Simple Crochet Hair Bows Pattern by Cynthia Banessa
These simple crochet hair bows are so easy and quick to create. Before you know it, you will have a dozen made in no time. There are only three stitches that you need to know: chain stitch, double treble stitch, and the slip stitch.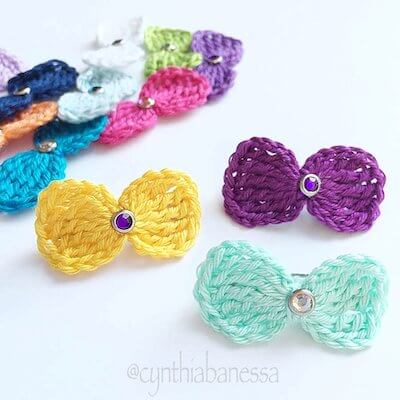 Get the Pattern here

14. Free Crochet Hair Bow Pattern by Banana Moon Studio
This lace bow is a free crochet bow pattern that makes a wonderful project for summer, or anytime really. It uses up a small amount of fine weight yarn and is quick to make so you can use this pattern to use up scrap yarn and give as gifts!

You will need to know basic crochet stitches: chains, single crochets, and double crochets in order to make this bow. This pattern also uses the Pistachio Shell Stitch, a beautiful, lacy variation on the classic shell stitch.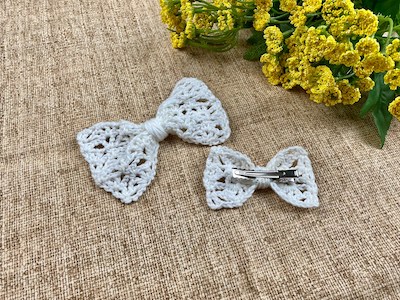 Get the Pattern here

15. Granny Square Crochet Hair Bow Pattern by The Spruce Crafts
There are many ways to crochet a bow. However, the simplest option is often the best one. You can easily make a crochet bow by crocheting any size square or rectangle. Then pinch the middle to create the shape of the bow.

You can keep the middle pinched by wrapping yarn around it, stitching it, or—as you'll see in this crochet hair bow tutorial—making use of a rubber band.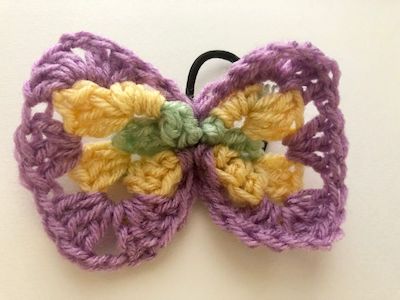 Get the Pattern here

16. Tunisian Crochet Hair Bow Pattern by Woodland Stitchcraft
This scrappy Tunisian Bow is the perfect way to try out a Tunisian crochet pattern! Small enough to be made on a regular crochet hook and only needing some scrap yarn means you can test out this new style of crochet without the investment of new tools or yarn. You'll also have the cutest bows to show off!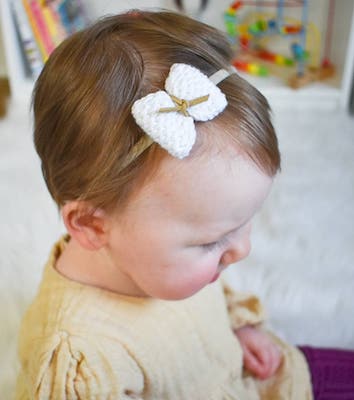 Get the Pattern by Woodland Stitchcraft here

17. Free Crochet Santa Hair Bow Pattern by Crochetverse
Doll yourself or your loved one with this super fast and super cute bow! Just perfect for craft fairs, quick gifts, and Christmas photo shoots!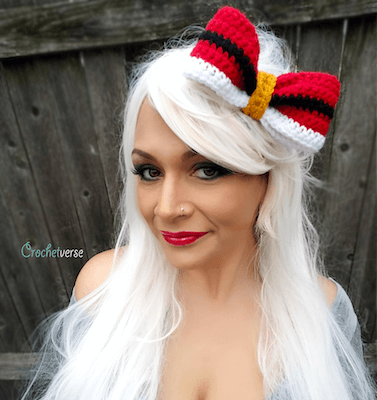 Get the Pattern here

18. Crochet Variety Bow Set Pattern by Crochet Spot Patterns
Bows, bows, bows! Use them as appliques on headbands, hair clips, hats, bags, clothing, or even in your home decor. The uses for bows are only limited by your imagination. This set includes 5 different bow patterns to give you a variety of bows to use. The patterns include the classic bow, ridged bow, subtle textured bow, bobble bow, and mesh bow.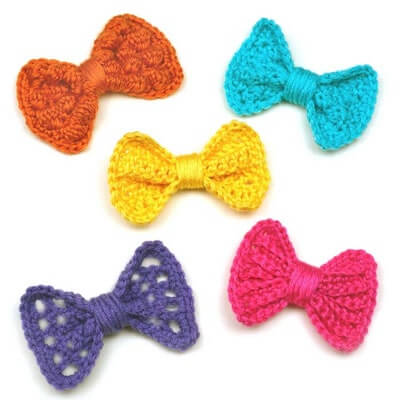 Get the Pattern by Crochet Spot Patterns here

19. Free Crochet Hair Bow Pattern by Truly Crochet
This bow is worked in half double crochet back loop only stitch and I love how it gives that rib effect. Make this bow by crocheting a rectangle first then joining the ends together which doubles the thickness of the bow and then wrapped a long piece of yarn around the middle to clinch it in so it gives it that 'bow' effect and then attached a crocodile clip.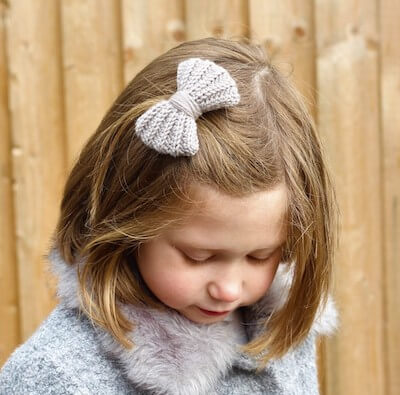 Get the Pattern here

20. Sweet Treat Bow Crochet Pattern by Sweet Bee Crochet
How cute are these little bows? These bows are made using worsted cotton or acrylic yarn that is perfect for stash busting. You only need 12-13 yards of yarn and your favorite 4mm hook. They can be made in approximately 30 minutes and is also a great stash buster idea.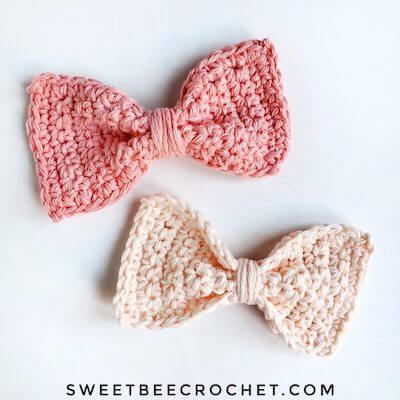 Get the Pattern here
SHOW OFF YOUR CROCHET STYLE WITH THESE CUTE CROCHET HAIR BOW PATTERNS!
Be sure to share your bows (and you wearing one) with us on our Facebook Page. And you're done! Or not, because chances are you're going to crank out more than one of these hair bow ideas!
If you fancy making a whole range of hair accessories (one for every occasion), we've got some fab patterns for you to try! Check out these 50 Crochet Bandana Patterns, 22 Lovely Crochet Twisted Headband Patterns, 21 Crochet Flower Headband Patterns. and more 21 Crochet Scrunchie Patterns, and more Crochet Headband Patterns.

These crochet hair bow patterns are so quick and fun to make, and a perfect idea for a crochet stash buster. What are you waiting for?