It seems as though the bandana is popping up again lately and as with all things '90s, we can't wait to incorporate it into our look. With these crochet bandana patterns up your sleeves, you'll never be complaining about a mundane outfit ever again.
Whether you make one to wear as a hair accessory during summer or to wear around your neck during the cold season, these popular triangle pieces are just begging to be a part of your outfit.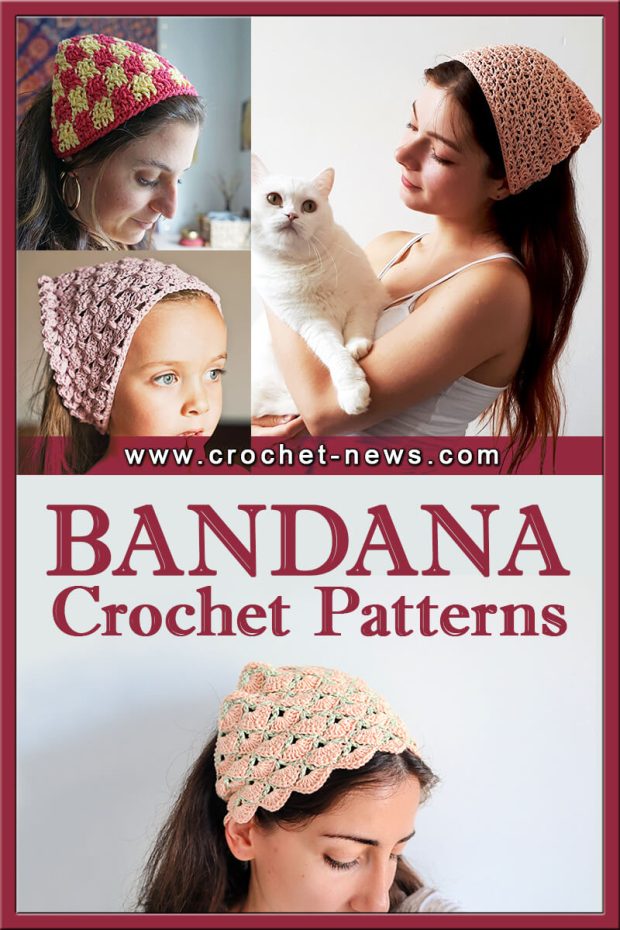 Bandanas come from almost everywhere and every time. From Hermes catwalks to cattle roundups, you can't pin down a bandana. And who would want to? They're the perfect chameleon! You needn't think twice: get on the trend and browse through our favorite picks below.

1. Crochet Yolanda Bandana Pattern by Cosmaudi
This Yolanda Bandana is a vintage inspired accessory made with fingering weight yarn and an intricate lace pattern to give it a light and airy feel.

The scarf's main pattern is worked by using a technique called filet crochet where a design is added to a crocheted fabric by working open and closed "blocks" of stitches.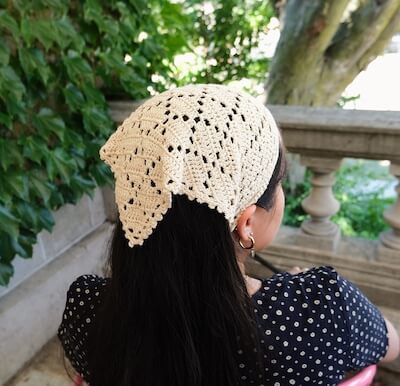 Get the Pattern by Cosmaudi here

2. Crochet Leia Bandana Pattern by Crocheted Magic Store
This Leia Bandana is an adorable hair-kerchief made up of a half granny square and shell border with two strings on each side. It is a super fast project that works up in no time!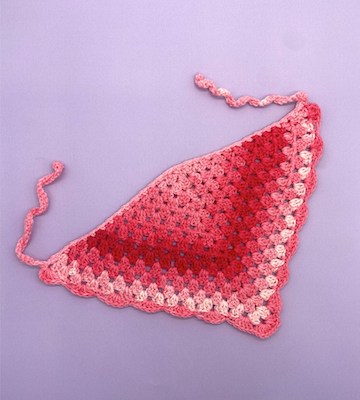 Get the Pattern by Crocheted Magic Store here

3. Cosmopolitan Crochet Bandana Pattern by Crochet Highway
This Cosmopolitan Kerchief Bandana is a textured bandana, using the signature alpine stitch and faux-knit bands to create an eye-catching design. The unique and surprising construction will keep your interest piqued while creating a unique boho-chic piece to wear this summer.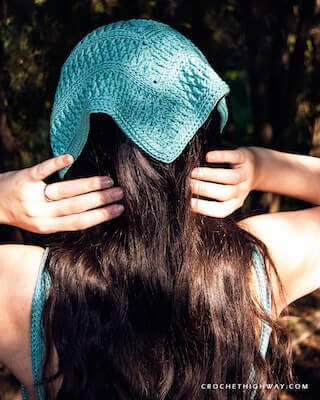 Get the Pattern by Crochet Highway here
4. Crochet Brynn Kerchief Bandana Pattern by Deni Made Designs
This Brynn Kerchief Bandana adds a touch of unique boho-flair to any hairstyle. From short to long hair to straight, curly, or even locs, a kerchief will instantly upgrade your look.

Plus, it's the perfect accessory for disguising a bad hair day. These little cuties are quick to make and are great for using up small bits of yarn in your stash.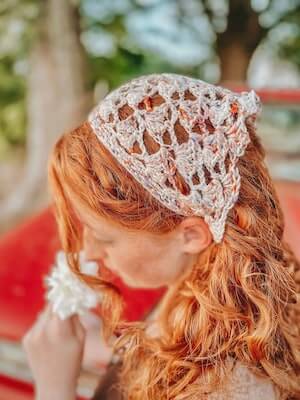 Get the Pattern by Deni Made Designs here

5. Crochet Froggy Bandana Pattern by Hello Happy
Make an adorable Froggy Hair Bandana Crochet Pattern! Sure, you could embrace your inner cottage core self with a regular bandana, but why would you want to do that, when you could wear a froggy bandana instead?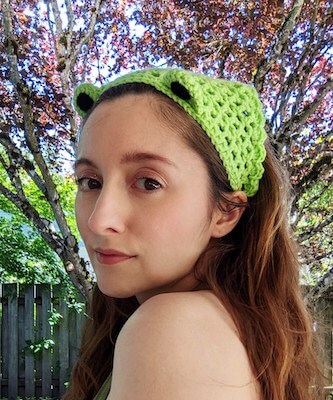 Get the Pattern by Hello Happy here

6. Free Crochet Bandana Pattern by Annie Design Crochet
A fun triangle Granny Square Bandana for that trendy summer vibe! A pretty crochet bandana is a great way to keep your hair neat and tidy. This free crochet bandana pattern is an easy to crochet fun project and one size will fit nearly everyone!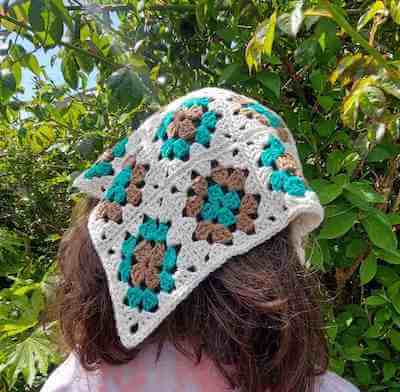 Get the Pattern here

7. Cottagecore Easy Crochet Bandana Pattern by Selina Veronique
This Cottagecore Inspired Bandana is a feminine bandana hair kerchief that is very easy to make. It is crocheted with a simple and delicate shell stitch repeat pattern that is very easy to crochet for beginners.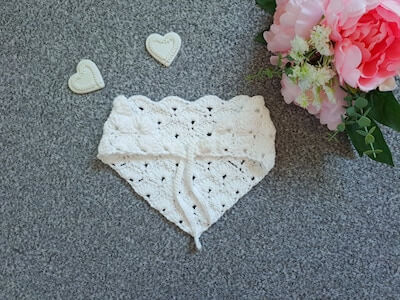 Get the Pattern by Selina Veronique here

8. Crochet Vintage Bandana Pattern by Brittany Alice Crochet
Crochet bandanas are so trendy at the moment! This vintage take on the crochet bandana is perfect for the advanced beginner looking to practice (or learn) C2C pattern. This works up quickly and easily, making it a nice meditative project.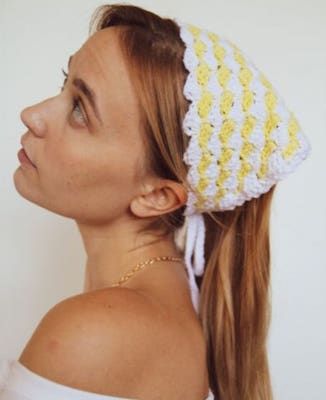 Get the Pattern by Brittany Alice Crochet here

9. Crochet Lacy Bandana Pattern by Banana Moon Studio
Summer is for days in the sun and road trips with the top down. Enjoy it all with your hair tied back with this beautiful lace crochet hair kerchief! Going to a festival this summer? Channel a vintage vibe with this crochet head kerchief! It's a quick finish project too and only takes one ball of yarn.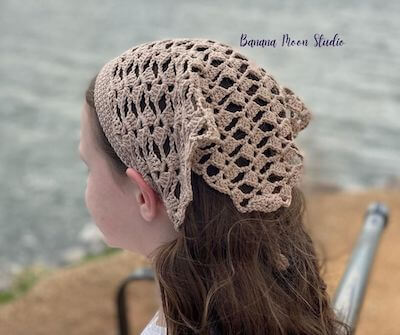 Get the Pattern here

10. Crochet Venice Beach Bandana Pattern by Lucky Penny Craft Co
Wear this bandana multiple ways as your new favorite accessory! Wear it to keep your hair back as you skate around, or as you ride a bike to your favorite local shop. You can also wear this as a neck scarf to add a little pizazz to any ensemble.

This pattern works up very quickly (just an evening or two) and can be made in whatever color combination brings you joy. Add this project to your queue today and wear it next weekend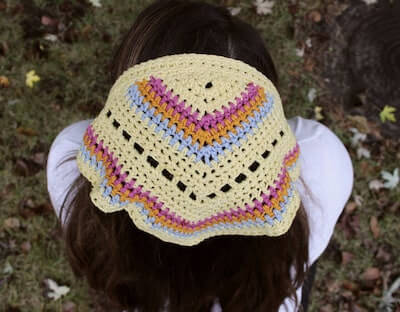 Get the Pattern by Lucky Penny Craft Co here

11. Crochet Hair Scarf Bandana Pattern by Jelly Donut Knits
Crochet your own vintage inspired, 70s aesthetic hair scarf bandana! This pattern uses DC clusters and granny stitches to give all the retro vibes.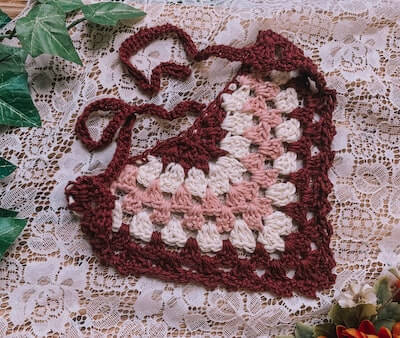 Get the Pattern by Jelly Donut Knits here

12. Granny Stitch Crochet Kerchief Pattern by Crochet N Crafts
This Granny Stitch Crochet Kerchief Pattern can be worked up in any yarn and hook size. It's a simple one-row repeat making it super easy to adjust the size as needed from child to adult.

This granny kerchief is started at the bottom point and worked up making a few increases in each row to give you that triangle. It's tied at the back with tie strings for a comfortable fit.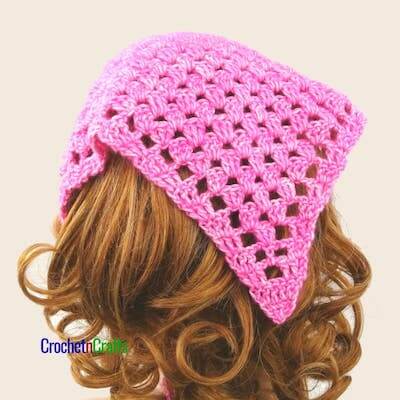 Get the Pattern here

13. Crochet Scallop Bandana Pattern by Sweet Potato 3
This crochet pattern comes with complete instructions for this fun and colorful Scallop Bandana. What a fun, cute way to keep your hair back while working or just wear as a cute hair accessory. This is also a great way to help you use up your yarn stash.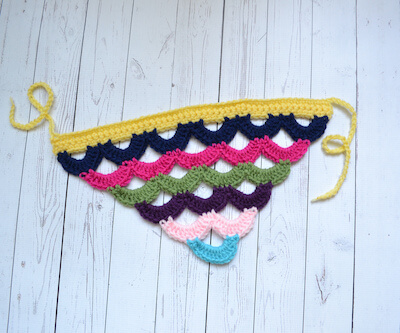 Get the Pattern here

14. Crochet Bandana Pattern by Shop Doe And Deer
Create your own hair scarf with this easy to follow pattern! Easily adjust the size and color to make this project truly your own. This pattern includes instructions on how to make a hair scarf in standard adult size, as well as instructions on how to adjust for smaller/larger sizes, including youth!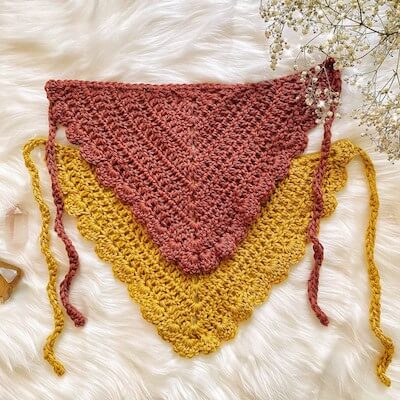 Get the Pattern by Shop Doe And Deer here

15. Crochet Checkered Bandana Pattern by Bloodimaryart
Are you ready to make the trendiest kerchief for this summer? Learn how to crochet this cute checkered bandana for yourself or your loved ones! This pattern only uses less than 50 gr/85 yards of Medium Weight Yarn and the final motif is really mesmerizing.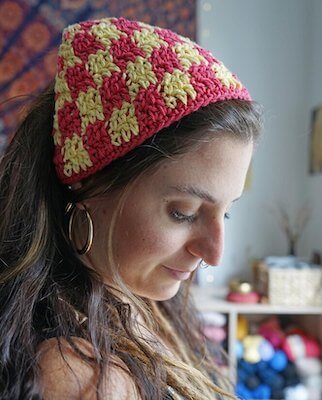 Get the Pattern by Bloodimaryart here

16. Crochet Crocodile Kerchief Pattern by Crochet Uncut
This kerchief is a popular type of head wrap that we don't see often enough in crochet. This one is worked using the unique crocodile stitch that is fun to play with and one that makes a great thick head wrap.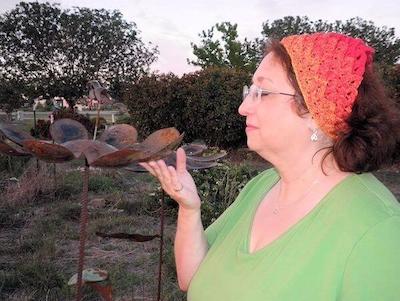 Get the Pattern here

17. Crochet Fan And Ruffle Bandana Pattern by Mon Petit Violon
This pattern includes instructions how to make this cute kerchief or bandana and same style shawl! Use cotton yarn for Spring/Summer or some wool/acrylic for Autumn/Winter. This crochet bandana will be perfect hat alternative for colder season!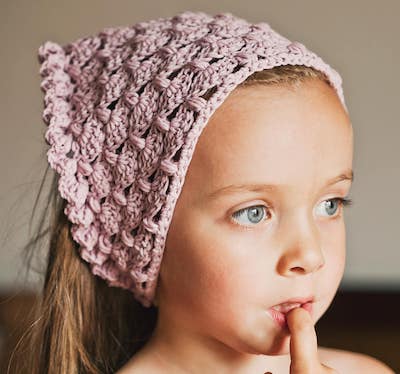 Get the Pattrn by Mon Petit Violon here

18. Crochet Beach Bandana Pattern by Sasha Pattern
This triangle crochet bandana with long ties has right weight to protect your hair from wind and sun. Wear this cute bandana at the beach, while hiking, biking or playing outdoor sports.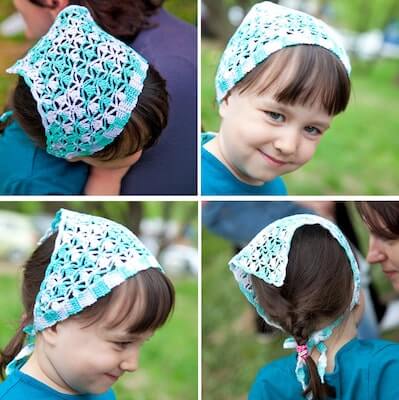 Get the Pattern by Sasha Pattern here

19. Crochet Windy Day Bandana Pattern by Oombawka Design Crochet
This Windy Day Bandana is lightweight, soft and perfect for keeping those flyaway hairs under control. You can wear this with your hair up in a ponytail or messy bun, or with your hair down.
The design has a wider width main band that wraps securely around the head. The band has some extra length too to make it easier to tie to keep it in place at the back of the head.

You can even tie it once around the back of the head and once around your ponytail. Then you can easily tuck the tip of the triangle section into the tie to keep it in place.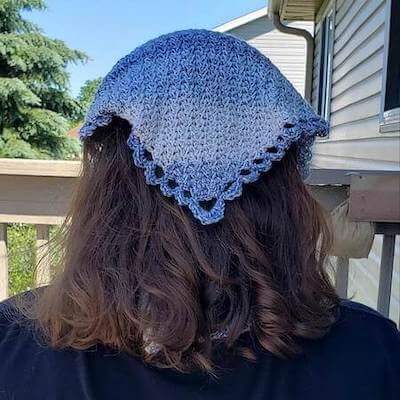 Get the Pattern here

20. Patriotic Crochet Hair Bandana Pattern by Hooked On Homemade Happiness
Looking for an easy and festive crochet project? You can bust out two of these Patriotic Hair Bandanas in about one hour! Instant gratification.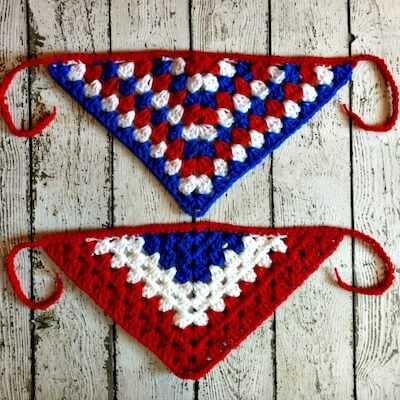 Get the Pattern here

21. Crochet Bobble Kerchief Pattern by Pattern Paradise
This is a pretty lace and bobble kerchief to wear over your hair or around your neck as a cowl. This fun accessory is good for all ages!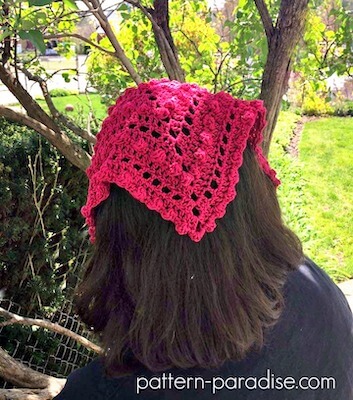 Get the Pattern here

22. Crochet Daisy Bandana Pattern by Kozmic Blues Crochet
Lead the way this summer and embrace retro style with this 90s trend-setting daisy bandana. Learn how to crochet your very wown and be festival ready. It's the perfect accessory for sunny days.
If your looking for more Daisy patterns, just click here.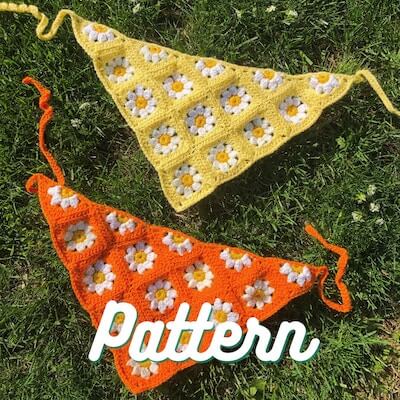 Get the Pattern by Kozmic Blues Crochet here

23. Crochet Tulip Bandana Pattern by Alina Hera
This is a stylish project that will work well with virtually any yarn. You can crochet your project as a small triangle and use it as a head kerchief, or you can make a medium triangle for a bandana/shawlette or make a large triangle for a beautiful shawl.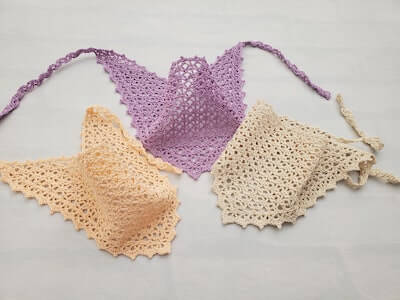 Get the Pattern by Alina Hera here

24. Crochet Strawberry Bandana Pattern by Punk Crochetier
If you or if you know someone who lovs strawberry patterns, these Strawberry Bandana is perfect for you to make! You can change the colors to make the strawberries any color you'd like (make the strawberries into pineapples or carrots by using yellow or orange)!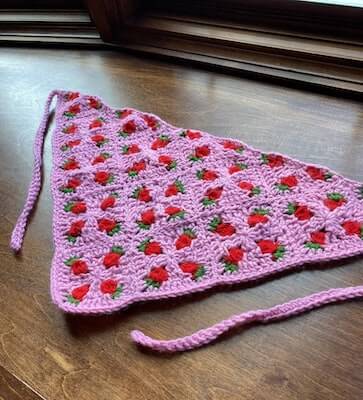 Get the Pattern by Punk Crochetier here

25. Crochet Bandana Neckerchief Pattern by Darling Jadore
Minimal, versatile, and classic, this bandana scarf features a lovely triangle shape with tapered ends making it the perfect understated accessory to sweep your locks up with, tie around your neck, or embellish a purse.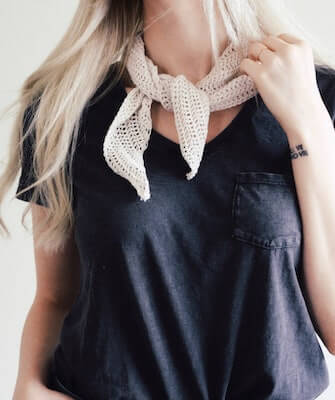 Get the Pattern by Darling Jadore here

26. Crochet Filet Bandanna Pattern by Red Heart
This crochet bandanna is a great way to try out filet crochet and expand your skills! Delicate and sophisticated, it adds a lovely layer of texture to any outfit. This accessory is fetching in any color that sets off your style!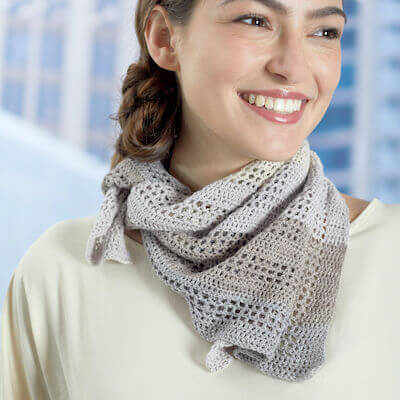 Get the Pattern here

27. Easy Crochet Bandana Pattern by Matching North
This crochet head kerchief is so much fun to make and a great quick finish project. You can make one of these for yourself or for someone you love as a gift, or you can even use this free crochet bandana pattern as an easy crochet dog bandana pattern!

It's a super versatile pattern and one of those fun easy projects that you can throw in your bag to pass the time on road trips or when you're catching up on your favorite shows.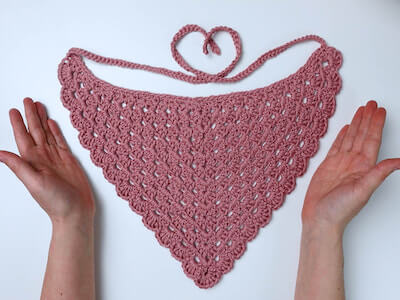 Get the Pattern here

28. Crochet Wild Hemlock Bandana Pattern by Wickedly Handmade
This Wild Hemlock Headscarf features a unique texture throughout the entire design using some really fun stitches! This pattern is not only a Headscarf, but can also be worn as a bandana, or easily modified into other fun creations. They can be made up in so many fun color choices, the options are endless!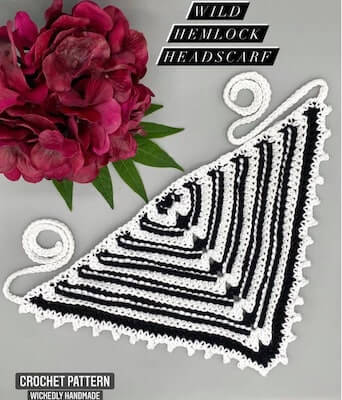 Get the Pattern by Wickedly Handmade here

29. Linen Stitch Crochet Bandana Cowl Pattern by Nana's Crafty Home
This Linen Stitch Crochet Bandana Cowl works up so quickly with just one ball of yarn – perfect addition to your fall wardrobe! This is very simple, beginner friendly stitch that utilizes just single crochet and chains to create a lovely and elegant fabric – so versatile, too!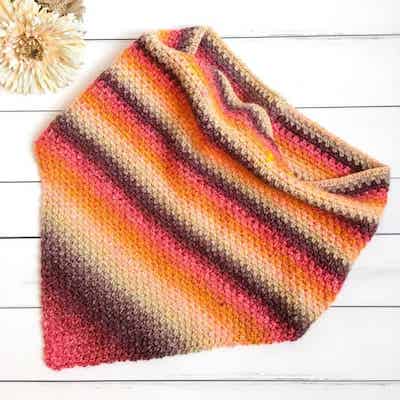 Get the Pattern here

30. Crochet Flower Kerchief Pattern by Early Dawn Crafts
This is a pattern for you to make a crochet kerchief or headscarf. It features cluster stitches in sets to look like flowers that have folded their petals. It is worked in a triangle from the bottom up. The ties are worked as one piece with the kerchief; being added on the edging round.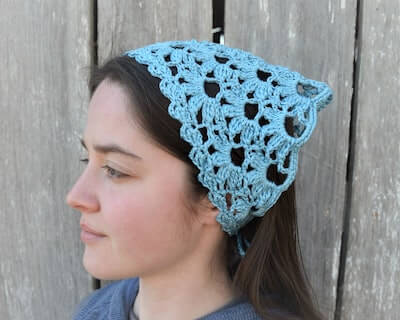 Get the Pattern by Early Dawn Crafts here

31. Plaid Crochet Dog Bandana Pattern by Whistle And Ivy
Give your four-legged friends some style too with this Plaid Crochet Dog Bandana. Your dog will look so dapper in this darling crochet plaid dog bandana that features the plaid technique!
For your fur babies, check out these Crochet Dog Sweaters, Dog Toys, Dog Blankets, and Dog Hats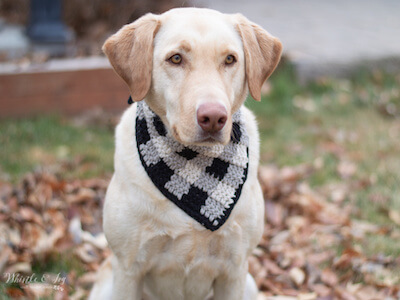 Get the Pattern here

32. Crochet Head Scarf Bandana Pattern by Maya Kuzman
This Grace Head Scarf Bandana tends to add a vintage and dramatic flair to your look. The pattern consists of instructions for the scarf and flower. Or you can check out these crochet flowers for hats patterns.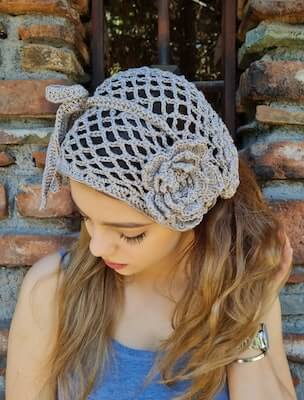 Get the Pattern by Maya Kuzman here

33. Crochet Bandana Pattern by Bandana Heads
This versatile crochet bandana pattern is suitable for men and women with long hair and can be adapted to all seasons by varying the type of yarn. A crochet bandana or head scarf is an ideal hair accessory for travelers.

The multi-colored bandana featured here is a blend of cotton, silk and wool. A solid color also looks good. A practical feature of this textured crochet bandana is that it is worked from the lower tip and therefore extra rows can be added if necessary.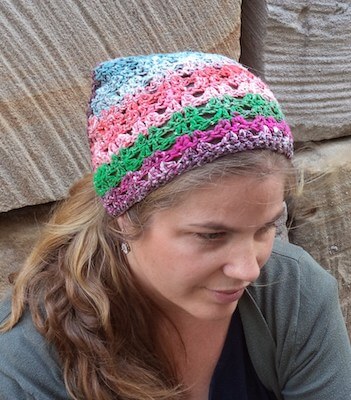 Get the Pattern by Bandana Heads here

34. Pretty Paws Pet Bandana Crochet Pattern by Crafty Kitty Crochet
Make your furry friend fashionable in this adorable and easy to make bandana! Made from a basic square, then shaped and decorated, this is an ideal beginner project! Customize it with a paw print appliqué for added cuteness!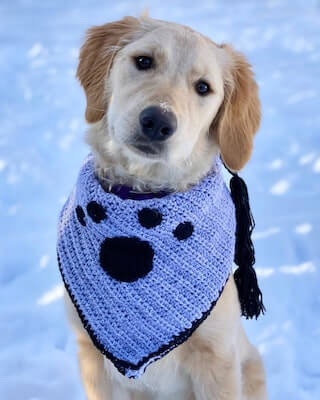 Get the Pattern by Crafty Kitty Crochet here

35. Eyelet Free Crochet Bandana Pattern by Holle Cropper Craft
A sweet, straightforward bandana pattern featuring a repeating shell motif. Good for a beginner looking to expand their knowledge of stitches, or for a more advanced crocheter looking to get rid of some extra yarn in their stash!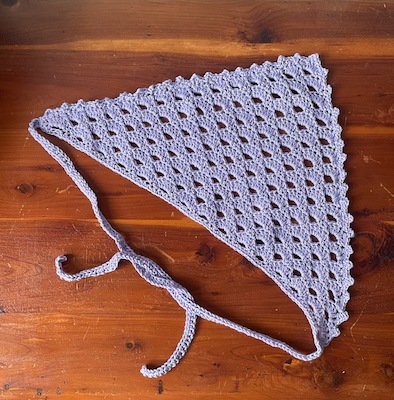 Get the Pattern here

36. Crochet Chevron Bandana Bib Pattern by Look At What I Made
This Chevron Bandana Bib also doubles as a baby "comforter" and a dummy-clip. This design multi-tasks like nobody's business! And I think it will make a funky, functional, and frugal festive favour (aka cheap and chearful Christmas gift).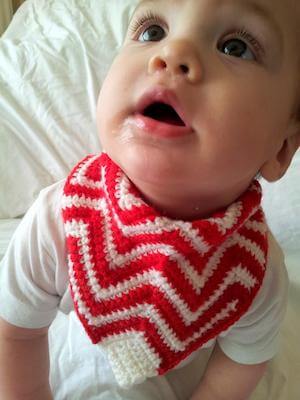 Get the Pattern here

37. Camello Bandana Scarf Crochet Pattern by Oombawka Design Crochet
This pretty crochet bandana pattern makes the perfect scarf. This Camello Bandana Scarf is a versatile scarf with multiple styling options.

If you would like to make this bigger to have a full size shawl, just continue the pattern repeats before working the final edging.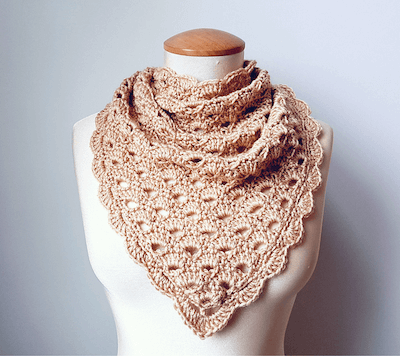 Get the Pattern here

38. Summer Picot Head Kerchief Crochet Pattern by Nicki's Homemade Crafts
This pattern is called the Summer Picot Crochet Head Kerchief because it is perfect for the summer! It is lightweight, but it also has a pretty picot border around it. And of course, one can use it in spring and fall, too.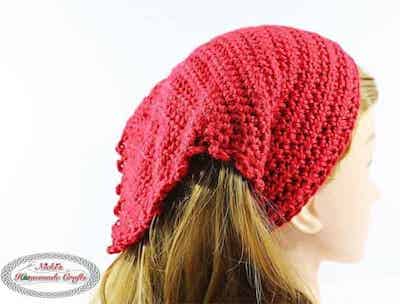 Get the Pattern here

39. Mountain Dog Bandana Crochet Pattern by Susan Kennedy
Your pup will be cozy, snug, and happy at the center of attention! A triangular bandana crocheted from the corner point in moss stitch for comfort and stretch.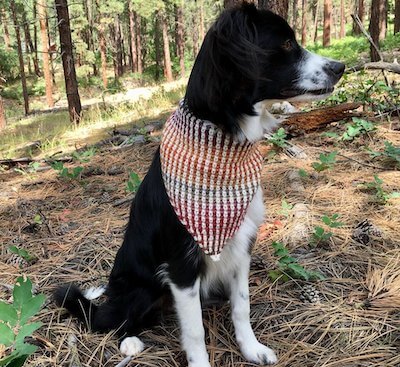 Get the Pattern by Susan Kennedy here

40. Lacy Head Scarf Bandana Crochet Pattern by Lulu Loves UK
This boho/romantic style crochet headscarf has been designed for fingering weight cotton. The headscarf has built in ties and works with long or short hair – such a pretty addition to any outfit!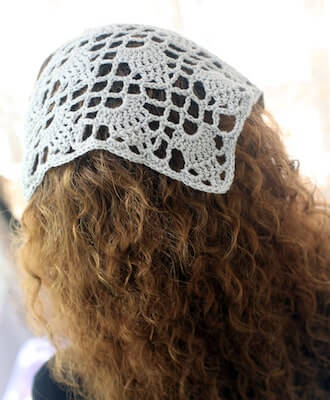 Get the Pattern by Lulu Loves UK here

41. Cow Crochet Hair Bandana Pattern by The Wool Tiger
This Cow Hair Kerchief is a super trendy bandana pattern featuring 90s/00s cow spots pattern. It's a perfect pattern for first attempts with tapestry crochet as it uses only two colours and works up quickly.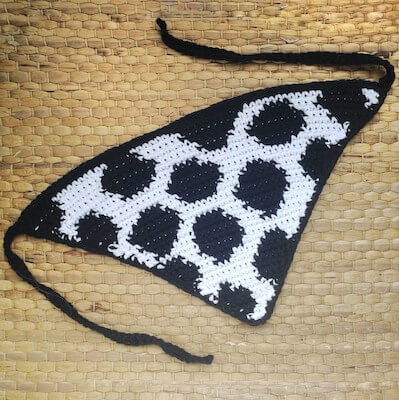 Get the Pattern by The Wool Tiger here

42. Blooming Buds Bandanna Crochet Pattern by Michelle Ferguson
This Blooming Buds Bandanna is one of those projects that you can use any yarn and any hook and still get an amazing result! This pattern is worked in rows to desired length, so it's a great stash buster! Use your favorite hand dyed yarn or whatever yarn you have lying around!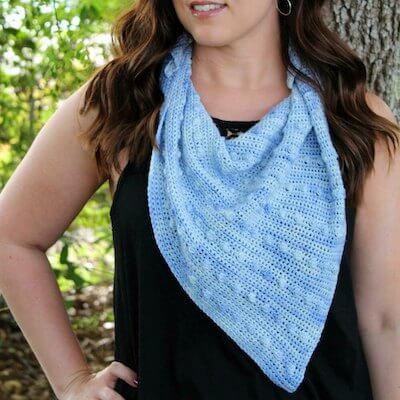 Get the Pattern by Michelle Ferguson here

43. Crochet Plaid Bandana Bib Pattern by Whistle & Ivy
This darling Crochet Plaid Bandana Bib is perfect for your drooling, messy bundle of joy. Baby will also enjoy mouthing the squishy fabric, which is totally fine because this bib is made from cotton.
Get the Pattern here

44. Crochet Prism Bandana Pattern by If Crochet Patterns
This pattern is made for you to use up some leftover yarn and make these bandanas for yourself! You can make these with Sport/ fingering weight yarns and there are 2 styles to end this bandana!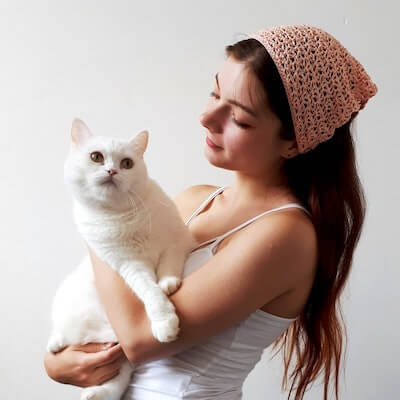 Get the Pattern by If Crochet Patterns here

45. Harvest Bandana Cowl Crochet Pattern by Moogly
This Harvest Bandana Cowl is a fun, quick, and easy one ball pattern that features the corner to corner stitch and the twisted single crochet. With the great look of a shawl worn "bandana style" and the ease of a cowl, you can pop this on and go – no matter where the day takes you, or how windy it gets!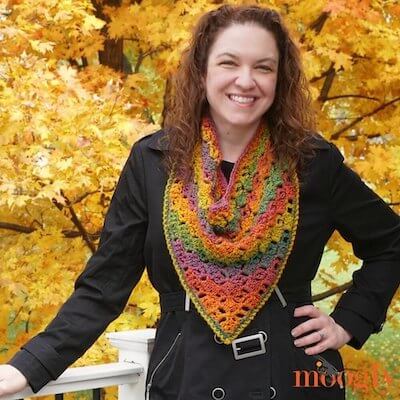 Get the Pattern by Moogly here

46. Crochet Strawbebi Headscarf Pattern by By Red Bean
This Strawbebi Headscarf is a triangular scarf with ribbon-like ties. You could also make this without the strawberry appliques, add your own appliques, or customize your colors to make other fruits – blueberries, pineberries, tomatoes, etc. There is plenty of room for customization!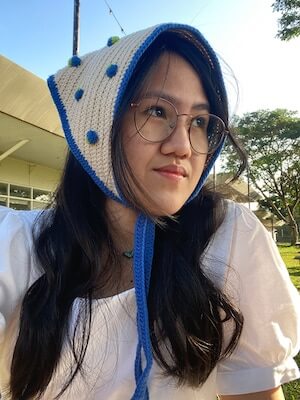 Get the Pattern by By Red Bean here

47. Crochet Hannah Bandana Pattern by Hats By Elvee
If you know a few basic crochet stitches – chain, slip stitch, single crochet and double crochet – you can make this sassy, little bandanna.

The bandanna, in one size for teens and women, has a boho vibe when you tie it in back and a retro '60s look when you tie it under your chin.

Best of all, you can use any yarn – from lightweight sock yarn to summery cottons to super-bulky wool blends – for your bandanna. Multicolor designs can be easily crocheted with yarn that self-stripes, but the bandanna looks great in a solid color yarn, too.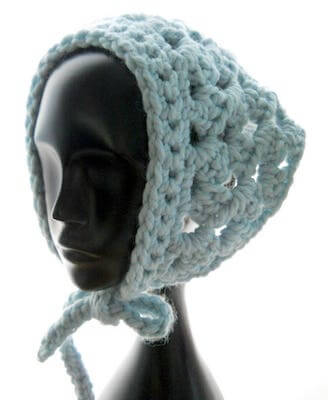 Get the Pattern by Hats By Elvee here

48. Beautiful Shells Bandana Crochet Pattern by The Snugglery
The beautiful shells stitch features a cool crochet technique where you work crochet chain framing like a "scaffold," that you can then build thick beautiful shells on top of.
One way to introduce this stitch is through this Beautiful Shells Bandana Crochet Pattern. After just a few color changes, this project will be done before you know it!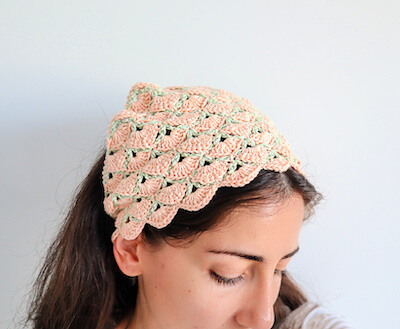 Get the Pattern here

49. Crochet Roxy's Dog Bandana Pattern by Blue Star Crochet
Super quick and easy crochet dog bandana pattern using the ever so popular crochet granny stitch. The bandana scarf is worked diagonally using the corner to corner crochet technique.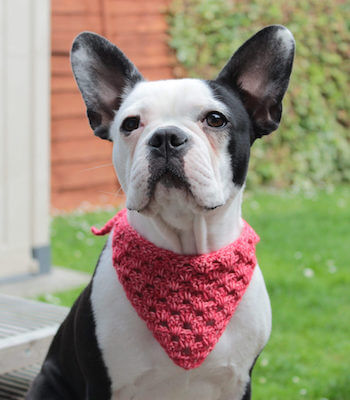 Get the Pattern here
WRAPPING UP THIS BIG COLLECTION OF CROCHET BANDANA PATTERNS THAT ARE PERFECT FOR ALL OUR FASHION-LOVING READERS!
Share your progress and connect with the community by posting your bandana pics on our Facebook Page. We can't wait to see what you make!

If you are in search of more head and neck accessories to make, check out our posts for crochet balaclavas, headbands, head wraps, crowns, cowls, and scarves. Or you can check more of our round-ups of crochet accessories here.
Put these crochet bandana patterns at the top of your list if you want your outfit to have a little something extra!