Dogs are too good for this world, and it's high time we celebrate man's best friend with this collection of Crochet Dog Hat Patterns for our favorite animal.

If you consider your pooch part of the family, making crochet hats is a fun way to show your appreciation for your pet.
There's no better way to say 'thanks fur everything" to your loyal companion than a cozy crochet hat made with love. Browse through these patterns and you will surely smile with delight!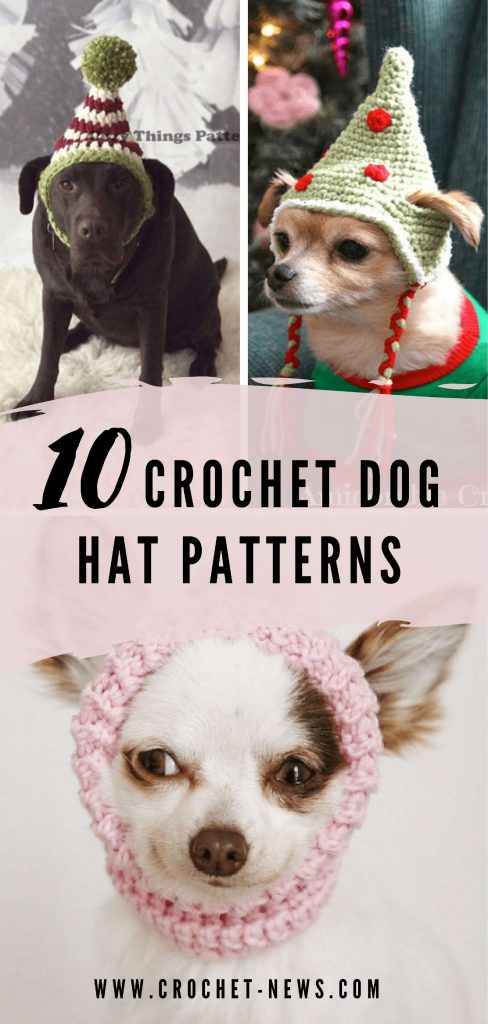 1. Crochet Dog Hat Pattern for Large Dogs by Twin Mom JP
This pattern is for a super cute and cozy crochet hat for any large-sized pup. This hat features ear holes, ear flaps and a cute pom pom on top. Perfect for photo props, gift-giving, and for keeping your pet warm and stylish!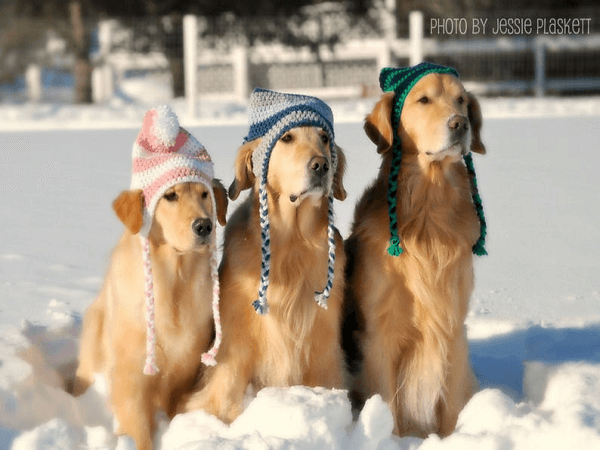 Get the Pattern by Twin Mom JP here

2. French Bulldog Crochet Hat Pattern by The Yarn Bender AZ
This French Bulldog Crochet Hat should become your dog's inevitable item when going for a stroll in winter. It has a cute pom-pom on top and holes for his bat-shaped ears. Make some with your favorite colors and keep your furry friend warm during winter.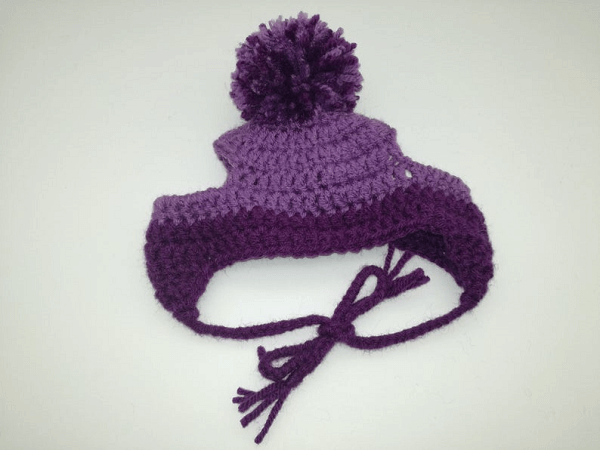 Get the Pattern by The Yarm Bender AZ here

3. Toy Chihuahua Crochet Hat Pattern by Because Of Crochet
This adorable crochet hat will keep your Chihuahua's (or similar small breed) head and ears warm and it's stylish as well. You'll be the talk of the neighborhood as you walk your little friend in this cool headgear! Customize it with your favorite team colors.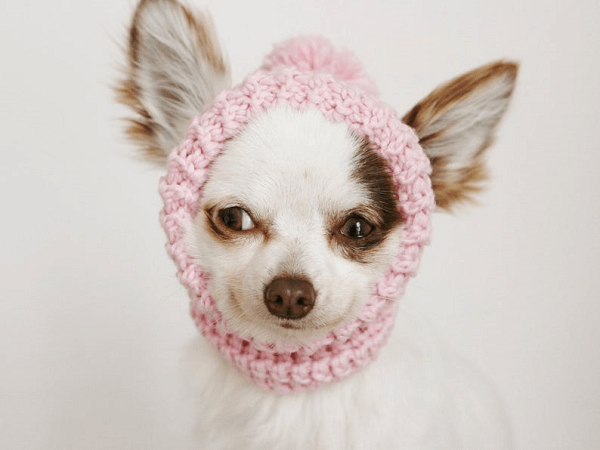 Get the Pattern by Because Of Crochet here

4. Crochet Dog Hat Pattern by 2 Kute
This dog hat comes with a drawstring that can be pulled tight and tied in a bow under the chin. This will help the hat stay on better. Make a hat for your favorite pup and adorn it with flowers or pompoms. Perfect winter accessory and a walk in the park!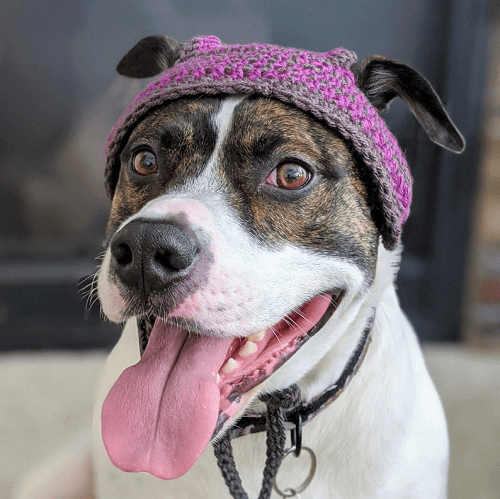 Get the Pattern by 2 Kute here

5. Small Crochet Dog Hat Pattern by Dee Fine Boutique
This visor hat pattern is designed for small breeds. It looks cute on a dog's head and is very practical. It is large enough to cover and protect the dog's precious eyes from the harsh sun rays. It holds very well to a dog's head.

There are two comfortable ear holes and an adjustable strap under a neck.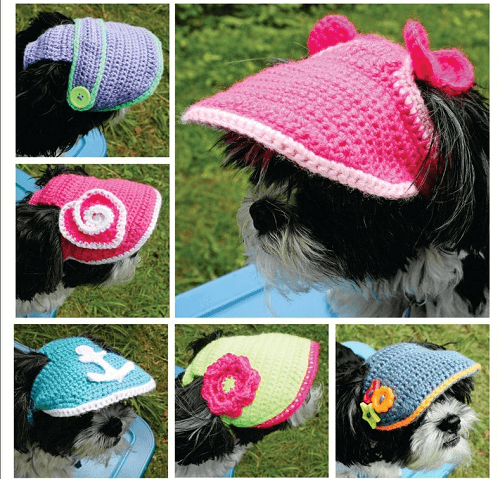 Get the Pattern by Dee Fine Boutique here

6. Crochet Hat Costume Pattern For Large Dogs by X Moon Bloom
Dress your dog up and keep those ears warm by crocheting this super cute crochet hat with bear ears. Who doesn't enjoy to dress up their dog? Now you can with this fun dog hat pattern.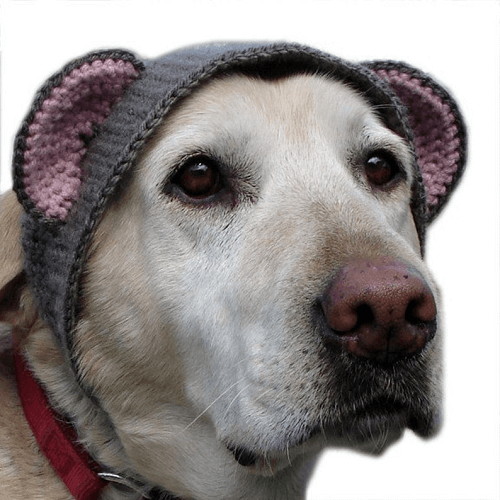 Get the Pattern by X Moon Bloom here

7. Large Dog Elf Hat Crochet Pattern by Cozy Things Patterns
This project is easy, quick and fun to make! This pattern is for large dogs like Labradors and Golden Retrievers.

To work this pattern you need to know how to work in the round, slip stitch, sc, hdc, dc, tr and how to read an abbreviated crochet pattern. Make this cute hat for your furry baby! Perfect for Christmas picture!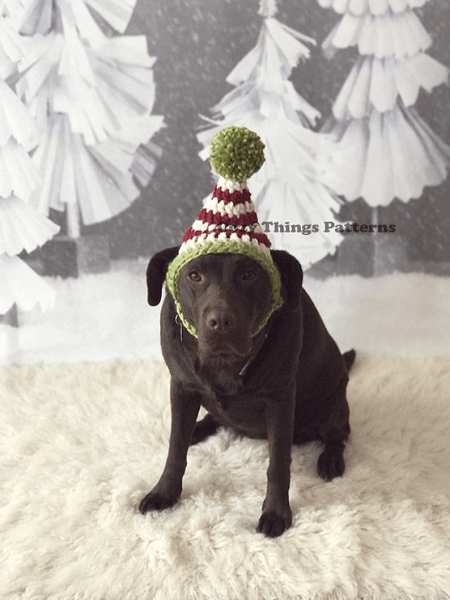 Get the Pattern by Cozy Things Patterns here

8. Bunny Hat Crochet Pattern by Dogs And Hats
Easter is just around the corner and if you have a dog, you will love to grab them this super cute bunny ears hat. This hat pattern is easy to make and includes sizes for extra small to medium dogs.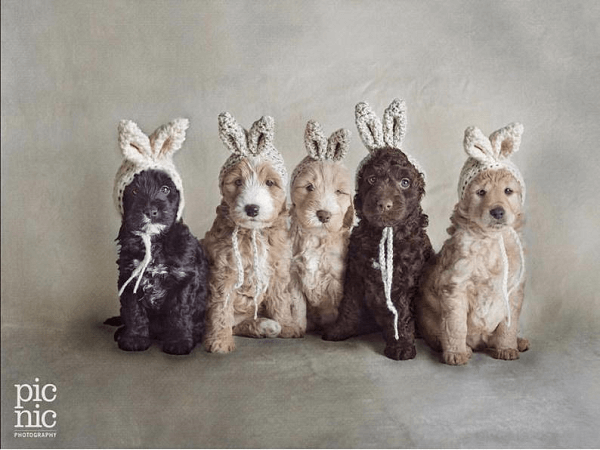 Get the Pattern by Dogs And Hats here

9. Leprechaun Medium Crochet Dog Hat pattern by Pawsome Crochet
This leprechaun hat works up quickly and is a perfect way to have your pet join in your St. Patrick's Day celebrations.

The finished hat is designed to fit most medium-large breed dogs. Instructions include how to modify the hat to fit smaller breeds as well.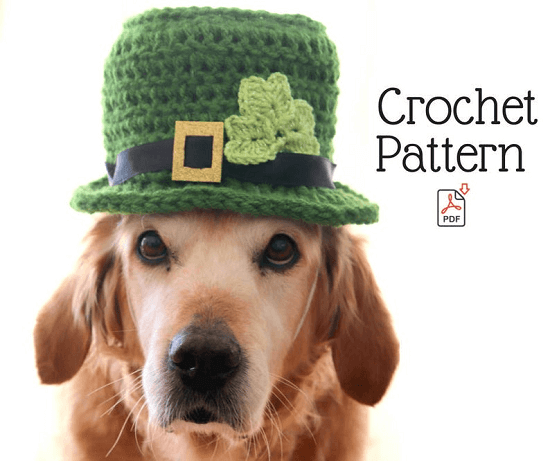 Get the Pattern by Pawsome Crochet here

10. Crochet Dog Elf Hat Pattern by Amidorable Crochet
Make a cute elf hat for your pooch, then snap a photo for your Christmas cards. This Crochet Dog Hat Free Pattern includes Ear Flaps and Ties.

Look at that sweet little face! This hat is perfect for Christmas and also would be cute as a birthday hat, too!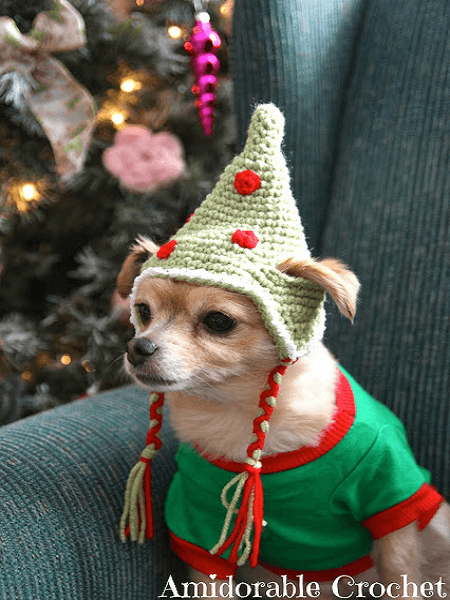 Get the Pattern here

11. Crochet Doggie Bomber Hat Pattern by Celtic Knot Crochet
This crochet dog hat is made with simple stitches and mostly medium weight acrylic yarn. It works up quickly and has some fluffy yarn accents on the brim and ear flaps.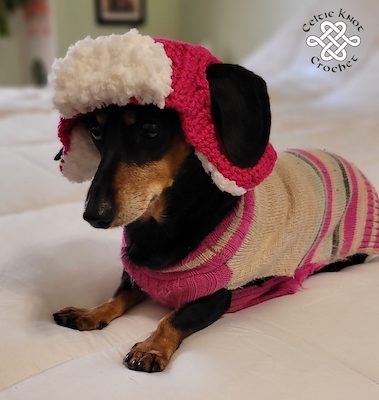 Get the Pattern here

12. Crochet Shark Hat For Large Dogs by Steady Hands Crochet
Wear it for Shark Week or for Halloween — your dog will be the hit of the party! Large fin on top, gums and teeth around the opening, and eyes looking right at you — the details are uncanny. It has ear holes and ties under the dog's muzzle.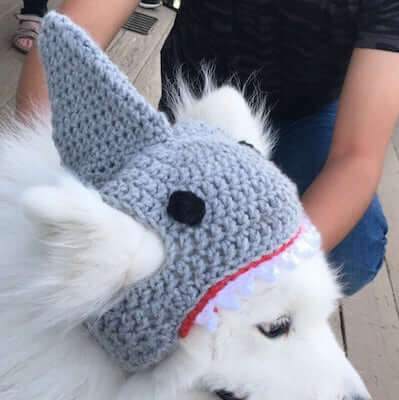 Get the Pattern by Steady Hands Crochet here

13. Crochet Aviator Dog Hat Pattern by Posh Pooch Designs
Your pup will be ready to be the world's best co-pilot with this awesome Aviator Dog Hat. It's the perfect trapper hat for a Chihuahua, Pomeranian, and other small dog breeds.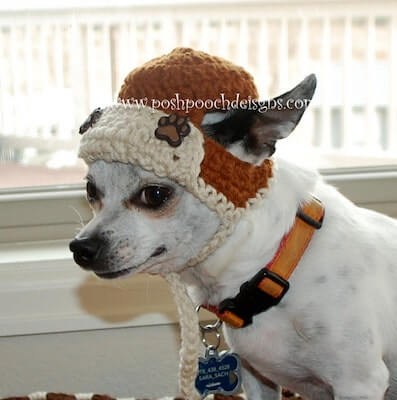 Get the Pattern by Posh Pooch Designs here

14. Baby Yoda Dog Hat Crochet Pattern by DAC's Designs
Apparently, it's not just adults and kids that love Baby Yoda — good doggo's are fans, too! So, if you fancy hooking up a pressie for your pooch, then how about this hilarious Baby Yoda Dog Hat Crochet Pattern, which can be made in 3 sizes so both small and big dogs can have some fun!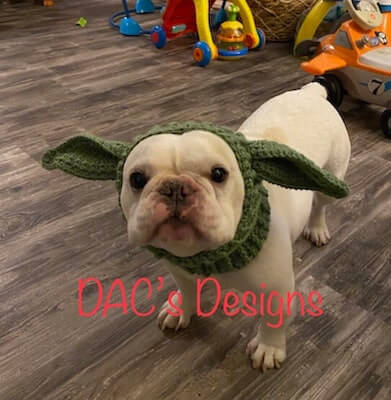 Get the Pattern by DAC's Designs here

15. Little Red Doggie Ball Cap Crochet Pattern by Ozark Nomad
This Little Ball Cap Pattern can be used for the girls or the boys. It should also be easy to make different sizes for various breeds by the yarn types used. For small dogs, a fine yarn sport weight or smaller will work best.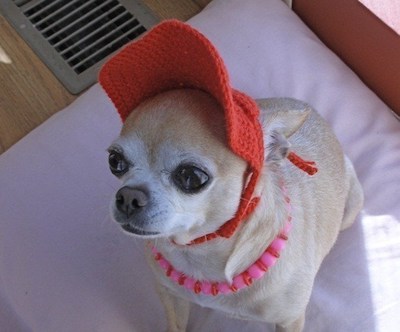 Get the Pattern by Ozark Nomad here

16. Small Dog Turkey Hat Crochet Pattern by Okie Girl Bling N Things
Time to go on a turkey trot with your hunky hound. This is a bright and colorful turkey head for your pooch to enjoy wearing. The ears have their own spot to hang out on the sides and there are ties to keep the Turkey Hat in place on your dog's head. No reason not to dress them up for each Turkey Day now!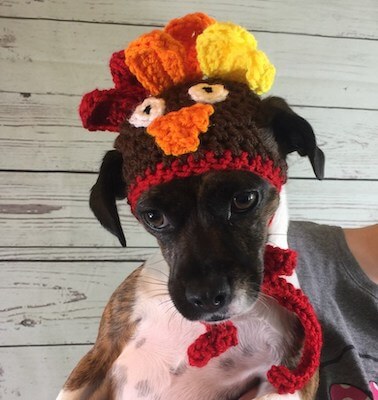 Get the Pattern here

17. Crochet Puppy Pirate Hat Pattern by Red Heart
Yo ho, yo ho! Your puppy will be singing "A pirate's life for me" when you crochet him a pirate's hat complete with skull and cross bones.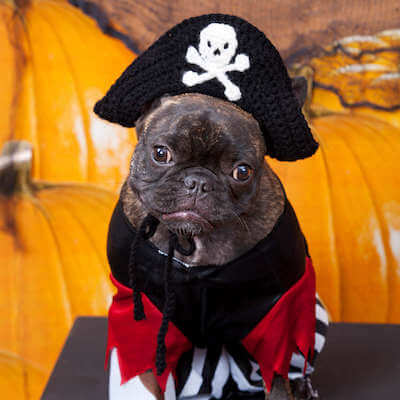 Get the Pattern here

18. Crochet Dog Lion Hat Pattern by Cozy Things Patterns
Hilariously adorable, and a little bit silly, this hat takes dog cuteness to the next level! This fuzzy delight will yield roars of laughter! Best of all, this hat is as cute as it is functional, and it brings a smile to anyone who sees it. Designed to fit a large dog to perfection, your pooch will love the feel of this super soft, snugly lion hat.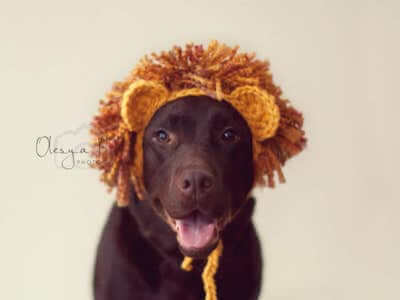 Get the Pattern by Cozy Things Patterns here

19. Crochet Dog Hat Pattern by Pawsome Crochet
This hat works up quickly and makes for a fun accessory for larger dogs. Customize of the accent colors to support your favorite sports team or design a trendy winter photo prop for your pup.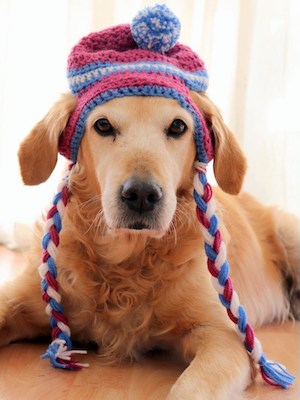 Get the Pattern by Pawsome Crochet here

20. Crochet Novelty Hat For Small Dogs by Kirsty's Creations GB
Sure, it's novelty hat, but why not? Dogs just want to have fun, too! It's cute, funny, and it also doubles as a humorous Halloween costume for small dogs or cats.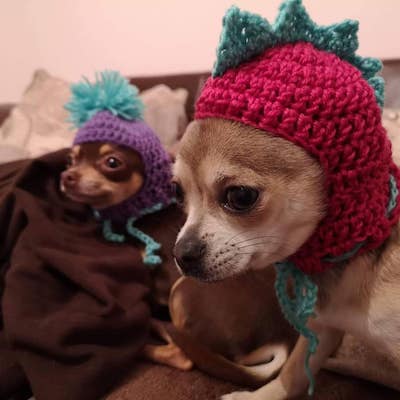 Get the Pattern by Kirsty's Creations GB here

21. Crochet Ball Cap Pattern For Dogs by Reny's Place
With a generous, shade-providing visor, this dog hat mirrors a human ball cap. But it's specially designed for dogs, with ear holes, and an elastic rim to help it fit for your pooch's head.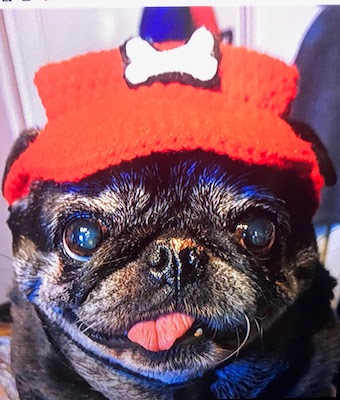 Get the Pattern here

22. Crochet Pumpkin Hat For Dogs by Shooting Star Crafts
Need a fun costume or photo prop for your dog this fall? This fun Pumpkin Hat would make a cute accessory for either Halloween or Thanksgiving. The hat features a pain pumpkin (no face or attachments), making it washer-friendly. It comes with 2 ear holes and a little stem on top.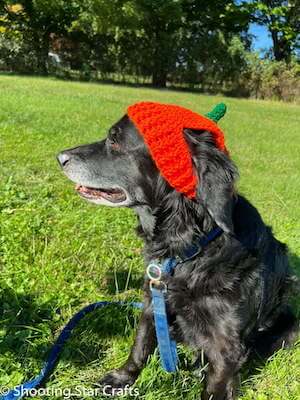 Get the Pattern here

23. Cinco de Mayo Sombrero Crochet Pattern by Creeksendinc
Dress up your pooch so they can join in on the fiesta with this mini sombrero! Place the mini dog party hat on your small dog for an upcoming celebration such as Cinco de Mayo, taco Tuesday, Mexican fiestas, costume parties, and Halloween. This dog hat is also great for everyday dress-up or photoshoots.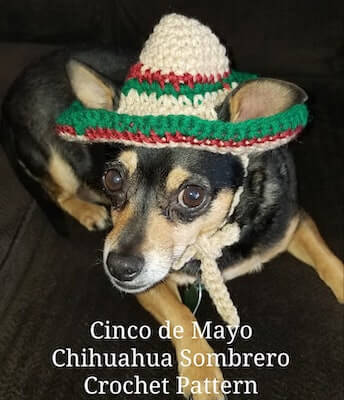 Get the Pattern by Creeksendinc here

24. Birthday Dog Hats Crochet Pattern by Sara Sach
While it might not be your dog's favorite part of her birthday, you'll still need a fun hat so you can at least take a picture — then she can take it off as soon as the picture's done. Here's a Birthday Dog Hat Crochet Pattern to help you get the perfect Instagram shot!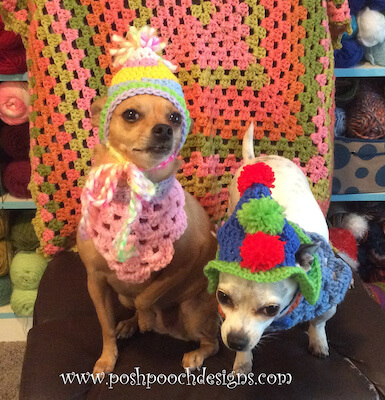 Get the Pattern here

25. Crochet Santa Hat For Dogs by Pawsome Crochet
Dogs love to be part of the festive cheer at Christmas and what better way to include them than to dress them in the cutest Santa hat! They will definitely be going for extra pats and treats on Christmas morning!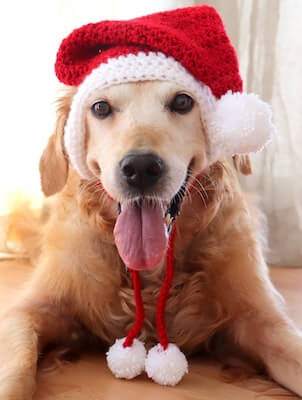 Get the Pattern by Pawsome Crochet here

26. Crochet Unicorn Hat For Dogs by Because Of Crochet
If your dog doesn't love being stuck in a full-body costume, this unicorn hat is a great way for your pet to get into the Halloween spirit without feeling too restricted. It currently comes in sizes for small dogs such as Chihuahua.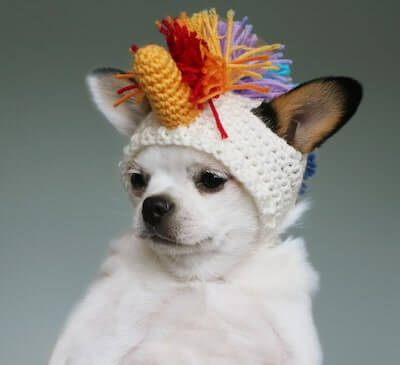 Get the Pattern by Because Of Crochet here

27. Crochet Sun Hat For Dogs by Moon Deer Co
Now your beast can join you in this summer's hottest trend — the bucket! Perfect for sunny mornings, picnics at the park, or just barking at the beach, this sweet accessory will set your pup's style ahead of the pack.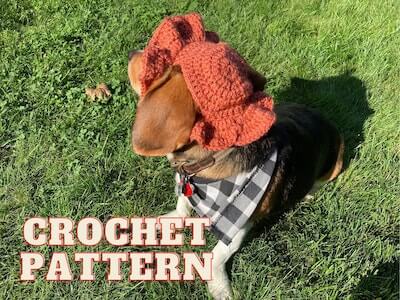 Get the Pattern by Moon Deer Co here

28. Crochet Small Pet Frog Hat Pattern by Knot Vivi
Part sun hat, part frog, this hat protects from the sun, keeps him feeling secure and could even be used as part of a Halloween costume.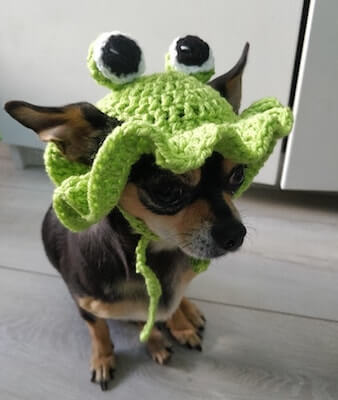 Get the Pattern by Knot Vivi here

29. Dinosaur Dog Hat Crochet Pattern by Jennifer Roy
Does your pup remind you of a little dinosaur sometimes? He might need this Dinosaur Dog Hat, which comes with spikes, ear flaps,. and cords to keep it secure.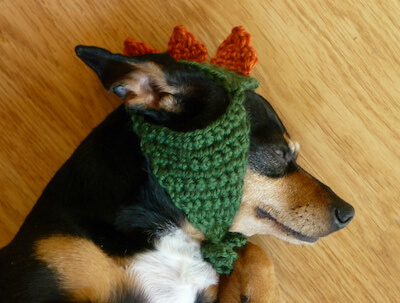 Get the Pattern here

30. Cabbage Patch Dog Beanie Crochet Pattern by Sara Sach
This adorable hat is made to resemble the Cabbage patch dolls — has worked in ties and comfy ear holes.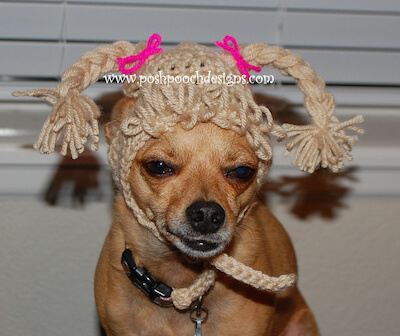 Get the Pattern here
Crochet Hats For Dogs Frequently Asked Questions
Is it fine for dogs to wear hats?
On a sunny day, hats provide sun protection and can make your dog more comfortable. Of course, you could just put a hat on your dog for fun. There's nothing wrong with that as long as your dog is comfortable wearing clothing and doesn't mind having a strap around his chin.
Do crocheted hats keep dogs warm?
Like a dog winter coat and doggy snow booties, a dog winter hat can protect your fido from the cold weather and help them stay warm, ultimately keeping them safe from frostbite and hypothermia.
How do you measure a dog's head for a hat?
Your pet's head circumference and forehead width are the most important measurements for crocheting hats. The head circumference is your dog's total head size and can be determined by measuring around the front of your dog's head (from the top of the head, in front of the ears, under the chin, and back up).
The forehead is the space on top of the head between the ears.
What type of yarn is best to use for crochet dog hats?
When choosing what type of yarn to use to create dog hats, there are lot of things to consider. Personally, I like to use Acrylic yarn when making dog hats because it's cheap, stretchy, and washable! You can also use Cotton-Acrylic blend yarn.
It's not as stretchy, so your measurements will need to be spot on, but it creates a more breathable hat that can be cooler for your dog to wear.
What's the best crochet hook size to use for crochet dog hats?
The hook you use will depend on the material and weight of yarn you choose to use. For acrylic yarn, I like to size the hook up a bit more than usual because I find that tension can be a little bit tighter when working with stretchier yarns.
You'll want to use a hook that allows you to crochet loosely, but not so loose that there are gaping holes in your work.
Who could resist these adorable crochet dog hat patterns?
If you like mutts and you cannot lie, you would also love to check out our Crochet Reindeer Antlers for Dogs Pattern, Crochet Dog Blanket Patterns, Crochet Dog Sweaters. You will surely bound to find a pattern to love in this collection.
We are excited to see everything you make out of these patterns. Please post your finished projects on our Facebook Page!
Happy crocheting with these Crochet Dog Hat Patterns!