These crochet gingerbread houses will have everyone licking their lips this year – and the great news is, you can use it next year too without having to bake another one.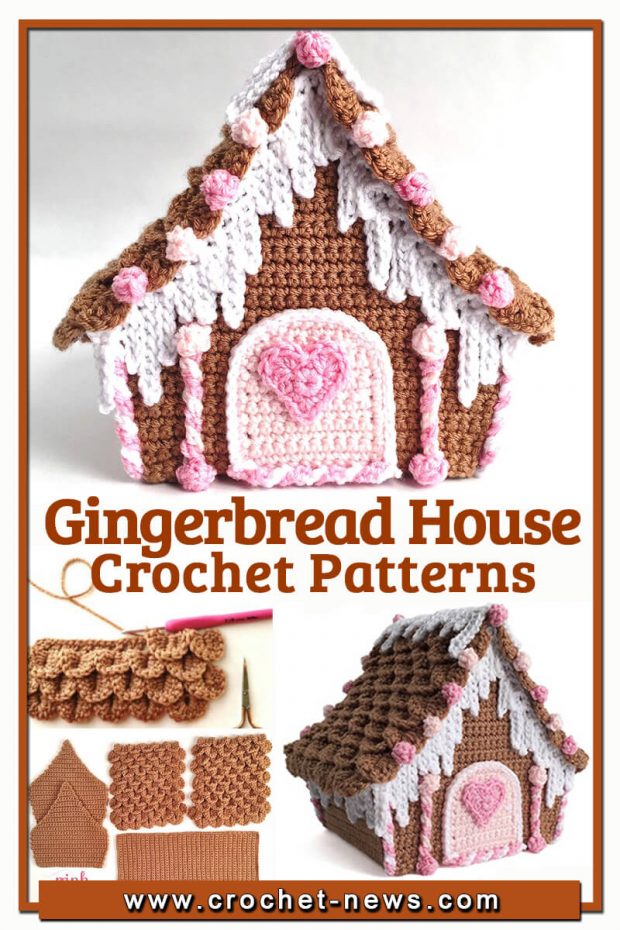 15 Scrumptious Gingerbread Houses to complete your Christmas decorations
Whether you need a lovely, eye-catching centerpiece with which to decorate your Christmas table, something delicious to throw onto your bed, or to add a "sweet" touch to your Christmas trees, there's a project for you here.

Spend some time making these adorable Christmas amigurmi creations, and enjoy them all season long!
1. Gingerbread House Tissue Box Crochet Pattern by Twinkie Chan
This Gingerbread House Tissue Box is the perfect gift or decoration for the holidays, or just for people who love gingerbread and candy! It has tiny peppermints, candy canes, gumdrops, windows, and doors that open, and of course, a chimney that allows the tissues to become the smoke.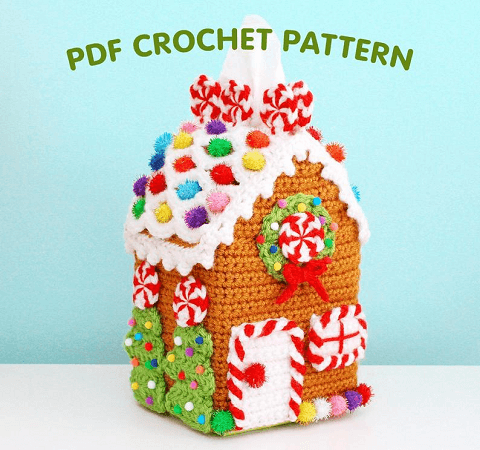 Get the Pattern by Twinkie Chan here

2. Crochet Gingerbread House Pattern by Repeat Crafter Me
This isn't your typical Crochet Gingerbread House! It is constructed so that you can crochet the entire house in one piece! No separate walls and roof to stitch together.

Just one lone piece that folds into a house (with a bit of crocheting edges together.) Christmas is sneaking up on us and we know you are looking for quick and easy projects like this one!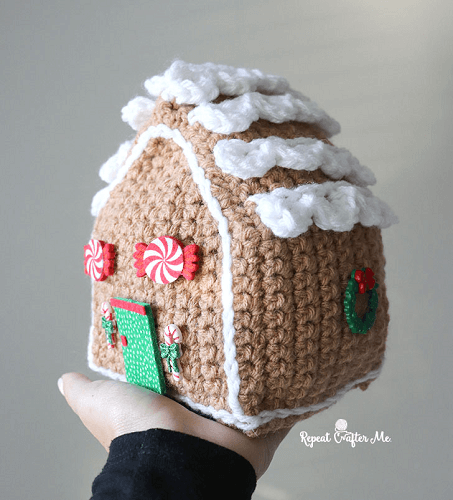 Get the Pattern here
 
3. Crochet Gingerbread House Delicious Pattern by Pink Mambo
Crochet gingerbread house is no doubt hard on the diet.  It seems the smaller our wallets become, the larger our waistlines expand! 
With so many sweet treats around at this time of year, keep your hands busy and away from the sweets. While at the same time crocheting up a sweet treat that won't add to your hip measurements!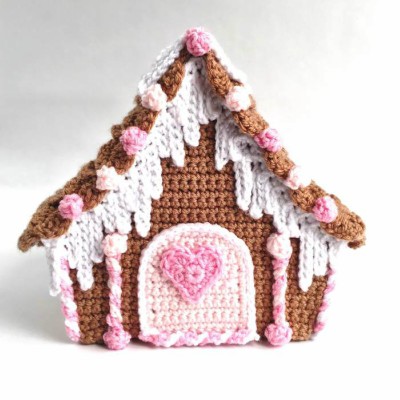 Finished house size: 9" tall x 10" wide x 8" deep
Available as a 3-part step by step tutorial and free pattern, this excellent blog series will have you creating a most beautiful gingerbread house quicker and easier than you might think.
The Materials Needed To make The Crochet Gingerbread House
Worsted weight/Aran yarns:
425 yds tan
100 yds white
40 yds light pink
25 yds pink
Also:
size G / 4.0mm hook
cardboard
tapestry needle
The holiday season is almost here and along with it two of the greatest pleasures; crocheted accessories and baked treats. A crochet gingerbread house is an ideal item combining the best of both worlds.
At first glance, you will have a hard time deciding whether to eat it or just stare at it in awe. Then again, you cannot eat yarn, cardboard, or glue.
Putting Together The Crochet Gingerbread House
The first step when putting together a crochet gingerbread house involves assembling the skeleton or the frame upon which the crocheted material will lie. For this part, you will need cardboard pieces that will comprise the gingerbread house's physical structure.
Unlike many other crocheting projects, the crochet gingerbread house requires basic skills in structure assembly, a vivid imagination and steady hands.
I can attest to how much fun building the cardboard house is and would highly recommend parents out there to involve their kids in this phase.
With a sturdy box shape and a curved roof surface, you're ready to proceed onto the next stage that is crocheting the yarn on the gingerbread house's walls and roof. This stage requires crocheting finesse and technical know-how to put together.
The crochet gingerbread house's sides and roof are crocheted separately and afterward attached to the cardboard house using hot glue. The roof section comes in two parts that are crocheted to resemble tiles. As I mentioned, this level of experience requires some practice.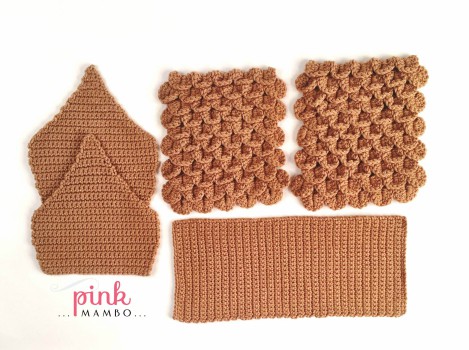 The Crochet Gingerbread House Is the Most Fun And Creative Crochet Pattern We Have Come Across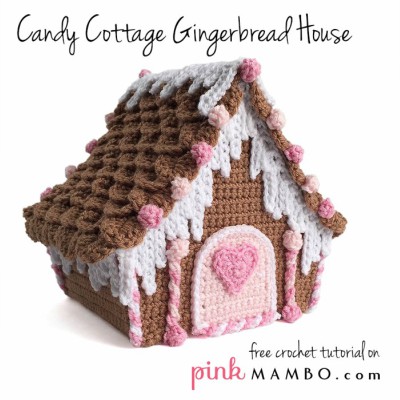 Have fun putting together all the colorful pieces that make up this hybrid marvel of culinary imagination and crocheting excellence.
Part 1 – the cardboard structure
Part 2 – crocheting the gingerbread parts
Part 3 – adding the decorations

4. Crochet Christmas Gingerbread House Pattern by Gourmet Crochet
Fun to crochet and display, this charming frosted gingerbread house is decorated with colorful popcorn-stitch gumdrops and chain stitch frosting.

Why toil in the kitchen when you can crochet a sweet old-fashioned treat? Crocheted candies and "frosting" decorate this delightfully kitschy holiday house – best of all, it will last for years to come.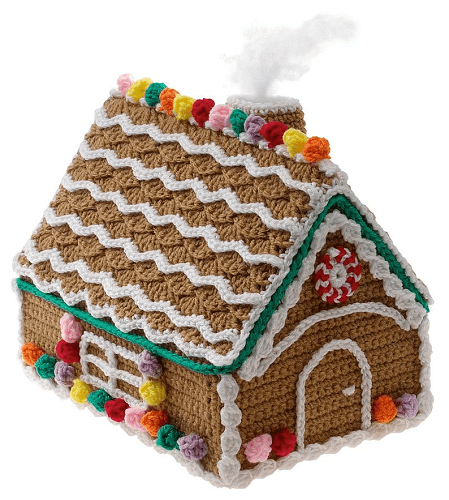 Get the Pattern by Gourmet Crochet here

5. Nordic Gingerbread House Crochet Pattern by Airali Design
Making a Gingerbread House with yarn and a crochet hook or baking a sweet and crunchy house with loads of sugar decorations are both a challenge. But this one doesn't disappear after the Christmas lunch!

You can make it as a small ornament (using the suggested yarn) or using DK/aran weight yarn to create a lovely centerpiece for your Christmas table.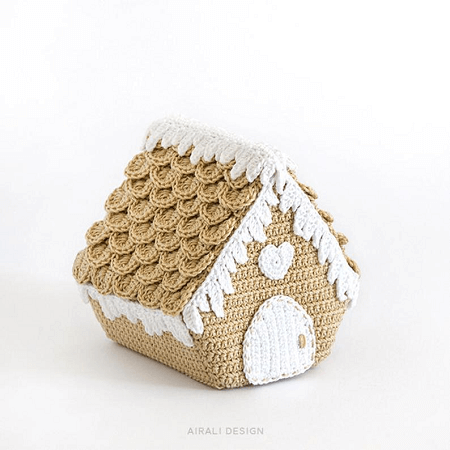 Get the Pattern by Airali Design here

6. Crochet Gingerbread House Amigurumi Pattern by Knitted Story Bears
Deck the halls this holiday with this Crochet Gingerbread House Amigurumi Pattern. You only need to know how to chain, slip stitch, single crochet, decrease, reverse single crochet, crochet in rows and rounds to make one!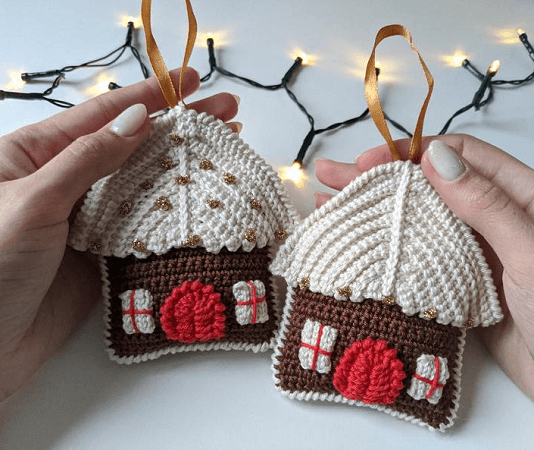 Get the Pattern by Knitted Story Bears here

7. Gingerbread House Free Crochet Pattern by Nicki's Homemade Crafts
This Gingerbread House is made with many simple and basic crochet stitches that create this amazing piece of art and is stabilized by the cardboard from the inside.

It has a door that can be opened and closed as well as windows that are open which means you can add items inside such as LED tea lights or doll furniture to make it even more special.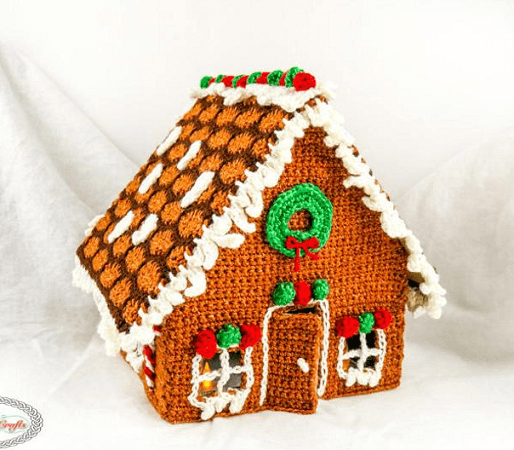 Get the Pattern here

8. Gingerbread House Amigurumi Crochet Pattern by Dinegurumi
Bring the color and fantasy of the famous Hansel and Gretel fairy tale to life with this enchanting Gingerbread House Amigurumi reproduction in crochet! If you use the prespecified material the figure will be 25 cm tall and is fillable.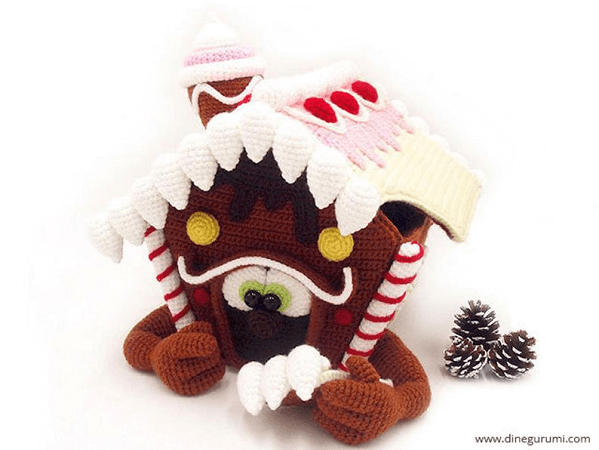 Get the Pattern by Dinegurumi here

9. Gingerbread House Crochet Pattern by Pinky Pinky Blue
Using this Gingerbread House Crochet Pattern you can make a house of any size, based on the availability of materials. One side of the roof opens so kids can play like with a doll house. There is a led light inside, it looks so magical when it is turned on!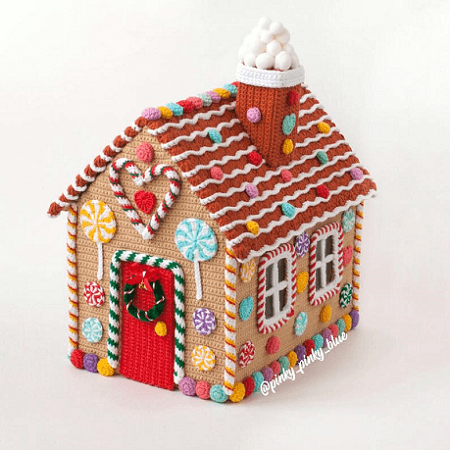 Get the Pattern by Pinky Pinky Blue here

10. Crochet Gingerbread House Ornament Pattern by Lilleliis
This Crochet Gingerbread House Ornament is something to spice up your Christmas with. Use it for decorating the tree and presents. Or make a garland to decorate your home for the holidays.

Quick and easy to make little ornament is decorated with white (yarn) sugar glaze. The roof can be embroidered in two different ways, to imitate the snow or stone roof.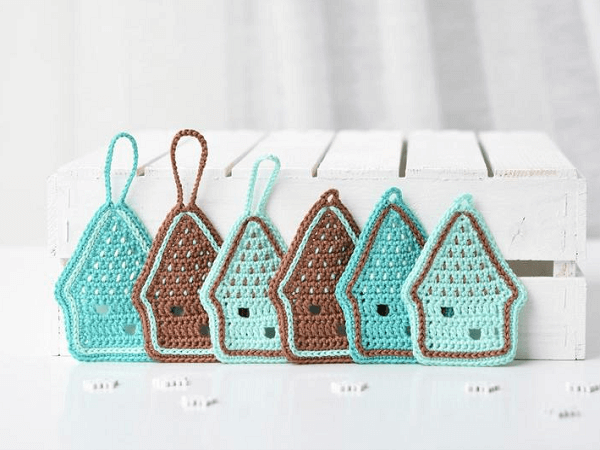 Get the Pattern by Lilleliis here

11. Crochet Gingerbread House Purse Pattern by E'Claire Makery
This Crochet Gingerbread House Purse is perfect for Christmas parties, holding presents, and one of the best ways to spread Christmas cheer!

Who doesn't want a crochet gingerbread house they can carry around with them all throughout the holidays?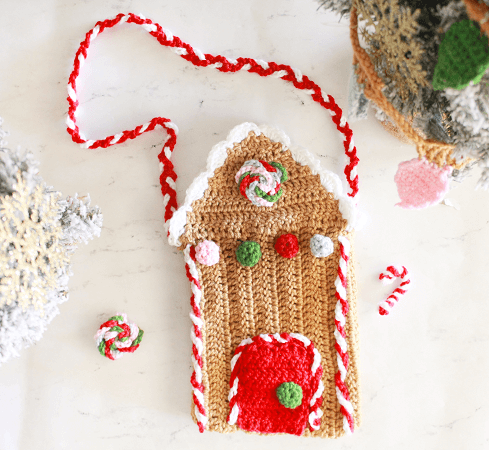 Get the Pattern here

12. Crochet Gingerbread House Throw Pattern by Red Heart
You can almost smell the cookie dough that reminds you of the holidays as you stitch up this delicious Crochet Gingerbread House Throw!

Inspired by warm gingerbread, granny squares are combined with cleverly decorated houses with their peaks at each end of the throw. Let this delightful blanket adds playful charm to your Christmas celebrations.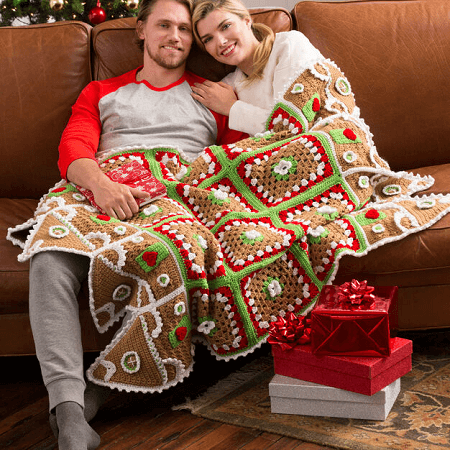 Get the Pattern here

13. Crochet Gingerbread House Ornament Pattern by Yarnspirations
Bring the festive and colorful charm of gingerbread houses to your Christmas tree with these Crochet Gingerbread House Ornaments!

Easily crochet holiday treasures using Lily Sugar 'n Cream in so many color variations, or shape them as shown for a traditional theme. Handmade ornaments build easy memories, so start a new family tradition this year.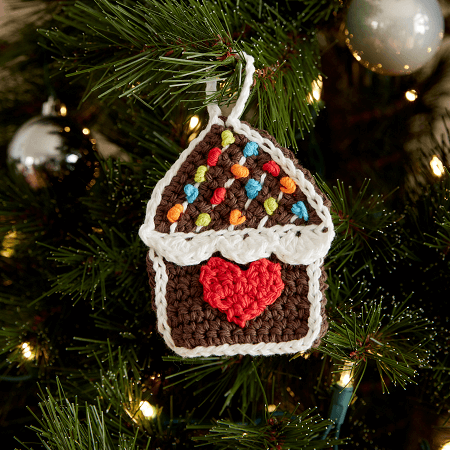 Get the Pattern here

14. Cute Crochet Gingerbread House Pattern Free by Yarn Hild
This Cute Gingerbread House is made in ragdoll style and with single crochet and bobble stitches. This is a quick and fun little project, and it won't take you long to make one!

Now you can crochet this cute gingerbread house ornament for your Christmas tree! Also, this will look cute on Christmas gifts!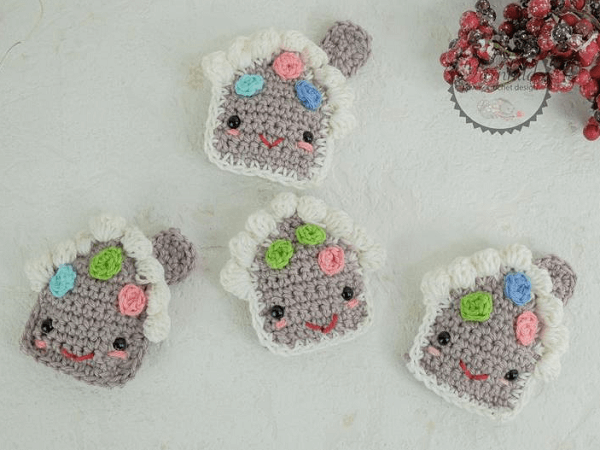 Get the Pattern here

15. Crochet Gingerbread House Christmas Ornament Pattern by Sewrella
This easy beginner-friendly Gingerbread House Christmas Ornament is so simple to make! It consists of simple stitches and is so much fun for the holiday season – great for adding to a tree or decorating a present!

This is an easy level crochet pattern, and the techniques you will need to know are single crochet, decreasing, chain stitch, magic ring, and slip stitch. You will also need to know how to sew pieces together.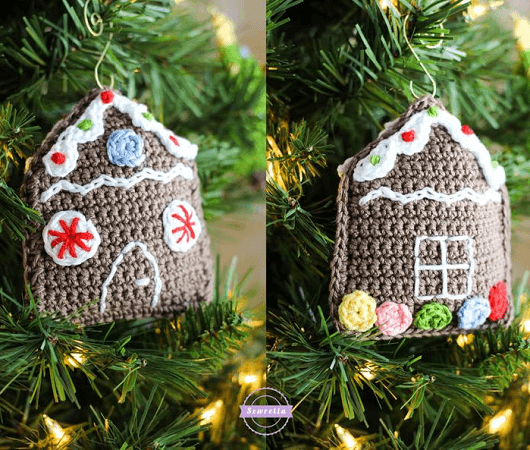 Get the Pattern by Sewrella here
Take a wonder down to Christmas town and marvel at these beautiful crochet gingerbread houses. Which one do you want to take up residence in?
We would love to see your versions and how you choose to decorate yours. If you make one, share a picture on our Facebook Page!

These are not all, you have to check out our list of Crochet Christmas Patterns – there's a whole lot to make and do!

So this festive season, let your creativity go wild with these 15 crochet gingerbread house patterns!