Dogs are too good for this world, and it's high time we celebrate man's best friend with this collection of Crochet Dog Hat Patterns for our favorite animal.

If you consider your pooch part of the family, making crochet hats is a fun way to show your appreciation for your pet.
There's no better way to say 'thanks fur everything" to your loyal companion than a cozy crochet hat made with love. Browse through these patterns and you will surely smile with delight!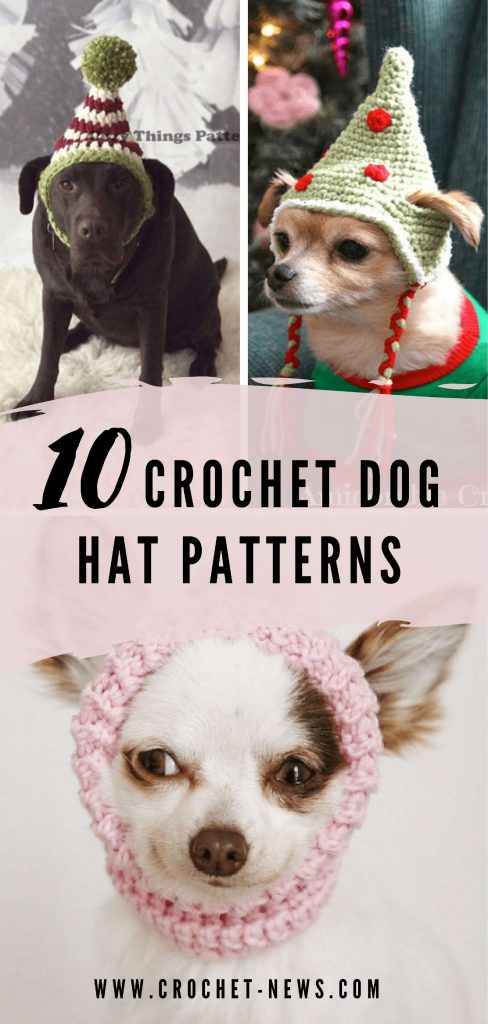 1. Crochet Dog Hat Pattern for Large Dogs by Twin Mom JP
This pattern is for a super cute and cozy crochet hat for any large-sized pup. This hat features ear holes, ear flaps and a cute pom pom on top. Perfect for photo props, gift-giving, and for keeping your pet warm and stylish!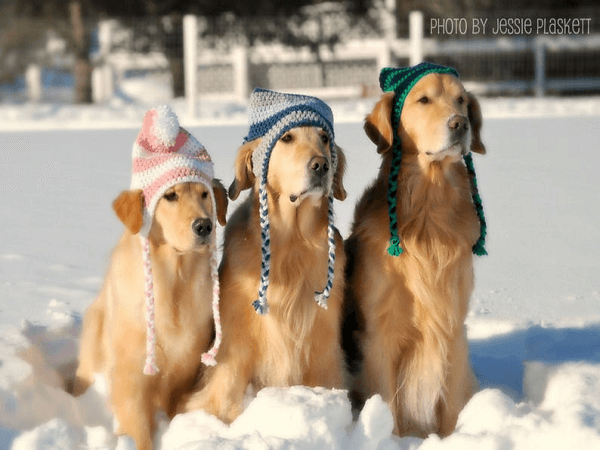 Get the Pattern by Twin Mom JP here

2. French Bulldog Crochet Hat Pattern by The Yarn Bender AZ
This French Bulldog Crochet Hat should become your dog's inevitable item when going for a stroll in winter. It has a cute pom-pom on top and holes for his bat-shaped ears. Make some with your favorite colors and keep your furry friend warm during winter.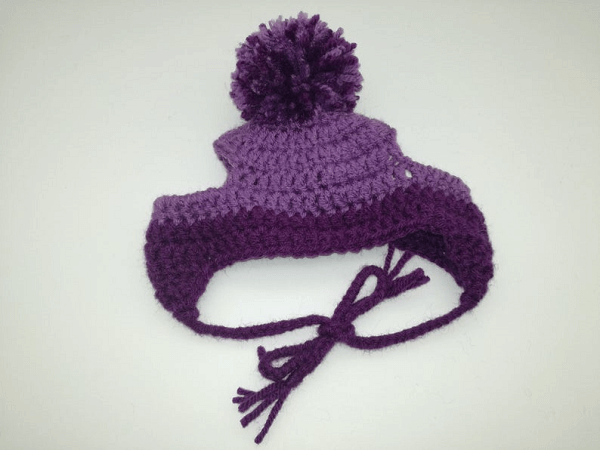 Get the Pattern by The Yarm Bender AZ here

3. Toy Chihuahua Crochet Hat Pattern by Because Of Crochet
This adorable crochet hat will keep your Chihuahua's (or similar small breed) head and ears warm and it's stylish as well. You'll be the talk of the neighborhood as you walk your little friend in this cool headgear! Customize it with your favorite team colors.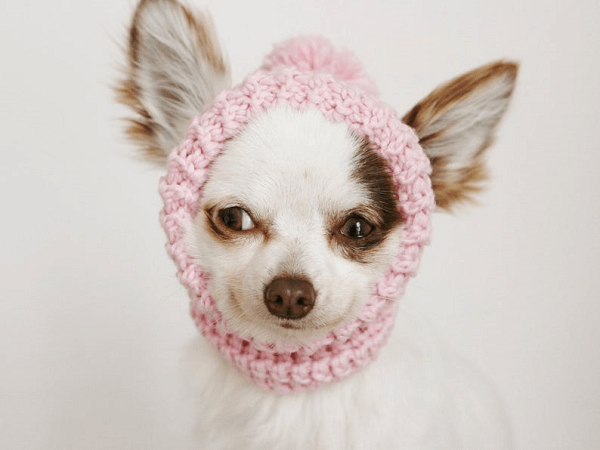 Get the Pattern by Because Of Crochet here

4. Crochet Dog Hat Pattern by 2 Kute
This dog hat comes with a drawstring that can be pulled tight and tied in a bow under the chin. This will help the hat stay on better. Make a hat for your favorite pup and adorn it with flowers or pompoms. Perfect winter accessory and a walk in the park!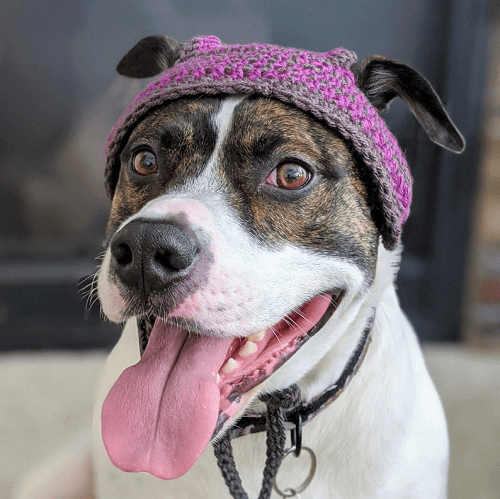 Get the Pattern by 2 Kute here

5. Small Crochet Dog Hat Pattern by Dee Fine Boutique
This visor hat pattern is designed for small breeds. It looks cute on a dog's head and is very practical. It is large enough to cover and protect the dog's precious eyes from the harsh sun rays. It holds very well to a dog's head.

There are two comfortable ear holes and an adjustable strap under a neck.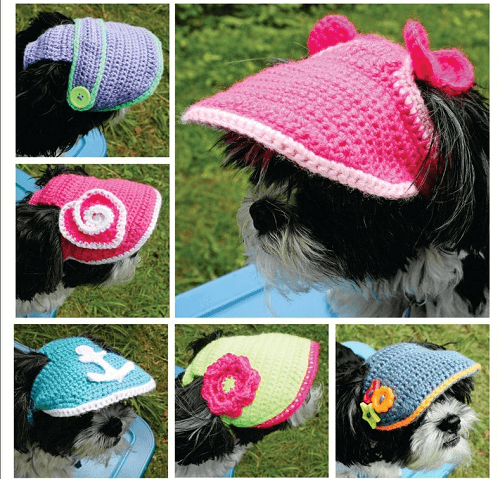 Get the Pattern by Dee Fine Boutique here

6. Crochet Hat Costume Pattern For Large Dogs by X Moon Bloom
Dress your dog up and keep those ears warm by crocheting this super cute crochet hat with bear ears. Who doesn't enjoy to dress up their dog? Now you can with this fun dog hat pattern.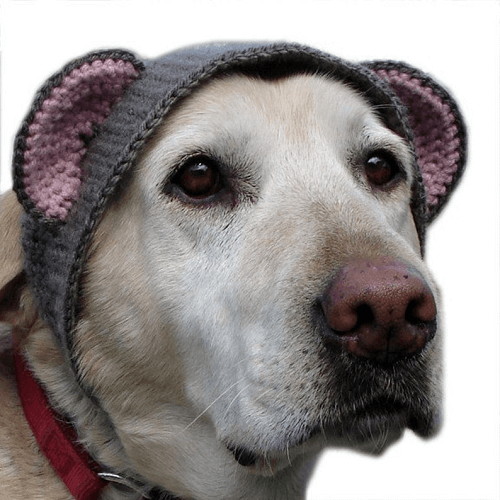 Get the Pattern by X Moon Bloom here

7. Large Dog Elf Hat Crochet Pattern by Cozy Things Patterns
This project is easy, quick and fun to make! This pattern is for large dogs like Labradors and Golden Retrievers.

To work this pattern you need to know how to work in the round, slip stitch, sc, hdc, dc, tr and how to read an abbreviated crochet pattern. Make this cute hat for your furry baby! Perfect for Christmas picture!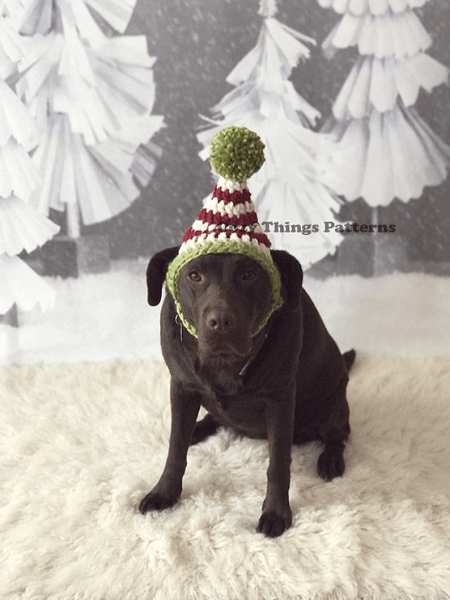 Get the Pattern by Cozy Things Patterns here

8. Bunny Hat Crochet Pattern by Dogs And Hats
Easter is just around the corner and if you have a dog, you will love to grab them this super cute bunny ears hat. This hat pattern is easy to make and includes sizes for extra small to medium dogs.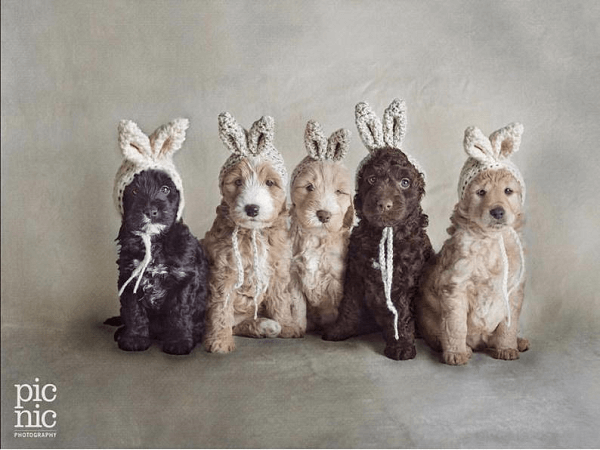 Get the Pattern by Dogs And Hats here

9. Leprechaun Medium Crochet Dog Hat pattern by Pawsome Crochet
This leprechaun hat works up quickly and is a perfect way to have your pet join in your St. Patrick's Day celebrations.

The finished hat is designed to fit most medium-large breed dogs. Instructions include how to modify the hat to fit smaller breeds as well.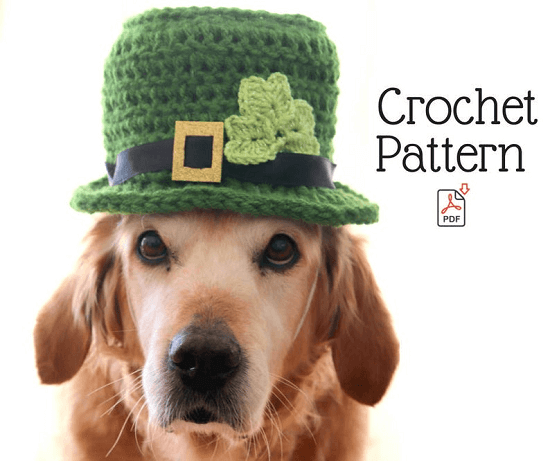 Get the Pattern by Pawsome Crochet here

10. Crochet Dog Elf Hat Pattern by Amidorable Crochet
Make a cute elf hat for your pooch, then snap a photo for your Christmas cards. This Crochet Dog Hat Free Pattern includes Ear Flaps and Ties.

Look at that sweet little face! This hat is perfect for Christmas and also would be cute as a birthday hat, too!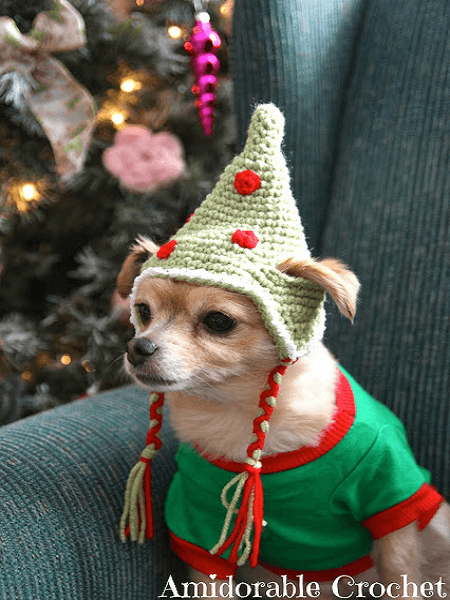 Get the Pattern here
Who could resist these adorable crochet dog hat patterns?
If you like mutts and you cannot lie, you would also love to check out our Crochet Reindeer Antlers for Dogs Pattern, Crochet Dog Blanket Patterns, Crochet Dog Sweaters. You will surely bound to find a pattern to love in this collection.
We are excited to see everything you make out of these patterns. Please post your finished projects on our Facebook Page!
Happy crocheting with these Crochet Dog Hat Patterns!